If you're looking for children's book which deal with domestic abuse, there are many examples at all reading levels across various genres. While young adult authors are well-known for their willingness to confront difficult subject matter head on, readers can also find domestic abuse addressed in picture books.
Read through the marketing copy of the books below and you'll notice a few tropes heavily utilised in stories about domestic abuse.
Secret-keeping is a major part of stories about domestic abuse. When to keep a secret and when to share? This is a huge (impossible) moral dilemma for the children of abusive homes.
Stories about domestic abuse and stories which address homelessness overlap.
There is often a harrowing chase sequence in which the children leave home, perhaps with the abused parent, mostly the mother. Sometimes the characters leave home on a mythic journey near the beginning of the story. In other stories there is a long build up in which the young person feels trapped and longs to escape but can't.
Most domestic abuse victims in children's stories are girls, though there are some standout examples of boy victims, and ocassionally a few abusive mothers, who line up with the wicked (step-)mother fairytale archetype.
Some domestic abuse stories are told via fantasy, in which the child character escapes into some other world in order to find the strength they need to survive. Boy characters sometimes take on the fantasy persona of superheroes in order to cope, under pressure to protect other members of their family from a coercively controlling male.
The anagnorisis phase of these stories often involves the young person finding their voice which was previously silenced. This type of self-revelation is commonly preceded by a wish on the main character's part to remain invisible.
Sometimes child victims in stories of domestic abuse — especially girls — find something in common with animals (commonly foxes, owls and other fairytale creatures) because, like animals, they have developed a sixth sense to predict impending danger.
Monsters are also common, and the monsters can be coded as a representation of fear.
Stories about domestic abuse typically end with one or more of the following messages for young readers:
You are not alone.
It's not your fault.
You must tell someone you trust.
It doesn't have to be this way!
THE BOOK OF EVERYTHING BY GUUS KUIJER
MARY UNDERWATER BY SHANNON DOLESKI
THE SKY IS MINE BY AMY BEASHEL
MAGPIE BY EVE AINSWORTH
HERSHEY HERSELF BY CECILIA GALANTE
RUN REBEL BY MANJEET MANN
COOKIE BY JACQUELINE WILSON
LOLA ROSE BY JACQUELINE WILSON
THE SUMMER OF TELLING TALES BY LAURA SUMMERS
Middle grade novels frequently deal with the developmental phase in which children learn that 'lying' is not as black and white as adults have been telling them all along.
ME MAM. ME DAD. ME. BY MALCOLM DUFFY
ELEANOR & PARK BY RAINBOW ROWELL
Nothing in the marketing copy suggests more than a love story, but Eleanor's step-father is an example of a coercively controlling abuser.
PAPER BUTTERFLIES BY LISA HEATHFIELD
CHINGLISH BY SUE CHEUNG
THE BONE DRAGON BY ALEXIA CASALE
GOODNIGHT MISTER TOM BY MICHELLE MAGORIAN
THE STAR OUTSIDE MY WINDOW BY ONJALI RAUF
The domestic abuse in this story may not be obvious to readers who are not yet ready to deal with it.
THE LIGHT JAR BY LISA THOMPSON
A GAME OF FOX AND SQUIRRELS BY JENN REESE
THE YEARBOOK BY HOLLY BOURNE
TIGER DAUGHTER BY REBECCA LIM
WHERE WE BEGIN BY CHRISTIE NIEMAN
SMASHED BY ANDY ROBB
GHOST BY JASON REYNOLDS
Domestic abuse is a part of the backstory of the main character of Ghost, book one of the Track series.
PET BY AKWAEKE EMEZI
DICEY'S SONG BY CYNTHIA VOIGHT
Cynthia Voight is one of the very few authors of children's books who dares write absolutely awful mothers. Almost every other neglectful mother in children's literature ultimately loves her children, despite how flawed she is.
THE BENEFITS OF BEING AN OCTOPUS BY ANN BRADEN
JOE ALL ALONE BY JOANNA NADIN
THE BOY WHO SAILED THE OCEAN IN AN ARMCHAIR BY LARA WILLIAMSON
THE PERKS OF BEING A WALLFLOWER BY STEPHEN CHBOSKY
ALL YOU KNEAD IS LOVE BY TANYA GUERRERO
BECAUSE I AM FURNITURE BY THALIA CHALTAS
THE TULIP TOUCH BY ANNE FINE
NOBODY'S FAMILY IS GOING TO CHANGE BY LOUISE FITZHUGH
GRACE BY MORRIS GLEITZMAN
THE DEVIL YOU KNOW BY LEONIE NORRINGTON
DEADLY, UNNA? BY PHILLIP GWYNNE
THE SHEPHERD'S CROWN BY TERRY PRATCHETT
WHAT MOMMA LEFT ME BY RENEE WATSON
GOSSAMER BY LOIS LOWRY
BRAVE DANNY BY ROBIN ADOLPHS AND NICKY JOHNSTON
Now for some picture book examples.
ANGRYMAN BY GRO DAHLE AND SVEIN NYHUS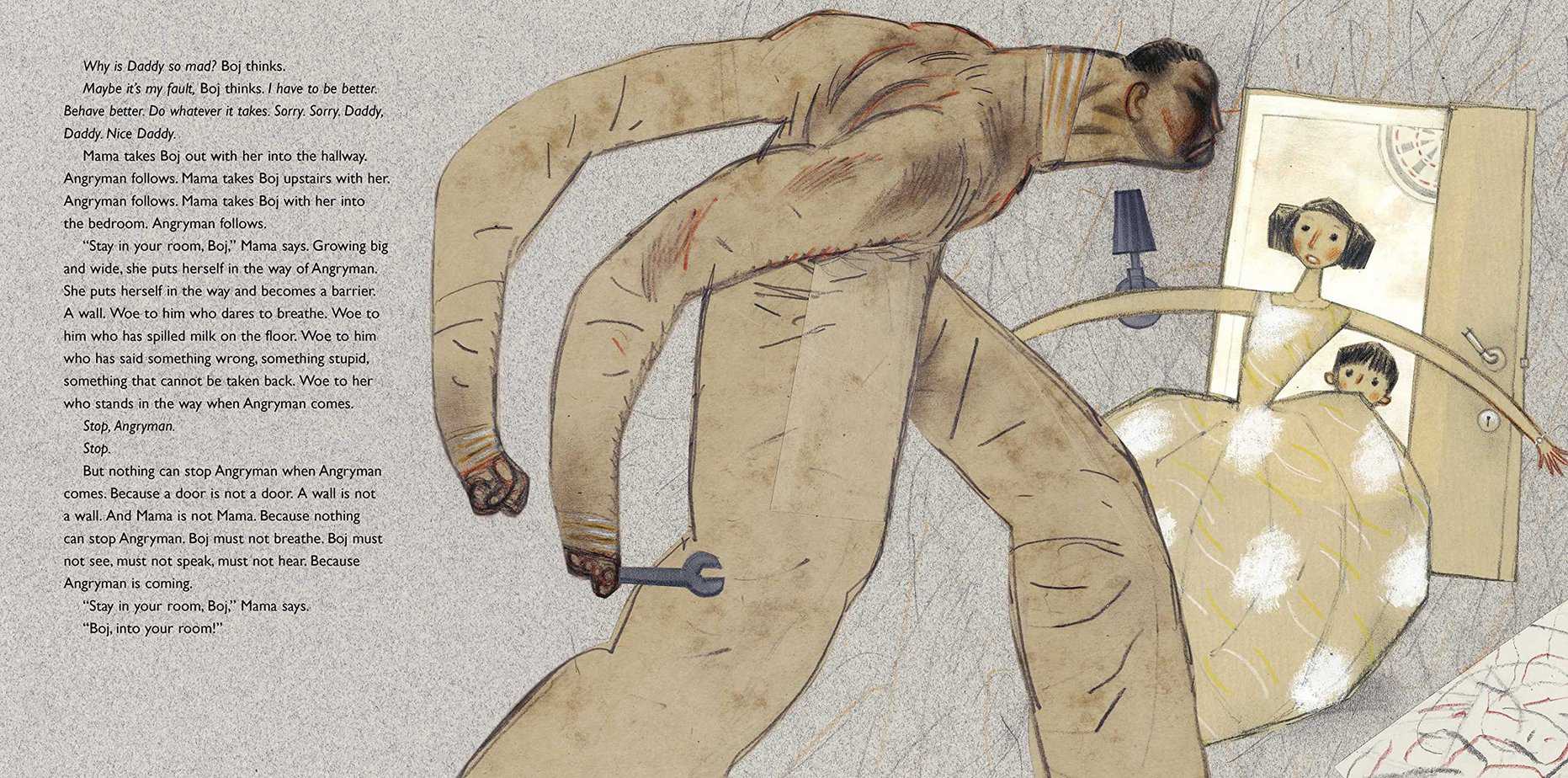 FURTHER READING
CCChat Magazine, the FREE magazine on and around coercive control
For classroom study, I recommend "Daughters Of The Late Colonel" by Katherine Mansfield.
The Problem Novel in children's literature
The 'Deadly Female' Trope In Children's Literature
This trope has real world consequences, as explained below, in a linguist's breakdown of female politicians in England's election (the one in which Theresa May won):
The Guardian's Andrew Rawnsley, for instance, preferred another familiar formula: 'the female of the species is deadlier than the male'. Her 'softer side' conceals a dark heart, and an insatiable hunger for power over men.
In her quiet but deadly way, Mrs May has been the most ruthless player of them all… She waited for the Tory boys to finish knifing each other in their pantomime version ofHouse of Cards and then elegantly stepped over their twitching corpses to seize pole position for the succession.
Apparently we're supposed to judge May as somehow more ruthless than Gove or Johnson because she stood quietly on the sidelines while they were figuratively killing each other. And then stepped over their dead bodies in a properly ladylike manner. As he reached for his dictionary of sexist clichés, perhaps Rawnsley regretted that May steps out in kitten heels rather than stilettos. Or perhaps his use of a subtly gendered rhetoric (juxtaposing 'deadly' and 'ruthless' with 'quiet' and 'elegant') was not the product of deliberate calculation. Perhaps he was just channelling the collective unconscious, where misogyny can flourish unencumbered by logic.
Andrea Leadsom has also been presented as a 'sinister' figure, sometimes using a strategy I mentioned in my previous post–comparing her to one of the archetypal female wielders of petty authority (head girl, headmistress, Matron, etc.) who are conventionally depicted as simultaneously ridiculous (their pretensions to power are comical) and repulsive. The Times sketch-writer Patrick Kidd brought these themes together in a comment he made on Twitter:
I can imagine Andrea Leadsom being a very reassuring pharmacist, if not a prime minister. She has something of the Night Nurse about her.

language: a feminist guide