Being alone is a newness to a twelve-year-old child. He is so used to people about. The only way he can be alone is in his mind. There are so many real people around, telling children what and how to do, that a boy has to run off down a beach, even if it's only in his head, to get by himself in his own world, with his own miniature values.

Ray Bradbury, "The Lake"
It happened that green and crazy summer when Frankie was twelve years old. This was the summer when for a long time she had not been a member. She belonged to no club and was a member of nothing in the world. Frankie had become an unjoined person and hung around in doorways, and she was afraid."

Carson McCullers, The Member of the Wedding
Read enough children's books and you'll realise something magical happens after age twelve. It's even embedded in the English language, in which thirteen marks the beginning of the teen years. Twelve is the final age of innocence.
In my research, I find twelve to be the age where animators portray girl characters with "boobs and boyfriends", a sexually objectifiable body for the gaze usually accompanied by a heteronormative romantic interest.

Touching Queerness in Disney Films Dumbo and Lilo and Stitch by Katia Perea
In JudeoChristian terms, 12 is the final year in which you can get away with things. Next comes 'the age of accountability'.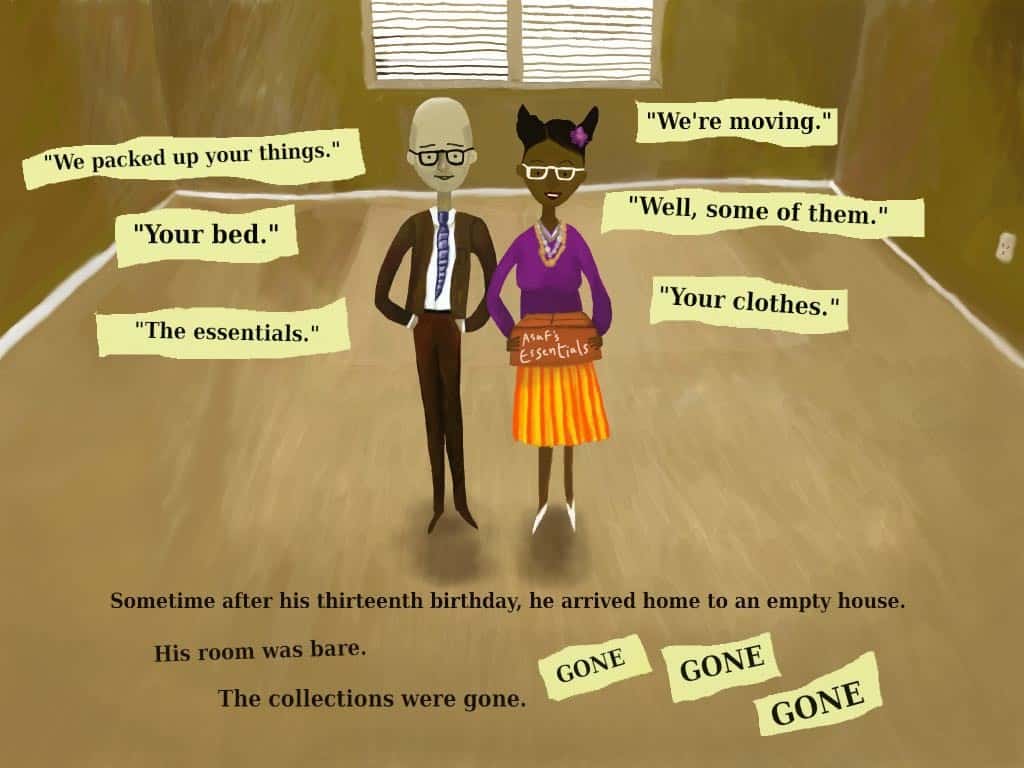 Farewell, Papa, with your brave, shy heart and your funny little ways; with your humour and your  wisdom and your never-failing goodness; … "Well," you will tell yourself, "it lasted until he was twelve; they grow up and resent our care for them, they form their own ideas, and think ours old-fashioned. It is natural. But oh, to have that little boy again, whom I used to throw up to the sky, his face laughing down into mine."

A.A. Milne, from his autobiography
Twelve is the magical dividing line, we all know that. I don't care what grown-ups say, but that's when your childhood comes to an end.

Peter Pohl, Johnny, My Friend
"Nothing that happens after we are twelve matters very much."

J.M. Barrie, nearly a century ago.
Twelve As The Age Of Initiation
Amazingly many children's novels portray characters of eleven or twelve. I do not think this is a coincidence. This is the age of initiation in many archaic cultures, and although this connotation has been lost in Western society, some remnants may be left in the authors' imagination. Children in The Giver are assigned their jobs, and therewith their place in society, at the age of twelve. Here is what another character says about this age: "Twelve is the magical dividing line, we all know that. I don't care what grown-ups say, but that's when your childhood comes to an end" (Johnny My Friend, 89). Formally, of course, after twelve you are a "teenager", not a child.

from The Rhetoric of Character In Children's Literature by Maria Nikolajeva
Tally watched the last few uglies make their way inside, gawky and nervous, unkempt and uncoordinated. Twelve was definitely the turning point, when you changed from a cute littlie into an oversize, under-educated ugly.

Uglies by Scott Westerfeld (page 77)
It's no accident that in Lois Lowry's book The Giver, Jonas and his peers are chosen for bigger things at the age of twelve. Jonas feels overwhelmed by this metamorphosis from child to adult:
Jonas trudged to the bench beside the Storehouse and sat down, overwhelmed with feelings of loss. His childhood, his friendships, his carefree sense of security — all of these things seemed to be slipping away.
Ghost by Jason Reynolds — Ghost. Lu. Patina. Sunny. Four kids from wildly different backgrounds with personalities that are explosive when they clash. But they are also four kids chosen for an elite middle school track team—a team that could qualify them for the Junior Olympics if they can get their acts together. They all have a lot to lose, but they also have a lot to prove, not only to each other, but to themselves.
Hero by Mike Lupica — Though mostly known for his sports books, Lupica has written a great stand alone superhero story in Hero. Fourteen-year old Billy Harriman has always idolized his father, a man trusted by presidents and deeply involved in international intrigue. When he goes missing missing during a mission, Billy decides to investigate what happened. At the same time, Billy learns that he has superpowers and that maybe his father did, too.
Twelve As The Age Of In-between
Sometimes the protagonist starts off eleven then turns twelve. Sometimes the protagonist is twelve and turns thirteen.
Onkeli portrays a child of around 11 to 13 who is confused by many things. Researchers consider this age group to fall into an in-between area: there aren't enough appealing activities on offer for kids of this age, who are treated as an awkward bunch both at home and at school.

Kreetta Onkeli: Poika joka menetti muistinsa [The boy who lost his memory]
In the middle grade novel Powerless by Matthew Cody, a boy learns that his friends are superheroes who mysteriously lose their powers when they turn 13.
In Richard Peck's middle grade novel Strays Like Us, Molly turns 13 and loses the naive hope of her drug addict mother returning to care for her.
A Bridge To The Stars by Henning Mankell is a middle grade thriller set in northern Sweden. The hero Joel is eleven, then turns twelve as he is forced to confront the grown-up challenge of his father's disappearance.
The Wednesday Wars by Gary Schmidt — Holling Hoodhood is a seventh-grader at Camillo Junior High. Holling must spend Wednesday afternoons with his teacher, Mrs. Baker, while the rest of the class has religious instruction. Mrs. Baker doesn't like Holling—he's sure of it. Why else would she make him read the plays of William Shakespeare outside class? But everyone has bigger things to worry about, like Vietnam. His father wants Holling and his sister to be on their best behaviour: the success of his business depends on it. His challenge is to stay out of trouble with all this going on in his life. Trouble involves bullies, angry rats and a baseball hero signing autographs the very same night Holling has to appear in a play in yellow tights. In the end he finds motivation and musters up the courage to embrace his destiny in spite of himself.
Summerlost by Ally Condie —12-year old Cedar Lee is still reeling from the accident that killed her father and her little brother Ben. Her mother decides to move her and her other little brother, 8 year old Miles, back to her hometown for the summer, where she buys an old house and throws herself into fixing it up. Left to explore the town by herself, Cedar befriends a strangely dressed boy whom she soon learns works at the town's renowned Shakespeare festival, called Summerlost. The two share an understated bond as outsiders and soon become embroiled in minor mysteries and dramas that all serve to highlight Cedar's delicate journey toward moving on and processing her family's new reality.
Gone Crazy In Alabama by Rita Williams-Garcia —Delphine, Vonetta, and Fern are off to Alabama to visit their grandmother Big Ma and her mother, Ma Charles. Across the way lives Ma Charles's half sister, Miss Trotter. The two half sisters haven't spoken in years. As Delphine hears about her family history, she uncovers the surprising truth that's been keeping the sisters apart. But when tragedy strikes, Delphine discovers that the bonds of family run deeper than she ever knew possible.
Schooled by Gordon Korman — Capricorn Anderson grew up on a commune outside of town, where he has been homeschooled by his grandmother for his whole life. When Cap's grandmother gets injured and must spend time in the hospital, Cap is forced to attend a regular middle school for the first time. Optimistic and good natured even in the face of middle school politics and cruelty, Cap still manages to make a positive impact on everyone he meets.
The Truth About Twinkie Pie by Kat Yeh — Two sisters move from their trailer park in South Carolina to the North Shore of  Long Island in search of a better life. Big Sister Didi is a junior high drop out turned hair stylist who has recently won a national cooking contest. Twelve-year old Gigi must get used to a new school and new friends.
First Light by Rebecca Stead — Twelve-year old Peter lives in New York City with his biologist mother and his glaciologist father. When an opportunity arises to study in Greenland, the whole family packs up to spend a few exciting months in the arctic. Fourteen-year old Thea has never seen the sun. Escaping from accusations of witchcraft, her people escaped and set up a civilization inside a glacier, existing in secret for generations. Thea is determined to find a way to the Earth's surface. Peter is happily exploring his new environment. Slowly but surely, the two narratives move toward each other.
Goodbye Stranger by Rebecca Stead — "Long ago, best friends Bridge, Emily, and Tab made a pact: no fighting. But it's the start of seventh grade, and everything is changing. Emily's new curves are attracting attention, and Tab is suddenly a member of the Human Rights Club. And then there's Bridge. She's started wearing cat ears and is the only one who's still tempted to draw funny cartoons on her homework.  It's also the beginning of seventh grade for Sherm Russo. He wonders: what does it mean to fall for a girl—as a friend?  By the time Valentine's Day approaches, the girls have begun to question the bonds—and the limits—of friendship. Can they grow up without growing apart?"
A Night Divided by Jennifer Neilson — Twelve-year old Gerta's lives in post war Berlin and finds her life turned upside down when the Berlin Wall goes up overnight. She, her  mother and her brother Fritz live on the communist Eastern side and have been separated from their father and her other brother who had been searching for work on the West side and were unable to get back after the Wall. Life in the Eastern side is grim and terrifying, with soldiers watching over their every move and paranoia ruling everyday life. One day, Gerta spots her father on a viewing platform on the other side of the Wall doing a strange pantomiming movement. She soon realizes that he wants her to tunnel under the wall to the Western side.
The Crossover by Kwame Alexander — 'With a bolt of lightning on my kicks . . .The court is SIZZLING. My sweat is DRIZZLING. Stop all that quivering. Cuz tonight I'm delivering,' announces 12-year old Josh Bell. He and his twin brother Jordan are awesome on the court. But Josh has more than basketball in his blood, he's got mad beats, too, that tell his family's story in verse, in this fast and furious middle grade novel of family and brotherhood from Kwame Alexander. Josh and Jordan must come to grips with growing up on and off the court to realize breaking the rules comes at a terrible price, as their story's heart-stopping climax proves a game-changer for the entire family.
Listen, Slowly by Thanhha Lai — Born and raised in California, 12- year old Mai can't wait to spend the summer on the beach with her friends. When her parents tell her she will be spending the summer in Vietnam with their grandmother, she is beyond bummed. Her grandmother fled the country after the war and was never able to reunite with her husband, Mai's grandfather. She is determined to find out what happened to him and embarks on a search for answers. Grumpy Mai accompanies her and finds herself slowly warming to Vietnam.
Revolution by Deborah Wiles — Twelve-year old Sunny lives in Greenwood, Mississippi in the summer of 1964, what came to be known as the Freedom Summer. As volunteers from the north move into the town to help register voters and establish schools, violence and tensions heat up. Meanwhile, Sunny struggles to accept her new stepmother and siblings, and chooses to spend most of her time roaming the streets. In a parallel narrative, we meet Raymond, an African American boy who is impatient for the pool, movie theater and baseball fields to be integrated. Sunny and Raymond cross paths again and again as the situation in their town gets worse. Deborah Wiles is a master at combining personal stories with historical detail. Excerpts from newspapers and advertisements from 1964 are sprinkled throughout, adding authenticity and realism to this emotional, important story.  Also amazing on audio.
Some Kind of Courage by Dan Gemeinhart — Joseph Johnson has lost everything in his life that his dear to him: his parents, his sister and his home. When his beloved pony is taken from him too, Joseph decides to do everything in his power to get her back. He embarks on a thrilling and dangerous adventure across 1890s Washington state in pursuit of his pony.
Drama by Raina Telgmeir — Callie loves theater. And while she would totally try out for her middle school's production of Moon over Mississippi, she can't really sing. Instead she's the set designer for the drama department's stage crew, and this year she's determined to create a set worthy of Broadway on a middle-school budget. But how can she, when she doesn't know much about carpentry, ticket sales are down, and the crew members are having trouble working together?
See you at Harry's by Jo Knowles — Twelve-year-old Fern feels invisible. It seems as though everyone in her family has better things to do than pay attention to her: Mom (when she's not meditating) helps Dad run the family restaurant; Sarah is taking a gap year after high school; and Holden pretends that Mom and Dad and everyone else doesn't know he's gay, even as he fends off bullies at school. Then there's Charlie: three years old, a "surprise" baby, the center of everyone's world. He's devoted to Fern, but he's annoying, too, always getting his way, always dirty, always commanding attention. If it wasn't for Ran, Fern's calm and positive best friend, there'd be nowhere to turn. Ran's mantra, "All will be well," is soothing in a way that nothing else seems to be. And when Ran says it, Fern can almost believe it's true. But then tragedy strikes- and Fern feels not only more alone than ever, but also responsible for the accident that has wrenched her family apart. All will not be well. Or at least all will never be the same.
Lions of Little Rock by Kristin Levine — As twelve-year-old Marlee starts middle school in 1958 Little Rock, it feels like her whole world is falling apart. Until she meets Liz, the new girl at school. Liz is everything Marlee wishes she could be: she's brave, brash and always knows the right thing to say. But when Liz leaves school without even a good-bye, the rumour is that Liz was caught passing for white. Marlee decides that doesn't matter. She just wants her friend back. And to stay friends, Marlee and Liz are even willing to take on segregation and the dangers their friendship could bring to both their families.
The Thing About Jellyfish by Ali Benjamin — Everyone says that it was an accident… that sometimes things "just happen". But Suzy won't believe it. Ever. After her best friend dies in a drowning accident, Suzy is convinced that the true cause of the tragedy was a rare jellyfish sting. Retreating into a silent world of imagination, she crafts a plan to prove her theory–even if it means traveling the globe, alone. Suzy's achingly heartfelt journey explores life, death, the astonishing wonder of the universe…and the potential for love and hope right next door.
It Ain't So Awful, Falafel by Firoozeh Dumas — Zomorod (Cindy) Yousefzadeh is the new kid on the block . . . for the fourth time. California's Newport Beach is her family's latest perch, and she's determined to shuck her brainy loner persona and start afresh with a new Brady Bunch name—Cindy. It's the late 1970s, and fitting in becomes more difficult as Iran makes U.S. headlines with protests, revolution, and finally the taking of American hostages. Even mood rings and puka shell necklaces can't distract Cindy from the anti-Iran sentiments that creep way too close to home.
Blackbird Fly by Erin Entrada Kelly — Twelve-year-old Apple has always felt a little different from her classmates. She and her mother moved to Louisiana from the Philippines when she was little, and her mother still cooks Filipino foods and chastises Apple for becoming "too American." When Apple's friends turn on her and everything about her life starts to seem weird and embarrassing, Apple turns to music. If she can just save enough to buy a guitar and learn to play, maybe she can change herself. It might be the music that saves her . . . or it might be her two new friends, who show her how special she really is.
Roller Girl by Victoria Jamieson — Twelve-year-old Astrid and her best friend Nicole have done everything together for most of their lives. But when Astrid decides to try Roller Derby and Nicole chooses dance camp, Astrid must face a summer of changing friendships and new experiences. A sweet and realistic tale of the growing up and growing apart that often accompanies the shift from childhood to adolescence. Perfect for fans of Raina Telgemeier.
Awkward by Svetlana Chmakova — On her first day at her new school, Penelope–Peppi–Torres reminds herself of these basics. But when she trips into a quiet boy in the hall, Jaime Thompson, she's already broken the first rule, and the mean kids start calling her the "nerder girlfriend." How does she handle this crisis? By shoving poor Jaime and running away! Falling back on rule two and surrounding herself with new friends in the art club, Peppi still can't help feeling ashamed about the way she treated Jaime. Things are already awkward enough between the two, but to make matters worse, he's a member of her own club's archrivals–the science club! And when the two clubs go to war, Peppi realizes that sometimes you have to break the rules to survive middle school!
Frazzled by Booki Vivat — Meet Abbie Wu. Abbie is in crisis—and not just because she's starting middle school or because she's stuck in a family that doesn't quite get her or because everyone seems to have a Thing except her. Abbie Wu is always in crisis. Frazzled dives right into the mind of this hilariously neurotic middle school girl as she tries to figure out who she is and where she belongs. Akin to Smile by Raina Telgemeier, Frazzled is heavily illustrated, embarrassingly honest, and sure to appeal to anyone in the middle of figuring out how to survive the everyday disasters of growing up.
Twelve As The Age Of Fertility
It seems no accdident that the daughter figures in [feminist] nested narratives are girls who are either twelve years old or close to it. In The Mixed-Up Files, Claudia is one month shy of being twelve; Arilla turns twelve in the beginning of the framing tale of Arilla Sun Down. One of the stories that Georgina [of The Borning Room by Paul Fleischman] tells about herself occurs the summer she is twelve; it is the story of how she has learned form her grandfather's stories that all living things are spiritual. That these girls learn about the power of narrativity while they are on the brink of physical fertility creates a textrual conjoining of artistry and maternity. As their bodies become capable of housing new life, their narratives become capable of housing new stories.

Roberta Seelinger Trites, Waking Sleeping Beauty
By 'nested narrative', Trites is referring to the circular plot shape with a story within a story, commonly used to tell feminist/feminine children's stories.
Related Links
What do you remember best about being twelve? from NYT
Writers over at Book Riot understand that there's something magical about being under 13, because they have published a list of 50 books to read before you're 11 and 3/4.