Of course, no one but Alice Munro can write like Alice Munro. That is my disclaimer on each of my sporadic series of 'How To Write Like…' posts.
GENERAL NOTES ON ALICE MUNRO'S SHORT FICTION
Munro's stories have grown more complex as she has grown older. Later stories are sometimes a more complex take on an earlier one.
Munro's stories don't cohere in the same way as chapters in a novel but together they form a unified work of art. Short stories may do a better job of highlighting certain aspects of her work than novels would have.
Something from page three will come and hit you on page thirty, but you had not registered the matter when you first read page three.

New Yorker fiction editor Deborah Treisman
Munro reveals essential truths about ourselves in an unsentimental, yet deeply humane way.
Missed opportunities and lies are two themes that Munro approaches from many angles.
Consider Munro's beginnings and endings as of a piece — the beginning will foreordain the ending.
Munro enjoys experimenting with the gothic.
Munro has said she sees stories architecturally, as a house whose various rooms one can roam in and out of, forgoing any prescribed order.
Munro has said that she admires writers of the American South, such as Eudora Welty and Carson McCullers.
Munro writes with black humour.
Julian Barnes states that Munro's short stories 'have the density and reach of other people's novels'.
Some of her stories are unusually longer than typical short stories.
Munro stories show an interest in love and the often hidden intricacies of marriage.
A theme is often love, or perhaps romantic notions masquerading as love.
The complications and cruelties of age and time are other themes that Munro re-visits.
She reminds us that love and marriage never become unimportant as stories—that they remain the very shapers of life, rightly or wrongly. She does not overtly judge—especially human cruelty—but allows human encounters to speak for themselves. She honors mysteriousness and is a neutral beholder before the unpredictable. Her genius is in the strange detail that resurfaces, but it is also in the largeness of vision being brought to bear (and press on) a smaller genre or form that has few such wide-seeing practitioners. She is a short-story writer who is looking over and past every ostensible boundary, and has thus reshaped an idea of narrative brevity and reimagined what a story can do.

Lorrie Moore, The New Yorker
There is plenty of multivalent detail throughout Munro's fiction, meaning a particular detail can be read at a literal as well as symbolic level. This is perhaps why Munro's details seem, at first glance, 'strange'.
Even when you are surprised by a shift in a character's thoughts, it seems completely organic. We all make those kinds of transitions in our thinking processes, even though they don't point to an end the way a story does.

An Appreciation Of Alice Munro
THE STORYWORLDS OF ALICE MUNRO
The 'real worlds' of Munro's stories have settings dotted around Canada, focusing on Southwestern Ontario, where Munro has spent the majority of her life. During her first married she lived in West Vancouver and Victoria, so she knows the other side of Canada as well.
Munro's sense of irony is invariably directed at herself more than at her characters. She has always regarded herself as an anachronism: an old-style writer, writing about a rural world she once knew, which has been transformed. Except that, although society has changed, human nature hasn't, and this is why Munro's understanding of life is so compelling.

Irish Times
The landscape of a Munro short story has been described as a consanguinity between the fictional and the real. (Meaning they both come from a common ancestor.)
The setting of the real is portrayed as affectively meaningless to us. (The fictional is as important, on a psychological level, as the imagined, or the hoped for.)
There's been a lot of critical interest around the realism of her work, with some people making reference to magical realism.
Munro often creates a world that has all the illusion of external reality, but she pulls the reader deeper and deeper into what becomes a hallucinatory inner world which may include mystery, secrecy, and deception.
In many of Munro's stories the willing of a destiny is overtaken by a fatality that is unnervingly spectacular. Characters are driven by something they cannot resist because they are certain they are a part of it. Munro explores fatality in many different ways across many of her stories. https://youtu.be/nvUeo5sagkA
TIME
A common Munro device is to begin in the now and hurtle back to the then.
Much has been said about how Alice Munro can write a novel in the space of a short story.
Alice Munro can move characters through time in a way that no other writer can. You are not aware that time is passing, only that it has passed—in this, the reader resembles the characters, who also find that time has passed and that their lives have been changed, without their quite understanding how, when, and why. This rare ability partly explains why her short stories have the density and reach of other people's novels. I have sometimes tried to work out how she does it but never succeeded, and I am happy in this failure, because no one else can—or should be allowed to—write like the great Alice Munro.

Julian Barnes, The New Yorker
CHARACTERISATION
Most of Munro's main characters are women, but not all of them. "Face" (2008) is from the point of view of a young boy.
Munro has the ability to recreate the mundanities of ordinary lives, but also to gently peel away the layers and reveal the raw emotions submerged beneath.
There is great poignancy in Munro's description of individuals who don't fit in and obvious pleasure in her revelations of their small triumphs.
— Claire Thurlow
Alice Munro writes many stories about women in mid-life, caught between memory and reality. Throughout the narrative they reassess and reflect.
But occasionally she writes a child character, e.g. "Trespasses", in which Lauren is a ten-year-old girl.
For Munro's characters, to imagine something is to understand it.
Munro's work is interested in men with menacing water, especially hoses. (Is this sexual?)
Munro's women are perceptive guessers, quiet visionaries, fortuitous survivors.
FAMILY STRUCTURE
Families are usually complicated in Alice Munro stories. Families aren't nuclear; marriages aren't lifelong/faithful. In later stories, the wider network is populated with LGBT characters. This is, of course, like life.
Alice Munro's mothers have been likened to clowns: Mothers and Other Clowns: The Stories of Alice Munro by Magdalene Redekop (a feminist work).
Is Alice Munro feminist?
Like Chekhov, Alice Munro never sets out to make a political point. She isn't sexist, she has no axe to grind. She's simply bearing witness to the human experience, reporting from the front lines. Yet she is making a political point, one that's radical because it's so enormous and so unsettling. The point is that girls and women, even those who lead narrow and constricted lives, those who wield no influence, who have a limited experience in the world, are just as significant and important as boys and men, those who take drugs, ride across the border, drift down the river, or hunt whales. Women's lives, too, are driven by the great forces that drive all important experience. As it turns out, all those forces are internal: rage, love, jealousy, spite, grief. These are the things that make our lives so wild and dramatic, whether the backdrops are harpoons or swing sets. The great experiences can be set anywhere: a dentist's office, a neighbor's living room, a country road at night. It's those propulsive, breathtaking, suffocating forces inside us that make those moments so vivid and shocking, it's what's inside us that cracks the landscape open, shocking and illuminating like a streak of lightning. She showed us that, Alice Munro.

Roxana Robinson
UNSENTIMENTAL WORLD VIEWS
Characters are lacking in sentimentality. Alice Munro has said in an interview regarding the death of her own daughter, soon after giving birth, that she went home and barely talked about it with her first husband because they were not a sentimental couple. This reminds me of my grandparents, who were probably the same after their own stillbirth experience in the late 1950s.
FANTASIES BUT NOT FANTASISTS
It is reality that awakens possibilities, and nothing would be more perverse than to deny it.

Robert Musil, The Man without Qualities
There are tales featuring out-and-out fantasists, like the short story "The Secret Life of Walter Mitty" and the film My Summer of Love, but Alice Munro's characters are not fantasists. Instead, they are firmly reality based on the Continuum Of Imaginative Powers. Characters use imagination to explore alternate realities, to cope with grief and other uncomfortable emotions.
The difficulty of authentic and complete reconstructions of events in Munro's fiction is not, on the whole, a problem of history, and much less of an exuberant postmodern sensibility, but of a general conviction that life is comprised of "disconnected realities. […]

Though Munro's characters are grounded in reality, characters have fallible memories. When Munro takes the reader along on remembrances of the past, at no point are we encouraged to believe every single word. (Wrong) memory can influence someone's present as much as the past reality.

'Who Was It If It Wasn't Me?': The Problem of Orientation in Alice Munro's 'Trespasses': A Cognitive Ecological Analysis
Memory, however, is fallible. It is incomplete. Munro does an excellent job of recreating how memory really works. Perhaps only older readers will appreciate this particular aspect of her stories; instead of remembering the 'plots' of past events, even big events, we tend to be left with resonant imagery. We forget people's names, even if they were important to us. Minor characters become larger in hindsight. Significant characters can seem almost fictional in hindsight.
In creating  a sense of imperfect memory, Alice Munro makes much use of a technique I've seen described as 'side shadowing'. It's especially useful to the short story writer because the story seems so much more expansive. Side-shadowing is used in various ways, and Munro has numerous reasons for using it.
Here's how Ulrica Skagert puts it:
The phenomenon of possibility permeates Munro's stories. An investigation of this phenomenon shows a curious paradox between possibility and necessity.
It's not just fallible human memory which toys with the 'reality' presented to readers. Characters tend to have the following psychological and moral shortcomings:
 
Munro's fiction most often suggests that a determinate set of events lies behind the text, but that the conflicting self-justifications of her characters undermine narrative certainty. Familiar motives and shortcomings—the everyday dishonesty fostered by self-interest; the inclination to suppress what is ugly and disturbing; and the failure to exhibit a systematic sense of responsibility in our dealings with others—animate the accounts of Munro's characters.

'Who Was It If It Wasn't Me?': The Problem of Orientation in Alice Munro's 'Trespasses': A Cognitive Ecological Analysis
The Anagnorisis at the end of Munro's stories tends to feature an event which offers a moment of release and an 'epistemic certainty to the characters' (Ulrica Skagert). Epistemic means 'relating to knowledge'. Skagert argues that via this release and certainty the characters obtain a radical, audacious sense of freedom and intensity of life. So, more of an 'epiphany' than uninflected 'anagnorisis'. Characters tend to move from entrapment to freedom.
Great stories are created by a nuanced sentence, a sudden realisation, a life-changing wrong choice; they are made in the description of a knowing glance, the angle of a character's shoulders as they walk away, in the slow anger that destroys a love and shapes memory. Character, not plot, drives her art, which explores life as lived.

Irish Times
And here's the difference between a good short story and an excellent one: In a great story, the reader also experiences a Anagnorisis. However, this is not spelled out for us. The reader must generally work for it. How does Munro lead us to our Anagnorisiss? Well, the trickery starts at the beginning:
As Munro brings conflicting interests and accounts to the fore, the desideratum of [desire for] factual accuracy loses authority as the reader focuses on ethical concerns and shapes a value- rather than event-based narrative account from the discrepancies. Not surprisingly, then, Munro's preoccupation with accurate accounts is not merely thematic, but informs the structure of many of her stories, whose meandering beginnings challenge the reader's basic efforts at orientation.

'Who Was It If It Wasn't Me?': The Problem of Orientation in Alice Munro's 'Trespasses': A Cognitive Ecological Analysis
THE INVERSE OF MELODRAMA
Munro includes details which prevent her stories from slipping into melodrama. The Irish Times describes her as a 'coolly astute observer of the ordinary'. Alice Munro writes the opposite of melodrama. Instead, terrible and life-changing events happen alongside the mundane events, mostly. Instead, terrible and life-changing events happen alongside the mundane events, mostly. For instance, a husband dies suddenly while at the hardware store (in "Free Radicals"). Instead of the wife at home, wondering what's happened to him, "She hadn't had time to wonder about his being late."
VOCATIONS OF CHARACTERS
Characters are often: teachers (especially music teachers), university lecturers (philandering), carpenters and doctors (often scoundrels, despite their social standing), pharmacists — not many people have really obscure sounding jobs, but maybe no one did last century?
Piano teachers, divorced professors, country doctors, solitary widows in the country—all those small and insignificant people lead lives of enormous drama. Women lead lives of enormous drama. She has made that into fact.

Roxana Robinson, The New Yorker
EMOTIONAL LABOUR
The women are shown performing emotional labour in a way you don't tend to find in stories written by men, even when men are creating female characters. Most men simply don't seem to get the extent to which women are acculturated in this area. The opening paragraph of "Free Radicals" is a perfect example of this:
At first, people kept phoning, to make sure that Nita was not too depressed, not too lonely, not eating too little or drinking too much. (She had been such a diligent wine drinker that many forgot that she was now forbidden to drink at all.) She held them off, without sounding nobly grief-stricken or unnaturally cheerful or absent-minded or confused. She said that she didn't need groceries; she was working through what she had on hand. She had enough of her prescription pills and enough stamps for her thank-you notes.
ALCOHOL
If there's drug use in her stories, it'll be alcohol. When asked if she took drugs during the hippie era, Alice Munro replied maybe a little marijuana, but alcohol is the drug of her generation.
Munro has also talked about how women of her generation never developed their own personal desires until the hippie era hit them, and then it hit them with a force. Even at the age of 30, Alice Munro felt 18 again. Likewise, the younger versions of the women in her stories often seem quite passive. By the time these women are old ladies they've perhaps become a little more self-actuated, but young women are often propelled along by others, mostly men, who really did run that world. Women of Munro's generation were expected to get married and have children. Any other kind of desire was considered unfeminine. Munro herself had exactly those desires. (Munro published her first book age 37, before her awakening. If she'd published earlier, we would've seen quite different work.)
YOUNG AND OLD TOGETHER
The cast of characters will most likely contain both young and old, and that's aside from the narrator's young and old self. For instance, a young woman will meet an old woman. This reminds her of her own mortality, perhaps, or the older lady from the past connects the main character's older and younger self in a way that may not have been evident to the character herself. We are constantly reminded as readers that our age is not our identity; at some point we are young and, if we are lucky, at some point we are old.
CHARACTERS ARE SHAPED BY THEIR CIRCUMSTANCE
In this post I explain the difference between folk psychology and studied psychology: People do not have much in the way of enduring character — how we behave in any given situation depends largely on the situation.
A difference between genre fiction and good literary fiction — in literary fiction characters behave according to their circumstance, as people in real life would. Below, a reader explains this in a review of  Munro's collection, The Love Of A Good Woman:
Loving Munro is … easy because her ethics of care and compassion for others [is] embodied by these stories, for example by Enid, the protagonist of ["The Love Of A Good Woman"]. Yet Munro refuses to paint an icon for worship: Enid can live as she does only because of her enabling circumstances, she experiences poisoned fantasies, and her goodwill is not unconditional. The same is true for other characters: each person in the book is carefully drawn as an individual shaped by histories, enmeshed in social structures that influence, constrain, oppress, enable, direct, oppose and support them in interconnected ways. They are at least partly responsible for their fortunes and failings, but Munro never victim-blames or hero-worships.

from a Goodreads reviewer
QUINTESSENTIAL THUMBNAIL CHARACTER SKETCHES
Here's the problem with thumbnail character descriptions and why I shy away from writing them myself: By simply describing someone, we are actively encouraging the reader to fall back on stereotypes. Without existing prejudice, character sketches can't do their job and are useless. Why does a writer give us a character's BMI? Is it simply to paint a picture in our mind? Or are we meant to map society's view onto characters?
Yet if writers avoid describing characters altogether, readers may fail to paint a picture. Moreover, they'll come up with their own picture. I once wrote a short story, put it through critique. Halfway through the story I mentioned the main character's beard. A critique partner said that I'd 'sprung the beard' on them. I found the imagery of that funny, but the reason they felt that way? I hadn't started with any thumbnail sketch.
How to write character sketches without the inevitable downsides?
Well, Munro doesn't shy away from telling us someone's BMI and we can easily deduce where they would fall on the beauty spectrum. (Should we avoid talking about fatness and thinness at all? That's a whole different issue with arguments both ways.)
Such information is offset by the fact that many of Munro's character descriptions include a line about how the person we see is not the real person at all.
Mr. Travers never told stories and had little to say at dinner, but if he came upon you looking, for instance, at the fieldstone fireplace he might say, "Are you interested in rocks?" and tell you how he had searched and searched for that particular pink granite, because Mrs. Travers had once exclaimed over a rock like that, glimpsed in a road cut. Or he might show you the not really unusual features that he personally had added to the house—the corner cupboard shelves swinging outward in the kitchen, the storage space under the window seats. He was a tall, stooped man with a soft voice and thin hair slicked over his scalp. He wore bathing shoes when he went into the water and, though he did not look fat in his clothes, a pancake fold of white flesh slopped over the top of his bathing trunks.

Alice Munro, "Passion"
Mr Travers' manner of speaking
His special interests
Physical description
Voice description
How he is different underneath (under his clothes)
Grace was wearing a dark-blue ballerina skirt, a white blouse, through whose eyelet frills the upper curve of her breasts was visible, and a wide rose-colored elasticized belt. There was a discrepancy, no doubt, between the way she presented herself and the way she wanted to be judged. But nothing about her was dainty or pert or polished, in the style of the time. A bit ragged around the edges, in fact. Giving herself Gypsy airs, with the very cheapest silver-painted bangles, and the long, wild-looking, curly dark hair that she had to put into a snood when she waited on tables.

Alice Munro, "Passion"
Grace's clothing
Her sexualisation of herself
How she is different underneath (she doesn't feel as sexual as she dresses)
A description of her 'falseness', as viewed from a character's POV rather than an objective narrator's. (In the wider context, this would be how same-age men tend to see her.)
A detail of her clothing (the snood) which marks the earlier era
Mrs. Travers, however, was barely five feet tall, and under her bright muumuus seemed not fat but sturdily plump, like a child who hasn't stretched up yet. And the shine, the intentness, of her eyes, the gaiety that was always ready to break out in them, had not been inherited. Nor had the rough red, almost a rash, on her cheeks, which was probably a result of going out in any weather without thinking about her complexion, and which, like her figure, like her muumuus, showed her independence.

Alice Munro, "Passion"
There was a change in his voice—a crack in it, a rising pitch that made her think of a television comedian doing a rural whine. Under the kitchen skylight, she saw that he wasn't as young as she'd thought. When she'd opened the door, she had been aware only of a skinny body, the face dark against the morning glare. The body, as she saw it now, was certainly skinny but more wasted than boyish, affecting a genial slouch. His face was long and rubbery, with prominent light-blue eyes. A jokey look, but a persistence, too, as if he generally got his way.

Alice Munro, "Free Radicals"
Height
BMI
Usual clothing
Comparison to a child
Her eyes, as windows into her soul
The way in which her appearance has been affected by her actions
She was a slim, suntanned woman in a purple dress, with a matching wide purple band holding back her dark hair. Handsome, but with little pouches of boredom or disapproval hiding the corners of her mouth. She left most of her dinner untouched on her plate, explaining that she had an allergy to curry.

Alice Munro, "Passion"
BMI
Skin tone
Clothing
How her handsomeness does not match her attitude
Her allergy to curry, which the reader is encouraged not to take seriously
His hands didn't feel drunk, and his eyes didn't look it. Nor did he look like the jolly uncle he had impersonated when he talked to the children, or the purveyor of reassuring patter he had chosen to be with Grace. He had a high pale forehead, a crest of tight curly gray-black hair, bright gray but slightly sunken eyes, high cheekbones, and rather hollowed cheeks. If his face relaxed, he would look sombre and hungry.

Alice Munro, "Passion"
How he is now different from how he presented at first
His duplicitous way of talking, which is simply a matter of changing register — we all do it, but here we are encouraged to suspect him of something sinister
The dimensions of his face
The colour of his hair (indicating middle age)
How the main character imagines his face might look different. She's really observing him closely.
She is a lean eager-looking woman with a mop of pewter colored hair and a slight stoop which may come from coddling her large instrument, or simply from the habit of being an obliging listener and a ready talker.

Alice Munro, "Fiction"
BMI
hair style and colour
pose
two lifestyle possibilities about why she may have adopted that pose, together telling us all we need to know about this character
NARRATION
Munro writes third person narratives, usually focusing on a woman, moving in and out of her head from close third person to omniscient.
TIME AND SPATIAL ORGANISATION
Time often spans a lifetime, from the point of view of a woman near the end of her life. She looks back on long-ago events as an extradiegetic character. Her younger self seems like a different person to her. After a lifetime of reflection, she is often more forgiving of her younger trespasses, understands why things happened the way they did. The younger woman is often without any particular desire of her own in the story, propelled along by men and expectations.
In these narratives which can span a lifetime, Munro moves seamlessly from the present to the recent past to the long distant past. This requires knowing when to make use of three verb tenses in the English language:
Simple past tense: At first, people kept phoning, to make sure that Nita was not too depressed
Past perfect tense: Rich had told her that he was going to the village, to the hardware store.
Present tense: Rich died in June. Now here it is midsummer.
The reader doesn't notice she's even doing this. She does it so well. Native English speakers create these tenses naturally, yet when writing a story you do have to make a decision when to use which tense, at least at some point, perhaps as part of the revision process.
At first we might think, okay, the distant past would obviously be simple past. The recent past would obviously be the past perfect. And the switch from iterative to the singulative would obviously cue a switch to the present. But look closer; it's a bit more tricky than that.
I find it helpful to think of Munro writing a series of vignettes, each with their own entire timeline filling out the space. So, a flashback might start with the simple past, then within that same flashback it'll switch to past perfect, so the reader feels we're not reading a flashback at all. This is important because a constant stream of flashbacks can otherwise frustrate the reader, who is naturally more interested in the present. (Reading a flashback can feel like reading something enclosed in parentheses — we tend to skip through it, keen to get back to the 'real' text. See what I'm doing here?)
There's another important reason why Munro encourages us to feel the past is inextricably tied to the present. In an Alice Munro story, the present never exists in isolation. Every life event is connected to what came before — the end of life often mirrors the beginning of life — and memories of the past absolutely influence a character's experience of the here and now, influencing decisions which might, to outsiders, seem wacky or illogical.  Once we know the backstory that is affecting her, the reader understands why she behaves the way she does.
Stories unfold as if someone is speaking to us. If you've ever studied speech-making, you'll know that an audience far prefers naturalistic speaking over a memorised script. Although you might falter, you might start a sentence then switch it for another, you add fillers… This is in fact easier for people to understand than a perfect stream of words. This is why conversations with friends are easier to follow than a literary audiobook. Munro absolutely has a sense of how humans grasp story, and she tells her stories as an oral storyteller might.
What is she actually doing, though? What does this mean and how do we replicate the technique?
We might say she's making use of reveals and reversals. Going back to "Free Radicals", the story opens with a woman in mourning. The reader naturally wonders: Why is she in mourning? Okay, we soon learn she's lost her husband. The reader naturally wonders: How did he die? (I think we always wonder this, even if we have the courtesy not to ask, which we should not.) Munro then tells us how the husband dies.
Note that Munro could have completely inverted this in her storytelling. She could open with a man dying outside a hardware store. But she doesn't, because she knows how reveals work. This is a term used by screenwriters, but it applies to everyday storytelling, as well, in a smaller way.
In the same story, we are told that Nita has buried her husband in a cardboard box. The reader wonders if the relationship was terrible. We are told that in fact they planned this together in advance. Reversal: Okay, so she didn't bury him in a box because he was terrible. They are simply unsentimental. Further reveal: Nita had expected to die first because she has a cancer diagnosis. If she's mad at her dead husband, it's for 'stealing her thunder'. See the minor reveals and reversals in there? It's masterful. We think we know this character — we're doing our best to understand her motivations. But small, unexpected pieces of information have us constantly on our toes, reevaluating our understanding of this character.
Alice Munro makes regular use of the writing technique of describing what is not as a way in to what is. The following is a description of recent bereavement:
She thought carefully, every morning when she first took her seat, of the places where Rich was not. He was not in the smaller bathroom, where his shaving things still were, along with the prescription pills for various troublesome but not serious ailments which he'd refused to throw out. Nor was he in the bedroom, which she had just tidied and left. Not in the larger bathroom, which he had entered only to take tub baths. Or in the kitchen, which had become mostly his domain in the last year. He was of course not out on the half-scraped deck, ready to peer jokingly in the window—through which she might, in earlier days, have pretended to be alarmed at the sight of a peeping tom.

"Free Radicals"
Ganette would describe this as the Pause on the continuum of narrative pacing. It slows the narrative down to a standstill, working like a freeze frame in a film. Think also of pillow shots, as Japanese film directors call them.
FAVOURITE SYMBOLS, MOTIFS & SUBJECT MATTER
Look for:
lightness — When we see women depicted in gloomy circumstances caused by patriarchal systems of repression, there is still a recurring moment of a peculiar feeling of lightness or newness that does not fit directly or simply into the condition of their social realities.
newness
sameness — Alice Munro's fiction recognizes life as possibility in a moment when it shows itself in its own remarkable sameness.
absence — a focus not what is there but what is absent or delayed
possibility and fatality — Munro is fascinated by the surface reality of how things are.
liberation vs restraint
contingency and fatality
TRAINS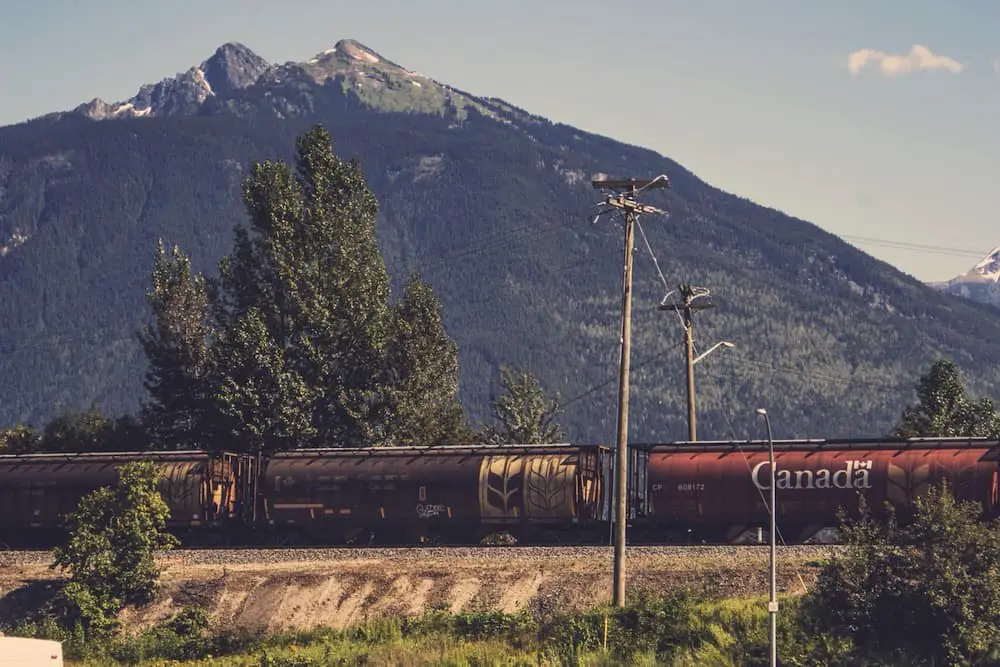 There are many trains — characters inside trains, train tracks going past a house, incidents on train tracks. This makes sense, as trains are a wonderful metaphor for the inevitable passing of time. Once you're on a train there's no stopping it — you'll end up where you end up, and life often seems like this in hindsight.
Munro writes 'character' descriptions of houses, which depicts houses as characters in their own right, inextricably linked to their inhabitants. Houses remain even after the inhabitants have long since gone. A visit to a former house brings back many memories.
Like Annie Proulx, Alice Munro's narratives are often about outsiders coming in to invade small towns. With Munro, an older character returns to former haunts to learn that everything has regrettably changed. Highways have been built, young people have moved in, often with their tacky play sets in the yards. There is regret on the part of the characters — why couldn't things just stay the same? On the other hand, they don't wish for that at all. Rather, their memories are rose-tinted. In a Munro story, reality and memory do not line up.
The house had a row of cedars on one side and a railway embankment on the other. The railway traffic had never amounted to much, and by now there were only a couple of trains a month. Weeds were lavish between the tracks. One time, when she was on the verge of menopause, Nita had teased Rich into making love up there—not on the ties, of course, but on the narrow grass verge beside them—and they had climbed down inordinately pleased with themselves.

"Free Radicals"
Later, in the same story, the train tracks give the impression that once a terrible situation is set in motion, there's no getting out of it. An intruder has tricked his way into her house. Not, Nita must wait for fate to play out: Train tracks as fate.
"I was only going to get the keys."
"You wait till I say. I walked the railway track. Never seen a train. I walked all the way to here and never seen a train."
"There's hardly ever a train."
An affinity between the inevitable and the possible is central to Munro's writing.
As shown in 'Train', Munro expertly analyses those sudden, irreparable choices in life that lead us away from our original track. The metaphor of train is repeated in 'To Reach Japan', where Greta's sudden impetuous sexual liaison with another traveller leads to the disappearance of her young daughter. She is travelling to Toronto to house-sit for a friend and is due to return to the comfortable tedium of her marriage. Yet, another impulsive gesture – the sending of a letter to a man she barely knows – may take Greta away from the familiar tracks of her life.

Claire Thurlow
ABSENCE
In many stories, a character has gone missing. Perhaps they've dropped off the face of the planet, or another character thinks they have (e.g. "Jakarta"). A child grows up and cuts their parents off. Another form of absence is when two or more characters knew each other when young, fall mostly out of contact for decades, then reconnect when they're old.
NARRATIVE PACING
Munro uses the full range of narrative pace in her stories. The pacing itself maps onto the emotions she evokes in the reader. She can skip over decades, then slow the pace down to a pause (freeze frame). She is an expert at summary. Here she summarises a long journey home:
Sally gets lost, then finds her way. The bank building again, the same or possibly a whole new regiment of loiterers. The subway ride, the car park, the keys, the highway, the traffic. Then the lesser highway, the early sunset, no snow yet, the bare trees, and the darkening fields.

"Deep Holes"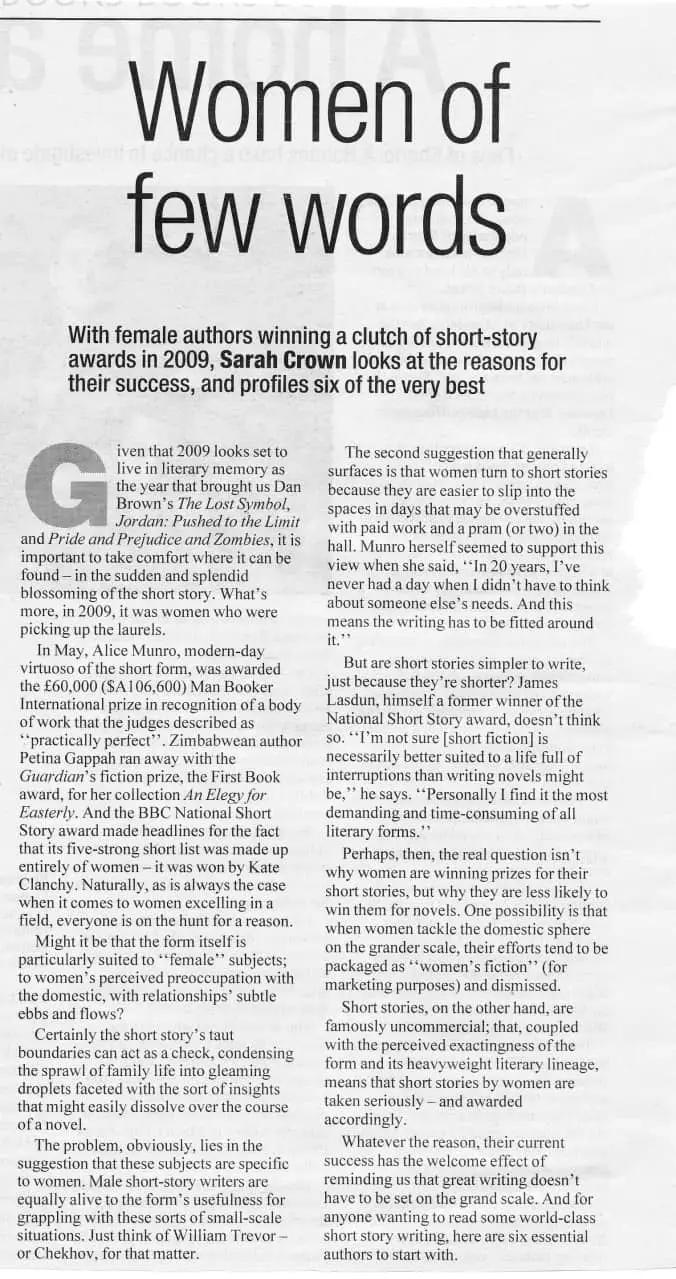 The Canberra Times: Panorama, 2 January 2010