My Summer Of Love is a 2004 film based on a novel by Helen Cross set in 1984. If you've seen Peter Jackson's Heavenly Creatures (1994), My Summer Of Love bears similarities: A relationship of romantic infatuation between two teenage girls from very different backgrounds.
This film puts the relationship between the girls to the forefront, making it a romance rather than a crime drama. My Summer Of Love is a love story but it is a tragic one.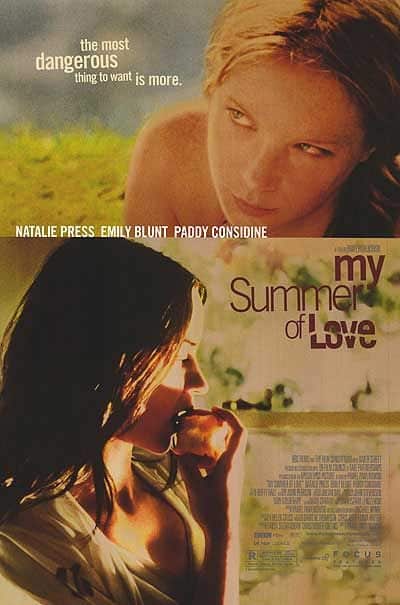 GIRLS AND FANTASY LIVES
Picture books and middle grade novels are full of boys with rich fantasy lives. In these largely carnivalesque stories, the line between reality and fiction is blurred. But when it comes to young adult and adult fiction, what happens to all these dreamy boys? They disappear. Destructive, manipulative fantasies suddenly become a female characteristic.
At one point the girls enjoy a post-coital cigarette. This is such a Hollywood cliché that filmmakers themselves must be aware of what they're doing. Here, the girls have themselves been influenced by the silver screen. Smoking in bed is what adults do, they have learned, and so they do it.
GIRLS AND MIND-ROTTING NOVELS
The girls' whole summer is a construction of performed melodrama. There has always been handwringing about young women and the types of stories we let them read — a century ago many people believed novels would rot their minds. Ten years ago it was Twilight, more recently it's sick-lit, and concerns (justified or not, I'm not sure) that 13 Reasons Why encourages suicide as a legitimate and successful form of revenge. Mona's background in fiction includes horror films. As evidence we see her mimic the voice of a movie devil. But what has influenced Tamsin?  She says she loves Edith Piaf. We also see she has made up melodramatic things about Piaf's life. (Edith Piaf did lead a rather tragic life but she didn't murder anyone, and not with a fork.) Tamsin's mother may or may not be an amateur actress but in any case Tamsin seems to worship (real) actors, and has no doubt seen a lot of plays and films. Tamsin has been exposed to Nietzsche. She encourages Mona to read him, but soon shows that she doesn't really know anything more than his name.
Perhaps boys continue with their fantasies but those take a different form and we no longer all them fantasies. Tamsin's father is having a series of affairs. Perhaps we should compare this to the sexual fantasies and longing of his teenage daughter.
THE CHARACTER OF TAMSIN
Tamsin is an intriguing blend of savvy and naïve. Though she's not all that dangerous yet due to her lack of power in the world, she is certainly a dangerous woman in the making.
IS TAMSIN A SOCIOPATH?
Is Tamsin on the sociopathic spectrum? Not being a psychologist myself, and with Tamsin not being a real person, I am free to speculate. I can certainly make a good case for it:
We know that Tamsin has been suspended from boarding school because apparently she's a bad influence on others.
The scene which really makes me think Tamsin has zero empathy is the one where they visit the wife of the singer who was using Mona for sex at the beginning of the film. Tamsin revels in the misery she is causing this woman. (Neither of the girls are woke enough to see that this woman is not part of the man's problem.)
Later she winds Phil around her little finger for laughs. (Anyone else think of that saying: "Men are terrified women will laugh at them; women are terrified men will kill them"? (Despite appearances, Tamsin isn't old enough yet to know to be scared of men like Phil.)
Tamsin picks up that Mona is interested in horror movies and gives her a genuine scare by taking control of the Ouija board.
Tamsin's fantasies about her sister being dead are creepy. It's likely she has zero affection for Sadie.
Tamsin is charming, intoxicating and fun to be around.
Sociopathic women are not subject to the same body insecurities that most women are. That's not the same as saying that any woman comfortable with her body must be a sociopath — think of it in the inverse: sociopathic women know exactly how attractive they are, unbound by society's rules and expectations about femininity.
Sociopaths are more likely to use sex as power, and are therefore more likely to identify as bisexual, because power is the goal — gender of sexual target is irrelevant. (Again, not true in the inverse.)
The sorts of lies Tamsin tells are in line with what you'd expect from a sociopath. She lies to control others. She has no other reason to lie to Mona. Tamsin doesn't need money or anything like that.
Since sociopathy is to some degree genetic, the philandering father is a possible sociopath in his own right. (We don't learn enough about the mother.)
TAMSIN THE FANTASIST
The audience sees that Tamsin is a 'fantasist' before Mona does. The older you are, the earlier you see it.
Tamsin doesn't change at all over the course of the film. She is a mendacious 'bad influence' at the outset and remains so. We know she will go straight back to boarding school, latch onto some new victim and continue to wreak havoc with people's emotions.
SETTING OF MY SUMMER OF LOVE
Filmed in Todmorden, this story is set in a very similar Yorkshire town.
SEASON
The book upon which this film is based starts in May, 1984. This was apparently a record-breaking heatwave for the area. Season is symbolic here — the extreme heat of this summer mirrors the 'passion' these girls feel for each other. Todmorden won't see another heatwave quite like this one for a very long time. Likewise, we can surmise Mona won't fall in love like that again.
The music, fashion and cars of the film make no attempt to take us back to 1984 — instead it looks like 2004. Nor is there anything about this that couldn't be 1964 or even 1944, with a few surface-level modifications.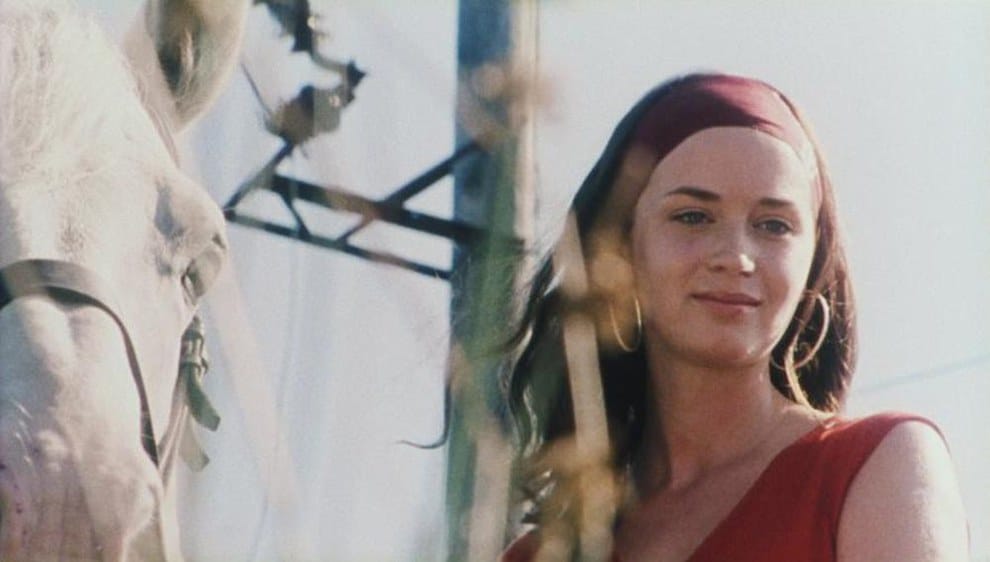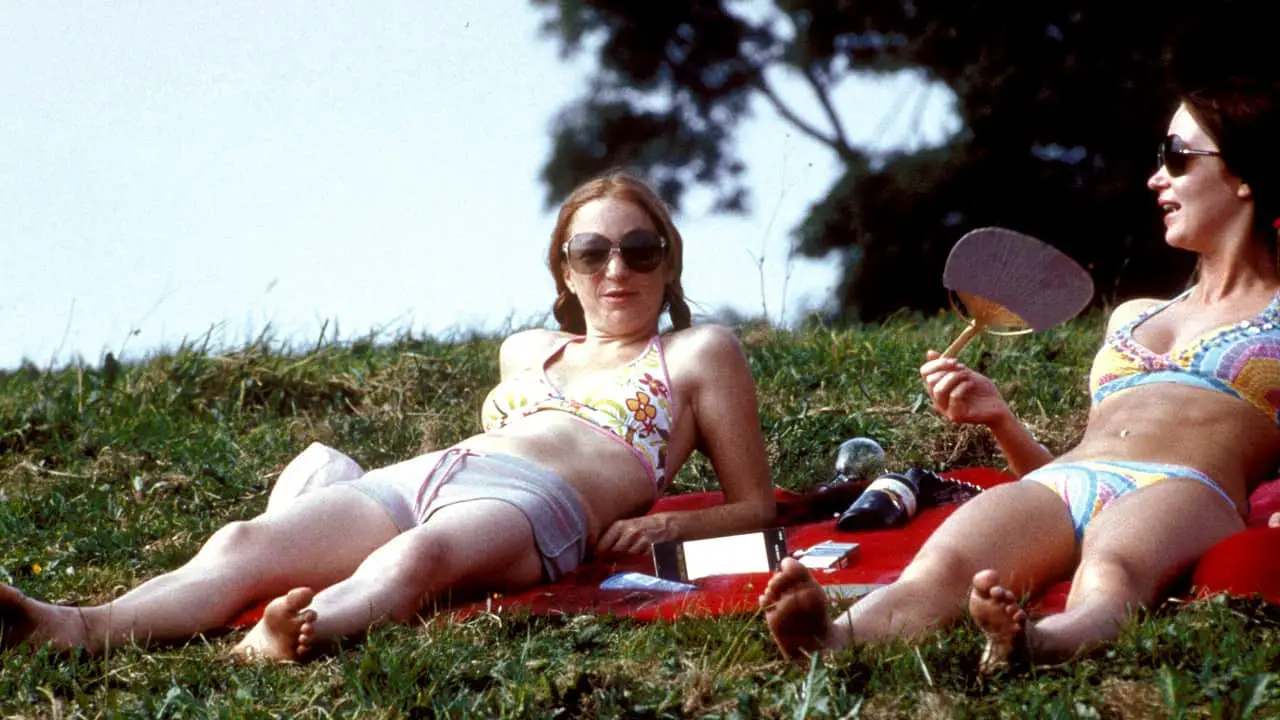 In 1984, gay relationships were illegal. In the film the girls are thrown out of the local dance establishment, not just for being high and interrupting the singer, but also for draping themselves all over each other. For the locals — be it 1984 or 2004 — two girls in love would have been a confronting sight.
But this is not really a story 'about' being gay, banding together against the wider, intolerant, heterosexual world. It would be a mistake to focus on this as a lesbian film. I regard this love as romantic but not erotic.
Yet the algorithms at IMDb reflect a tendency for filmgoers to focus on the salacious at the expense of seeing the story for what it is:  Two (most probably) heterosexual young women playing out a love fantasy in what one of them thinks could replace real life.

THE FAKENHAM HOUSE
The aristocratic house is 'creepy' in Tamsin's words, made even creepier by her made-up stories about it. At various points I thought of "Rapunzel", though Tamsin had cloistered herself away in her upstairs bedroom largely by choice. (The dollhouse in Sadie's bedroom is symbolic. )
I thought of Rapunzel again later when Mona's brother literally locks her inside her bedroom. Tamsin chooses to cloister herself inside her bedroom, whereas the financially poor, working class and poorly-educated Mona is locked into hers. This is about more than the bedroom.
RICH AND POOR AS MIRROR CHARACTERS
A story instantly becomes more interesting when rich and poor come together in a story. A little Yorkshire village is the perfect opportunity for this — more so than London, probably — because country villages comprise tiny rows of cottages where the poorest people live, with ticky-tacky but newer cottages where middle-class people live (e.g. Mr Fakenham's lover), but just beyond the town's border lie the large homes of England's aristocracy. The private-schooled daughter from the mansion down the drive is legitimately sharing the same country road as the girl from the pub.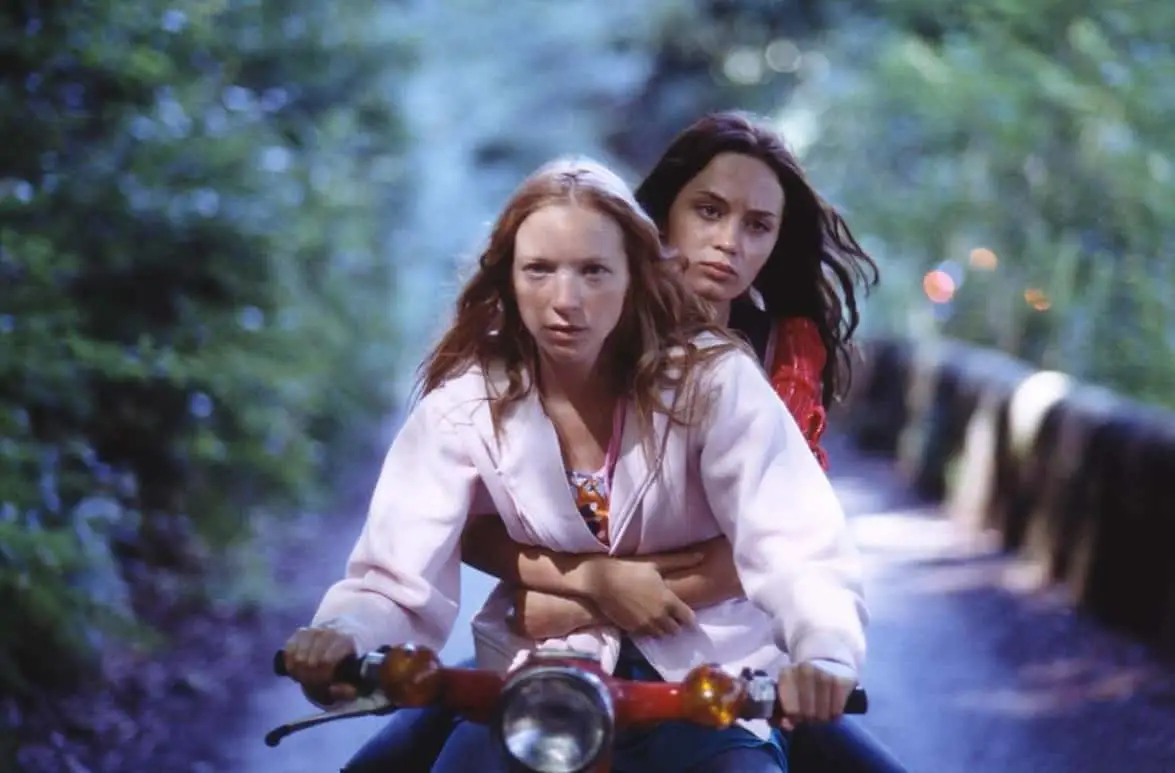 NOTES ON THE STORY STRUCTURE
IS MY SUMMER OF LOVE A COMING-OF-AGE STORY?
[This is more] a movie that is about being an age, than coming out of age

Roger Ebert
What is a coming-of-age story? This isn't an easy question because, at its widest interpretation, everything with a character arc is a 'coming-of-age' story.
What, then, makes My Summer Of Love not a coming-of-age story, in Roger Ebert's eyes? I guess it's because 15-year-old Mona does not grow. Not in any desirable sense.
She certainly comes to a realisation. Mona is let down in love — again. She has no one in the world apart from a volatile, ex-crim brother. when she almost drowns Tamsin in the river she demonstrates that she has a bit of her brother's murderous rage within her. When she walks down the road in that last scene — we don't know to where — I feel her life will be just as terrible and deflated as she always expected it to be.
In this story there's nothing of the psychological 'growth' characteristic of a coming-of-age story. Rather, Mona briefly saw grander possibilities for herself during a brief brush with a child of the aristocracy, and now she has shrunk back into herself. A feature of a coming-of-age story: the main character becomes equipped with the strength and courage and independence to face the world head on, and to move into adulthood living as her 'true self'.
Because we don't get to see where Mona is going, the audience must extrapolate to achieve a sense of ending. Another viewer might see her attempted strangulation of Tamsin as a form of female empowerment, but I am not in that camp. I see this violence as a warning sign. (In domestic violence, strangulation is the best predictor of subsequent murder.)
MIRROR PLOT
The plot of the ex-con older brother's religious conversion seems unrelated at first but over the course of the story we realise both get at the main question: What does it mean to be a genuine person? Failing to live up to his standards of Good Christian Person, Phil tells his church buddies to up and leave the premises. Like Mona, Phil too is probably back on the path to ruination.
SOME DIFFERENCES BETWEEN BOOK AND FILM
DIALECT
Mona narrates the book, so her Yorkshire dialect is strong. In the film we only see her idiosyncratic way of speaking when she actually speaks, and she doesn't say that much.
CAST OF CHARACTERS
Mona and Phil — called Porkchop in the novel because he is fat — have a sister named Lindy. Lindy is getting married for the second time. The film suggests that there are more kids than just Mona and Phil, when Mona tells Tamsin about her future hypothetical life in which she'll have a bunch of kids, wait for menopause, or cancer, seeming to mirror her own mother's sorry life. The entire subplot of the wedding is gone from the film, probably due to the constraints on time. More story fits into a novel.
In the book we know Tamsin's last name: Fakenham. It never comes up in the film. Being an allegorical name, this might be too on-the-nose.
APPEARANCE
In the book Mona is self-conscious of her appearance whereas her appearance is a non-issue in the film. Perhaps because Mona has red hair, is skinny and freckled the audience is supposed to 'know' her insecurity. Almost every 15-year-old who goes by that description in fiction has huge body image insecurities — the most famous being Anne of Green Gables. Mona bears other similarities to Anne Shirley — she is terribly alone in the world and has the ability to sink into fantasy. Perhaps Mona is Anne Shirley from another time and place.
DIFFERENCE IN SETTING
In the film, Phil is shutting down the family bar at the beginning of the story but in the book Mona works as a barmaid at the pub where the family lives.
PUPPETRY
Mona thieves, plays on the fruit machines and drinks alcohol to help her cope with the day. We see Mona smoking and drinking but the film doesn't show her gambling and thieving tendencies. This makes her even more of a naïve puppet in Tamsin's games.
INCITING INCIDENT
Tamsin is home from boarding school and seems lonely, so Mona gets a 'call to adventure' when Tamsin's father Mr. Fakenham asks her to befriend his daughter.
AGES
In the book Mona is on her way to school when she decides to visit the Fakenham house. There is no mention of school for Mona in the film. We assume she's left, or at least, she's not going back. Her education is over. She seems a bit older than fifteen, too. Ages are not mentioned.
AMBIGUITY
Mona finds Tamsin's parents arguing about Mr. Fakenham's affairs when she first visits the big house. In the film we don't see Tamsin's mother until the very end, and we find out about Mr Fakenham's affairs through different means, left in the dark about whether this was actually going on, or if this too was another part of Tamsin's fantasy.
IF YOU LIKED MY SUMMER OF LOVE CHECK OUT…
Heavenly Creatures is based on a true story which I feel is the main edge it has over this story. Peter Jackson utilises more stylisation in Heavenly Creatures, but the acting is on a par. Like Kate Winslet, Emily Blunt has gone on to be a big name.
Commentators have compared the book My Summer Of Love — with its emphasis on a sister's wedding absent in the film —  to The Member Of The Wedding by Carson McCullers.
Tonally, look to We Have Always Lived In The Castle by Shirley Jackson. Jackson's narrator is a mendacious teenage girl, whereas the narrator of My Summer of Love is a more ordinary character. The setting, too, is similar. Merricat Blackwood is sequestered in her 'castle' but occasionally goes into the village.
If you enjoyed My Summer Of Love, check out Fish Tank, a film by Andrea Arnold.