Rupert Can Dance is a 2014 picture book written and illustrated by Jules Feiffer, who loosely makes use of a T.S. Eliot cat archetype in his depiction of alovably combatative relationship between a secretive mystery cat and a girl.
SETTING OF RUPERT CAN DANCE
PERIOD — a contemporary story (published 2014), though might take place at any time over the last century or so.
DURATION — A week or two, maybe few months, with a flashforward to the future in the final spread.
LOCATION — a young girl's bedroom (and then a stage)
ARENA —The arena shrinks for Rupert, who hides under the bed. At the same time, the world expands a bit for the reader when we follow Mandy to school. The message is clear: Rupert can't stay under the bed. It severely limits his life. Rupert thereby goes from freedom to entrapment and back to freedom again at the end. (The story therefore has a happy ending.)
MANMADE SPACES — The house and school. Mainly Mandy's bedroom. This is Mandy's space, and adults are not just lampshaded out of the story, they're never there in the first place. We don't even think about any adults.
NATURAL SETTINGS — None. This takes place in suburbia, I assume.
WEATHER — Irrelevant to indoors life.
TECHNOLOGY CRUCIAL TO THIS PARTICULAR STORY — Dancing shoes and sneakers.
LEVEL OF CONFLICT — On the hierarchy of human struggles, this is near the bottom, but at its heart is about how fun things can become tedious when others intervene to make us better at them. It's about power and pecking orders.
THE EMOTIONAL LANDSCAPE — Feiffer makes use of T.S. Eliot's feline Mystery Cat archetype and has said in a book trailer that cats have a strong secret life that they like to keep hidden from humans. At least, it appears that way to us because they are most active at night.
STORY STRUCTURE OF RUPERT CAN DANCE
PARATEXT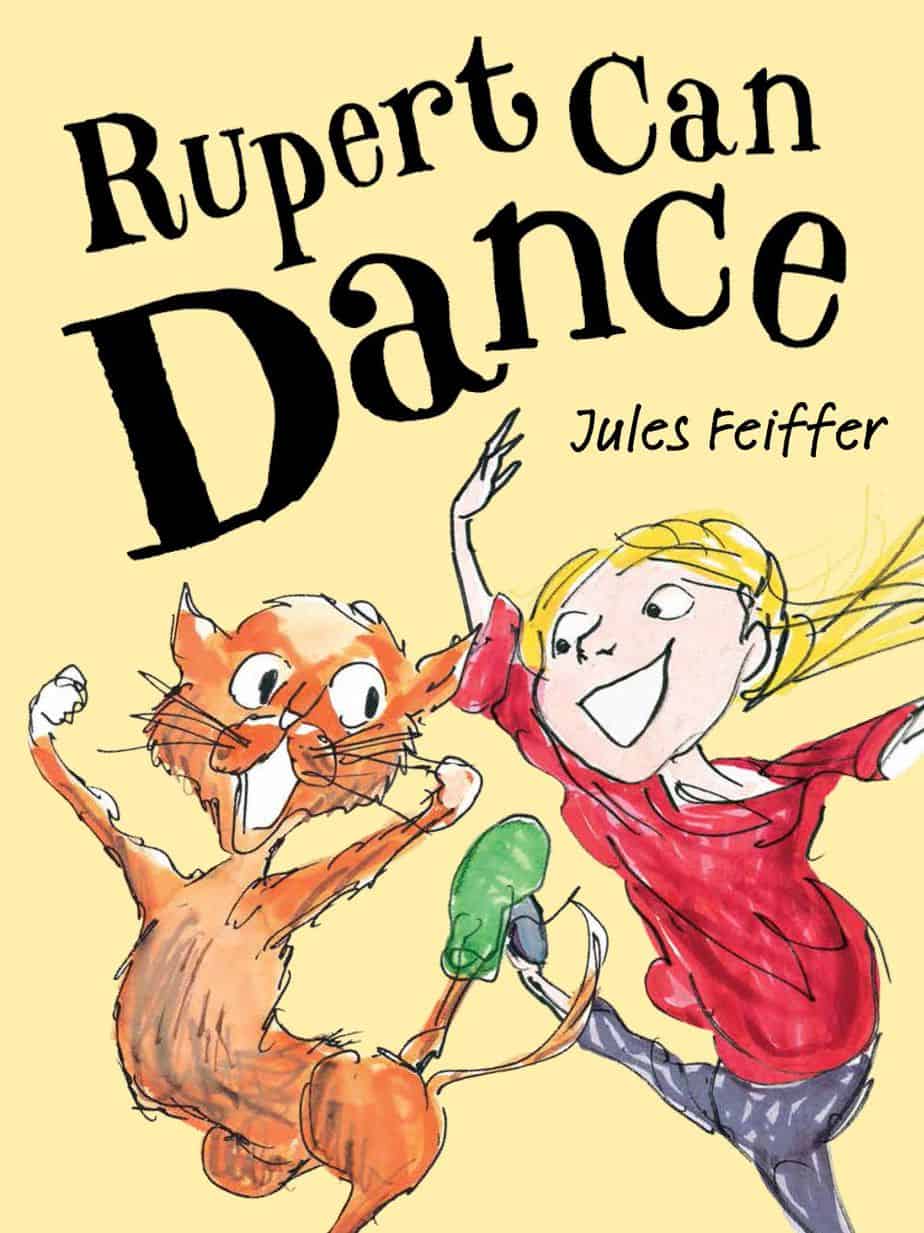 Rupert has a big secret. When his owner, Mandy, is fast asleep, he likes to slip on her dancing shoes and dance the night away. Then one night Mandy catches Rupert in the act. She's not upset; she's thrilled! And she's determined to give Rupert dancing lessons so he can hone his talent. Rupert is horrified. Lessons are for dogs. Cats like to do things their own way. Dismayed, he loses all interest in dancing and goes into hiding. But Mandy comes up with the perfect plan to get Rupert dancing again . . .

marketing copy from Michael di Capua Books
Rupert Can Dance is about a cat and a girl equally. Rupert's shortcoming is that although he likes to dance, his inherent temperament means he only enjoys this when it's done in private. The problem is, he shares a bedroom with a human girl, and must keep this quiet.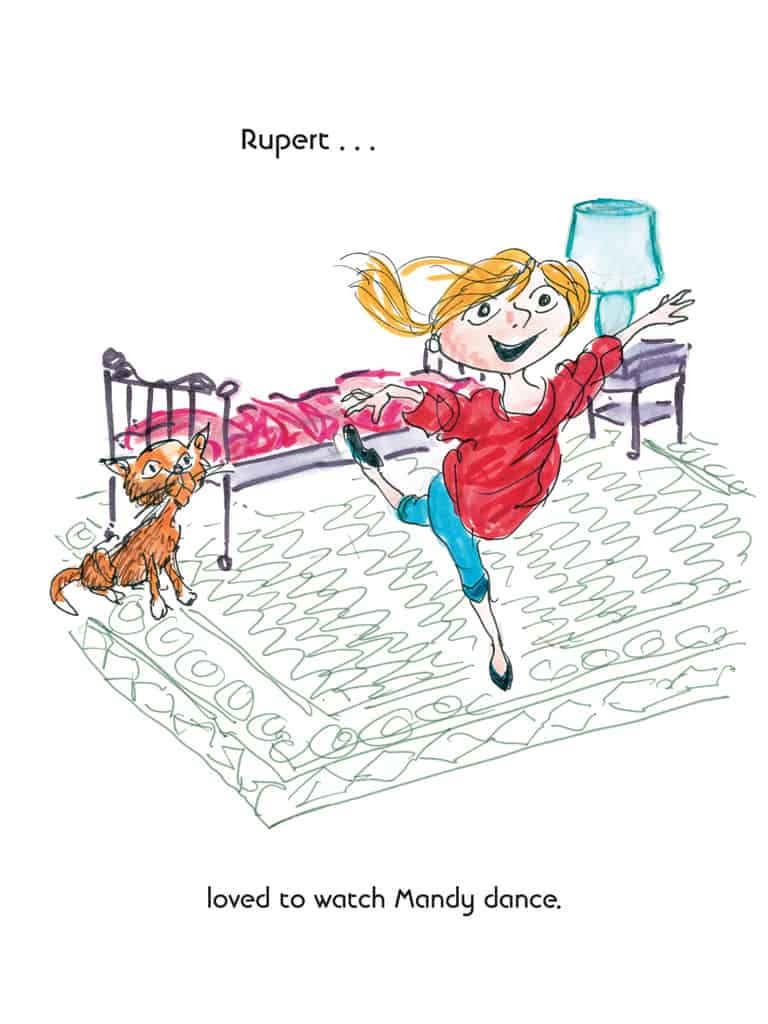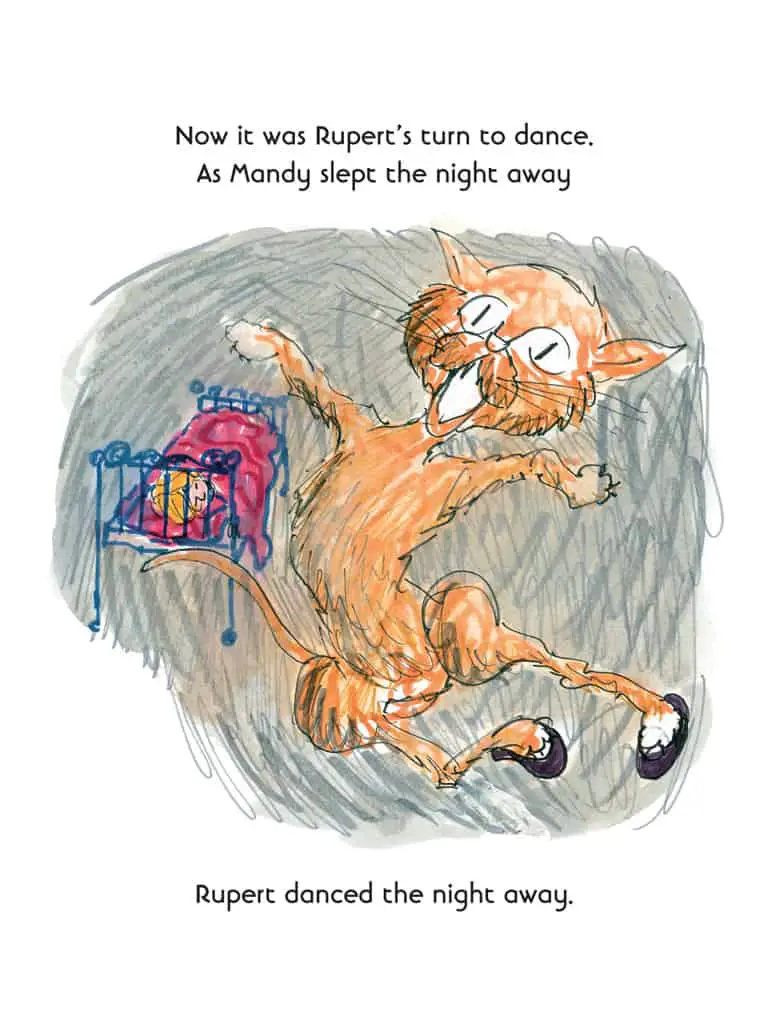 Mandy is delighted to wake up one night and find that her cat is a dancer. She wants to teach him some steps. The problem is, Rupert doesn't want to learn. I laughed out loud at the following line:
This is exactly what Rupert was hoping to avoid.
Mandy wants to teach Rupert dance moves. Rupert wants to dance in private without intervention. Mandy and Rupert are therefore each other's opponents.
Rupert Can Dance is ultimately a story which rests upon the female maturity formula as described by Roberta Seelinger Trites — the little girl is the little mother. This is less a problem with any one story in particular, and becomes problematic because of the vast numbers of stories which deal with gender in this way.
In this case, Mandy does what I've heard described as the 'grandmother teaching method', in which you play dumb in order to elicit knowledge, increased understanding and participation from the teaching subject. "Ooh, aren't you clever! I didn't know you could do that!" (It's very effective.) Mandy is a trickster teacher when she asks Rupert to teach her some moves.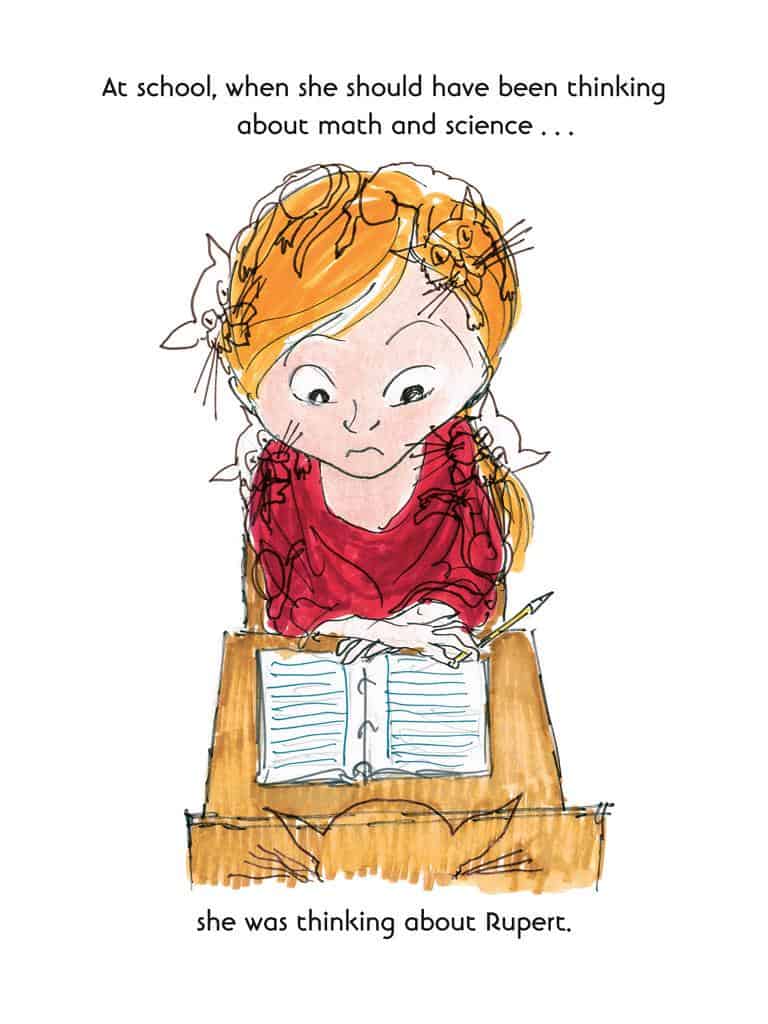 Instead of a fight, the climax of this story becomes carnivalesque. The two characters dance together, joyously, exuberantly.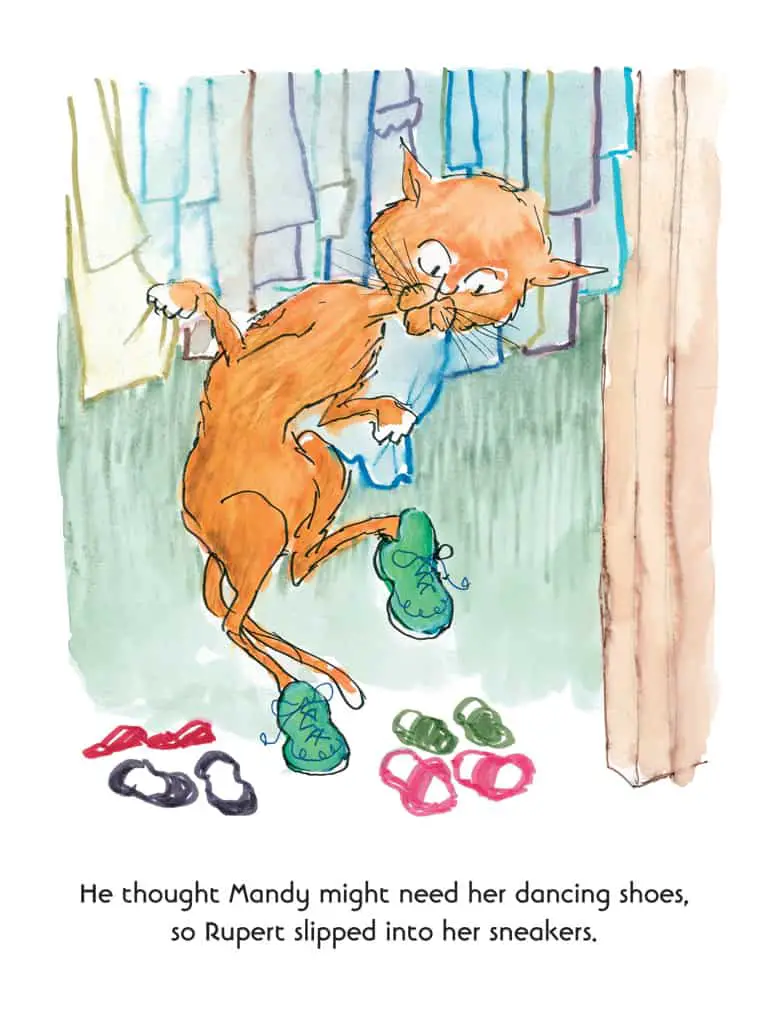 The readers learn that cat and girl are now good friends.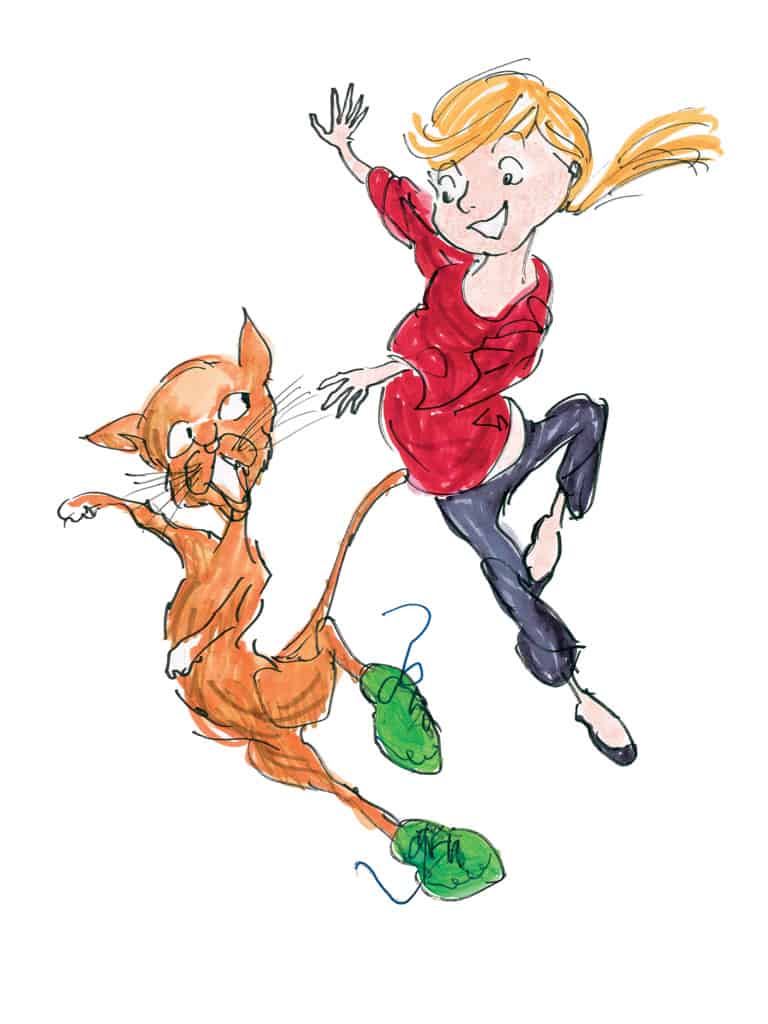 Mandy and Rupert enjoy dancing together, this time as best friends rather than secretive room mates.
Since cats only live into their late teens, I have a feeling the stage scene on the final page is entirely imaginative. Let's not go there, though.
RESONANCE
The Internet loves cats, and children love cats. We love cats as much as we love dogs. Any story which starts with one of T.S. Eliot's archetypes (in this case Macavity, loosely), will be a winner and find longevity.
FURTHER READING
If you enjoy the loose, expressive cat drawings in Rupert Can Dance, also check out a much older picture book from 1948 Switzerland, Pischi by Hans Fischer.
Anthropomorphised animals are so popular in children's stories now that the curiosity of seeing animals behave like humans is pretty much gone, compared to what it was when Beatrix Potter created Peter Rabbit in the early 1900s. Storytellers must now go out of their way to amp up the comical aspects of animals doing human things, and Feiffer does this admirably. Another picturebook about dancing animals is Giraffes Can't Dance by Giles Andreae, comical because giraffes have long necks and we therefore do not consider them graceful in a dancing kind of way.
Dancing animals provide great visual humour, which combines with hat on a dog humour (we don't expect animals to dance like humans). There's a long history of dancing animals in children's literature. Before we had Angelina Ballerina we had Desbarollda The Waltzing Mouse, for instance.