"The  Hunchback of Nowhere" is an episode from the first season of Courage The Cowardly Dog. As ever, this modern re-visioning takes inspiration from a wide history of storytelling, including from The Bible.
Any adult viewer will know immediately that this is inspired at least partly by The Hunchback of Notre Dame, though the writers can't expect a young audience to know this. Instead, they have to come up with a story which is complete in its own right while also nodding to the earlier story. A lot of viewers may have seen the 1996 film, however, which was only a few years old when this episode of Courage came out in 1999. The Hunchback of Notre Dame was having another moment.
Hunched postures are associated with congenital conditions as well as poor nutrition, probably due to poverty. In The Secret Garden, Colin has an irrational fear of becoming a hunchback. This is probably because he'd been spending his time in bed reading, and he was reading Gothic literature. The character with the hunched back is a stock figure of Gothic horror.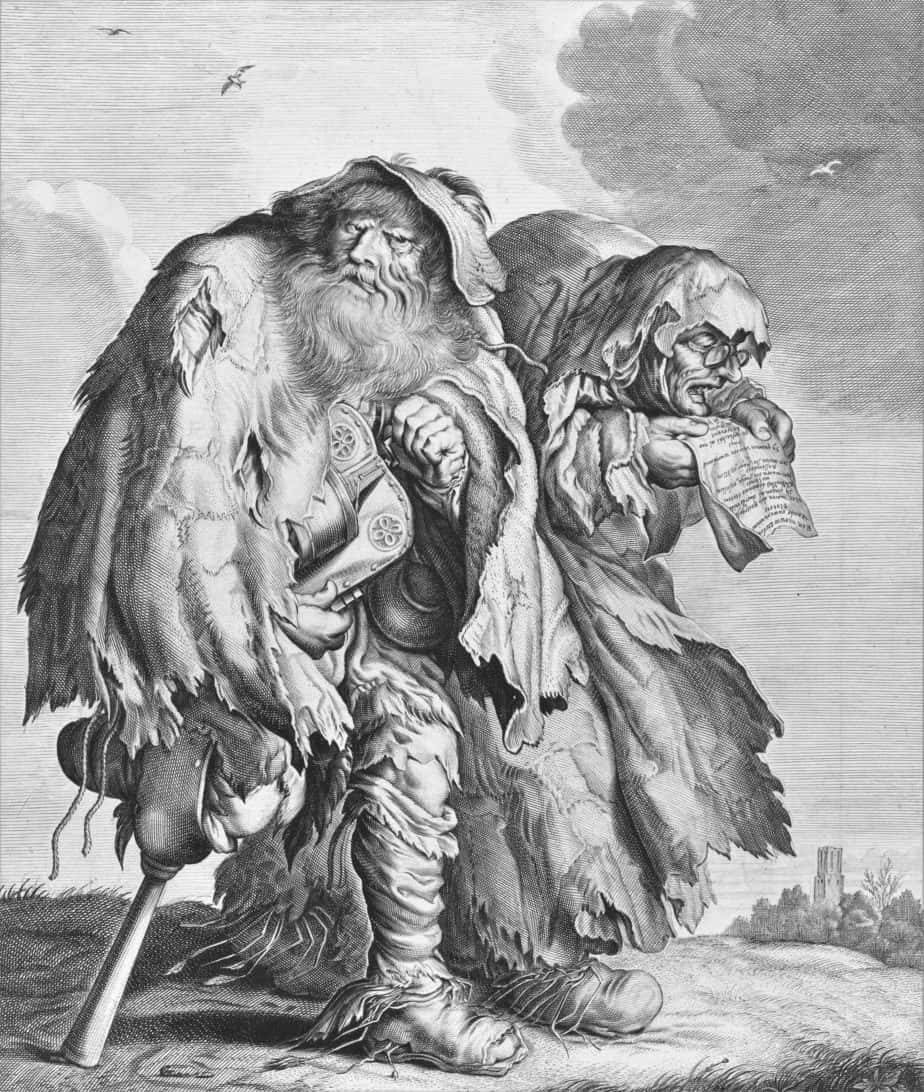 STORY STRUCTURE OF THE HUNCHBACK OF NOWHERE
Taking a break from the hero's journey and Robinsonnade structures of previous episodes, this is a carnivalesque story as seen in many picture books. There is no big struggle sequence in a carnivalesque story. Instead we have a whole lot of fun, though it can look precarious in parts. There is no real opponent in this story either, apart from Eustace who we already know to be his own worst enemy.
This story opens with a shot of the rain pelting down.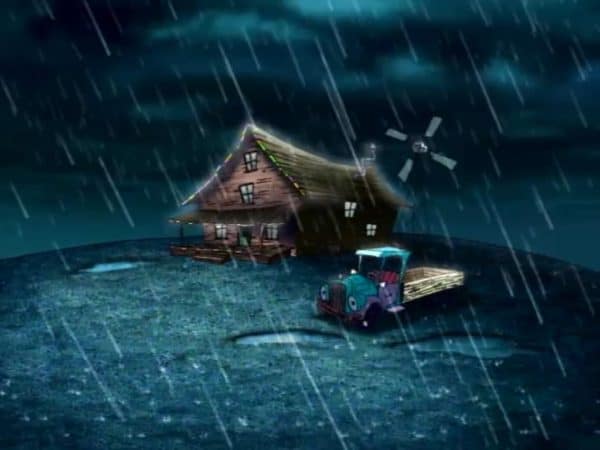 We've had thunder storms a plenty in Nowhere but we haven't seen much rain. Once again the story opens at night time, with a cute but ugly character going from door to door hoping for some shelter.
Rain is often used in comedy (and in genre fiction) as pathetic fallacy, in which rain equals sadness, sunshine equals happiness, and so on.
As Elizabeth Lyon says in her book Manuscript Makeover, readers are like ducklings; we fall in love with the first character we 'see'. The same is true for the screen. (It's clear the writers of Courage know this really well — a later episode features a duckling falling madly in love with the otherwise unloveable Eustace.)
The writers of Courage have opened with an opponent before, for example with the fox who wants to make Cajun Granny Stew, and this makes the opponent less scary for a young audience. Here we need genuine affection for the Hunchback in order for the rest of the story to work. So we see him as an outsider. He is recast as a modern hobo.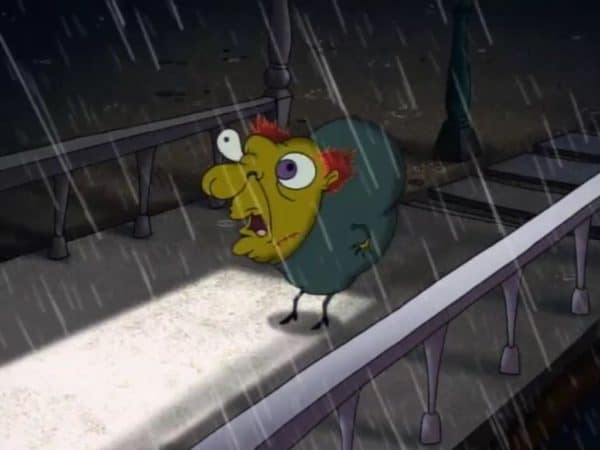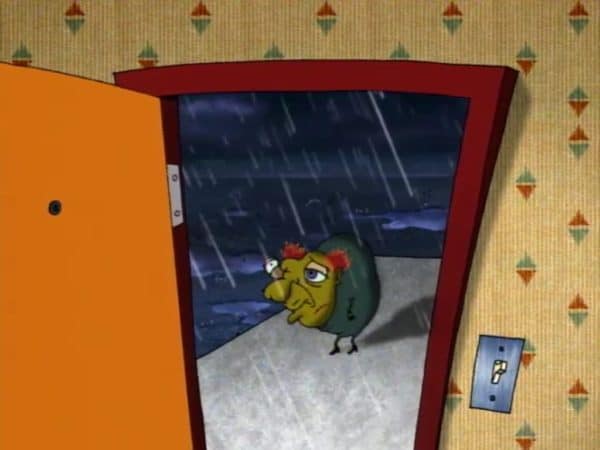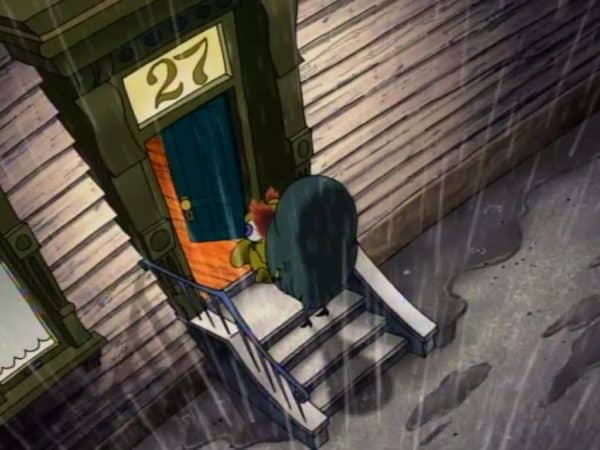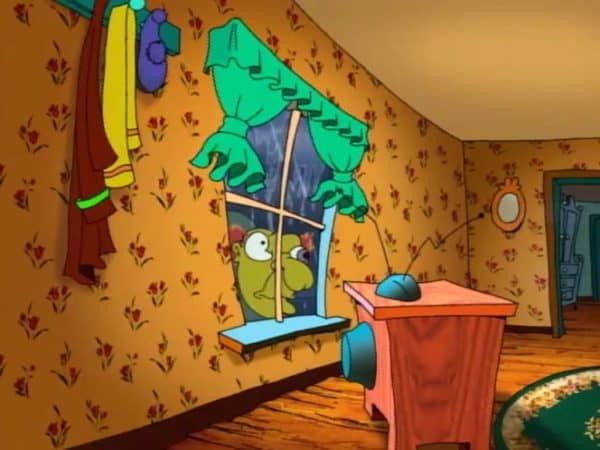 Eustace wants Courage to fetch his raincoat from the barn.
Courage wants Eustace to let the Hunchback stay. He says to the camera (because Eustace can't understand him speaking English), "Why can't he stay in the attic at least?"
The Hunchback wants to avoid getting wet.
Eustace. Had Muriel opened the door to the Hunchback there would have been no story. Muriel is accommodating by nature.
The Hunchback takes refuge in the Bagges' barn.
Courage has found a friend so he intends for the Hunchback to stay until it's no longer raining, keeping him safe from the grumpy, uncharitable Eustace.
Eustace plans to annoy the Hunchback and insult him until he leaves.
Instead of a big struggle sequence there is a play sequence in the barn. The barn is the Nowhere equivalent of the Notre Dame Cathedral because it allows for great contrast between high and low places — the highest point of the barn is really quite high, and we are reminded of this fact numerous times via high angle and low angle contrasting shots.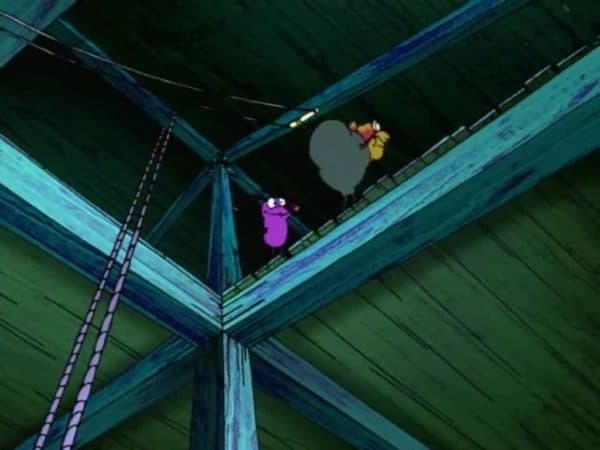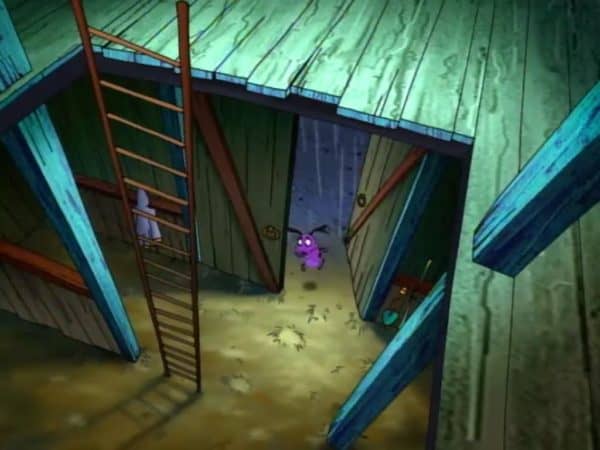 We find lots of high-low juxtaposition in stories about social inequality, which is very much what we have in the Hunchback story.
In this carnivalesque story we have scenes right out of an actual carnival/circus, with Courage and his new friend swinging like circus performers and playing tunes with the set of bells the Hunchback has brought with him.
The play scene includes plenty of tension because of the risk of falling from the high swing and also because Eustace comes into the barn demanding to know why Courage still hasn't retrieved his raincoat as he was asked.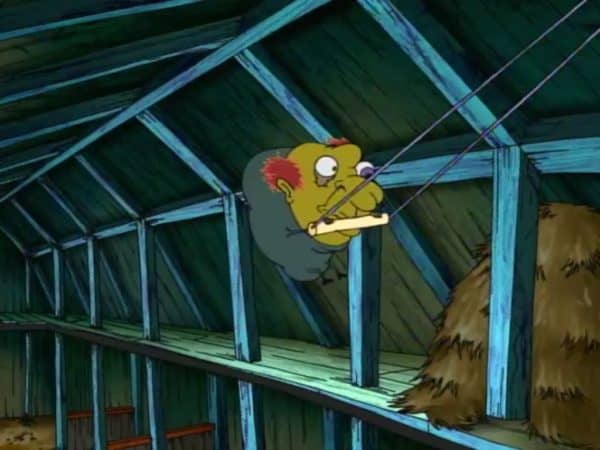 There is a comical game of shadow puppetry using a torch, in which Courage and the Hunchback make all sorts of improbable shapes using only their hands (even funnier because Courage has three stubby fingers.)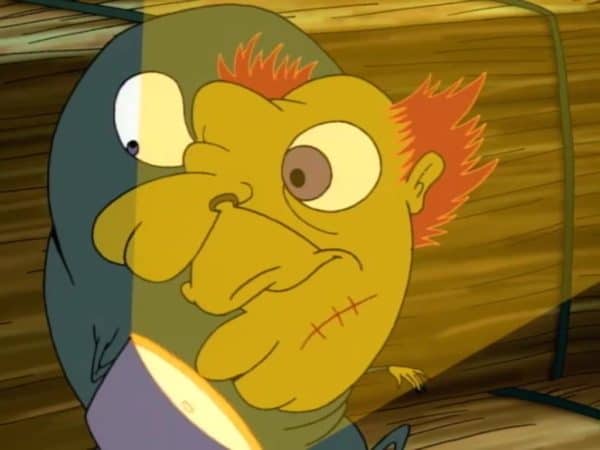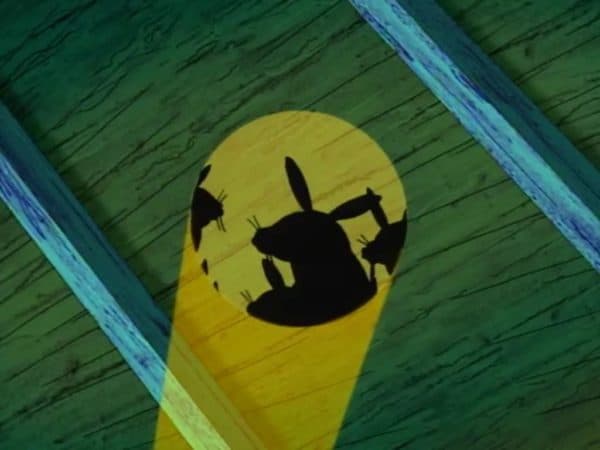 The play scene isn't quite enough to make a complete story, however, and the writers know this. There is a big struggle of wits at the breakfast table the next morning after Muriel invites the Hunchback for a pancake breakfast. "Any friend of Courage is a friend of mine."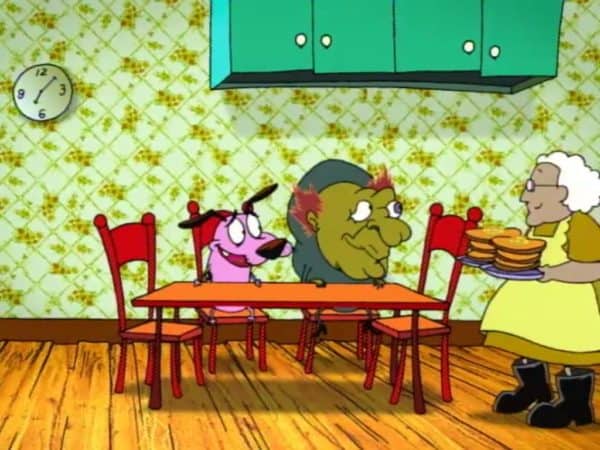 Eustace doesn't want this and insults the Hunchback. Pleased to have a 'voice' at last, Courage writes notes to the Hunchback, who gets at Eustace's most self-conscious feature — his baldness. Eustace stamps out in a huff.
The third part of the big struggle happens on the barn roof, in which the roof is a domestic stand-in for a cliff in the natural world. Courage and the Hunchback are up there playing a concert to the appreciative Muriel, who is perfectly happy to listen to them under the cover of her umbrella below.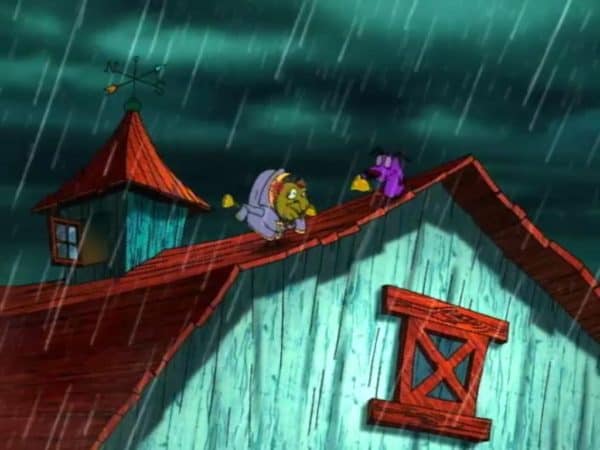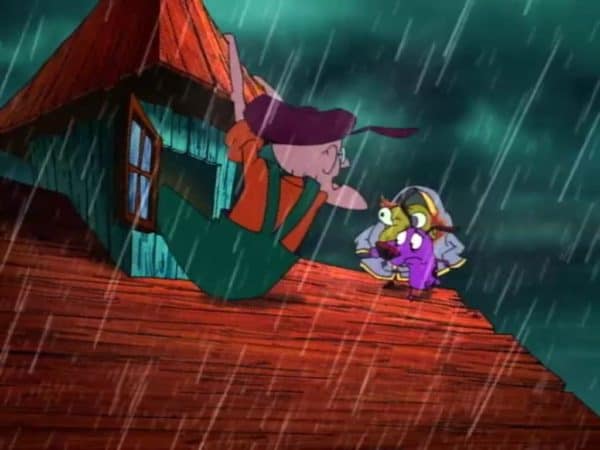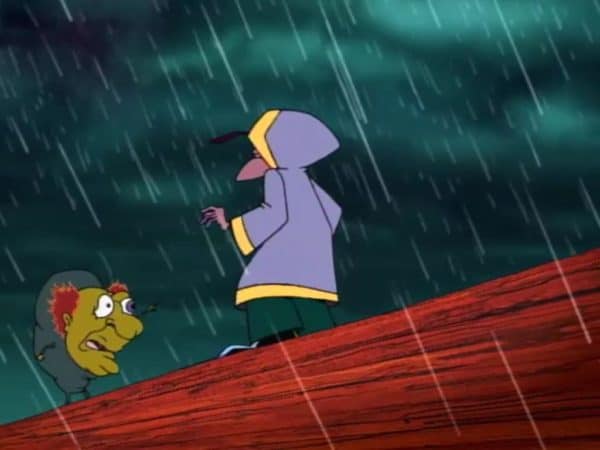 Eustace has a anagnorisis (which won't last, naturally) when the Hunchback pranks him. Eustace has been pranking Courage all along with his scary tricks, especially throughout this episode. Noticing this, the Hunchback gives Eustace a taste of his own medicine. Anyone watching realises immediately that Eustace can give it but he can't take it.
In stories, revelations often happen in high natural places. Hey, it even happens in the Bible.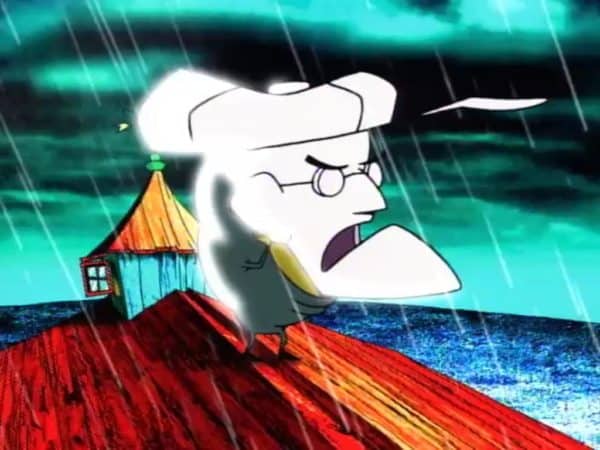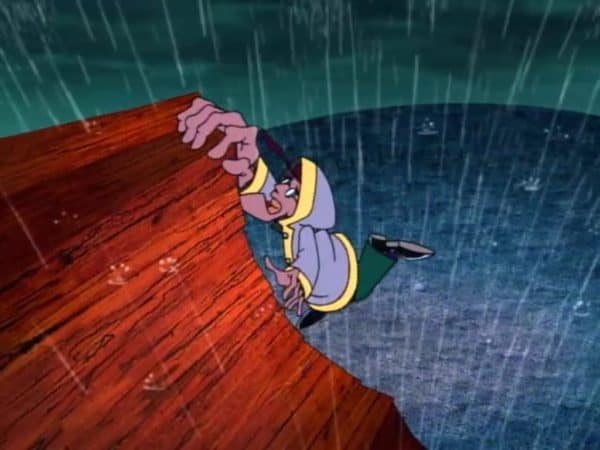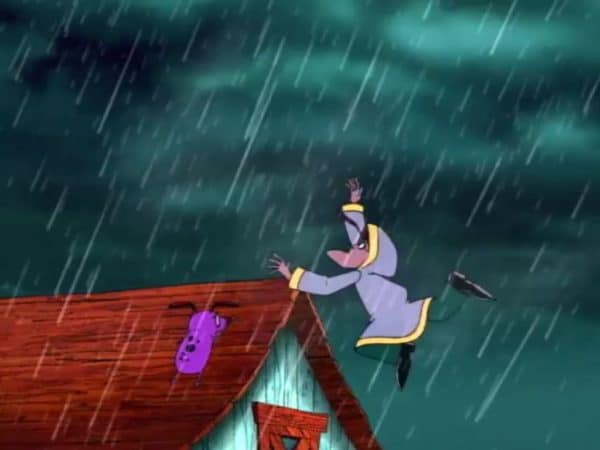 When the Hunchback says goodbye he pulls out a huge bell. Why does he do this, apart from the laugh? Throughout this story the Hunchback has been a more powerful version of Courage due to his being able to talk and also outwit Eustace by scaring him with his very own face. The Hunchback is saying he has won on behalf of Courage, with his identical but much smaller bell. (The bell = voice.)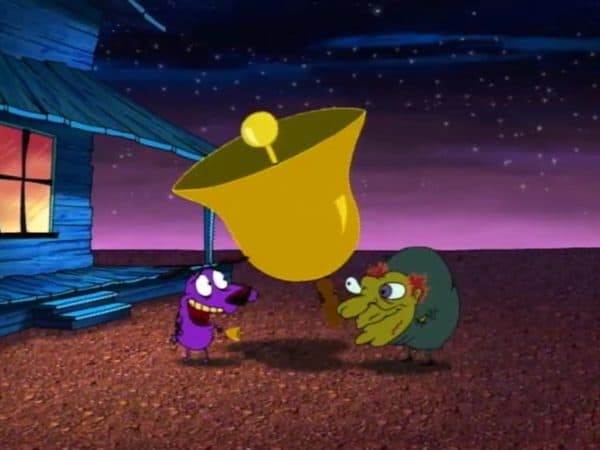 The Hunchback says he hopes to find other kind people on his travels.