As you read "The Tale of Pigling Bland" (1913) imagine Beatrix Potter sitting in a pig shed with her art gear and muck boots on, because that's how she spent one summer, diligently rendering pigs (and then decking them out in clothes). Apparently she struggled to knock this one out. She'd had a big year.
Despite her illness, her engagement and her Escape To The Country, I'm not surprised she had trouble with this story. It's a jumbling mess of a plot. Compare Pigling Bland to the tidy narrative of Peter Rabbit. What the hell is even happening in this one? I don't pretend to even know, but Halloween recently passed, Beatrix did create decent talking-animal body horror fiction, so I'll give it my best shot and enjoy every minute.
STORY STRUCTURE OF THE TALE OF PIGLING BLAND
(The plot summary quoted below is snagged from the Gutenberg  website.)
NARRATION
Pigling Bland begins as Potter's stories often did — with what sounds like an omniscient, third person narrator.  Then boom:
Aunt Pettitoes and I dragged him out by the hind legs.

Beatrix Potter
(Harsh.) At first I'm like, who is this first person narrator? One of the other two pigs?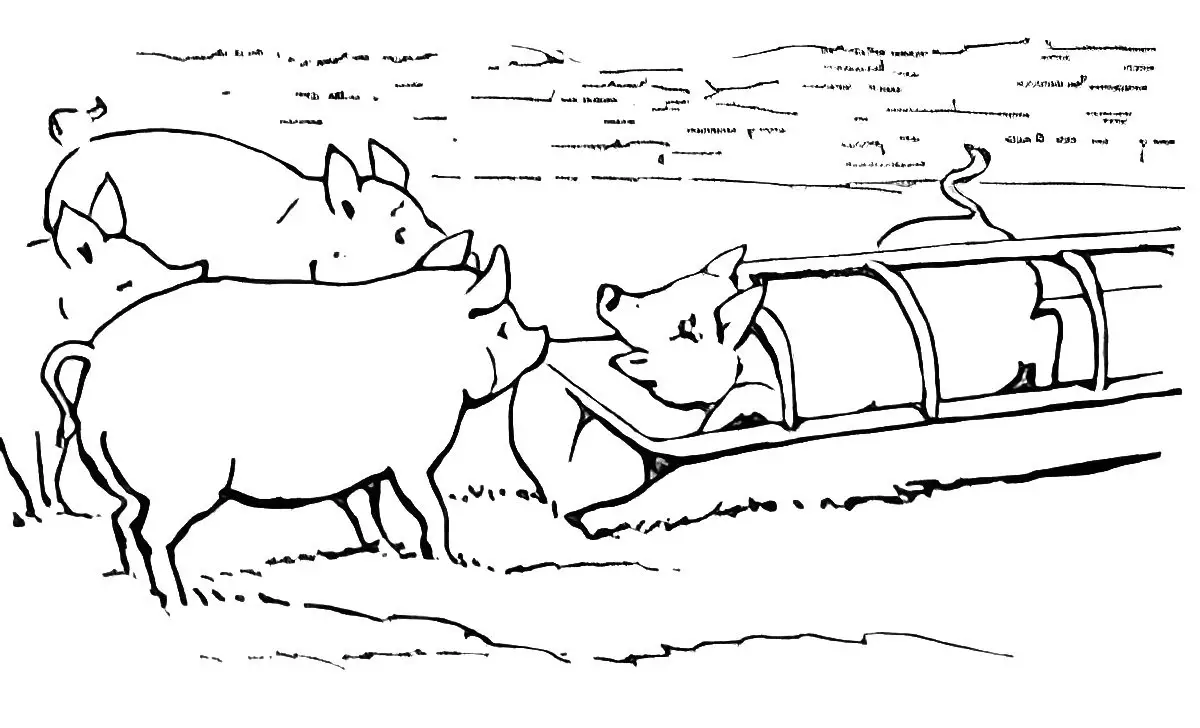 We soon learn this is Beatrix Potter talking. She's put herself in the story. She's in the illustrations as well (but presumably not in this one).
A hugely successful pair of Australian children's book creators do the same thing in their Treehouse series. Inserting oneself in your fiction must be a useful tactic for authors and illustrators doing the publicity rounds, visiting schools and whatnot. Extra stardom! I assumed that's mostly why Andy and Terry do it. But Potter did it first! (Was Potter required to do publicity rounds?)
Pigling Bland begins in carnivalesque fashion, with a series of images depicting the fun mischief of piglets. First Potter lists the fun names of the piglets (by the way, Chin-Chin in Japanese is a colloquial, cutesy word for 'penis', a problem also for anyone reading "The Three Pigs" to Japanese kids.) Stumpy has had an accident to his tail, so it's not all fun and games.
The piglets get stuck in things, they eat soap, they get into baskets of clean clothes, root up carrots…
Aunt Pettitoes, an old sow, can no longer cope with her eight troublemaking offspring and thus makes them leave home, with the exception of a well-behaved sow named Spot.
But suddenly the story turns dark.
Two of them, boars named Pigling Bland and Alexander, go to market.
Pigling Bland is now a mythic journey.
In a mythic journey you'll probably find images of roads. (Or rivers.)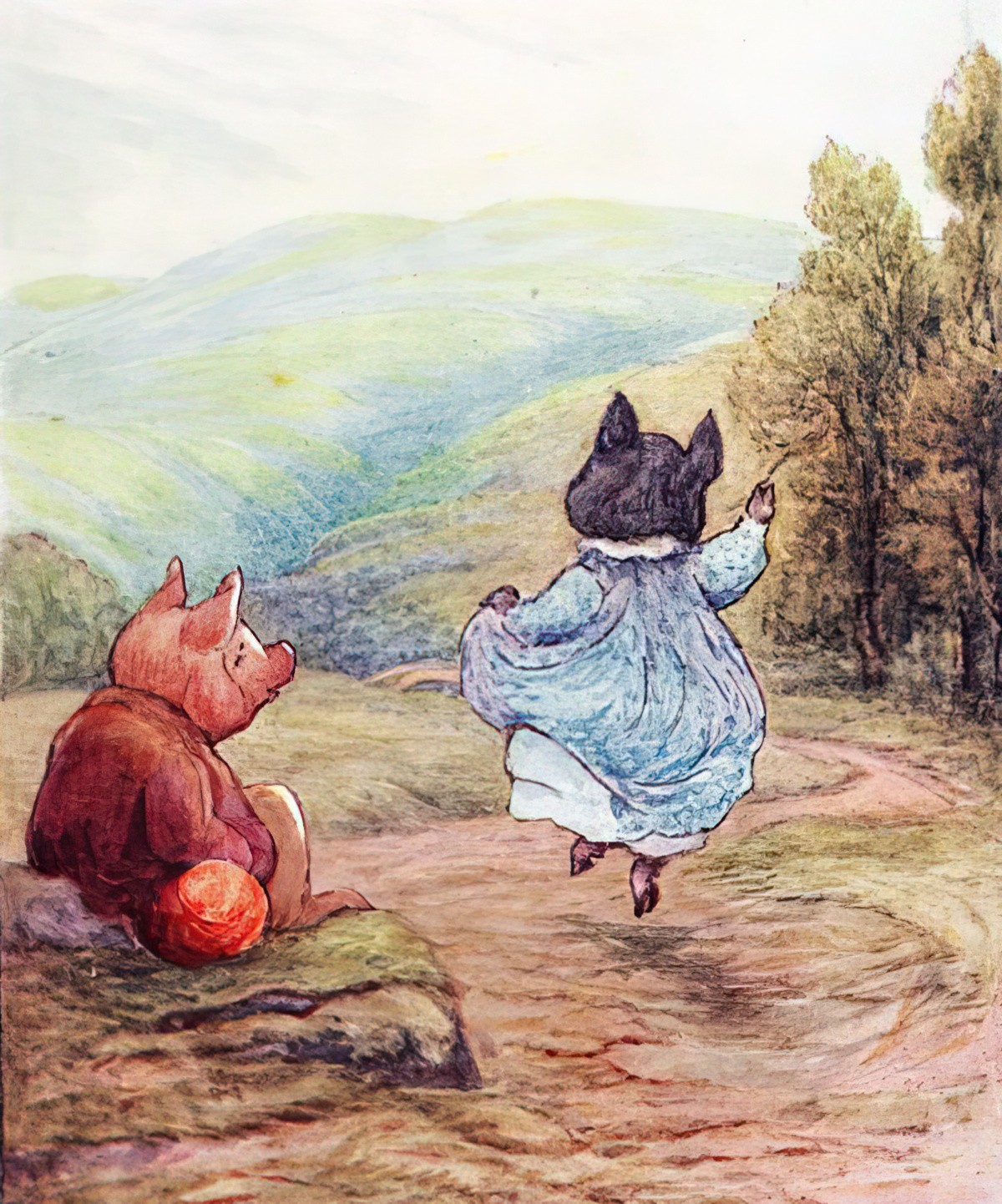 The point of view switches to the piglets and away from Beatrix Potter and Potter's sow alter ego, Aunt Pettitoes.
Let's call these little piglets the main characters. I reckon this is a harrowing story for young readers. I still remember a nightmare I had as a kid. I came home to find my entire family gone. For some reason we lived in a forest, but I knew it was meant to be home. I had to drive the family car to try and find them. (How they were meant to have got to where they'd gone without the family car, I will never know. I awoke before finding any answers.)
The illustration of the little pigs in the wheelbarrow is heartbreaking, actually. I shall never enjoy bacon again. (Or wheelbarrow rides.)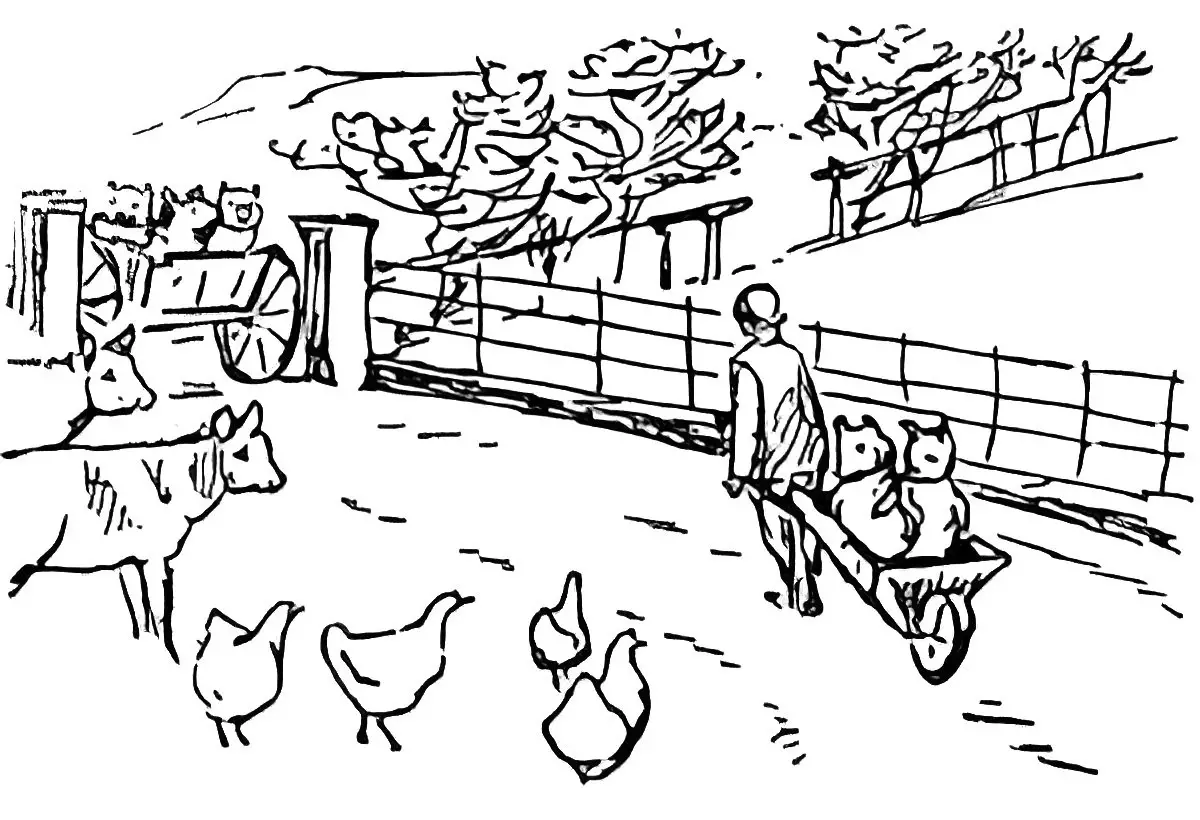 We assume the little pigs don't want to be turfed out of home, right? Well, not too much is made of that. They may not have a loving and secure home life, but at least they get their adventure.
As befits a mythic journey, the pigs meet a variety of characters along the way: allies, enemies and not-sure-yets. The pigs themselves have different personalities and I imagine Pigling Bland is cracking the shits with Alexander. If you've ever been abroad with a flake you know what I mean. They lose tickets and burn through all their money (or their 'conversation peppermints').
Now Alexander has scoffed all his own peppermints and wants Pigling's.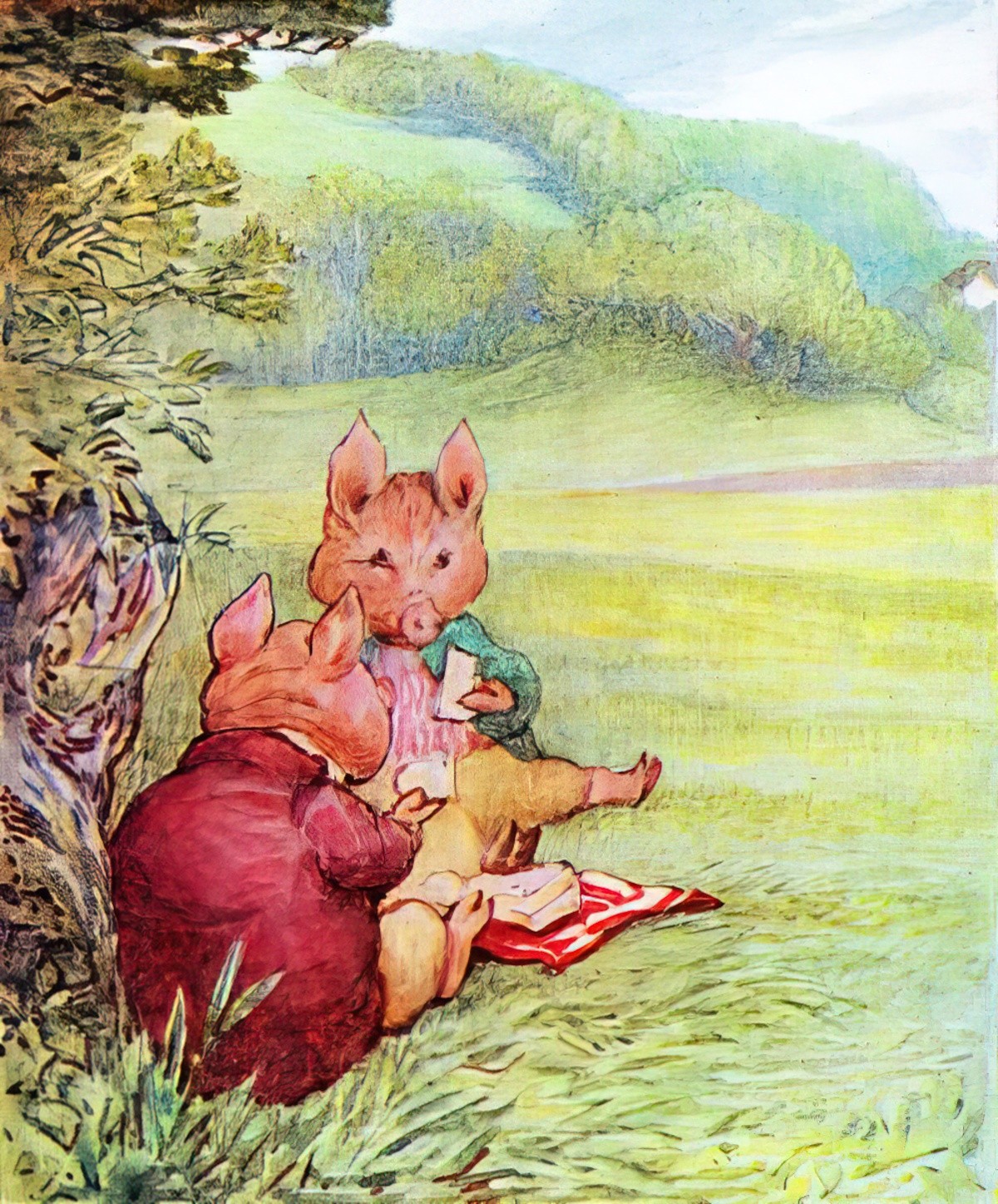 Basically, Pigling Bland has more advanced executive functioning skills.
Pigling Bland is very sensible but the more frivolous Alexander loses his pig license and, when he fails to produce them to a passing policeman, is made to return to the farm.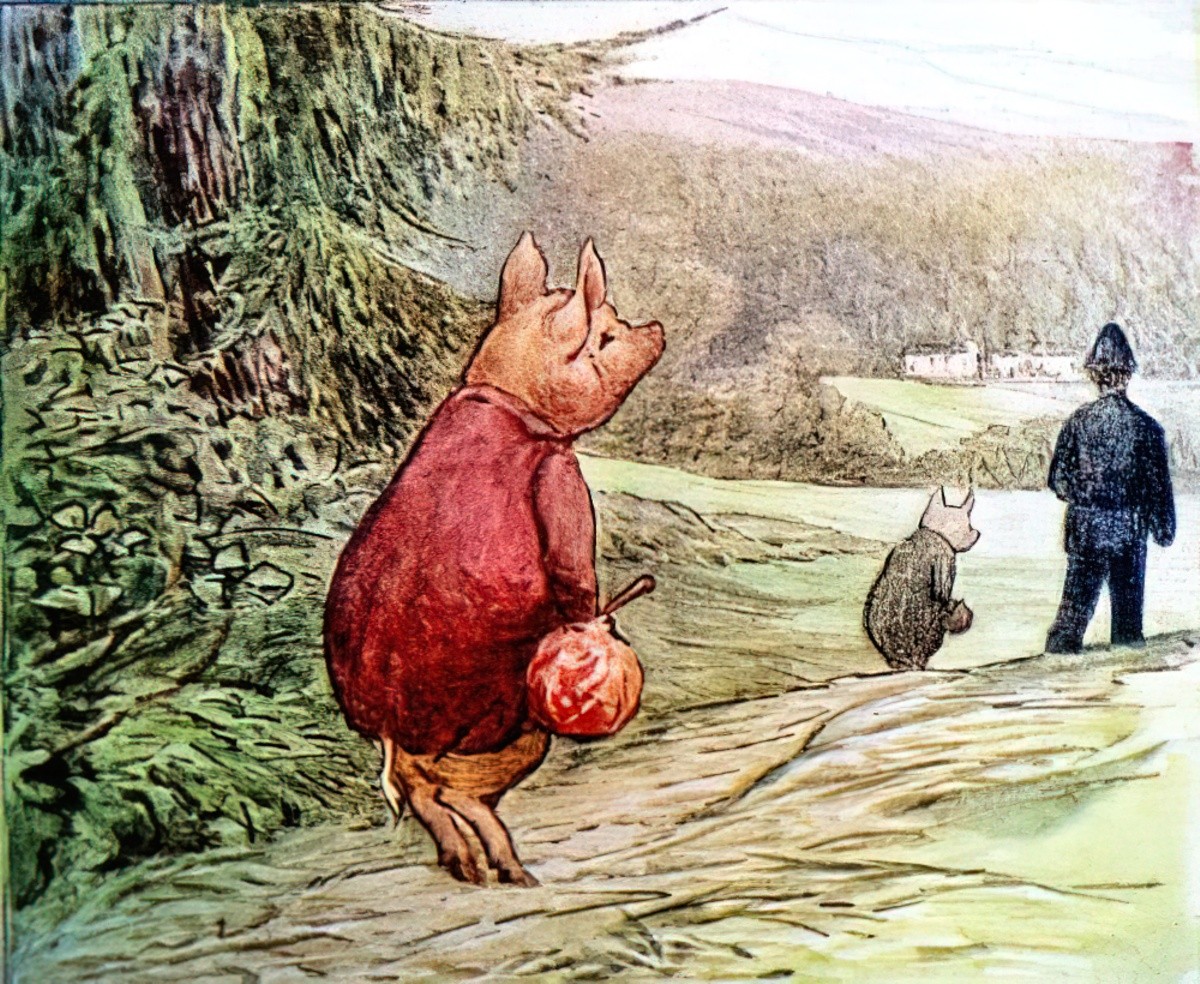 Now Pigling Bland is all alone in the world. This is basically a mish-mash between The Three Little Pigs and that nursery rhyme, quoted by Potter in this, in which one little pig goes to market, etc. (then runs wee wee wee all the way home). Because which of the Three Little Pigs was the most sensible? The one who built his house of bricks (not just cheap ass brick veneer, either). Pigling Bland is basically Sensible Brick Pig.
The policeman accuses the disenfranchised child pigs of… stealing pigs. This feels like a gag, except for an associated dark history. I'm reminded of several ridiculous laws:
During the era of slavery in America, an escaped human being would be accused of stealing themselves from their 'owners'.
Even today, sex workers can be legally tried for 'trafficking' themselves, most at risk when crossing international borders.
The policeman takes Alexander back to Beatrix Potter, who re-homes him nearby. (Why did she not do that in the first place?) Apparently Alexander gets used to it after a while. Let's not ask further details.
Reluctantly going on alone, Pigling Bland later finds the missing papers, which ended up in his pocket as a result of an earlier scuffle with Alexander.
Well, shit. How guilty would you be?
In any good mythic journey the main character will end up in their deep, dark Jungian subconscious (ie. the woods).
He tries to find his brother but ends up getting lost in the woods and has to spend the night in a stranger's chicken coop.
Hey, weren't the pigs told to keep away from hens/chicken coops whatevs?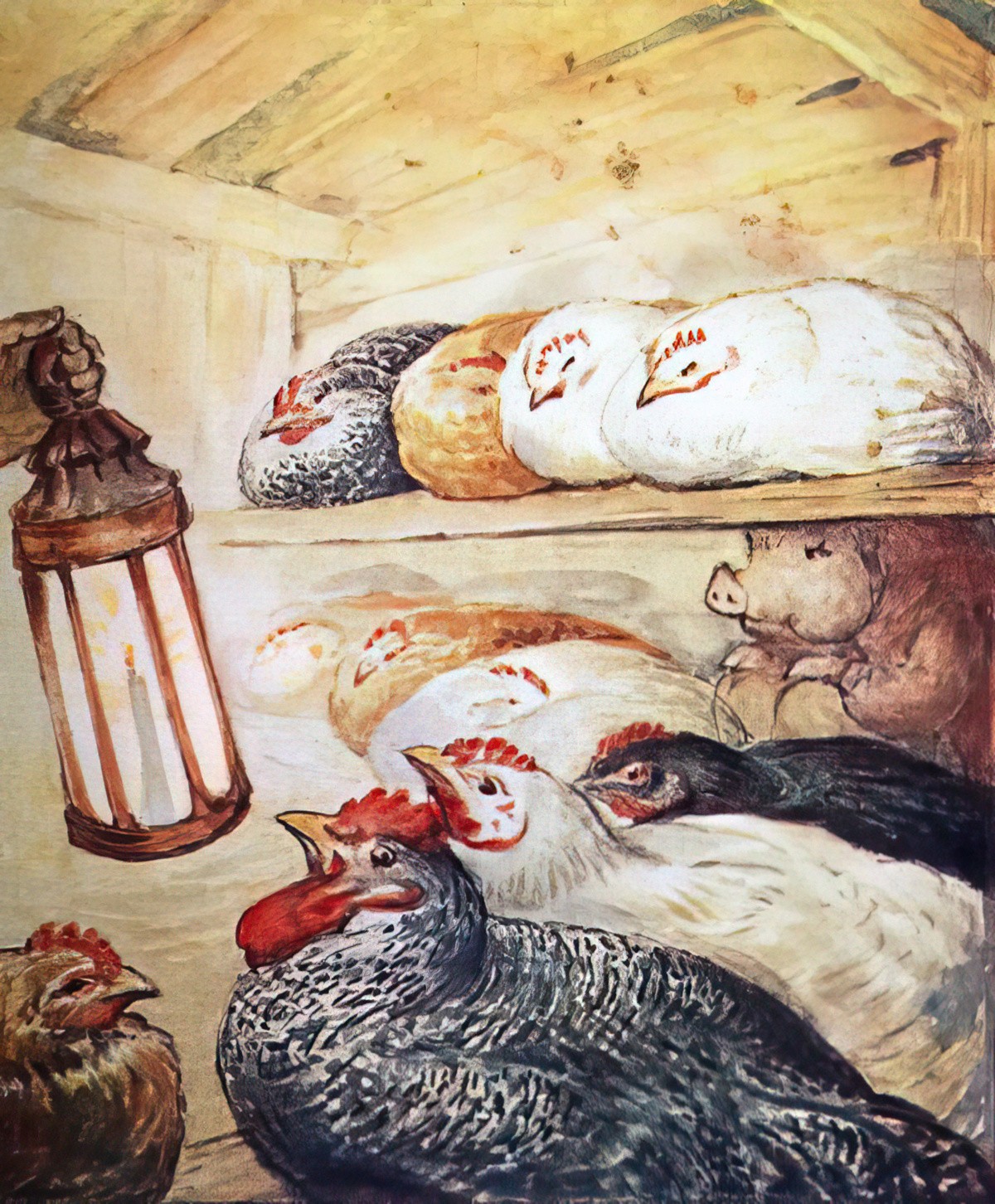 And is this gruff farmer gruff in general, or only gruff on the outside? Appearances can be deceptive… but never trust a beard, kiddies:
 He is found in the morning by a gruff farmer, Peter Thomas Piperson, who allows him to stay in his house, but Pigling is not sure the farmer is trustworthy.
Sure enough, the beard is a baddie and the poor little piglet has waded into a house of grisly horrors. He doesn't just have a beard — he is 'offensively ugly'. Now we have Hansel and Gretel in the mix, the archetypal fairytale of cannibalism and famine.
All Pigling wants right now is food to eat, which is weird because as I mentioned in my take on "Singing My Sister Down", appetites tend to disappear when our lives are at stake.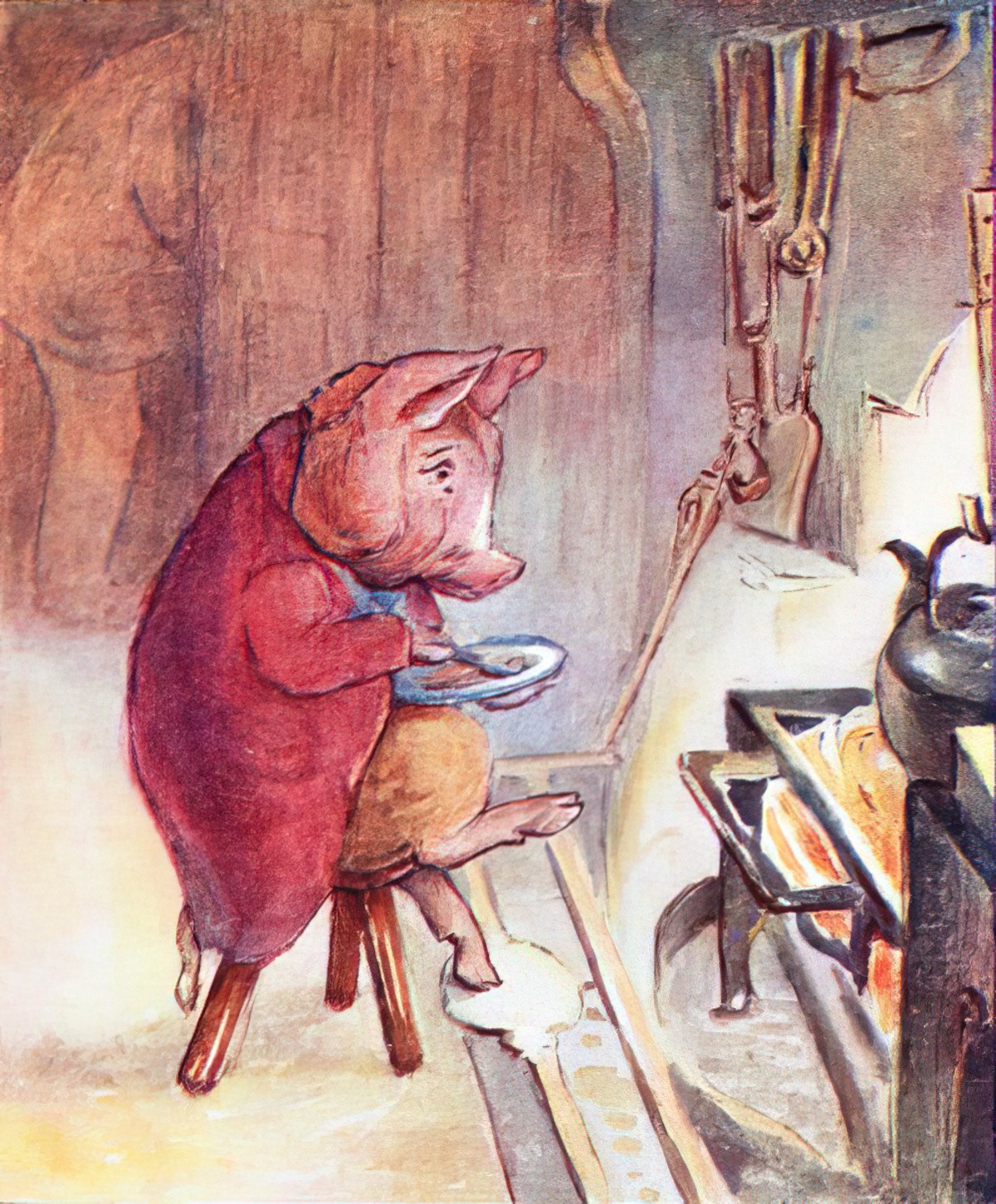 But Mr Peter Thomas Piperson seems to realise this ain't no ordinary pig. For starters, the pig's in pants. So he lets the pig sleep on the rug. Maybe he's going to keep Pigling as a pet, like a dog. Or maybe not. There's not enough food here, either. For a murderous individual, Mr Piperson has a typically English way of ousting his uninvited visitor: "You'll likely be moving on again?" But then he threatens to skin Pigling if he doesn't leave the house without meddling.
Instead of getting the hell out, Pigling decides to have a leisurely, tidy breakfast at Mr Piperson's. He's singing to himself while wiping the dishes when another voice joins in. Creepy much? This scene reminds me of Roland the Minstrel Pig. (Maybe it's just the singing-pig combo.)
Pigling discovers that Piperson has a second pig in his house who was stolen from her owner and whom he intends to turn into bacon and ham. The second pig, a beautiful black Berkshire sow named Pig-wig, suggests they run away so that they won't be sold, or worse, eaten. Pigling Bland has in any case decided to avoid the market and become a potato farmer instead.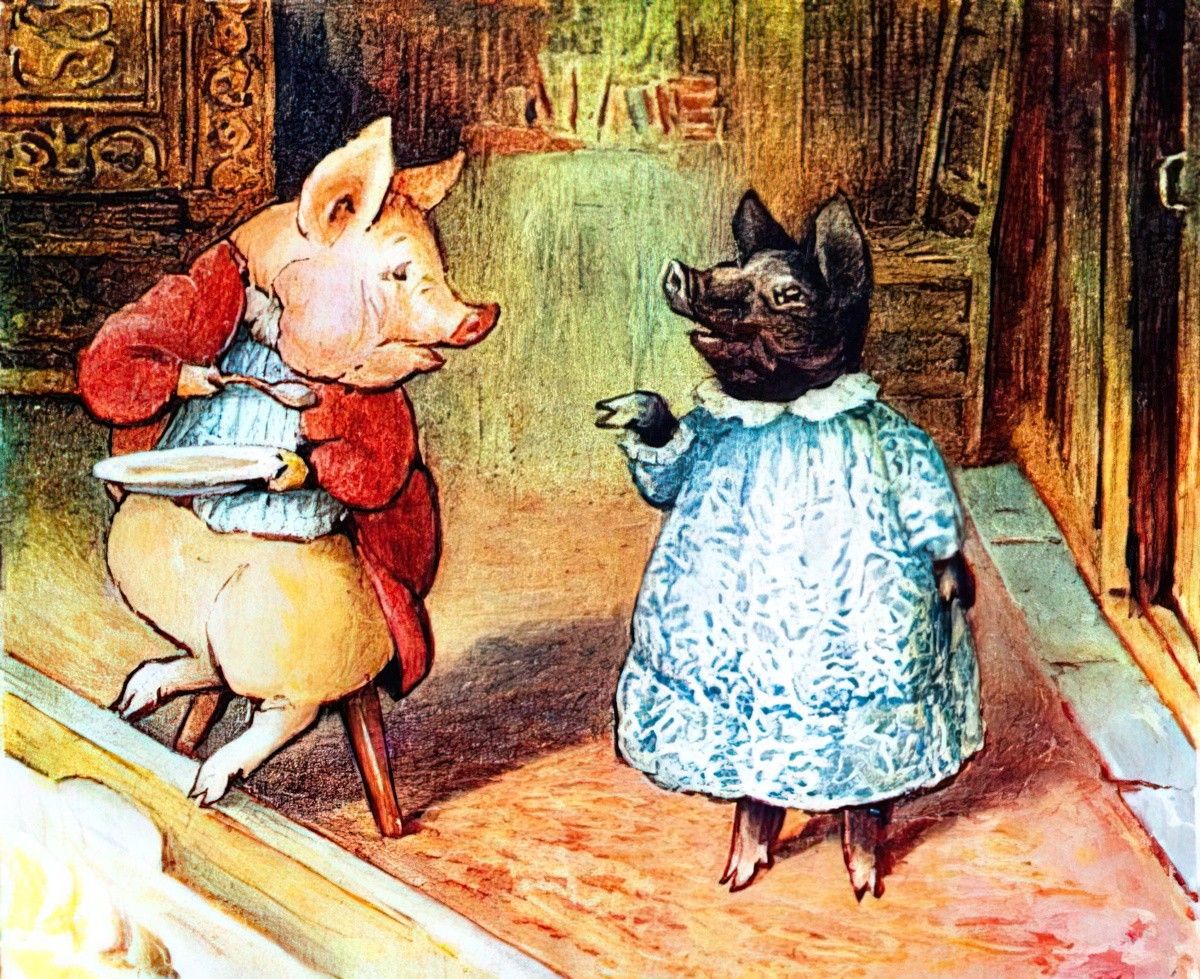 Like Hansel and Gretel, Pigling and Pig-wig make their escape:
At dawn the pair sneak off but in the course of their escape they come across a grocer in a cart who recognises Pig-wig as the recently stolen pig for whom a reward has been issued.
Thusly, Pigling Bland (basically a porcine Walter White) turns from a bland sensible guy trying to make his own way in the world despite terrible odds into a sneaky trickster to get what he wants. Which is to not be eaten, thank you.
This trick reminds me of an episode of The I.T. Crowd(Roy in the wheelchair). Not positive fake disability gags really fly in the year of our Lord 2019, however…
By being co-operative [Anagnorisis], and with Pigling Bland faking a limp, the two pigs manage to gain time and, once the grocer is at a safe distance, flee to the county boundary and finally, over the hills and far away, where they dance to celebrate their new-found freedom.
The ending is more like The Three Little Pigs than like the most enduring versions of Hansel and Gretel because the pigs never go home again. They find a new home. Mythic journeys can go either way but they all end with some version of home. But we knew Pigling Bland was never returning to his original home, didn't we? First we were told there's not quite enough to eat. Then Potter the Narrator says "if you once cross the county boundary you cannot come back".
I think these two are going to get on like a house on fire because they both love to sing and dance.
Pigling Bland is almost your classic Slavery > Greater Slavery > Freedom journey, except the story opened with quite a bit of frivolity and fun (Freedom) for the piglets.
Overall, I found the authorial insertion weird by today's standards. And the mythic journey of Pigling Bland feels episodic. The modern reader wants a more integrated journey than is offered here. However, there is something fun about Pigling's chaotic journey, and the randomness of events. We never really know why that psychopath Piperson goes from 'let's eat the pig' to 'let's keep the pig for a pet' to 'I'm gonna skin the pig' to 'affable', but that hardly matters, does it?
What about you? Did you enjoy it?