Strat and Chatto is a picture book created by Jan Mark and David Hughes. Jan Mark was a British children's book author who died about 10 years ago in 2006. She wrote for the picture book and chapter book age range. Her subject matter was mostly ordinary kids in ordinary settings. She also wrote plays and collections of short stories.
NOTES ON THE ILLUSTRATION OF STRAT AND CHATTO
David Hughes describes himself as "a graphic designer who happens to illustrate" which sounds suspiciously to me like he's actively avoiding the condescension experienced by creators of children's books. The truth is, though, that he hasn't really illustrated many picture books compared to all the other work he has done. He also writes children's books.
His background/forte in graphic design shines through on these pages, which are all double page spreads, with the action flowing beautifully across the page. (I haven't scanned any of the double page spreads — the hard copy is necessary to enjoy those.)
White space is preserved, and busyness minimised, with the technique of filling some objects with colour and leaving others as outlines.
Another standout feature of these illustrations are the disgustingness of the creatures. Hughes achieves this by creating skeletal, long-fingered hands, spiny tails and wavy antennae.
SETTING OF "STRAT AND CHATTO"
Strat and Chatto is a story set in London, with a strong Cockney influence coming through in the rat. This rat is an animal version of the Rag and Bone man of yesteryear — a white, working class guy who gambles, drinks and plays darts at the pub when he's not at work.
Like any ancient city, London is in a state of constant change — out with the old, in with the new. This cycle is emulated at the micro level in this story about the rotation of animals inclined to infest urban dwellings: cockroaches, rats, silverfish and also bats.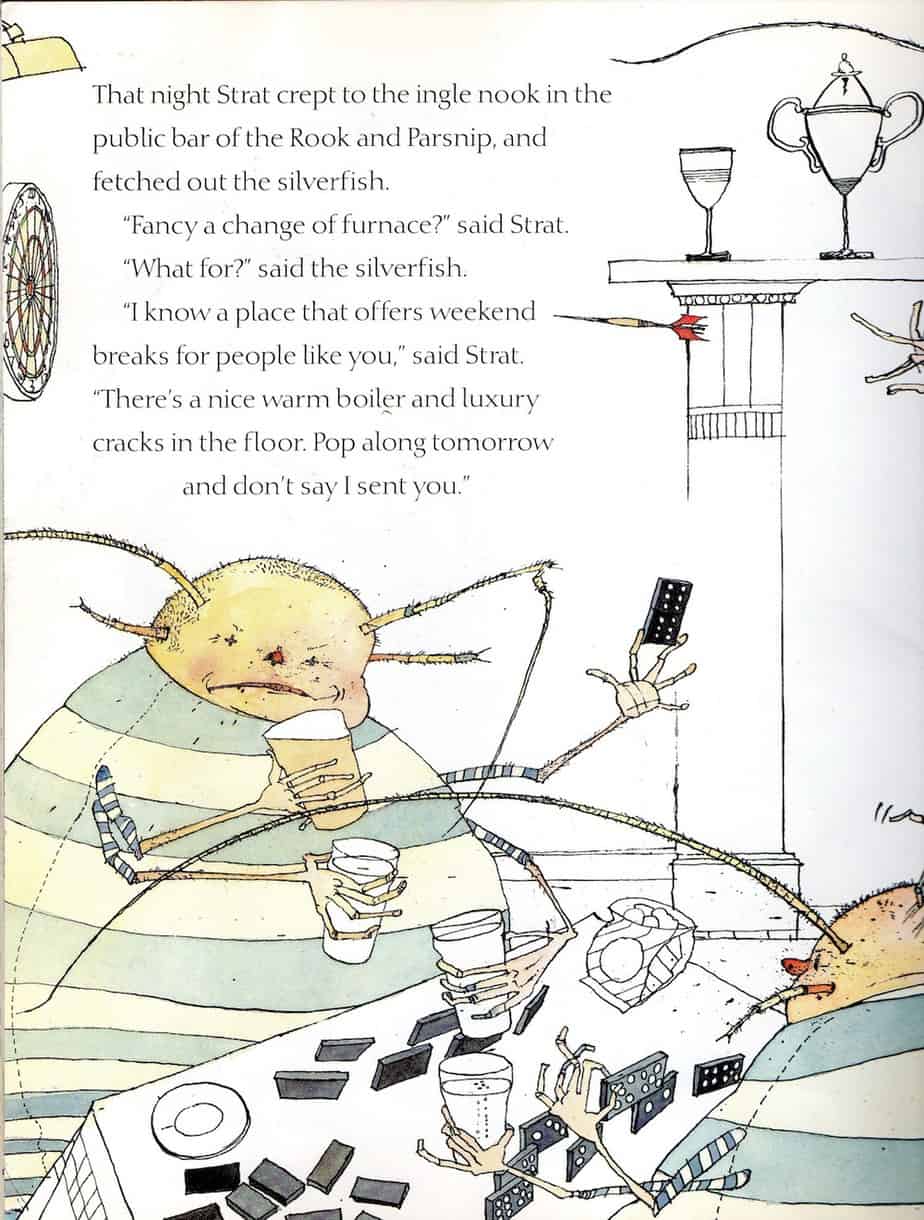 STORY STRUCTURE OF "STRAT AND CHATTO"
Our viewpoint character is the put-upon cat. The cat is presented as somewhat cuter than the other characters, though lacking in drive. This is his downfall.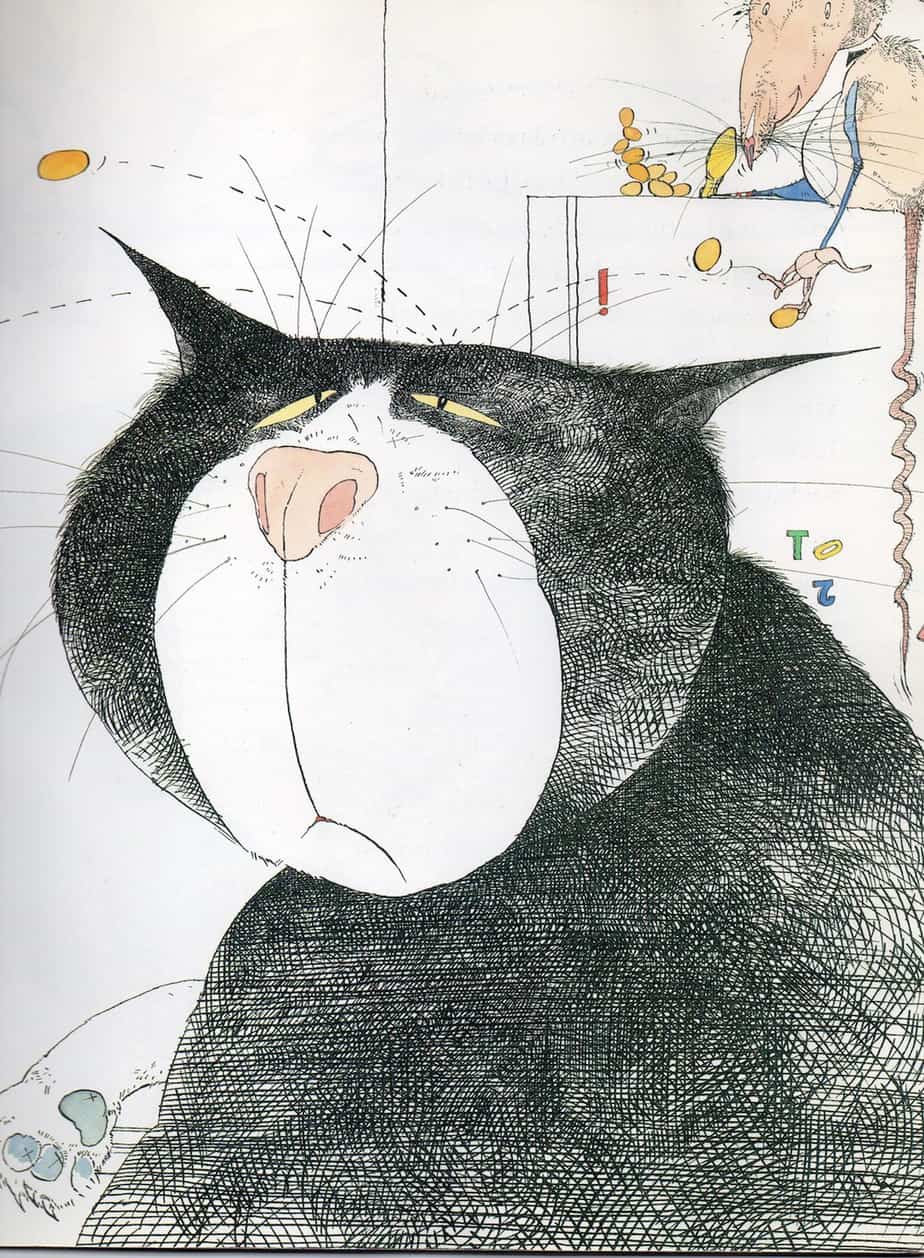 All Chatto wants is this one rat out of his house.
The original (off-stage) opponent may be the rat throwing lentils onto his head, but this story begins with a far stronger opponent coming along.
See here for why rats are the baddies and mice are the goodies of children's literature.
Readers do love tricksters, and the rat is an example of that archetype.
We don't see the rat's plan for a while, though we're encouraged to guess.
This part of the story is very similar to Julia Donaldson's A Squash and a Squeeze, in that a small dwelling becomes unbearably overcrowded with creatures, upsetting the original inhabitant. Donaldson's story is created more like a modern fable with a message about not complaining about the size of your house, but this is a purely comic tale in which the reader is invited to guess at what the wily rat is up to.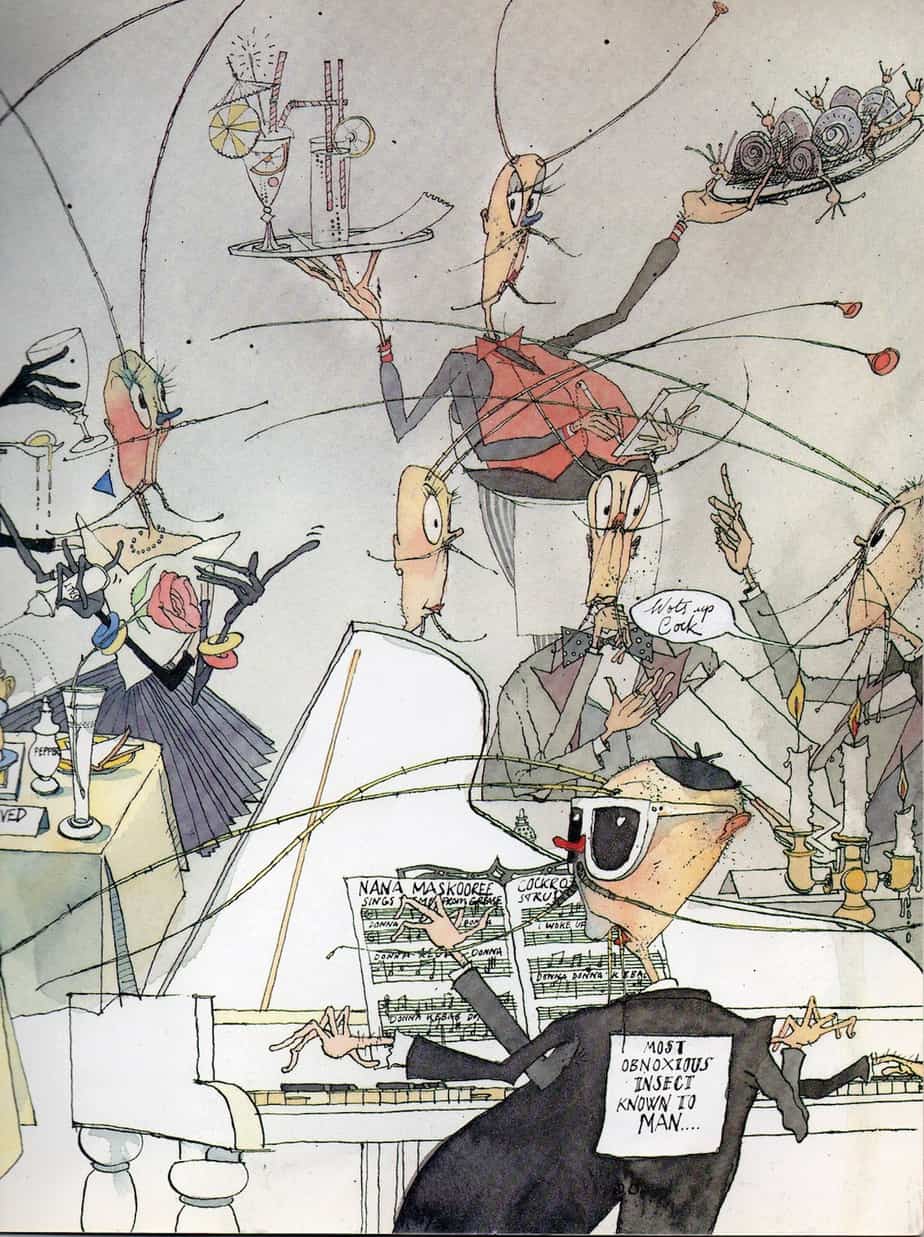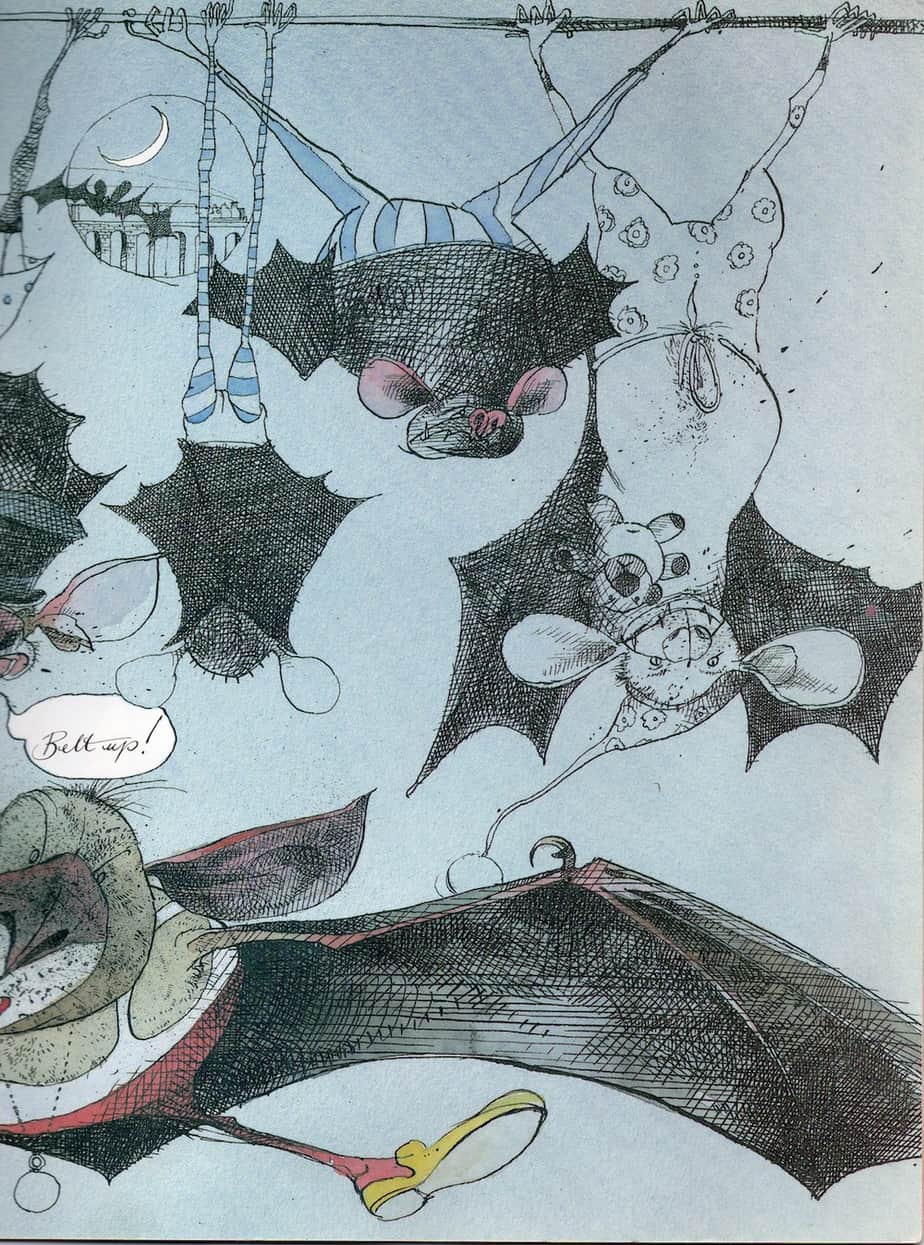 The climax is a busy scene where all the invaders come together.
Then Strat climbed in at the cat flap and yelled, "EVERYBODY OUT!"

And out of the cat flap came the bats and the cockroaches and the silverfish.
We realise the rat's plan. We've been wondering all along why he's been moving all his friends and acquaintances into the cat's house — it's because he wants to move in himself, since his own house is about to be demolished.
We realise now that this is a very clever circular story. The original rat probably weasled his way into the cat's apartment by similar means.
Notice the tails here, intertwined, but in a stranglehold.
The long, bulbous fingers which have been emphasised throughout the book are framed for attention here. Long fingers indicate a long reach, and we find them creepy. I'm sure that's why depictions of grey aliens feature similar hands.