Chatterbox is a very satisfying book to read aloud and my daughter just loves it.
Deborah Niland has made a great job of illustrating the characters, and I especially like that she's drawn a very modern Nana — not your stereotypical Nana with her blue rinse and pearls. In fact, she doesn't even have wrinkles. The main difference between the Nana and the mother is that the Nana wears glasses.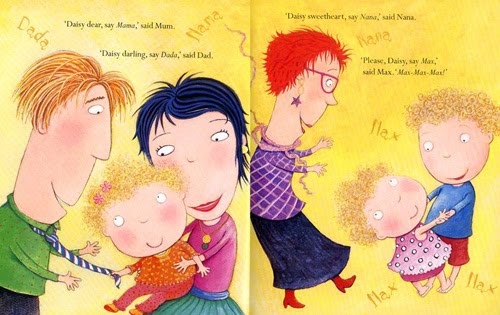 The story taps into that very common dynamic where you can't wait for your baby to start talking. But when she does, it feels like she'll never shut up.
STORY STRUCTURE OF CHATTERBOX
Max, the big brother, is impatient…
…for his baby sister to talk.
Daisy is the opponent as she just won't talk.
Max, along with the rest of his family, try to get her to repeat things. They say things slowly and take her to all sorts of interesting places but she just won't copy anyone.
The big struggle scene is when Daisy suddenly spews out all the nonsense that's been repeated at her.
By the look on Max's face, he regrets wanting Daisy to talk.
Now she won't be quiet.