"Miss Brill" is a short story by Katherine Mansfield, written 1920, three years before she died. The emotional valence of "Miss Brill" is similar to that in "Bliss". In both stories, a young woman starts off happy but then an unwelcome Anagnorisis sends her plunging into a downcast mood. In both stories, the reader must do a little work to understand what, exactly, she has realised.
What [Mansfield] does so brilliantly in her writing is to capture the mood of a moment, the feelings that go with some particular event.

Susanna Fullerton
In a letter, Mansfield compared her story "Miss Brill" to a piece of music, demonstrating to us how carefully she chose each word: 'I chose not only the length of every sentence, but even the sound of every sentence. I chose the rise and fall of every paragraph to fit her.'
Connection To Katherine Mansfield's Own Life
"Miss Brill" is a story about loneliness in a city. There's something ironic about cities — that you can be chronically lonely even while surrounded by people.
Stories about people who are in some way on the move and have mislaid their roots are so numerous that to express this category as a fraction would be impossible. […] Katherine Mansfield the expatriate colonial, the doubly uprooted, had come on the scene with a talent precisely fitted to the rootless age of solitude in cities, constant movement and dreams of travel.

Anthony Alpers, 1984
Another of Mansfield's stories about a woman alone in a city is "Pictures". Ada Moss could almost be Miss Brill but a theatrical, older version.
Miss Brill and Me
My boss used to call me 'Miss Brill'. This was the early 2000s and I was a young high school English teacher. One of my three sets of clothing was a zip up sweater with fur collar, a knee-length skirt, fishnet stockings and shiny black heels with a buckle strap. Pale face, bright lips. I wasn't consciously emulating a character from the Year 10 short story syllabus, but there you go.
Students had another name for me. Around that time the live action Scooby Doo movies came out. Even my friends told me they were shocked at how much I resembled 'Velma Dinkley' as played by Linda Cardellini. That's when I stopped wearing the orangey red sweater. However, I didn't mind looking like Miss Brill.
Let it be known that my fur collar was wholly synthetic. But I'm just old enough to remember when men really did give their women fox furs as romantic gifts. My grandmother's second husband was into that kind of thing, and though I never saw Nana actually wear her dead fox — by then the fashion was well-and-truly over — its beautiful orange fur lay dead and curled up on one of her spare beds. That's the bed I was required to sleep in when I visited for holidays. The enduring memories of sleeping over at Nana's: She wouldn't let me use the main bathroom (for fear I'd mess it up), the sheets were tucked in so firmly that you woke up stiff as a board, and touching that scary fox fur, which looked for all the world like an emaciated sleeping animal, head intact. Furs have a distinctive smell about them, too — nothing animal about it — it's probably the chemicals used in the process of preservation. That smell is the smell of death to me.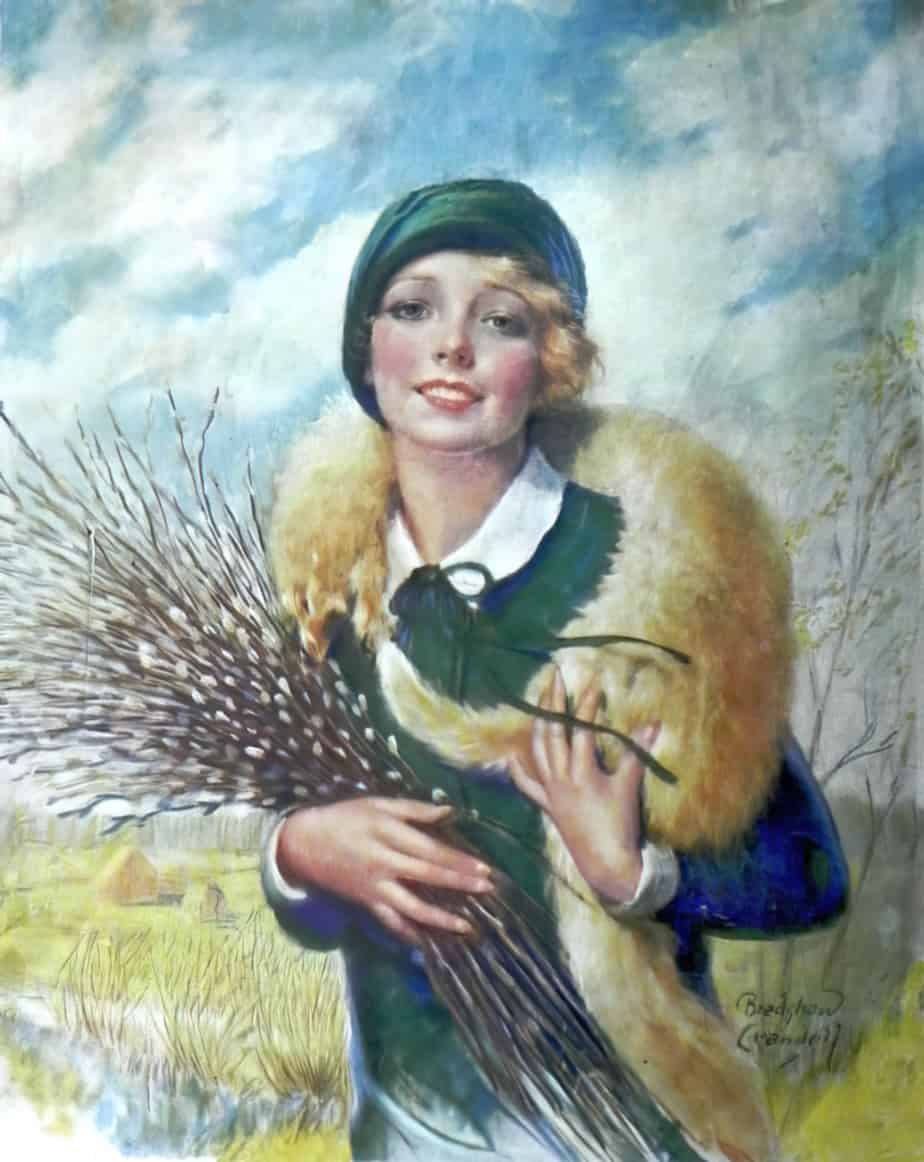 There's nothing like the skin of a dead mammal to remind a child of death, and I believe the fox fur in this story foreshadows Miss Brill's Anagnorisis, which is of the Heidegger's Being-toward-death variety: Miss Brill sees herself as elderly for the first time ever.
What Happens In "Miss Brill"?
A young woman called Miss Brill visits the French Public Gardens on a chilly fine Sunday. She's wearing a fur animal draped around her neck, after having taken it out of its box, where she probably stored it for summer. The eyes seem sad to her, though of course it's Miss Brill herself who feels sad. (Pathetic fallacy.) She sits on a seat she considers her special seat.
At the park, Miss Brill surveys the scene around her:
There's a band in a rotunda, playing as if there's no audience.
She notices what people are wearing, and whether or not the clothing is new.
Miss Brill doesn't seem to have a deep understanding of music because she hasn't the words to describe it, but she appreciates 'the little "flutey" bit'.
Two characters share her seat: an old man and woman, together but not speaking. As an adept voyeur, Miss Brill would love to listen in on anything they have to say.
There's a flash back to the previous Sunday, showing that Miss Brill is a creature of habit and comes here at the same time each week. She remembers an Englishman and his wife and describes their clothes. She's a noticer of fashion. Miss Brill reveals herself to be a judgemental snob as well as a voyeur. Their conversation had been about spectacles, a narrative (and actual) symbol of middle-age. Miss Brill had grown inwardly impatient with the woman, who kept making excuses for why she couldn't wear glasses.
Bored by the elderly couple with nothing to say, she turns her attention to the antics of the children, and the mothers who remind her of hens with their chicks.
Miss Brill considers the elderly people sitting on the benches odd. She can't identify with them (even though she's sitting on the very same bench, also silent).
She thinks instead of the children, who juxtapose with the elderly people.
Eventually a young couple join Miss Brill to replace the elderly couple on the seat. The young man is trying to cajole his beau into something — into kissing him, probably. Miss Brill overhears the young man disparagingly refer to herself as 'old', wishing she'd go away. The young woman describes Miss Brill's fur as reminiscent of 'fried whiting', which isn't in itself a particular insult, but means Miss Brill has become an object of ridicule. She's now also on the receiving end of her own trick of noticing what other people are wearing, then comparing them to other things for her own amusement.
Miss Brill normally buys a honey-cake at the baker's on her way home from sitting in the garden but today she does not.
At home, she takes off her fur animal and puts it in the box. She imagines she hears 'something' crying.
SYMBOL WEB OF "MISS BRILL"
SYMBOLISM OF SEASON
We can infer that this story takes place in autumn. Autumn is well-understood to symbolise late middle age, before the winter which precedes death. Mansfield hints at the season — to say it directly would feel a little too on the nose. We know because of the sunny chill in the air and because of the moth powder, which indicates the fur has been in long storage. Then we are told about the yellow leaves, with emphasis on the sky — the Heavens — arena of death:
Behind the rotunda the slender trees with yellow leaves down drooping, and through them just a line of sea, and beyond the blue sky with gold-veined clouds.
THE FUR
To have something literally dead hanging around one's neck is no better reminder of one's own impending death. But that's not how a fashionable young woman would have seen it back in 1920. This is before animal rights activists did their work in educating the general public on all the very good reasons to avoid wearing fur. At the beginning of this story Miss Brill doesn't see her fur as a dead creature at all. She sees it as a fashion item, even as she describes its eyes and its nose. But by the end of the story she can no longer manage that. The animal fur now has an emotion; the dead fur feels nothing — this is how Miss Brill feels.
Miss Brill's foil (proxy) character also wears fur — an ermine (stoat) toque.
The young woman who appears at the end with her beau describes Miss Brill's fur as 'fried whiting', which is presumably not the look Miss Brill was going for. She's now being compared to food rather than described as a beautiful 'young lady'.
THE SPECTACLES
The spectacles are an obvious symbol for middle-age, and the older woman's vain refusal to accept her own entrance into that phase of life. But as Marina Warner has said, glasses are one of those things which can mean two opposite things in a story:
Like the absurd figure of the learned ass in popular comic lore, Mother Goose often dons spectacles; in her bird shape, with glasses perched on her beak, she presides before the blackboard in children's books like Chest Loomis's Mother Goose Tales.

Spectacles carry a double meaning: in medieval painting, the rabbi at Jesus' circumcision sometimes wears them, and Saint Anne, too, lays them down in the crease of her Bible. But the learned can be fools, as in Swift's kingdom of Laputa, were the scholars all wear spectacles and see nothing. And fools, on the other hand, can be wise.

Marina Warner, From The Beast To The Blonde
Like the colour yellow in "Bedrock" and blackberries in "Heart songs", both by Annie Proulx, Mansfield's glasses in "Miss Brill" carry double, contradictory meaning. Such items are invaluable to a short story writer because they can be absolutely milked for deeper meaning.
The double meaning of glasses: Unless one dons spectacles, admitting one's own middle age, one will never have the 'foresight' to see one needs them in the first place.
STORY STRUCTURE OF "MISS BRILL"
Critic Mieke Bal has called Miss Brill a "Sunday Wanderer" archetype. The Sunday Wanderer is a highly sensitive individual who enjoys observing their surroundings. There are overlaps with the Flaneur. Like a literary flaneur, the Sunday Wanderer is a focaliser. These highly observant characters are great tools for when the author wants to appear to step right out of the picture. The story doesn't need an unseen narrator adding extra information when the character is as observant as any good author.
When reading a story about a Sunday Wanderer, the reader is invited to wander alongside.
But Miss Brill can't get inside other characters' heads. She is limited to what she can observe, and imagine. She can only imagine their motivations. 'She glanced, sideways, at the old couple. Perhaps they would go soon.' What Miss Brill imagines says more about her than about the characters she describes.
Like Miss Brill, the reader Sunday Wanderer will be required to fill in the gaps. Here's how I fill in the gaps:
Miss Brill is so caught up on noticing fashions — ephemeral by their nature — that she has thus far failed to see how quickly the seasons of fashion pass. By extension she hasn't seen how quickly her own life will pass. Until she understands the ephemeral nature of her own life, she will fail to make the most of it.
["Miss Brill"] is about an elderly lady who's obviously English. She's teaching in France.It's a job that she absolutely hates and it's one of her days off and she goes off to a park to just enjoy watching people. And what Katherine Mansfield makes so clear is that Miss Brill has very few friends, she's very much a woman on her own. And her position is so vulnerable, because the teaching work will run out, she's having to cope with very little money, she obviously has no security in her life, and that comes through very strongly indeed in the story.

Susanna Fullerton
As the story progressed, I had a realisation that Miss Brill — though 'Miss' and not 'Mrs' (the only two titles available to women in 1920) — was not as young as her childlike voice, with its onomatopoeic turn of phrase and frequent exclamation points. She speaks of the 'young girls' with their 'two young soldiers' as if they are still children, yet they're obviously of dating age.
To be old, female and single is a dangerous state in 1920. Women in this position were likely to fall into poverty as they grew older. Even if she worked her whole life, women did not have pay equality. A woman teacher was paid on the assumption that she was earning pocket money until a man came along to turn her into a mother.
Miss Brill wants to do the same thing every Sunday and be entertained by those around her. She hopes interesting people will enter her orbit and carry out amusing, inconsequential conversations so that she might listen in and complete their narratives in her own head.
Unfortunately for Miss Brill, if she's going to wait around for voyeuristic opportunities, she's going to overhear conversations she'd rather not. One of these conversations will lead her to an epiphany she'd rather not have.
Miss Brill's weekly date with herself is to sit in the public gardens on her 'special' bench and wait for people to join her on the other end of it. She pretends to be listening to the band, though she has no real appreciation of music. (Rather than listening to the music, she's imagining there is no audience at all.)
The Battle scene takes place not between the main character (Miss Brill) and an opponent she encounters along her journey. Mansfield does something slightly different: The Battle happens between Miss Brill's proxy and the man who blows smoke in her face—a blatant and insulting form of rejection.
The day was so charming—didn't he agree? And wouldn't he, perhaps?… But he shook his head, lighted a cigarette, slowly breathed a great deep puff into her face, and even while she was still talking and laughing, flicked the match away and walked on. The ermine toque was alone; she smiled more brightly than ever.
"Miss Brill" … employs ironic narrative juxtaposition, contrasting Miss Brill's preoccupation with a detached narrator's perspective. Miss Brill's search for knowledge is involuntary and, for better or worse, she is momentarily forced to quit her shell of self-delusion. The narrator first elevates the character to the pinnacle of comfortable delusion, by means of fantasies, dreams or distorted visions and then throws him/her into deep despair. The narrator, extra-diegetic and detached, leaves Miss Brill heart-broken at the end.

Mansfield often follows this formula of ironic narrational parallax. It is in the narrative juxtaposition of perspectives that Mansfield's basically Impressionist achievement lies. The method may be seen as the fundamental source of Mansfield's irony. Mansfield's view of reality is ephemeral and evanescent, constantly shifting its meaning and continually defying precise definition.

Katherine Mansfield and Literary Impressionism, Julia van Gunsteren
I notice as I examine the structure of short stories as opposed to films and picture books and any other kind of story, that the Anagnorisis phase is the most fully fleshed out. When it comes to short stories, it's all about the Anagnorisis.
But what is Miss Brill's realisation? The women who just had smoke blown into her face 'smiles more brightly than ever' — and Miss Brill recognise this for what it is — repression. Mansfield was very interested in repression. You can see it clearly in other short stories such as "The Fly" and "Bliss".
Miss Brill's youthful narcissism—regardless of her age in years— affects her view of her surroundings to the point where she thinks the world bends to fit her own emotions at any given time:
But even the band seemed to know what she was feeling and played more softly, played tenderly, and the drum beat, "The Brute! The Brute!" over and over.
Miss Brill won't lose her youthful narcissism, but she's just lost her feeling of youth.
Not immediately, however.
At first she stays sitting there on the bench, trying to enjoy the day as she had before, only with avid determination to enjoy herself no matter what:
Oh, how fascinating it was! How she enjoyed it! How she loved sitting here, watching it all! It was like a play. It was exactly like a play.
She's also trying to convince herself that this 'play' playing out before her is completely separate from herself, as actors are separate from their audience. She's earlier described the band inversely to how she describes this woman in the ermine toque — as no different from audience members, as if they were playing in their own living rooms. Oh but now Miss Brill is determined to draw a strong line between herself and what she sees around her. Why's that?
Because she doesn't want to admit that she is old and alone like the woman who just had smoke blown into her face. Then she tries to convince herself that she's important, a cast member of a play that happens every Sunday in the gardens. She's not some nobody, dammit.
She thinks that this is her Anagnorisis. In contrast to her repressed Anagnorisis, she's very conscious of this one:
How strange she'd never thought of it like that before!
But even consciously, Miss Brill knows she hasn't filled in the details of her fantasy about the characters in the garden:
And Miss Brill's eyes filled with tears and she looked smiling at all the other members of the company. Yes, we understand, we understand, she thought— though what they understood she didn't know.
This phase is followed by the real Anagnorisis — that the young lovers see her as 'old' and laughable. But she refuses to dwell on that. She gets up and leaves, in a hurry to get home.
The trauma experienced by Miss Brill, Ma Parker or the caretaker in 'The Canary' is not the tragedy of the unspeakable, but of the inaudible. Something that should have been heard, then listened to, has not been heard: the speaking subject is irremediably returned to himself and the text to the reader's response.

Voice and Affect in Katherine Mansfield's Short Fictions, Anne Besnault-Levita
At home, Miss Brill feels she sits in a cupboard, just like all those old people whose home lives she has imagined. The fur animal, too, is put into a box. Along with the dead animal, her youth is put away.
Charles May interprets this moment as Miss Brill's revelation, with the story ending there. We don't see her New Situation:
The short story, standing alone, with no life before it or after it, can receive no … comforting merging of the extraordinary with the ordinary [like the novel can]. For example, we might hypothesise that after Miss Brill  has been so emphatically made aware of her role in the park each Sunday, she will still go on with her life, but Katherine Mansfield's story titled "Miss Brill" gives us no such comforting afterthought based on our confidence that "life goes on", for it ends with the revelation.

Charles E. May, The Art of Brevity: Excursions in short story theory and analysis
FOR MORE
Here is the transcript a 2010 interview between Ramona Koval (The Australian Book Show) and Susannah Fullerton, a Kiwi Katherine Mansfield specialist.
Alice Munro's short story "Tricks" reminds me quite a lot of "Miss Brill", and I like to think the symbolism of the fur is a nod to Katherine Mansfield.