Higglety Pigglety Pop! or There Must Be More To Life is an illustrated short story, though some might just call it a picture book. The language is too sophisticated to count as an early reader, unlike the Mercy Watson series, of a similar length and also divided into chapters.
Why divide such a short story into chapters, anyway? In the case of the Mercy Watson series, the young reader feels a sense of achievement after finishing each chapter. Also, the point of view switches between Mercy Watson's house and that of their neighbours, Eugenia and Baby. In Higglety Pigglety Pop! the chapters strike me as a parody of a longer, mythically structured work.
The Kirkus reviewer also had difficulty classifying this story as a picture book:
Maurice Sendak's books have been, right along, projections of concepts rather than pictorializations of plots, so that it is almost gratuitous to hail his arrival as an author; but this tidy little package, despite its size and shape, is not a picture book, nor is it, like Hector Protector an elaboration of Mother Goose for little children – there is more to life, and his supple style matches his consummate skill as an artist.

Kirkus Reviews
Despite the title, the main character of this story is a dog. (The pig is secondary.) The terrier is called Jennie, and she is based on a real dog:
Dogs frequently appear in the picture books of Maurice Sendak. The best known is Jennie, the Sealyham terrier pursued down the stairs by Max in Where the Wild Things Are (1963). Reflecting on the fourteen-year partnership with his dog, Sendak said, "Jennie was the love of my life." Jennie appeared in most of Sendak's books from 1954 to her death, which is memorialized in Higglety Pigglety Pop! or There Must be More to Life (1967). The dramatist, Tony Kushner, has written that Higglety Pigglety Pop is "perhaps the most personal work of an artist who unstintingly mines his own psyche and soul for his art. Higglety belongs to the select library of essential art about death and grief."

Jan Susina, Sendak Goes to the Dogs: Maurice Sendak's Empathic View of Dogs
Sendak wrote this book while grieving the death of his dog Jennie.
Typically, picture books about death and grief require a metaphorical interpretation from the reader. See also Australian picture book John Brown, Rose and the Midnight Cat. I don't think it's a coincidence that the Australian example also features a beloved dog with a typically human name.
Why are picture books about death so surreal and metaphorical? A young child, perhaps not yet ready for stories about death and grief, will instead be enjoying a surface level narrative, in this case the story of a dog who leaves him to be an actor in a play. I believe the thinking behind this is: The child won't understand the sadness until they are developmentally ready to understand it.
Whether this works in practice, I don't know. In theory it's possible to have a sophisticated metaphorical understanding of narrative and still not be developmentally ready for death plots.
Besides, there's plenty that's harrowing in the surface reading of this story: The absent parents who have forgotten how to get back home to baby, the fact that everyone else has forgotten baby's name, the button near the ground that means the nurse will be fed to the lions and also its seventh victim (in a plot point reminiscent of Bluebeard).
There's also this idea that children can hook into the deeper meanings of texts precisely because of their lack of experience in the world. The Kirkus reviewer clearly subscribed to that idea:
You can't compress the reverberations into a review, and certainly not the ominous illustrations; it may by-pass some adults because Sendak speaks directly to the elastic imagination of children.

Kirkus Reviews
It's worth noting that Maurice Sendak never self-identified as a children's writer. He said he just made things, and others decided who would read it.
NOTES ON THE ILLUSTRATIONS
Others have pointed out that Sendak's illustrations are reminiscent of Doré and Dürer. They are rich in hatching and line detail, and relatively flat, tonally.
Sendak drew his toddlers with the faces and facial expressions of much older people, which I find creepy, though this creepiness fits the overall vibe.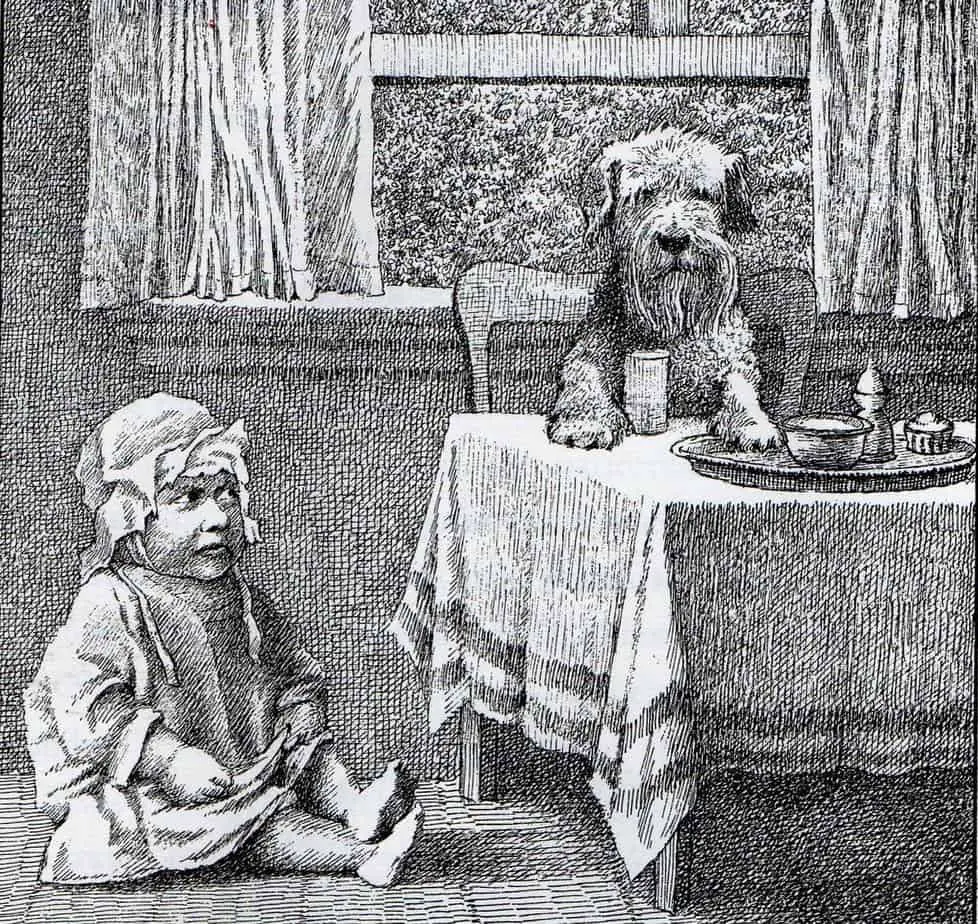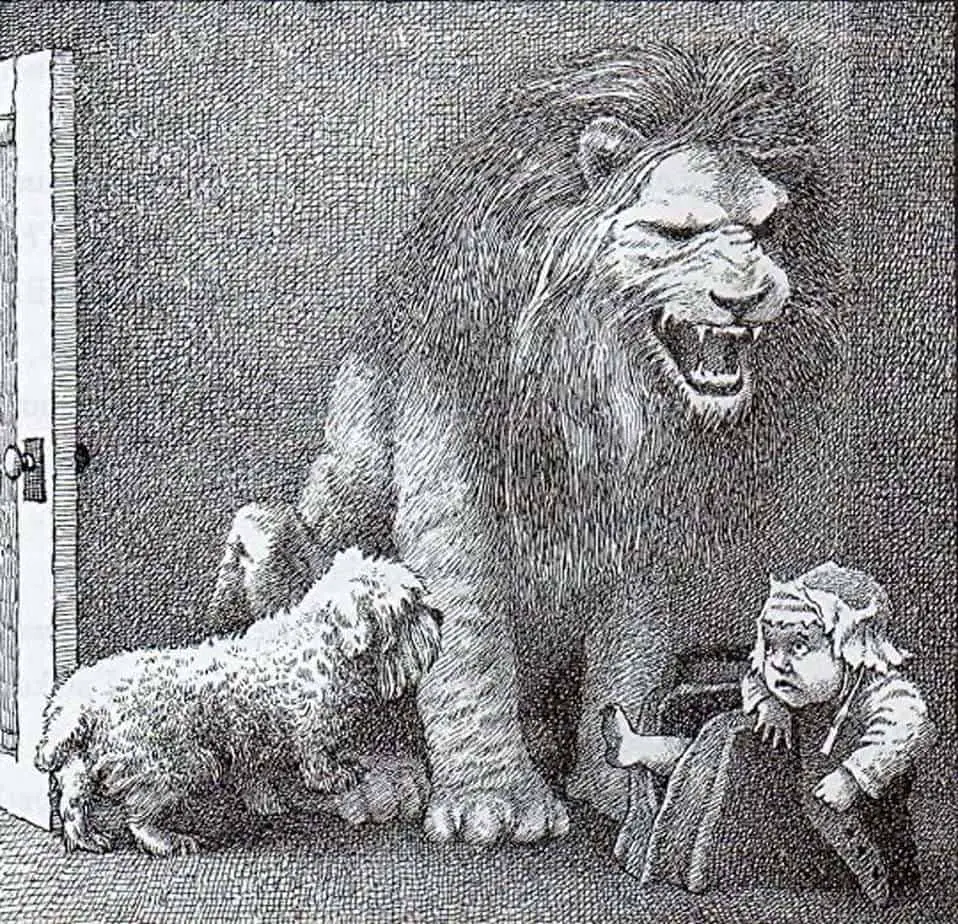 SETTING OF HIGGLETY PIGGLETY POP! OR THERE'S MORE TO LIFE THAN THIS
PERIOD — during the real Jennie's lifetime, mid 20th century. But there are so many fairytale/mythological aspects to this story that it's in some ways atemporal (save the details which place it firmly in the 20th century — the house furnishings etc.)
DURATION — Unclear. Maybe a week, maybe weeks. Being is time and time is finite. For human beings, time comes to an end with our death. Stories about death tend to be ambiguous in this regard.
LOCATION — Starts in the home, sees the hero on a mythic path, ends on a stage.
MANMADE SPACES — The road is a literal road in this story (sometimes a river, for instance, in other stories). There's a house, an aristocratic house (where the baby lives) and a castle.
NATURAL SETTINGS — The Forest is significant. The flat land is bordered by mountains in the distance.
WEATHER — Comfortable, like a utopian setting. Moonlit at night.
TECHNOLOGY CRUCIAL TO THIS PARTICULAR STORY — The details of Jennie's medicines are oddly specific, and once you know Jennie was a real dog, we can deduce that the real Jennie was using these medicines at the end of her life. This technology isn't 'necessary' for the story to work, but do show the reader that Jennie is probably elderly.
LEVEL OF CONFLICT — This refers to the story's position on the hierarchy of human struggles. Life and death is an evergreen psychological conflict.
THE EMOTIONAL LANDSCAPE — The land which lives inside the main character. Jennie is wrong to think that nothing is better than everything, but she has to experience having nothing to see that this is not what she wanted, either. To have nothing is to be dead. After she experiences nothingness, she moves onto the next plane in something akin to Heidegger's Being-toward-death. However, Being-toward-death refers to the acceptance that one is going to die someday. The 'acceptance' that happens in this story is an end-of-life acceptance, and I think that's something different. Perhaps a Heidegger expert can clarify.
STORY STRUCTURE OF HIGGLETY PIGGLETY POP! OR THERE MUST BE MORE TO LIFE
Higglety, Pigglety, Pop,
The dog has eaten the mop.
The pig's in a hurry,
The cat's in a flurry,
Higglety, pigglety, pop.

Mother Goose nusery rhyme
Only the end (story-within-a-story play) part of the structure has much to do with the nursery rhyme, aside from the cast, which includes a dog (main character), pig and cat in both nursery rhyme and storybook. Clearly, there's not a helluva lot to work with in five lines, so Sendak fleshed it right out and turned it into mythological journey into the darkest reaches of the soul, culminating in metaphorical death.
PARATEXT
A daring imagination has woven a simple rhyme into a brilliantly original tale about Jennie, the Sealyham terrier, who seeks Experience and becomes the star of the World Mother Goose Theatre.

marketing copy
The ideology of this story: Satisfaction in life comes from wanting more. Humans are compelled to always want something more. This is psychologically true and explains how humans have come to dominate (and wreck) the planet. As the story progresses, it becomes clear that having nothing is also not great.
On the surface, Jennie leaves home because she is ineffably dissasfied. (It's right there in the subtitle.) The young men of fairy tales often start out like this, leaving home to 'seek their fortune', presumably because they're bored with how things are panning out at home. A significant number of children's stories start with the character in a place of boredom. In this particular story, there's an existential loneliness mixed in.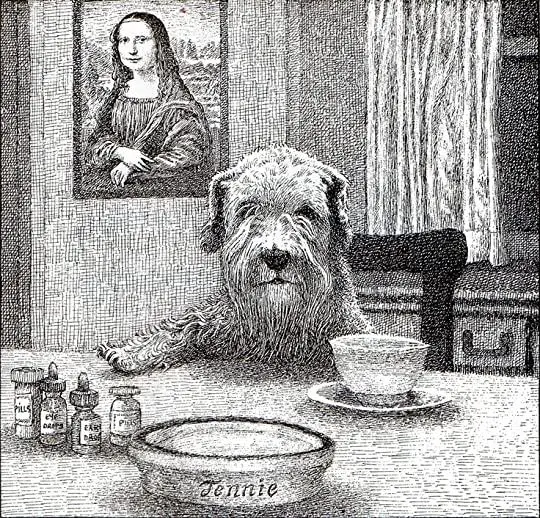 If we approach this story from a philosophical point of view, using the terminology of Heidegger, the words Vorlaufen and Erwarten come in handy.
Heidegger drew a distinction between anticipation (Vorlaufen) and expectation, or awaiting (Erwarten). At the beginning of this story, Jennie is anticipating something, and we see her 'awaiting' something as she looks out of the window (a very common visual metaphor in children's stories). But as soon as she leaves the house, she metaphorically enters a new phase of understanding: she is on a journey towards death acceptance. Not death in general — she doesn't give a damn about the life of that plant she just ate — her own death. She won't fully understand death until she contemplates the end of her own life.
(Heidegger worked on the idea that only human beings die. He thought plants and animals simply perish. Sendak has personified the plant. The plant's death is clearly the first real death of this story.)
Stories don't satisfy an audience until the main character wants something. Although Jennie starts out with no goal in mind (other than to get the hell out of the house), she very soon does settle upon a goal: she wants to act in a play. This desire is what propels her forward in her journey. First she requires 'Experience'.
Sendak plays with the various permutations of this word and how we typically use it in English to mean
Work experience, a prerequisite for many jobs
A positive event in one's life
A negative event in one's life (euphemistically)
Presumably because she is a dog, Jennie's understanding of English is limited. She shares this in common with the child reader. Jennie embodies both adult and child at once — a naive child in the adult role of a nurse, and the brave role of a lion-fighting knight.
Typically in stories there are two distinct layers of opposition: the 'family' and the 'Minotaur'. Friends and family are natural opponents for wanting different things. These things don't tend to be life and death. Jennie and the potplant are opponents because Jennie wants to leave and the plant clearly wants to dissuade her, craving company. Jennie eats off all of its leaves and it can't talk anymore.
Next, Jennie and the Baby are opponents. The baby won't eat, and if the baby won't eat, Jennie will be fed to the lion. As far as 'family opposition' goes, the threat of death is stronger than average. Normally in stories, families are squabbling about relatively incosequential things (in comparison to the big, outside, Minotaur opposition).
As for the Minotaur opponent in this tale, that would be the big, bad opposition that represents life and death: the Lion — typically used as Minotaur opposition — unreasonable, with the huge appetite of an ogre. An ogre/Lion can like you perfectly well and still want to eat you up. It's impossible to reason with this category of opponent.
Metaphorically, the Lion represents our greatest fear — fear of death. The following sentence offers clear insight into that:
Lions chased through Jennie's head.
Because Jennie is naively stumbling through the world, she misinterprets the requirements of acting. She is told she needs Experience, subtext reading she needs acting experience, but when she hears of a (dangerous) nursing job and is told that it will certainly be 'an Experience' she figures that'll do nicely to propel her toward her goal.
Sendak employs the ticking clock technique by setting a time limit on applying for the role of actor.
Stories that culminate in a play/sports event/competition have a climax baked into the plot. But we shouldn't confuse that part of the story for the near-death section — metaphorically the part where the hero reaches the centre of the labyrinth and confronts the Minotaur.
The mythological vibe of Higglety Pigglety Pop! is clear. Jennie pops her head right into the lion's mouth. Turns out she was only bluffing as a way to save Baby and she escapes without her beard 'which never grew back'. This is Jennie's near-death experience.
In a differently structured story, also featuring a 'play', contrast with About A Boy. In that story, the stage performance is the near death experience. (Social death, for the young boy.) The stage scene also functions to show the audience that the older 'boy' (played by Hugh Grant in the movie) has finally sacrificed his dignity to do something nice for someone else. He has grown as a human being.
To tie up this story, Jennie accidentally guesses the baby's name, even though she never realised the importance of guessing it (contrasting with the similar plot point of Rumpelstiltskin.)
Jennie has come to terms with dying.
"You escaped from the lion!" […]

They all climbed up on the lion's back.
Significantly, there is nothing morbid about Being-towards-death. And there is nothing morbid about Jennie at the conclusion of this book.
Everything = an unsatisfactory life; nothing = death.
Everything leads to despair because we no longer seek out new Experiences.
Life = Experiences.
Surface reading: Jennie is a stage actor now.
Metaphorical reading: Jennie has accepted her imminent death.
Extrapolating for metaphor, the stage play has functioned as the portal into death, and a microcosm of the overall absurdism/futility of life. When taking a broad view of life, it's difficult to take seriously things which once seemed so very important.
There IS more to life: death! Life and death are part of the same cycle, an ideology that wends its way right through children's literature.
Scene: room in a very terrific place.
We can assume they end up in Heaven, or the reader's cultural equivalent.
RESONANCE
Looking through the various reactions to this story from consumers, Higglety Pigglety Pop! is a divisive story. Readers seem to find it either attractively surreal or creepily off-putting. But Sendak's Where The Wild Things Are cemented Sendak's position as an influential American 20th century storyteller, ensuring that there will long be an audience who seek out his other work.
Sendak's book is now better known (at least on the Internet) than the Mother Goose nursery rhyme around which it is written.
SEE ALSO