Hairy Maclary's Bone is the second picture book in Lynley Dodd's Hairy Maclary series, published 1984, shortlisted for the 1985 New Zealand Children's Picture Book of the Year Award. Below I look at the structure, which reminds me of Rosie's Walk by Pat Hutchins (1967).
When Hairy Maclary from Donaldson's Dairy came out it took off immediately and her publisher wanted another. That proverbial tricky second book needed an idea.

"I was thinking about stories for him but hadn't got one. Buying the weekly meat at the butcher's shop, I went back to the car parked across the road and then saw a big dog, a Labrador, walking away from the butcher's with a whole string of meat and bones hanging out of his mouth. I thought 'ooh, Hairy Maclary, and you're not going to get home without your friends getting some of that'. That was the start of the second one, Hairy Maclary's Bone."

Lynley Dodd reveals the secret of Hairy Maclary
SETTING OF HAIRY MACLARY'S BONE
In an interview with Kim Hill at Radio New Zealand, Lynley Dodd addressed the unrealistic scenario of a gang of dogs running around on their own. These days in New Zealand, they'd be rounded up and taken to the pound. The owners would (hopefully) collect them later and pay a huge fine. Dodd explained that when she wrote this in the 1980s, when she was living in Wellington, and there was indeed a little gang of pet dogs who used to gad about the neighbourhood together during the day. These ones happened to be friendly and were allowed to roam as they please. 1980s New Zealand was a different time.
Sometimes writing ages in unexpected ways. I doubt Lynley Dodd would have predicted then that dog control laws would tighten. What was once realism now feels like an author leaning heavily on artistic licence.
In the same interview, Lynley Dodd tells the rest of the story about what happened at the butcher's that day she was inspired. After seeing that dog with the meaty bone, she went inside and quietly asked if she could have one herself. It needed to have meaty bits hanging off it. The butcher woman said, "What for?" Lynley Dodd replied, trying to be quiet, "I'd like to draw it." The butcher woman replied for all to hear, "YOU WANT TO DRAW IT?"
Lynley Dodd escaped otherwise unharmed from the butchers', drew the meaty bone for Hairy Maclary's Bone, then used it to make a lovely soup.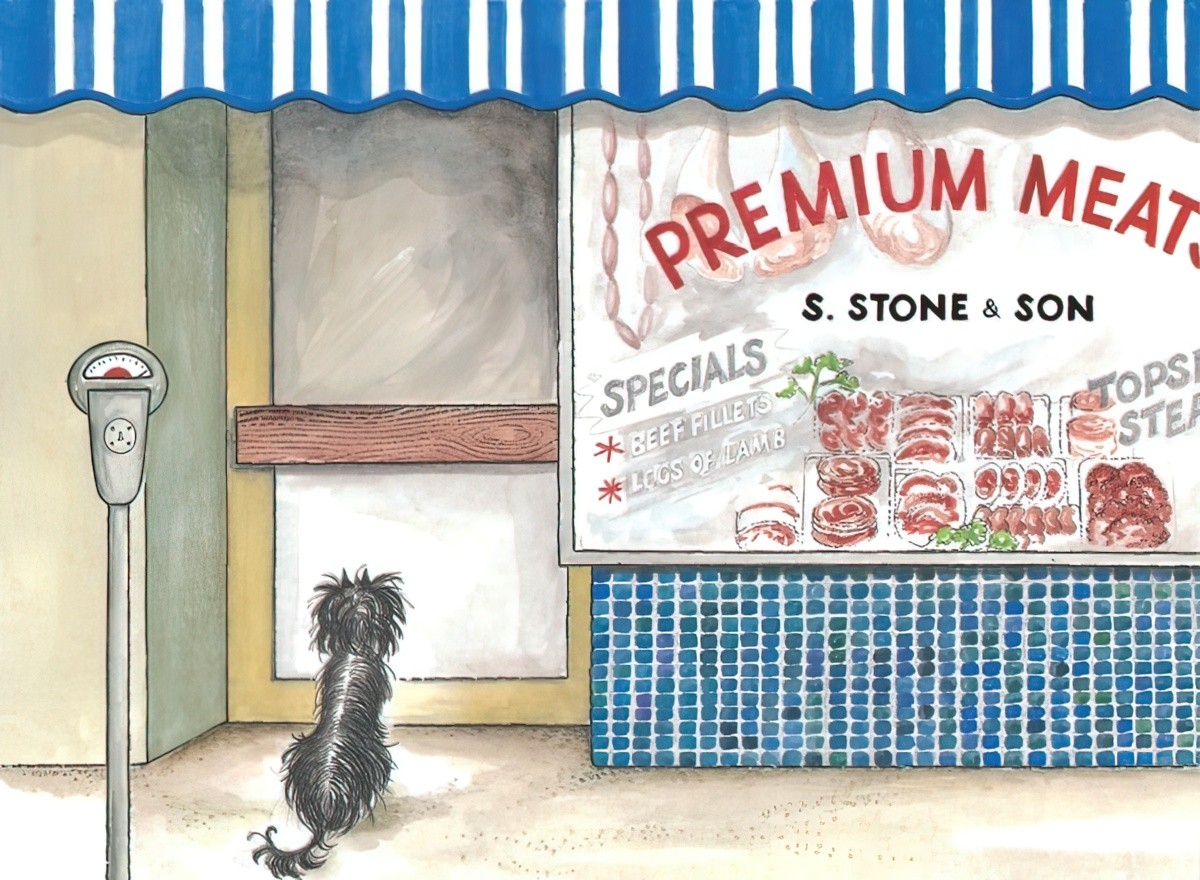 STORY STRUCTURE OF HAIRY MACLARY'S BONE
PARATEXT
When Hairy is given a big juicy bone he has trouble getting rid of all his hungry friends.

Lynley Dodd graduated from the Elam School of Art in Auckland with a diploma in Fine Arts, majoring in sculpture. She went on to teach art before taking a break to start a family. She began to work as a freelance illustrator and collaborated with author Eve Sutton on My Cat Likes To Hide in Boxes. There was no looking back as Lynley went on to write and illustrate her own books for children. Exuberant artwork and bouncy rhymes come together perfectly in books like Slinky Malinki and Hairy Maclary from Donaldson's Dairy. As well as being a visual delight, these are some of the most rewarding books for children and adults to read out loud. It comes as no surprise that, as a child, she adored Dr Seuss because of his 'crazy sounds and the fact that he took such liberties with the English language. ' Other favourite authors included A A Milne and the fairy tales of The Grimm Brothers and Hans Christian Andersen. Today, Lynley is a big fan of Quentin Blake 'because of his humour and very clever art work.

MARKETING COPY
We don't know what makes Hairy vulnerable until we see the tower of dog noses poking out from behind the wall. How will Hairy get home with his bone, with all these dogs wanting it, too?
As the story opens, Hairy Maclary sits outside the butcher's shop. If you know dogs, you'll understand he is expecting this bone. He has been taught that if he sits, he gets a treat, and we see him from behind, sitting up as straight as he can, like six-year-olds on the mat at school, waiting to be let out of class.
Sure enough, Samuel Stone comes out with a bone. Lucky Hairy. Where I live now, if you want one of these bones you have to order it from the butcher in advance.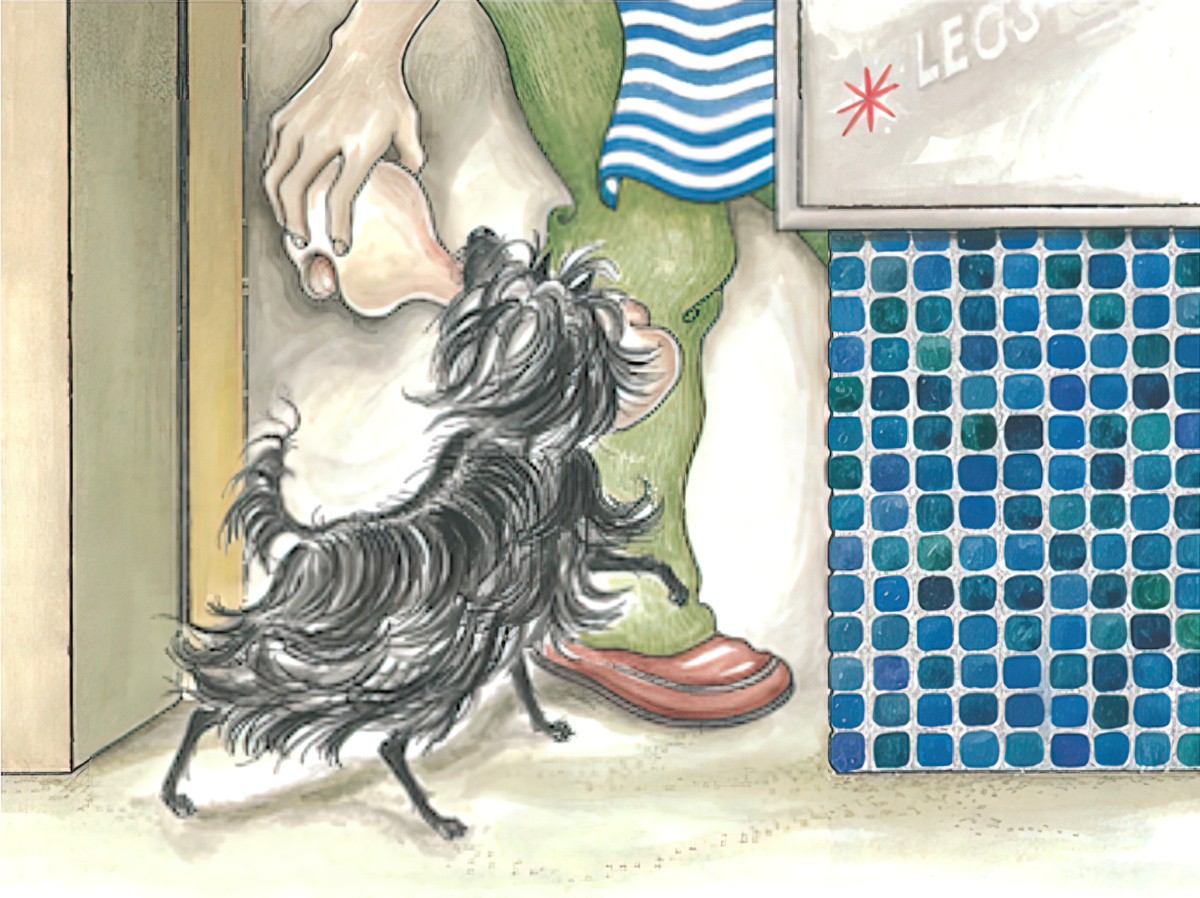 The pack of neighbourhood dogs who we met in Hairy Maclary From Donaldson's Dairy. Honestly, these are very well-behaved dogs. Under different circumstances, this would've been brutal.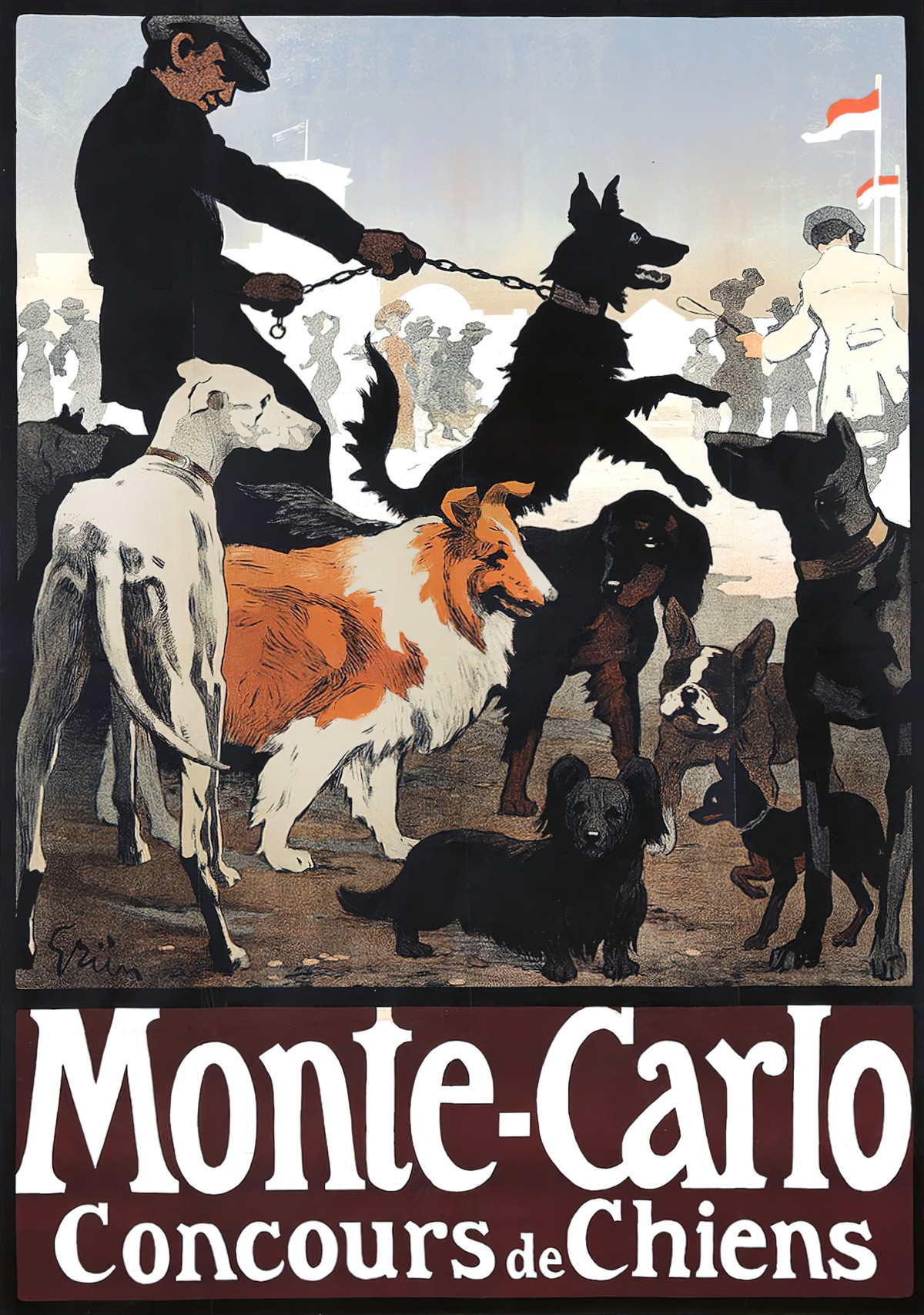 The dogs are opponents because they all want the same thing: The bone. The bone is the Holy Grail.
DIRECTION OF ACTION
Notice how the dogs walk from right to left. In Donaldson's Dairy the dogs progressed through the book with the reader, from left to right. Usually, when illustrators send characters walking backwards through a book like this, there's a story reason for it. Perhaps they're being chased.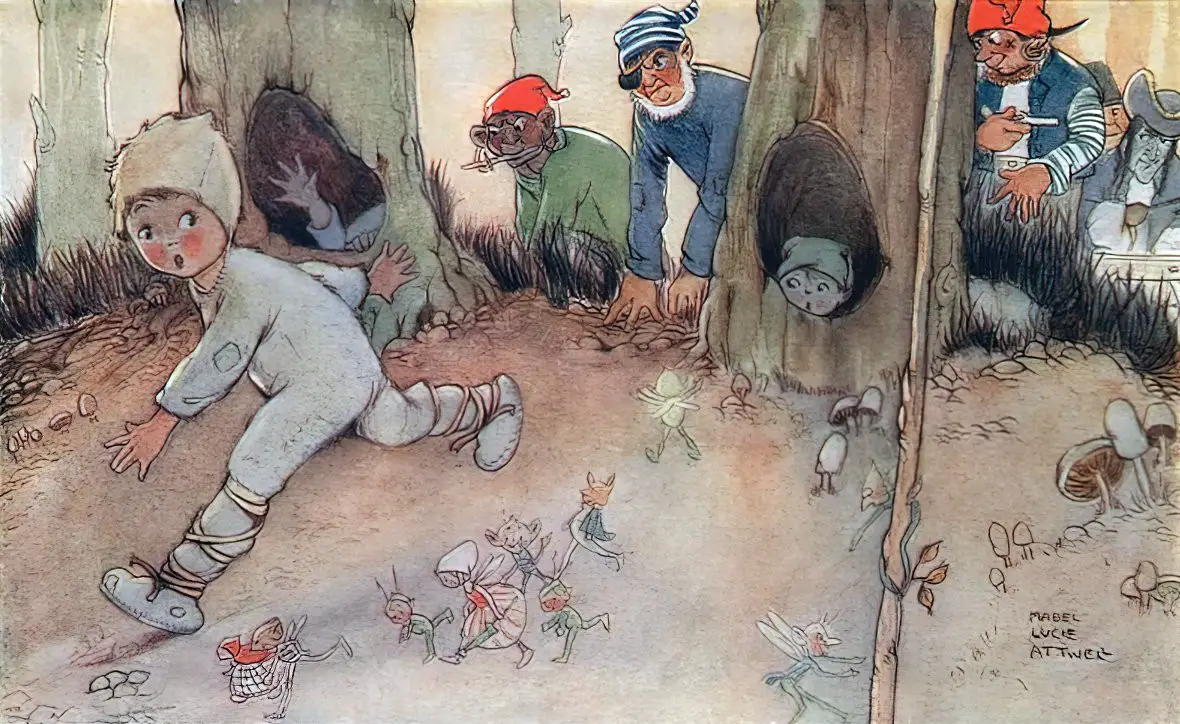 Perhaps the author wants to slow the forward momentum for some reason. I can't detect any in-story reason for it here, but I suspect it was done to make Hairy Maclary's Bone seem more different from the first in the series. After all, both books feature the same pack of dog friends trotting through a neighbourhood at fence-height. It's a subconscious thing, but we know immediately which book we're looking at because of which way the dogs are trotting.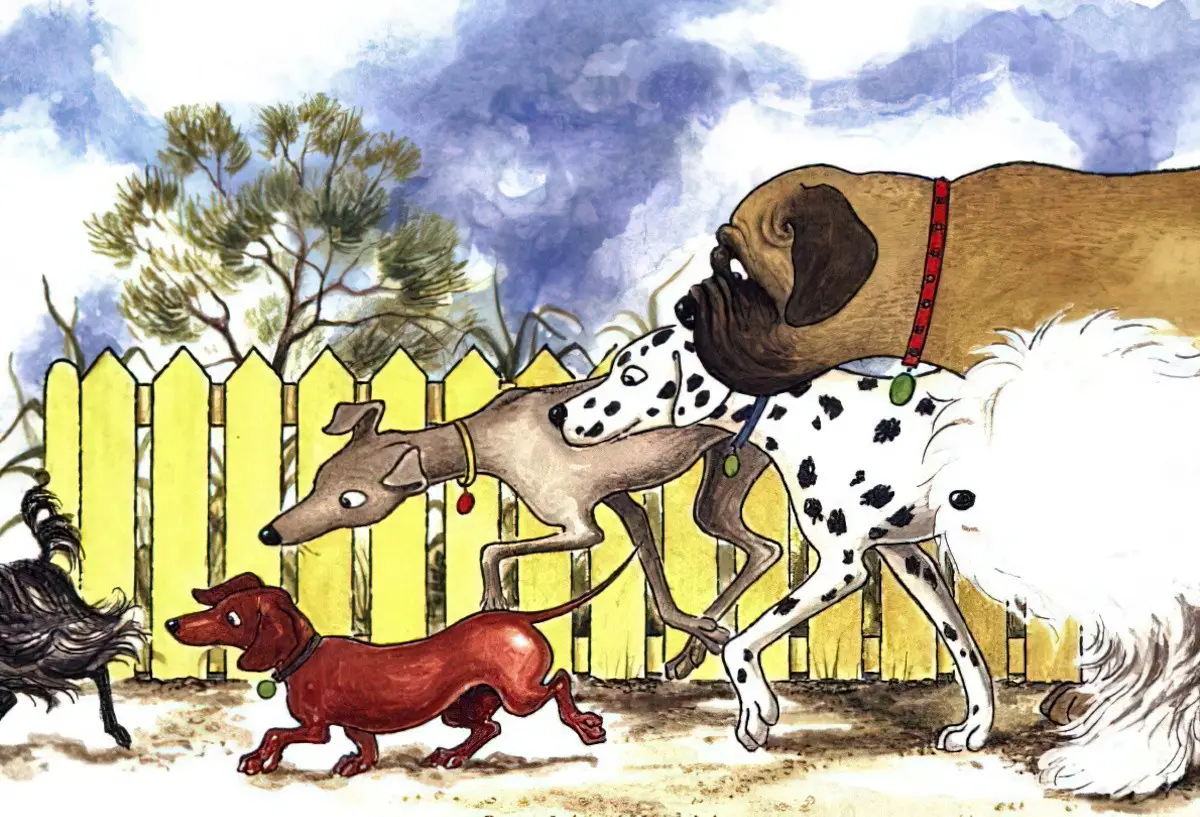 Does Hairy even realise he's being followed? This is why I think of Rosie's Walk. That classic American picture book by Pat Hutchins is well-known among picture book specialists for the ironic gap between words and picture. The words tell us Rosie is out for a very boring walk. The pictures tell a completely different story: A fox is chasing Rosie. Without ever noticing the fox, Rosie manages a clean escape.
When a main character doesn't even realise what danger they're in, they don't have a 'plan' as such. Or, the plan is to 'go home with a bone'.
Hairy Maclary's Bone functions as a body positivity book. Each of the dogs is a different body shape with its own advantages and disadvantages. Schnitzel Von Krumm can get under low things very easily but can't scramble over anything high. And so on and so forth.
This is basically a 'Final Girl' plot, in which Hairy Maclary is the only dog who is able to make it past every obstacle.
We might say Hairy is very smart and took this route on purpose, but I don't think the other Hairy books support this level of 'smart'!
When the last dog gets stuck, we realise Hairy is scot free!
Hairy made it home with ALL OF HIS BONE! This is such a sweet moment for young readers, who are regularly losing their toys in shared play, because toddlers don't know how to share (and don't particularly want to).
Hairy spent the rest of the week at home alternately chomping on his bone and trying to bury it, then digging it up again. After a few days his owners would exclaim, "Hairy, you smelly wee thing, what on earth have you been eating!" and this would continue for a while, with Hairy locked outside for the sake of everyone's nostrils, until someone does a bit of gardening and finds the smelly culprit and throws it into the rubbish bag ready for collection… Which leads to rubbish bag calamity, and a story which never makes the series.
(Back in the 1980s, New Zealander councils issued plastic rubbish bags. Wheelie bins were distributed in the 1990s. Until then, pets — and birds — fossicking through ripped-apart bin bags out for collection was a common site on New Zealand streets.)
RESONANCE
Like the other Hairy books, Hairy Maclary's Bone has never stopped being popular. There have been… adaptations.