Sidewalk Flowers (2015), or what I might call Footpath Flowers, is a wordless Canadian picture book by poet JonArno Lawson and beautifully illustrated in ink and wash by Sydney Smith.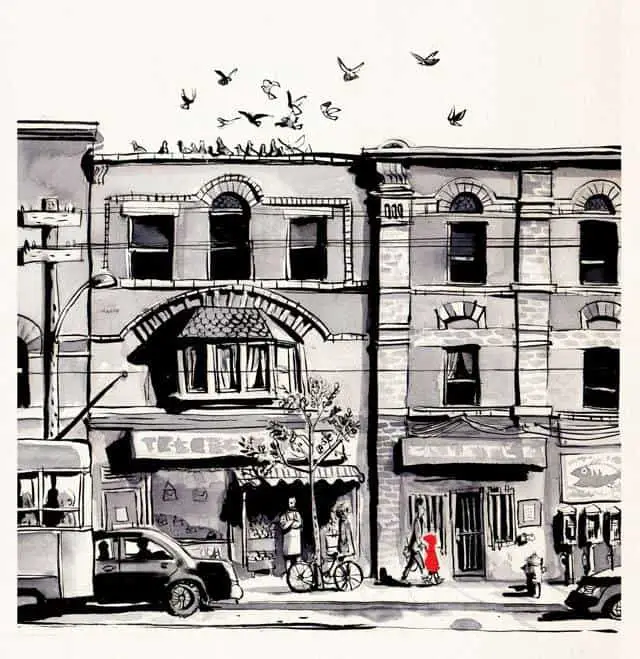 SETTING OF SIDEWALK FLOWERS
PERIOD — contemporary, though not specific. I may have looked a little too closely at how the shadows fall across the ground, because I think the shadows have mostly been added to improve the layout of each picture. For instance, as the girl and father enter the park, shadows fall to the right. But as they walk along the path, the shadows fall to the left. I'm not sure if the path has curved unexpectedly? In any case, the length of the shadows remain constant, so it must be either mid-morning or mid-afternoon.
DURATION — A half hour or so
LOCATION — The location and arena are very specific and can be geolocated. The creators have even released a map of the exact locations in Toronto where the story takes place.
MANMADE SPACES — a city
NATURAL SETTINGS — Within the city, the park represents the forest. When the little girl enters the park she enters a fairytale forest.
WEATHER — Cold enough for the girl to be wearing a hooded coat. There are no leaves on the trees, but none on the ground, either. Is this the tail end of winter?
LEVEL OF CONFLICT — A young child comes face to face with death.
THE EMOTIONAL LANDSCAPE — There is a gap between what the young child finds important and beautiful and between what the adults in the story find important and beautiful.
ILLUSTRATIONS OF SIDEWALK FLOWERS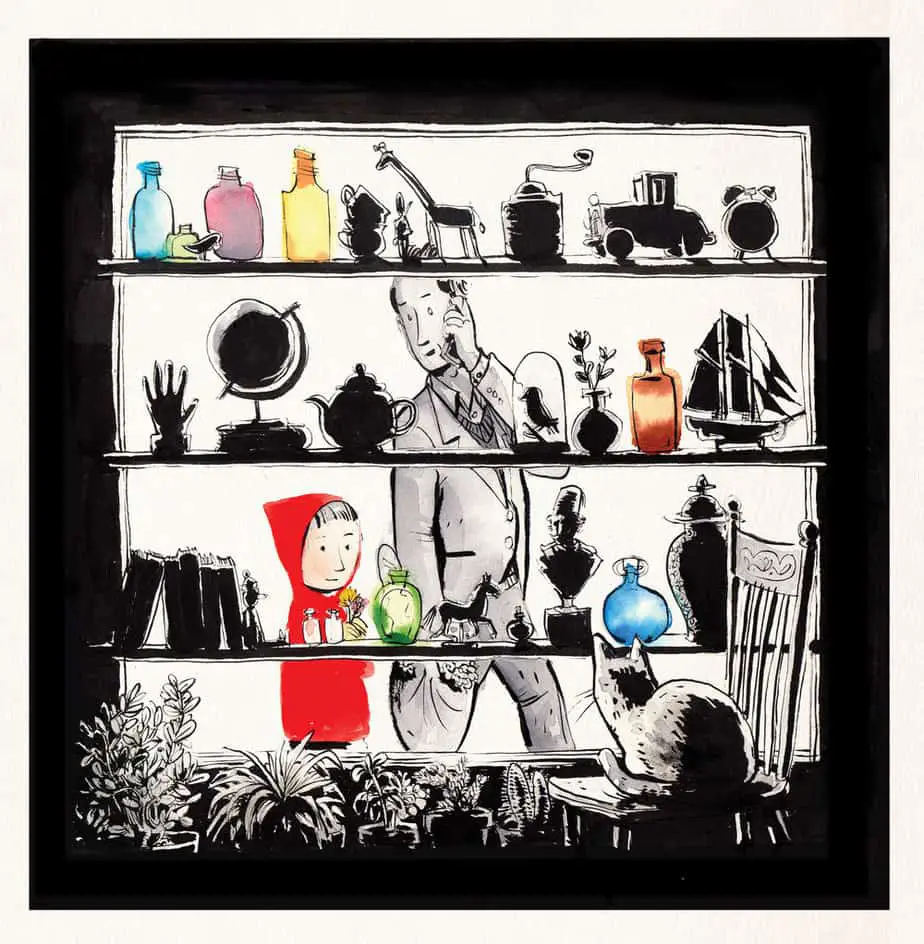 Sidewalk Flowers is neither full colour nor black and white plus spot colour, but falls in between. Why has the illustrator chosen to colour some items and not others?
The reason for the red coat is clear — reader attention is on the child main character. A red coat is perfect for that (and partly explains the many girls in red coats throughout children's books).
In the shop window above, why are only some of the items coloured? My reading: These are the items that grab the girl's attention. We don't know why — they just do. Likewise, when she walks past people waiting for the bus, only the woman in the floral dress is rendered in colour. I assume this is because the girl likes her dress. Normally in this situation, the coloured character becomes part of the story, but not in this case. This subverts my expectation of how picture books work, but to a good end: The child notices things — and spreads kindess — for no discernible reason, and that is precisely the point.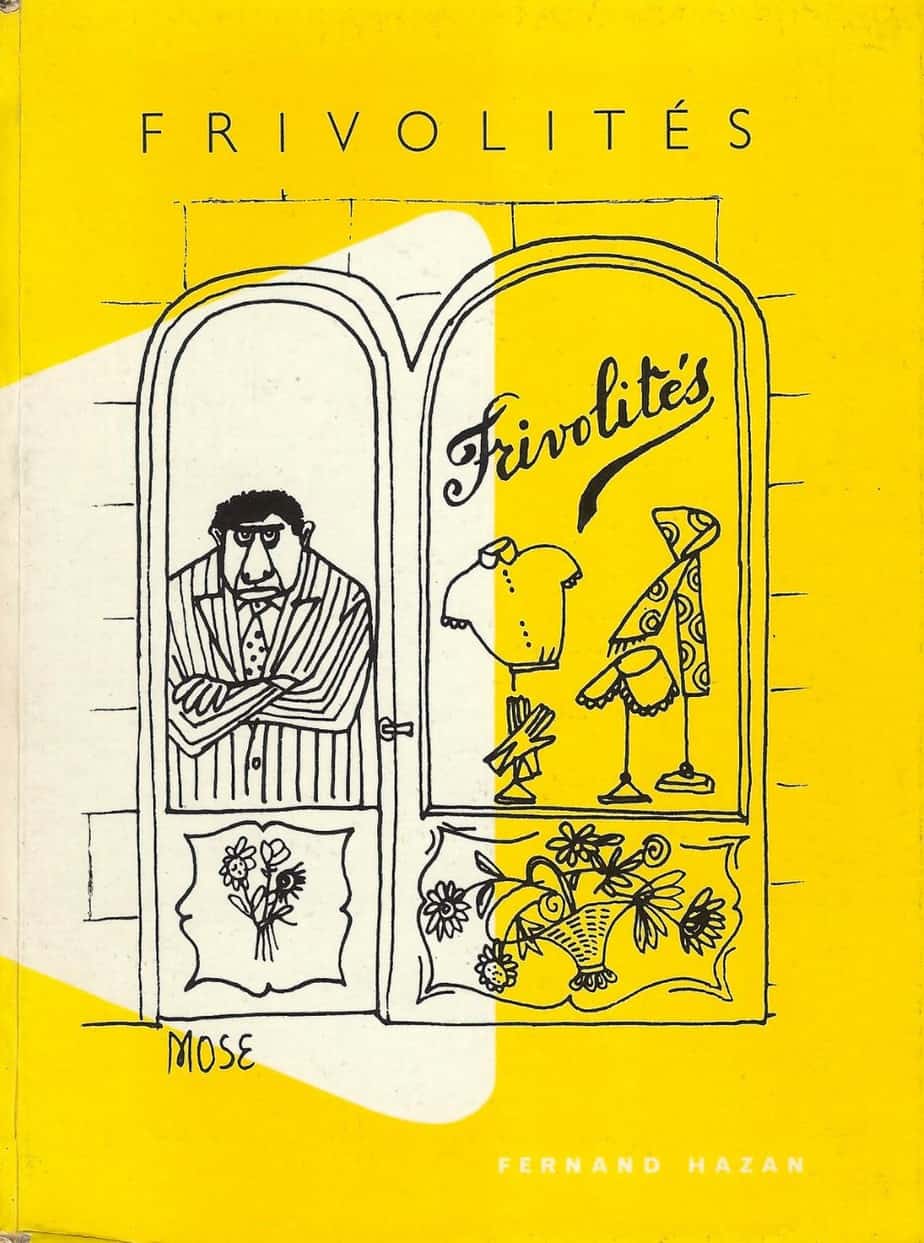 STORY STRUCTURE OF SIDEWALK FLOWERS
PARATEXT
In this wordless picture book, a little girl collects wildflowers while her distracted father pays her little attention. Each flower becomes a gift, and whether the gift is noticed or ignored, both giver and recipient are transformed by their encounter. "Written" by award-winning poet JonArno Lawson and brought to life by illustrator Sydney Smith, Sidewalk Flowers is an ode to the importance of small things, small people, and small gestures.

MARKETING COPY
In a wordless picture book, it's useful if the storytellers stick to an established structure. Sidewalk Flowers is a clear example of Odyssean Mythic structure, in which a character goes on a journey along a path, comes face to face with death, understands something about life, the universe and everything then returns home (or finds a new one).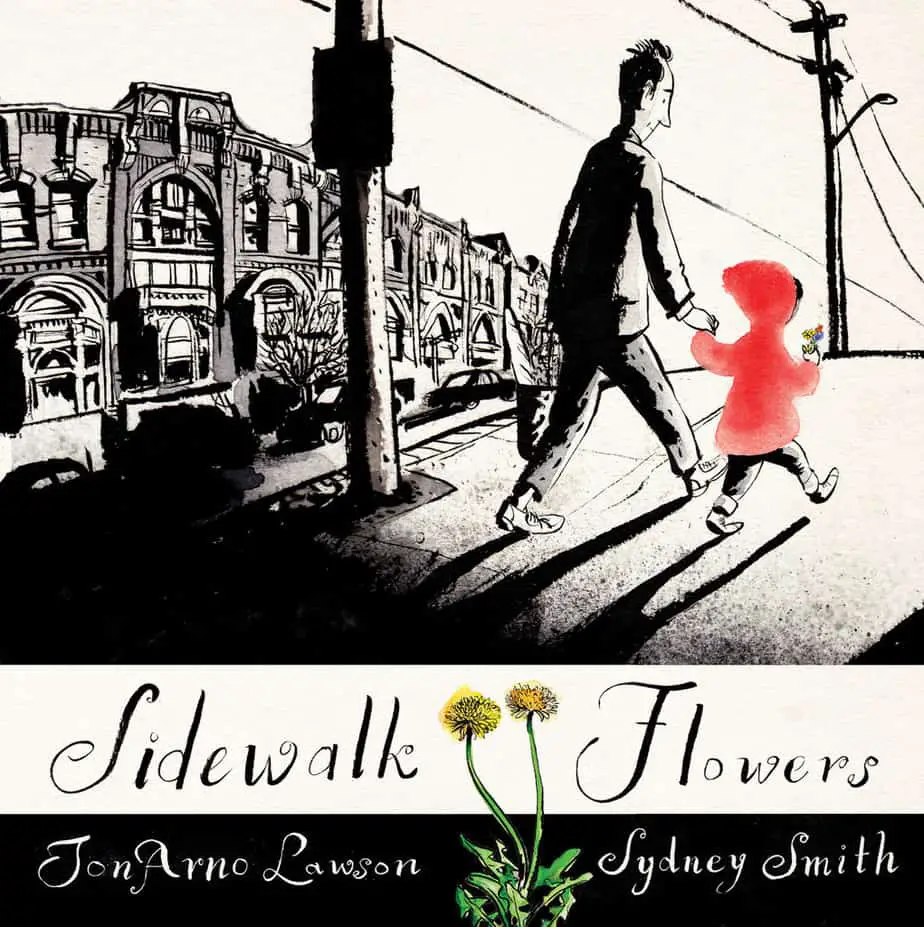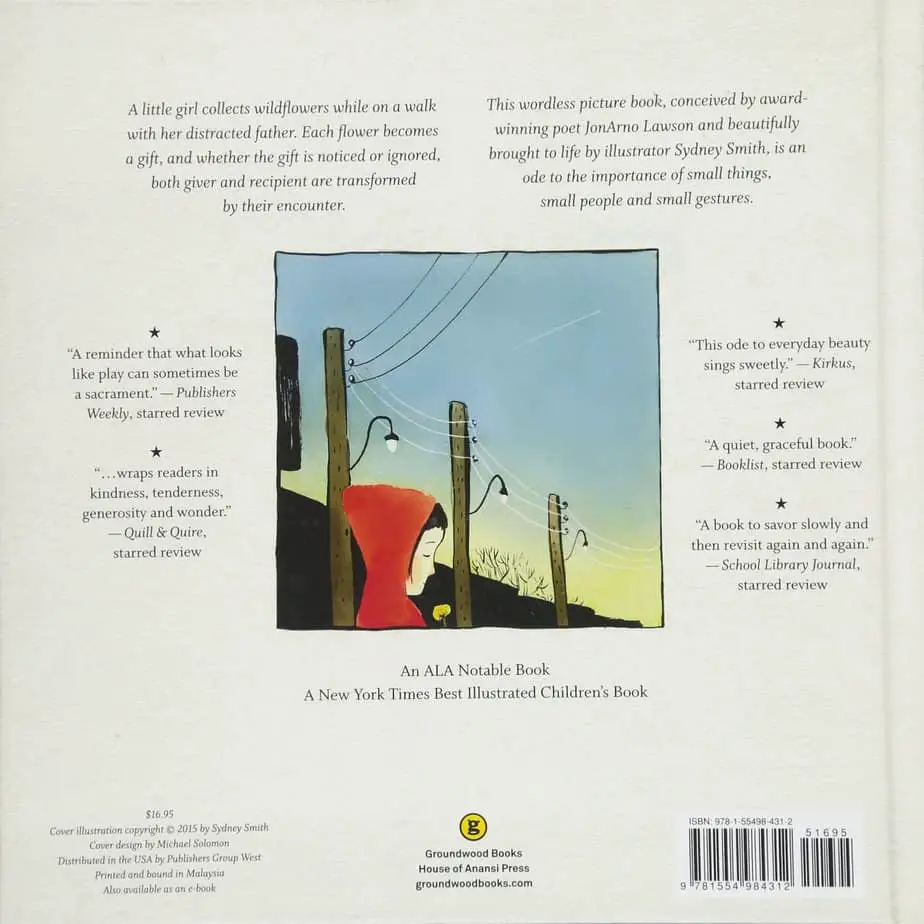 This is another modern picture book featuring a girl in a red coat, and because she doesn't have a name I'll call her Red Riding Hood. (See also: Wolf In The Snow, The Fog.)
Here's the thing about kids: They like to spread kindness as much as they can, though they lack the means and autonomy to do so. Picking weeds to spread around as gifts is such a kid thing to do, and it's so sweet. Red Riding Hood wants to show kindness.
I remember doing a vaguely similar thing myself. I was a bit older when I secretly made colorful book marks with finger knitted tassels and slipped them into the hymn books at church. I pulled random quotes from my Bible at home and wrote them on the bookmarks. Goodness knows which quotes I chose, because I understood very little. Anyway, each Sunday at church I'd take a look at the hymn books all lined up to see if my bookmarks were sticking out, but they never were. Whoever collected the hymn books back in had disposed of all my book marks. Nothing was ever said about it, but I still remember the childlike wish to do something secretly nice, and can identify with the girl in Sidewalk Flowers.
In a classic mythic journey the hero comes face to face with the Minotaur/Wolf/Ogre (or other formidable enemy.) There's no such enemy/villain in this story, but the father functions as an opponent in the sense that Red Riding Hood wants to 'dilly dally along the way' but her father provides the ticking clock momentum. He's walking much faster. We can see that by his long stride. The girl lags behind. She wants to 'stop and smell the roses' (or weeds). Their goals are in opposition, which makes the father the opponent.
The larger, scarier opposition is death, and the fact that everything must end.
To amuse herself on her walk and to feel good, Red Riding Hood picks flowers that grow out of the cracks as she walks home with her father. She stops to give those flowers to people they meet along the way — a lady in a floral dress (perhaps), a friend's dog, her mother at home, her younger siblings.
Red Riding Hood doesn't meet any wolf in that park that stands in for the forest, but she does come face to face with what I'll call 'displaced death'. There's no danger that the young child herself will die anytime soon, but something else has died, something peripheral to her life.
It's logical that we associate birds with death itself. If you sit still enough outside birds won't notice you're there and will walk happily around you pecking at the ground, until you move a muscle and they all scatter away.
The ultimate stillness is death. Birds will naturally reclaim the space.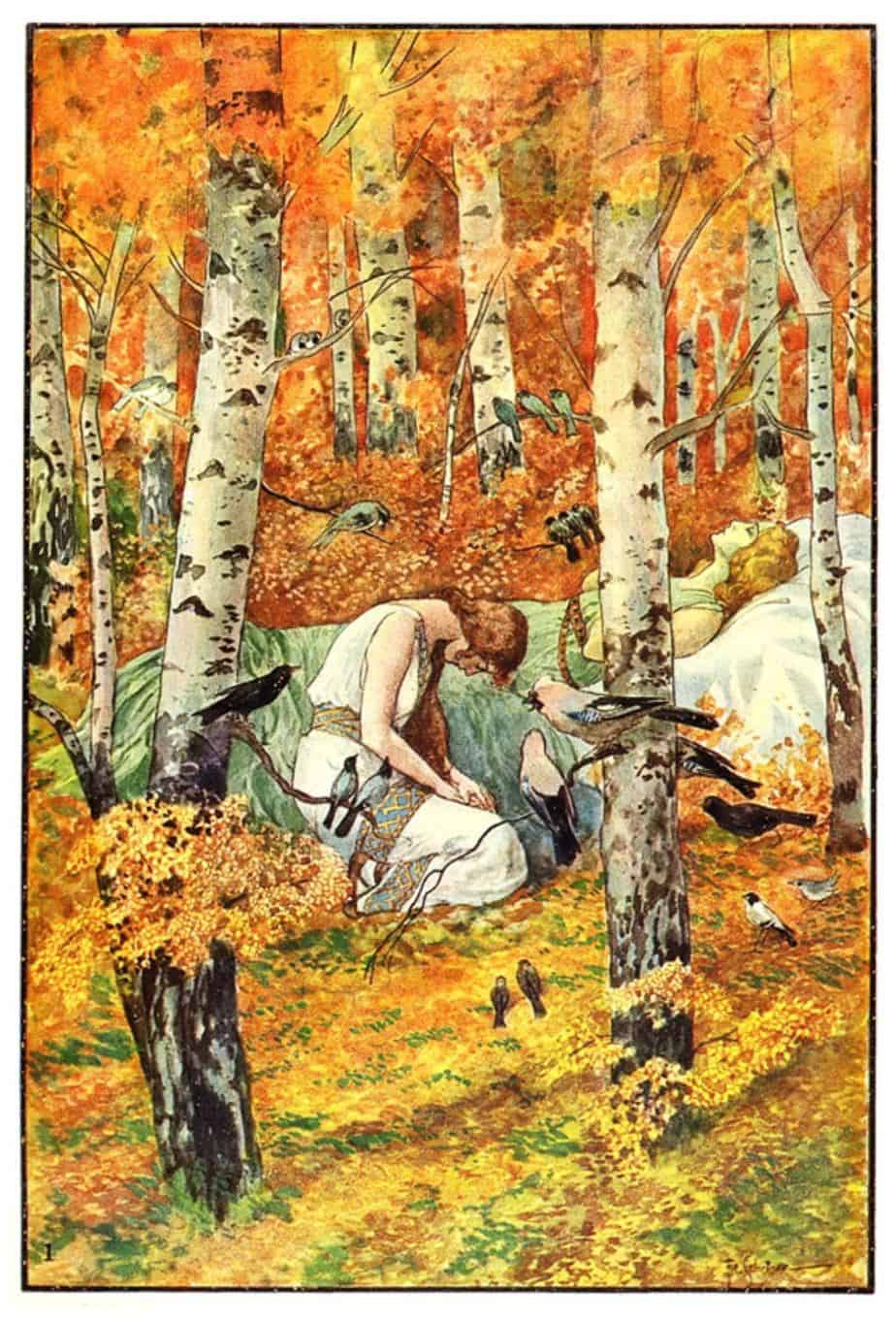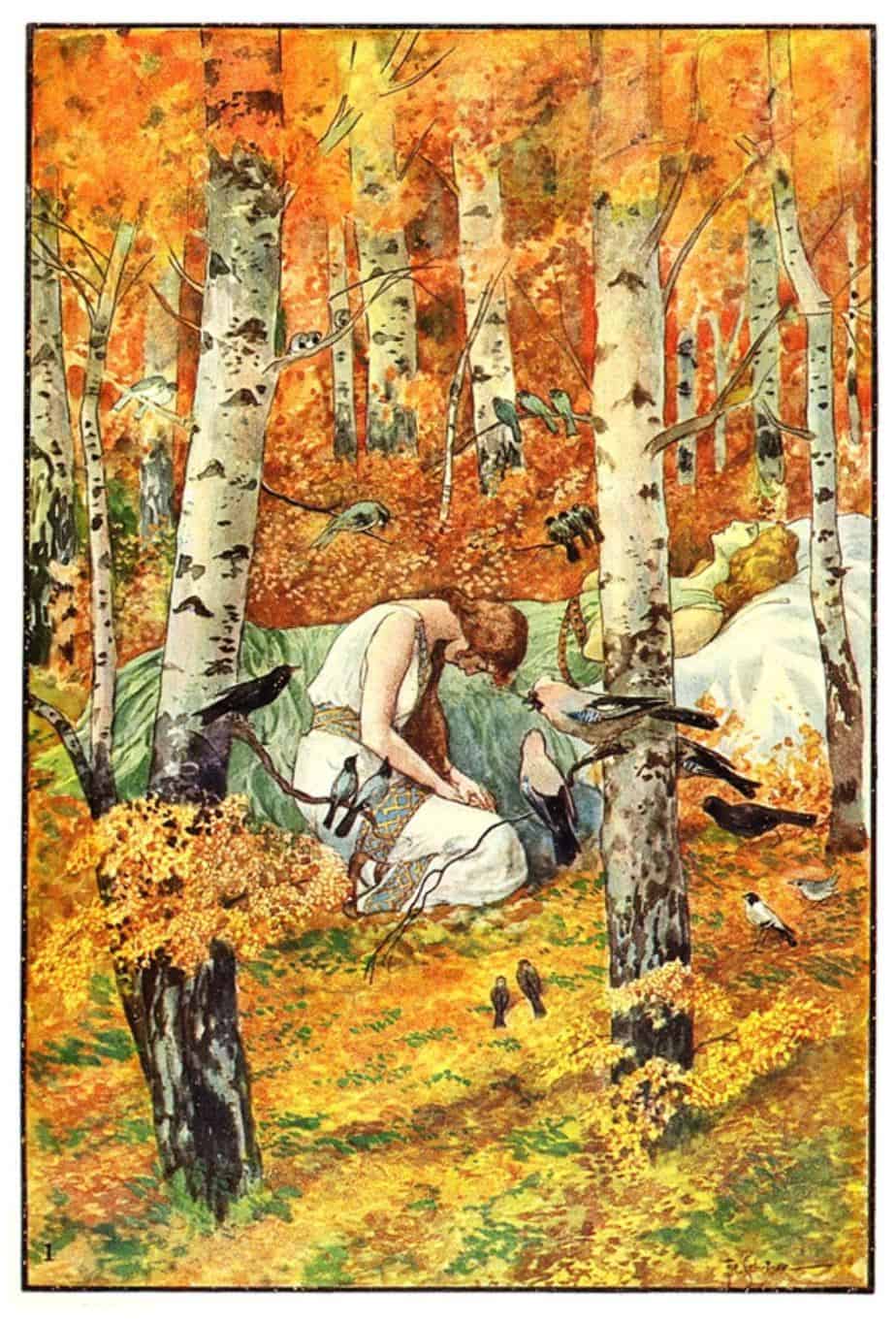 Red Riding Hood 'wins' the battle by coming up with her own little funeral ceremony. In a deeply affecting close up of the bird at ground level, the reader sees she has laid flowers upon the dead bird's chest.
When Red Riding Hood finds the dead bird in her familiar environment, this may be the first time she's seen death up close. Even if it's not the first time, she seems to have a realisation that life comes to an end, and while we are alive and able, we must fill it up with as much kindness as possible.
At the end, Red Riding Hood has kept one flower back for herself. I'm glad about that. Female characters who give away absolutely everything in a self-sacrificial way are problematic in children's literature, and not uncommon. Such stories wouldn't be a problem if they existed within a bubble, but they exist in a worldwide patriarchy.
"always somebody's someone, and seldom her own person. But this is not because she's not held to be a person at all, but rather because her personhood is held to be owed to others, in the form of service labor, love, and loyalty."

Kate Manne, Down Girl: The Logic of Misogyny
When Red Riding Hood looks up at those birds, I extrapolate that she is remembering the dead bird she saw some minutes ago. Life juxtaposes against death.
RESONANCE
This is a kid who knows how to do mindfulness. I hope she holds onto that ability as her world gets busier and busier.
Children's literature is full of distracted parents, and this is partly a useful trick to get parents out of the way, especially in a culture where parents and caregivers are expected to always be with their children. In this story, the father is distracted on his phone. I expect this trope will be utilised more and more.
Modern parents are most often criticised for being distracted by our devices rather than constantly present with our kids when, in fact, parents have never been more involved in their children's lives. Let's say that father had read all those articles and decided he needed to engage the girl fully in conversation as they walked home together. They would probably have had a beautiful one-on-one time, but what would've been lost? This entire story wouldn't have happened. The girl would have had a different experience entirely had it been guided by her father.
SEE ALSO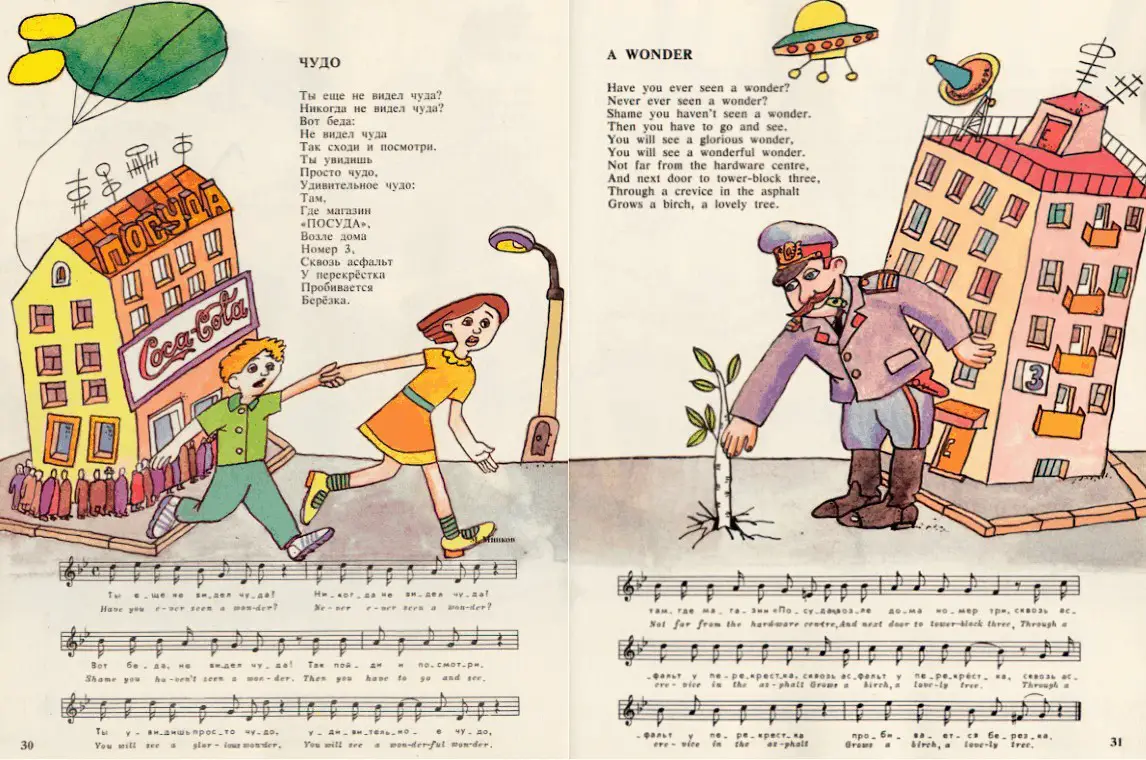 Another picture book about a child who sees things adults miss is One Step, Two… by Charlotte Zolotow, with pictures by Roger Duvoisin. This cumulative story is for an even younger reader and is very simple. It has a clear pedagogical purpose: Learning to count to twelve. The edition illustrated by Duvoisin is a clear favourite among readers, but has since been re-illustrated, for some reason.