Concept books exist partly to teach young children basic concepts: ABCs, numbers, colours, opposites, time, size, and in this book, prepositions.
Concept books are most often unmemorable. I can tell you at various times our bookshelf has housed cardboard books with the name of a colour on each page, but I got rid of those. Where's Spot on the other hand is memorable, and one of my 9-year-old daughter's favourites. That's not just because she loves dogs — Where's Spot is a concept book with a complete narrative.
G.K. Chesterton pointed out that where a six-year-old is excited if someone opens a door in a story and finds a dragon on the other side, a two-year-old is excited enough if someone opens a door.

The Child That Books Built, Frances Spufford

When we are very young children we do not need fairy tales: we only need tales. Mere life is interesting enough. A child of seven is excited by being told that Tommy opened a door and saw a dragon. But a child of three is excited by being told that Tommy opened a door. Boys [children] like romantic tales; but babies like realistic tales—because they find them romantic.

G.K. Chesterton
LIFT-THE-FLAP CHARM
If you're thinking of buying one of the Spot books for a young person in your life, make sure you pick one of the editions which actually has lift-the-flaps in it. There are more cheaply produced versions that don't have this rather more expensive feature, and I don't think that's how these books were meant to be experienced. It makes me sad to think someone thought it was a good idea to produce non-flappy editions. (Likewise, stay away from the bound anthology of Beatrix Potter stories — those stories were designed to be read in miniature, and part of their charm is lost if the child can't hold the book themselves.)
A no-flaps edition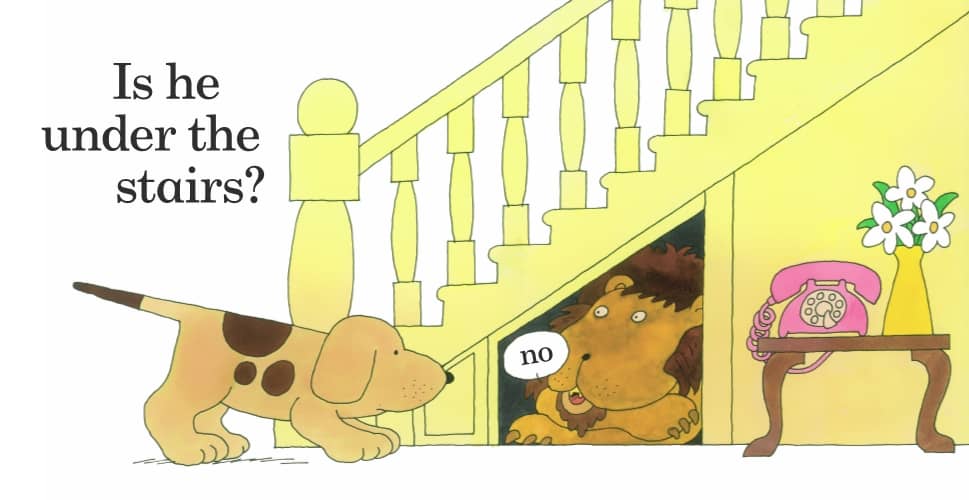 STORY STRUCTURE OF WHERE'S SPOT
Spot, who is not at all like a real dog, hasn't eaten his dinner. The mother Sally has eaten her dinner, but Spot has left his and walked off. "Naughty Spot."
The sentence, "Where can he be?" elicits desire in the reader, to look for Spot.
Sally goes on a mythical journey and on the way comes across all sorts of creatures: a bear with a jar of honey, a snake, a hippo, a lion, a monkey, a croc. Three birds.
Sally looks everywhere Spot could be hiding.
The animals Sally encounters are all pretty fearsome, though not ordered in order of ascending scariness. However, when we get to the birds there are three of them, whereas there was only one bear.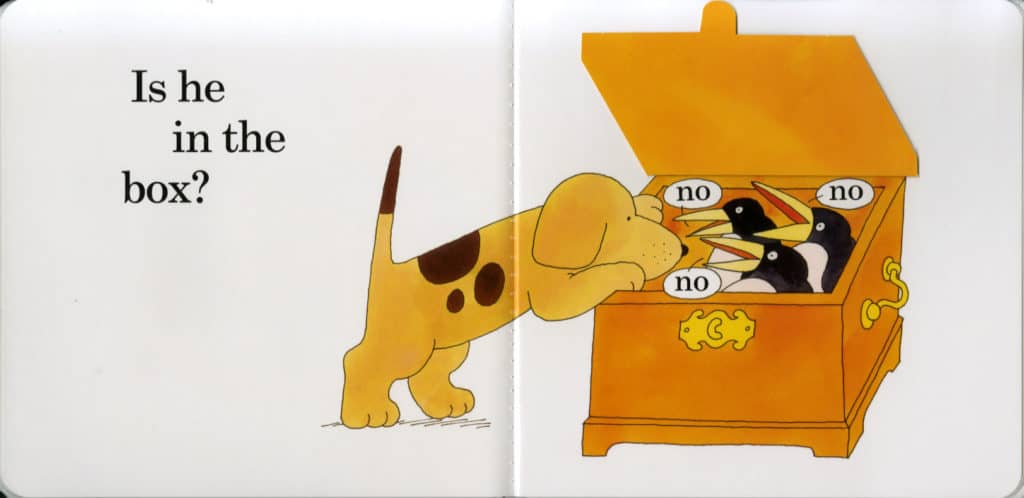 When the narrator says, "There's Spot! He's under the rug" we find out he is not, and the stakes are raised; will we ever find Spot?
We see Sally running to the basket, rather than standing at the possible hiding place. This is Sally at the climax, in crisis, fretting.
Spot is hiding in the basket. (The narrator tells us that's where he is.)
Spot eats his dinner.
FURTHER READING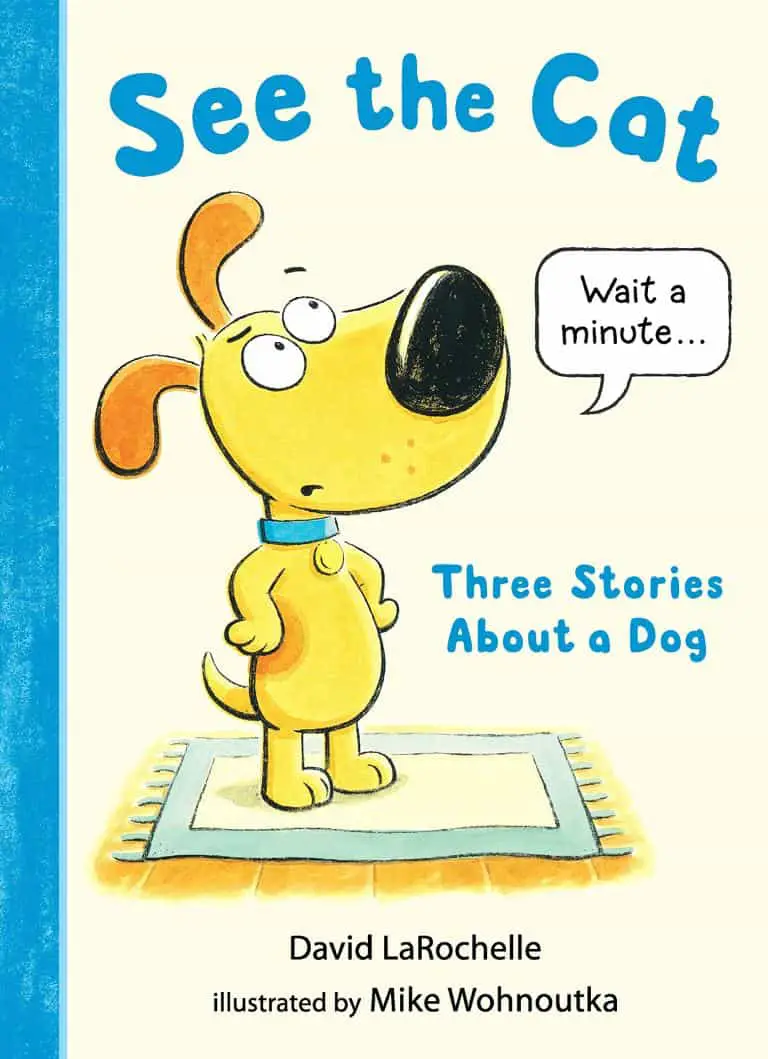 Move over, Spot. . . . spoofing classic primers, Max the Dog talks back to the book in a twist in this early reader.
See Max. Max is not a cat–Max is a dog. But much to Max's dismay, the book keeps instructing readers to "see the cat." How can Max get through to the book that he is a DOG? In a trio of stories for beginning readers, author David LaRochelle introduces Max, who lets the book know that the text is not to his liking.