This Book Just Ate My Dog is a great example of both. Part way through the story the reader is yanked out of it, reminded in no uncertain terms that this thing they're holding… yeah, it's a book. It's a physical object. **SPOILER ALERT** The dog disappears into the gutter. I have seen little kids find this hilarious. My eight-year-old still follows the instructions.
The main point of a toy/single joke book like this is to entertain, but there also seems to be another reason for it: It'll be something to do with familiarising children with books as objects. When the child plays with a book there is now a 'friendship' between literature and child.
I expect adult designers of any kind will find this gag pretty funny too, since designing double spreads for print requires some forethought to prevent images disappearing into that pesky old crack.
Apart from the metafictive element, this book design lends the story a modern feel:
The font choice. This is a square, sans serif font more often seen on websites rather than in children's books, which if anything tend to mimic historical printing processes rather than  mimic the internet. Not only that, but the exact same font is used for the title and the body.
The font colour. It's orange. Like, bright orange. The book feels more like high-quality advertising material than like picturebooks you've seen before.
This is about a girl and her dog. The boy turns up to save the day but is unable to do anything. I'll say that again in case it didn't sink in: a GIRL and her dog. Most children's literature featuring a special relationship between a dog and a child star a BOY. Sure, this isn't the only girl/dog story. It's not the first. It's just disproportionate. Modern stories are far more likely to star girls than 20th century ones.
STORY STRUCTURE OF THIS BOOK JUST ATE MY DOG
Who is the main character in a metafictive book? In this case it's the reader. But this only happens after a switch. The original main character is Bella.
Does Bella have a shortcoming? She doesn't know that books can eat dogs.
She wants to rescue her dog from the gutter of the book.
The book itself.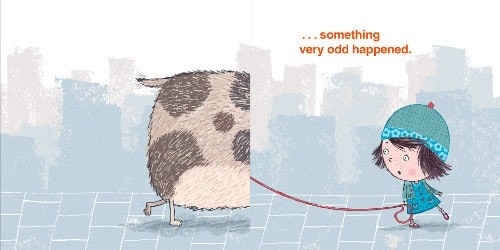 After various parties come to the rescue but themselves get stuck inside the book, Bella decides to go in herself.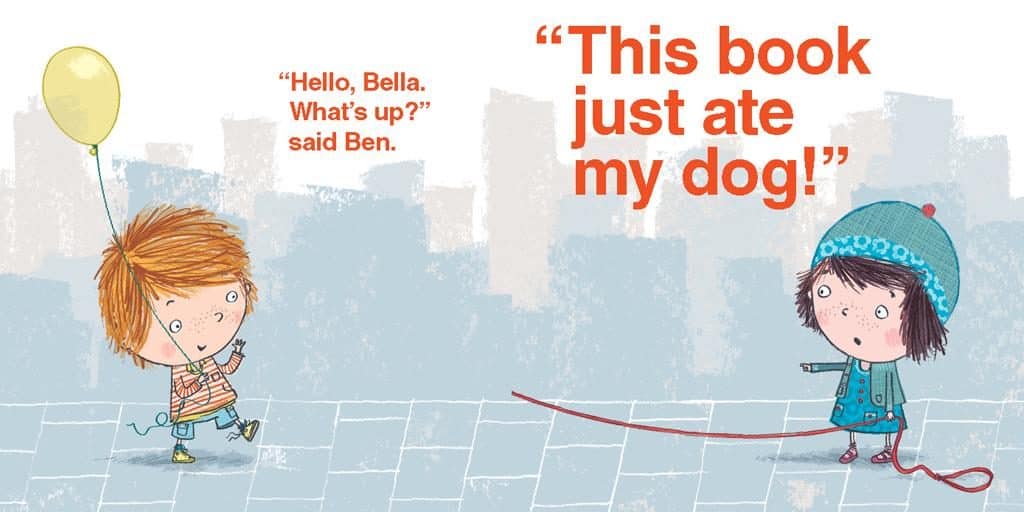 This is where the protagonist switches to the reader, who must physically turn the book and shake it.
A page turn will give readers the illusion that they have saved the day with these ridiculous actions.
Everything is as it was before except for one hilarious thing: The second half of the dog's body is on upside down.