Theo Geisel had a thing for antlers.
In the mid-nineteen thirties, Theodor Geisel was a fledgling author and artist, operating as an illustrator for New York advertisement agencies. His father, superintendent of parks in Springfield, Mass., from time to time sent him antlers, expenditures and horns from deceased zoo animals. Geisel stored them in a box below his bed and used them to generate whimsical sculptures. Above, areplica of Flaming Herring.

— Union Beatz
"Extra moose moss" for Helen, the dedication page reads, because Theodor and Helen were still married in 1948 when this was published.
I always like (dislike) to remember that Helen Palmer Geisel ended her own life in 1967 after some serious illnesses and also because her marriage with Ted (Dr Seuss) was falling apart. He had moved on to another woman.
I also like to remember the fact that Helen was a great first editor for Seuss, and encouraged him in his art.
STORY STRUCTURE OF THIDWICK THE BIG-HEARTED MOOSE
As is common in many picturebooks, the author starts in the iterative, telling us how life is. Then one day… (switches to the singular).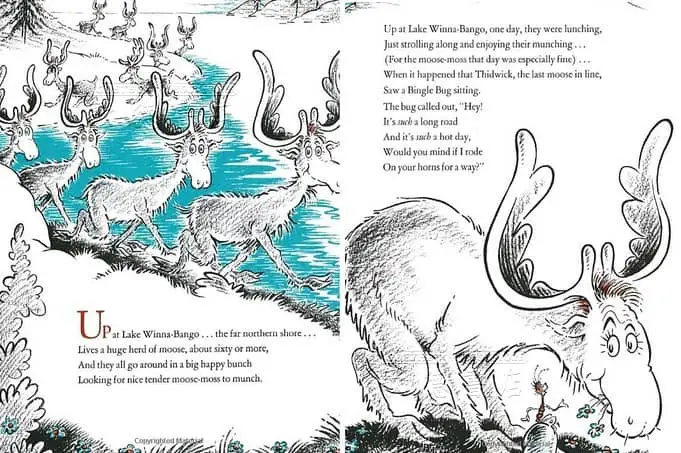 These moose are more personified than the moose in, say, This Moose Belongs To Me, which is about a very human boy and a very moose-like moose.
The story structure is partly of the There Was An Old Lady type, in which a small thing happens then the situation gets worse and worse. These are known as 'cumulative tales'. This tale isn't as repetitive as There Was An Old Lady, which is actually a song.
Cumulative tales are simple stories with repetitive phrases. There is not much plot involved, but the repetition and rhythmic structure of these tales is very appealing to children. Events follow each other logically in a pattern of cadence and repetition, sequentially repeating actions, characters, or speeches until a climax is reached. Examples of cumulative tales are "The House That Jack Built" and "There was an Old Lady Who Swallowed a Fly." Picture book examples are The Napping House (1984), illustrated by Don Wood; Bringing the Rain to Kapiti Plain (1980) illustrated by Beatriz Vidal; The House That Jack Built (2000), illustrated by Jeanette Winter; The Gigantic Turnip (1999), illustrated by Niamh Sharkey; and There Was an Old Lady Who Swallowed a Fly (1997), illustrated by Simms Taback.

from A Picture Book Primer: Understanding and Using Picture Books By Denise I. Matulka
Thidwick the bull moose is a pushover, which is antithetical to our idea of a bull moose — huge, dangerous creatures who fight each other for their place in the moose hierarchy.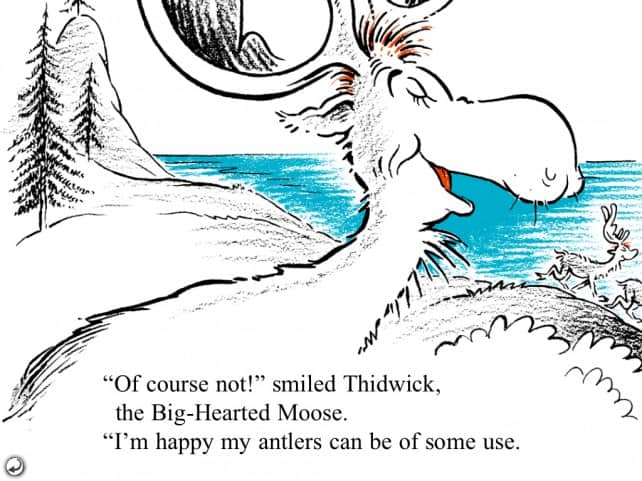 Even the name Thidwick sounds like the name of a loser — perhaps because characters with low social capital are quite often depicted with a lisp in pop culture. Actors with lisps will never be the leading man, though as Sean Connery proved, other kinds of speech differences can work to your advantage.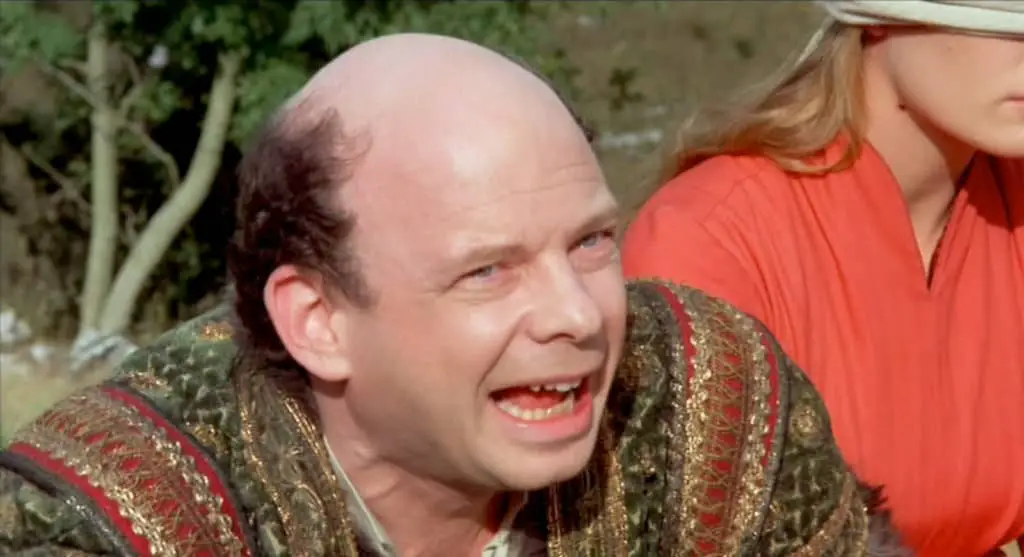 He needs to figure out a way to deal with others taking advantage of him.
He wants to go on doing moose things, which means leaving with the other moose when the moose moss runs out. The part of the story where the moose friends dump him is important to the desire line of the story.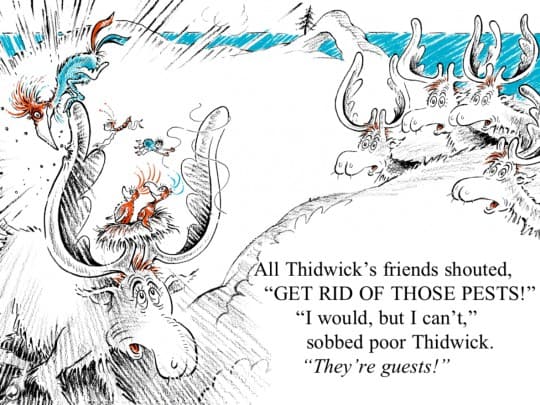 All the little creatures who decide to move in and make his antlers their home.
Another more deadly form of opponents appear with the start of hunting season, and the men with their guns.
Finally, looking down the barrel of a shotgun, Thidwick makes a plan.
He'll ditch his antlers.
If you'd like to see footage of a bull moose losing an antler, see here.
Although the animals in his antlers are annoying and not good for his social life, they are too comical to make a worthy opponent in and of themselves. It was a great choice to bring in the human hunters. In this picturebook we get a classic big struggle scene (with guns).
I'm not sure Thidwick really learned anything. If he had it wouldn't have been pretty: "Your friends are quick to ditch you."
In picture books the anagnorisis is often had on the part of the young reader, who realises what the moral is. Here we are invited to judge Thidwick for being a pushover. Perhaps the young reader takes the side of the friends, who walk off when Thidwick puts up with an infestation on his antlers.
The lesson is that there are limits to your kindness. This makes a nice change from all the picturebooks out there teaching children to be kind.
Reminiscent of The Three Billy Goats Gruff, this moose is now happy eating the moose equivalent of grass with his own kind.