Slinky Malinki is a picture book by New Zealand author illustrator Lynley Dodd.
A cat has nine lives. For three he plays, for three he strays, and for the last three he stays.

Old proverb
A BRIEF HISTORY OF CATS IN CHILDREN'S LITERATURE
Sometimes it is difficult not to resent their apparent success, and they are good or evil according to their creator's feelings. […] Perhaps Kipling was right, and cats are neither for nor against us, but both or neither, as they wish or feel*. As characters they have great possibilities and depths that few writers, with the possible exception of Paul Gallico, have made use of. Their long history of connection with witchcraft has suggested tales of magic cats such as Barbara Sleigh's Carbonel, 1955, or, in a more down to earth setting, Rosemary Weir's Pyewacket, 1967; and their urbanised versatility (dog stories are more usually about country life) is categorised unforgettably in T.S. Eliot.

Margaret Blount, Animal Land
* When creating the character of Slinky Malinki Lynley Dodd absolutely makes use of this historical duplicitousness: Slinky is one thing during the day, another thing altogether come nightfall. The werecat, in other words.
Writing in the 1970s, Blount, in the paragraph above, mentions some mid-century books I haven't heard of. Here are their covers: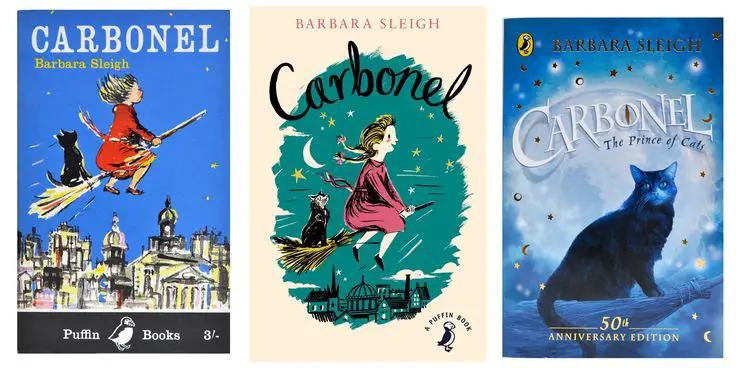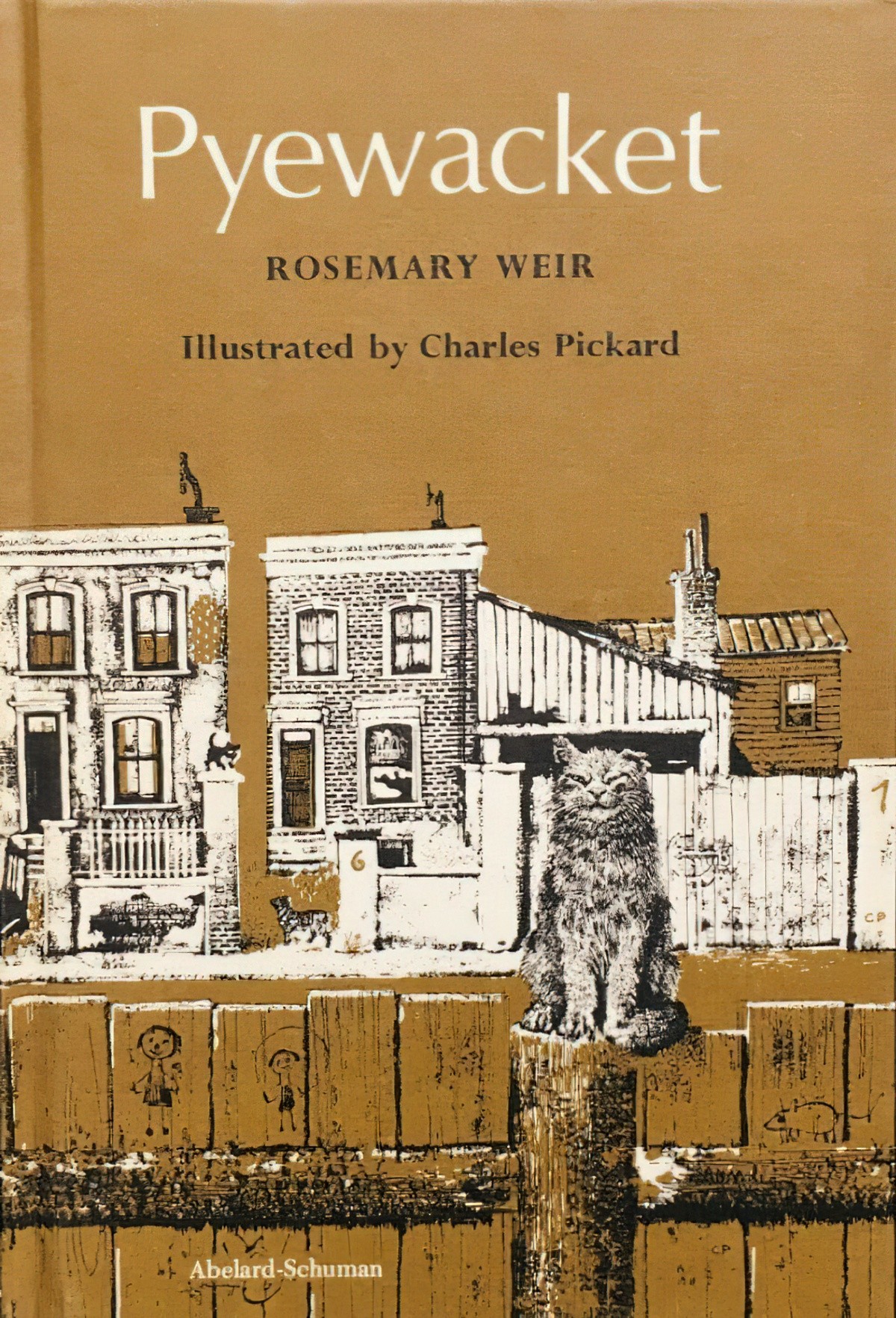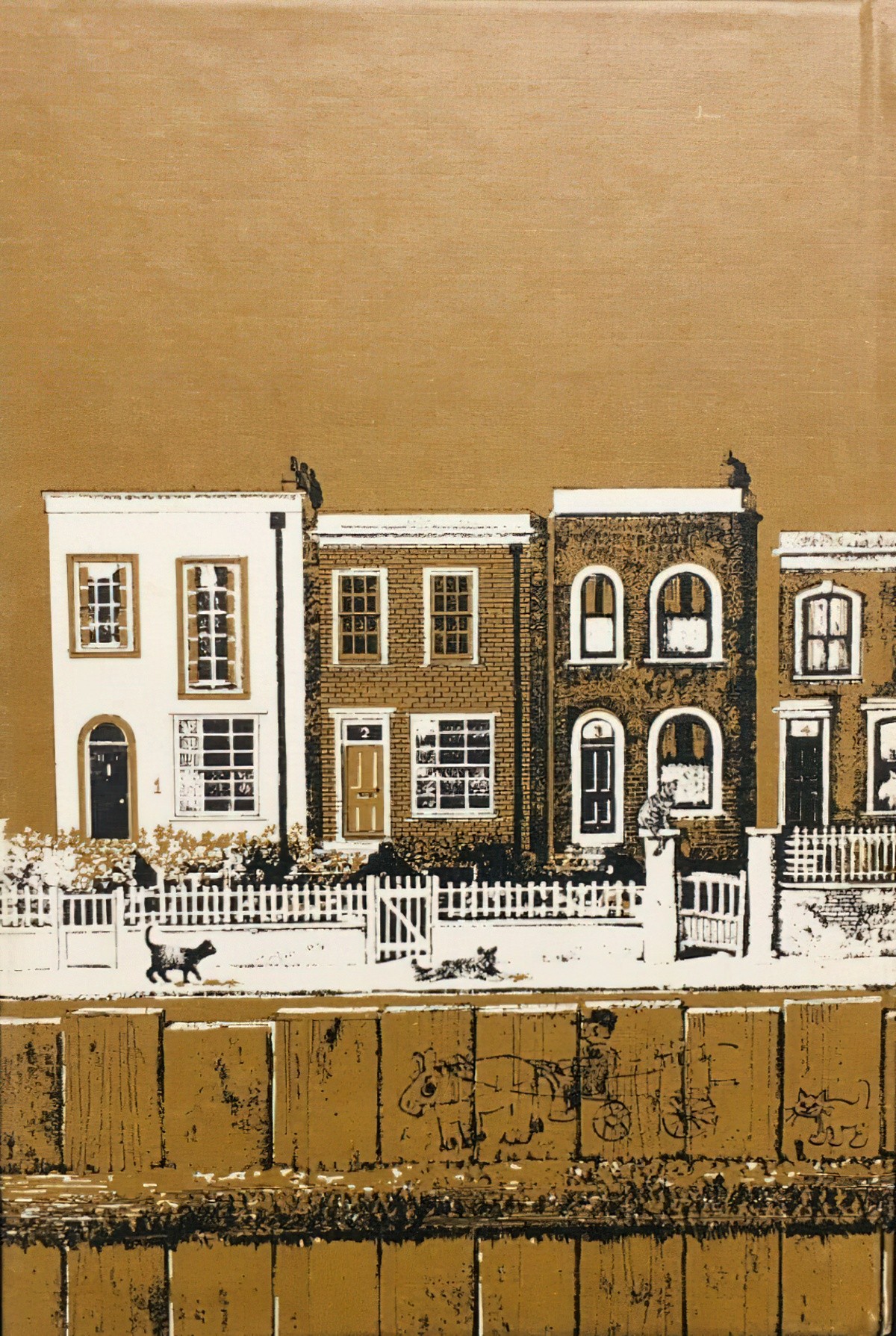 JENNIE BY PAUL GALLICO (1950)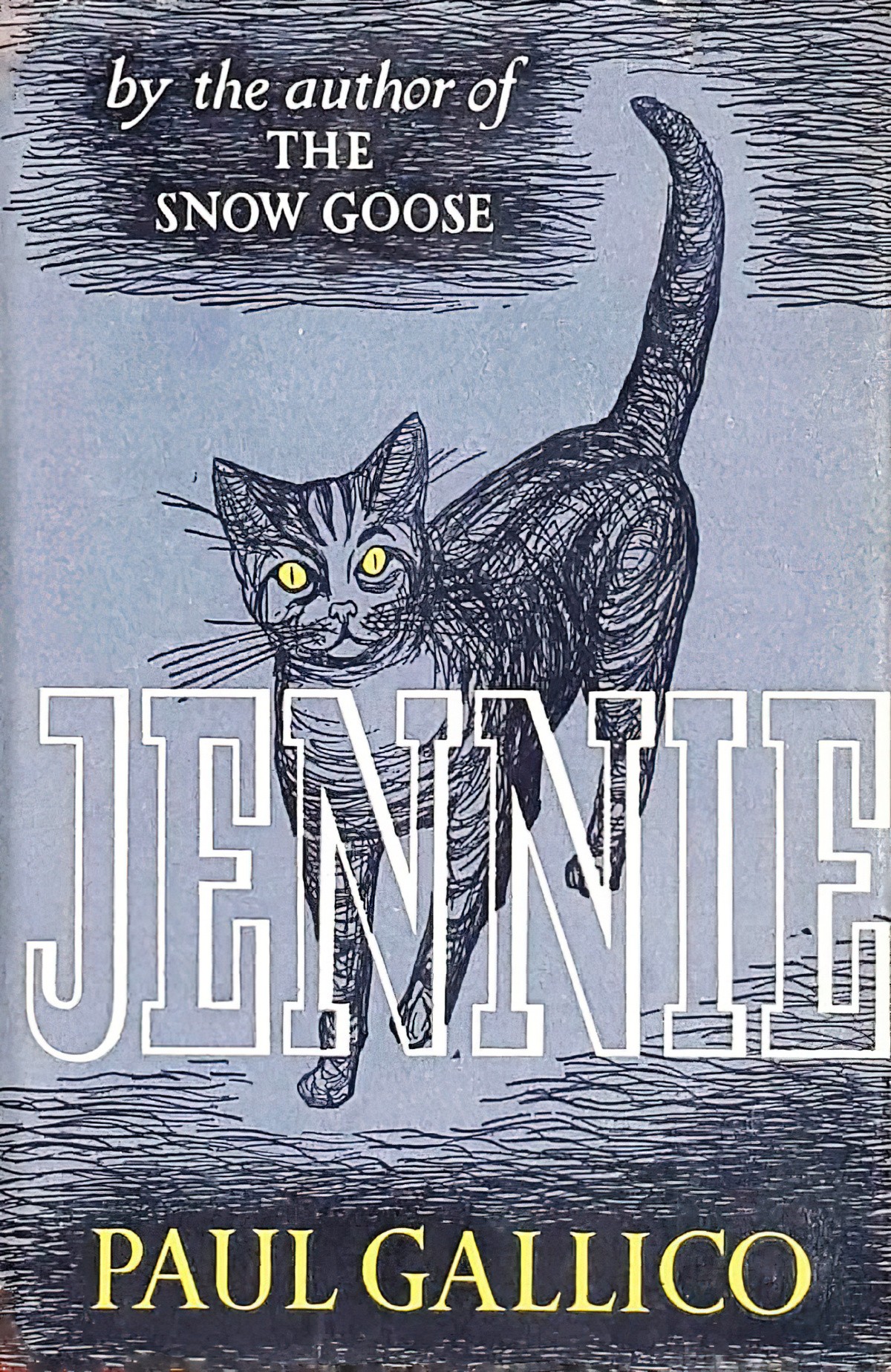 Jennie is regarded as one of the best cat stories of the 20th century. It makes use of the Black Beauty formula — a modified moral tale that's both exciting and moving. Ideology: "How would you like if if you were the poor cat and a cruel boy teased you?" As in Black Beauty, the reader is to imagine that the cat is actually a human trapped inside a cat's body.
See also The Guardian list of Top 10 Cats In Children's Literature. Slinky Malinki is one. Can you guess the others?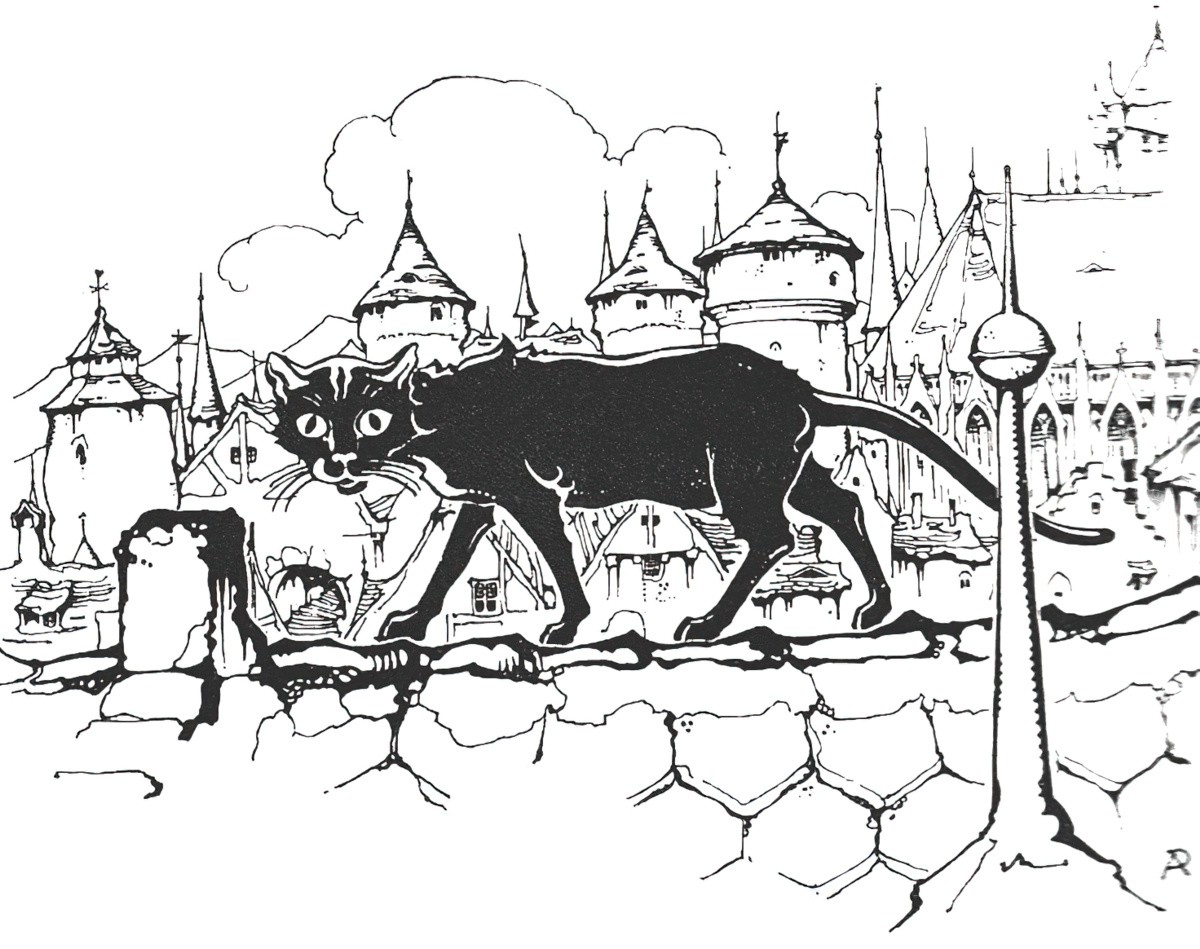 THE ENDURING INFLUENCE OF OLD POSSUM'S BOOK OF PRACTICAL CATS (1939)
Most of the cats one knows are typecast in Old Possum's Book of Practical Cats, 1939. They are Gumbies, or Jellicles, Rum Tum Tuggers or Macavities or like one or other of his feline varieties: Criminal, Ole Thespian, Railway, Conjuror, Oldest Inhabitant, Pirate, or just the kind that sits about for ever. Their psychology is placed, wittily and firmly, among the humans whose lives the cats share; the only difference is one of size and shape, though even appearance is doubtful, from Growltiger, baggy at the knees, to Bustopher Jones with his well-cut trousers of impeccable black. The message is that these are cats we should be proud to know, described in verse so pleasing that it demands to be said, from the Rum Tum Tugger's jogging perversities to Growltiger's Kiplingesque ballad and the intricate jazz rhythms of Mungojerrie and Rumpeltazer*.

Margaret Blount, Animal Land
The Criminal Cat Trope
TV tropes calls this character type the 'Diabolical Mastermind'.
Lynley Dodd, too, has created a cast of cat characters which closely align to the cat characters typecast by T.S. Eliot. You've got Growltiger with Scarface Claw — the other main cat, and a wonderful nemesis for Hairy. Slinky Malinki is, of course, a modern Criminal, related to the Macavity (who sneaks about) and Mungojerry (who plans naughty things) from T.S. Eliot.
This is a crime story for the very young.
Criminal cats are not a fantastic invention for the sake of literature, either. The siamese breed in particular is smart, and some of them seem to have evolved a collecting instinct, much like a butcher bird.

Tonkinese cats can be 'quite obsessive' too, and here's one who has a penchant for male underwear. (Tonkinese are a Siamese-Burmese cross.) There must be quite a history of cats thieving, or at least lurking about looking like they're thieving: consider the English word 'cat-burglar'.
For a parallactic insight into the cat's reasons for thieving from neighbours, see comedian Tom Sainsbury channel a cat, which he calls Gingerbread.
THE STORY STRUCTURE OF SLINKY MALINKI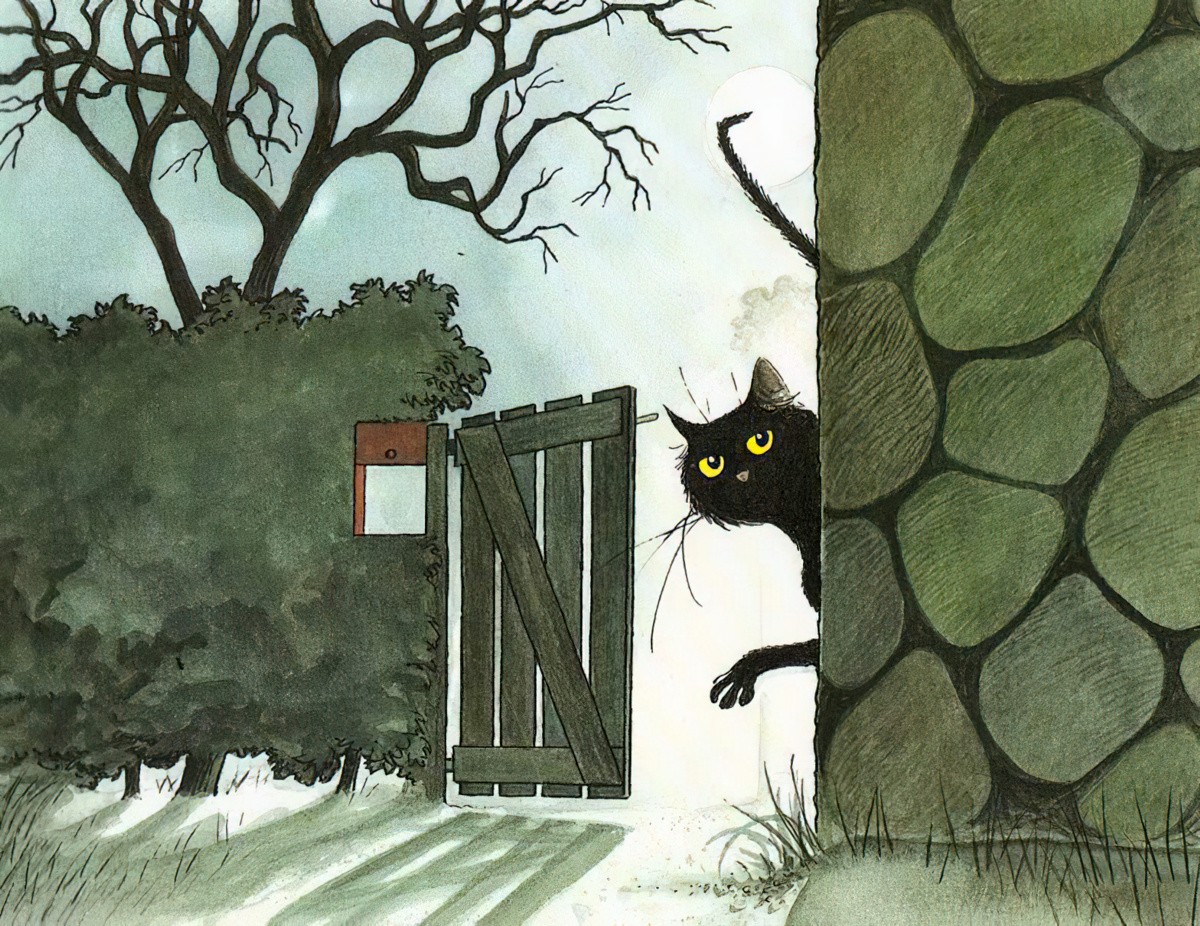 Although Slinky is perfectly nice during the day, he is transformed by the 'magic' of night…
…by some primal instinct to hunt. But because he lives in the suburbs and not in a wild forest, his hunting ground is the domestic realm of human neighbours.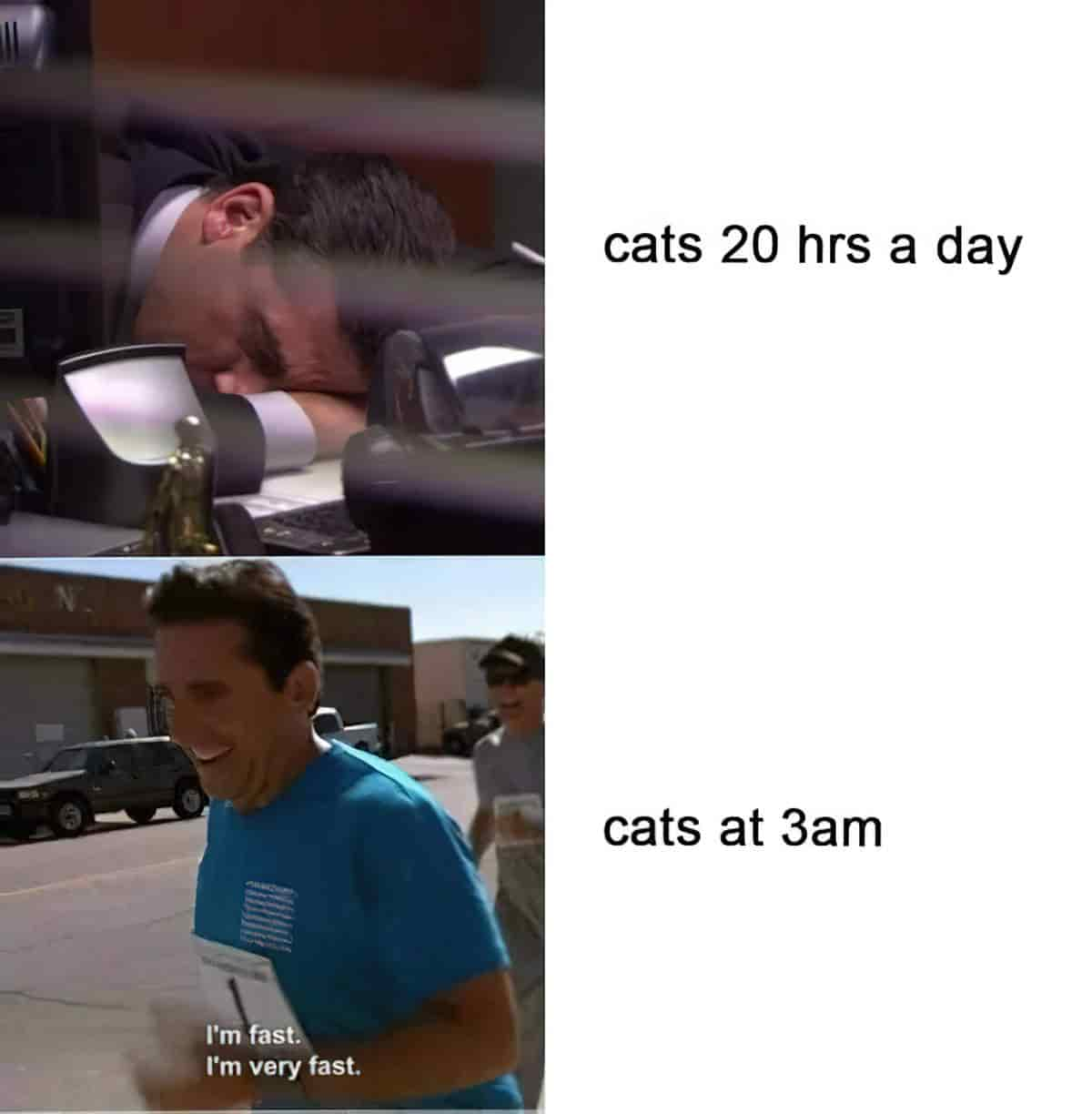 There is an unseen opponent in this story — young readers know that Slinky is not supposed to be taking those things, and that the things belong to people. For the reader, the opponents are the owners of the stolen items, who will get him into trouble if he is caught. For Slinky, his opponent is probably some unseen creature of the night. Slinky is an adrenalin junkie.
This thieving is a habitual thing rather than a once-off, so I'd say his 'habit' is to wait until nightfall when all the humans are asleep, then break into people's homes and drag stolen items to a hidden place at his owners'.
CRASH went the bottles,
BEE-BEEP went the clock,
RO-RO-RO-RO
went the dogs on the block.
These words are accompanied by an image of chaos — the legs of the human family members have caught him in a compromising position, tangled up all of his stolen gear. Here it looks like Slinky has been fighting with the stolen goods themselves; he is tangled up in wool and has a glove on his head. You could argue that the main opponent in this story are the alluring goods that he can't help but steal. The items are almost personified.
Here we have a startled teddy bear face to contrast with Slinky's malevolent eyes. The bear seems to be looking at the reader for help.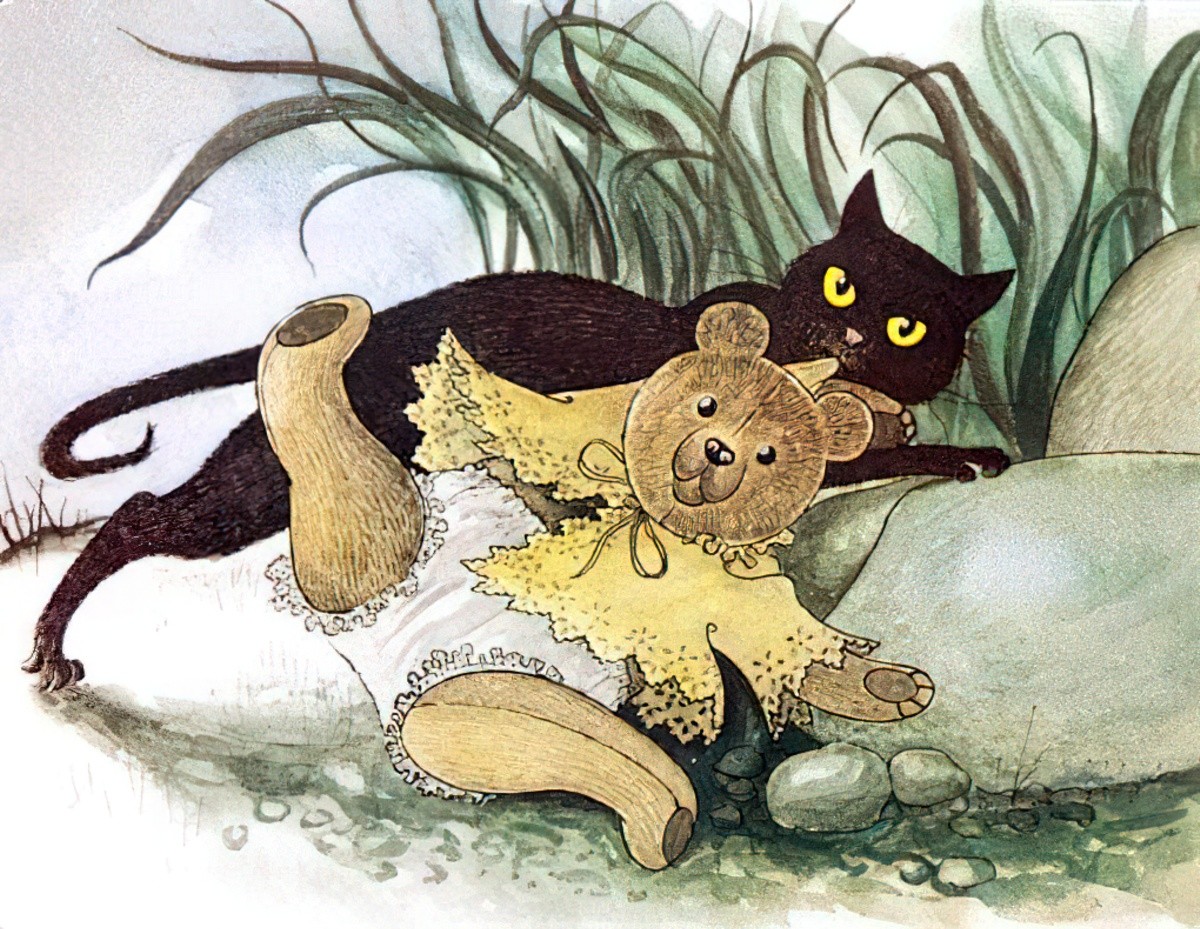 We see from his face that Slinky is feeling ashamed of himself.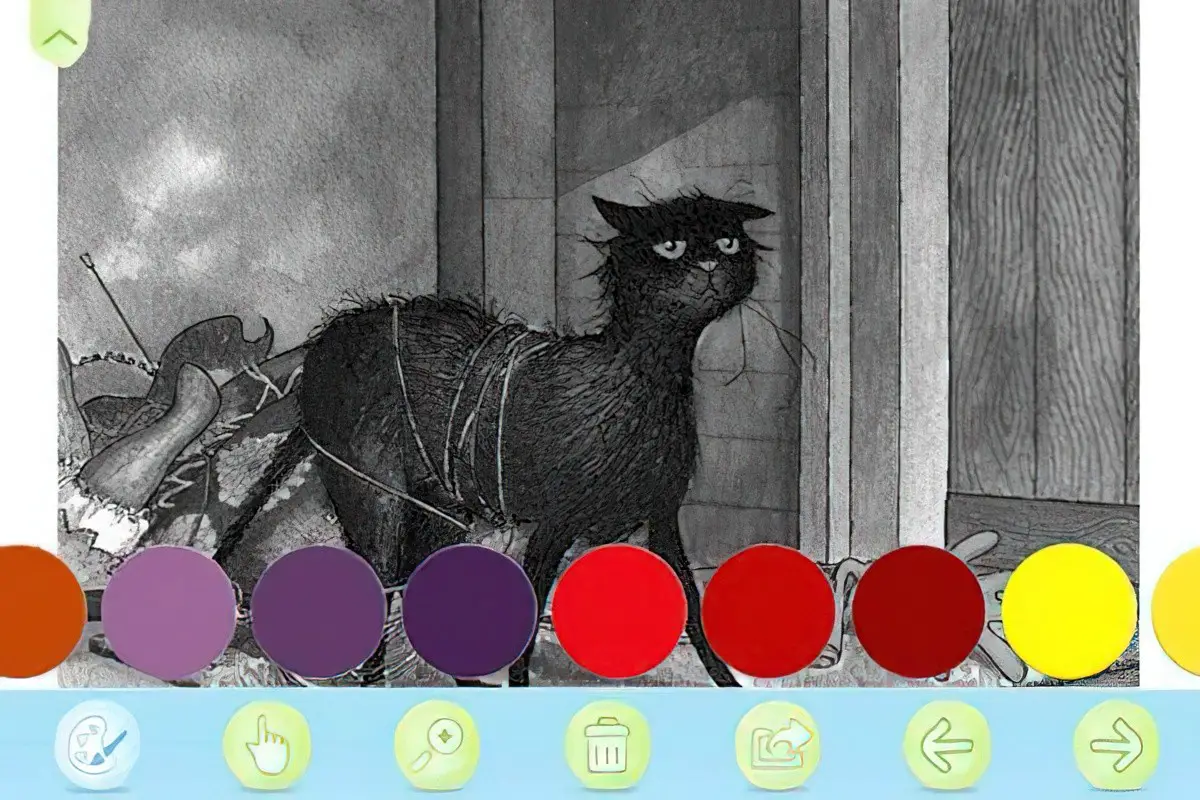 The final page: 'NEVER again did he answer the call, when moon shadows danced over garden and wall. When whispers of wickedness stirred in his head, he adjusted his whiskers and stayed home instead.'
The image on the final page reminds me very much of the image from a now out-of-print book by Kenneth Grahame (of Wind In The Willows fame), in which Bertie the pig escapes from his sty, breaks into the farm house and eats all the Christmas goodies. He is found the following day in a state of overstuffed bliss.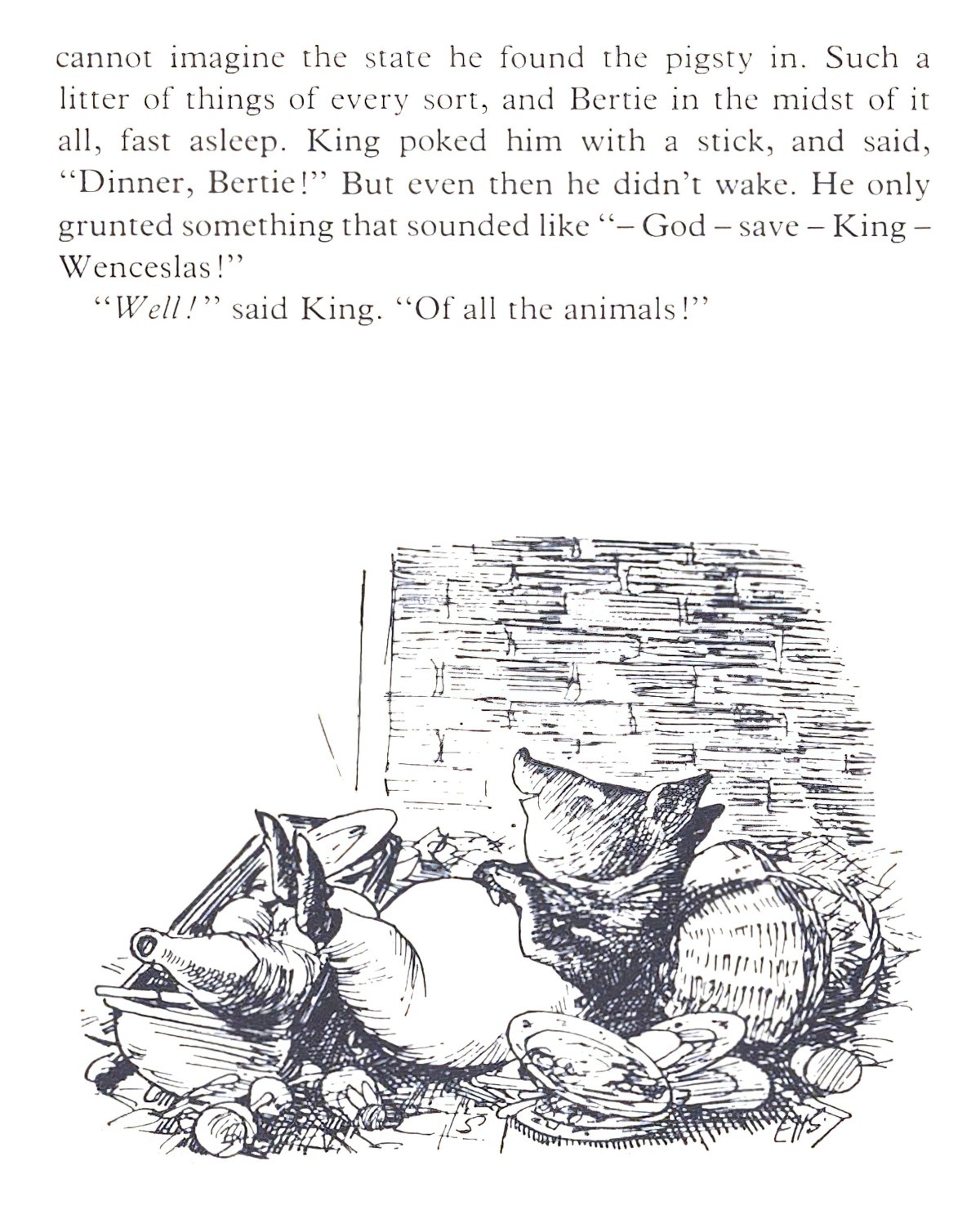 TECHNIQUES OF NOTE IN SLINKY MALINKI
HORROR SYMBOLISM
More picture books than you might think start with the horror genre and modify the symbolism and tropes for little kids. Stories which manage to achieve this are surprisingly popular. Kids love happenings that take place at night — this is an opportunity for the carnivalesque. The horror genre is really great for making use of symbol, because it is one of the most highly symbolic genres (along with Westerns and sci-fi, which are less common in picture books.)
There is something reassuring about the perfect mixture of scary things and familiar: Here we have a dark, scary sky and a cat that's 'blacker than  black' creeping about stealing familiar, and sometimes humorous, items.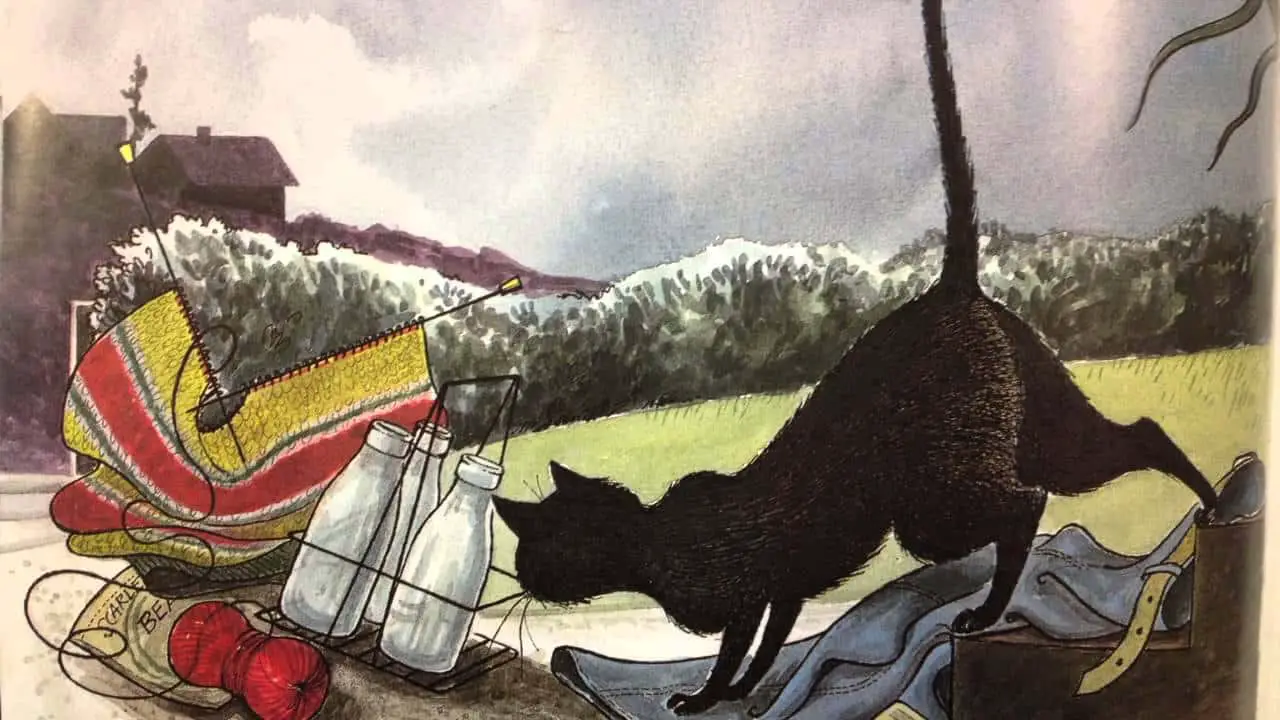 On the front cover Slinky holds a glove in his maw. If this were a straight horror story, that glove would likely be a disembodied hand. Take as an example the 1963 movie The Crawling Hand. These days, the disembodied hand is more often seen in horror comedies, as it is here.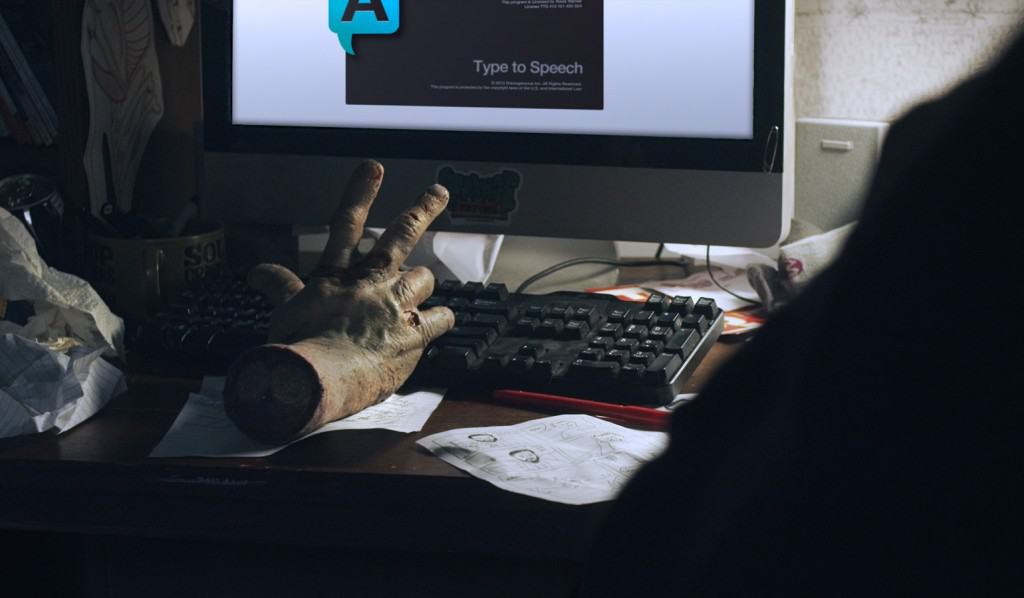 Shapeshifting
In Slinky Malinki we also have the trope of the Werebeast, which is associated with a number of subtropes. Slinky's night-time personality shift comes with nightfall and is psychological rather than outwardly manifested.
Kinks and Curlicues
The illustrations make use of classically horrific line work, with the kink in the tail and the spindly branches on the trees. Even the native New Zealand flax seems sinister as it looks as if it might reach out and grab any passerby.
The Moon
Lynley Dodd has used the technique of connecting symbols to the setting, to great effect.
Sometimes a story is not actually magical, but something is infused with a supposed supernatural set of forces.
The moon plays a prominent role of course. First, the illustrator needs a light source, but more importantly, according to folklore (and modern hospital workers), strange things happen when there's a full moon. In one image we even see Slinky carrying a perfectly round balloon (as well as a slipper and a sausage link), and the blood-red balloon partially obscures the moon. This makes Slinky seem as if he is at one with the moon, and like he might be carrying a moon replica in his very own mouth. The moon, we gather from this picture, is the reason for his personality transformation.
Other examples in which the moon is almost magical but not quite: Melancholia, Moonstruck, A Walk On The Moon, Once Upon A Time In The West.
Because we all know a cat or two, cat stories tend to take place at night, when cats are most active.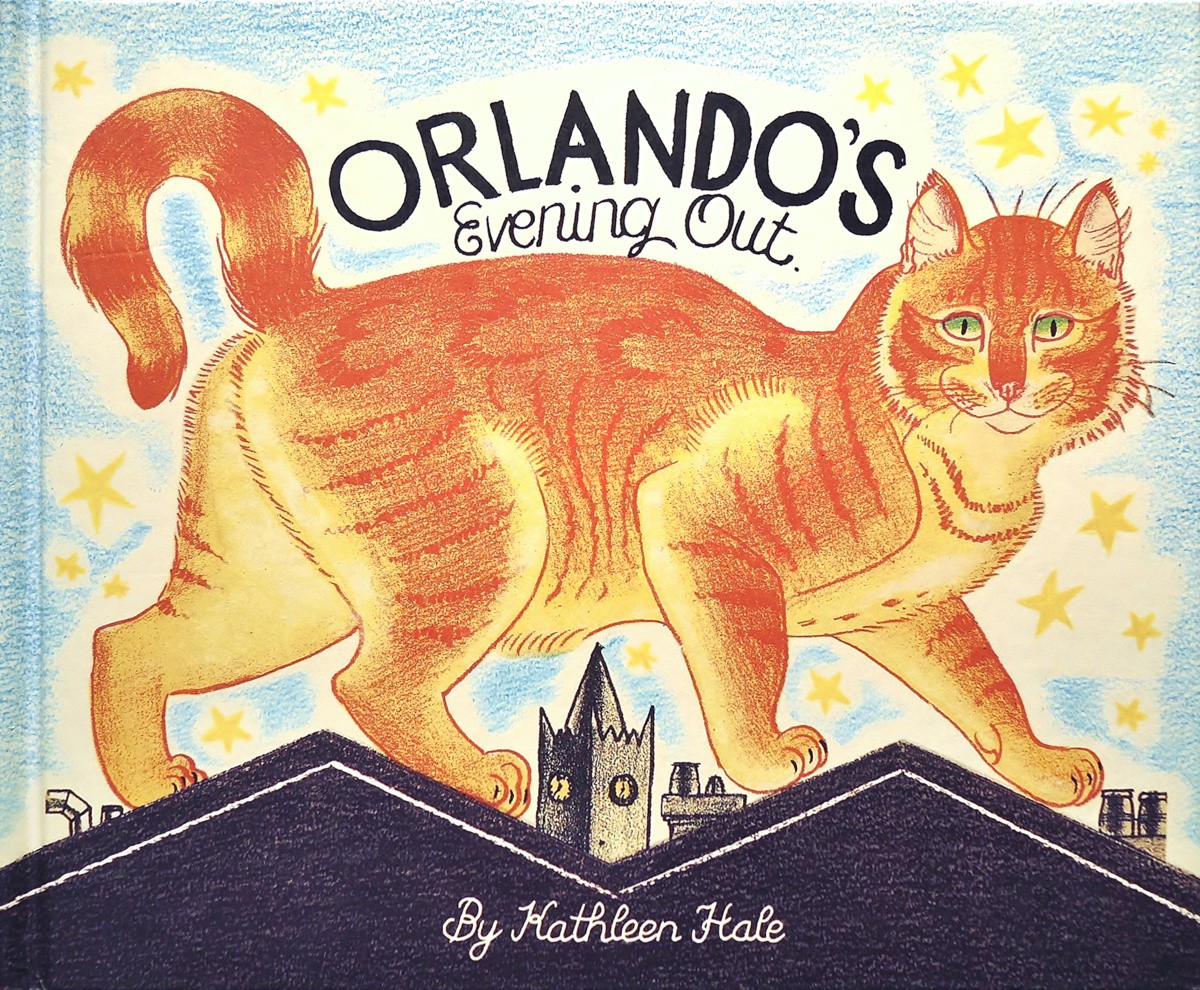 LANGUAGE OF SLINKY MALINKI
One day I look forward to delving in deeply to Lynley Dodd's perfect scansion, but for now I'll point out the following techniques, also used by T.S. Eliot:
Added Alliterative Appeal: Lots of picture book authors make use of alliterative names, but Lynley Dodd's names would have to have some of the best mouthfeel in the biz. They're more like Awesome McCool Names.
 RELATED