Garth Pig and the Ice Cream Lady is a British picture book written and illustrated by Mary Rayner in 1977. The story is part fairytale, part 1977 modernity.
ABOUT THE AUTHOR
Mary Rayner was born in 1933 in Mandalay, Burma of British parents. She was 8 years old when Japanese troops invaded Burma. Her mother and two siblings walked over the mountains into India. Her father had joined the army and was killed.
After the war, the Rayner family returned to the UK from India.
The sense of a family pulling together in dire circumstances is conveyed, though comically, in this story.
The illustrations are very much of England.
That's because after a degree in English in England, Mary Rayner joined the publishing industry. Her first book was The Witch-Finder in 1976. This one came the year after, along with Mr and Mrs Pig's Evening Out. She wrote and illustrated the pig books for her own three children, though by the time she'd finished them they'd themselves grown too old for them.
All of her children grew up to be writers themselves.
SETTING OF GARTH PIG AND THE ICE CREAM LADY
Fairytale Land
This is very much a fairytale world, borrowing elements from:
The depiction of the village is very much a fairytale one, and decidedly English.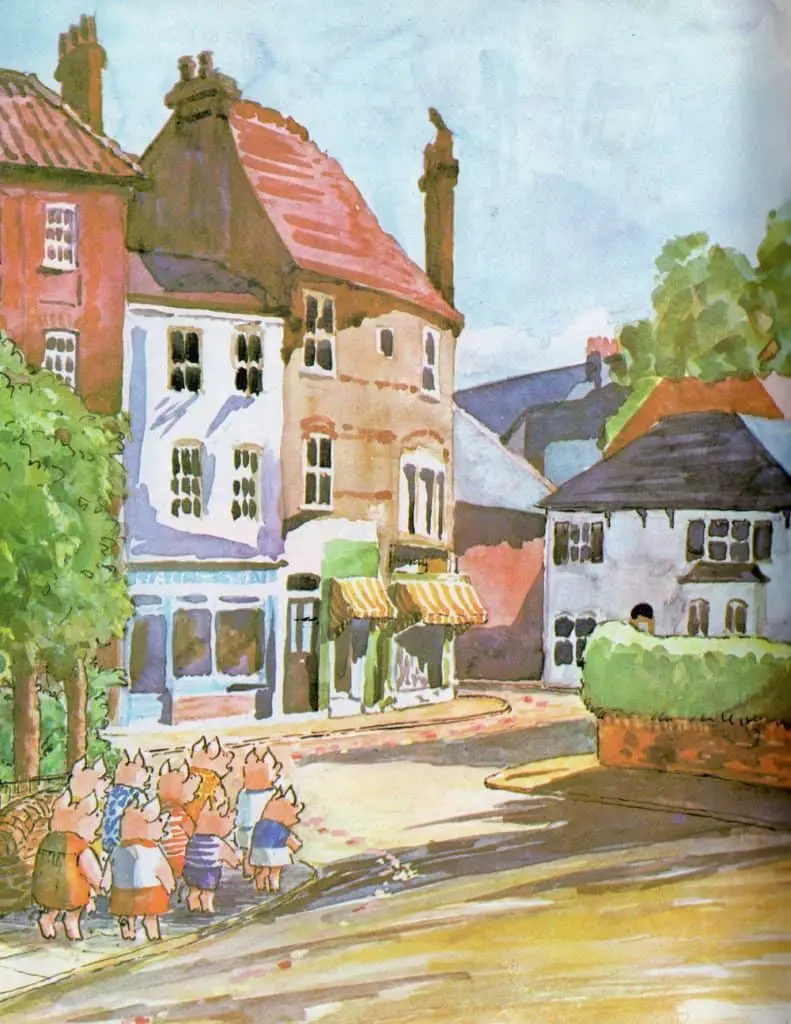 Whoosh Ice Creams
I wonder if British English readers will know what a Whoosh ice cream is? I certainly can't find out from my Internet research, though I thought it might be an abbreviation of the Whoosh! Cecil flavour. Apparently that is chocolate ice cream with salted caramel and cashews, but I doubt that's what's intended here because when the pigs finally get their whooshes they're holding a rainbow coloured ice block type of thing.
(I believe the Whoosh! Cecil is American anyway, but even in 1977, English children were very much influenced by American culture. We see that in the second scene in fact, where all the brothers and sisters are playing cowboys and Indians.)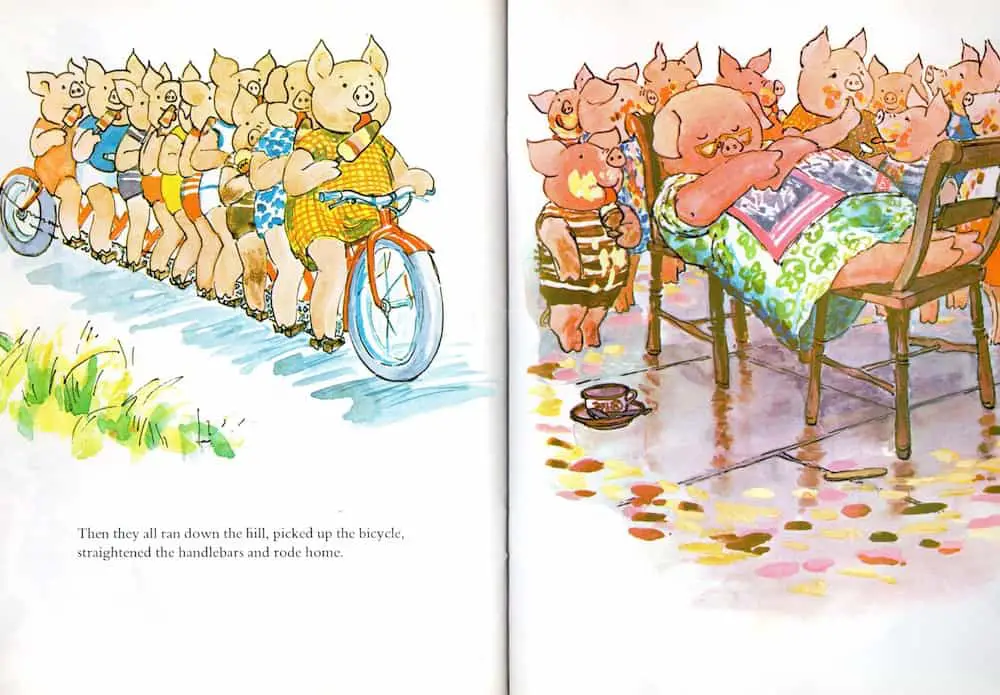 Apparent Utopia of Garth Pig and the Ice Cream Lady
This is an snail under the leaf setting, in which everything looks homely and safe but in fact a child can be abducted by a stranger at any time. Fairytale worlds have always had the function of scaring children about strangers, and neglecting the cover the more sobering fact that adults most likely to hurt you are those you love and trust.
In any fairytale land you need a forest right next to the village/town. We have one here, and that's where the wolf drives off to. It doesn't matter for the purposes of a fairytale that there have been no forests in England since 1086 at the latest.
See also: Symbolism Of The Forest In Storytelling
Technology In Garth Pig and the Ice Cream Lady
It's fitting that the wolf drives a Volkswagen Kombi because those things were always breaking down.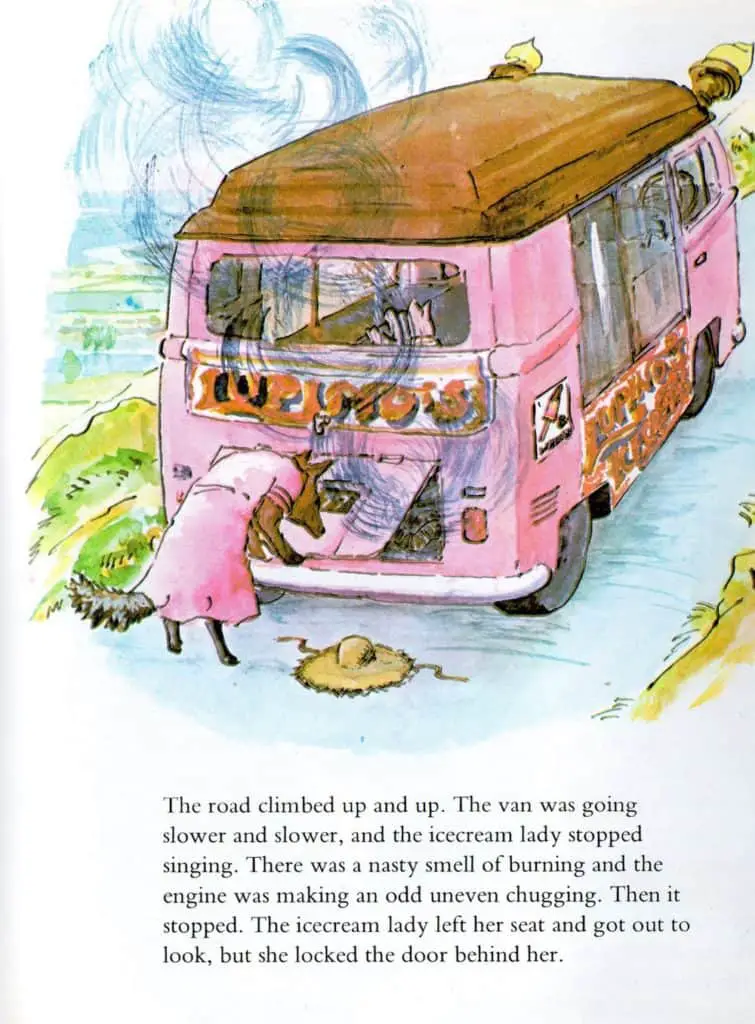 STORY STRUCTURE OF GARTH PIG AND THE ICE CREAM LADY
It's interesting that Garth Pig and the Ice Cream Lady opens with the mother pig scrubbing the floor because she is not the main character. We see her overleaf very much not coping with her ten children — she has her head buried in her hands. Most mothers in picture books are coping very nicely, in their aprons and clean, middle class homes, so it's interesting to see this variation of motherhood. I wonder why the author decided to open with the mother — perhaps she's saying that while the mother is busy with housework the children will get up to mischief.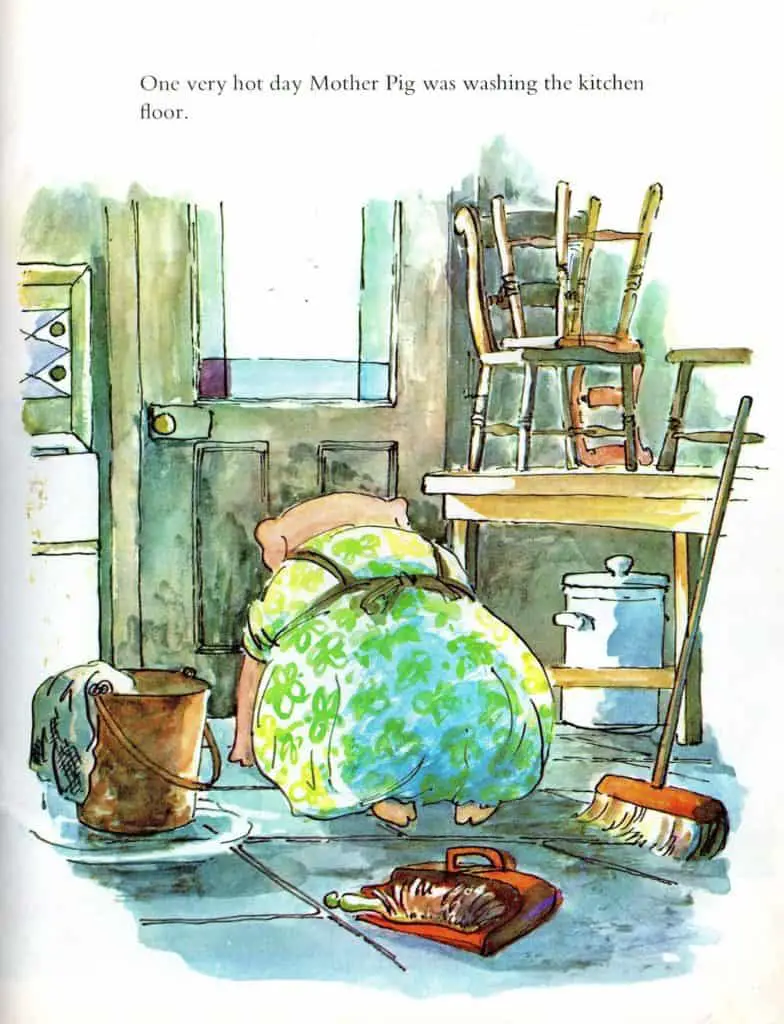 The main character of Garth Pig and the Ice Cream Lady is Garth. He wants an ice cream. Not only does he want an ice cream, he wants an upgraded ice cream. While all the siblings are happy with whooshes, Garth hopes there will be enough change to buy himself a double cone with flakes coming out of it. This is obviously the luxury choice of the setting. At first it looks as if Garth is punished for being so greedy. But he gets his upgraded cone in the end, because the mother feels sorry for him after his ordeal. It is therefore left to the young reader to decide if being greedy was all worth it.
There is a problem with the plot in my opinion: It is decided that Garth, alone, will go to the ice-cream truck and get 10 ice creams for his brothers and sisters. But there is no way in hell a person with hands let alone a pig with hoofs could carry back the ice creams alone. Haha. This is what Hitchcock would have called a refrigerator moment.
While a good measure of suspended disbelief is necessary to enjoy picture books, this is one step too far. In real life I'm guessing children will be familiar with the difficulties of carrying multiple ice creams without help, and there is no good reason why several of the little pigs wouldn't go along to help Garth. It's necessary for the plot, however; Garth is vulnerable precisely because he is alone.
The wolf dressed as a nice lady.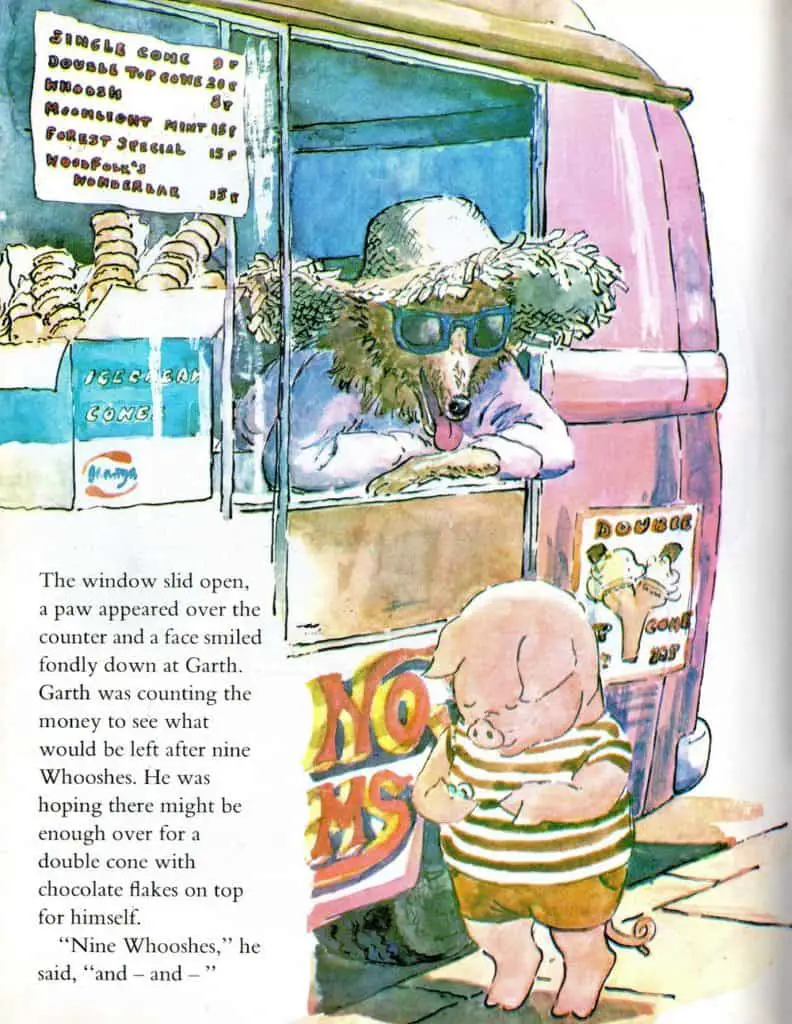 Perhaps the wolf really is a female wolf — she remains ungendered. But the evil wolf dressing up as 'grandma' obviously has its roots in Little Red Riding Hood. I believe therefore that most readers will read the wolf as male underneath. (In cases where a female is revealed to be a male, this is playing on an instinctive human fear of mistaking something for something else. This trope continues today and is damaging to the trans community. See Julia Serano's book Whipping Girl.)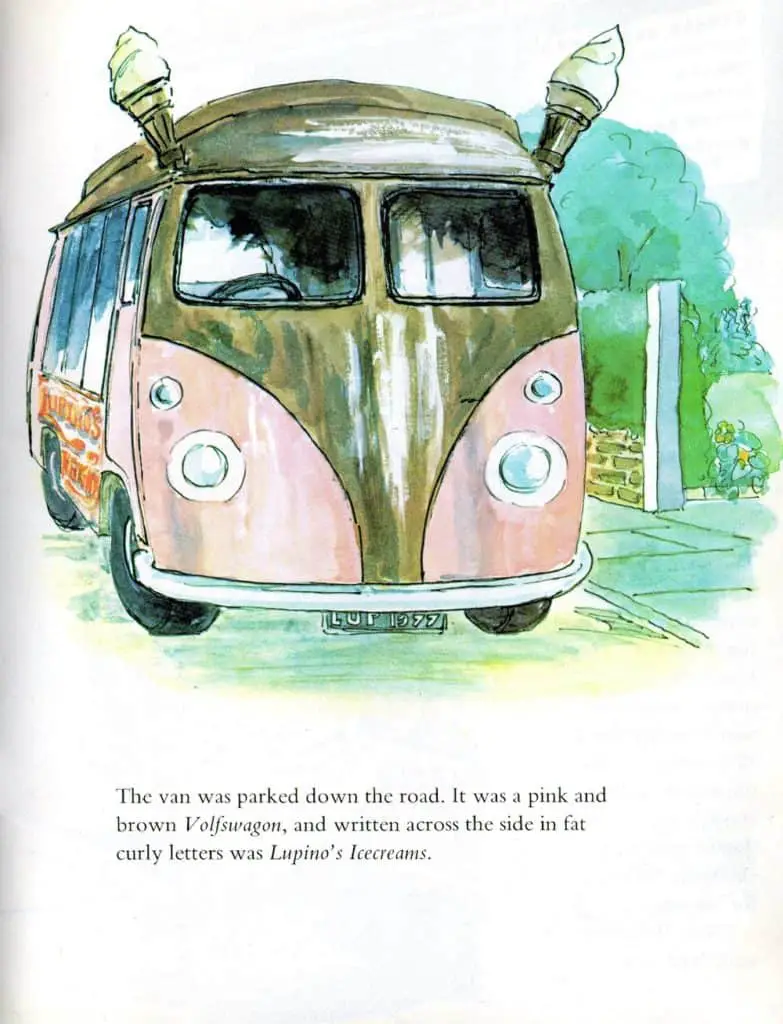 Just as happens in Dr Seuss's And To Think That I Saw It On Mulberry Street, this story makes use of symbolic crossroads. When the ice cream trail runs out at the crossroads, the pigs are forced to change their plan from 'following the trail' to actively searching for Garth.
Meanwhile, in the van, Garth hears the wolf singing about chops and realises someone's not quite right.
Even an abducted and therefore quite helpless child character must not be passive. We enjoy watching Garth try to get himself out of this difficulty of partly his own making. (If he hadn't been so greedy about counting the money to see if he could upgrade his ice cream he might have noticed, as well all did, that the ice cream vendor was a wolf.)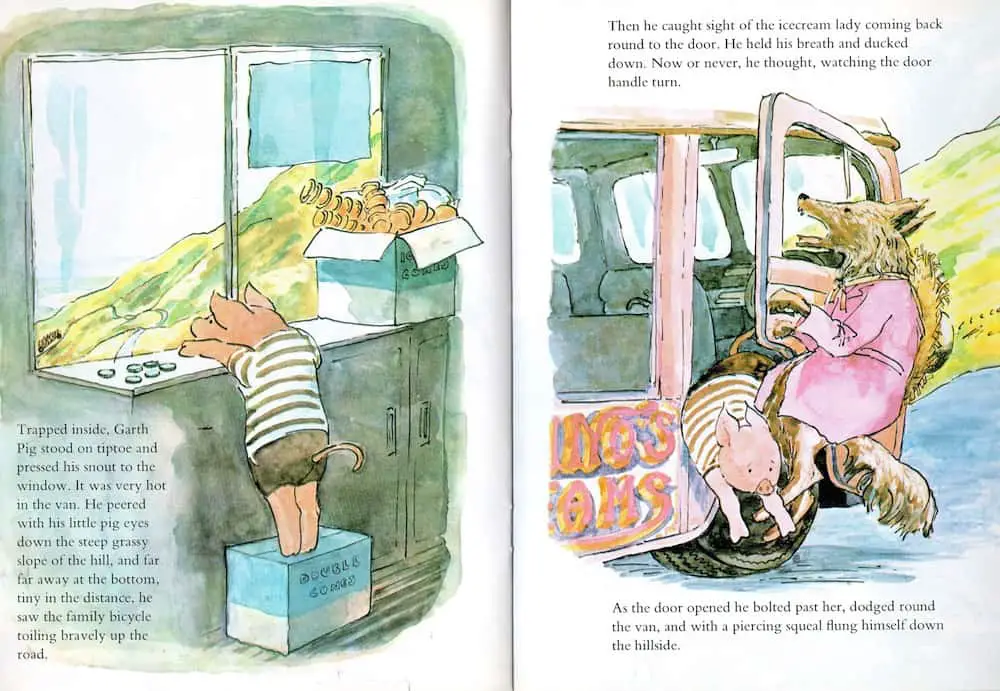 There is a fairly lengthy action scene in which the reader enjoys seeing the wolf try to control a bicycle built for ten as it careens downhill. This eventually ends with him being thrown into the river.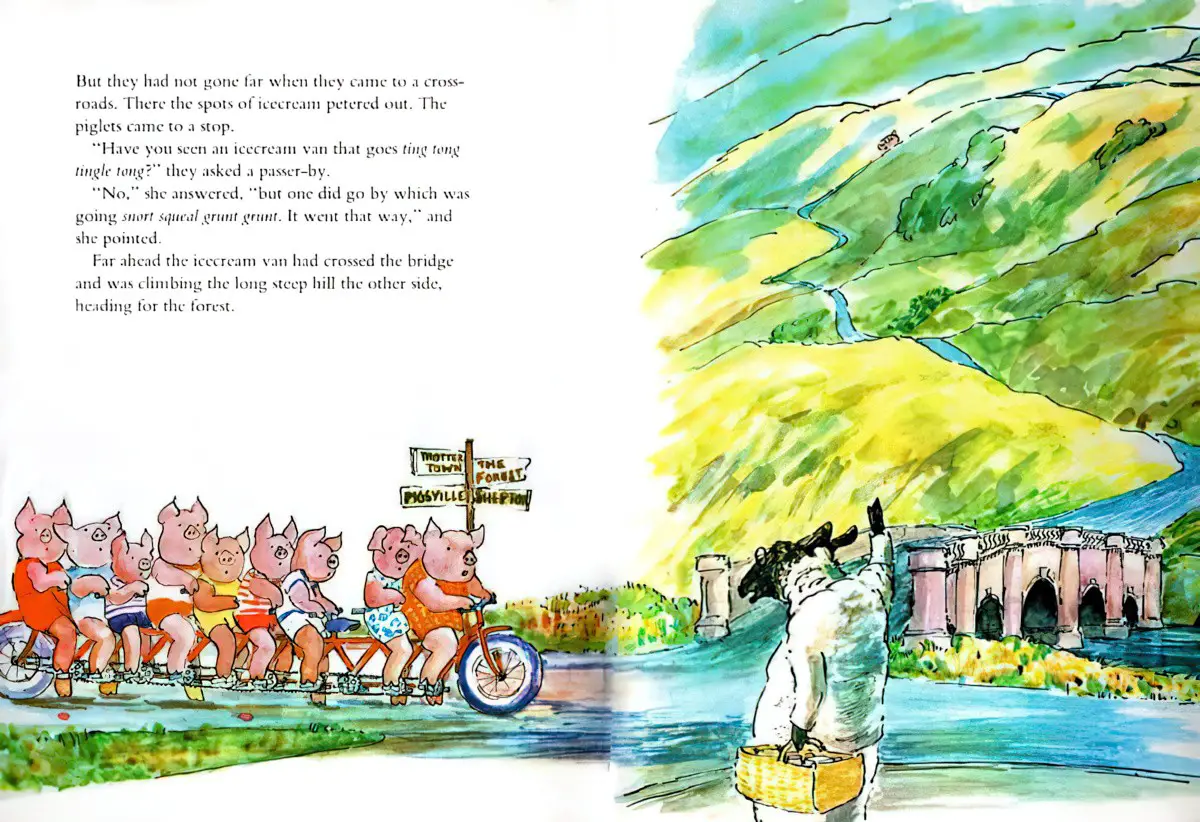 Next there is a shot to Garth inside the van, realising he's in trouble. The van breaks down. Garth breaks free.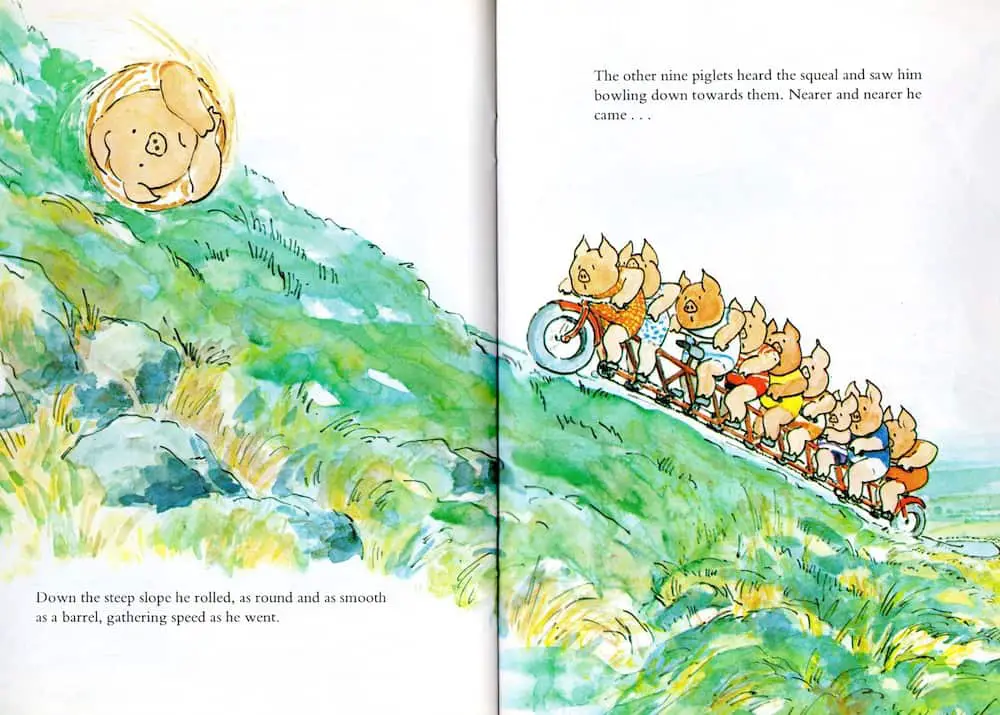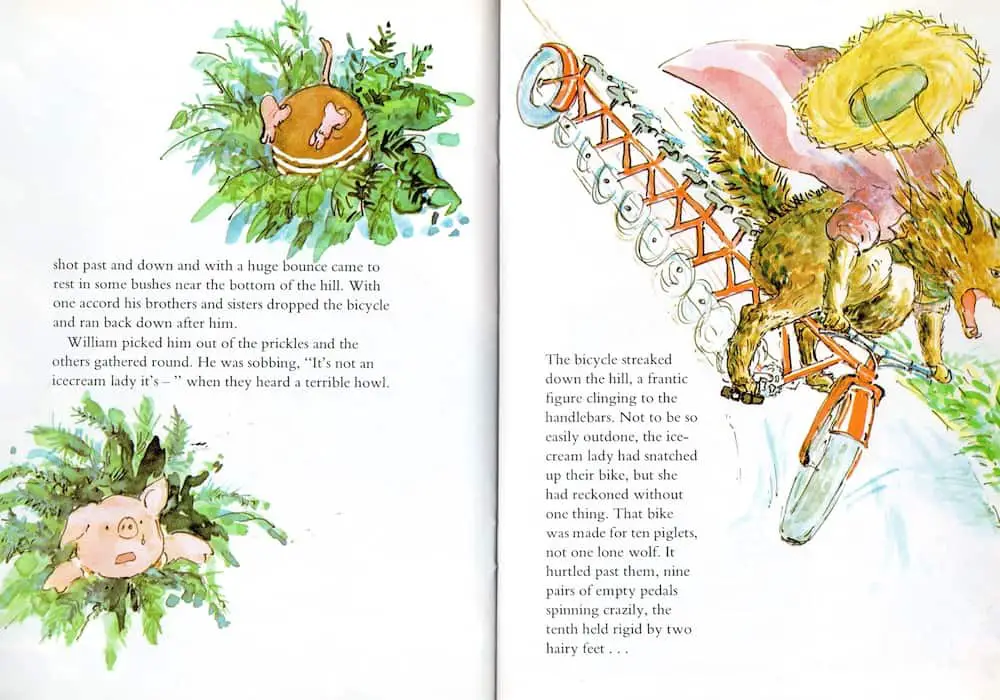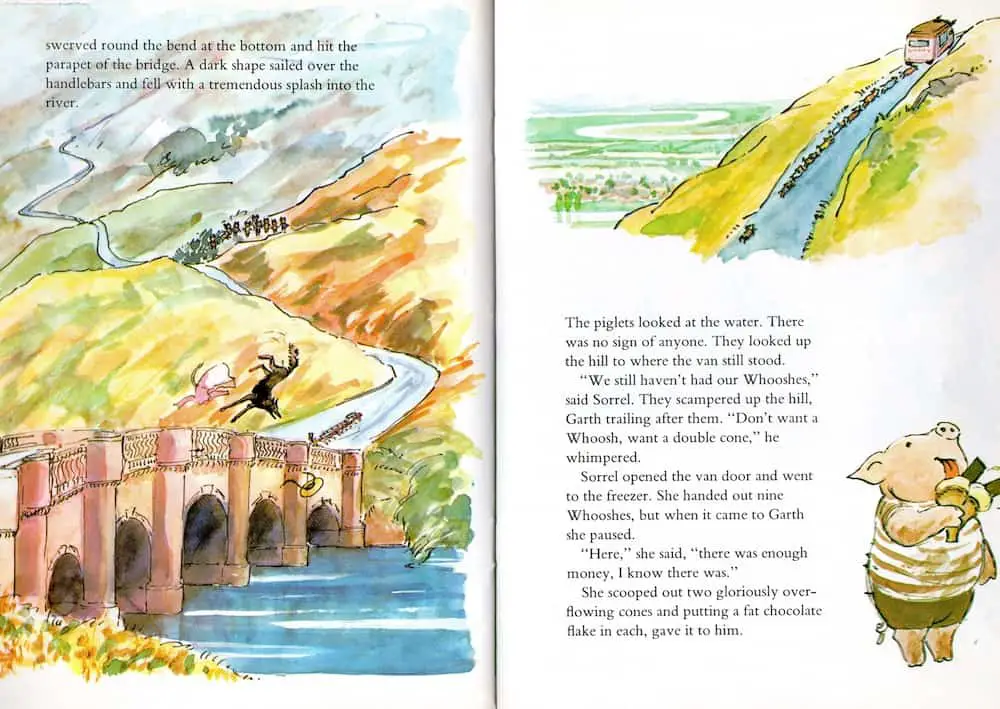 In this comic tale there is no groundbreaking soulsearching revelation. Instead, the pigs — who live in fairytale land, after all — realise that they still haven't had their ice creams, and that they can just go up the hill and get some for themselves now that the evil wolf has been taken care of.
All is fair in this story, because the mother points out that she's already paid for them, after all. (There'll be no promotion of thievery in picture books, thanks very much.)
It's fitting that the final image we see is of the wolf's old straw hat, caught in the branches which hang into the river.
In stories, hats have a special significance of denoting power or otherwise. A father will give his son a baseball cap, for instance, or a king will give a prince his crown to symbolise a transfer of power. Without the hat as disguise, the wolf is now rendered completely powerless. We can extrapolate from this image that he won't be bothering this village again.