Adventureland is a 2009 coming-of-age movie written and directed by Greg MottolaIn. In the summer of 1987, a college graduate takes a 'nowhere' job at his local amusement park, only to find it's the perfect course to get him prepared for the real world.
GENRE BLEND
comedy, drama, romance >> true life
The True Life stories genre can surprise an audience by diverting from the expected because life is also like that.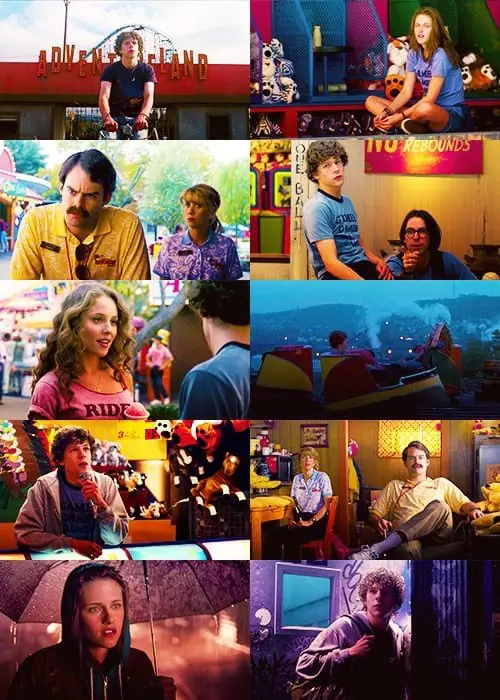 STORY STRUCTURE OF ADVENTURELAND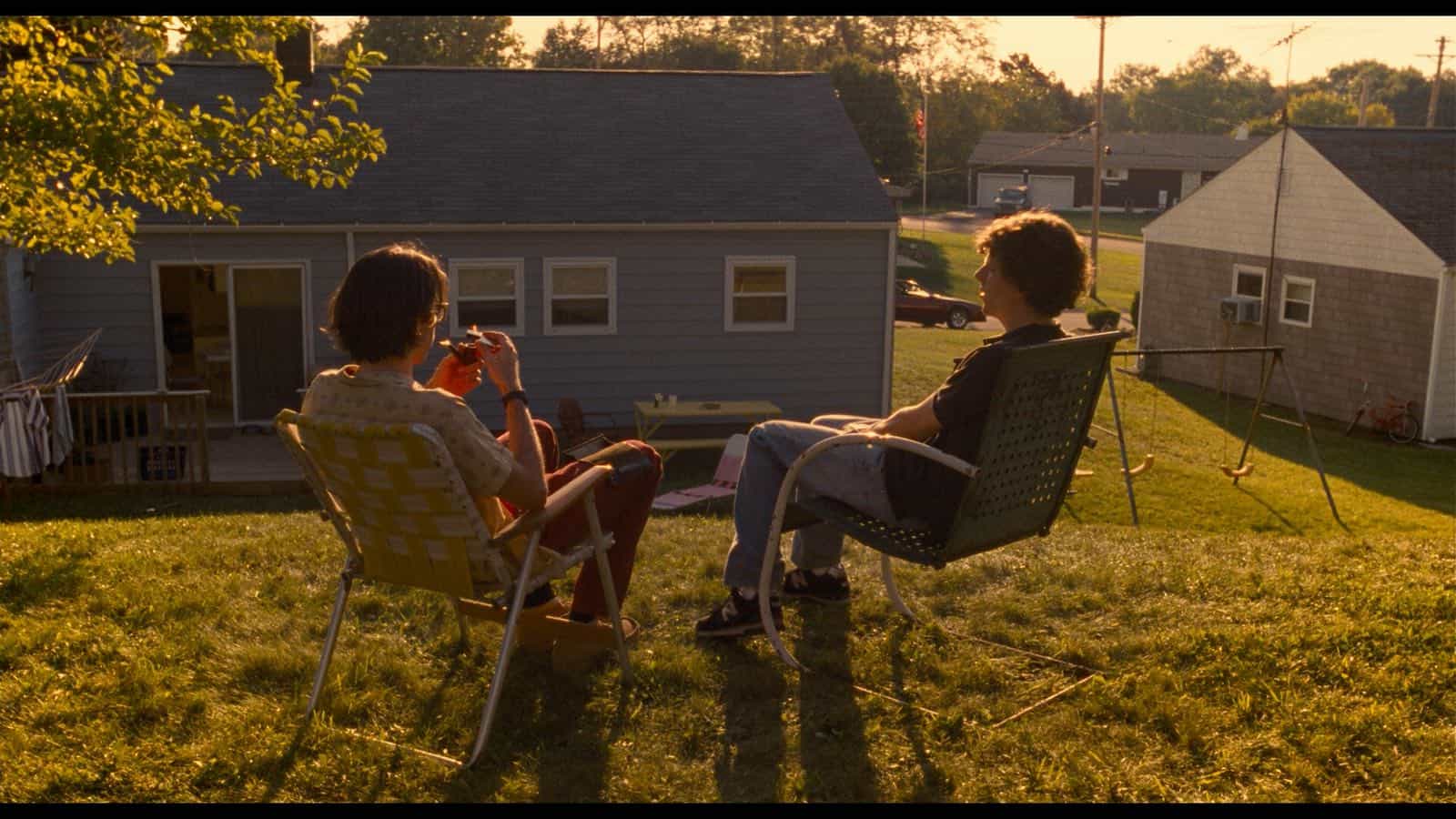 Anagnorisis, need, desire
1. James will learn how to treat a woman well, enough to begin his first romantic relationship. (No gossiping about her secrets when you've had a fight, no looking around at other girls when you're keen on one in particular.)
2. He knows the difference between love and sex. Until now he has been waiting for both at once and is therefore still a virgin.
3. James is too naive to function as an adult in society.
Ghost (backstory)
The elephant in the room is James's virginity, a symbol for general lack of maturity. This lack of experience is the thing that will hold him back. (A non-event rather than an event.) There's also the ending of the 11 day romance which went nowhere — he has had his heart disproportionately broken by that rejection. The virginity comes out on his first date with Em, who asks if he's 'had a lot of girls'.
Em has the ghost of a recent troubled past and we soon learn that she's in a horrible relationship with a horrible, married man.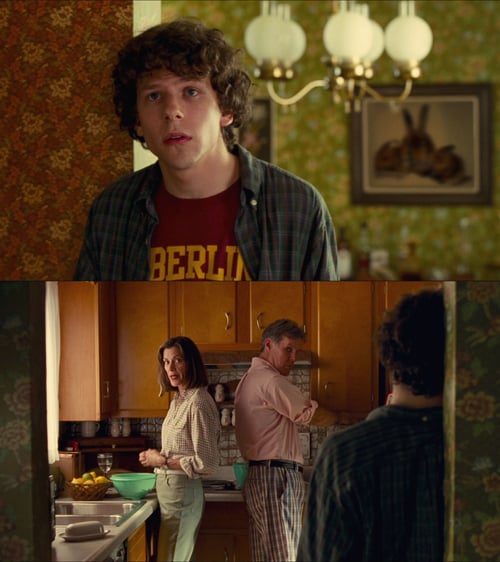 This is an enslaving world, as most stories are. James is in a hole due to his parents no longer supporting him financially and his lack of life experience.
1. This is a great arena — a cheesy, kitsch adventure park frequented by proto-Trump voter types and staffed by eccentrics.
2. Beyond the park there are hills and sea. We do get a glimpse of this — the characters can see that there is more outside the Adventureland — the main characters are all far too overqualified to be working in such a deadend job.
3. It's summer — the classic time for university students to either finish their education or get a job. Summer is a more carefree season, where James will let his guard down just a little bit, smoking pot and socialising with people he wouldn't normally see ever.
4. The man-made space of the Adventureland park is made up of many little islands of faux-fun. This place is supposed to be fun, but it's really not. It's repetitive and mindless and sometimes dangerous.
5. Technology — There are gimmicky games in the park, like games where you shoot a (glued-on) hat off a mannequin. Some of these are symbolic. For example, when Connell bursts James's bubble, a balloon he's blowing up literally bursts. Stuffed bananas stand in for manhood (with suggestions that James is lacking in it). The lightbulb montage in the opening credits perhaps symbolise 'lightbulb moments' for James, since this is a coming-of-age story.
6. The story is set in 1987, because this is a memoir. The clothes, drugs, food choices, possible venues of entertainment and the prejudices etc of the characters (no dating Jews for the Catholic girls) are specific to the era.
Shortcoming & Need (Problem)
James's psychological shortcoming: He is naive in general after too much book learning and not enough life experience. He is the underdog among his male peers. He hasn't grown up yet, still at the mercy of his parents' financial situation even though he's just had 4 years of college. He needs to grow up now. He is too ingratiating at times.
Moral shortcoming: He is too reliant on his parents. He is basically very nice to other people, but he throws a bit of a tantrum and does a lot of damage in this story.
In order to have a better life: James needs to learn to treat women with full respect and be less ingratiating to other people — men in particular. (This is a highly gendered story.)
Problem: The crisis at the beginning of the story is that James wants to go to grad school at Columbia to study journalism but his parents can no longer bankroll him. Nor can he go on the trip to Europe with his rich buddy. So he's going to have to find a summer job, but he has absolutely no practical experience in anything except mowing the neighbour's lawn.
The inciting incident (above) is revealed at the restaurant with his parents. It connects need and desire — the thing that's the most wrong with James is that he can't stand on his own two feet, but now he's going to have to.
James's goal is to save enough money to move to NYC and do a postgrad year of journalism. He wants to report on real events of the world, which is why a bachelor's degree isn't enough for him.
Ally/Allies
At his new job he quickly meets Joel, an even more nerdy and highly qualified version of himself.
He also meets Em, who saves him from getting knifed by some white trash guy who cheats to get a giant panda for his son.
There's a super annoying little guy called Frigo who, even though smaller than James, is constantly undermining his manhood by punching him in the balls and similar.
Mystery
Fake-Ally Opponent
Connell is the repairs guy who helps run the show. He appears to be an ally by taking James under his wing and giving girl advice but in fact he's keeping tabs on Em, because he knows Em is going out with James. In reality, he's standing in the way of James's happiness with Em.
Changed Desire and Motive
This comes later: When James no longer has the money to study in NYC due to totalling his parents' car, he still wants to move to NYC, but this time he'll take a year off to continue his worldly education, focus on his relationship with Em, and perhaps attend grad school the following year.
First Revelation and Decision
Although he likes Em, Em doesn't feel the same way about him (or isn't in a position to commit).
So he decides to take Lisa P up on her offer to go out with her.
James's plan is to ask Em out, be super nice to her and hopefully she'll want to date him exclusively. They will then continue their relationship in NYC after the summer.
James will have to dig deep and come up with a better strategy because Em is already 'taken', and Connell is standing in his way. He'll have to first uncover the truth of the situation and then grow morally alongside Em.
Opponent's Plan and Main Counterattack
Connell wants to keep Em apart from James so that he can continue having sex with Em in his mother's basement.
Connell's plan is visible to the audience, but another opponent is Lisa P. We don't see how gossipy and unreliable she is until James does. (Though we might guess.)
Drive
He will follow Em to see if what he's learned about Em and Connell is true.
Connell is a strong opponent though, because he's manly and he's having sex with Em already.
This is when he has his meltdown, in which he is newly irresponsible in a way that shows us he has fundamentally changed after this experience of first real love. He's never been hurt like this before.
Attack By Ally
Joel quits the place in disgust after being attacked by a guy over the glued-on-hats. So James visits him at his home. In the story, the reason for this is to try and persuade Joel to come back to work, but the plotting reason is so that Joel can confront James about how shitty it is to go out with Lisa P when the girl he really likes is Em.
Apparent Defeat
Em has also quit Adventureland, and it appears James will never see her again, either. By telling Lisa P about Em and Connell, he's started a horrible gossip mill and has dug himself into a hole.
Obsessive Drive, Changed Drive, and Motive
After setting his sights on Em, he's now going to have a go with Lisa P, for the experience if nothing else. He's been absorbing the message that 'men have needs'.
Second revelation and decision
On a date with Lisa P, he realises the two of them have nothing in common.
The next day, Em apologises to him for being non-committal and James realises he's made a mistake. He will refocus his attentions on Em.
Audience revelation
The audience is aware of the relationship between Em and Connell long before James is. This allows us to feel sorry for him and empathise. But when Lisa P reveals to James that Connell regularly takes girls to his mother's basement, we should feel a whole new level of disgust for Connell, and begin to feel a little more sorry for Em, who has also lost her mother recently and is dealing with an unpleasant step-mother.
Third Revelation and Decision
At this point James realises who Connell really is. This is shown in the scene at Adventureland where James sees him talking to a group of three, young, pretty women — we all know that Connell is already onto his next pretty young things. He also corrects Connell on a matter of music trivia, showing that Connell has been full of shit about playing with a famous artist back in the day — and James now knows he's full of shit in general.
Gate, gauntlet, visit to death
James totals his parents car after getting drunk, when he realises the girl he likes has been seeing Connell all this time.
There's a big struggle scene between James and Em after James follows her and asks her what the hell she's doing with Connell and why didn't she tell him.
While sitting on a hilltop with Joel (the classic place for revelations, since Moses), they talk about nothing particularly significant, but it's clear that James has had some sort of quiet epiphany. This is evidenced by the fact he stands up and gives Frigo a knee in the balls. (I assume that's the entire reason Frigo is in the scene — to allow the audience to see how much James has grown up — he is no longer overly ingratiating)
Moral Decision
James has two choices: He can stay in his home town and go to a nearby journalism school, probably ending up with an internship on Mr Rogers. This is shown in a dining table scene with his parents. This would be tragic for James, as Mr Rogers is a children's show and would symbolise a permanent regression to childhood. Or he can go to NYC anyway, embrace uncertainty and stand on his own two feet.
After a romantic speech in the rain after waiting for Em outside her new NYC apartment, both parties admit that they fucked up over summer. Now they will start again, on different turf, away from the Adventureland arena.