"The Ritual" is a horror film directed by David Bruckner, adapted by Joe Barton from Adam Nevill's novel. Although this film is pretty standard in its tropes and structure, the CGI monster makes the viewing experience truly scary. This article says more about the monster and its basis in Swedish folklore.
SETTING OF THE RITUAL
When I think of Sweden I think 'safety'. I think of social security, free university, and a society that looks after its sick and elderly. This hygge expectation of Scandinavian countries is utilised by Luke Pearson in his creation of the Hilda series. It's used again in The Ritual. On a hiking trip to a safe country like Sweden, what could possibly go wrong?
In common with fairytales, the forest in this horror is a metaphor for the subconscious. By entering the trees, you have signed on to take a deep dive into your darkest, most terrible fears. Importantly, the forest exists on the edges of civilisation. On top of a hill, the men make a memorial to their dead friend. This makes use of the symbolism of altitude, and cleverly, turns the area into a two-fold liminal space — between civilisation and forest, between life and death.
One reading of this film: A man struggles with guilt and regret when his friend is killed as he stands by, frozen by fear. He replays this situation over and over, wondering what he might have done differently. He blames himself, and when he imagines his friends also blame him, he becomes emotionally isolated from them, emerging alone, with no friendships intact. Nightmares feature as a strong thread throughout the film. The entire film could be the main character's nightmare, in which he dreams he has lost not only one friend but all of them, one by one, plagued by guilt and blamed by them.
The man's post traumatic stress disorder is symbolised by the monster. When Luke's friends are picked off one by one, that's him, cutting himself off, because hanging out with his usual friends only reminds him of the friend that he lost. The memory melds with the present moment in scenes which blend forest with corner store (where the murder happened).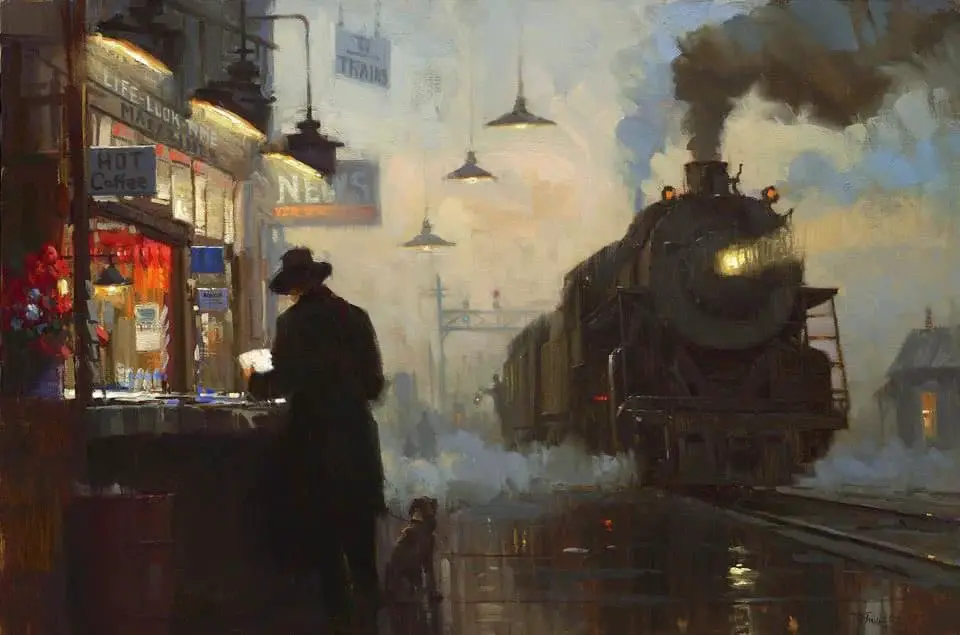 This makes The Ritual is a horror story for the modern age: The monster represents a major psychological shortcoming. The main character (an everyman rather than a hero) must come face to face with his fears before he has a hope of overcoming them. This is in line with the tenets of modern psychology. Suppression and repression are thought to lead to intrusive thoughts, doing damage to our mental wellbeing until we share our fears with others, acknowledge them and use strategies to help us deal with traumas. The main character must come face-to-face with his demon (the monster). He literally comes face-to-face when the monster uses its creepy hands to grab his face.
STORY STRUCTURE OF THE RITUAL
The Ritual makes use of a classic trope of horror: A group of people go on a journey, they meet some kind of monster(s), and then each gets picked off, one by one. This is a horror-take on the classic mythic journey. In many ways, four men going off on a hiking trip is the same as a road trip film, because these characters are stuck with each other in close quarters, and the conflict between the men is as important to the narrative as the conflict between man and monster (which is scary, but not otherwise inherently interesting).
If you've watched enough horror you'll predict who will be picked off first: The cockiest one. And you'll also predict who'll be left alive: The weakest one.
Whether we code this story as a nightmare or as a metaphor for the main character's real life, he has lost all of his close friends by the end. But he has psychologically recovered sufficiently to go with his life. This is a classic pyrrhic victory. (These go hand in hand with tragic dilemmas.)
CHARACTER WEB
THE FRIENDS
This is a story written, adapted and directed by men, and one of the first things that stands out to me is the masculinity of the main characters. The middle-aged friends are jokey-mean and have known each other since their university days. There's a clear pecking order, with Hutch at the top. There is no room for shortcoming, which they equate with femininity. When Dom twists his knee/ankle, Hutch refers to him as an 'Egyptian princess'.
At this point the men face a moral dilemma, literally depicted by a road (a dirt trail) similar to a crossroad. Forge on or turn back to in solidarity with their injured friend?
If this were a group of women in the same situation it would be more difficult for the writer to come up with a good reason for them not to turn back. Women would believe another woman who says she's too injured to continue. But men of this particular milieu, with a long history of oneupmanship, are not afforded  this luxury.
Competitive masculinity is apparent in the dialogue. The guy who hurts his leg is called an 'Egyptian princess'. Later Hutch (the embodiment of tough manliness — and also the first to be plucked off) accuses another guy of conjuring up fairy tales, like his daughters. These guys think that being a man is the opposite of being a girl. What would a girl do? A girl would turn back. Hence, they have no choice but to press on. They take a 'shortcut' through the woods. This journey will reduce them to children a la Hansel and Gretel.
The viewer is left to deduce that the men have gone on the hiking trip to Sweden in memory of their dead friend. He wanted to go, even though they did not. They're not at all athletic. These are men who'd rather be sitting around in pubs or on beaches. This is perfect for storytelling — it makes them fish out of water.
Although it's the promise of beer that makes the four friends plough on through the Swedish woods, that is simply the conscious desire. It is the toxic competition and lack of empathy between them which drives them to plough on. But the monster will sorely test their manliness, as we later see them screaming, cowering and crying. By the time Luke emerges staggering from the woods, he is no longer the same man — he is possibly no longer a 'man'.
THE MONSTER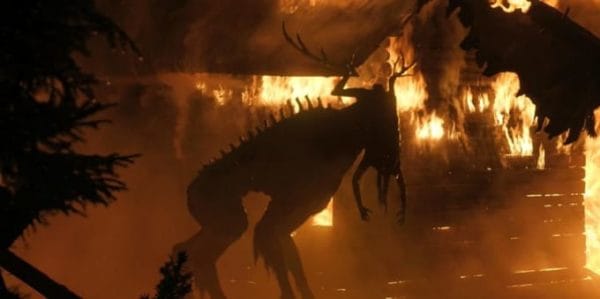 I figure the monster is scary mostly because of its chimera qualities, blending human with animal. The human arms coming out of its jaw give it an insect appearance, and giant insects are terrifying. (Have you ever seen a blown-up image of a bed bug?) The nice thing about choosing Swedish folklore for a contemporary story is that Swedish monsters are shapeshifters. They can look however you want them to look.
Parts of the monster are revealed to us slowly, which creates several effects:
We feel a foreboding sense of decapitation. That is hardly subtle in this film — the offering they find in the cottage literally has no head — just hands holding its antlers in place.
We don't know what exactly we're in for. We wouldn't know what to look out for, and we can't avoid something we don't understand. It's everywhere and nowhere at once.
The gradual revelation of the monster symbolises the gradual descent into the darkest pits of psychology.
Eventually the entire monster is revealed and this is the Battle scene. It's also the payoff for the audience, who enjoys the horripilation. The rule of horror: You can't show bits and pieces of the monster without eventually showing us the monster. That would be unsatisfying.
Another part of the monster's scariness derives from its movements. Slow and deliberate followed by rapid movements seem to be the most scary of all. This describes the movements of the most poisonous spiders in the world. (And I speak from experience — I once found the most poisonous spider in the world waiting for me on the carpet beside my desk.)
THE WITCH
The old woman in the cottage in the woods is a very old trope, connected to the Baba Yaga stories seen across various eras and locations. This old woman is sometimes helpful, sometimes murderous, which makes her even more terrifying than the monster. At least with the monster you know what you're getting. But the old witch in The Ritual, who shockingly reveals the stigmata across her chest in place of nurturing breasts, cares for Luke while torturing Dom. There's no rhyme nor reason, to us.
Why is this creature always a woman? I believe it's a dichotomy people carry regarding all women: motherly women and non-motherly women. Motherly women will lay down their lives for you. Motherly women will never ever do you harm. Their love towards all children — towards all people — is unconditional. But at some point in our development we must go out into the world, away from our actual mothers, and we must realise, bitterly, that not all women are going to love us unconditionally. This comes as a huge shock. For various reasons to do with how boys and girls are brought up differently, and the more distanced parenting approach of fathers, who let their daughters (and sons) down much earlier in life, the realisation that not all women are motherly types probably comes as an even bigger shock to men.
THEMES
This is what makes The Ritual a solid horror film. It is genuinely scary. It says something deeper about the human condition. The masculinity of it stands out to me precisely because I'm not a man.
By the same token, is it possible to critique male fears while simultaneously indulging in them? The witch is terrifying because she is old and sexually unappealing. This trope has been historically terrible for older women.
The men are punished for their constant oneupmanship, but Luke is also punished for failing to 'be a man' and lay his life on the line for his mate. The possibility that he may well have been killed for being a hero is never explored overtly in the film.