First published in 2007, The Way Back Home by Oliver Jeffers has a carnivalesque/tall tale plot but with the slow, reflective mood of Jeffers' later work, for example The Heart And The Bottle.
STORY STRUCTURE OF THE WAY BACK HOME
WEAKNESS IN THE WAY BACK HOME
"Once there was a boy."
This is a generic child and he doesn't require a psychological/moral shortcoming. He's a stand-in character for the reader.
He is perhaps a little too rash. (He should have checked the plane had petrol, at least!)
DESIRE IN THE WAY BACK HOME
He wants to fly the aeroplane that he finds in his cupboard one day when putting things away.
OPPONENT IN THE WAY BACK HOME
Nature's against him — this plane he found has run out of petrol and now he's stuck on the moon.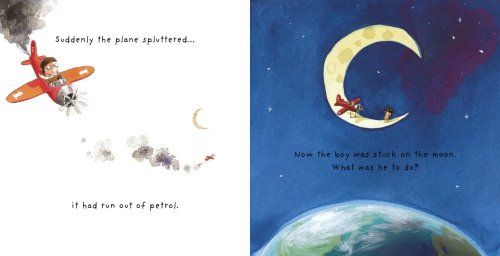 PLAN IN THE WAY BACK HOME
When the alien happens to turn up they make a plan together.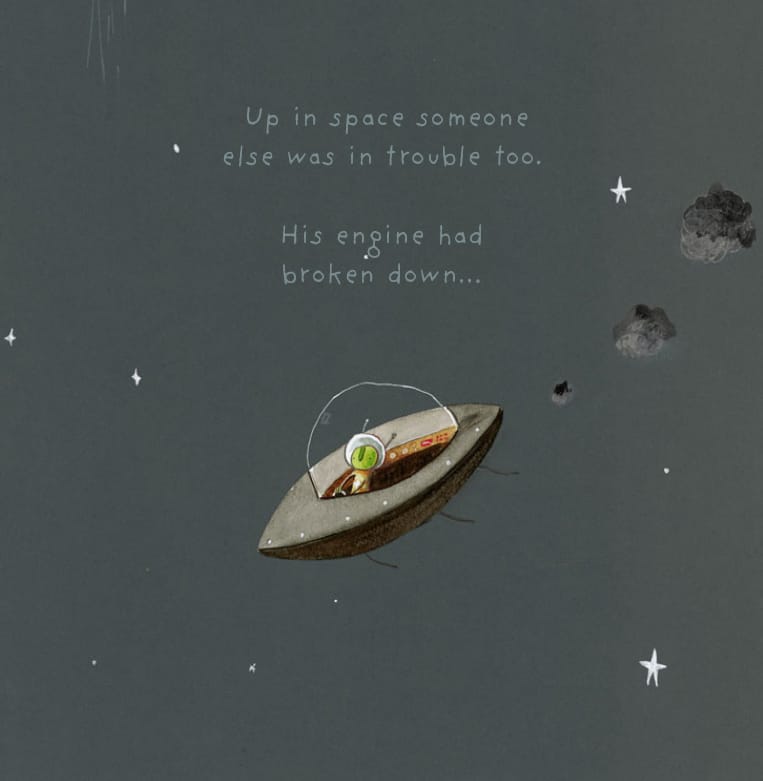 The reader only sees them gesture to each other. We don't know how they're going to get off the moon.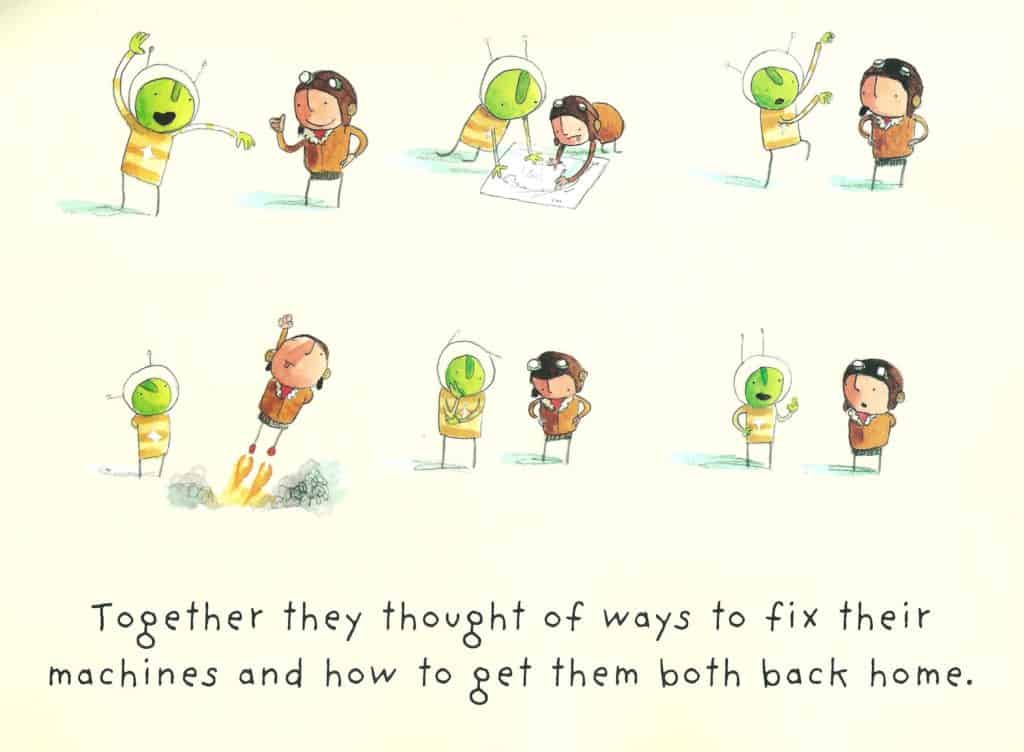 The boy's main big struggle is with himself. Back on Earth, he gets waylaid by the TV. But eventually he realises what he's supposed to be doing. The big struggle is symbolised by the very high mountain he has to climb in order to hoist himself back up to the moon.
After fixing the alien's flying saucer and filling his own plane with petrol he learns that he can be self-sufficient.
But the other part of the plot is about the kindness of strangers. The boy learns that strangers in a pickle can help each other out.
He goes back home. The alien goes the opposite direction, also back home. A lot of picture books have a circular ending, especially carnivalesque ones, in which we get the idea this kind of thing is going to happen all over again, only with a minor modification. But Oliver Jeffers doesn't tend to do that — his work has a melancholic finality to it. It's bittersweet that this boy will never see the alien again, and Jeffers' depiction of the boy saying goodbye is perfect — looking at the ground and drawing into the moondust with his toe.