Along with others such as Goodnight Moon, The Very Hungry Caterpillar makes for an excellent case study into how simple can equal super-popular.
I like this book because of its subtle healthy-eating message. So many picture books rely upon stock yuck, but here it's the green food that saves the caterpillar.
The "Book Will Turn Your Kids Trans" crowd really need to start explaining why I am not, in fact, a very hungry caterpillar.

@McDivergence
STORY STRUCTURE OF THE VERY HUNGRY CATERPILLAR
Hungry caterpillar is hungry.
A caterpillar's life is simple. He wants food.
The Very Hungry Caterpillar is a good example of a children's story in which we might say 'nature' is the opponent. (That's not true in many stories for adults, unless you're talking about a disaster story.) Stuck by Oliver Jeffers is another example, in which the opponent is a tree.
He started to look for some food.
He ate a bunch of food.
He got a stomach ache, and in order to 'win out' he ate a nice green leaf.
…and after that he felt much better.

Now he wasn't hungry any more — and he wasn't a little caterpillar any more. He was a big fat caterpillar.

He built a small house, stayed there for a while and
he was a beautiful butterfly!
EXTRAPOLATION
And if the story hadn't ended there it wouldn't be a children's book any more.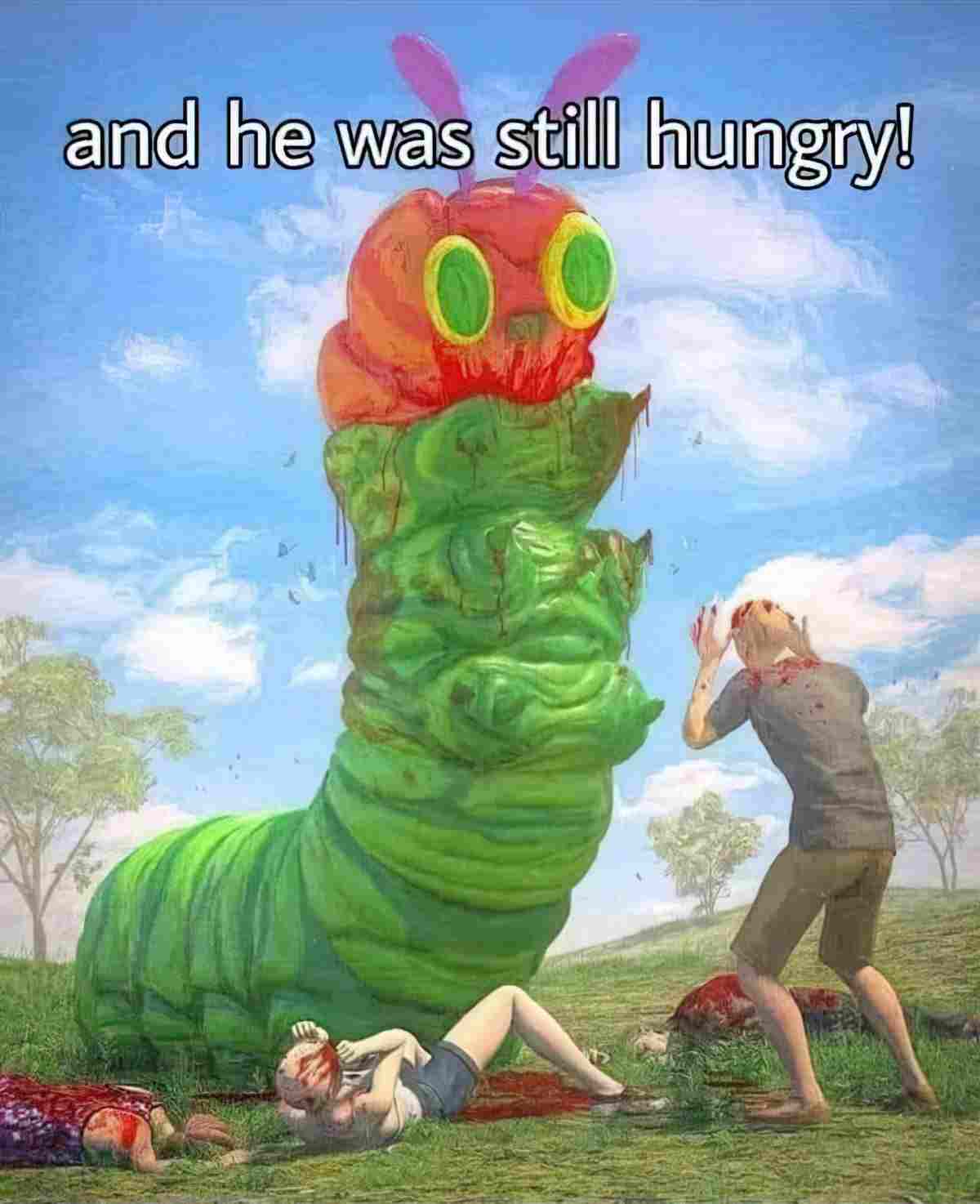 RESONANCE
When it comes to picture books and longevity, it really does seem that so long as the writer hits all of the beats, the simpler the better. No doubt the distinctive dye painting technique unique to Eric Carle has contributed to the enduring popularity of The Very Hungry Caterpillar, but I think the list of food is what makes it a great story. Food is super important in children's literature, and the listing of the food elevates this tale into the realm of cornucopia, appealing to the wish fulfilment fantasy of having an unlimited supply of food.
I suspect parents like it because of the gentle didacticism: If you eat too much you'll get a stomach ache! The food listed is basically wholesome food, too. The Very Hungry Caterpillar avoids the stock yuck of green vegetables, and I'm guessing I'm not the only parent who find broccoli and sprout vilified in every fifth children's story out there, when you're trying to get your young child to eat their greens.
Because we all know what happens next.
VARIOUS OTHER CATERPILLARS