To celebrate the 10 year anniversary of Once by Maurice Gleitzman, an  Australian middle grade novel by one of our best known children's book authors, I'm going to take a close look at it using the 7-step story structure which applies to pretty much everything from advertisements to picture books to novels.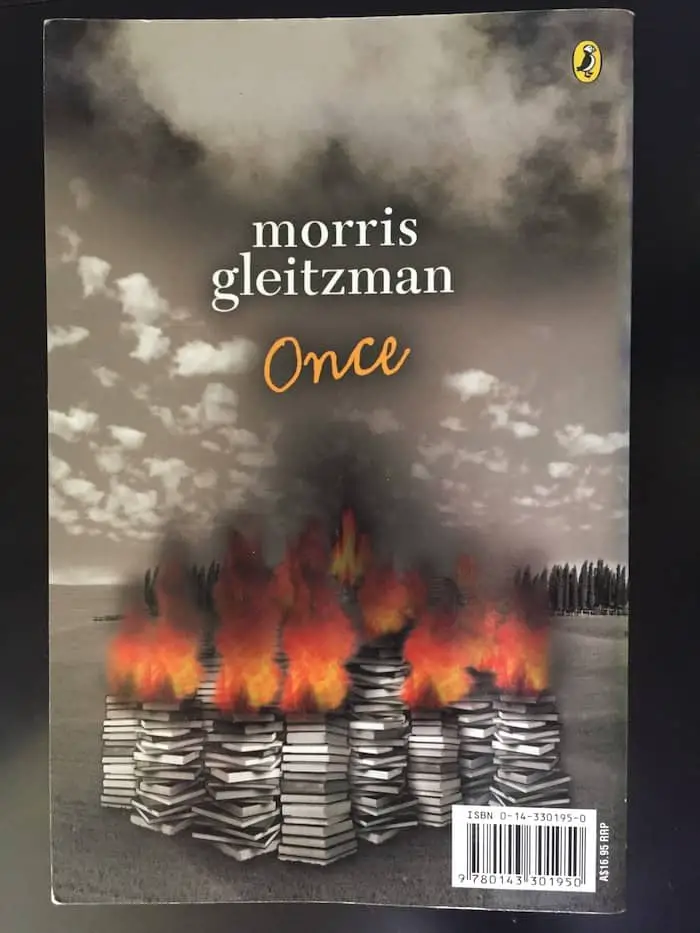 The Redemptive Power Of Literature
This is also a story about the Redemptive Power of Literature, about how creating your own stories in the midst of terror can get you through tough times. This is a common theme in MG fiction and it sells pretty well, perhaps because people buying the bulk of books love stories which are about the greatness of books. (Our picture book app The Artifacts is another example, as is The Amazing Flying Books of Mr. Morris Lessmore app by Moonbot Studios.) We know that Felix's family is 'Good' because they owned a bookshop. The mother cared more about books than about clothes, which is what the former bookshop has become since it was taken over by Nazi Germans. (Subtext: Books = depth of emotion, clothes = surface/superficiality/image.) The boy whose family now owns his old book shop even used to wipe his bogeys on the pages of books, which is a concise way of building an ignorant, uncouth character who we know not to identify with. The nun who shelters Felix, too, is a book lover who never had anything bad to say about a book.
On the other hand, books which glorify books can sound a bit insular and twee — Felix has been a big reader, but the downside of this attribute is also shown; Felix learned how to tell if something is dead out of a book, yet he has no street smarts. He's all knowledge, no clues.
Necessary Prior Knowledge
The reader needs to know the very basics of WW2 — that Nazis killed Jews in Poland. Even then, younger readers without this knowledge will travel through the story with the same level of naivety of Felix, and undergo an historical revelation at the same time Felix discovers the truth. In other words, young readers will respond differently to this book depending upon this prior knowledge.
Voice
Once by Morris Gleitzman is an excellent example of a MG story with an unreliable narrator. The reader is given enough information within the first few chapters to know that Felix is a Jewish boy living in Poland during the Nazi era and his life is in danger. Poor, naive Felix knows something fishy is going on but he hasn't got his facts quite right: he thinks the Germans are after his Jewish parents because they don't like the books they sell in their shop. He doesn't know about the plan to rid the world of Jews.
The book is written from the first person point of view and in the present tense. The linguistic trick which is repeated: Every chapter opens with the titular word 'Once'. Maria Nikolajeva, when writing about children's literature in From Mythic To Linear: Time In Children's Literature breaks prose in children's books into two distinct categories according to the treatment of time:
1. The iterative — In an iterative sentence, it is assumed that whatever is happening has always happened and will continue to keep happening.

2. The singulative — In a singulative sentence, it is assumed that whatever is happening happened in this one story.
Whereas the iterative is associated with the phrase 'Once upon a time' (there lived three bears in a cottage…), by truncating this fairytale opening to 'Once', Gleitzman plunges the reader straight into the singular — the events in this book happened one time, to one boy. Yet the fairytale quality is still there: This happened long ago. The storyteller narrator is now much older, and is deliberately toying with us, letting us in on the joke of the dramatic irony.
It's therefore a great choice to switch to the present tense after the single, past tense sentence that opens every chapter. A story written by an unreliable narrator — but one who has since learned the truth — would have no reason not to simply tell the reader the truth, the whole truth, and nothing but the truth. But the present tense voice is youthful, it takes the narrator himself right back to 1942, and the reader now feels as if the boy is telling us the story rather than the hypothetical old man who is a famous author running a cake shop in 1983. Whereas the opening sentence of each chapter is quite long, the present tense voice is almost staccato, and reads like a Paul Jennings story, with mostly very short sentences.
There is also a thematic reason for the word 'Once', which has its counterpoint on the dedication page:
For all the children whose stories have never been told.
In other words, this particular story only happened once to this one boy, but this sort of story has happened so many times over the course of history that the 'once' becomes an ironic counterpoint.
On the inside of the back cover we read:
Everybody deserves to have something good in their life. At least once.
This is truncated from the part where Barney buys Felix some secondhand books with three precious turnips and justifies them by saying everybody deserves something good in their life at least once.
There is a juxtaposition between the dire situation of Hitler's eugenics regime and the voice of our narrator which, because of his naivety, feels justified.
The Main Character
Felix is immediately likeable, which is important in a character who is basically clueless. This is like the MG equivalent of a picture book like Rosie's Walk — he's walking around in extreme danger of being shot but narrowly avoids it at every turn.
Likeable child heroes stand up for other children. We see Felix do just that in the opening pages. Likeable heroes are generally the underdog, which is also by far the most common stock character in comedies for adults, too. We like to see underdogs get into and out of scrapes. On the road, he even saves a girl by carrying her on his back. Boys are even more likeable if they rescue girls than if they rescue other boys — a narrative we also saw in the aftermath of 9/11, which Susan Faludi points out in her book Terror Dream, became the dominant narrative — male firefighters saving women and children — and plunged America back into a mindset which glamorised the gender dynamic of the 1950s that exists mostly in our collective imagination.
Felix becomes even more likeable as we see that Zelda, the little girl he has rescued, behaves like a spoilt brat, with some stock brat behaviours such as sticking out her bottom lip, being ungrateful to Felix who has saved her, and turning Felix's story around to be about her. She complains about Felix's smelly hat, as prissy girls do.
An audience also loves trickster characters. There's an element of Felix getting away with something by pretending to be an orphan when he's not. (At least, he thinks he's pretending, and we hope so, too.)
Seven Step Story Structure of Once
As in the best MG stories, the shortcoming/need, desire and opponent are all established within the first few pages.
Felix is naive. This is going to endanger his life, because if he knew what was good for him, he'd stay where he is, sheltered in the Catholic orphanage in the mountains of Poland. Naivety is a pretty common shortcoming in MG heroes.
In order to live a good life, Felix must learn the truth of his situation.
It has been more than 3 years since his parents left him in the orphanage and his great desire is to be reunited with them.
The opponents are the Nazis, not that Felix knows this. However, the reader knows this, which is enough.
The inciting incident happens on the first page. Felix finds a whole carrot floating in his soup. He takes this as some sort of sign from his parents. He will break out of the orphanage, go back to his house in the village and find his parents working in their bookshop.
He finds that when he gets to the bookshop his parents are no longer living there.
The big struggle is often a three part affair: gate, gauntlet, visit to death.
The gate scenes happen as the two children walk to the city, where they come across death and destruction everywhere. The image of the dead old lady is resonant, especially since Felix wants to carry her on his back as well as Zelda but doesn't have the capacity.
There is a really clear gauntlet scene as the children walk into the city. There are soldiers lining the street and Gleitzman paints a really clear picture:
The wide streets are dirty and the tall buildings, five levels high some of them, have all got Nazi flags hanging off the balconies and out of the windows. Army trucks and tanks are parked everywhere and lots of soldiers are standing around telling each other foreign jokes and laughing.
Then there is an actual gate:
We're heading for a big brick wall right across the street. That's a very strange place to build a wall. There's a gate in the wall with soldiers guarding it and the people ahead of us are going through the gate.

The visit to death is where Felix has the revelation that things are much worse than he thought:

What was that noise?

Gunshots.

Everyone is screaming.

Over by the wall two people are lying on the ground bleeding.
Zelda is taken away from Felix at gunpoint and he winds up on the ground. This is a clear 'visit to death'.
He is saved by a large man in 'scuffed' attire. This reminds me of stories such as the Grimm Brothers' version of Little Red Riding Hood in which a large man rides in to save the child from the beast. It's generally a good idea to have kids find their own way out of trouble, but in a situation such as this that would be unrealistic. Also, the young hero's entire desire is to find his parents and save them. Being saved by a large man emphasises how powerless he really is compared to how much he thinks he can achieve. He thinks that if only his parents hadn't put him in an orphanage he would have been able to save them somehow.
It's worth noting that later, in the dire situation in the train, on their way to the Death Camp, it is indeed Felix who saves everyone, though inadvertently. He literally saves the day with his book of stories by generously donating the notebook as toilet paper, which he tries to hang on a bolt of the wall, then realises the boards are rotten and they can all escape. The other take home point there is that the earlier big struggle scene wasn't actually the most dire. Gleitzman really does get our hero into the worst situation before he comes good.
In the face of evidence everywhere, Felix eventually works out what has probably happened to his parents. There is no single epiphany — we see his psychological slump when he doesn't want to tell the other children he meets up with his stories. They have a fairytale quality and he feels they're irrelevant and pointless in the face of such doom. But he doesn't lose hope entirely. When Barney tells Felix his parents might not ever be found, Felix is sure he is wrong.
There is an audience reveal near the end of the story too — Zelda's parents are actually Polish Nazis who have been killed by the Polish resistance for being turncoats. This revelation adds some much needed gray area into a story about war. The problem with war stories is that the audience always roots for the hero. The enemy appears in 'long shots' — like the nemesis in superhero stories the enemy tends to be outright evil, and never victims of the same circumstance.
This part of the story has been truncated for the purpose of leaving the reader uncertain about Felix and Zelda's future. "At least we get to choose," Felix says, of the decision to either jump from the moving train or not. Likewise, the readers get to choose our own ending, and just enough detail is given about the cake shop scenario (an example of side shadowing) that readers can choose that as the story's reality if they want to. When the story leaves off, however, Zelda and Felix are in the middle of nowhere, having jumped from a death camp train during wartime and Zelda is injured.
A further note on the ending: Just before the last third of the story we are encouraged to believe that Felix is not going to find his parents, but we're fairly confident Barney the kind dentist will step in to be the parental figure. When Barney heads off towards the Death Camp with a pocket full of syringes this alternative ending we've been asked to consider makes the actual ending so much more sad. A similar technique is used in many tragedies, for example in the film Million Dollar Baby. In the hospital Maggie and Frankie discuss going to live in a cabin somewhere in the woods where Frankie will be able to immerse himself in his books while looking after Maggie. Because this alternative ending has been posed, Maggie's death seems all the more of a shock. The story craft lesson here: In order to get the most emotion out of a sad ending, make sure you pose an alternative, happy ending first, whether this is done overtly (as in the dialogue of Million Dollar Baby), or subtly, as books are better able to do.
And a further note on the character of Barney: This is a rare example of a an adult male who displays emotion.
"I can feel Barney's tears falling on me. For a while he doesn't say anything, just strokes my head."
This is great to see in a children's book since they aren't seeing it on the screen. As Howard Suber (film expert) quite rightly points out about movies:
Three kinds of people are allowed to express fear: children, women and men who will come to an unfortunate end. In all three cases, fear is a shortcoming that either requires someone else to do the job or is a kind of fatal flaw.

Howard Suber, writing about film (also in 2006)
Although Once reads like a standalone book, it is actually the first of a four part series. So readers do in fact get to know what happens to Felix and Zelda next.
TITLES RELATED TO ONCE
For more related titles to different books, see Value Packed Book Talks by Lucy Schall
The Mysterious Edge of the Heroic World by E. Konigsburg
The Lost Childhood by Yehuda Nir
In My Hands: Memories of a Holocaust Rescuer by Irene Gut Opdyke with Jennifer Armstrong.
Milkweed by Jerry Spinelli