Madeline In London (1961) is another carnivalesque story from Ludwig Bemelmans, who may or may not have shot a waiter and been forced to emigrate to America. This probably doesn't have much to do with anything, except I can't look at the tea and crumpets scene in this story without wondering about that.
Bemelmans' Madeline series is considered 'doggerel'. What's that?
Doggerel refers to comic verse composed in irregular rhythm.
However, the word also describes verse which is simply badly written.
What, exactly, is the difference between 'classic doggerel' and 'bad writing'? What makes a publisher say, "This is hard to read aloud but it's a great example of doggerel", versus "This author has absolutely no idea about rhyme schemes and scansion and I'm not going to take a second look at it"?
Who knows.
Pepito has moved to England. To help celebrate his birthday, Miss Clavel and the girls pay him a visit. When his mother won't let Pepito keep one of his birthday presents–a horse–Madeline is more than willing to help out.

marketing copy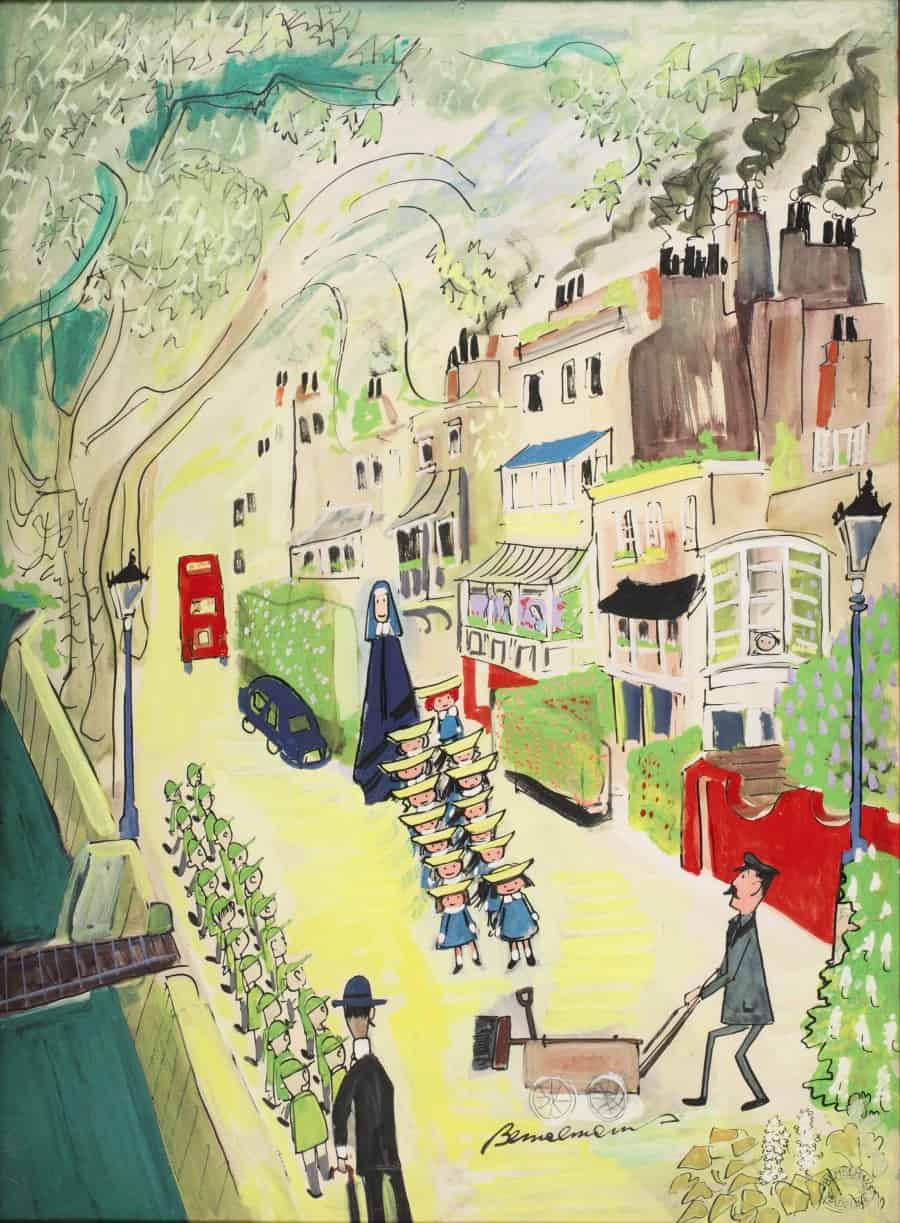 STORY STRUCTURE OF MADELINE IN LONDON BY LUDWIG BEMELMANS
Although from the title you'd expect the star of this story to be Madeline, I don't think it is. The star is Pepito, who changes the most over the course of the story.
Pepito has been taken away from his best friends next door, to an embassy in London where he is so lonely he is starving himself to death.
He wants to see his old friends, especially Madeline.
The 'opponent' in a carnivalesque children's story is often nothing to do with the character arc, but a character who causes joyful chaos and mimics the big struggle scene found in more serious works. In this case, it's the horse — a wonderful choice, because a horse is a ridiculous choice of gift for a boy who lives in a London embassy.
Pepito and his family plan to show Madeline and the girls a good time looking at the tourist attractions
But the horse causes mayhem due to the fact he is a retired palace horse who doesn't realise he's been put out to pasture, almost made into glue.
The final straw (haha) is when the horse eats all of the flowers in the gardener's garden — flowers which the gardener gets up to enjoy every morning. This results in everyone crying.
Madeline and Pepito's mother share the revelation that the horse can't possibly stay in London so he'll go home with Madeline to Paris.
Notice that the revelation is shared. This is a children's book, and part of the responsibilities do lie with the adult characters.
The horse now sits at the table and is looked after by the little girls.
Header illustration: Ludwig Bemelmans, "But in London There's A Place to Get A Retired Horse To Keep as a Pet," from Madeline in London (Published 1961).