All of the Courage The Cowardly Dog episodes including Doctor Le Quack are set in a place called Nowhere. "Be quiet, Eustace," says Muriel one morning, "you'll wake the neighbours!"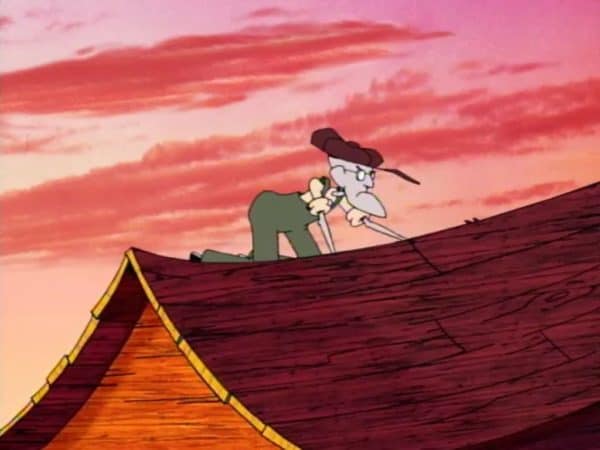 This setting is perfect for western spoofs. Many of the Courage stories are horror spoofs but in Dr Le Quack we have the cartoon, child-friendly version of a wild western caper film.
GENRE OF DOCTOR LE QUACK
A caper story is a story in which the main characters pull off some kind of heist. (Also called a heist story.) A caper is a comic crime story. So, caper = crime + comedy.
Breaking Bad makes use of caper elements e.g. At the beginning of season five when Walt and Jesse rig up an explosion to wipe out an incriminating laptop in police storage, and earlier in the seasons when they steal the chemicals from the factory wearing woollen hats with pompoms.
Western Symbolism In Doctor Le Quack
Western symbolism can be seen in many of the Courage stories. Here we have the story opening with the rising sun at dawn. While this is not specific to the western genre, the sun has symbolic meaning in a western. Though it has been used countless times in western movies and novels, readers never seem to tire of the age-old symbol of the sun setting on the cowboy riding or walking off into the sunset. Quite a few picturebooks end with characters walking off into the sunset, too. Here we have dawn breaking over the desolate plain. 
The sun can be a symbol of giving or taking life, depending on how it's portrayed. The sun can break through and show brighter days, or it can be boiling hot and deadly if lost in the desert. Here, I don't think it has any specific symbolic meaning. Along with the soundtrack and the big skies it is simply meant to convey the atmosphere of an old western film.
However, a rising sun in a story does indicate that this is going to be one eventful day, and that the events will conclude by the end of it.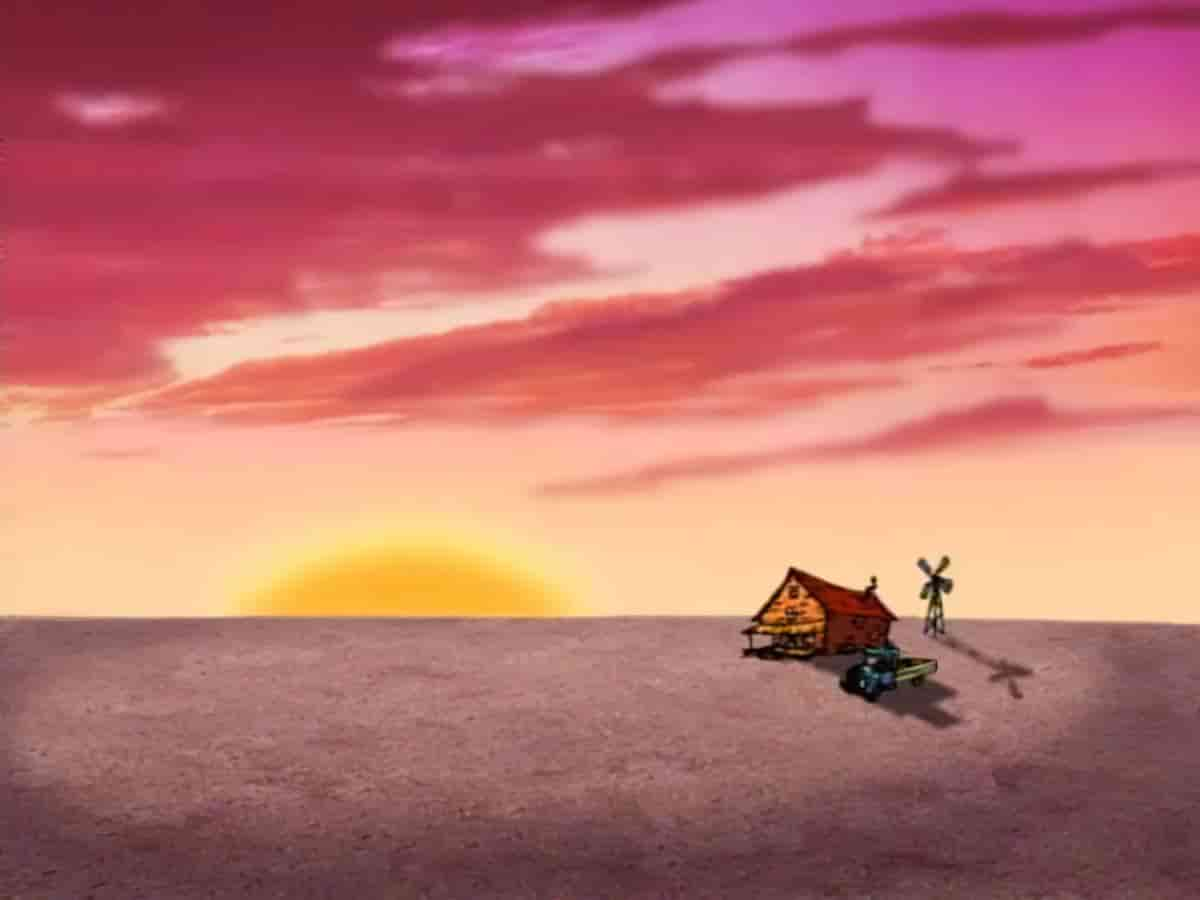 STORY STRUCTURE OF DOCTOR LE QUACK
Courage is cowardly. Nonetheless, he needs to save the day.
DESIRE IN DOCTOR LE QUACK
After Eustace accidentally hits Muriel on the head with a plank of wood Muriel loses her memory. Eustace takes this opportunity to get rid of the dog.
Amnesia comes easy in fiction. It is also conveniently specific. A taste of Applied Phlebotinum, a particularly shocking traumatic event, or even a simple Tap on the Head will be sufficient to make your character forget all about who or what they are.

TV Tropes
He wants to get back into the house and do something for Muriel.
OPPONENT OF DOCTOR LE QUACK
Eustace is the first opponent but soon another comes along in the form of an evil French duck. As with the cajun fox last episode, this duck isn't really French — he slaps on a French moustache which falls off later right before the main big struggle. I think the producers might do this because the same voice actor mimics a variety of different accents in parodic rather than realistic fashion.
First we see Le Duck's lair. This is a Scrooge McDuck character, which of course comes from Dickens. His riches do not make him happy. He is collecting riches simply for the game of it, leaving bags of money just sitting around. He hasn't even replaced his office chair, which looks as if it's got a big bite out of it. This is a purely evil character motivated by power.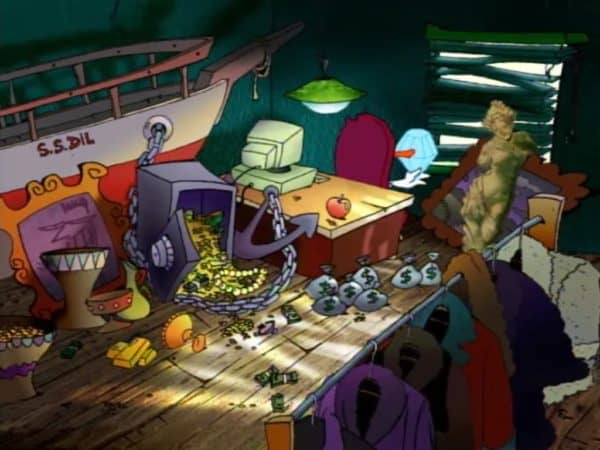 Then we see who is sitting on the other end of the computer.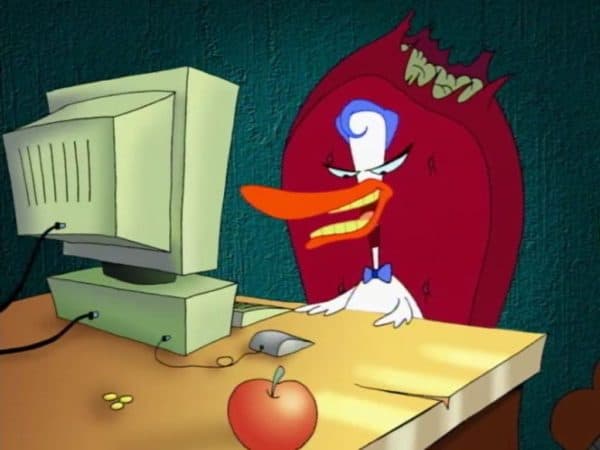 PLAN IN DOCTOR LE QUACK
Courage has already gotten back into the house by first trying to swing in Tarzan style from a tree, then with a pole vault.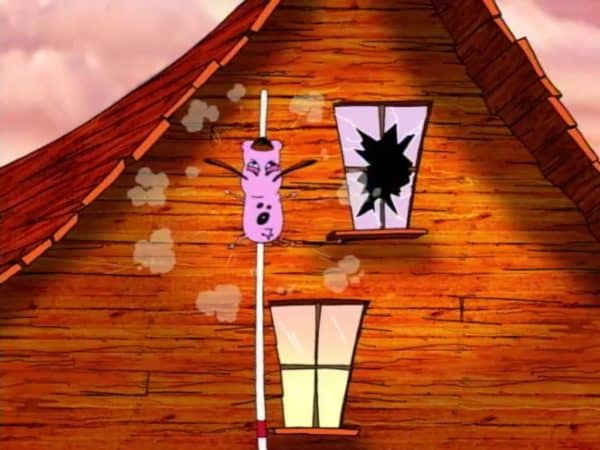 Eventually he gets in and via the Internet enlists the help of a doctor. Even the computer is anthropomorphised and has an evil personality of its own. These were the days when viewers were using the Internet for the first time and there was more mistrust than there is today.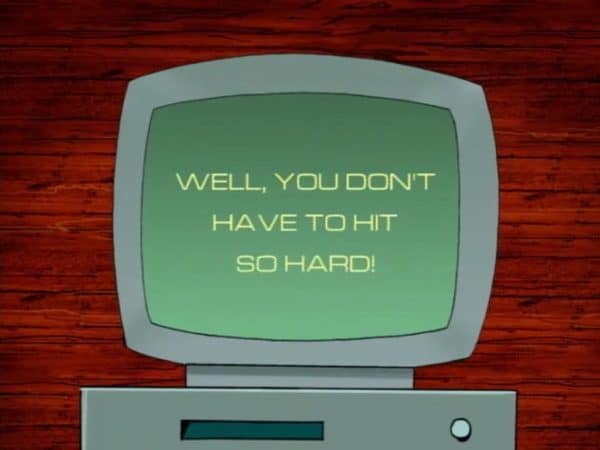 Plans change when it becomes apparent that the visiting doctor meant to help Muriel is actually a quack who wants to raid the silverware drawer.
The duck's plan is to
Knock Eustace on the head so he's out for a while
Torture Muriel until she reveals where her piggybank is. He can't find any treasure in the house.
This is where the heist spoof comes in. The duck sets up a toy train track and binds Muriel up in rope reminiscent of a scene in which a beautiful young woman is tied to the train tracks. Instead of using this quite sexualised trope, the writers of this children's story modify it quite a bit — Muriel sits on a chair nearby and the toy train throws pies in her face.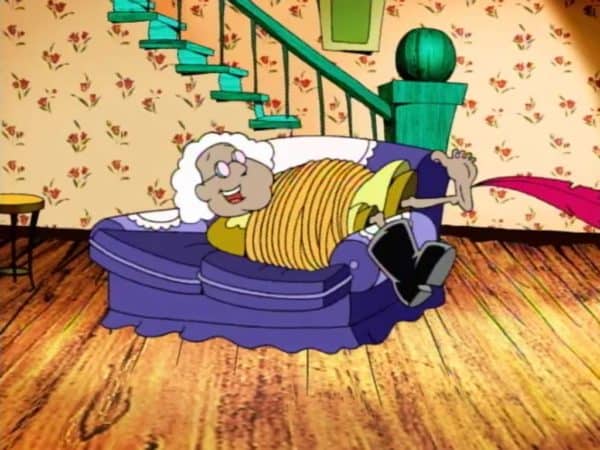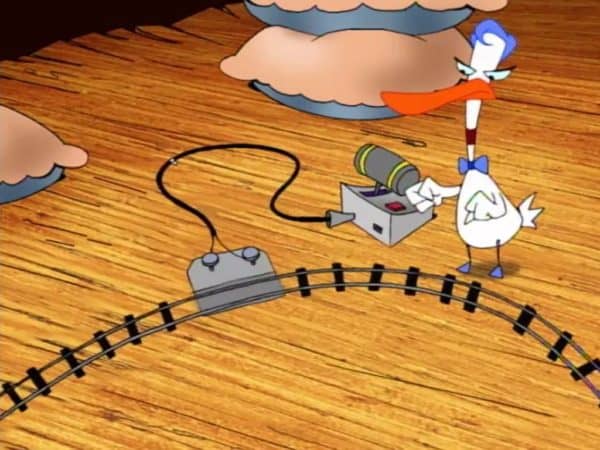 This familiar scenario [chained to a railway] first appeared in the 1867 short story "Captain Tom's Fright", although a more rudimentary form of it was seen on stage in 1863 in the play The Engineer. However, it really entered the meme pool as a result of its inclusion in the 1867 play Under the Gaslight, by Augustin Daly. […] As bizarre (and horrible) as it may seem, this trope is Truth in Television. At least six people in the United States were killed between 1874 and 1910 as a result of being tied to railroad tracks.

TV Tropes
The same trope is also used in games such as Red Dead Redemption.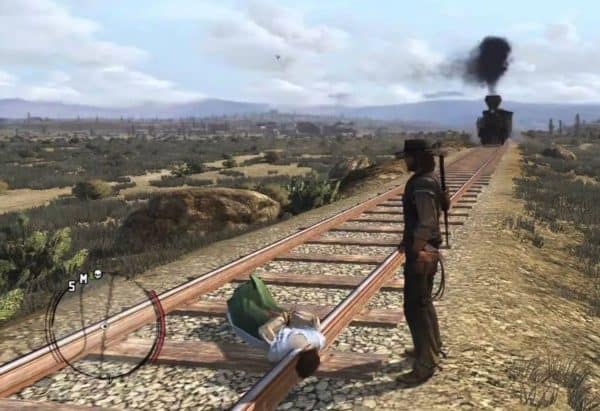 Courage blows him up. When opponents are destroyed by Courage in this series it's common for the opponent to say something understated like, "How annoying." That's what happens here. This feels a little meta. Why would the duck panic about being blown up? He's a cartoon character who will bounce back to life before the next scene.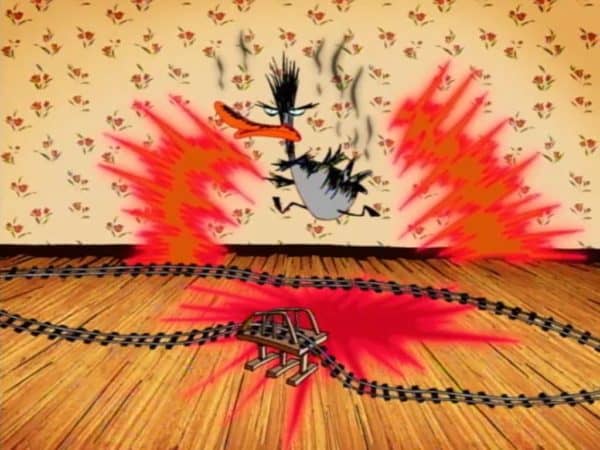 When this doesn't work the duck disgusts her by holding a plate of smelly cheese right under her nose.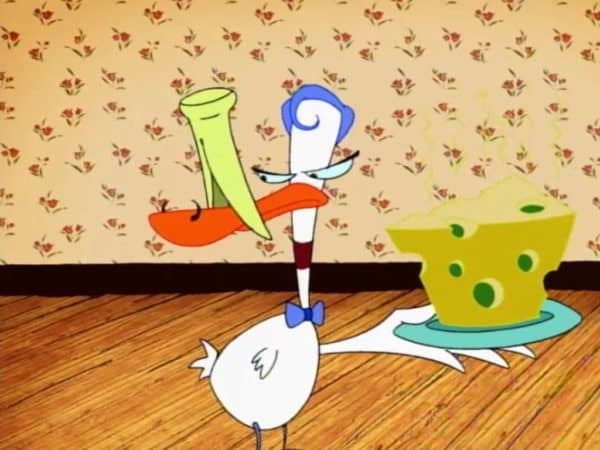 Next we see a huge, muscled rat with tats appear in the doorway. It first seems that he has been attracted by the cheese, but when Courage pays him off we see that this has been Courage's plan all along. The common sequencing in this story is that something happens, we worry about Courage, then we see he planned it.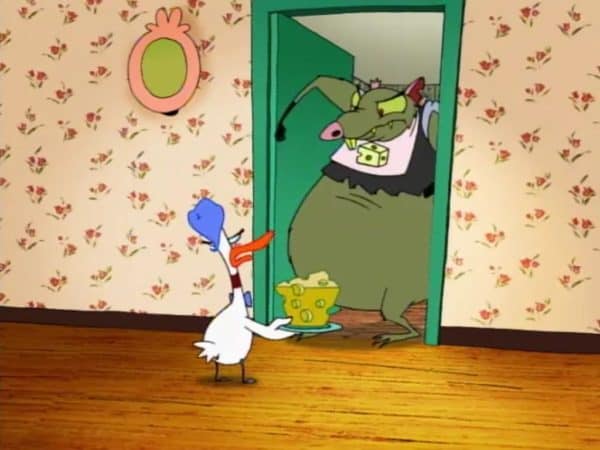 The final battle involves a vacuum cleaner. The duck tries to suck Courage up. But instead he sucks up all the planks nailed across the doorway and the whole thing blows up in a huge explosion, reminiscent of the explosions often used in train heist stories to wreck parts of a railway line.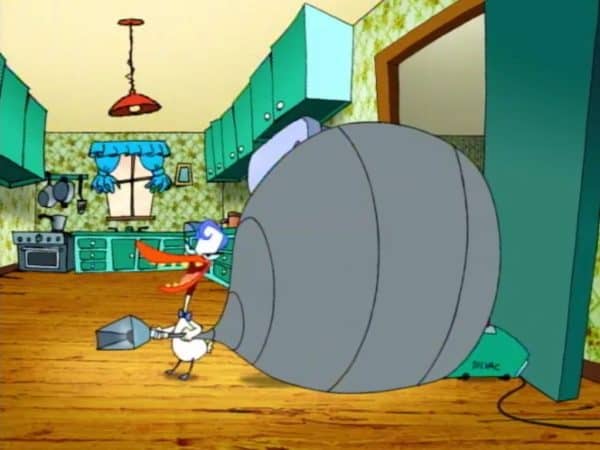 The policemen Courage has tried to summon turn up at this point and stomp all over Courage to get to the duck.
We learn that this duck is a wanted criminal.
We think the duck is going to prison. "We've been looking for you!" say the policemen.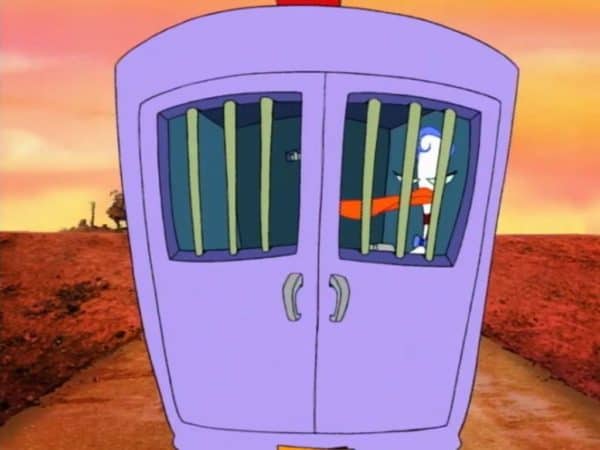 But the duck breaks free — we get a flash scene reminiscent of something out of No Country For Old Men — and says to the camera that we haven't seen the last of him yet.