Milly Molly Mandy remains one of my mother's favourite books, but even then it was old. Milly Molly Mandy is in fact the great-grandmother of today's child readers. I'm not sure how popular these stories are among the contemporary audience, but I can say for sure, Milly Molly Mandy entertained at least two generations of children. I never got into them myself, but I did fall in love with the endpaper hand drawn map. There is something so unbearably hygge about that little village. Even now, I open a Milly Molly Mandy book and I want to go back to that village. I may have been too old by the time I encountered my mother's book. But the impact was clear. I was ten years old and started making maps for my own made-up stories.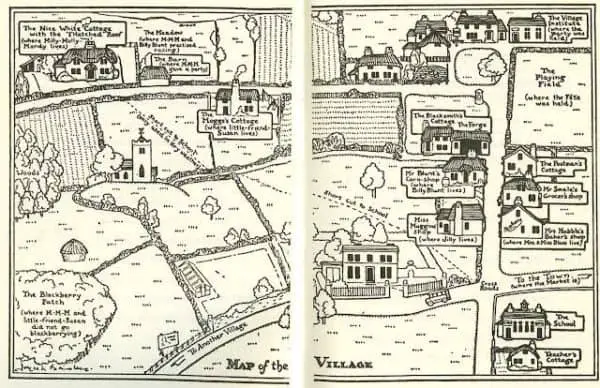 My mother's version features illustrations with coloured-pencil scribbles. The black and white line drawings do look like a colouring-in book. The Milly Molly Mandy series has been reprinted in various formats and some of those are now colour illustrations — sometimes in pastels, sometimes in the limited palette of 1950s and 60s. I still prefer the black and white.
The illustrations were done by the author herself. I believe Joyce Lankester Brisley was a better draughtswoman than she was a prose stylist, but in the end, her greatest strengths were:
Storytelling (in the voice of an oral narrator). Enid Blyton possessed this exact skill.
Knowing how children occupy their time
Lankester Brisley either surrounded herself with children or remembered in amazing detail the experience of being a child. The children in the Milly-Molly-Mandy stories can be found engaged in tasks such as:
Keeping ducks company
Making mud by pouring water onto dirt
Getting wet in the rain, then flapping and quacking like ducks
'Mending' a puddle in the road by throwing twigs into it
Making their own little loaves alongside the big family loaf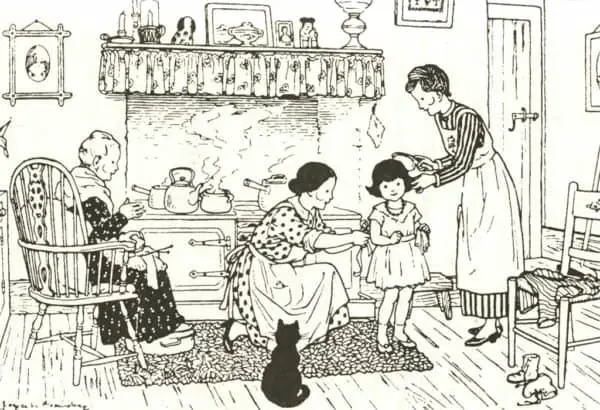 Likewise, Lankester Brisley understood the psychology of children:
Revelations such as the insight that your strict teacher at school is a normal human being and even has her own mother.
The desire to do something very useful, to impress the adults in your life (like making stepping stones on a rainy day, for ladies without rubber boots).
But we know virtually nothing about the author's life. She was born in 1896 in a small seaside town at the bottom of England called Bexhill-on-Sea. Look at historic photos of Bexhill-on-Sea and apart from the fashions, it's not so different from taking a Google Earth tour of the town on foot. It remains a town known for its historical significance.
We know that as a young woman her parents divorced, which in those days meant automatic poverty for the woman, especially when the woman is supporting three daughters. The daughters were all trained in art, and perhaps the reason their work made it out into the world is precisely because they were forced to seek out income, having lost their father's income as a middle-class pharmacist.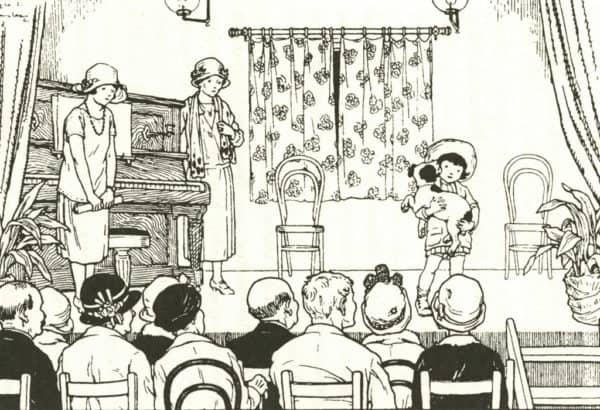 Joyce died at the age of 82, and 2018 marks the 40th anniversary of her death. Her natal family were big into the Christian Science church. Was Joyce a Christian scientist her whole life? It seems she was, publishing Christian texts along with the more general stories such as Milly Molly Mandy. Did she marry? (Where does the Lankester come from? Her husband's name?) Did she have children of her own?
In my imagination Joyce was close to her sisters. She died just a few months after one of the sisters, which is either coincidence or a sign of emotional closeness, or both. I imagine Joyce was active in the church and perhaps taught Sunday school, so if she didn't have children of her own, I imagine she saw many children regardless.
NARRATIVE VOICE OF MILLY MOLLY MANDY STORIES
The stories are written in conversational, oral storyteller style with plenty of parenthetical asides, as if the storyteller has forgotten to explain one bit, but they're shoving it in now to clarify.
However, each story absolutely includes the seven minimum steps of a complete and satisfying story. In fact, Lankester Brisley is often very clear about these steps, whether she knew them consciously or not. Modern stories for a young reader tend to be less obvious about where the steps occur. I think this is partly because contemporary books are expected to entertain adult co-readers as well as children themselves, and adults have seen far more story. (To be fair, even today's children have been exposed to far more stories than children of the 1920s were.)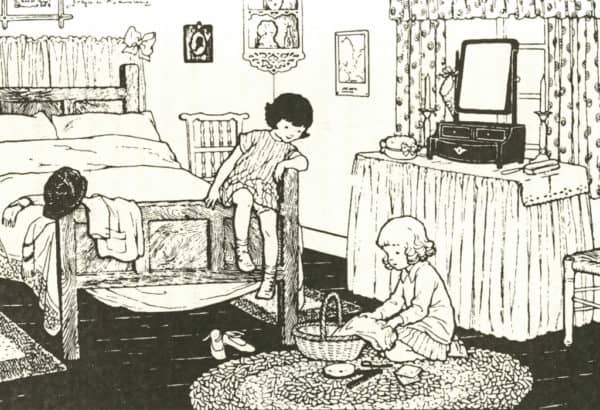 STORY STRUCTURE OF MILLY-MOLLY-MANDY GETS TO KNOW TEACHER
Milly Molly Mandy is scared of the new teacher because the teacher is strict.
It has been arranged that the new teacher stay with Milly Molly Mandy's family for a few nights until she gets herself sorted with accommodation. Milly Molly Mandy does not want this.
This is an example of a desire not to have something. To cast it the other way around: Milly Molly Mandy wants the freedom to be her normal carefree house while in her own home. School is school; home is home.
The teacher, because Milly Molly Mandy doesn't want her in her home, but the teacher arrives regardless.
Milly's plan is to be on her best behaviour and to impress the teacher. Ultimately, the character of Milly Molly Mandy is a good little girl, serving well as a model for behaviour. But what makes her real, and what keeps the character away from didacticism, is her 'imperfect' psychology. Milly has doubts, fears and anxieties like every other child, but despite all that, she does her best.
BIG STRUGGLE
There is no traditional Battle sequence in this cosy story, but we have the proxy conflict of the baking scene in which teacher is cast as the inverse of everything Milly Molly Mandy thought she was.
Ultimately, teacher is wearing Mother's apron, which casts her firmly in the role of someone familiar and knowable. Moreover, by learning how to make turn-overs, the teacher is cast in the role of student — a complete and utter inversion for Milly. Billy Blunt says, "Fancy a teacher playing with dough!" The children now realise that teacher was once a child, too. She is all the human things at once — a complete person.
This big struggle takes place entirely in Milly's head as she makes her own (failed) dough creations alongside.
Child characters more often have revelations about life in general than anagnorises.
The revelation is that Miss Edwards is a regular human.  Though this isn't a anagnorisis as such, the lesson teaches Milly Molly Mandy something about humankind, and by extension, this is about herself. Though this is not on the page, it's clear that Miss Edwards is acting in a certain role while she is at school. This is the first time Milly Molly Mandy has realised that people play roles according to expectations. This links back to how Milly Molly Mandy has been on her best behaviour with a teacher in the house. She, too, has been playing a role.
Sometimes the revelation phase of the story simply means the main character has changed their mind about something. In this case, Milly is sad to see her teacher leave. The valence has flipped from negative to positive.
Milly Molly Mandy needn't be frightened of Miss Edwards at school because she knows she's a fully-rounded human and is playing a teacherly role.