The Poky Little Puppy is a classic Little Golden Book by Texas writer Janette Sebring Lowrey, illustrated by Gustav Tenngren. This story was one of the first 12 Little Golden Books, first published in 1942, a big year in general for the world. Parents were wanting something light and playful for themselves and for their children, no doubt. 40 years later, The Poky Little Puppy was one of my favourite books as a preschooler and when I told my mother this, she said it had been my Auntie Sue's absolute favourite as well. Fast forward another 30 years and my own kid loved it.
What I'd like to know is this: Can we put into words what makes The Poky Little Puppy such a popular picture book, so enduring it spans at least three generations (so far)? I know we're not the only family this applies to; The Poky Little Puppy is the tentpole Little Golden Book which helps to sell other (also popular) Little Golden Books.
The Poky Little Puppy itself is a descendent of Peter Rabbit by Beatrix Potter, whichin turn is a descendent of 3000 years of mythic adventures starring (mainly) boys embarking upon adventures then returning home changed. The Poky Little Puppy is the cosy equivalent, for preschoolers, with no real opposition. As we shall see, any potential scariness of this adventure has been stripped away.
Although I won't get into the language aspects here, The Poky Little Puppy is, above everything, a beautiful thing to read aloud. You can't not read it in a kind of sing-song voice pitched at preschoolers. The text also contain parts which are likely to become catch phrases, used outside the reading of this book:
I smell something!
roly-poly, pell-mell, tumble-bumble
mother was greatly displeased
CARNIVALESQUE STORY STRUCTURE OF THE POKY LITTLE PUPPY
The following is from a post titled 'Children's Books That Make Me Feel Like I'm Drunk', which is another way of describing your typical carnivalesque picture book for the preschool set. As noted by various fans of psychedelic enhancement, preschoolers see the world quite differently from neuron-pruned adults; the only way adults can hope to return for a glimpse of this prelapsarian state of childhood is to get high on something, or read The Poky Little Puppy.
This book was originally published in 1942, back when authors were trained in wordiness and the earth took 72 hours to fully rotate on its axis. I'm not kidding you, this is the pokiest book out there. It's Ulysses for the Huggies set. By the time you make it to page 4 of this book, you'll feel like you're three martinis in at a friend's holiday party, cornered by a close-talking stranger. A stranger who keeps repeating herself and starting over and repeating herself and starting over. And also repeating herself. The good news is that this tedious book ends abruptly and in a way that makes very little sense. But, for the love of Mrs. Dalloway, it actually and eventually ENDS.

Children's Books That Make Me Feel Like I'm Drunk
The writer is talking about the mythic structure (comparison to Ulysses), the cumulative plot shape ('starting over and repeating herself and starting over') and the surprise ending common to carnivalesque works.
A few picture book creators — Margaret Wise Brown is another — seem to have retained the ability to view the world from a worm's eye view (well, a toddler's-eye view) and in The Poky Little Puppy, Janette Sebring Lowrey shows that she was able to, as well.
An Every Child is at Home
There's a litter of puppies, b ut this story focuses on one in particular — the naughtiest one. Children delight in 'naughty'. We've all been, or felt like, The Naughty One at one time or another.
Notice how the story gets underway with zero set-up. The puppies have left home before the end of the first sentence.
Five little puppies dug a hole under the fence and went for a walk in the wide, wide world.

The Poky Little Puppy
The Every Child wishes to have fun.
Note that these puppies aren't going anywhere in particular. They have left home because they can.
Through the meadow they went, down the road, over the bridge, across the green grass, and up the hill, one after the other.

The Poky Little Puppy
Meadow suggests a utopian landscape where nothing bad will happen. (Humans evolved mostly on grasslands, where there's a high meat to human ratio — meadows are basically the cosy version of a grassland. It's deceptive, though. Wildflower meadows do require regular maintenance from thatch removal, raking, spraying or burning and redoing as well as periodic grazing. They are almost like a crop in themselves.)
When children or child characters embark upon small mythic journeys they very often cross a bridge. Once the bridge has been crossed they are firmly in the realm of the carnivalesque — a fantasy world of their own making.
Disappearance or backgrounding of the home authority figure
Although the mother is quickly disappeared (to reappear sporadically) the 'other' little puppies are functioning as proxy parents here, still naughty for escaping, but less naughty than the Poky one. "Now where in the world is that poky little puppy?" the slightly more responsible ones ask each other.
When the puppies keep going back to the mother, this reminds me of a toddler playing happily in a room full of other toddlers, but who keeps looking at their mother to check she is still there if needed.
Appearance of an Ally in Fun
Carnivalesque picture books feature allies in fun rather than opponents, and in this case the allies are the animals seen on the side of the hill. Note that there is no illustration of the spider, even though there are illustrations of the other fun animal discoveries. An illustration of a spider may have been deemed too horror for this cosy story, perhaps? Instead we get a picture of the puppies supposedly looking at this spider.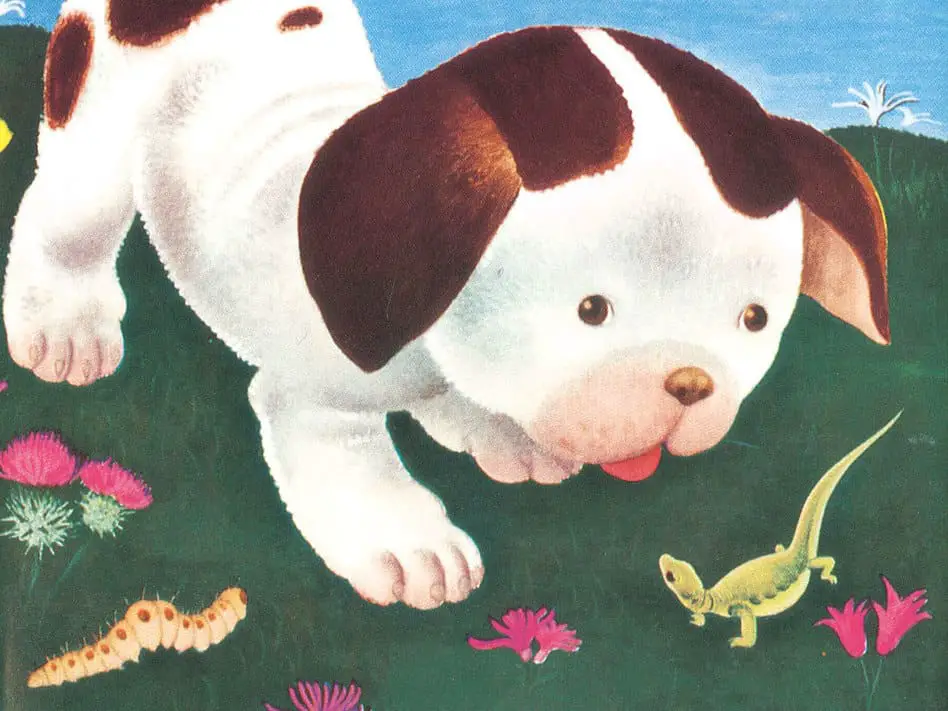 Hierarchy is overturned. Fun ensues.
Hierarchy is overturned when the Poky Little Puppy continues to go through the fence even when the warnings on the sign get more and more dire.
Fridge moment: Why do the puppies go through the hole when they can simply squeeze through that 'wide part' of the fence mentioned at the end?
Fun builds!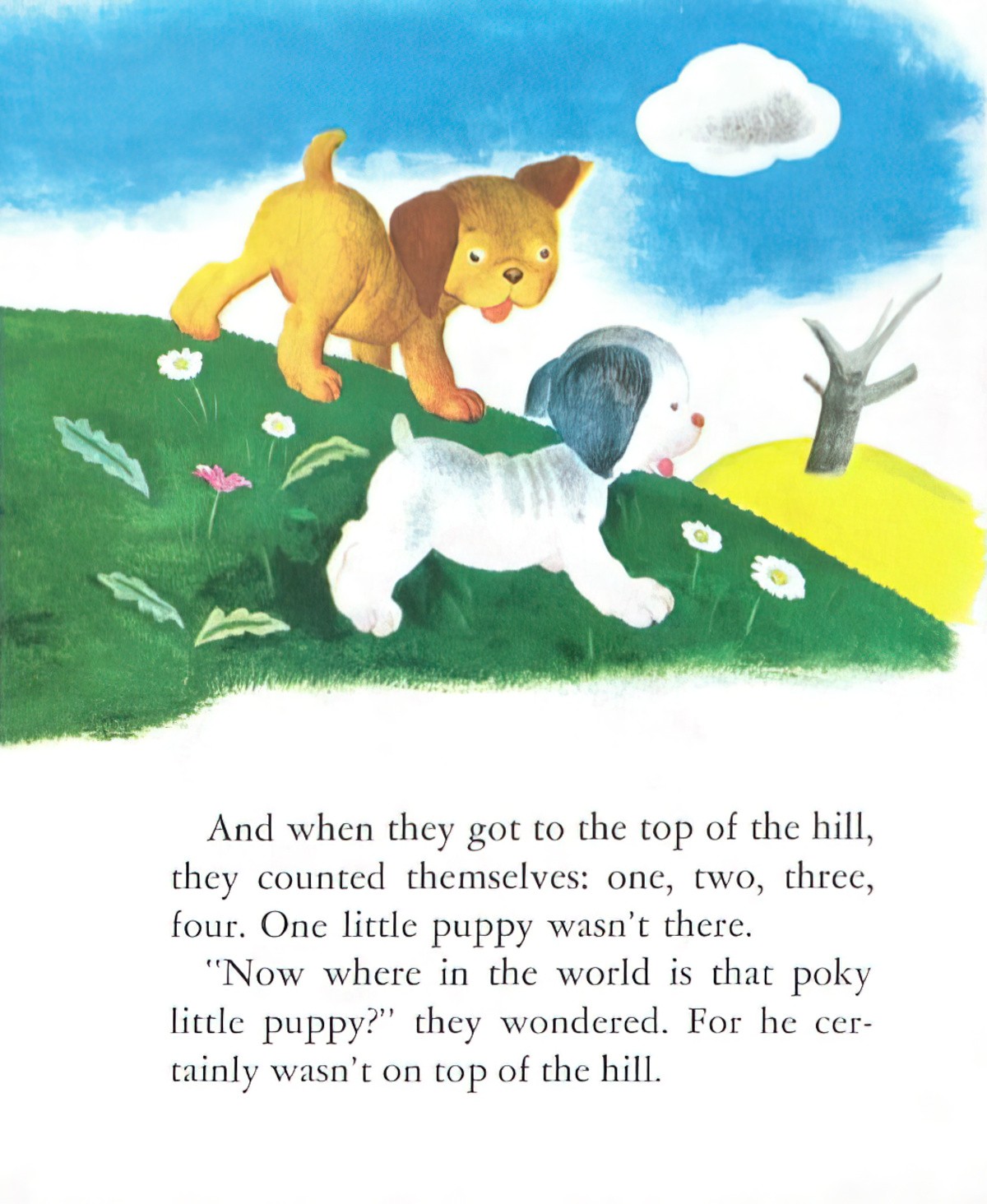 This is a cumulative plot structure. Although picture books are famous for cumulative structures, we see it in sophisticated stories for adults, too, e.g. "The Fifth Story" by Clarice Lispector and "Coming Soon" by Steven Millhauser.
How does the fun build to a climax? Partly I think it's to do with the food, which appears like a banquet, building to the most exotic and exciting item on the 1940s menu: strawberry shortcake. Food is hugely important in children's literature. Remember this story was published in 1942, which means it was created during the war, which means people were enduring sugar rationing.
My other father grew up in the post WW2 era and drank tea with eight teaspoons of sugar in each. People were so overjoyed to have access to sugar again that they went a bit overboard.
Peak Fun!
The puppies (well, the rest of them) return home and enjoy strawberry shortcake.
Surprise! (for the reader)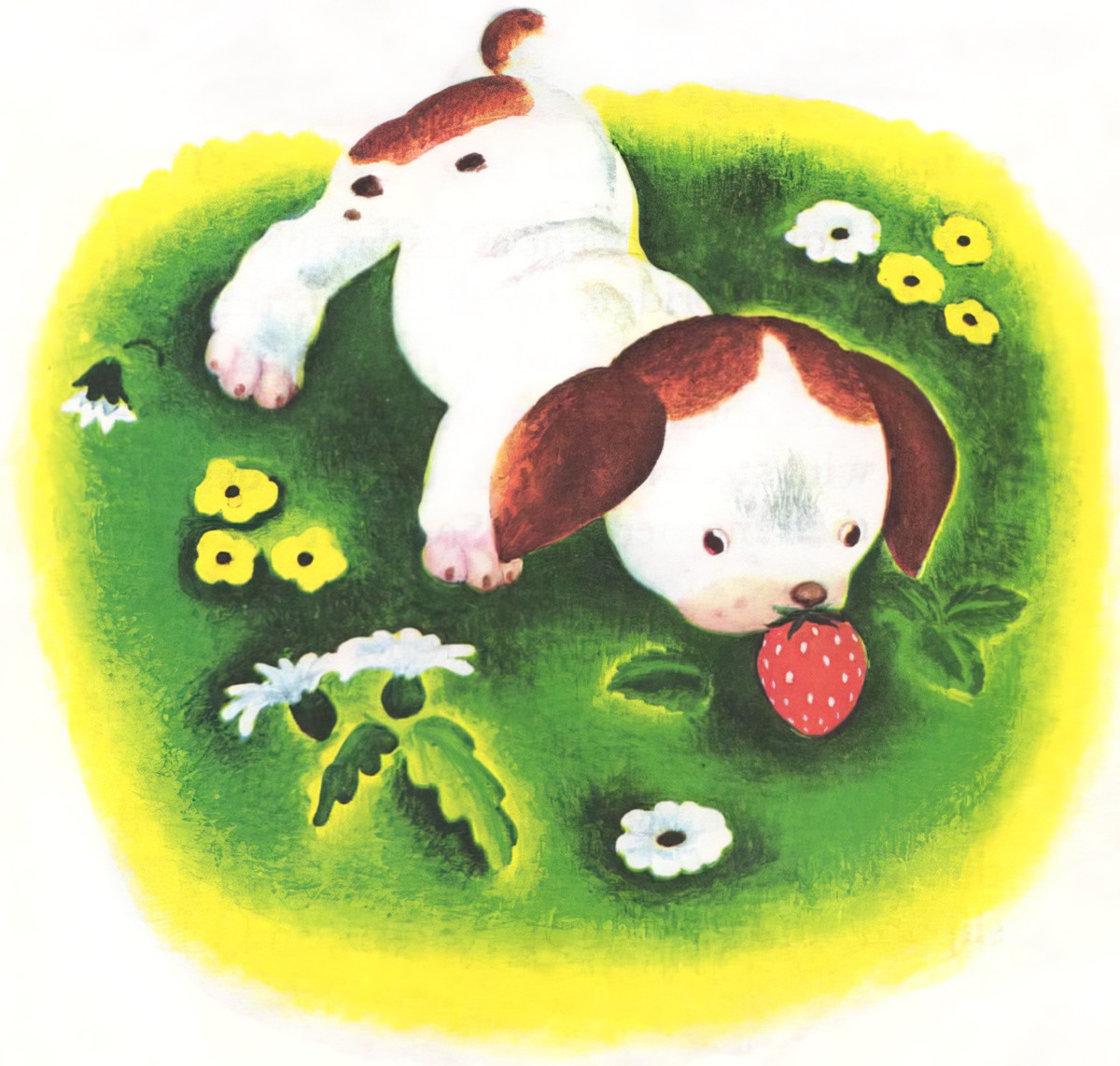 This, for me, is the most perplexing part of this story. The surprise is that Poky smells an actual strawberry, and by coincidence (?) there is also strawberry shortcake waiting for the puppies at home. I mean, surely the mother picked strawberries from nearby in order to make the shortcake, but it seems like a coincidence?
Not in toddler world, you see, which is all about living in the moment, and connections between events and smells which don't feel unusual, because everything to a toddler is still new.
NO DESSERTS EVER UNLESS PUPPIES NEVER DIG HOLES UNDER THIS FENCE AGAIN!

The Poky Little Puppy
Is it clear to the preschool set that puppies can't read, and that's why it's funny? Doesn't matter. The puppies are anthropomorphised somewhat.
Everything is good with the world, even though Poky doesn't get the strawberry shortcake. We know they'll get it next time, because I assume they're not going to escape anymore?
With books like ethis one, from the Second Golden Age of Children's Literature, there are more 'just desserts' (so to speak) for misbehaving child characters. These days, characters who behave badly in picture books often escape without consequence, and some consumer reviewers still complain about it, too. This ending is exactly the sort of punishment ending we'd expect from a picture book from 1942. Modern authors, where they include punishment, tend to make it 'natural consequences'.
ABOUT THE AUTHOR
This is a photo of Sebring Lowrey. We don't know much about her. She was born in 1892 in Orange, Texas and died in 1986.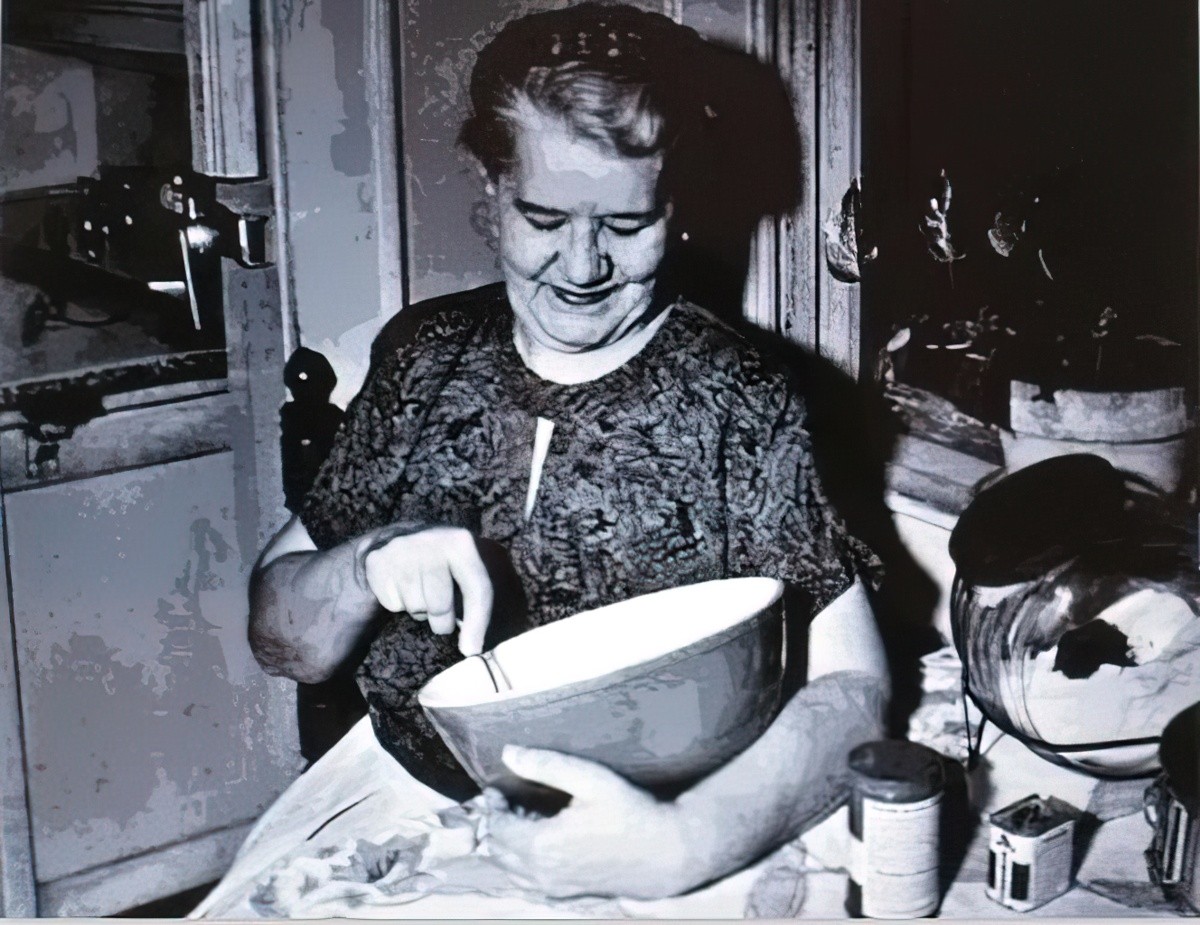 She looks like the grandmother model for a J.C. Leyendecker illustration.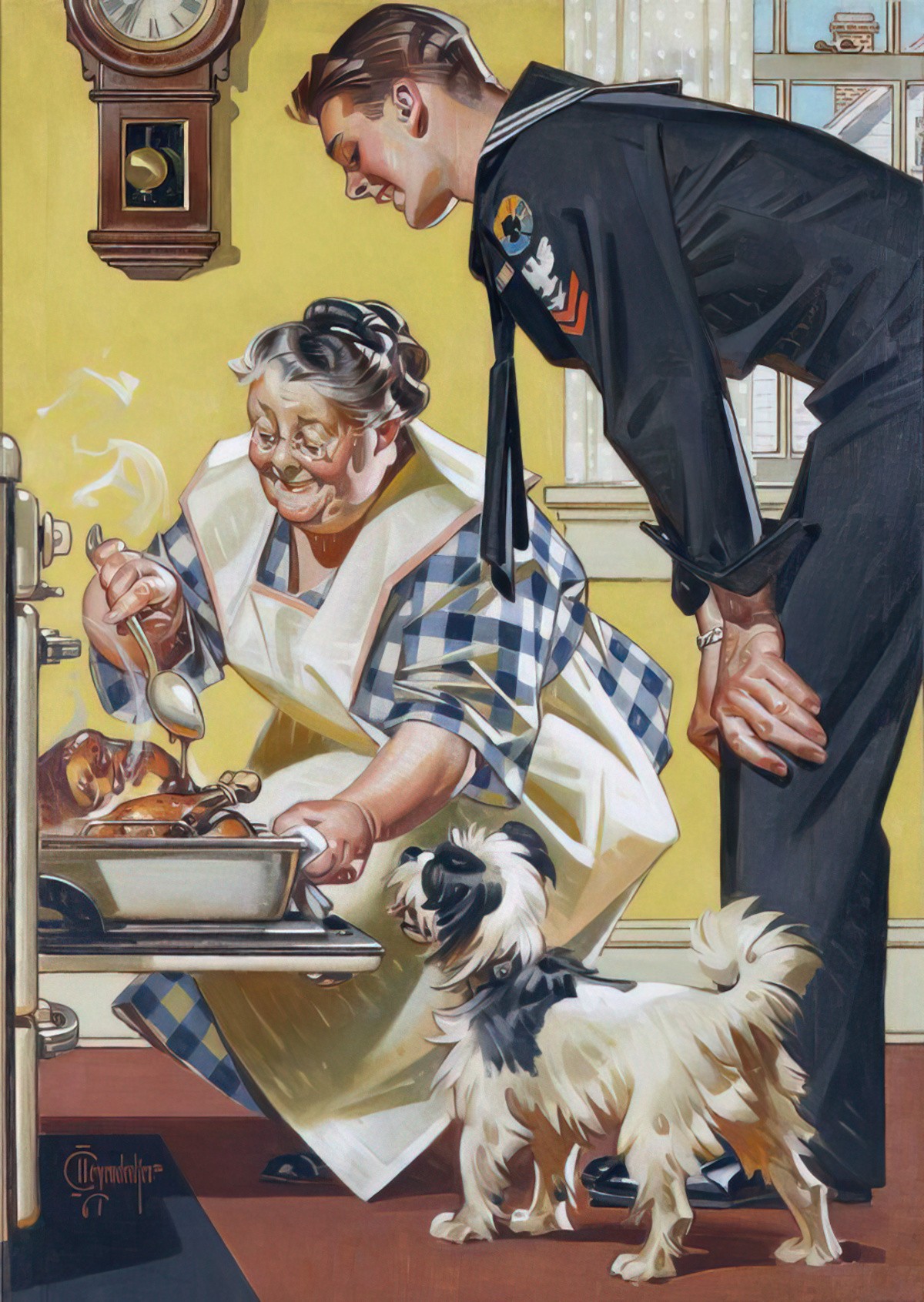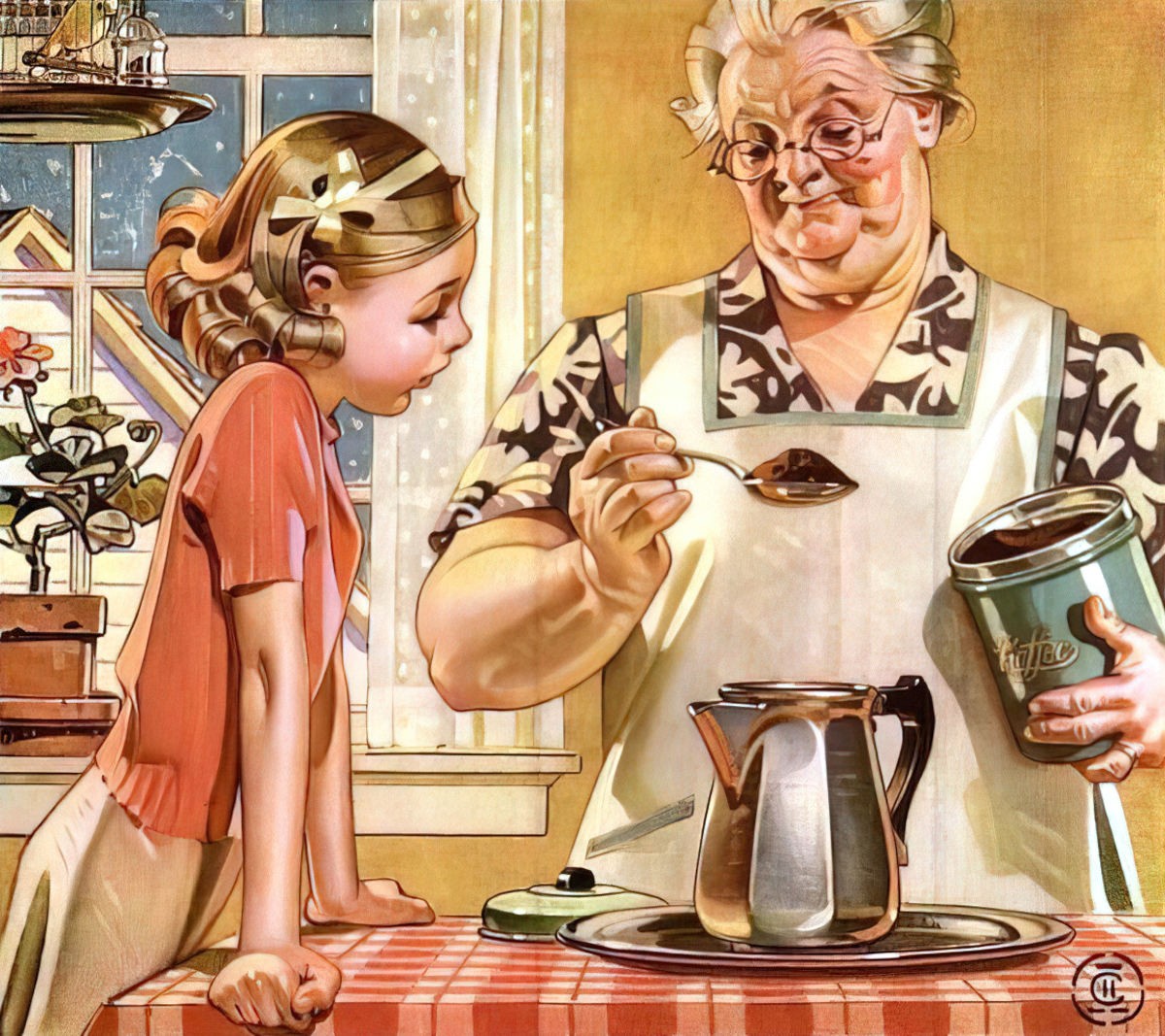 The Poky Little Puppy is by far and away Sebring Lowrey's most enduring contribution to children's storytelling, and there were sequels. Some Poky Little Puppy stories were written by Sebring Lowrey and other, more recent ones, have been written by other authors. There is now a Poky Little Puppy story for every major American book-buying season.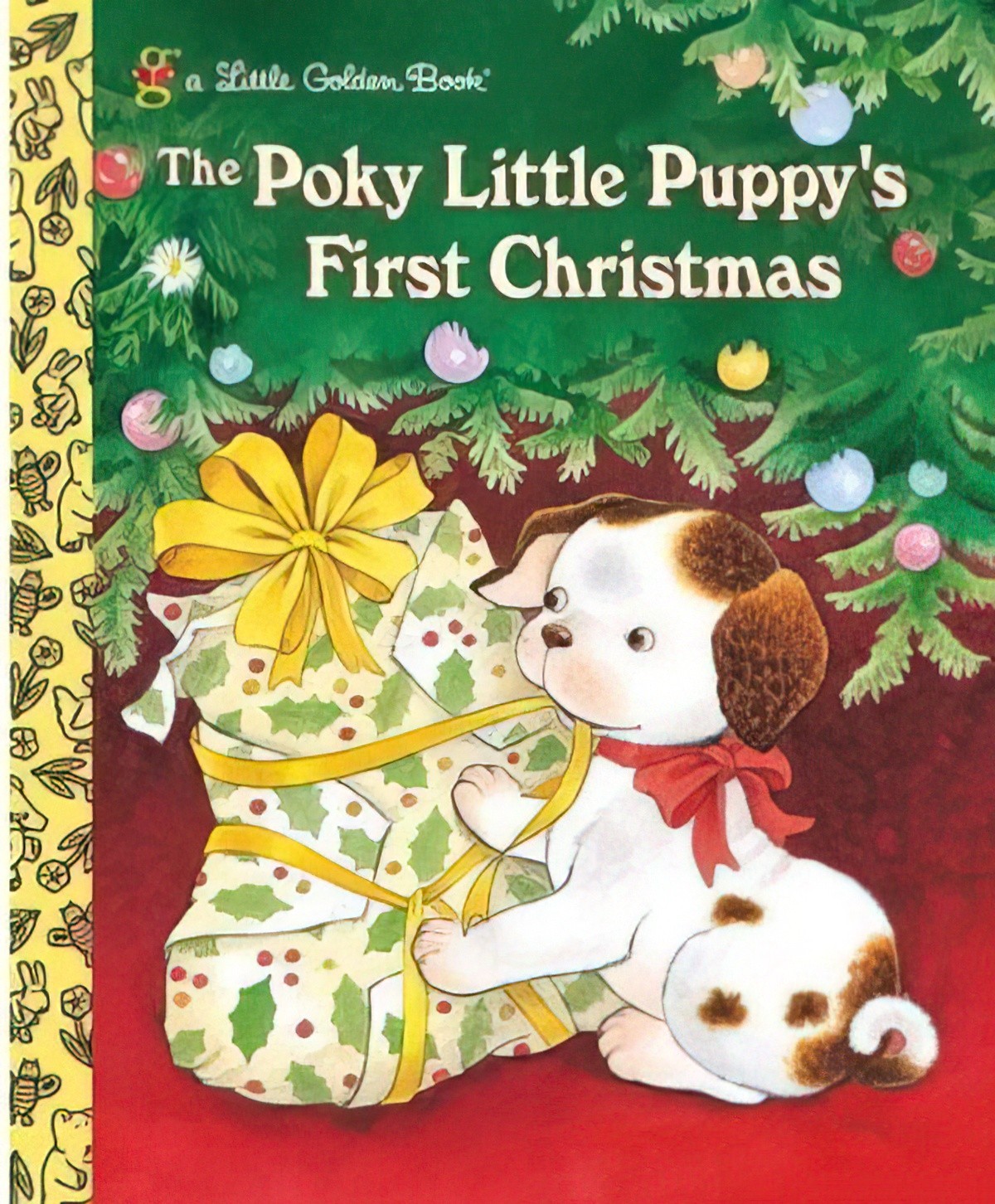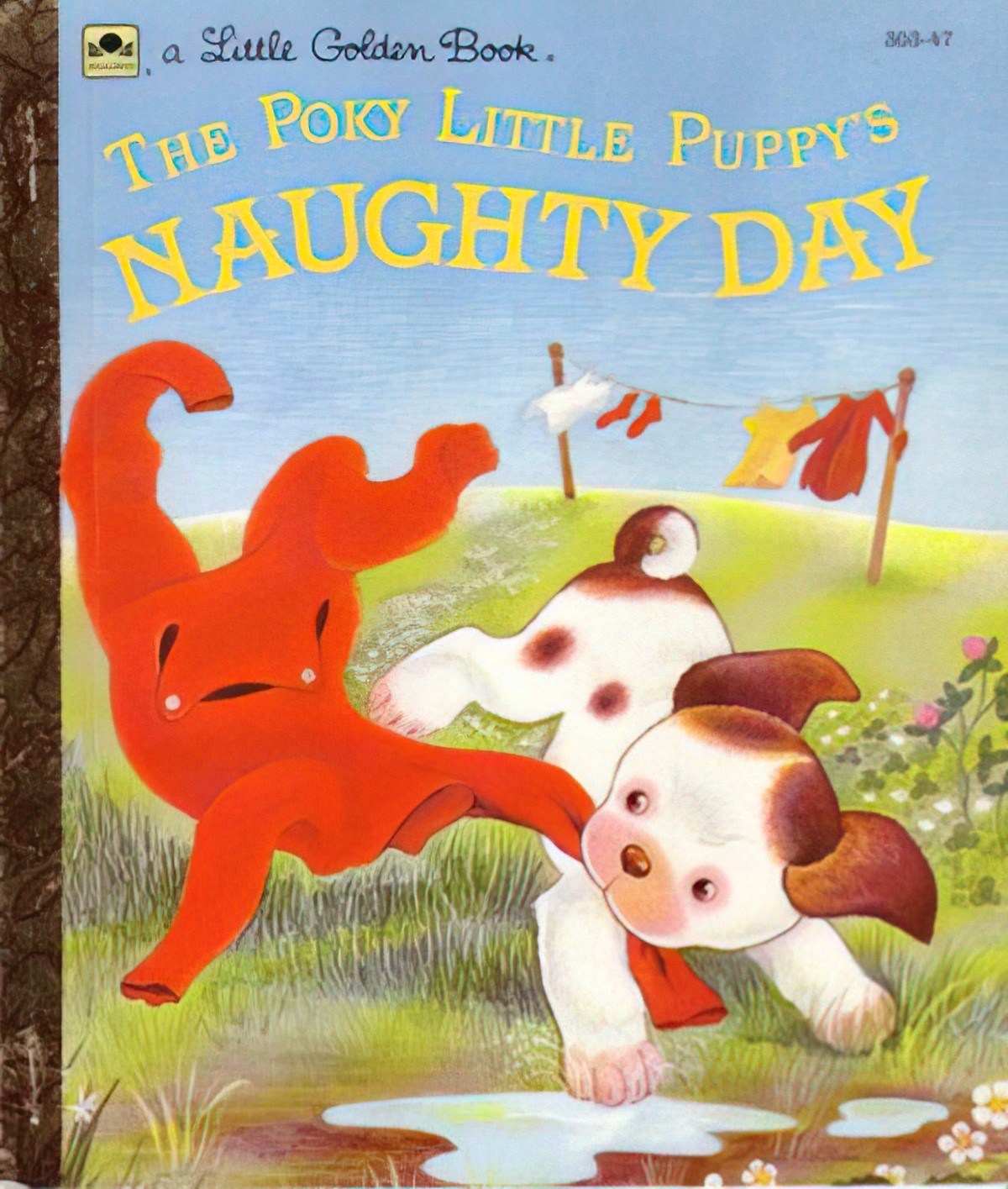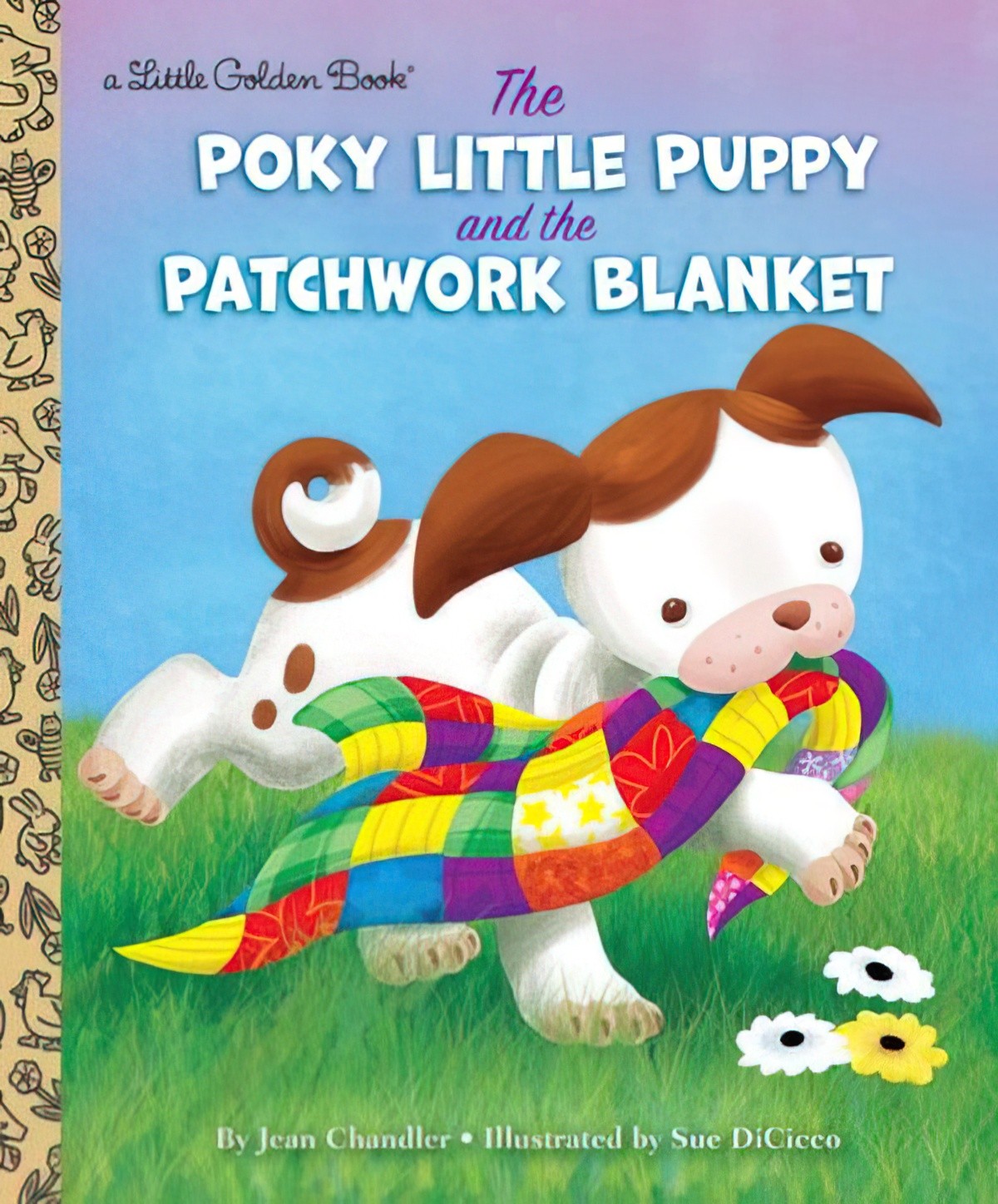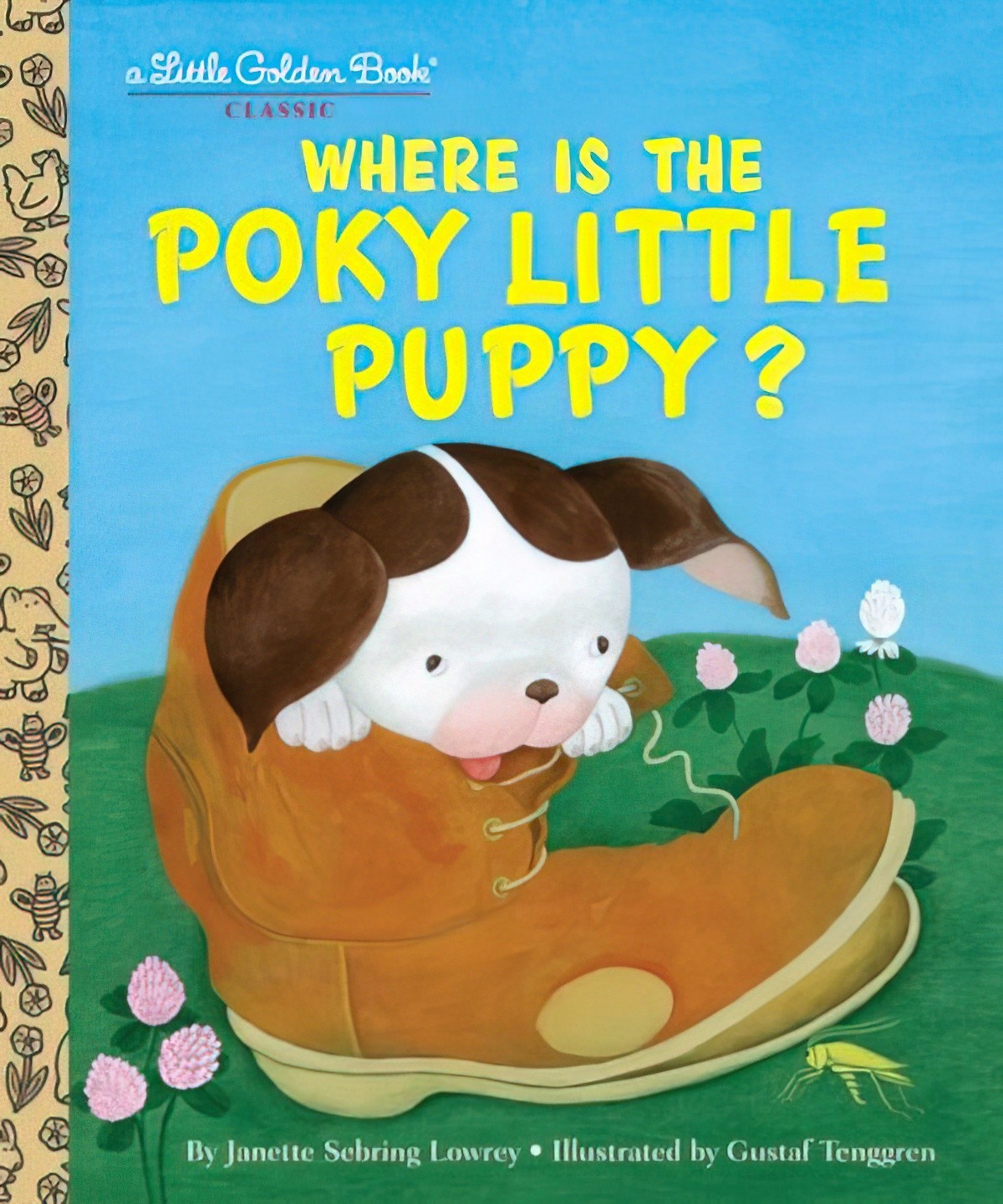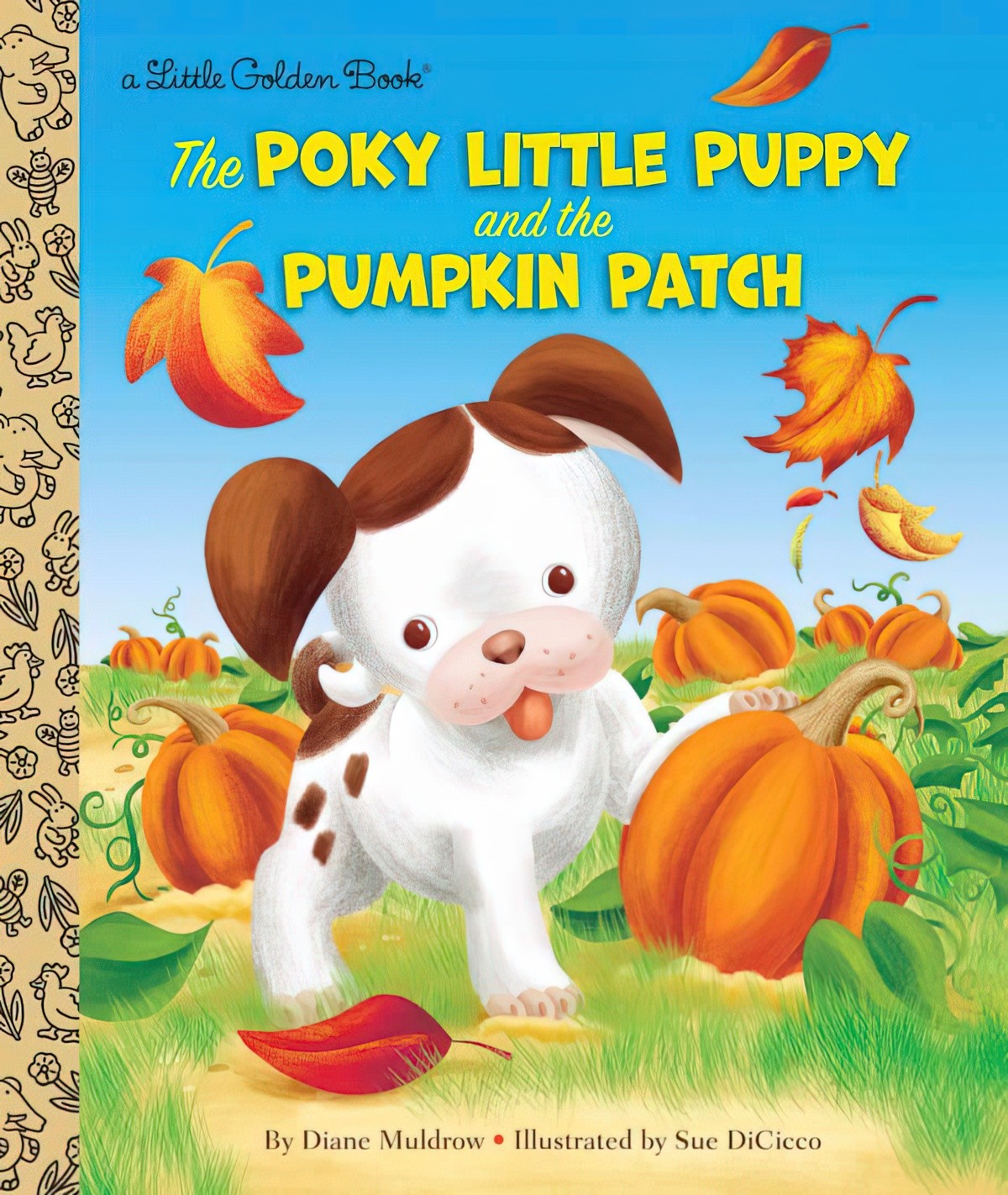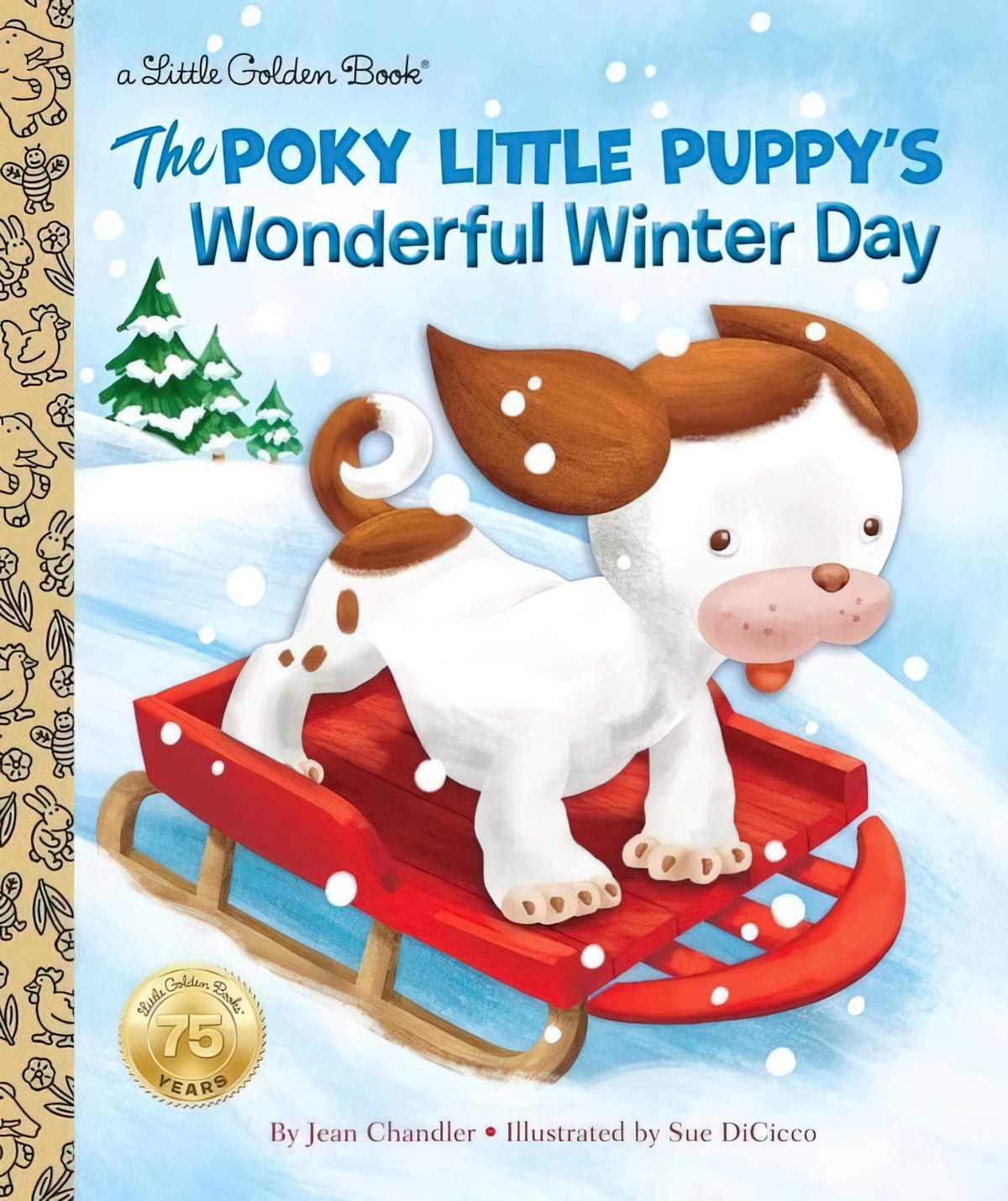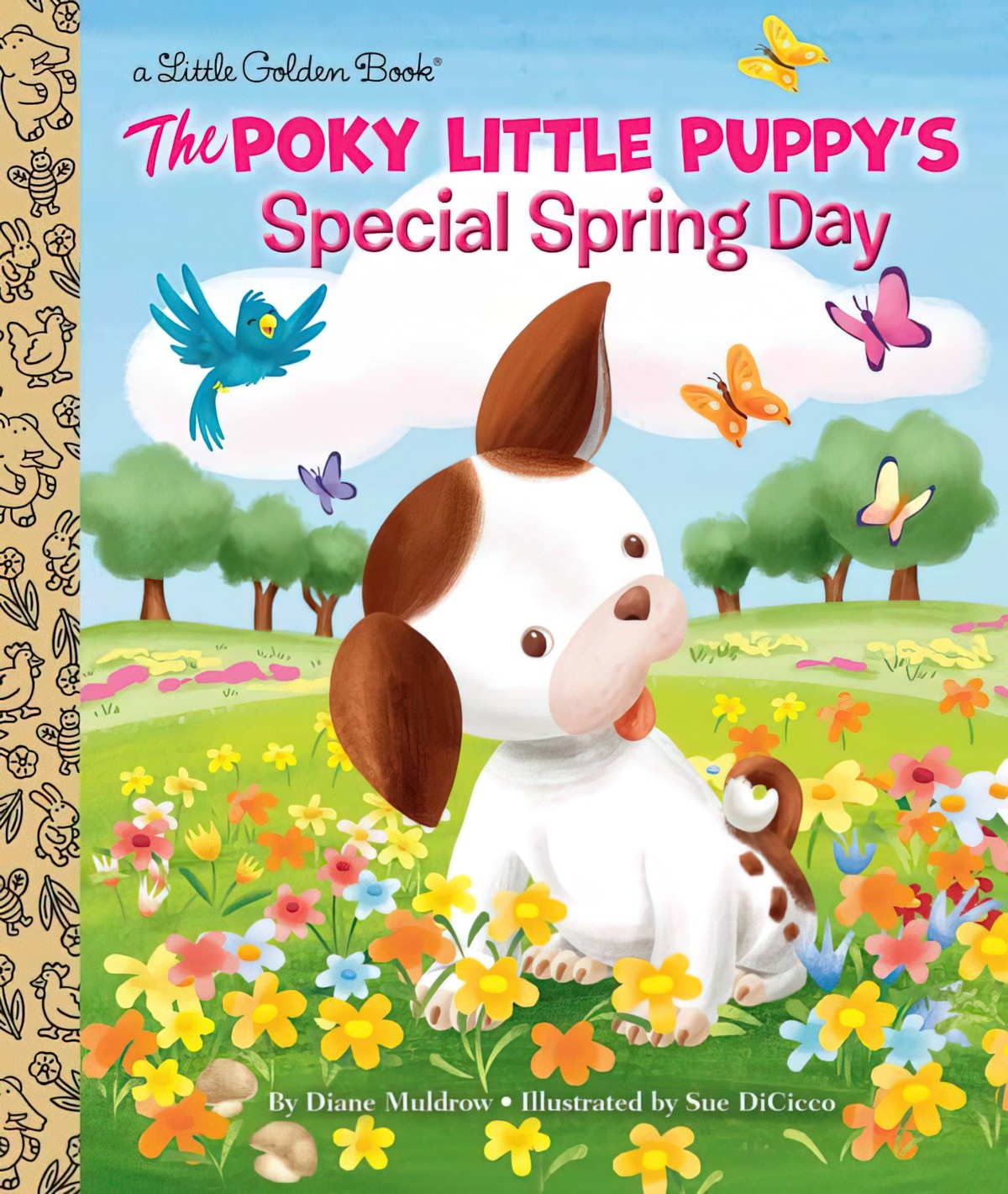 Apart from the Poky Puppy series, her novel Margaret was adapted as a Walt Disney Presents episode, renamed to "Annette" (1958) because it starred popular 12-year-old American actor Annette Funicello (1942 – 2013).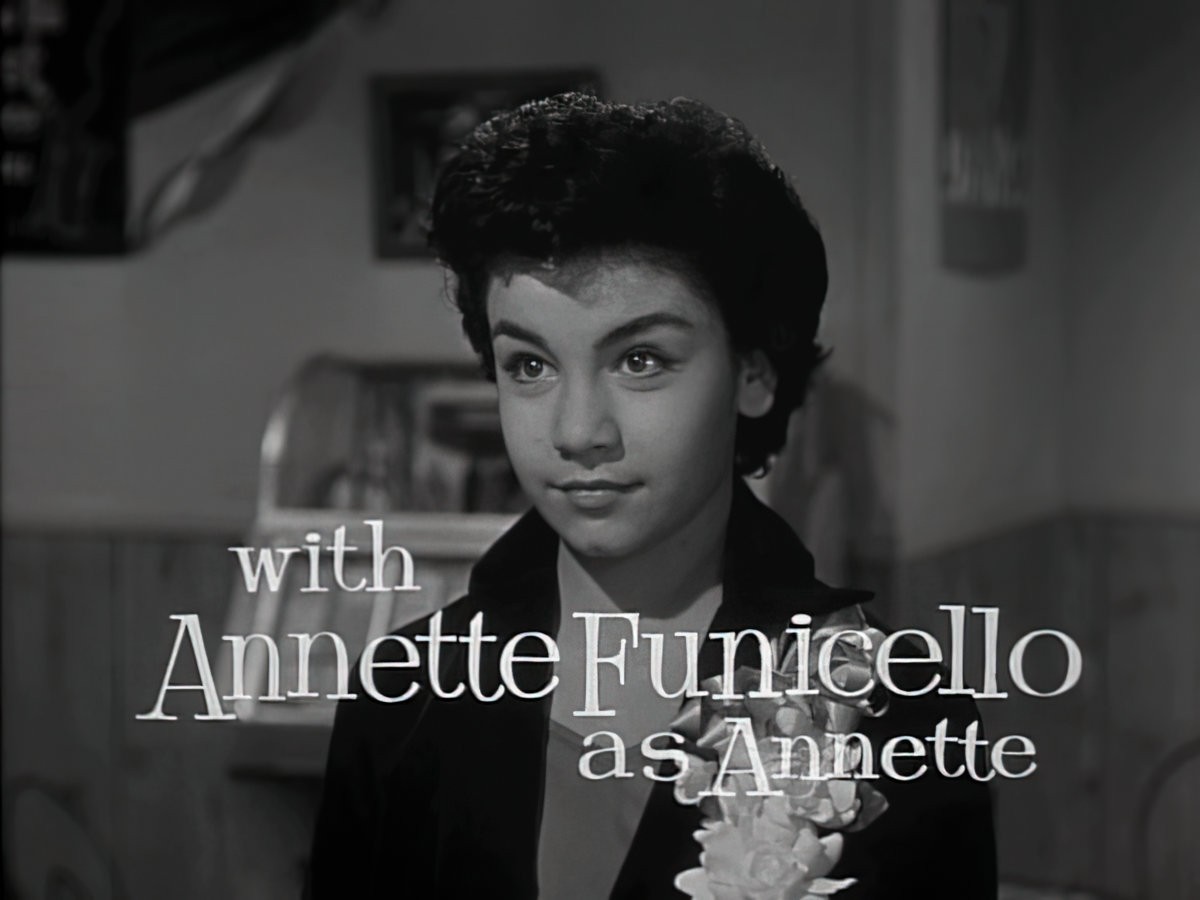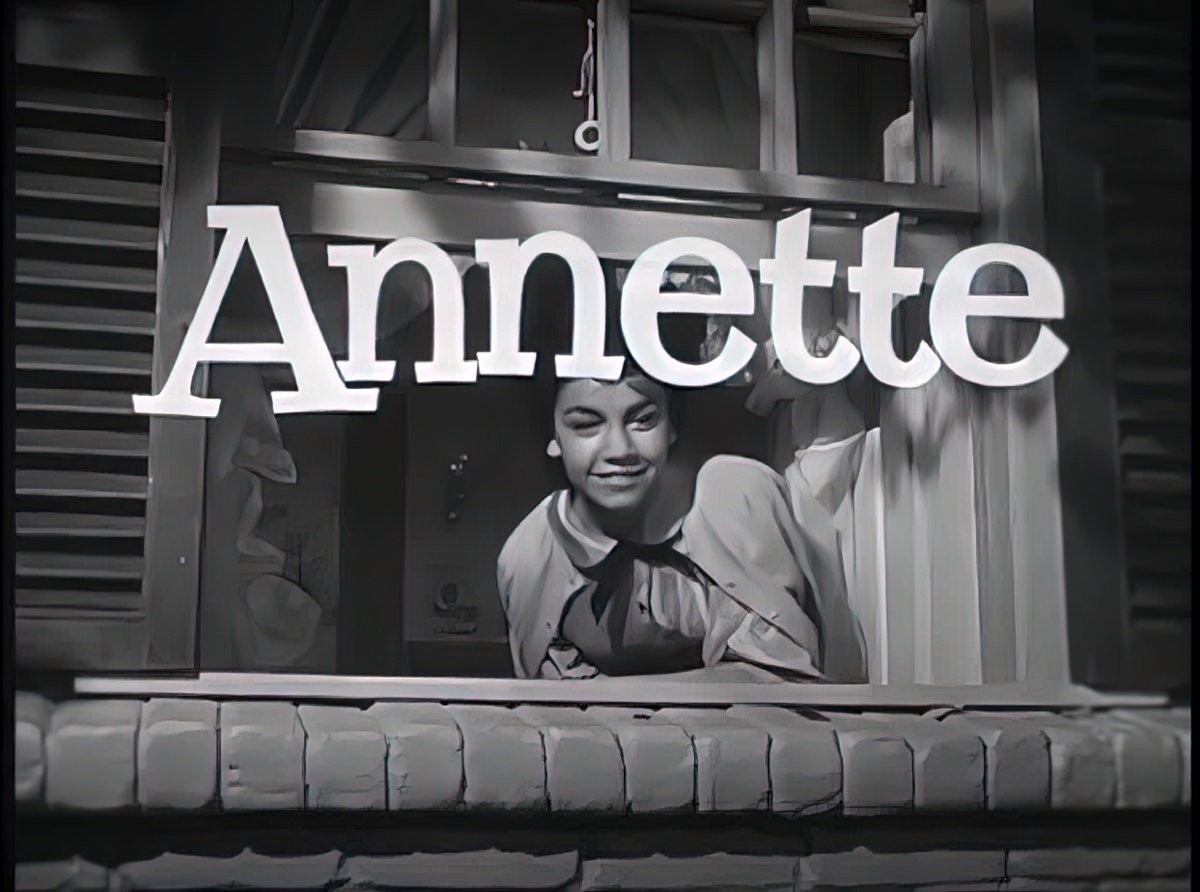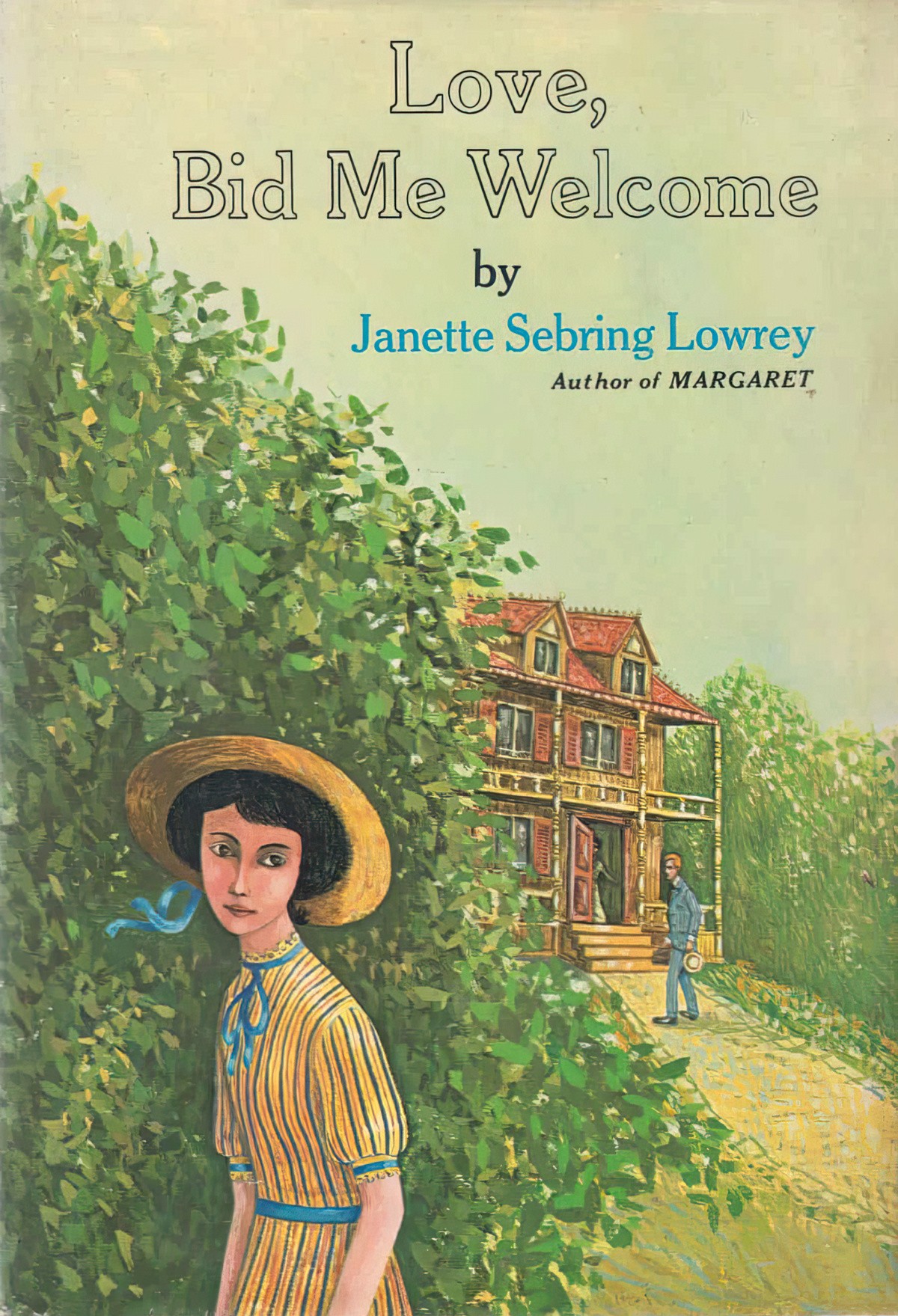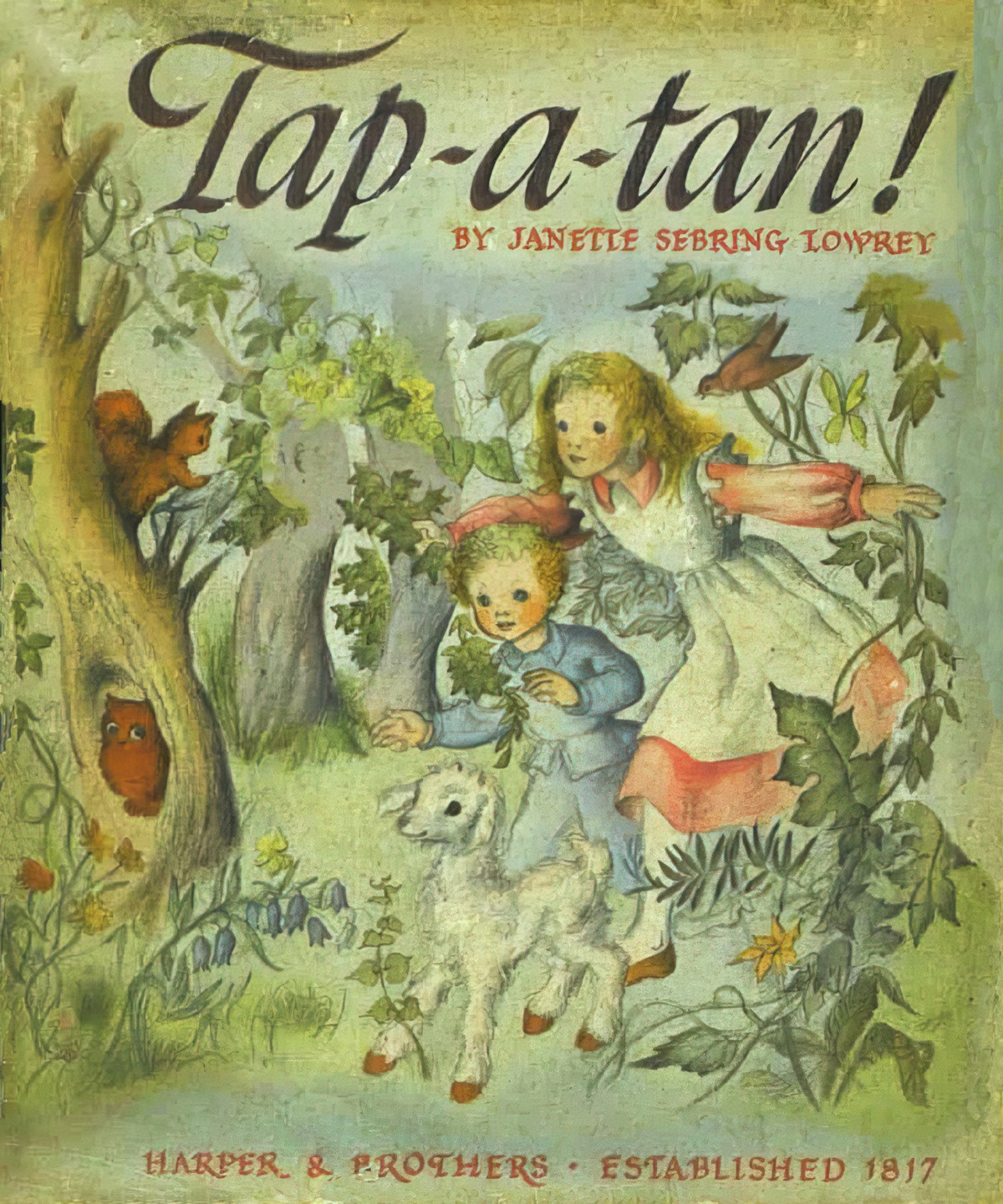 She wrote a handful of other works which are seldom read now. However, you'll probably recognise the illustrations of Gustav Tenngren from various other enduring picture books, especially from the Little Golden Books series.