To be a monster is to be a hybrid signal, a lighthouse: both shelter and warning at once. 

Ocean Vuong, On Earth We're Briefly Gorgeous
THE STORYBOOK LIGHTHOUSE
Like windmills on landscapes, lighthouses can add a sense of place, interest, focus and scale to a composition (and that's pretty much all they're doing.) Their function depends on the story. The classic Storybook Lighthouse can be seen on the cover below. It has a white base with red stripes, reminiscent of candy cane.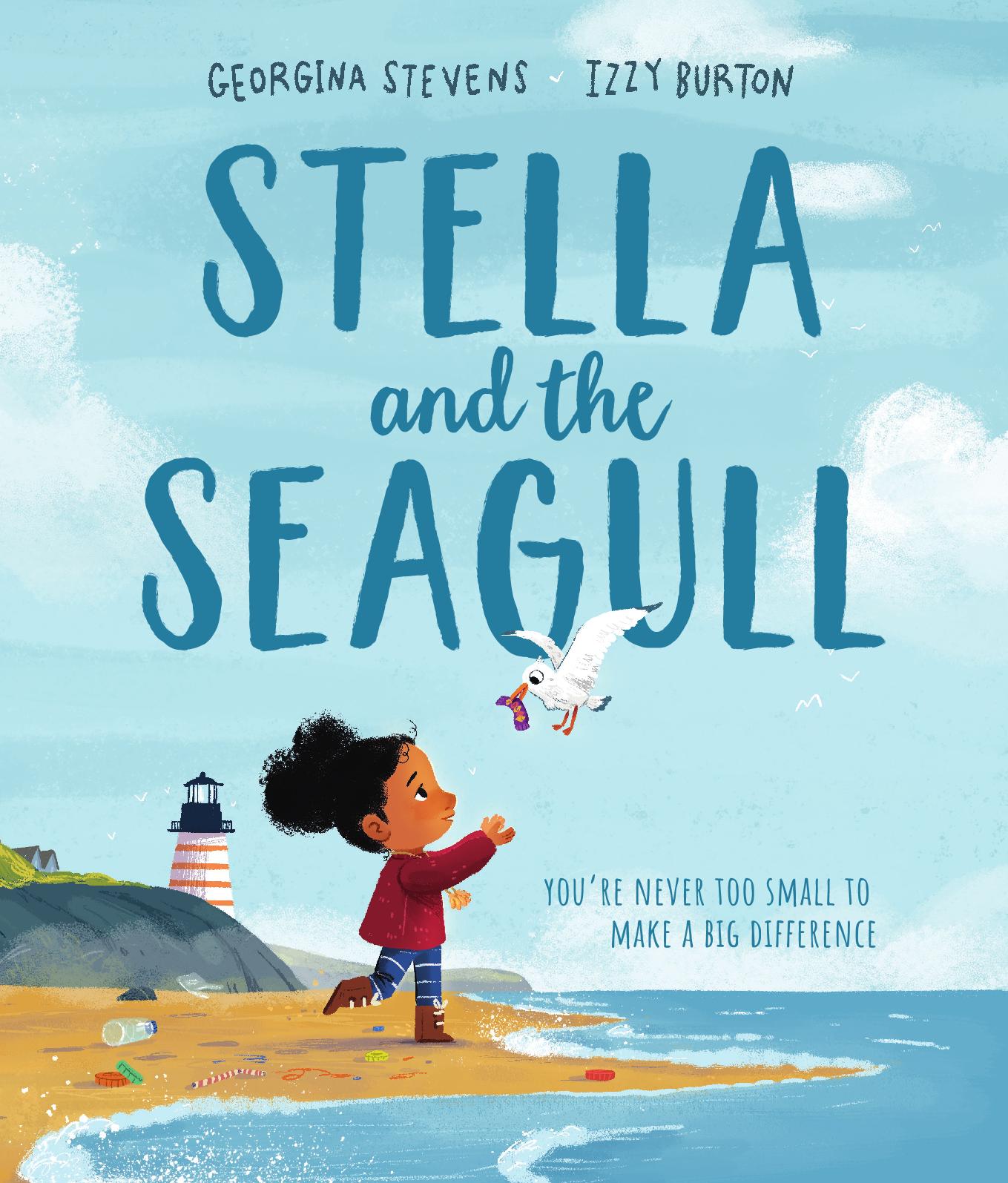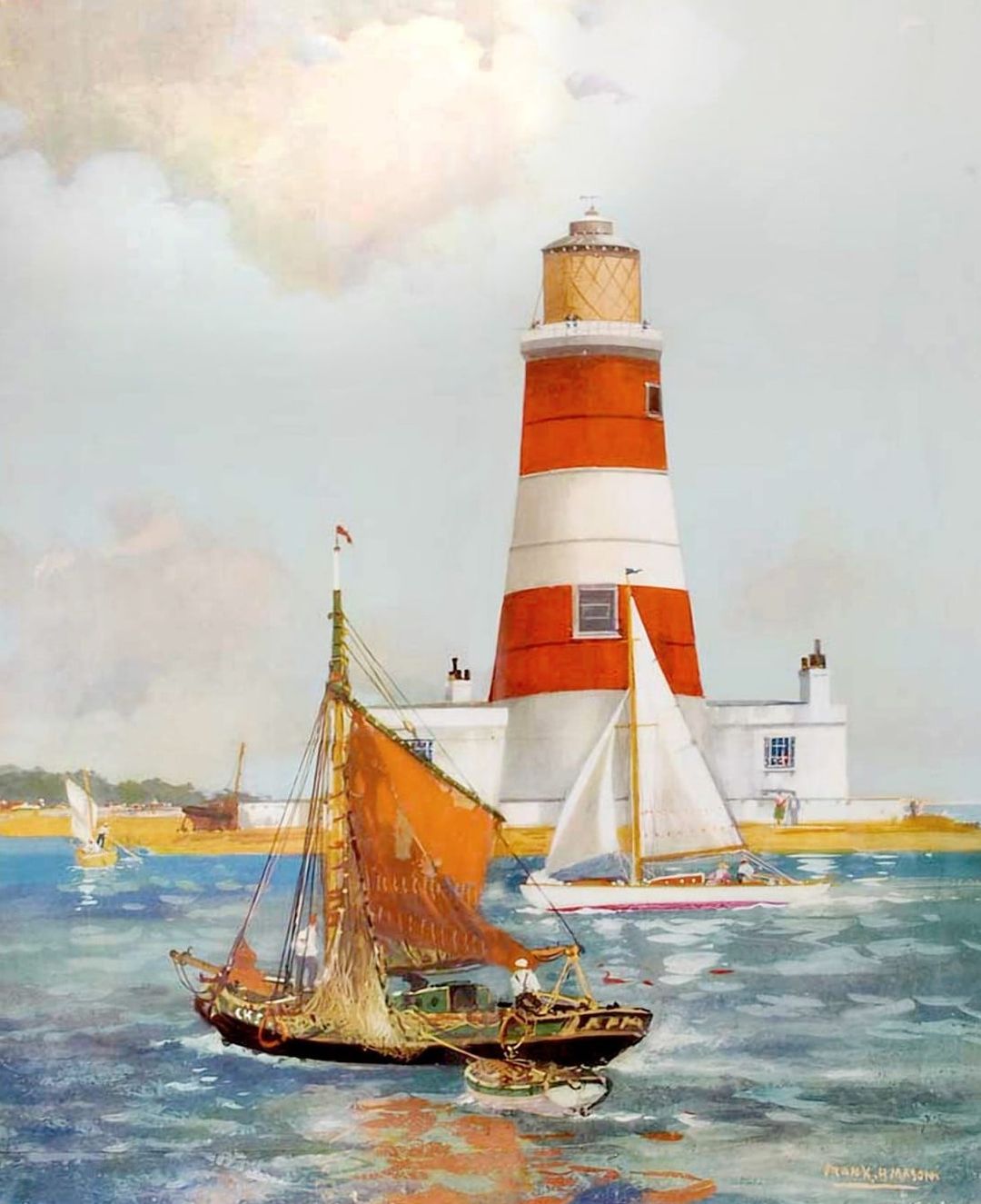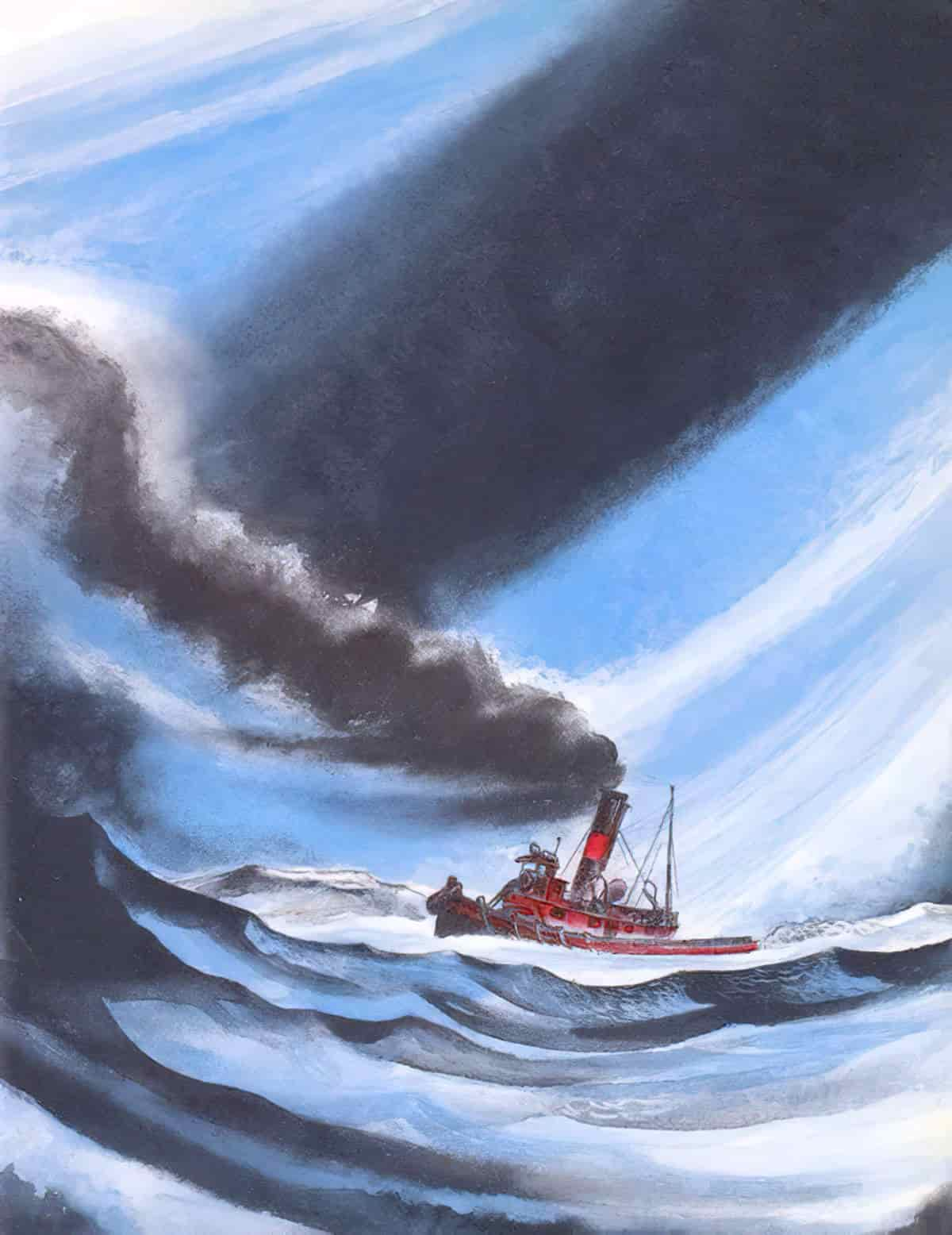 The thing about abecedarys is, the most 'obvious' things from our culture tend to make it onto the pages. Mooses, not Malpighian tubules. Lighthouses, not lice.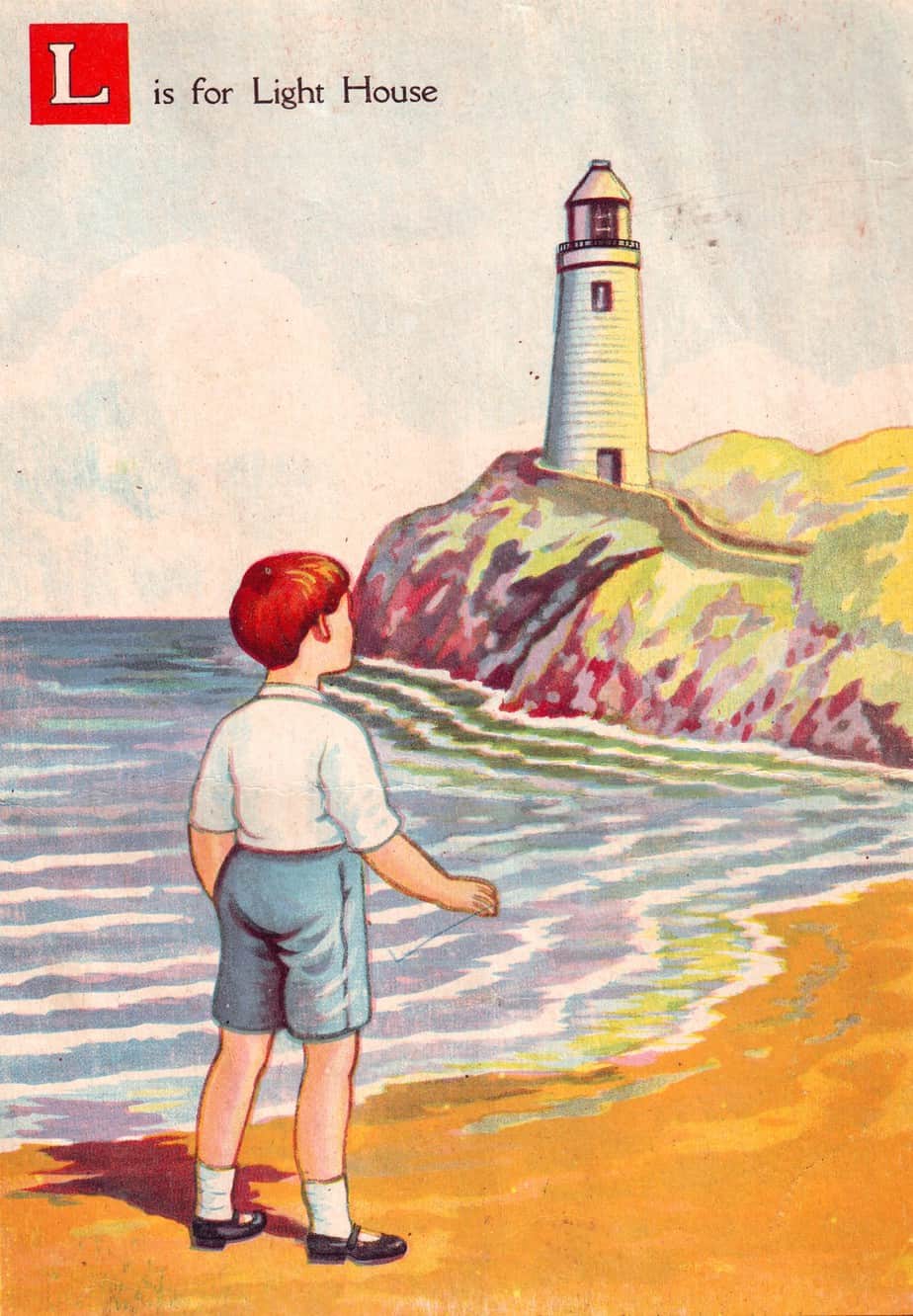 LIGHT AND DARKNESS, LIFE AND DEATH, SANITY AND INSANITY
Virginia Woolf published To The Lighthouse in 1927.
TO THE LIGHTHOUSE: CRASH COURSE LITERATURE #408
Especially when paired with The Waves, Woolf's use of light and dark as a symbol of life and death is clear. In To The Lighthouse, the light symbolises the way human consciousness attempts to make sense of what is basically a meaningless world. In the work of Marcel Proust as well, the lighthouse is a stand-in for human memory.
Set in the 1890s, [The Lighthouse 2019] stars Willem Dafoe and Robert Pattinson as two lighthouse keepers who descend into madness when a storm strands them on the remote island where they are stationed. The genre has been debated; the film has been alternately described as a horror film, a psychological thriller, a survival film, and a character study.

Wikipedia
The Lighthouse (2010) screencaps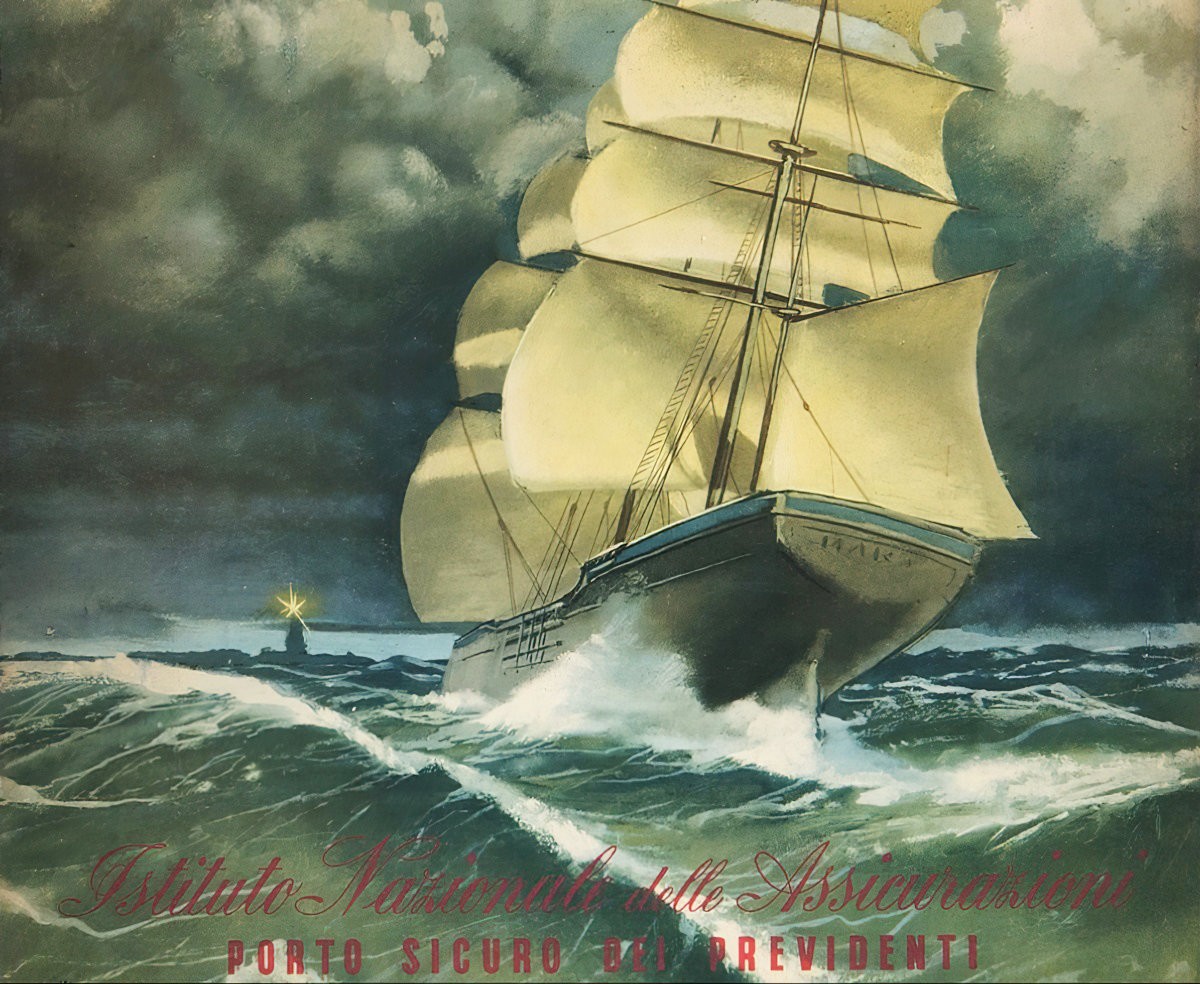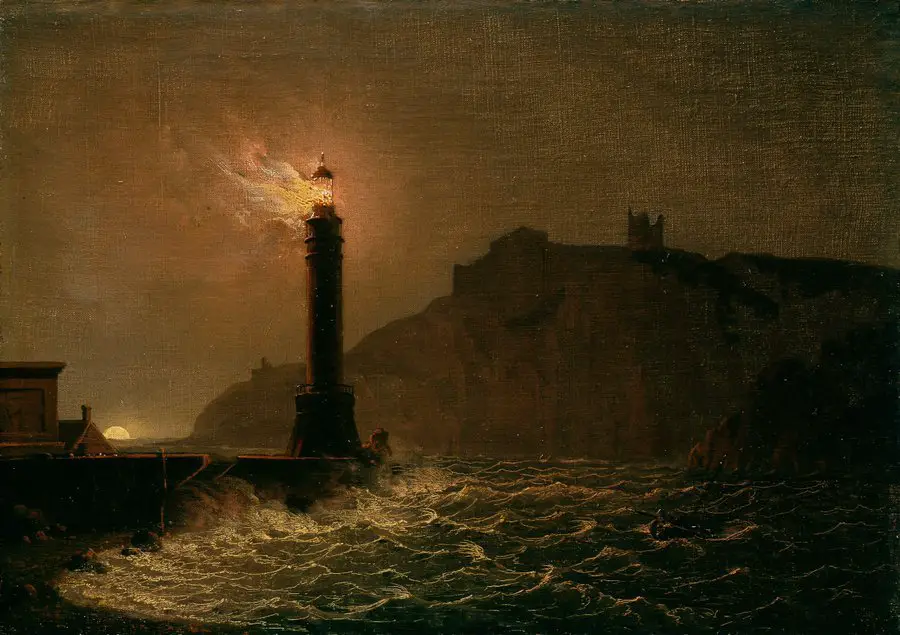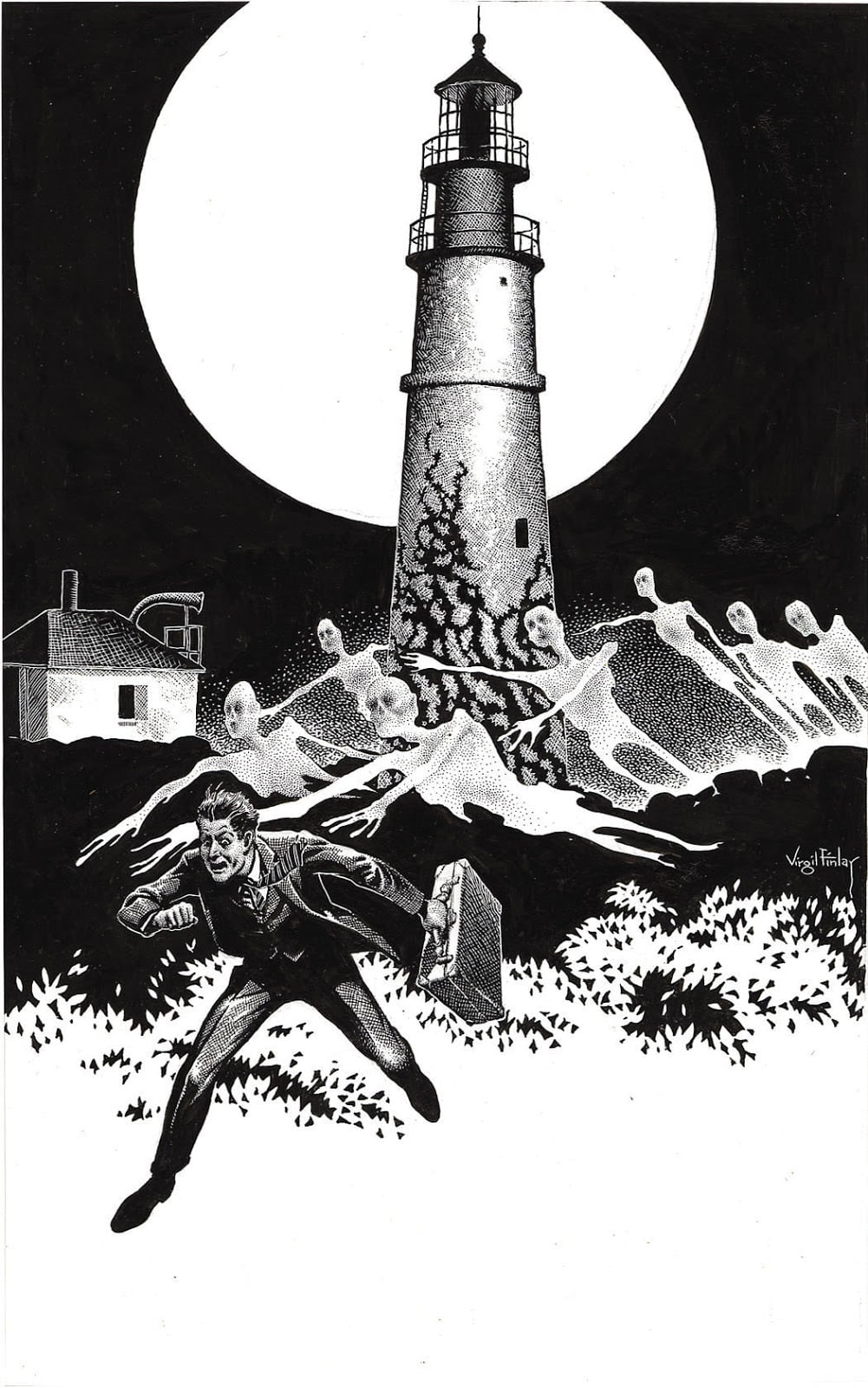 WHERE HOME MEETS THE SEA
I've written elsewhere about stories which meld the ocean and a city. The lighthouse can sometimes be where the ocean meets the home.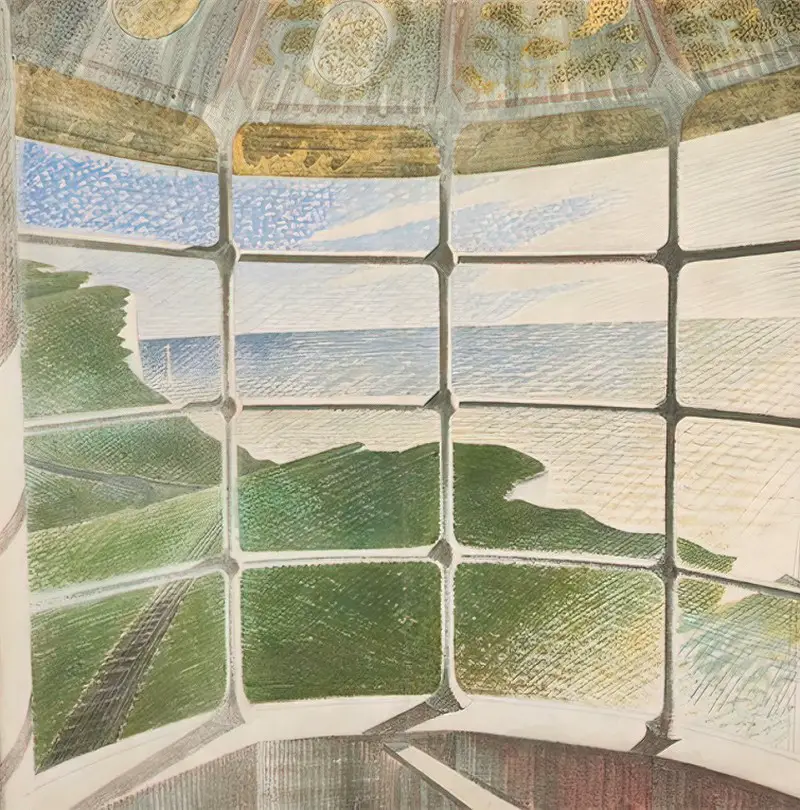 This painting isn't set inside a lighthouse (I think) but it definitely has that feel to it, where the home meets the sea, literally right outside, lapping at the walls.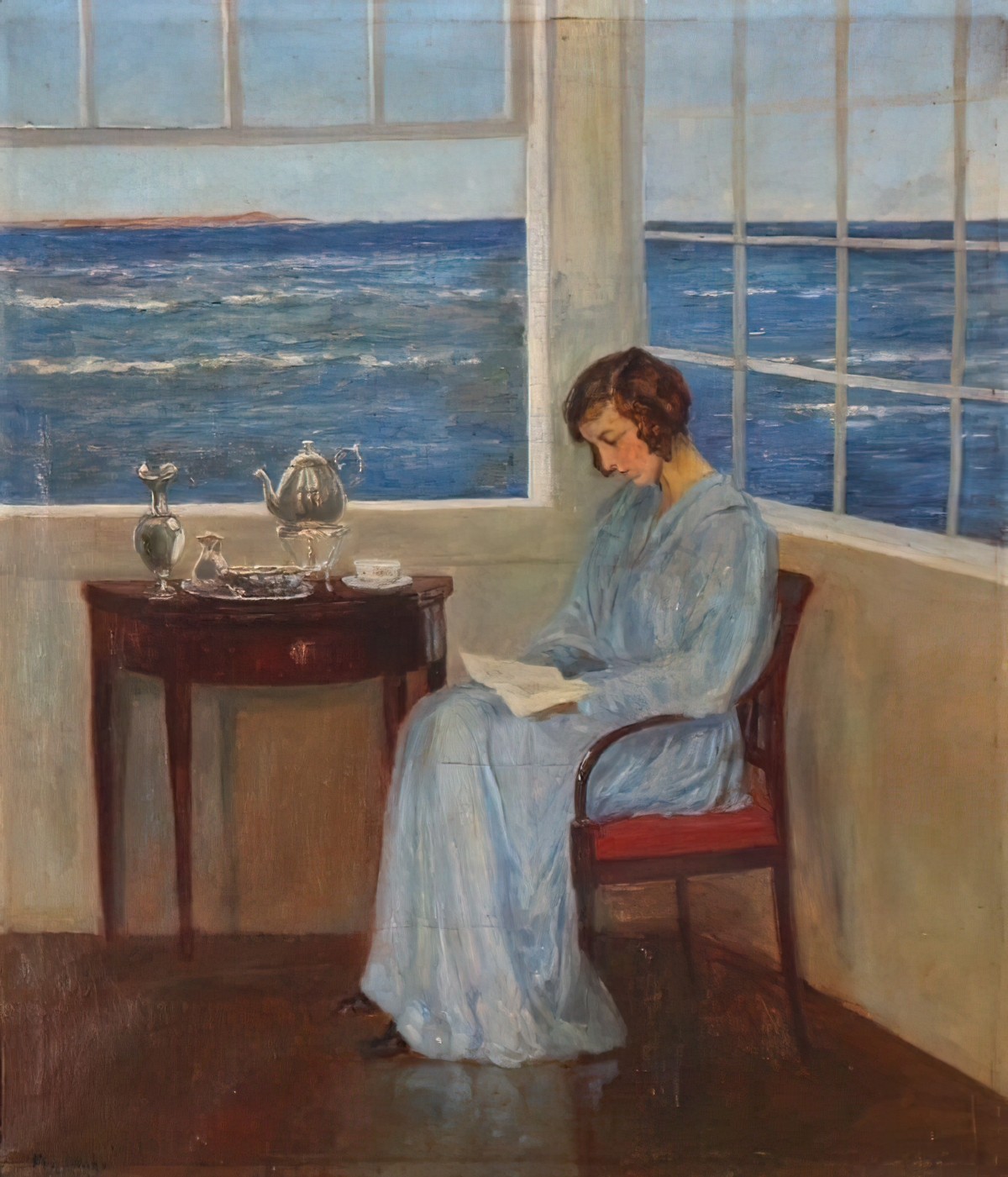 THE LIGHTHOUSE AS SYMBOL OF STRENGTH
She belonged to a different age, but being so entire, so complete, would always stand up on the horizon, stone-white, eminent, like a lighthouse marking some past stage on this adventurous, long, long voyage, this interminable — this interminable life.

Mrs Dalloway by Virginia Woolf
Lighthouses are made to withstand powerful storms and large waves. They are feats of engineering. You often find them at the top of rises and hills, so symbolically speaking, the lighthouse is a fairytale tower.
In folklore and fairy tale, round, enclosed structures (towers and wells) align with lunar figures which stand in for cyclic time i.e. dragons, serpents, werewolves or other related creatures who abduct maidens.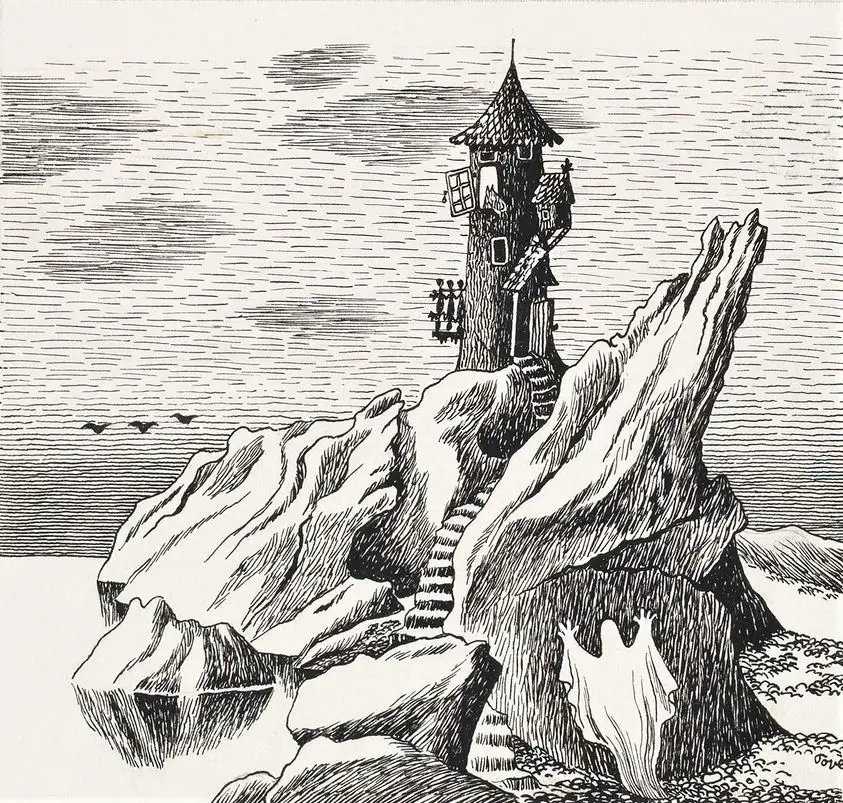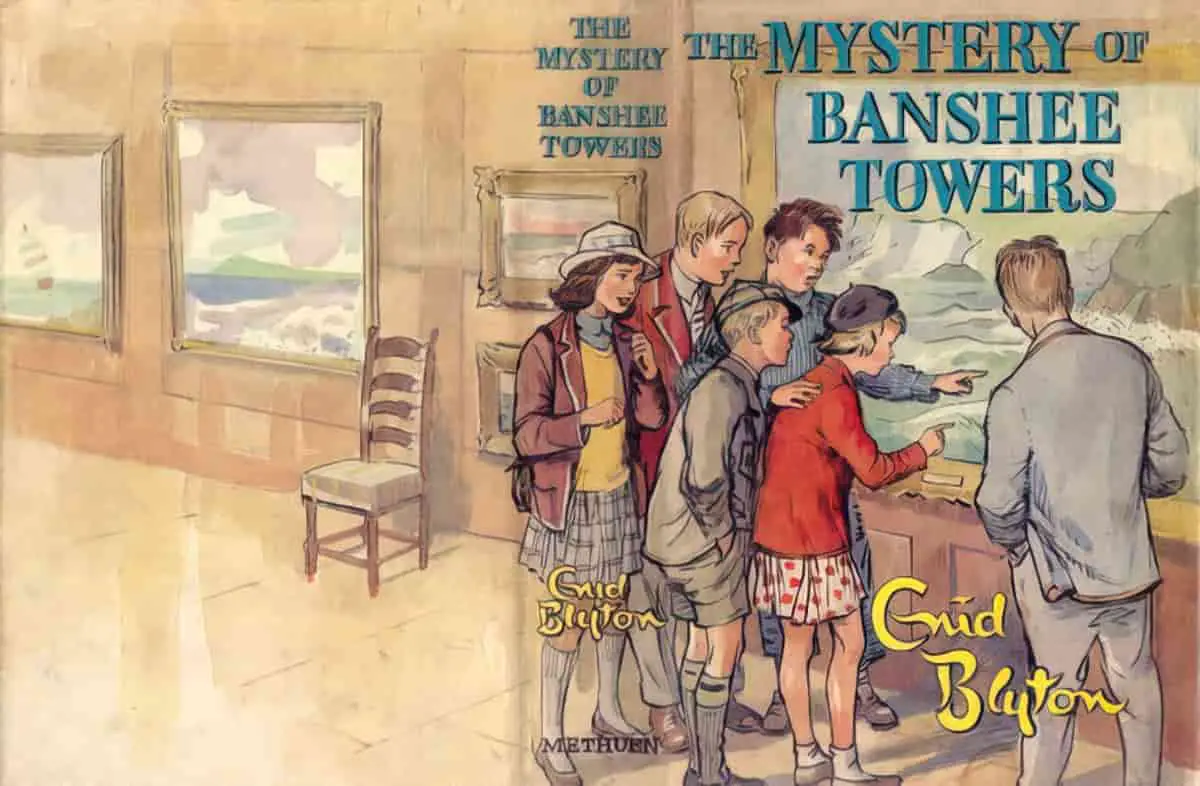 The world's first lighthouse (as we know it today) was the Pharos (of ancient Alexandria). This lighthouse is one of the Seven Wonders of the Ancient World. The port of Pharos was previously an unremarkable little bay, but once the lighthouse went up Pharos became a Great City of the ancient world.
Historians believe it was made out of white limestone, which would've made it stand out for miles around. It would've been an amazing sight back then, at 180 metres tall.
Like viaducts and factories, a lighthouse can literally transform a town. That's one form of its strength.
Here's a low angle view of a lighthouse, which always serves to make something look even bigger.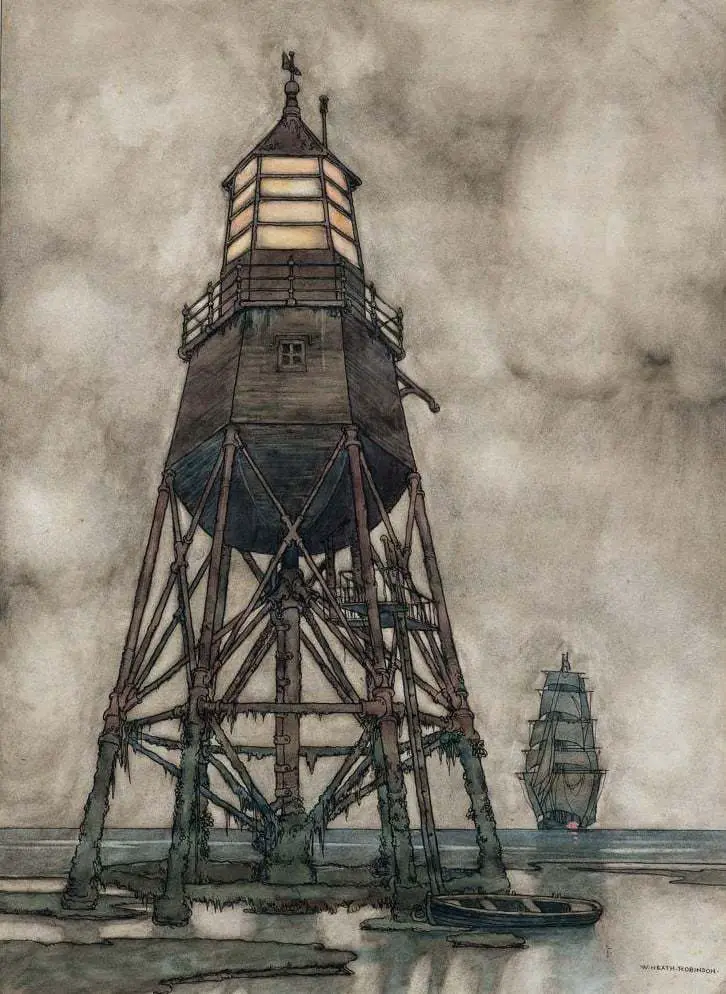 The colours in this piece are magnificent: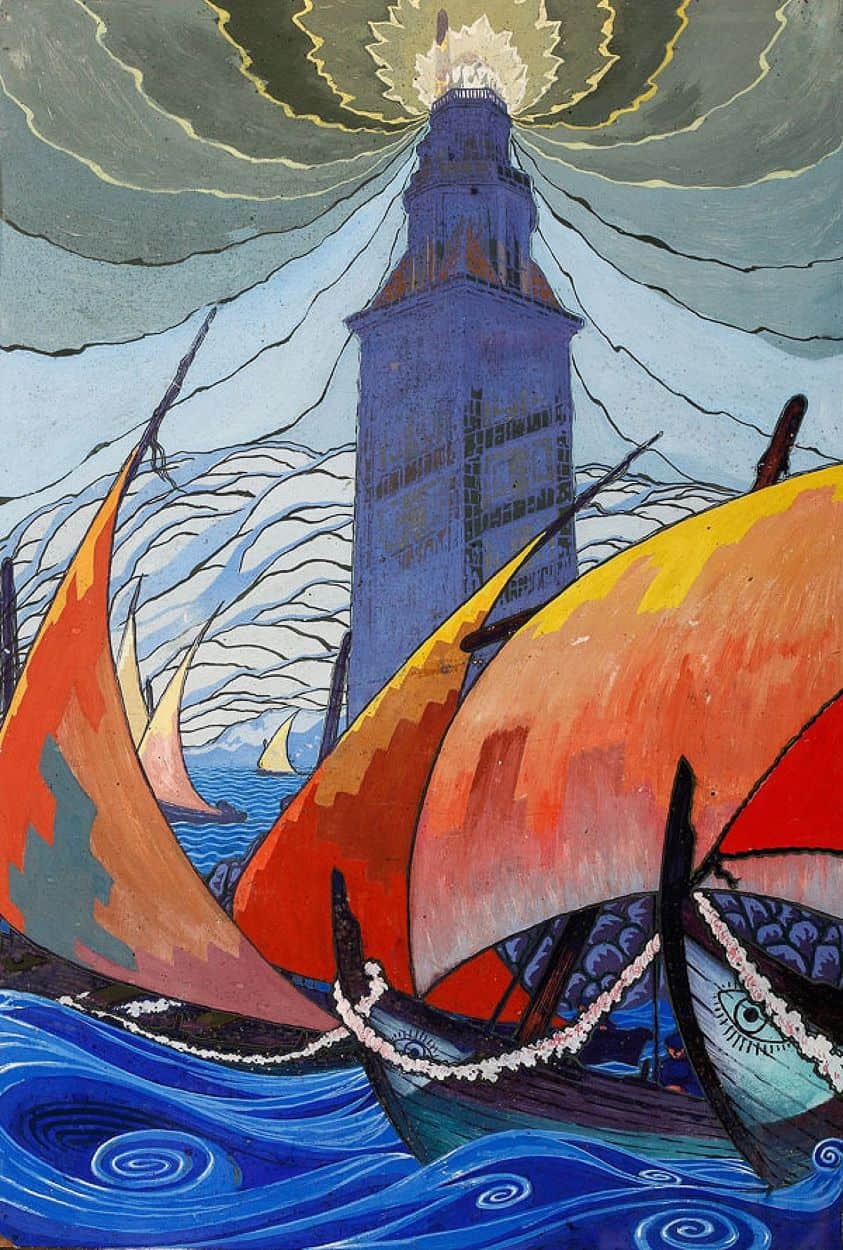 Another low angle view, this time a photo:
THE LIGHTHOUSE AS SECRET SPACE
What happens in the lighthouse stays in the lighthouse?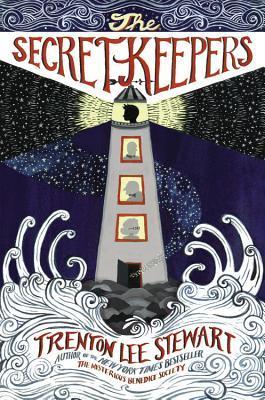 A magical watch.
A string of secrets.
A race against time.
When Reuben discovers an extraordinary antique watch, he soon learns it has a secret power and his life takes an intriguing turn. At first he is thrilled with his new treasure, but as one secret leads to another, Reuben finds himself torn between his innately honest nature and the lure to be a hero.
Now he is on a dangerous adventure―full of curious characters, treacherous traps, and hairsbreadth escapes―as he races to solve the mystery before it is too late. Even with fearless Penny, mighty Jack, and the wise Mrs. Genevieve on his side, can Reuben outwit and out-manoeuvre the sly villain called The Smoke and his devious defenders the Directions and save the city from a terrible fate?
Trenton Lee Stewart invites readers to join the adventure, decipher the clues, and ask themselves the question: Is knowing a secret a gift or a curse?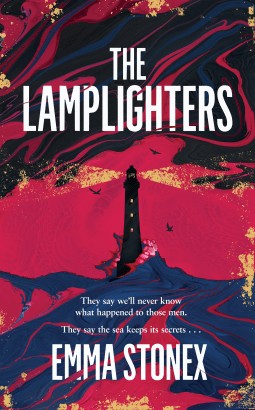 They say we'll never know what happened to those men.

They say the sea keeps its secrets…
Cornwall, 1972. Three keepers vanish from a remote lighthouse, miles from the shore. The entrance door is locked from the inside. The clocks have stopped. The Principal Keeper's weather log describes a mighty storm, but the skies have been clear all week.
What happened to those three men, out on the tower? The heavy sea whispers their names. The tide shifts beneath the swell, drowning ghosts. Can their secrets ever be recovered from the waves?
Twenty years later, the women they left behind are still struggling to move on. Helen, Jenny and Michelle should have been united by the tragedy, but instead it drove them apart. And then a writer approaches them. He wants to give them a chance to tell their side of the story. But only in confronting their darkest fears can the truth begin to surface . . .
The Lamplighters is a heart-stopping mystery rich with the salty air of the Cornish coast, and an unforgettable story of love and grief that explores the way our fears blur the line between the real and the imagined.
LIGHTHOUSE AS TIMELESS BASTION
Modernist writers like Virginia Woolf were influenced by Henri Bergson. They were messing around with our concepts of time when they were writing about lighthouses, and this has never stopped. When a contemporary story takes place in a lighthouse, audiences are frequently transported from chronos to kairos, or from regular clock time to fairytale time. You know these stories when you meet them because you can't pinpoint when they're set. They seem to take place in a timeless world.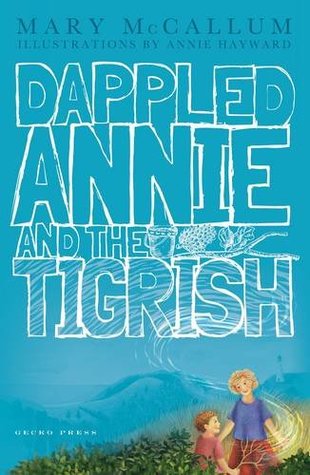 AN EXCELLENT CONSUMER REVIEW:
A beautiful story of nature, family, bravery, and a touch of something magical. There are faces in the hedge at the end of the garden, and a nest of tiny fantails, and that's where nine-year-old Annie gets to play one hot summer while her father works up a the lighthouse. One after another, an earthquake and a terrible wind leave Annie with losses that seem irreplaceable, and her little brother Robbie emerges as the only person who can help her find what she's lost. Him and the tigrish.
There's an animism underlying the whole story. The main character has made friends with a hedge. This requires an imaginative leap on the part of the reader. Having hedges uproot themselves and run off could easily be twee or whimsical, but this story isn't like that at all. The writing is so muscular, beautiful and persuasive. The visuals are beautiful.
The setting must be somewhere between the 50s and the 80s – because of the lighthouse — you can't quite tell the exact era but this doesn't matter, which is an achievement in itself. The story thus appeals across the ages.
A light on a hill has that same draw to civilisation as distant yellow windows at night. Yay! I've made it out of danger and back to safety! I can't even imagine what it must be like to spend months at sea as an ancient sailor (or pirate) and then get close enough to a coast to see the welcoming beacon of a lighthouse.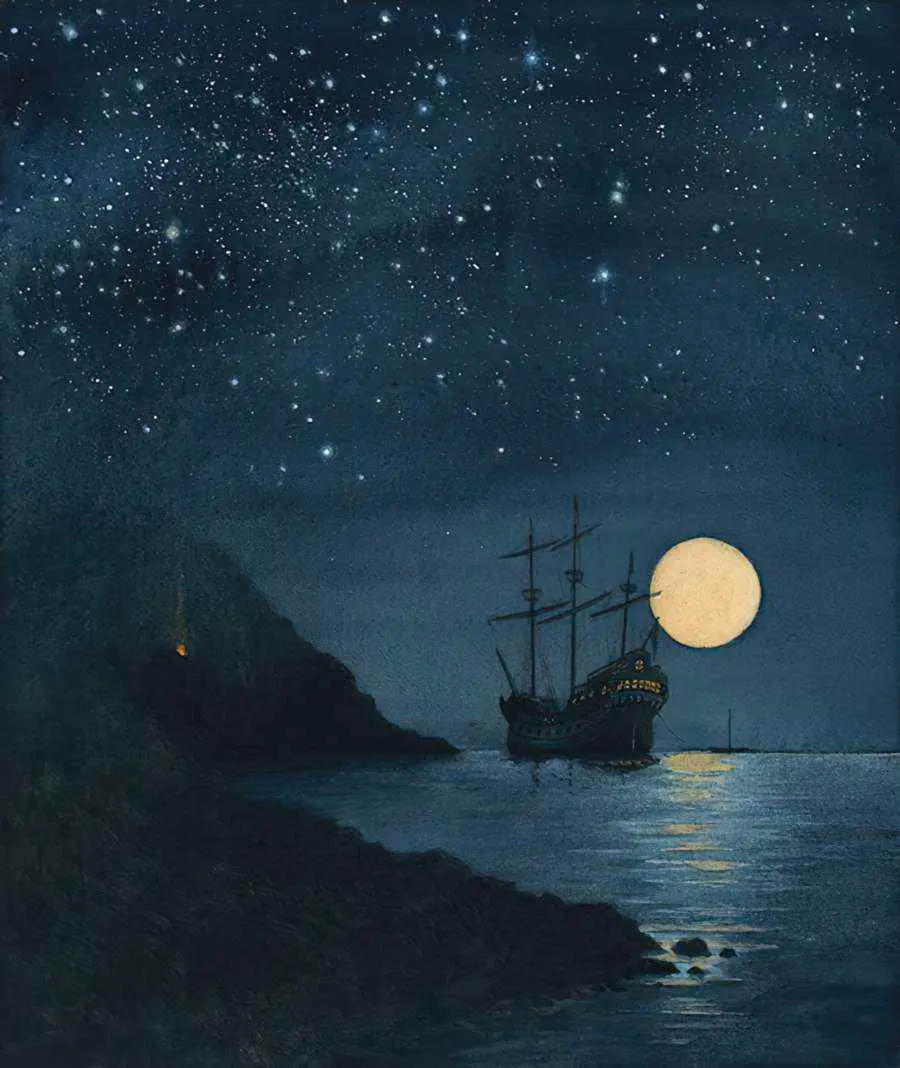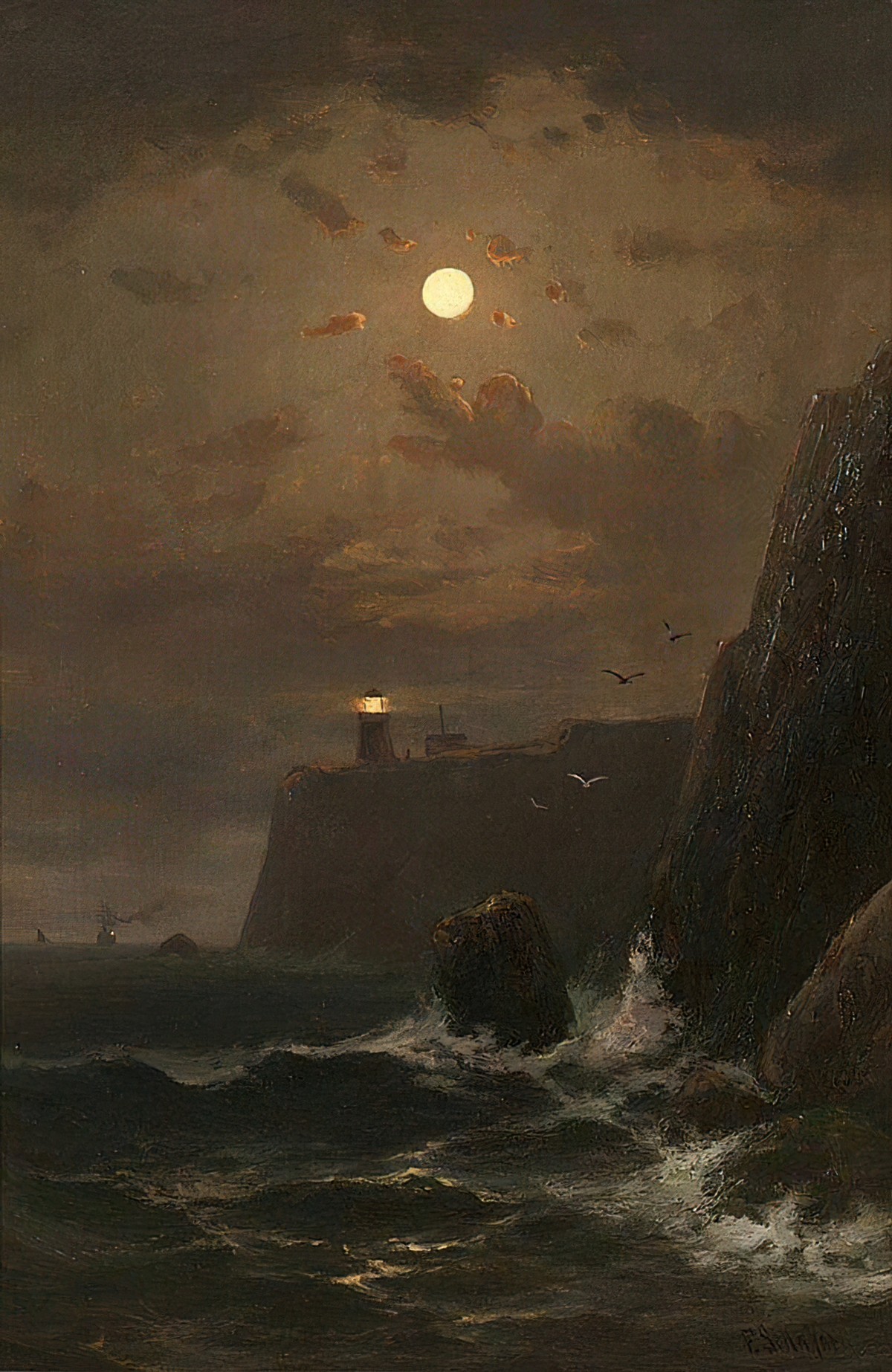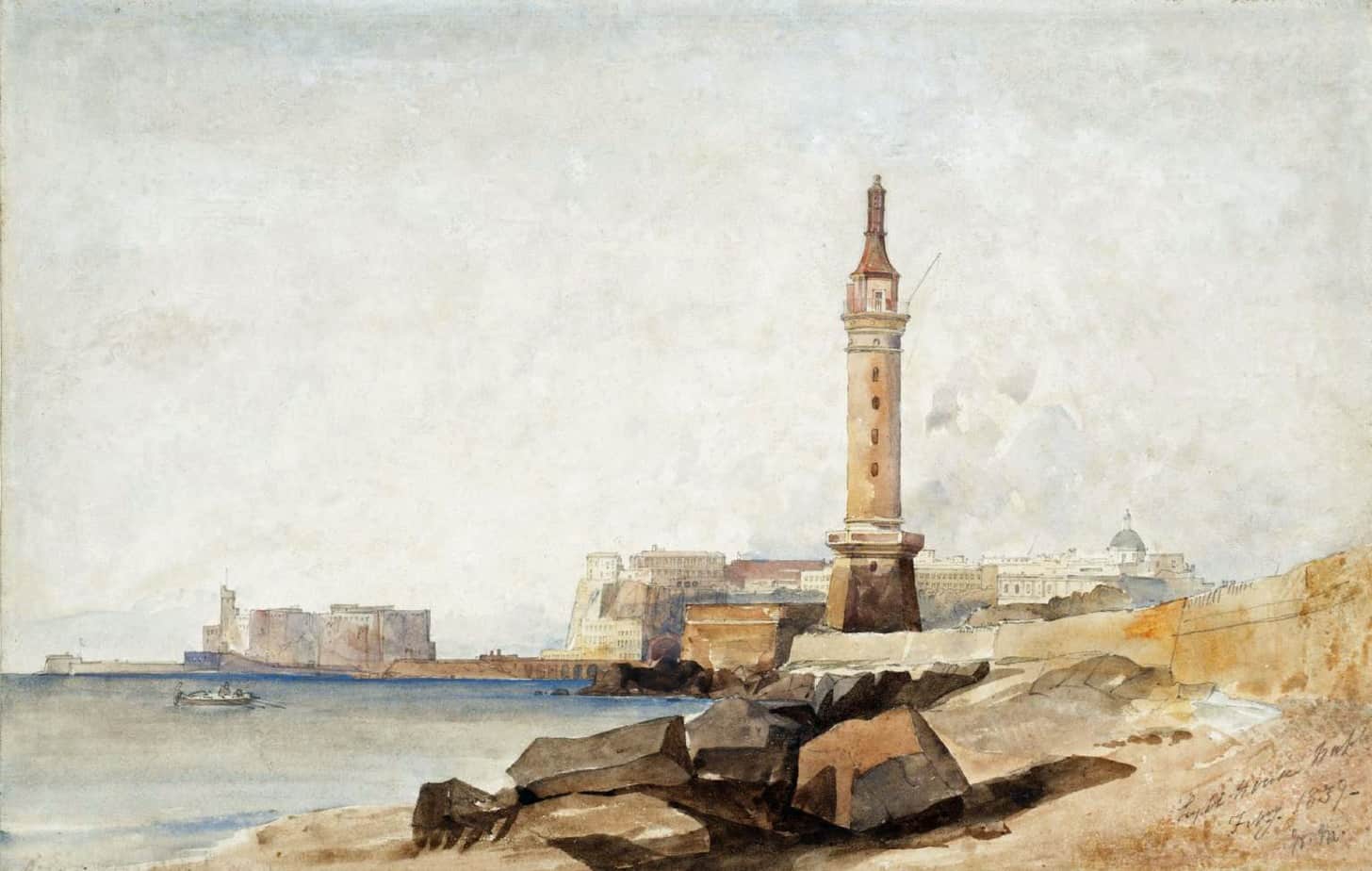 Pretty much every civilisation situated near an ocean seemed to think lighthouses were a good idea.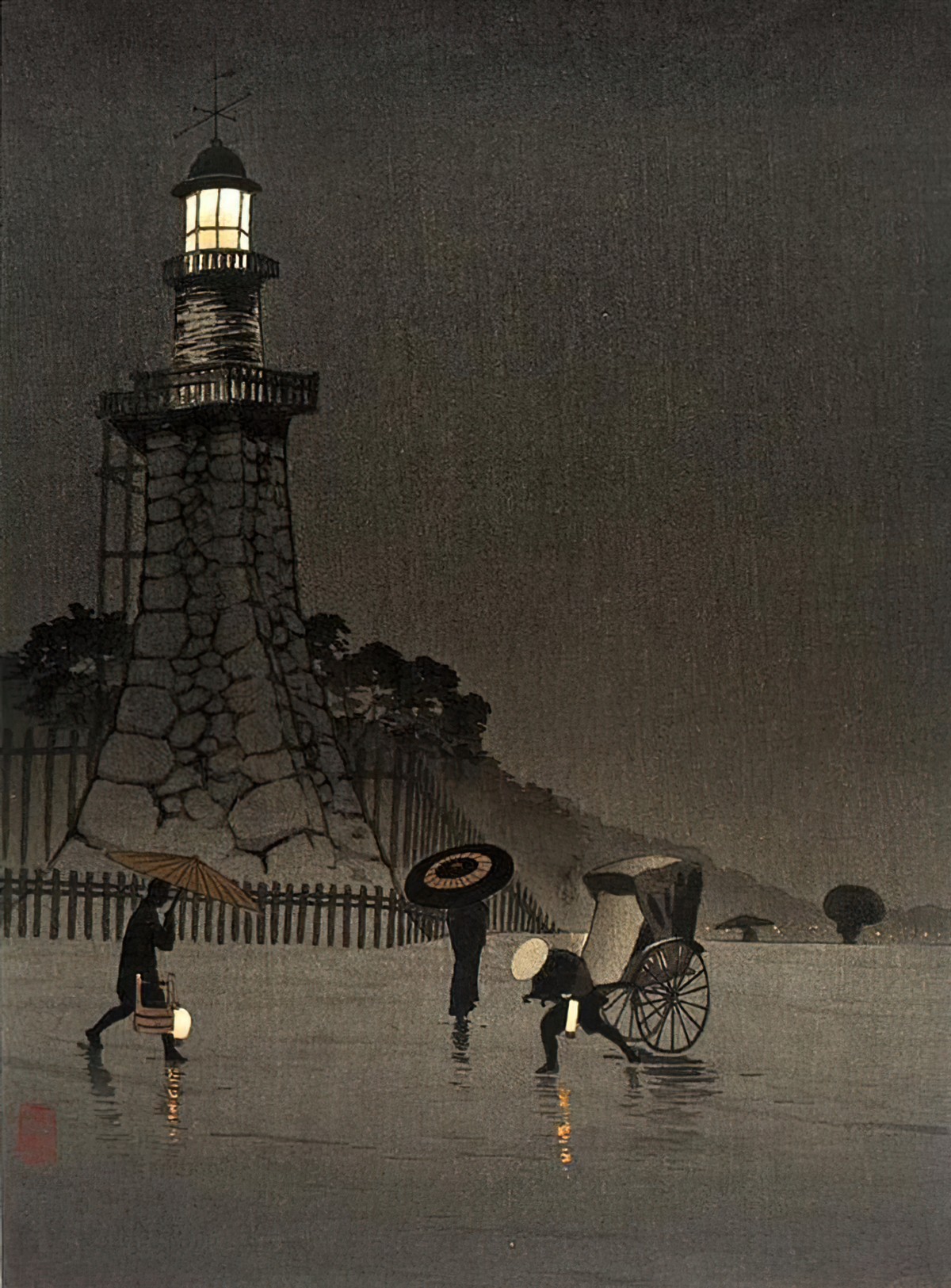 SAFETY
The safety aspect of the lighthouse is clearly related to strength. You want something strong to keep you safe, right?
Christianity makes use of the safety aspect of lighthouses. In Christian thought lighthouses represent the guidance, refuge, and salvation of Christ. (Christians celebrate this aspect of Christ at Easter.)
When a sailor would return to a location knowing it had a lighthouse to guide it, the sailor would feel safe and know the cargo and passengers on that ship would be secure, making a lighthouse tattoo symbolism of safety and security.
"Lighthouse", a song by The Waifs (Australian band, YouTube)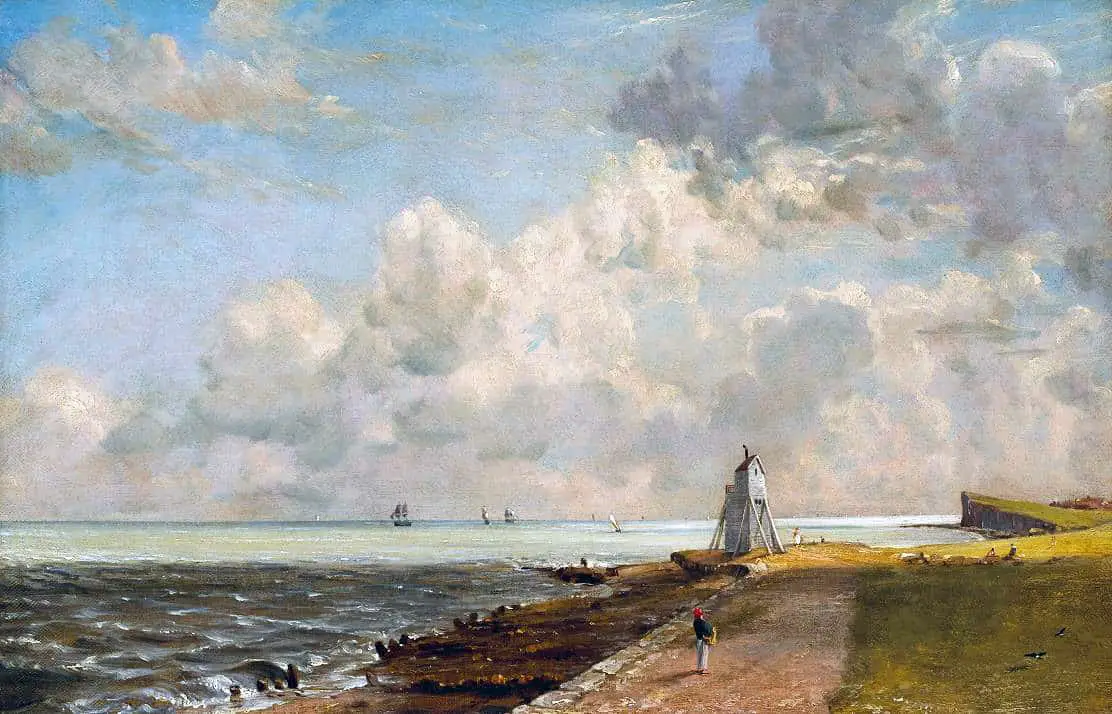 INDIVIDUALITY
The lighthouse may be seen as symbolic of individual consciousness, which kindles "a light in the darkness of mere being," as Jung famously put it in his memoirs. He also wrote these words of warning in Psychology and Alchemy:
The meeting between the … individual consciousness and the vast expanse of the collective unconscious is dangerous, because the unconscious has a decidedly disintegrating effect on consciousness.

Jung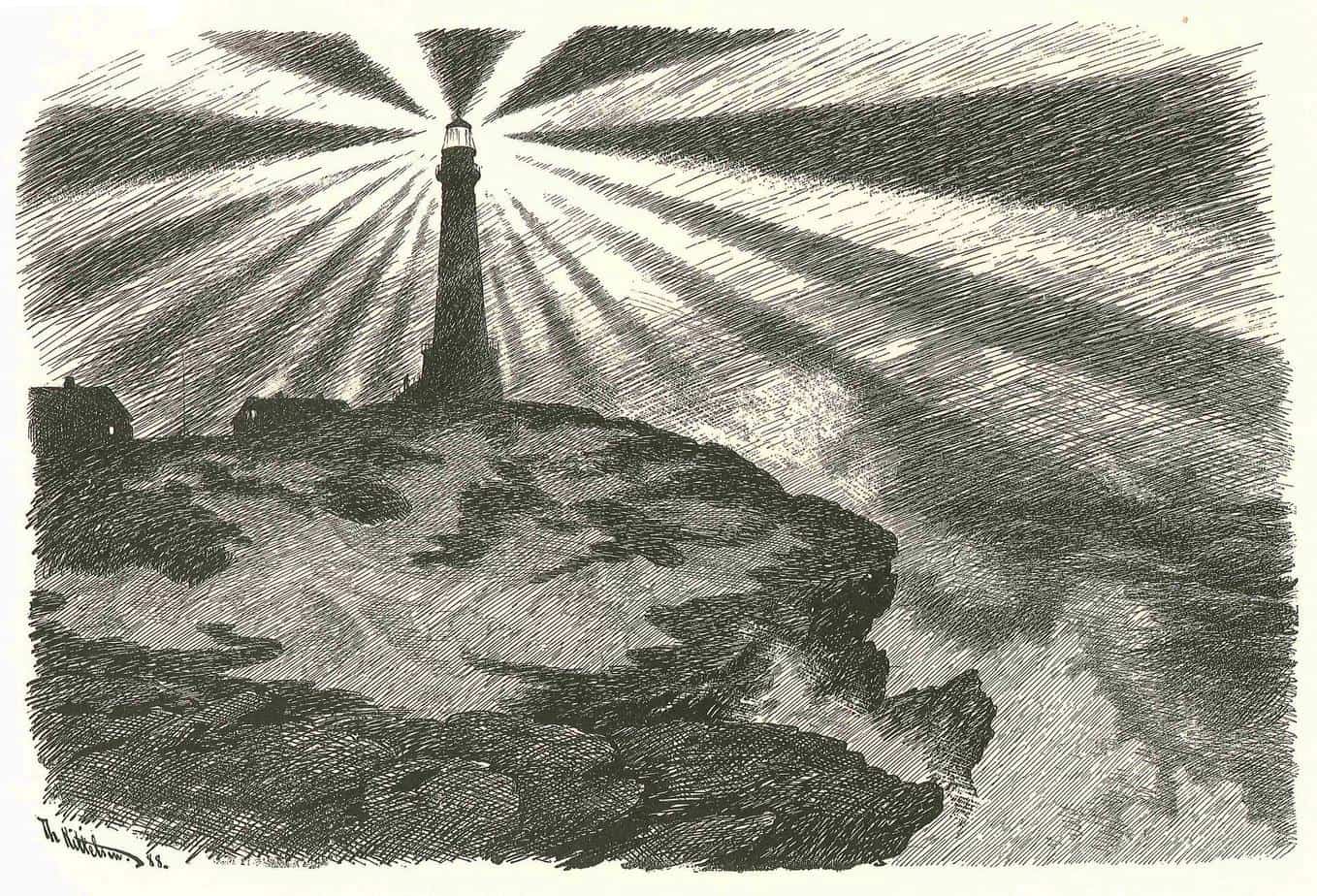 ISOLATION
"By becoming conscious, the individual is threatened more and more with isolation, which is nevertheless the sine qua non of conscious differentiation."

Jung
The problem with secrets is, so long as they're kept secret, you are isolated from others, which in stories at least, leads to unhappiness. It's a real conundrum. Do I keep my secret and stay safe, or share myself with others, which is risky?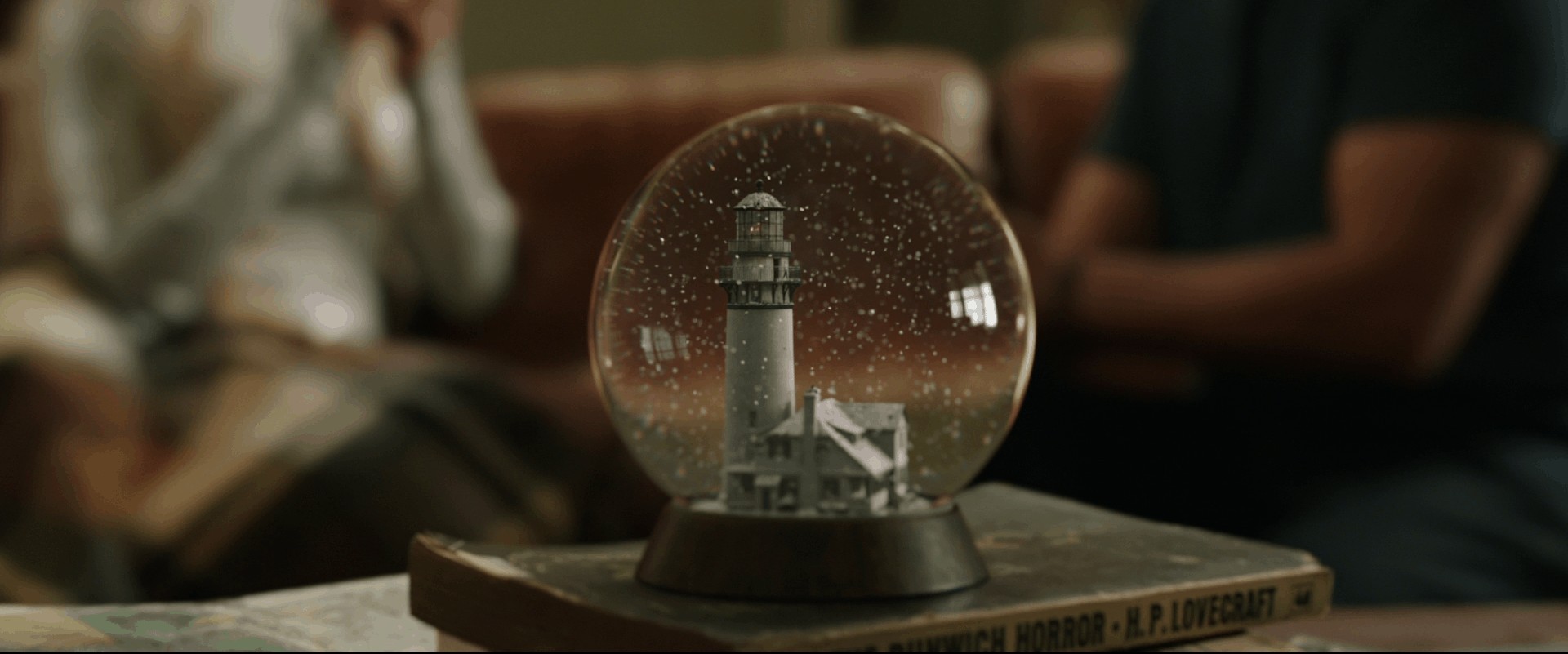 This conundrum reminds me of Road Trip stories, in which characters are punished by deviating from the set path, but also can't experience personal growth unless they do. Fictional characters simply can't win, which is good from a storytelling standpoint because characters need to go through trials.
LIGHTHOUSES AND THEIR CLOSE ASSOCATION WITH DEATH
The Lighthouse interior from Shutter Island. The hero gets closer and closer to the danger, and finally finds it once penetrating the lighthouse, which is symbolically the centre of the Labyrinth, where the Minotaur dwells.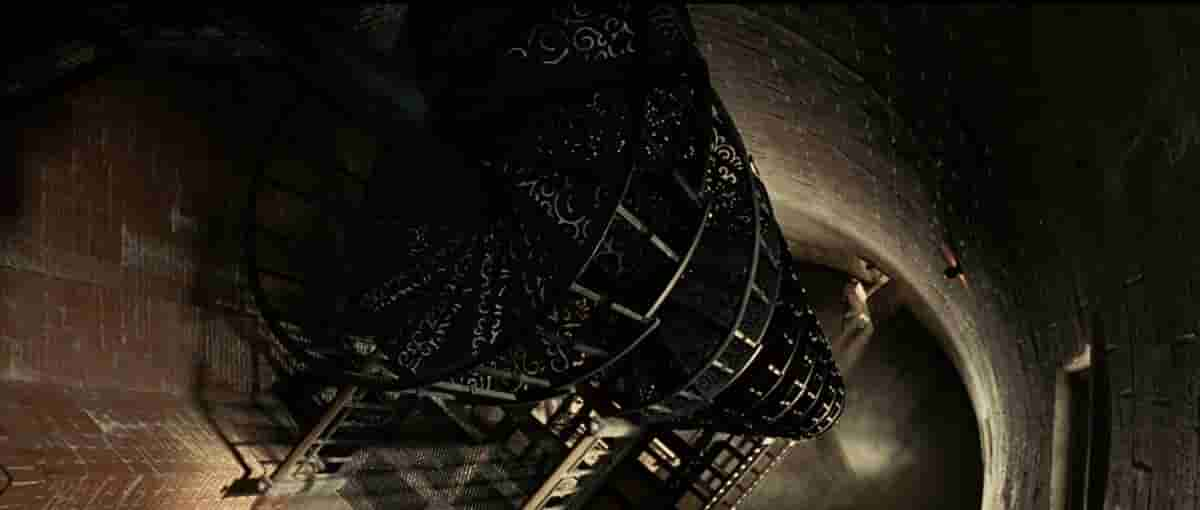 The lighthouse is a multivalent symbol. Sure, the lighthouse is a beacon of safety, but these structures exist in the first place because seas and coasts are dangerous.
Nathaniel Rich of The New York Review of Books, compares lighthouses to "cenotaphs, marking deathtraps that for centuries devoured mariners along the continent's coasts."
Below, a selection of lighthouses in choppy waters: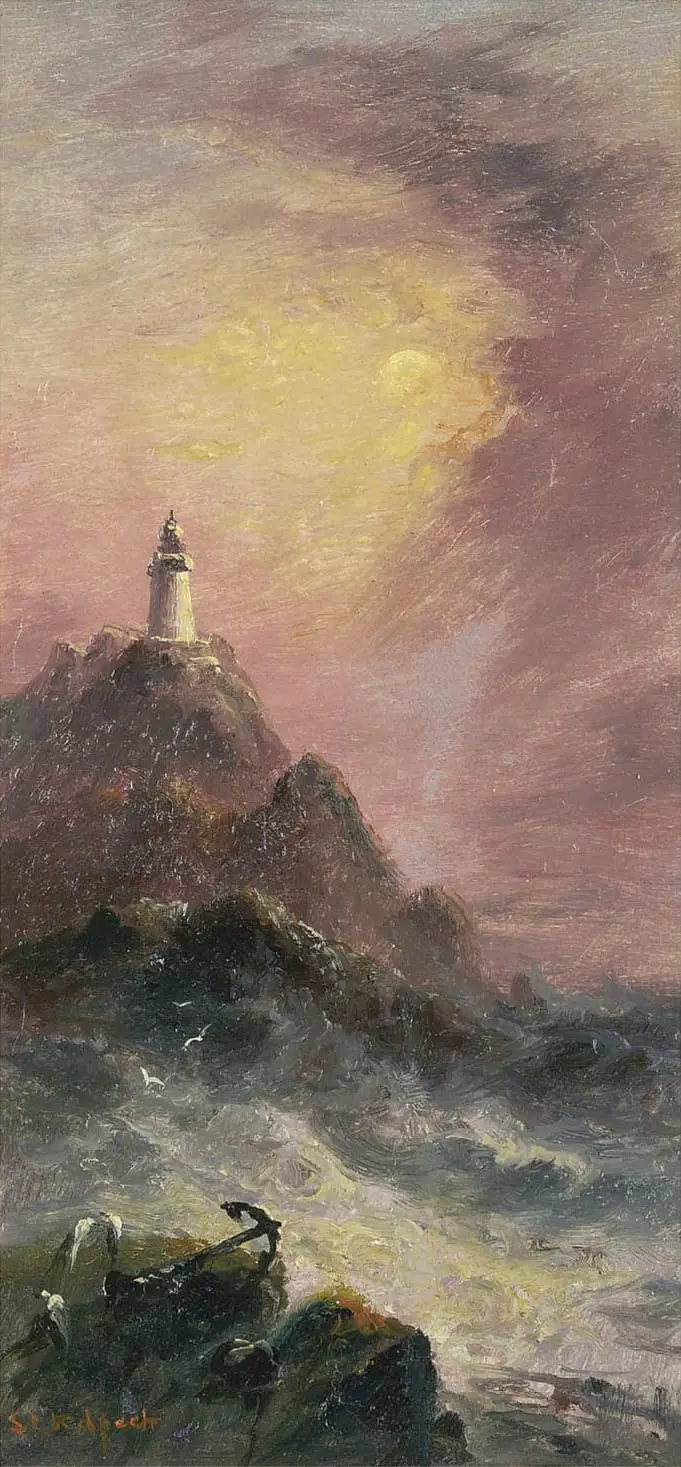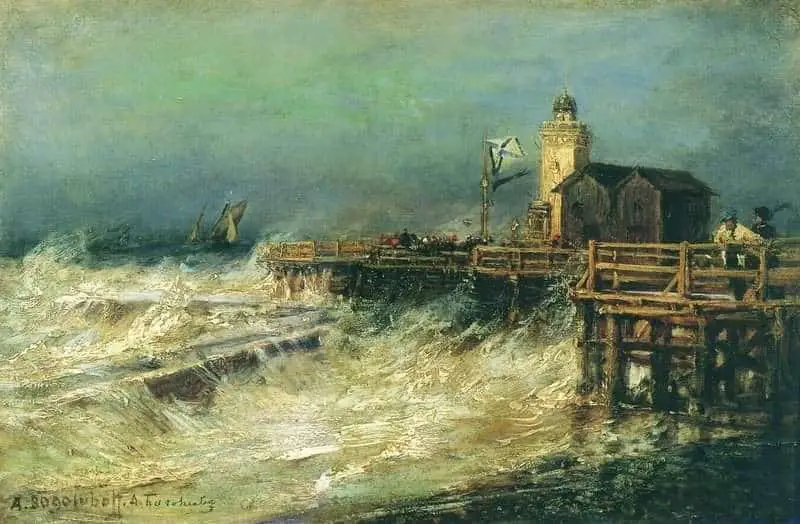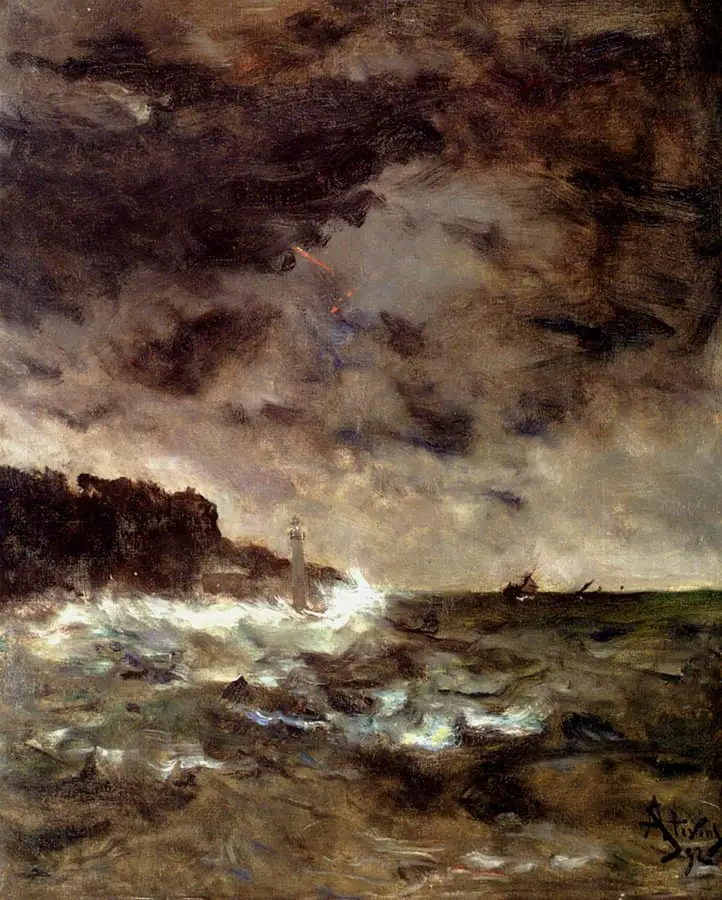 THE LIGHTHOUSE AS HORROR SPACE
Bluebeard lived in a castle which harboured awful, terrible things. A more contemporary take on that fairytale structure is the lighthouse.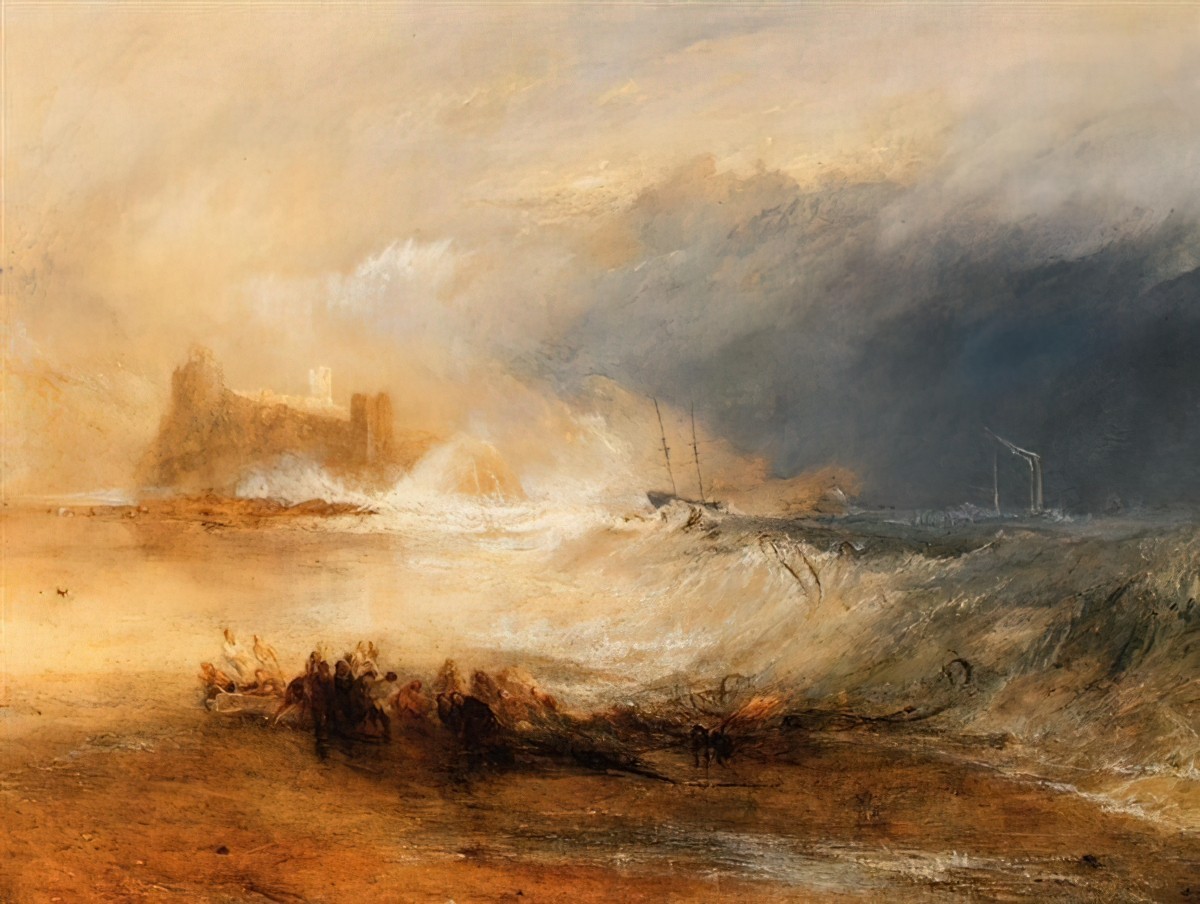 Below, some selections from mid 20th century comics.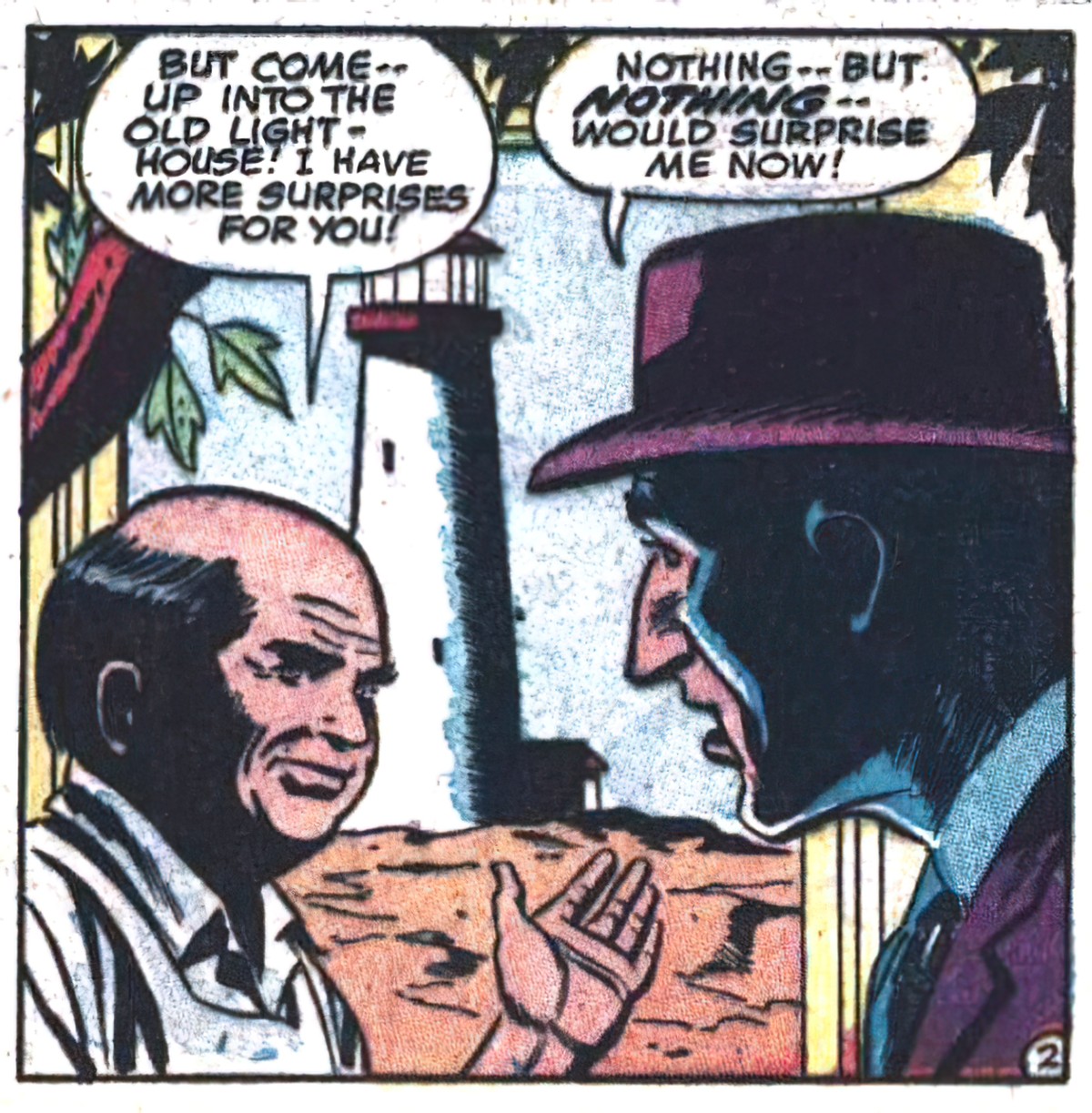 This reminds me very much of Jurassic Park, even though Jurassic Park features dinosaurs and this story is crypto-botanical horror.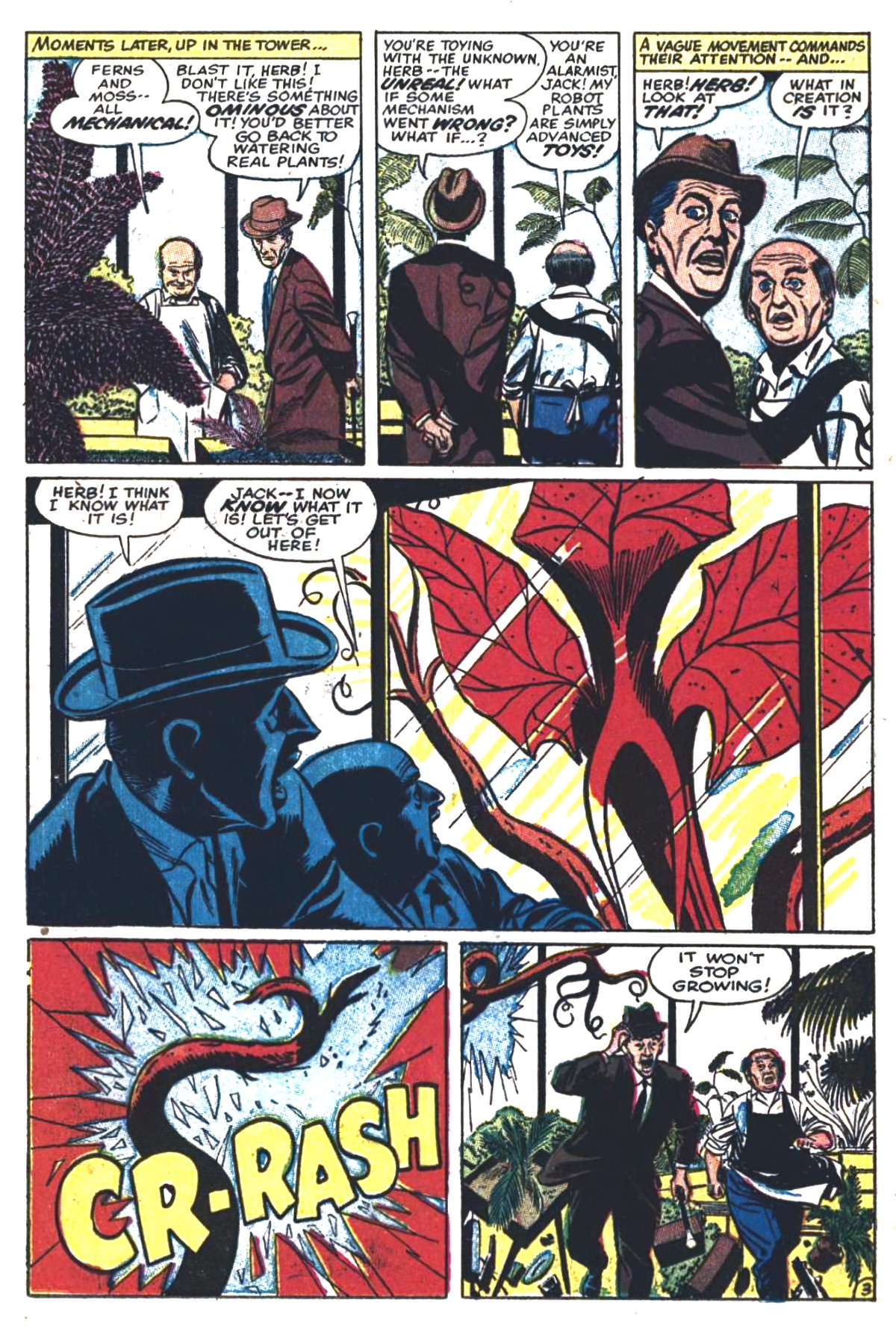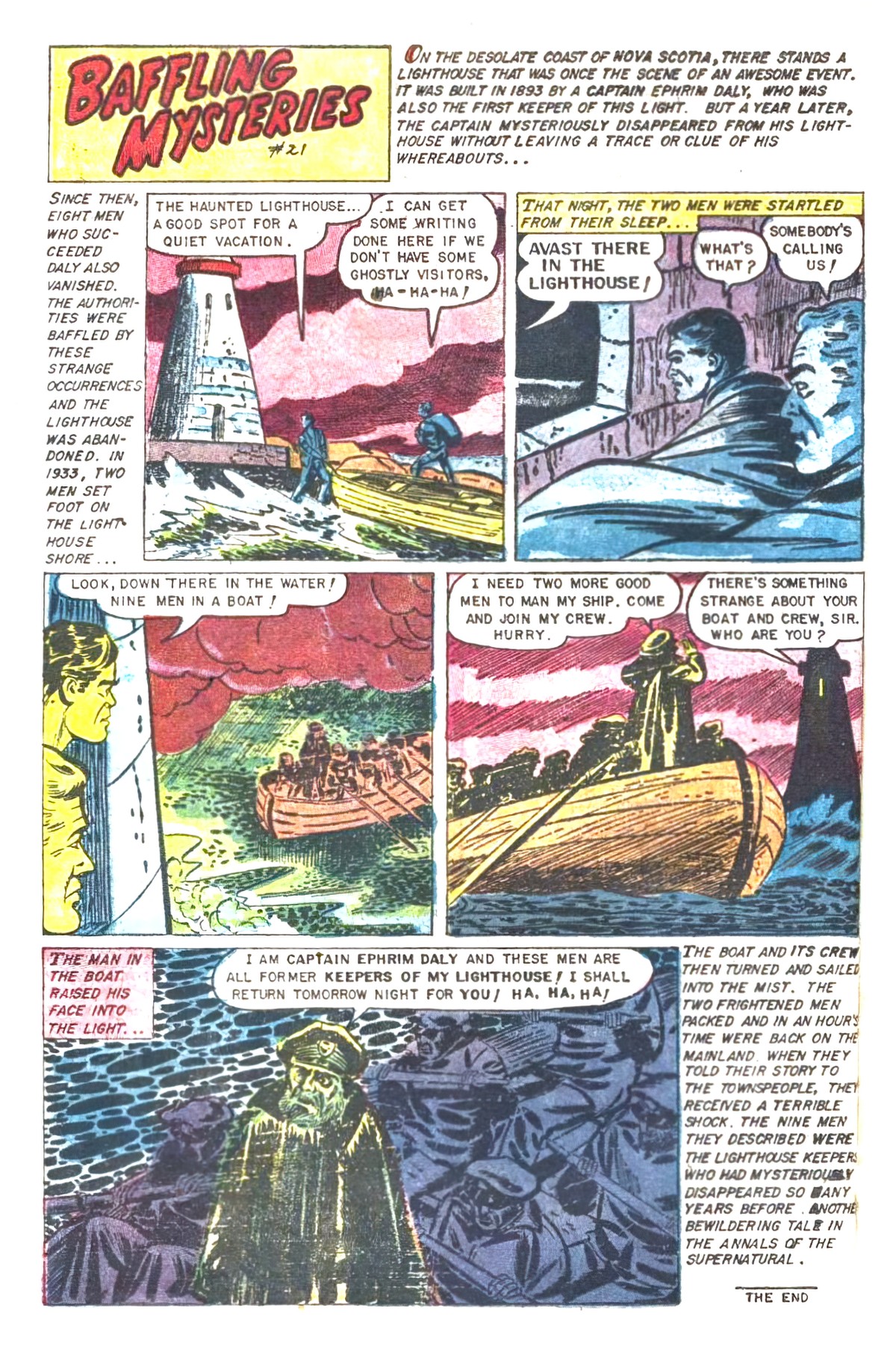 The novel below utilises various aspects of lighthouse symbolism. Can you tell what they are from the marketing copy?