The Elephant and Piggie books, invented by Mo Willems, are favourites of my 9-year-old daughter, who is otherwise long past beginner readers. She has asked for more Elephant and Piggies for her tenth  birthday. She feels a lot of similar level stories are 'too babyish' for her but an enduring interest in the Elephant and Piggie series demonstrates the extraordinarily wide age appeal of these stories. As adult co-reader, I enjoy them as much as she does. These books are more than 'dual audience'. Dual tends to refer to 'one developmental phase of childhood plus the adults who read alongside', but in this case the appeal is young childhood, middle childhood, right through.
I listened to an interview at The Yarn, with Travis Jonker and Colby Sharp, in which Willems says: There is no formula when it comes to writing picture books.
There is no 'formula', because 'formula' suggests 'low quality' a la R.L. Stein's Goosebumps series. But there is a certain structure that all good stories share. The Elephant and Piggie stories do conform to this structure. This structure provides a coat hanger for the originality that Willems and his writing team bring to each story in the series. Willems describes this structure as 'a trellis'. He describes himself as a structuralist, 'but more of a formalist than other people'  in the way he writes and constructs his stories. He says this comes from his time working in television. Television writers have to understand structure in order to get ideas out on time, and when your task is to create something exactly eleven minutes long it becomes even more important.
STORYTELLING NOTES FROM MO WILLEMS
The rule of 'yes and…' is really useful to writers, especially when writing first drafts. This is a concept from improv theatre. Whatever happens, the actors are obliged to build on that — immediately, in front of a live audience. I can see how this is useful, because with each Elephant and Piggie story I get three quarters of the way through it and I wonder how he's going to end it. Anyone who has written a picture book knows that beginnings are relatively easy. It's tying them up (and going that extra bit further) that distinguishes genius from mediocre.
You'll learn what is 'not funny' rather than what is funny. So write and then edit out all the not funny stuff. Hopefully, what remains is funny.
When Mo Willems was working at Sesame Street the staff did a session on child development every week. I guess that means children's writers would benefit from the same! (Lucky for me I did a university course on child development, but I wish I hadn't gotten rid of my textbooks.)
Elephant came before Piggie. He'd been sketching elephants for a long time.
He's a glass half full of poison misanthrope.
Willems wanted to do early readers because he'd been told it was the hardest.
He did a 'casting cool' — he considered a whole bunch of animals to be Elephant's buddy. But when Piggie came she was a great foil, allowing them to work very well.
He knew he could write a lot of books with these two characters. The challenge was in keeping them as 'open' (universal?) as possible, to leave them room to grow.
There were gags about elephant's glasses and trunks that he didn't think he'd use.
Willems had only been published for two years before he came up with these characters.
He was told early readers don't really sell but Willems felt strongly that early readers would be his life's work. (He knew his strength obviously, and I'm glad he knew this rather than go with 'what sells'.)
P.D. Eastman is an inspiration. Willems used to work with Eastman's son and heard stories about how Eastman worked.
Unlike Eastman's poodle, he wanted to create animals who had their own emotional lives. He wanted to show friendship on the rocks, then making up again. These are things that real kids go through often.
An inner emotional life was a guiding principle in the beginning, but as the series progressed he realised that every book was a question that he didn't know the answer to. Why share? When share? What does it mean to be a friend? What happens when a new partner comes in? He realised the story was worth writing if he didn't know the answer to his question, which meant the audience wouldn't know either, and that would make for a worthwhile story. This is in line with what others have said regarding moral dilemmas. There should be no easy answers. Even in easy readers!
Easy and simple are opposites. Easy goes quickly, simple takes time. This plays a role in all his books. Willems is a minimalist. The less he puts in the more the audience has to put in. That way they have co-written the book with him.
If you read one of his manuscripts and it makes sense, it has too many words. If you look at his drawings and the drawings make sense on their own, it has too many drawings. I think this is why most of my favourite picture books are created by writer illustrators. The way publishing houses keep writers and illustrators separate from each other during the creation process makes this hard to achieve if you are just a writer or just an illustrator.
He aims for 'one level away from abstraction'.
The weaker the structure, the 'truer' the story is. This series requires the reader, in a very deep way. (By 'structure', I think Willems is talking about scaffolding here, or something other than 'story structure'.)
Nowadays other creators collaborate to make Elephant and Piggie books. Mo Willems keeps creative control. He works on a new one every six to eight months.
How do you know which ideas to pursue? What is the thing that matters to you? And how can you create characters yelling about that in a funny way?
Willems finds that his ideas always sound terrible when presented at the idea stage. It's only when the idea is presented in a semi-finished form that his team says, "Oh, now I get it!" Sounding terrible at the idea stage is how he knows he's onto something.
Writers are often advised to keep abreast of what's out there, being published in your category/genre. Willems doesn't keep up with what others are producing, and refers to it as 'noise'. "I just want to keep making weird stuff." He doesn't want to be influenced by other people's ideas. (I do think you have to be at a certain stage of your career before you can do this. While we're still learning, we have no choice but to look at what's out there. I also find this admission strangely condescending and insular. Why not read what peers are doing for the pure enjoyment, if nothing else?)
Good picture books are all individual. Television doesn't work like that. Television inevitably feels formulaic by its nature. A writer or illustrator can really be themselves when creating books.
While Mo Willems likes all of his Elephant and Piggie ideas, not all of them make it to book stage. (This was also true of Dr Seuss.)
Always start your illustrations in the middle (to kind of warm up) and save the cover and opening spreads for the end (when you're in the zone and it's flowing) – because those are the first ones people will read!

keynote summary at SCBWI
OVERALL OBSERVATIONS
Elephants are great to draw because they have expressive trunks. This made me wonder if elephants really do have expressive trunks, or if our personification of them is rather more, ahem, human in origin. Turns out this trunk quirk does come from elephants themselves:
Elephants "kind of wear their hearts on their trunks. Their trunks are extremely expressive of their mood," says Caitlin O'Connell. She should know. By closely observing elephants at Etosha National Park in Namibia part of each year for the past 20 years, O'Connell has become bilingual in a way.

How To Speak Elephant
The Elephant and Piggie series is described by reviewers as 'theatrical'. They make excellent 'read-aloud-togethers'. My daughter likes to take the part of Piggie and she makes me do Elephant. (Probably because she doesn't want to play the straight guy.) For the parts where they both say something together, the speech bubbles become a colour blend. Normally, elephant's speech bubbles are grey and Piggie's speech bubbles are pink, but when they say something together, the speech bubble is dusky pink. It was my daughter who pointed this out to me. It's so subtle otherwise. I realised that these books have been designed for ease of shared reading, using colours as cues.
Elephant and Piggie are excellent physical comedians, often in action, sometimes in midair, defying physics.
Teeth are shown or hidden judiciously. Ditto with their tongues. When the tongue appears above the lip the character is concentrating — below the lip and they are tired or disgusted.
As is the case for almost every personified picture book animal, eyebrows are essential to their expressions, even though pigs and elephants don't have eyebrows.
Elephant and Piggie don't wear clothes. Elephant does wear glasses, in accordance with his know-it-all disposition. Lack of clothes contributes to the minimalist style. But according to the story, certain clothing is used as props. Piggie wears a chef's hat in I Really Like Slop, which is just as expressive as Elephant's trunk, bowing in disappointment.
Features from comic books are utilised where necessary — motion lines, dotted lines to show directionality. Diamond shaped lines to show a character has had an idea.
Onomatopoeia and mimesis is also used e.g. 'Fling!' and 'Plop' in Watch Me Throw The Ball, and 'Sniff', 'Pop' 'Gulp' and 'Eek' in I Really Like Slop.
Shadows are used only to show that the characters are in mid air. There's not even a line to show where the ground is. (Except on the front covers.)
The colour palette is a shared by the Pigeon books, also by Mo Willems, and apart from the distinctive orange bands of colour (subconsciously indicating to the consumer that these are early readers), the illustrations are pastel colours with a slightly sketchy, dark black outline and a little shadow on the bodies. When something strange happens to the characters they can change colours (like when they try awful slop and keel over).
STORY STRUCTURE OF I REALLY LIKE SLOP
I Really Like Slop is the modern version of Green Eggs and Ham by Dr Seuss.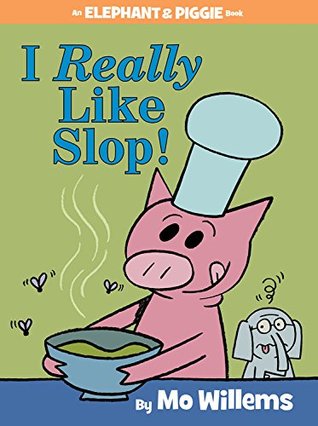 In order to do this exercise I need to pick one of the characters to be the 'main' one. In this story it is Elephant who has the more obvious anagnorisis so I'll go with Elephant.
Elephant's shortcoming is that he feels negatively towards his best friend's slop. Slop is very important to Piggie because 'It's part of pig culture'. Unless Elephant is able to identify with this part of Piggie, their friendship is in peril.
Elephant is averse to trying the slop. He wants Piggie to take it away because it stinks.
Piggie's desire is in direct opposition — Piggie wants Elephant to try it. If he won't try it, the friendship is over.
The plan is for Elephant to try at least a little bit. If he still doesn't like it, they will still be friends, but he has to at least give it a go.
The big struggle scene is the trying of the slop itself, depicted in a series of increasing close ups on Elephant's face. Elephant is so bowled over by the spicy flavour that it really is as if he's going through a physical big struggle, with a tiny bit of slop. (The tiny bit of slop is depicted as a green pea.)
"I do not really like slop. But I am glad I tried it. Because I really like you."
Pleased with her victory, Piggie now wants Elephant to try 'dessert' (a fish skeleton). At this point Elephant reclaims his boundaries and says, "Don't push it, bub." They will remain friends, but Elephant will continue to set limits and Piggie will continue to push them, as the playful personality.
STORY STRUCTURE OF WATCH ME THROW THE BALL!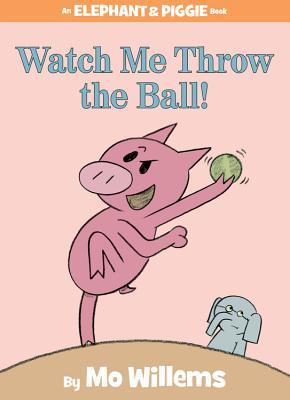 SHORTCOMING
Because this is a series starring the same (mostly two) characters in every story, their basic characters remain the same. That said, each story is a slightly different take on the same shortcomings.
Piggie is very confident. Over confident. She thinks she rocks, even when she has failed. But this constant shortcoming is also her strength, because it allows her to enjoy whatever she tries. This makes for a carnivalesque story each time, in which the main point — the only point — is to have a bit of fun.
This contrasts directly with Elephant's personality. He takes things very seriously. He worked very hard learning how to throw. He can't enjoy Piggie's experiment in throwing because he is worried. What is he worried about? That his ball will get lost? That she won't throw correctly? This is never stated. Elephant's exact worry is left to our imaginations, but is shown on his face.
DESIRE
Piggie wants to have fun with a ball she has found.
Gerald wants Piggie to make a good job of throwing his ball, since things must be done properly or not at all.
OPPONENT
Since their life philosophies are so different, they make good natural opponents. Piggie wants to have fun. Gerald wants the job done properly. In order to be opponents, you only need to put two characters in opposition. You don't need a massive fight or an argument. At its most basic level, it comes down to opposition of values.
PLAN
Piggie will throw the ball. The thing about Piggie is, she's not one for plans. She's impetuous and spontaneous.
Elephant has obviously planned to deliver a mini lecture on how ball throwing is properly done.
BIG STRUGGLE
The big struggle is the part where Gerald yells at Piggie that she has not thrown the ball all around the world — it landed right behind her with a splat.
ANAGNORISIS
This is the weakest part of the story, in my opinion, but still strong enough to work. Piggie says, "You are right, Gerald. I did not really throw the ball very far." Now it seems that Piggie knew this all along, and perhaps she did. This does model good sportsmanship for children, but part of me wishes Piggie had a witty comeback.
NEW SITUATION
The New Situation phase of this story more than makes up for a hasty, unconvincing anagnorisis, because this is where we find out that the author has pulled off something very tricky in storytelling — both main character and opponent have their own character arc, including anagnorisis. (A recent film which does this very well is Lady Bird.)
When we see that Gerald has decided to throw like Piggie did, he has come around the idea that he can have fun by pretending that he, too, is a great thrower who can throw a ball all around the world.
From now on, Gerald will have a little more fun than before. Though he can't really change permanently, because this is a series. Next time we see him he'll need to be reminded, and learn the same lesson again, or a related one.
STORY STRUCTURE OF I'M A FROG!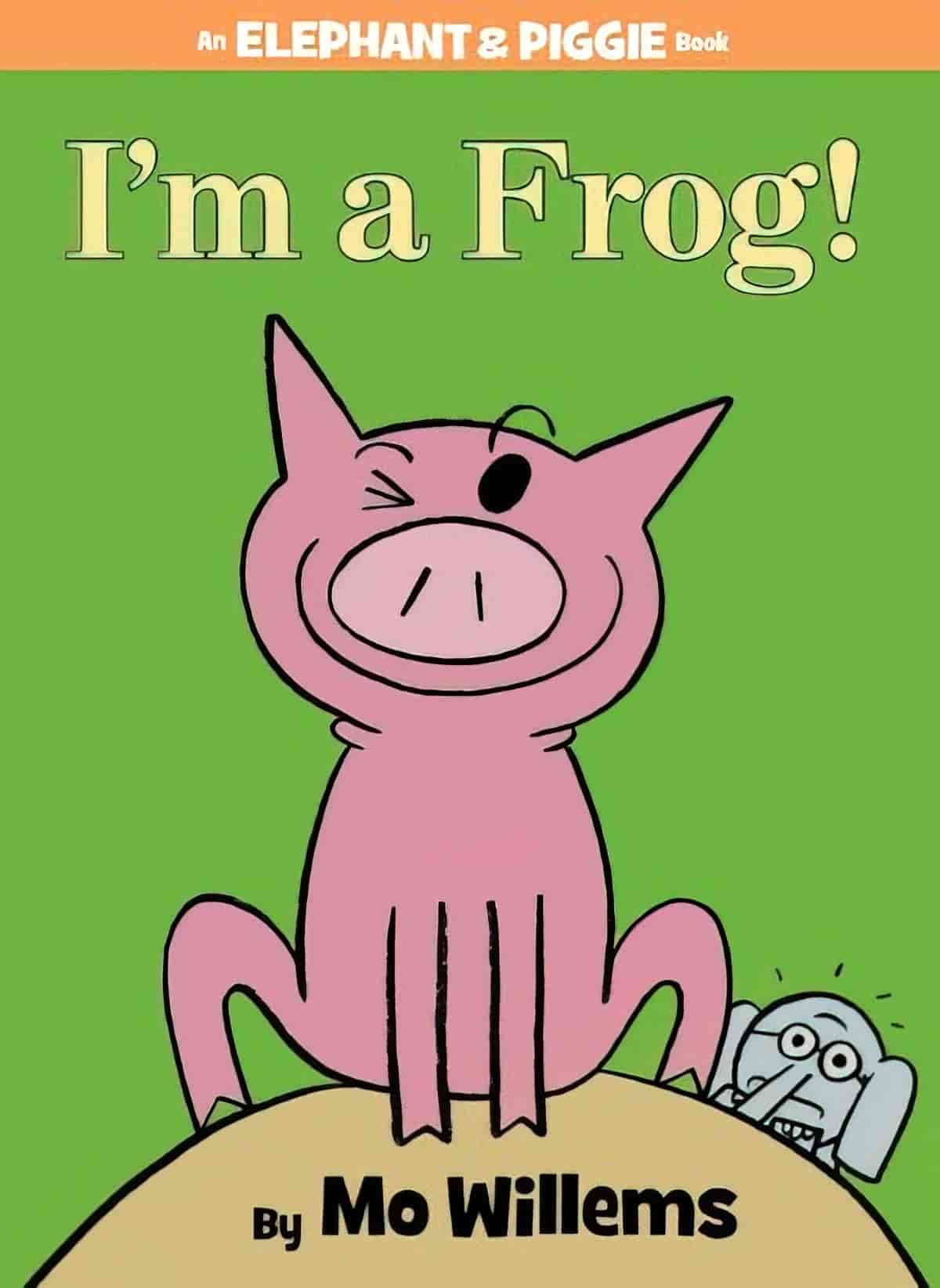 The plot of I Am A Frog is very similar to  Watch Me Throw The Ball!
SHORTCOMING
Piggie is having fun. The shortcoming here belongs to Gerald, who needs to learn to have fun. Gerald is more naive than Piggie, who doesn't know the world 'pretending'.
DESIRE
Piggie wants someone to join in her game of imagination. Gerald wants to remain being an Elephant. He is terrified at the idea that he might become a frog and eat flies.
OPPONENT
Once again, the fun/serious opposition is utilised.
PLAN
Piggie persuades Gerald to try pretending.
BIG STRUGGLE
They have an argument in which Gerald is adamant that he cannot pretend to be something he is not. This culminates in the double page spread with words tangled all across the page.
ANAGNORISIS
Gerald's anagnorisis is that he can do this thing called pretending, and thereby learn to enjoy himself. The revelation to the young reader: It's not that Gerald doesn't understand the concept in the end — it's that he wants to be a cow, not a frog.
NEW SITUATION
Piggie will continue to be a frog and Gerald will be a cow. They'll play together like this (and then Gerald will forget how to have fun in time for the next book).
STORY STRUCTURE OF LET'S GO FOR A DRIVE!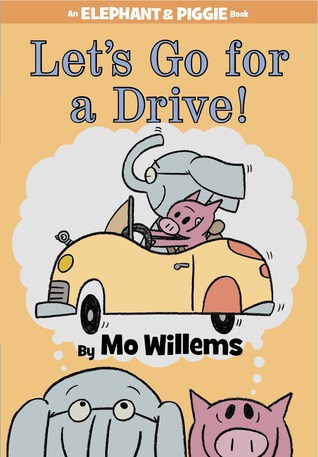 In this story, Elephant and Piggie share a goal, but because they both have the same shortcoming (lack of foresight), their plan doesn't work.
SHORTCOMING
Lack of planning ahead. Gerald tells us he is very good at planning ahead, which makes us laugh at him later.
DESIRE
Elephant and Piggie want to go for a drive.
OPPONENT
There is no human-esque opponent in this story but it still works, because each was relying on the other to come through with the goods. (The car)
PLAN
They'll pack everything they could possibly need for a nice drive. Then they'll go on their drive.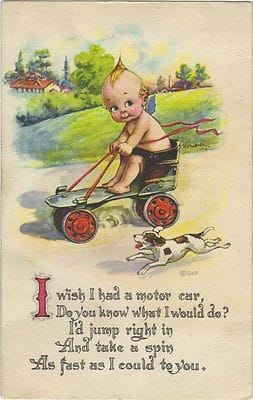 BIG STRUGGLE
NEW SITUATION
There's a revelation (but not a anagnorisis) that neither owns a car. This is an important point in understanding story structure, because 'learning something big' doesn't equal 'learning something about yourself'. The big struggle scene in an Elephant and Piggie book is easy to spot because Elephant will throw back his head and yell (in massive font). "What are we going to do now!" he yells.
ANAGNORISIS
The anagnorisis is that Elephant and Piggie can still have fun if they only modify their plans. This is not the same kind of 'self revelation' you get in a serious drama aimed at an adult audience, but better described as the part of the story where the childlike characters learn a valuable life lesson to put in their toolbox.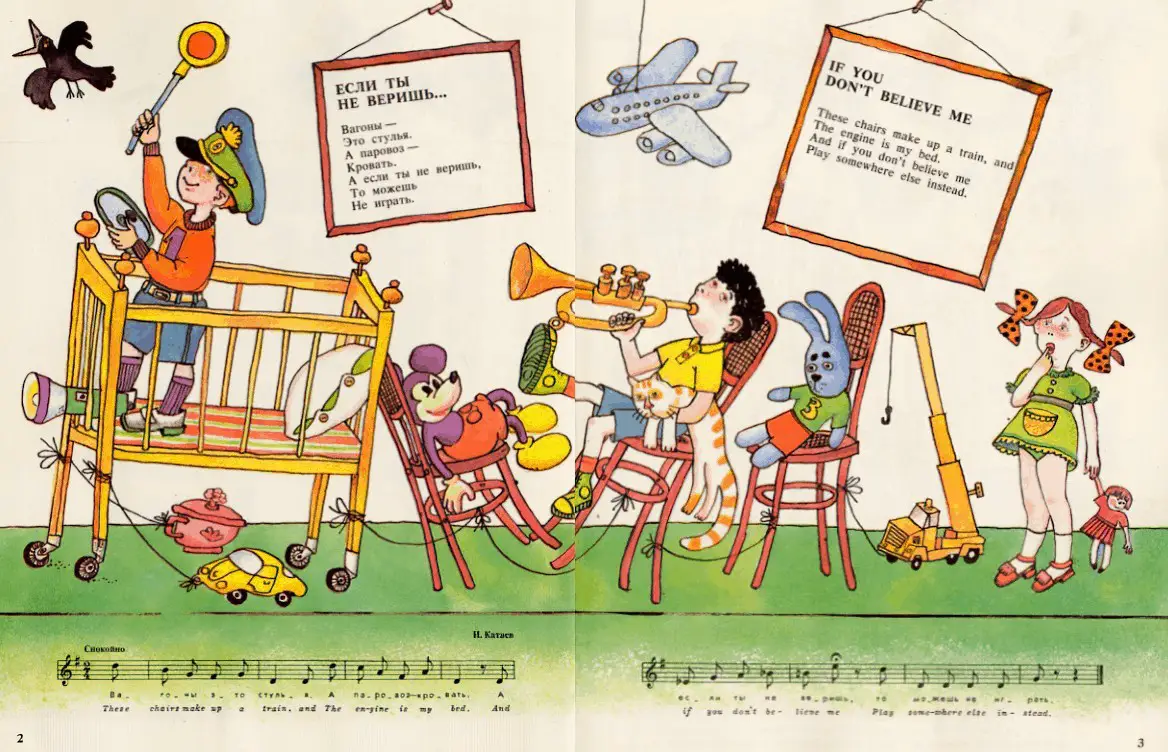 STORY STRUCTURE OF MY FRIEND IS SAD
This story has a big reversal right in the middle, breaking it into two distinct parts, kind of similar to The Enormous Crocodile and The Gruffalo. The main character remains naive.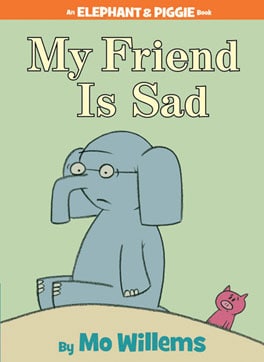 SHORTCOMING
Who is the main character in this story? Elephant, or Piggie. At first I thought it was Elephant, because he goes from sadness to happiness, but this is a simple change in emotional state.
Elephant is sad because he doesn't have a friend, then he does have a friend.
But it's Piggie (and the reader) who learn something.
DESIRE
He wants a friend to share experiences with and hang out with.
OPPONENT
In general, stories don't work when the main character's only opponent is 'himself'. But in this story it does work, because this is comedic structure (which, by its very nature, can only be sustained for a few minutes). Piggie wants the same thing as Gerald — to hang out together, only Gerald doesn't realise they ARE hanging out together.
PLAN
Gerald is too morose to concoct any sort of plan to have a friend, so it's up to Piggie to be proactive. Piggie decides to cheer Gerald up by dressing up as different characters. She thinks Gerald is sad because of an absence of comedy in his life. Turns out she's wrong about that — Gerald needs company more than he needs comedy.
BIG STRUGGLE
Rather than a big big struggle scene, the comedic equivalent of the big struggle is the turning point in which Piggie apologises to Elephant. "I'm sorry. I wanted to make you happy. But you are sad." This sounds like the anagnorisis phase, but Piggie has not learned anything yet. She's still in the dark about how she failed to cheer Elephant up. Now the story will take the readers past all the dress-up characters again.
ANAGNORISIS
Piggie (and the reader) learn that sometimes you just need to be with someone. If you go out of your way to cheer them up, you can fail miserably. This is a quite profound message, even though it's presented here in a light-hearted way.
NEW SITUATION
Just when we think the story is over, there's another double spread in which Piggie breaks the fourth wall (as she did at the beginning) and whispers to the reader that Gerald needs new glasses. Because this is a comedy series, I doubt Elephant will be visiting the optometrist anytime soon — his inability to correctly assess his situation may come in handy for subsequent stories.
STORY STRUCTURE OF PIGS MAKE ME SNEEZE!
This is one of the few Elephant and Piggie books where I was able to predict the ending. This isn't a negative, by the way. Kids (and also adults) love to predict endings correctly. Surprise comes from the details.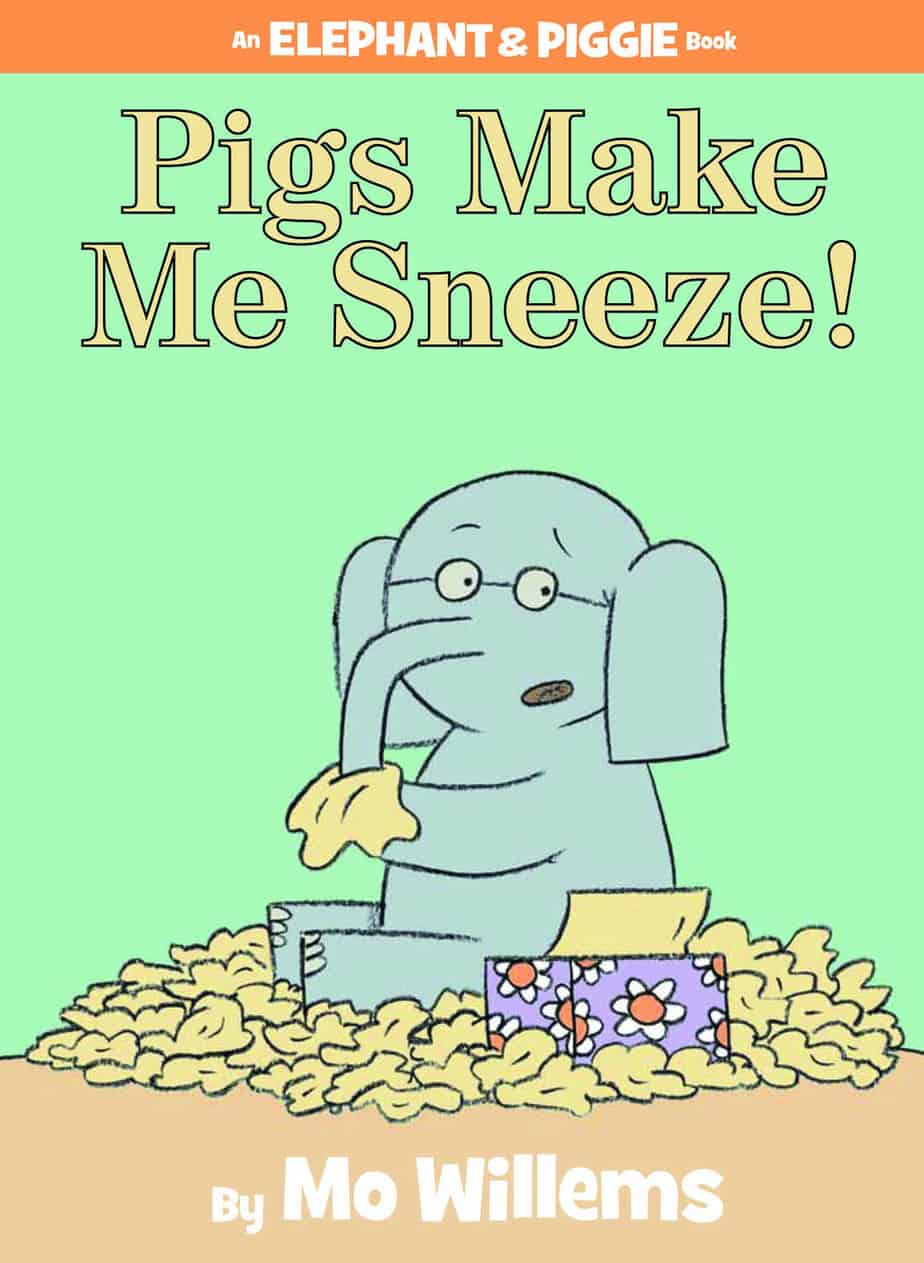 SHORTCOMING
Elephant keeps sneezing.
His underlying psychological problem is that he jumps to conclusions. He's self-diagnosed as 'allergic to pigs'.
DESIRE
This is tough. What does Elephant want? I believe he wants to enjoy his own melodrama for a while. The melodrama comes through in his body language, in which he's thrown his arm across his face. He declares that he and Piggie can no longer be friends.
OPPONENT
Elephant turns Piggie into his imaginary opponent.
Piggie is baffled by this. She wants something different. She wants them to remain friends. She also wants Gerald to not keep sneezing and knocking her over. The pair go through a physical big struggle in which Piggie ends up wearing a helmet with a plastic visor.
PLAN
There is no proactive plan but Elephant happens to meet a cat who is a doctor. In a less minimalistic picture book, Elephant would probably make a plan to go to the doctor. But we don't see that here.
BIG STRUGGLE
Although we've seen a physical comedy in the sneeze big struggle earlier, the big struggle scene (in narrative terms) actually occurs after the medical examination. Notice how Elephant is flat on the floor. The 'Battle' involves a near-death experience. Although it's psychosomatic, Elephant concludes that he is allergic to cats, too, and is basically therefore dead.
ANAGNORISIS
The big reveal, for both reader and Elephant, is that he is not allergic to anything. He has simply caught a cold.
NEW SITUATION
And now Piggie has caught the cold, too.