"The She-Wolf" is a comedic short story by Saki.  The story first appeared in the Morning Post newspaper. It was later collected in the 1914 anthology Beasts and Super-Beasts.
Clovis the prankster gets up to tricks. This is a twist on the transgression comedy. In order to write a story like this, the writer must embody the prankster. The satisfying thing about writing this kind of story is that the writer's pranks always work on our fictional victims.
But it's not so easy to satisfy the readers with a prank plot… How did Saki do it?
STORY STRUCTURE OF "SHE-WOLF"
The most fleshed-out character is Leonard Bilsiter, the victim of a prank.
Saki explains Leonard Bilsiter's shortcoming up front:
one of those people who have failed to find this world attractive or interesting, and who have sought compensation in an "unseen world" of their own experience or imagination — or invention.
So, a bit of a Walter Mitty character. Except Walter Mitty doesn't try to gain prestige with his fantasies — Mitty deludes his own self.
Bilsiter's particular Shortcoming is going to be both psychological and moral in nature, since you can't make up stories without hurting other people. (Because other people must be told.)
The reader needs to feel that Leonard is deserving of the prank.
The Desire to tell people amazing stories is at its core the Desire for acceptance and respect. It is also the Desire for others to reflect your own fantasies, thereby making them feel true.
Clovis, the witty prankster. Also Mary, whose function is like the male magician's pretty assistant.
The Plan is hatched by the prankster.
Leonard has been boasting about magic that turns people into wolves. So Clovis will borrow a wolf and arrange with Mary to make it look as if Bilsiter has turned Mary into a wolf.
BIG STRUGGLE
Everyone else at the gathering is terrified of the wolf and flabbergasted at the  'magic'. The wolf is considered dangerous. Several people think they are going to die.
Because this is a comedy, there's no need for character growth.
So far, Bilsiter has been trying to crack on that he is more knowledgeable and worldly and magical than he is. Usually in a transgression comedy like Tootsie or About A Boy, everyone in the liar's orbit is fooled for a while (or successfully suspends disbelief).
In this particular story, no one around Bilsiter believes his stories for a second. So a flip occurs at this point: People who did not believe him before do believe him now. People who did not believe him before appear to believe him now.
Clovis and Mary, our pranksters, not only scare Bilsiter but Clovis makes sure he doesn't leave Bilsiter with any social prestige. So he takes the mantle of magical transmogrifier for himself.
The reader is not let in on the extent to which Bilsiter truly believes in the magic he blusters on about, but we do know this for sure: Bilsiter hates Clovis.
SEE ALSO
Wild animals gatecrashing aristocratic parties isn't new. There's clearly a carnivalesque enjoyment going on here, in which propriety takes a back seat at parties. 'Letting loose' is itself symbolised by the appearance of the wild animals.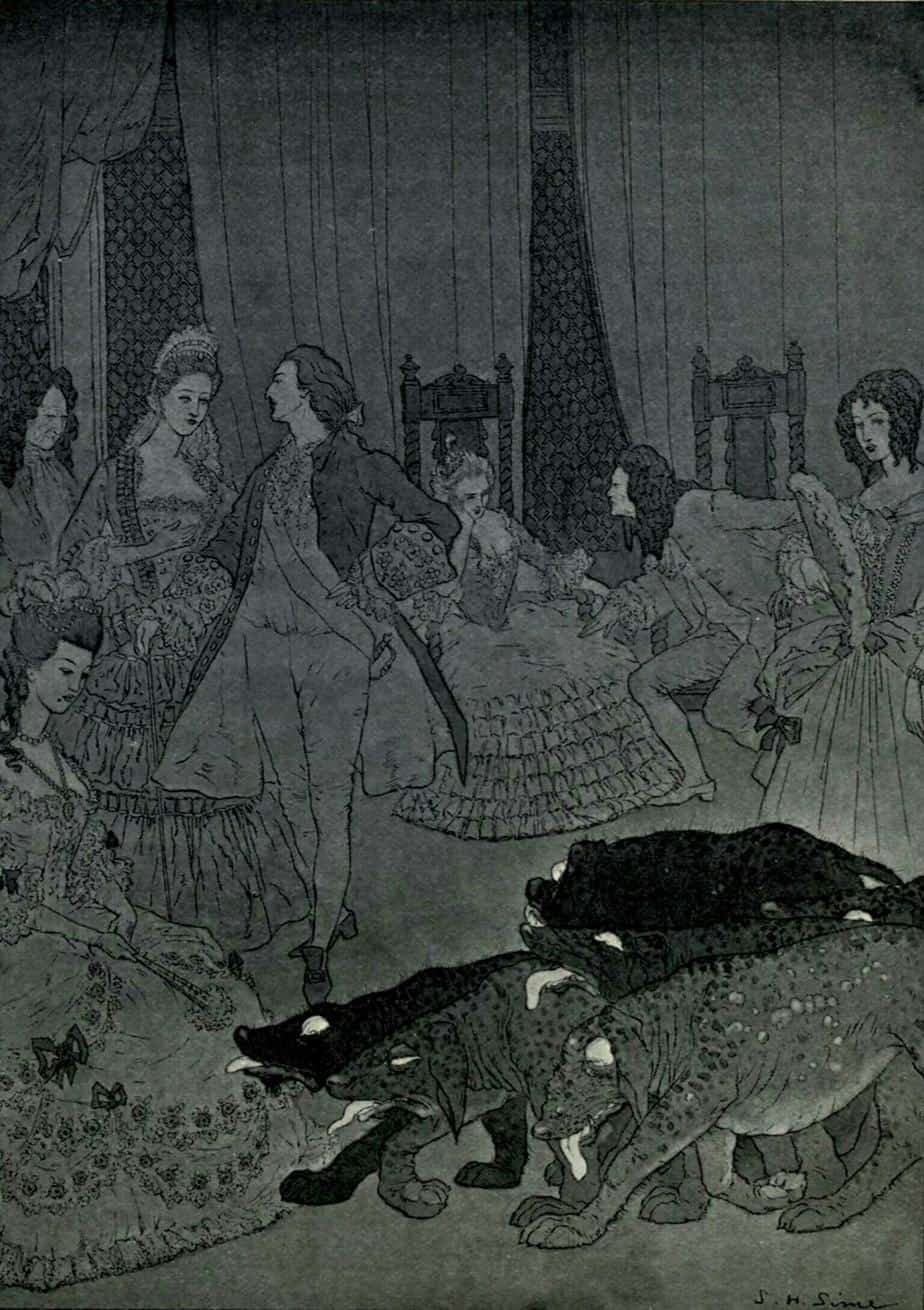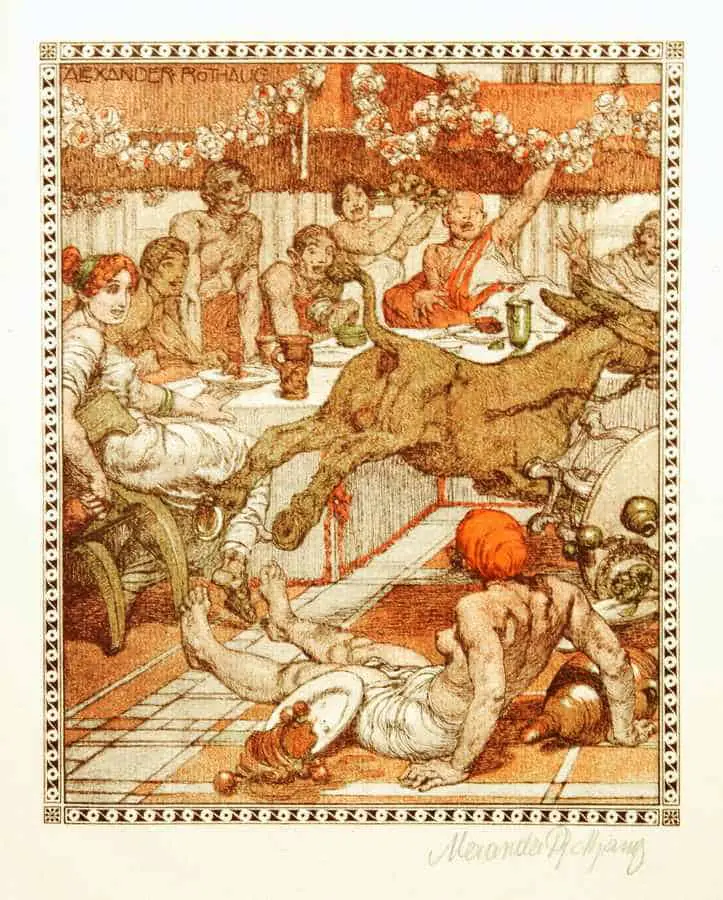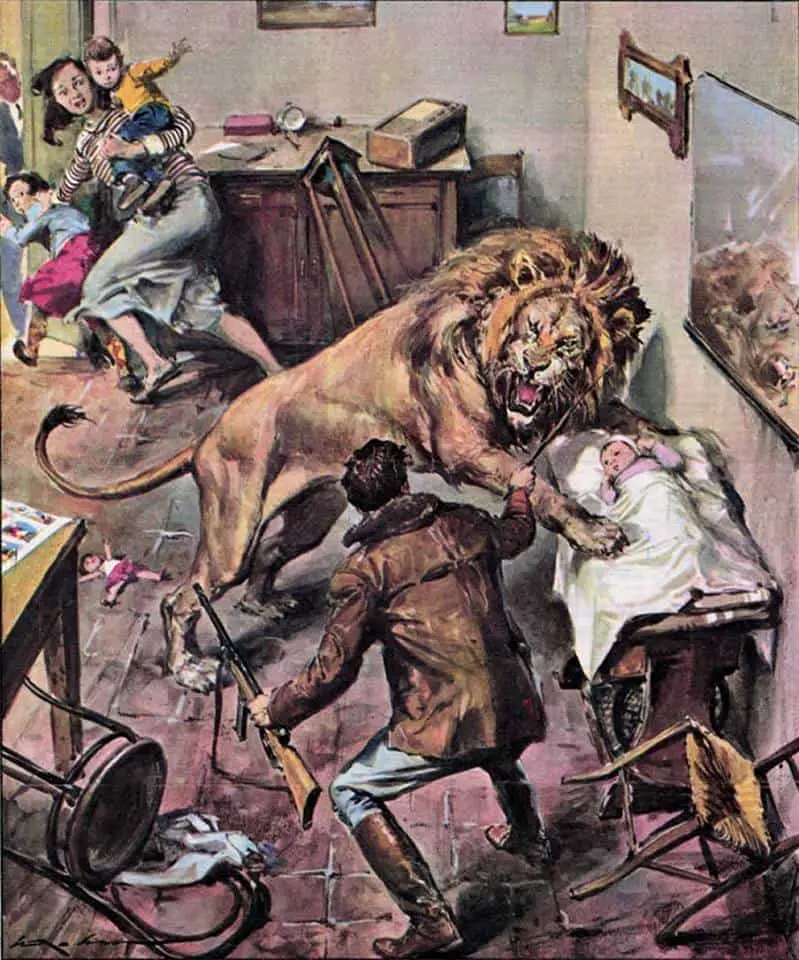 Header photo by Tahoe Beetschen