Most often, kitchens in children's literature serve as metonyms of familial happiness, but every so often you do find a scary kitchen in which not all is well. The kitchen is the perfect place for a scary scene because it is at once close to home (in fact the hub of the home) and contains dangerous items such as knives.
The ultimate scary picture book kitchen is, in my opinion, one created by Maurice Sendak — In The Night Kitchen.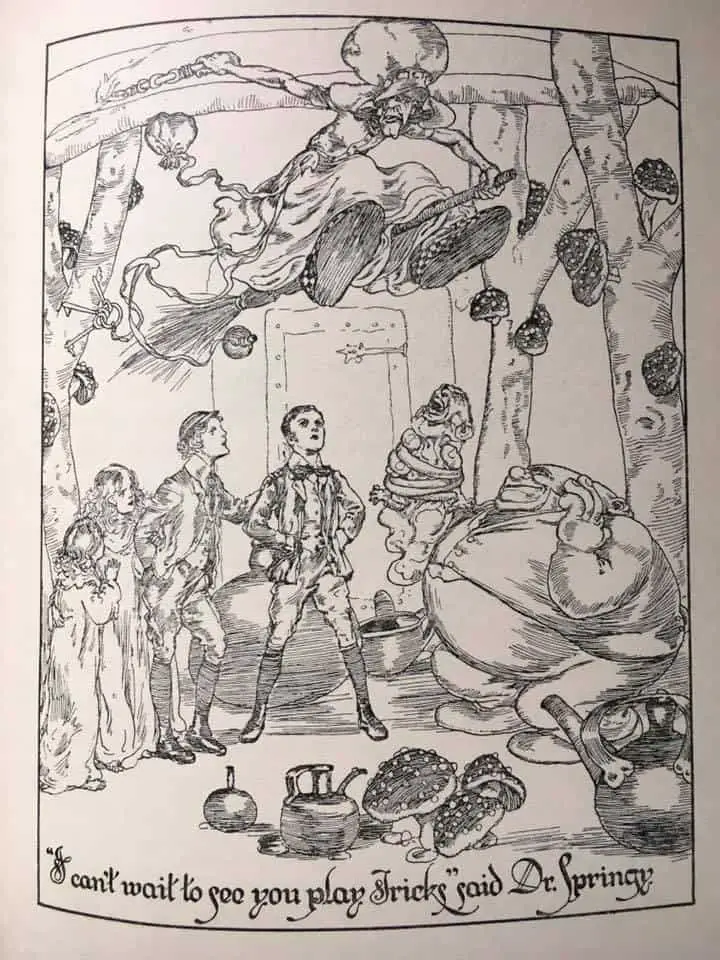 And here are a couple of shots of the kitchens our story app Midnight Feast. I illustrated the story in two colour schemes — the ochre one is the main character's reality. The colour illustrations are her imagined, improved take on reality, in which there is not enough to eat due to climate change.
I now find the prospect of climate change so terrifying I'd never spend a year and a half making another climate change story.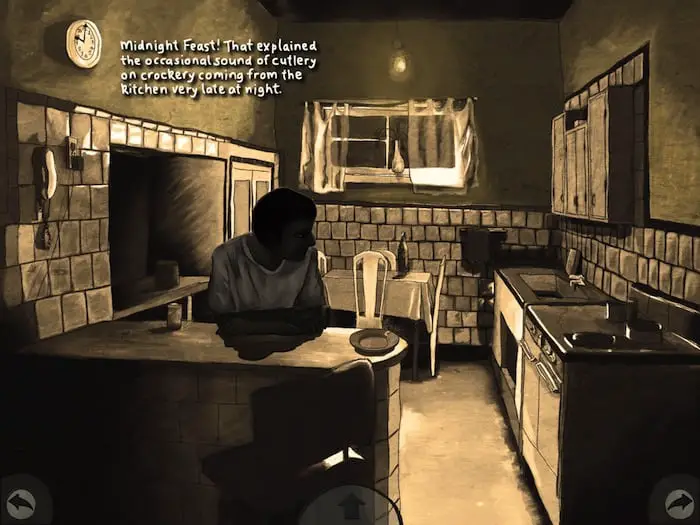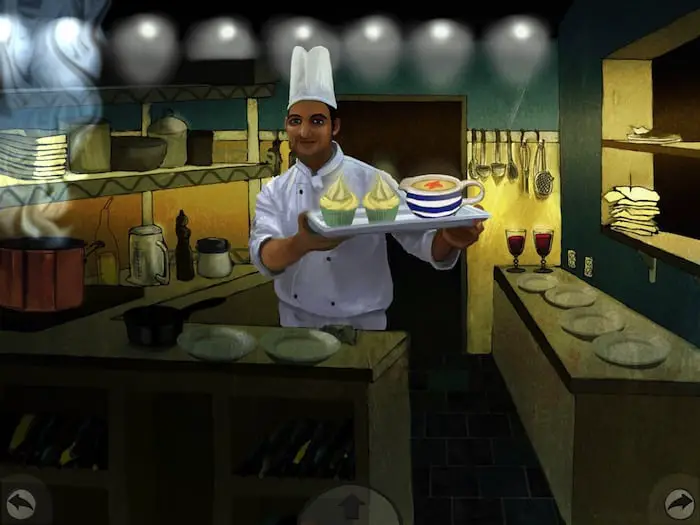 I made Midnight Feast deliberately terrifying. (My illustration style doesn't exactly lend itself to light and fluffy.)
But sometimes I wonder if kitchens are accidentally creepy. Below is a bird's eye view of Doctor Snuggles' kitchen. His housekeeper is grumpy and hates him messing up his space. The top down view makes Snuggles look small and somewhat vulnerable. The illustrator has skewed perspective a little to give the reader more of his face.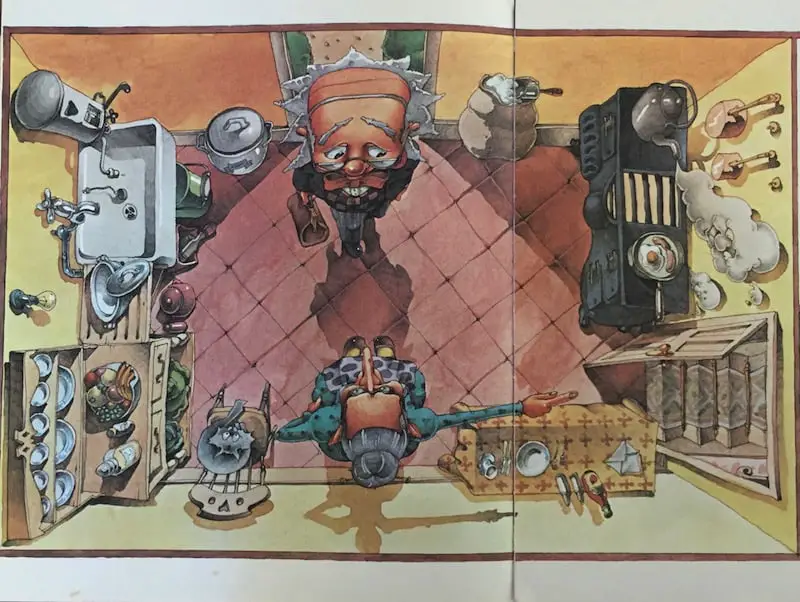 The kitchen in Courage The Cowardly Dog can be scary or welcoming depending on the camera angle and colour scheme. Purples and blues mean something scary is going down.
A comically terrifying kitchen-centred story is a Wallace and Gromit film.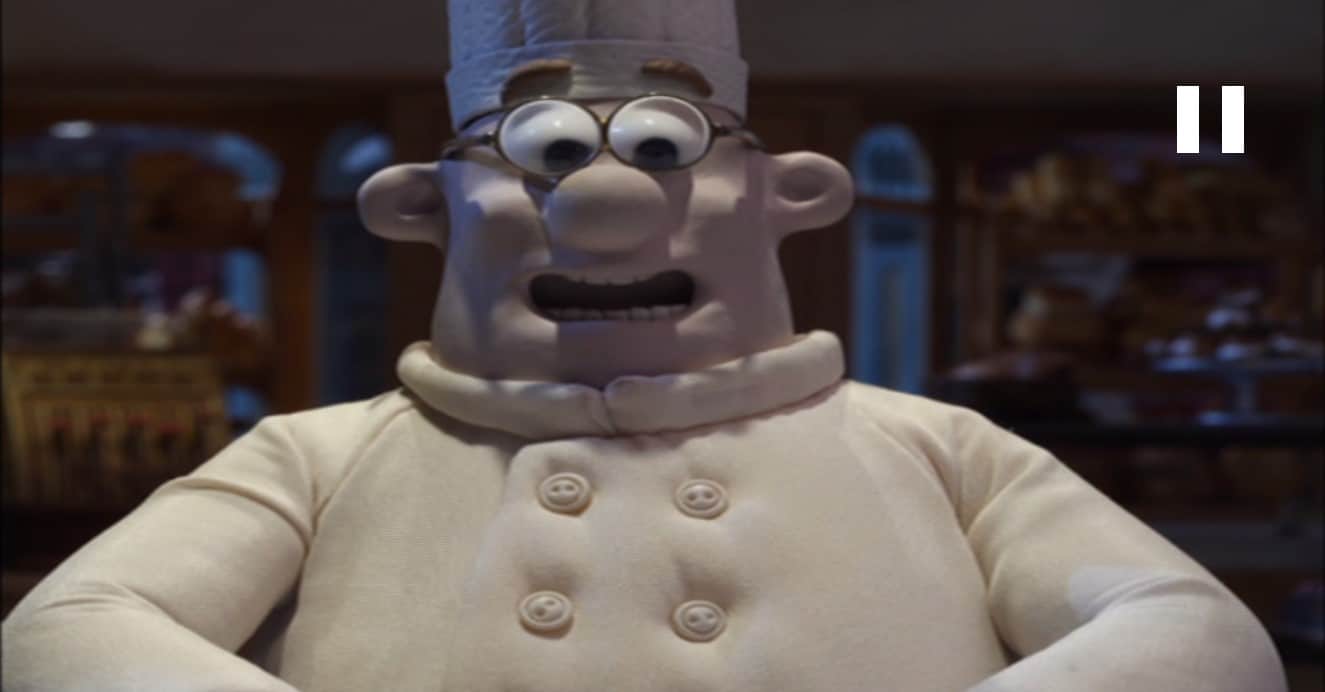 Do you know which classic story the following scary kitchen is from?
This house was something between a cave, a prison, and a tumbledown pig-stye. There was a strong door, which was shut and locked.

The setting sun made the window panes glow like red flame; but the kitchen fire was not alight. It was neatly laid with dry sticks, as the rabbits could see, when they peeped through the window.

Benjamin sighed with relief.

But there were preparations upon the kitchen table which made him shudder. There was an immense empty pie-dish of blue willow pattern, and a large carving knife and fork, and a chopper.

At the other end of the table was a partly unfolded tablecloth, a plate, a tumbler, a knife and fork, salt-cellar, mustard and a chair—in short, preparations for one person's supper.
It is from The Tale of Mr. Tod by Beatrix Potter. Some of those sentences would fit perfectly in a horror novel, don't you think?