Aaron's Hair is not Munsch's most popular book. That would be Love You Forever, which Munsch wrote just as a family story for a long time, after two of their babies were born dead. That book has sold 20 million copies, even though the publisher only hoped for 30,000 to break even. This book hits the sweet spot between charming and smarmy.
The most discussed of Munsch's books among critics is undoubtedly The Paper Bag Princess, which is remarkable for a relatively early inversion of gender stereotypes in a picture book:
Robert Munsch is a word-of-mouth storyteller, and his books cannot capture his brilliance in that capacity; but they have been highly successful all the same. The Paper Bag Princess (1980), made into a picture book by Michael Mortchenko, is about a princess called Elizabeth who is going to marry Prince Ronald. Elizabeth reverses the traditional order of things by rescuing her prince from a dragon. Her reward is to be told after all her exertions that she looks a mess.

Written For Children by John Rowe Townsend
As Rowe Townsend says, Robert Munsch is first and foremost an oral storyteller, and it's for this reason that if you look up Robert Munsch on the Internet, you'll find him photographed only in animated moments: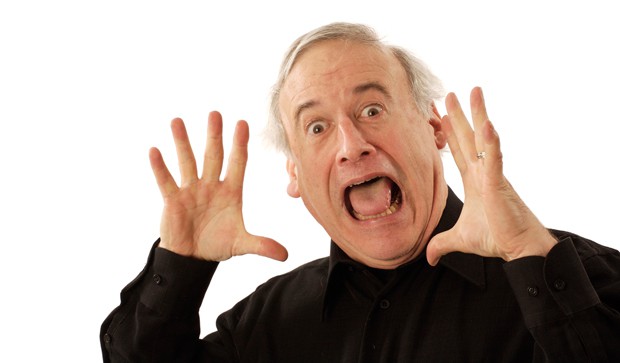 Robert's Hair might be described as the picture book equivalent of a Tall Tale, a form which evolved among working men in various English speaking countries, particularly in Canada and Australia. Indeed, Robert Munsch lives in Canada as an adult, and has probably been influenced by this same tradition. You may have noticed that a lot of the most popular humorous,  performative  books have been written/illustrated by men rather than by women. There are of course exceptions to this, but I have wondered why men seem to dominate in the gross-out, slapstick, performance arena. There is no single answer for this, but the history of such storytelling is gendered male, and there's no real wonder that male creators are dominating this particular form of picture book.
That said, tall tales have their origins in folklore, with stories such as Little Red Riding Hood originally being performed rather than read, with storytellers pouncing on their listeners as the wolf eats the grandmother, for example. And Little Red Riding Hood started out as a tale for women and girls, to tell each other as they sewed. (Hence the original 'path of needles and pins' wending through the forest.)
WHAT HAPPENS IN THE STORY
PERITEXT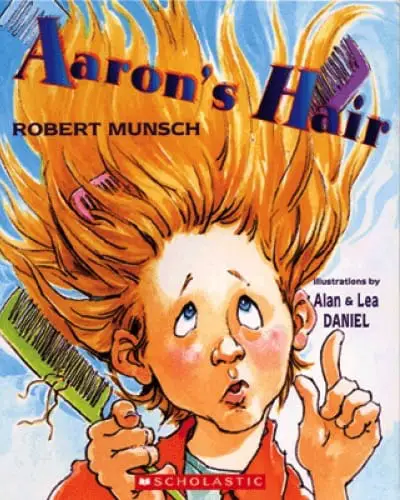 Aaron's hair gives him problems: it always does exactly the opposite of what he wants it to do. One day, Aaron gets so mad he yells, "Hair! I hate you!" Proving that even bad hair can have hurt feelings, Aaron's hair jumps off his head and out the door. A hilarious chase follows, as Aaron's hair runs all over town. It leaves chaos in its wake, attaching itself to different parts of people's bodies, and even to a statue! It causes an enormous traffic jam, all with Aaron in hot pursuit. At the end of the bad hair day, Aaron realizes that he really does like his hair, and the runaway hair forgives him and comes home.

marketing copy
WONDERFULNESS OF AARON'S HAIR
This story absolutely benefits from an animated storyteller, preferably wielding a wig.
It is not considered by critics to be one of Munsch's finest books at all. It's pretty far from a mentor text. You'll be left scratching your head if you're looking for a moral, or for a way to link it to the CCSS. This from Publishers Weekly:
The creators of Get Out of Bed! here offer a rather rootless tale about what happens when a boy, frustrated with his unruly tresses, yesll, ""Hair, I hate you!"" The phrase becomes a refrain as Aaron's hair, its feelings hurt, jumps off his head and affixes itself to various people's body parts, beginning with the head of his baby sibling and including a woman's navel with a man's behind, and finally proceeds to a policeman who can't see to direct traffic when the hair flies onto his face. When each victim yells, ""Hair, I hate you!"" the hair heads on its way. Though this repetitive refrain and the story's broad humor may attract a few kids, most will find this feckless fare. The illustrators exploit the tale's outlandish visual potential to the level of slapstick sitcom, creating cartoon-style watercolors of Aaron's 1960s-holdover family as well as a Deadhead motorcyclies and a hippie on inline skates. Far from one of this storyteller's glossiest performances. Ages 3-6. (Sept.)
On the other hand, children do seem to go through a phase of personifying things (in this case hair), and this story plays into the tendency.
Children do enjoy slapstick humour. And they especially enjoy slapstick humour when the butt of the joke is someone in authority, such as a traffic officer directing traffic.
Children also find humour in misplaced objects. Put glasses on a dog and children will find it hilarious; likewise, put a boy's hair on a baby and they'll find that funny too.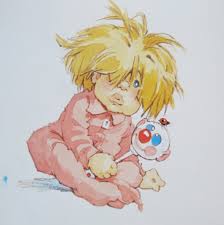 NOTES ON THE ILLUSTRATION
The best illustrators of picture books tend to draw people in motion. It's relatively easy to draw a family sitting at a table, but expect the illustrator to depict a mother dropping her coffee, a father wiping his baby's chin, one child mid-gulp and another jumping down from the table and it seems you're calling on a different set of skills. Munch's books have been illustrated by a number of different artists, and this one has been illustrated by the duo of Alan and Lea Daniel. They each bring slightly different art backgrounds:
Fine artist and Illustrator Alan Daniel creates works of art in watercolour, oil and illustration and offers instruction in a variety of mediums. His original paintings and reproductions are for sale and also available for licensing.

Writer, artist and playwright Lea Daniel writes and illustrates for children and also creates dramatic works for the stage.

Alan and Lea Daniel's Website
I'm not sure how two artists collaborate on a project, but I'm guessing Alan did the watercolour fill. Unlike other styles of caricatures and cartoons often found in picturebooks, the Daniels have brought traditional art training to this work. I'm not sure if the coupling between realistic tones and caricature is a particularly comfortable one for critics of this style of book! There is actually something a little disarming about it.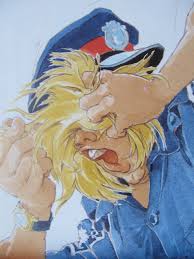 There aren't many pictures of bald children in picture books, either. Just like you don't see hairy legs on mums, or nipples on anyone. So simply depicting a bald boy is somewhat confronting, perhaps because it is reminiscent of child cancer, without being about child cancer.
STORY SPECS OF AARON'S HAIR
32 pp
First published 2000 by Cartwheel
COMPARE AND CONTRAST WITH AARON'S HAIR
A more recent entry into the realm of Picture Books To Be Performed is comedian celebrity B.J. Novak, whose best-selling The Book With No Pictures proves that when it comes to this genre of picture books, illustrations may indeed be beside the point. I do wonder, however, if Novak has a conscious grasp on all of his own influences, and is aware that there are many picture books apart from his own which are designed to be performed:
Novak has suggested that The Book With No Pictures "could be a whole new way to introduce the children to the idea of what a book can do".

The Guardian
The sense of humour of children is quite different from that of adults, and changes rapidly every few years as children pass through various developmental stages. There has been talk lately about how the best-selling picture books are overwhelmingly meta now, with questions about who picture books are really for: the children or the adult co-readers who pay for them? But there's no doubt that books such as Novak's and Munch's appeal to a genuine child audience, possibly alienating a lot of adult co-readers a little (though there is still joy to be had in watching your child reading a book — much like watching them open presents on Christmas morning).
Also from the review of Novak's Book With No Pictures:
Compared to the extraordinary ingenuity and engagement of, say, Viviane Schwarz's There Are Cats in This Book series, it's a one-trick pony that I, as an adult, am quite happy to put out to grass. Then again, had I been surrounded by children rocking with laughter and squealing with delight as I was forced to say sillier and sillier things, my attitude might well have been different.
Though, as one commenter noted on YouTube, this book is still meta.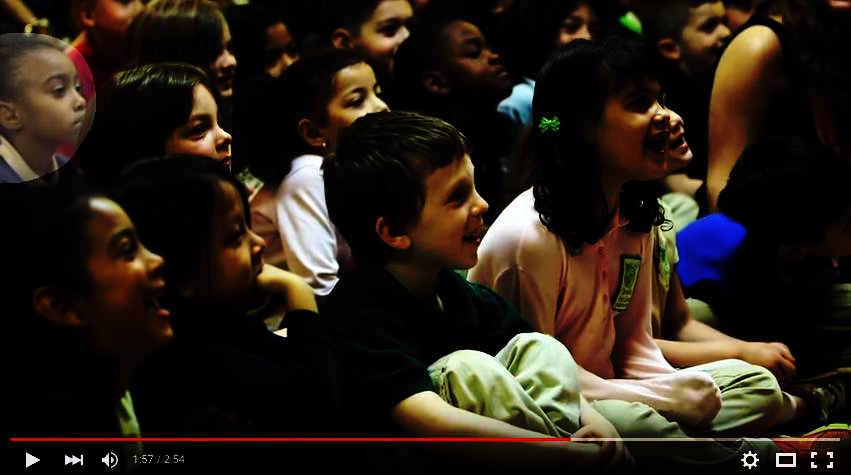 An Australian children's author who specialises in the Tall Tale is Paul Jennings. He writes short stories for emergent readers.
---
 WRITE YOUR OWN
"With first graders you can get them to laugh just be saying 'underwear'. They go crazy! You can't do that with older kids. They don't think the same way."

Robert Munsch
Is it really as easy as all that to get kids to laugh, or is Munsch underestimating the gift of comedy?
Where is that sweet spot of taboo, loved by kids and tolerated by parents, which Munsch describes as 'middle of the road'? (He wouldn't use the word 'goddamn' for example, though in this book he uses the word 'hate', in a world where a lot of parents ban the word 'hate'.)