Impressionism is an aesthetic movement. Art preceding this movement tended to religious and historical in nature and realistic. The golden age of Impressionism in art lasted 1876-1886.
WHAT DEFINES AN IMPRESSIONIST PAINTING?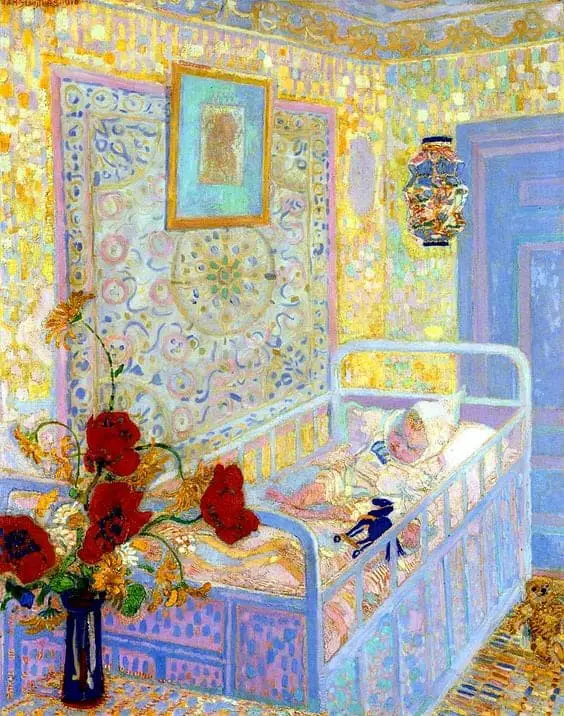 Unlike the realist art which came before, an Impressionist painting seems as if the viewer only caught the scene with a glance.
Vibrancy is key. Impressionist painters tend to use dominant colours laid close together unblended
Natural light is important when depicting vibrancy — much use is made of sunlight
The artist doesn't realistically 'finish' the painting.
An impressionist painting is designed to be viewed from a certain distance.
Each viewer derives for themselves the work's theme.
It's often difficult to define the most important element in an Impressionist composition.
Purple was pretty much neglected until the Impressionists came along, and then they used it big time.
Impression changed again in the late 1880s. Art after this period is called post-Impressionism. Symbolism was becoming the next big thing and that led to cubism. For more on that, I recommend the Wikiart website, where they categories artworks by movements.
Impressionism is a wider aesthetic movement and applies to other kinds of art. In music Claude Debussy departed from rigid formal structures e.g. the sonata in favour or less rigid tonalities designed to express emotional themes. In this way, Impressionism also happened to music.
THE DIFFERENCE BETWEEN SURREALISM AND IMPRESSIONISM
from Words About Pictures by Perry Nodelman:
We assume that surrealism is imaginative and mysterious because the surrealist style has traditionally been used in relationship to mysterious, imaginative subjects, and the pictures in The Garden of Abdul Gasazi imply a mysterious, imaginary world where impossible things have a distressingly possible actuality.

We similarly assume that impressionism is intent on capturing the beauty of the ever-changing physical world. For the original impressionists, the impressionist style implied a concern with transient appearances that tends to downplay the narrative significance of pictures; Barbara Bader suggests that this style may be the least 'illustrational' of all styles of art (American Picturebooks 499). The impressionists were interested in depicting the green light cast on a face by the momentary shade of a tree, not the personality of the person the green light fell on. Their pictures said merely, Here is the beautiful way things look, not The way things look here can give us insight into this person or this place.
IMPRESSIONISM AND PICTURE BOOKS
Like cartoonists, picture book artists are less interested in imitating styles than in evoking them — less interested in accuracy than in expression.

Perry Nodelman, Words About Pictures
WHAT KIND OF PICTURE BOOKS ARE IMPRESSIONIST?
Impressionist art is well suited to some kinds of children's picture books, especially those with a dreamlike world, or in which the plot is a recall of memories. Picture books about grandparents are quite likely to be rendered impressionistically, as if to mimic the haziness of distant memory.
As Meyer Schapiro suggests in his discussion of style, "The observer is often indifferent to the original meanings of works". A hundred years later, impressionists can evoke a mood that has narrative potential. Simply because we did learn from the impressionists to find beautiful the transient appearances they tried to capture, we find pictures that we recognize as impressionist evocative not just of natural beauty but also of the peaceful comfort we associate with our appreciation of such beauty. Furthermore, the once commonplace world of trees and of vibrant light that Renoir and Monet depicted is not so commonplace for most of us; pictures in the impressionist style of tree-filled glades and shining waters evoke for most of us less a sense of things as they are than a nostalgia for the way they once were. For us, the impressionist style represents a quieter, more peaceful time, and it is less shocking than restfully numbing.

Perry Nodelman, Words About Pictures
IMPRESSIONISM AND THE COLOUR PURPLE
I went to the National Gallery in central London and, after checking the entire collection, found just one violet painting made before the Impressionist era began in 1863. Strangely, it looked like the greatest artists of the past epoch had ignored this colour – until the French Impressionists embraced it. Why so? 

Psyche, Why It Took Us Thousands Of Years To See The Colour Violet
SOME IMPRESSIONIST PICTURE BOOKS
The Garden of Abdul Gasazi by Chris Van Allsburg (1979): Surrealist story, impressionist art — Booklist contributor Barbara Elleman noted Van Allsburg's ability to "provide an underlying quality of hushed surrealism, seemingly poised at the brink of expectancy." Paul Heins (Horn Book) compared Van Allsburg's "stippled tones of gray and the precisely outlined figures" to the pointillist technique of nineteenth-century French impressionist painter Georges Seurat. This was Van Allsburg's first published picture book. Perry Nodelman says: Illustrations do have a narrative purpose. They must show us not just beautiful patterns and evocative atmospheres but what people look like as stories happen to them; that is, as they move and talk and think and feel. So their faces and bodies usually have the simplicity, and consequently the expressiveness, of cartooning, a simplicity at variance from the frequent richness and detailed accuracy of their backgrounds, which give us a different sort of narrative information. When faces and bodies do have the same solidity and detail of shading and lines as their backgrounds, they may come to seem static and inexpressive; that may be yet another factor that contributes to the dreamlike stillness of Van Allsburg's Garden of Abdul Gasazi.
The Island by Armin Greder — about refugees, xenophobia, racism, multiculturalism, social politics, and human rights. When the people of an island find a man sitting on their shore, they immediately reject him because he is different. Fearful to the point of delusional paranoia, the islanders lock him in a goat pen, refuse him work, and feed him scraps they would normally feed a pig. As their fears progress into hatred, they force him into the sea.
Sadako by Eleanor Coerr — based on the story of Sadako Sasaki
The Peasant Prince by Li Cunxin and Anne Spudvilas — 'This is your one chance. You have your secret dreams. Follow them! Make them come true . . .' In a poor village in northern China, a small boy is about to be taken away from everything he's ever known. He is so afraid, but his mother urges him to follow his dreams.
FArTHER by Graham Baker-Smith — FArTHER is the story of a father who dreams of flying. However, when he goes to war and does not return, his son attempts to finish where he left off and makes his dream come true.
Once Upon a Picture by Sally Swain — introduces children to art through four famous paintings: Paul Klee's "Twittering Machine," Pierre-Auguste Renoir's "The Umbrellas," Henri Rousseau's "Tiger in the Tropical Storm
The Wall by Eve Bunting — a father and his young son's visit to the Vietnam Veterans Memorial.
Flood by Jackie French and Bruce Whatley — Inspired by the Queensland floods, Flood is a moving and sensitive story of a natural disaster as seen through the honest eyes of a cattle dog that has been separated from his family. The floodwater mercilessly rips through the towns, and finally recedes, leaving a devastating widespread path of destruction. But from the ruins, courage and kindness emerge. A tiny tugboat heroically guides a wayward boardwalk out to sea; rescuers pluck friends and strangers from the dangerous waters; communities gather, providing aid, shelter, comfort and – above all – hope.
The Mousehole Cat by Antonia Barber and Nicola Bayley — Based on the legend of Cornish fisherman Tom Bawcock and the stargazy pie, it tells the tale of a cat who goes with its owner on a fishing expedition in rough and stormy seas.
Wilfred Gordon McDonald Partridge by Mem Fox and Julie Vivas — about a boy, Wilfrid, who helps an elderly friend, Nancy, to regain some of her memory.
The Big Big Sea by Martin Waddell and Eleanor Eachus — A child and her mother walk in the moonlight beside the sea. This night will become a memory as luminous and enduring as the moon itself. With unforgettable, silver-washed images and gentle, flowing words, The Big Big Sea portrays a bond between parent and child that makes even the dark sea safe and serene.
Lon Po Po: A Red Riding Hood Story from China by Ed Young — a Chinese version of the popular children's fable "Little Red Riding Hood" as retold by Young. Contrary to the original fable, in which there is only one child (little Red Riding Hood) who interacts with the nemesis of the story (the wolf), Lon Po Po has three children. It is written from their point of view. The majority of the illustrations are divided into three pictures per every two pages to form a bigger picture (with a few exceptions). Young uses dark colors for the illustrations to set the tone of the story.
The Whales' Song by Dyan Sheldon — Her grandmother's tales of the beautiful, enchanting whales' song that once filled the ocean leads Lily on a wondrous journey of imagination….
Grandfather's Journey by Allen Say — based on Say's grandfather's voyage from Japan to the United States and back again.
The Red Tree by Shaun Tan — presents a fragmented journey through a dark world. The illustrations are surreal. The text is sparse and matches the dark illustrations. The story is based on images inspired by the experience of depression.
Photographs in the Mud by Dianne Wolfer and Brian Harrison-Lever — The Kokoda Track, 1942. Jack and Hoshi are soldiers from opposing armies, who meet in big struggle and discover they have much more in common than they could ever realise. Told from the point of view of two soldiers, one Australian, the other Japanese, Photographs in the Mud reveals the personal human tragedy of war for both the soldiers and their loved ones at home.
When the Buffalo Wakes by Penelope Johnson — People say the mountain is like a sleepy old buffalo. Some nights Alice dreams of that buffalo shaking off its sleep and rising to its feet. All her life Alice has been waiting to climb it, as it waits huge and silent, and now it is her turn.
The Sea of Tranquility by Mark Haddon — A magical celebration of the 50th anniversary of the moon landing.Years ago there was a little boy who dreamed of rocketing to the moon, of landing on the crumbly rock and walking across the Sea of Tranquility.
My Gran's Different by Sue Lawson — All grannies are different. Sophie's nana bakes sponge cakes. Michael's grandma wears lipstick as bright as a clown's nose. Claire's oma wears wooden shoes and used to live in Holland. Raffe's nonna delivers flowers. Charlie's grandmother, however, is more different than most.
When Grandma Came by Jill Paton Walsh — Grandma is a world traveler with wonderful tales to tell, but none of the sights she's seen compare to the wonder of her bouncy, growing, "heaven-and-earthly" granddaughter.
Mr. Rabbit and the Lovely Present by Charlotte Zolotow and Maurice Sendak:
Sendak's choice of impressionist style for [this book] at first seems absurdly inappropriate, but he uses that sense of peaceful nostalgia to great advantage. Zolotow's story is a mechanical juggernaut that repeats and repeats itself — repeats itself so constantly and regularly that it comes to sound as if it is being told by a computer with a loose screw. Furthermore, the repetitions tend to imply a slightly nasty snippishness in both Mr. Rabbit and the girl he encounters that might causes us to like them less than we presumably should; she always seems to be accusing him of being a little stupid, and he always seems to be just a little sarcastic about how of course her mother only likes birds in trees. But the mood of Sendak's light-filled pictures implies a calm peace that takes over and controls any of the possibly negative implications of the text. The characters come to seem appropriately pleasant, relaxed people when seen under a calming impressionist light; the pictures make it clear that neither of them could possibly be sarcastic. Consequently, the repetitions of the story cease to be annoying and become calming themselves, like the constant humming of bees on a hot summer day. The style of these sophisticated pictures, which at first seem to have nothing to do with this simple story, actually creates a mood that controls and makes bearable the tone of the words…Mr Rabbit moves through an impressionist forest, but he is hardly an impressionist rabbit.

Perry Nodelman, Words About Pictures
MORE
Pinterest Board of Impressionist Picturebooks
Header painting:  from The Red Tree by Australian author illustrator Shaun Tan