We collectively love stories of home intrusion. How else to describe the fascination behind The Bling Ring crimes also known as The Hollywood Hills Burglar Bunch?
THE BLING RING
A group of teenagers from The Valley broke into the homes of celebrities such as Paris Hilton and Audrina Patridge, stealing thousands of dollars worth of valuable items. News was big at the time and never stopped being big, turned into a 2013 film by Sofia Coppola starring Emma Watson Come 2022, Netflix drops a documentary series featuring interviews with the criminals themselves, now grown up.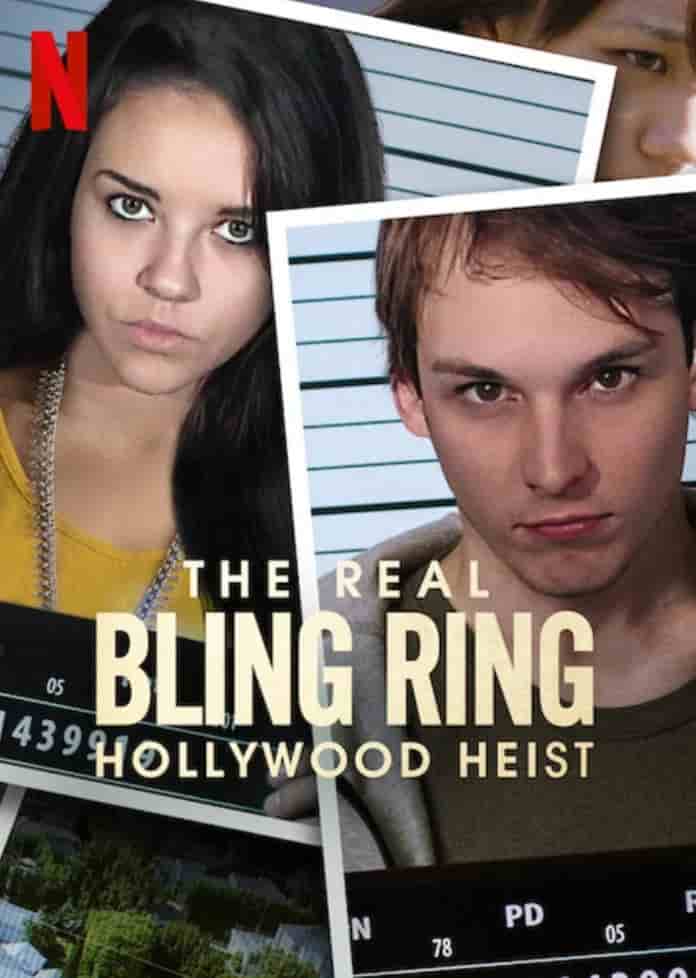 One of the police officers is also interviewed. He is sure to emphasise the victim impact. We don't collectively care about these celebrities because, to them, money means something different. But celebrities are human, and oftentimes, their home is their only refuge from scrutiny. Paris Hilton was unable to return to her home after realising she'd been burgled. Audrina Patridge lost heirloom items passed down through the maternal line of her family. Her apartment was never the same again.
ANIMALS BREAKING AND ENTERING
Mary Roach has a new book out, about so-called 'animal crimes'. In interview at Fresh Air, she explains the harrowing reality of why it's better to be attacked by a cougar than by a bear (whose teeth are not well-adapted for clean kills). But a moment later I find myself laughing at the resourceful things bears have been known to do when entering human premises in Aspen, Colorado:
One of the women who investigates these things and tries to prevent them … said the bears prefer the premium ice-cream brands. They will not touch Western Family ice-cream, which I guess is the budget brand there? [laughs] Just something she'd noticed. They are discriminating. The parks and wildlife guy that I was travelling around with, there was a bear break-in. And we went to the house and he was talking about, first of all, French door-handles. The building code forbids those because it's so easy for a bear to just push down and push in. Anybody with a paw can do that. Even a hollow doorknob, because the bears can get a grip with their teeth and crush it and turn it. Then, obviously, automatically opening doors are a problem. Bears walk into ski resorts and hotels just through the automatic door! So they're very very resourceful. And sometimes very delicate in their depredations.

They'll sometimes see a bear has reached in, taken out a carton of eggs and set it aside. There was one case where a bear unwrapped a Hershey's Kiss. And ate it. This is hard for me to believe but this guy would know! They'll pull a door off its frame, but instead of throwing it over the deck they'll just lean it against the wall, next to the frame of the door. So they're quite resourceful, but also sometimes quite surprisingly delicate. They'll come into a house from the lower floor, go through the living room, up the stairs to the kitchen, not knock anything over. Just go straight to the fridge, open it up, take out what they want and then go.

Mary Roach at Fresh Air
I'm sure these bear break-ins are harrowing for the human inhabitants, yet I found that description amusing.
And so it works with break-ins in children's literature. Stories which cover our greatest fear play an important role in our emotional well-being.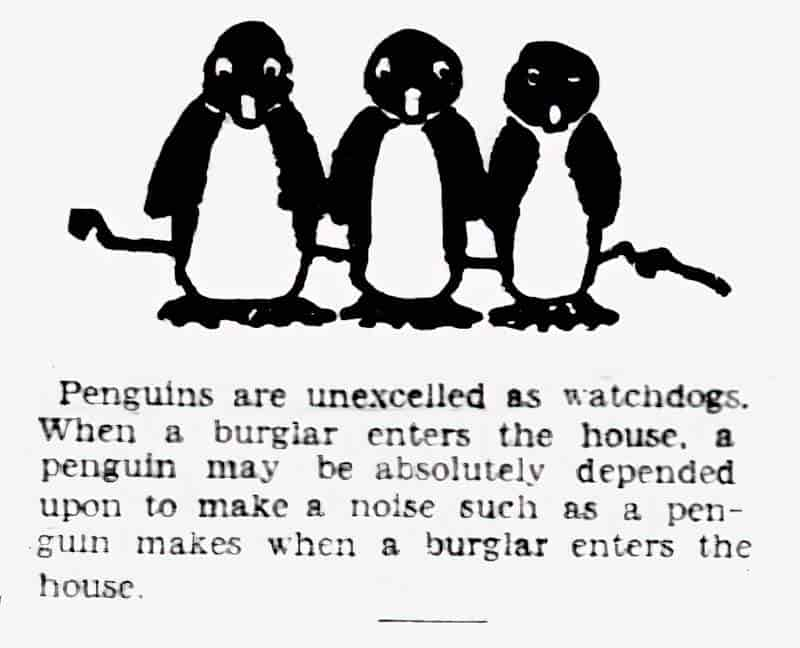 MENTOR TEXTS FOR WRITING CHILDREN'S BURGLER STORIES
Mercy Watson Fights Crime by Kate diCamillo
Walter The Farting Dog by William Kotzwinkle and Glenn Murray
Burglar Bill by Janet and Allan Ahlberg
Mr Creep The Crook by Allan Ahlberg and André Amstutz. (As in Burglar Bill, the burglar learns the error of his ways and start living straight.)
Another lesser known picture book example starring a burglar is Wolf Comes To Town by Denis Manton. A wolf goes from town to town dressed as other characters, stealing and looting including, in the end, a child. It's not a cosy story.
CREATE A CHILDLIKE HERO
Who is the childlike character who saves the day?
Name:
Age:
Appearance:
Shortcoming (apart from youth and inexperience):
Do they have family?
Are there neighbours around?
When does the break-in take place? Night/day? Just after bedtime? Most burglar stories take place at night, but you might choose to defy expectations.
STORY STRUCTURE
Is the break-in sequence the main part of the story, as in Mercy Watson Fights Crime? These stories tend to be carnivalesque.
Or is does the break-in sequence function as the ending (like Walter the Farting Dog)? These stories tend to have a more conventional story structure with carnivalesque parts.
Sometimes, intruders don't want to take anything. They want to move in and take over! This is a subcategory of carnivalesque story.
A GOOD BURGLAR OPPONENT
To what extent does your burglar conform to the archetypal storybook burglar?
The archetypal storybook burglar:
Comprises one or two men, one thick, one thin
They wear stripes
And a black face mask
They carry a sack over their shoulder or a bag
Slink about with a slouched, creeping, catlike posture
Enter buildings awkwardly through windows rather than through doors
They speak in uneducated varieties of English, if at all
They are drawn to shiny or strange things
They seem to be opportunists rather than scheming criminals
Like fairytale fools they are easily duped by childlike characters
If there are two of them, often this is because they can't cooperate
The stock burglar won't have much resonance, but storytellers can create memorable, loveable burglars with a few easy tricks.
SOMETHING DESIRABLE TO STEAL
What does your home intruder want?
Hint: It's never expensive things. In each of the picture book examples above, the burglars behave more like avid collectors or kleptomaniacs, robotically drawn to other people's things as if driven by an outside force. They are not sophisticated criminals. They don't have an eye for expensive things and are all about the clutter. If we get to see their house, it's chaotic, full of stolen gear. They're not selling it on.
They either steal everything in sight (like Burglar Bill and Manton's wolf) or they are like magpies and have an eye for certain kinds of items.
Popular, easily-recognised tropes such as silverware work. Cutlery was once very expensive.
Kate diCamillo puts a clever spin on the cutlery trope in her Mercy Watson home intruder story, neatly linking shiny things to Mercy: The intruder steals a toaster. But Mercy's favourite food in the whole world is buttered toast. She mistakenly thinks someone is downstairs making toast. A carnivalesque episode ensues.
In the "Doctor Le Quack" episode of Courage the Cowardly Dog it becomes apparent that the visiting "doctor" meant to help Muriel is actually a quack who wants to raid the silverware drawer.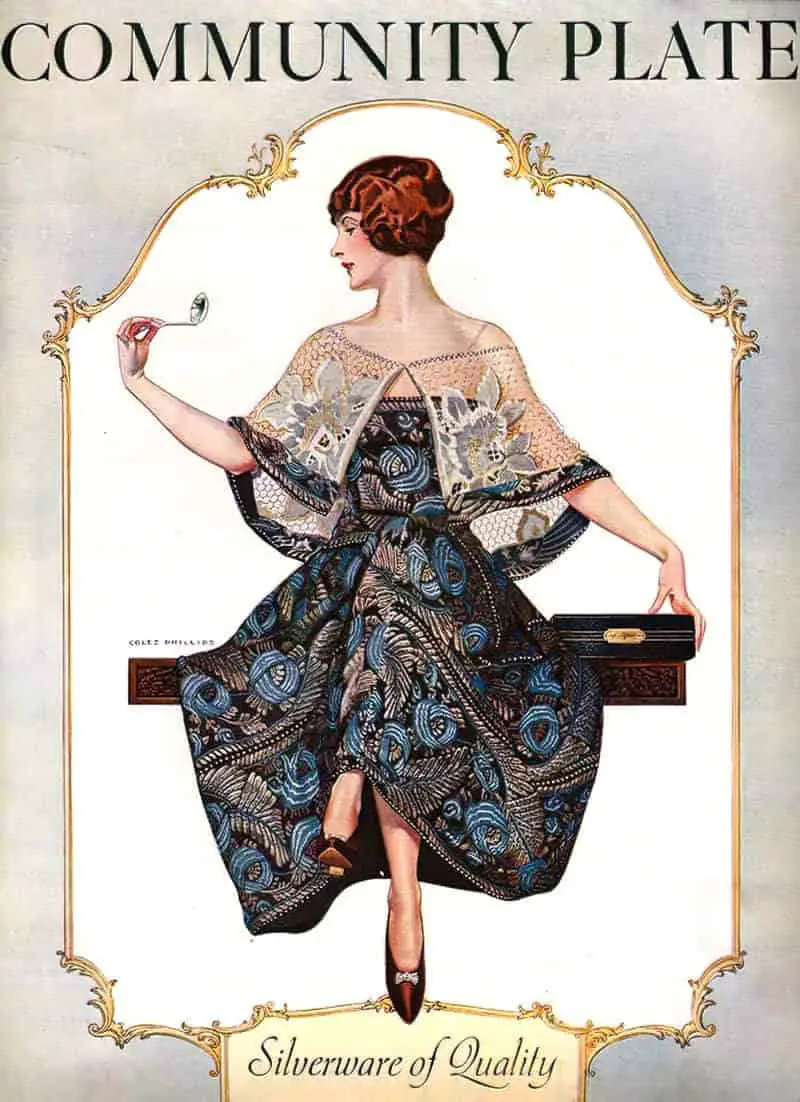 Chests of treasure work well when fairytale character archetypes are involved: witches, wizards, pirates, goblins… Or closer to home, it might be a safe.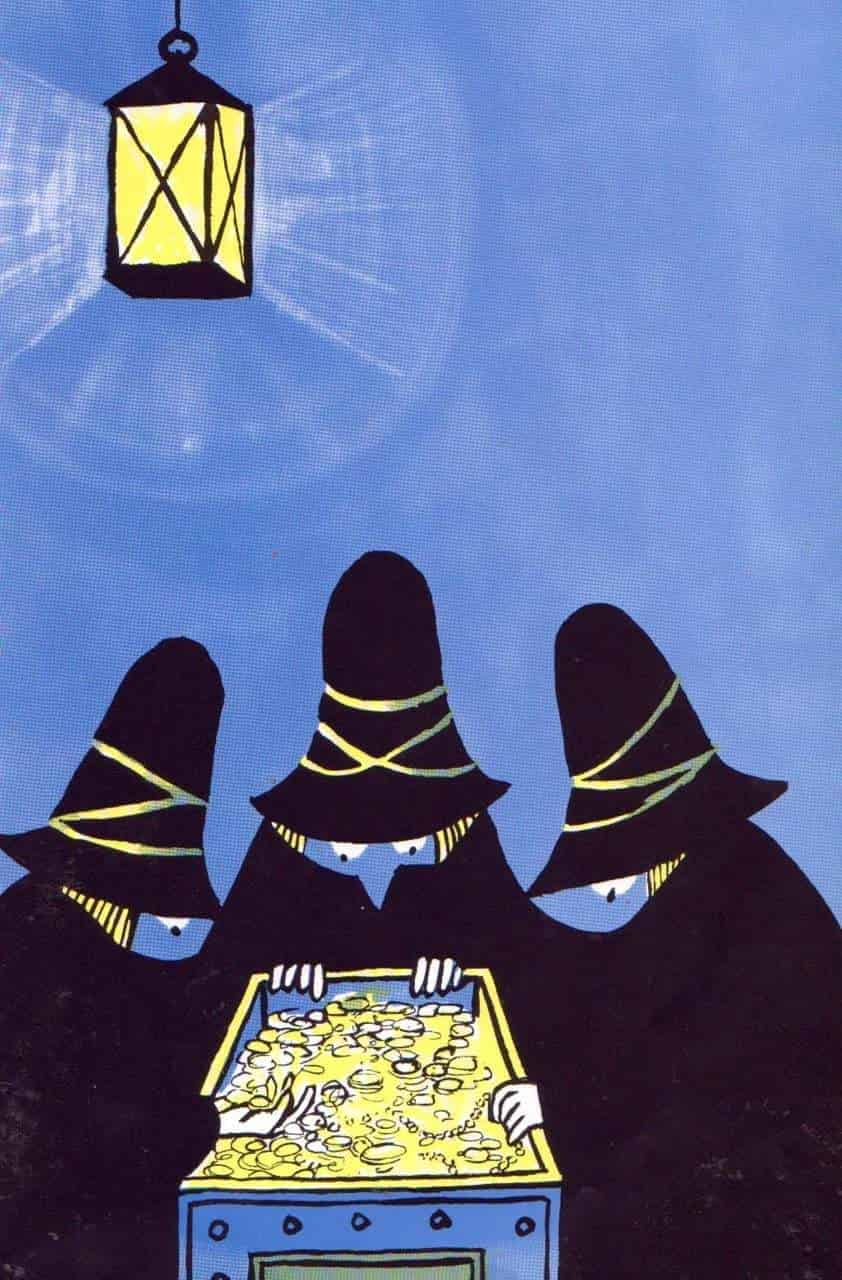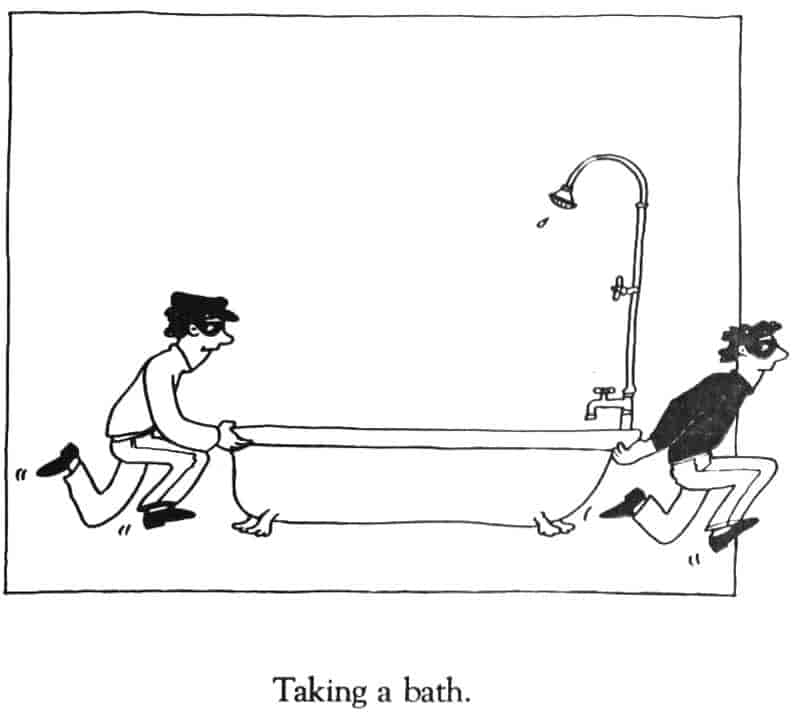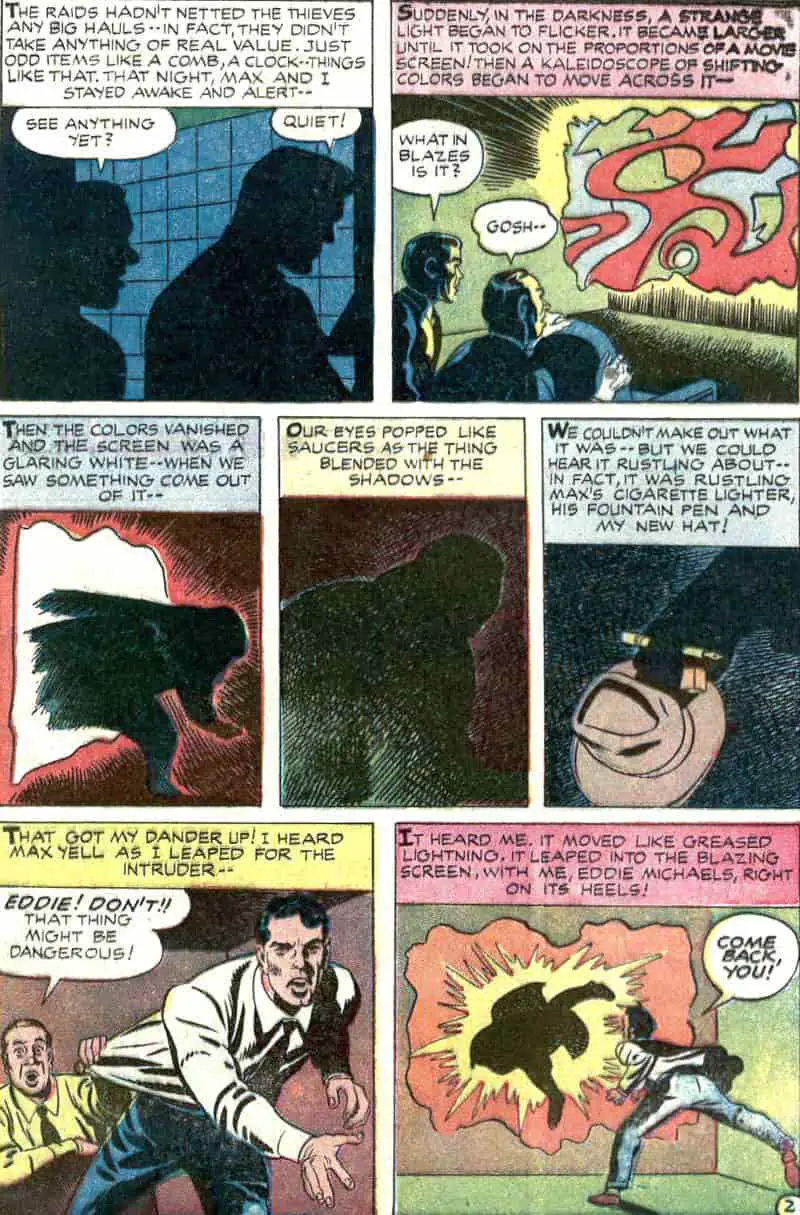 What does the burglar want, apart from stolen items? (How does your burglar's deep desire manifest during the burglary? Touching on this isn't necessary, but makes for a richer story.)
Manton's wolf seems to get a thrill out of dressing up and getting away with crime.
Only after Burglar Bill accidentally steals a baby (hidden in a box with holes) does he realise he's a family man with a caring side.
DiCamillo's Leroy fancies himself a cowboy, and comically demonstrates this by riding around on Mercy the Pig, play acting at being a hero of the wild west.
STRIPES AS BURGLAR COSTUME
Also from the world of infotainment, this photo of the McCloskeys, who pointed guns and yelled at protesters during the 2020 George Floyd protests in St. Louis.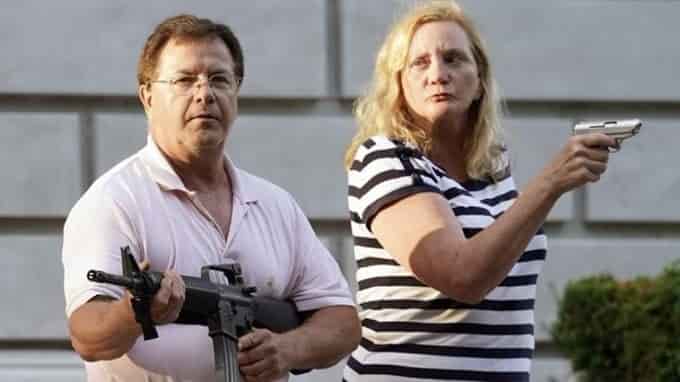 It was immediately noted that the McCloskeys look like parents of The Hamburglar.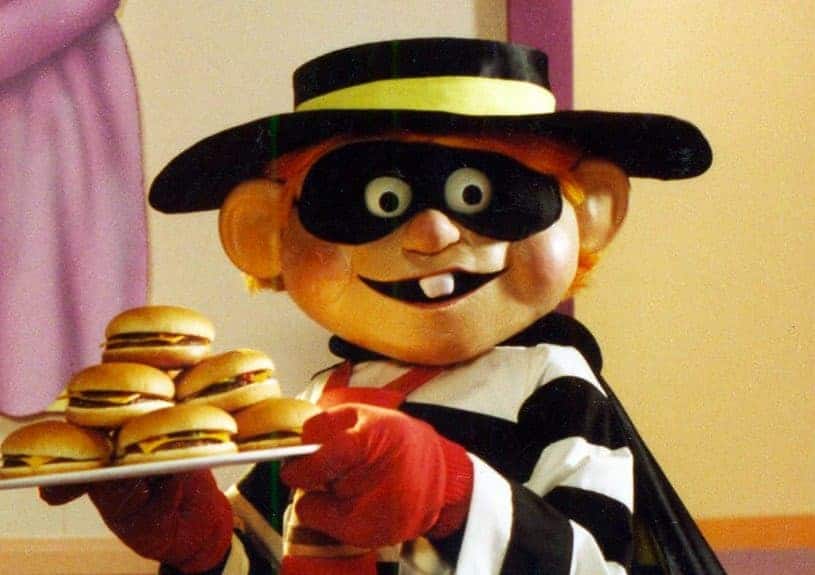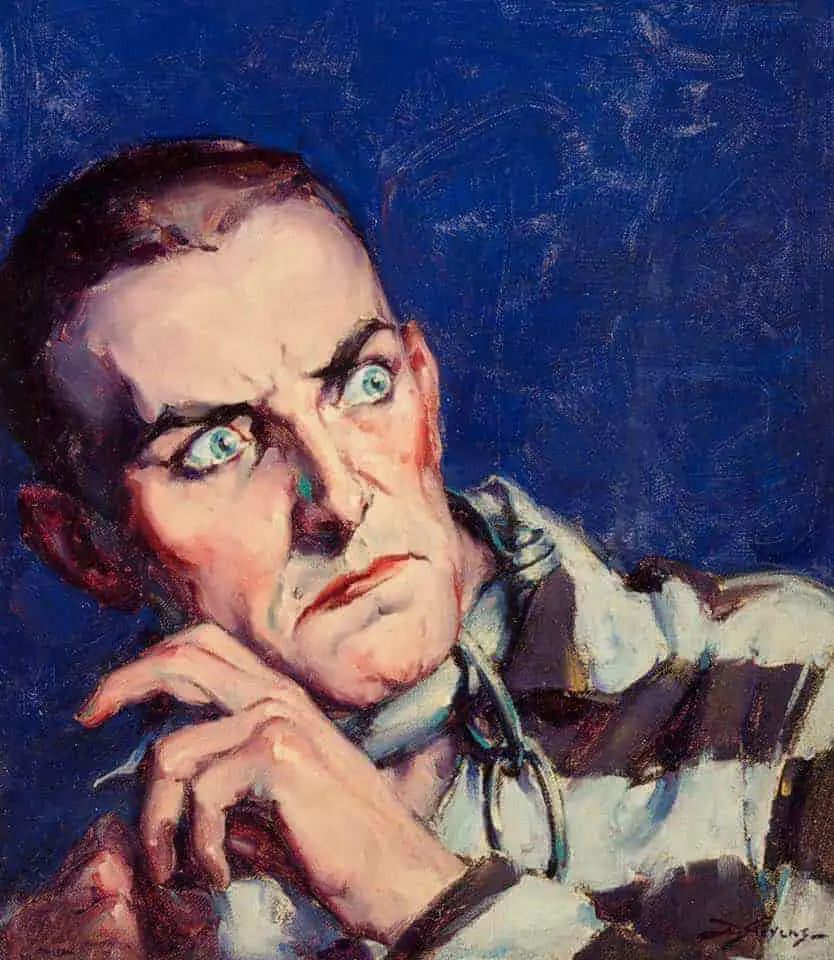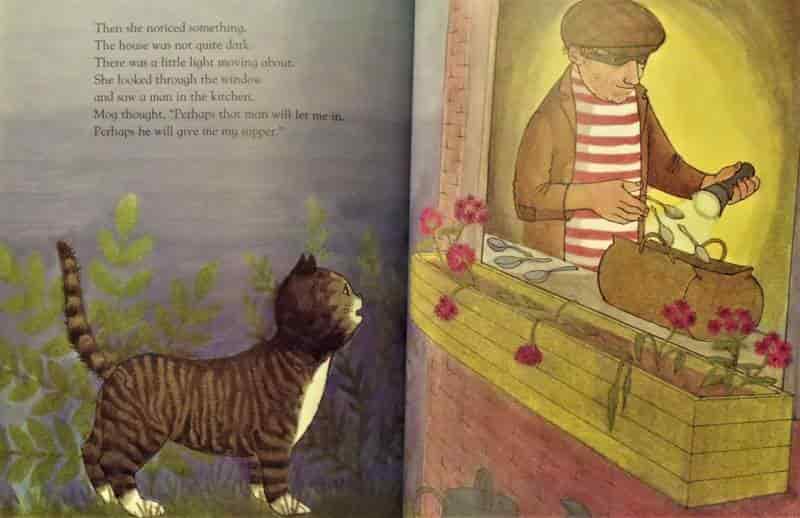 BLACK MASK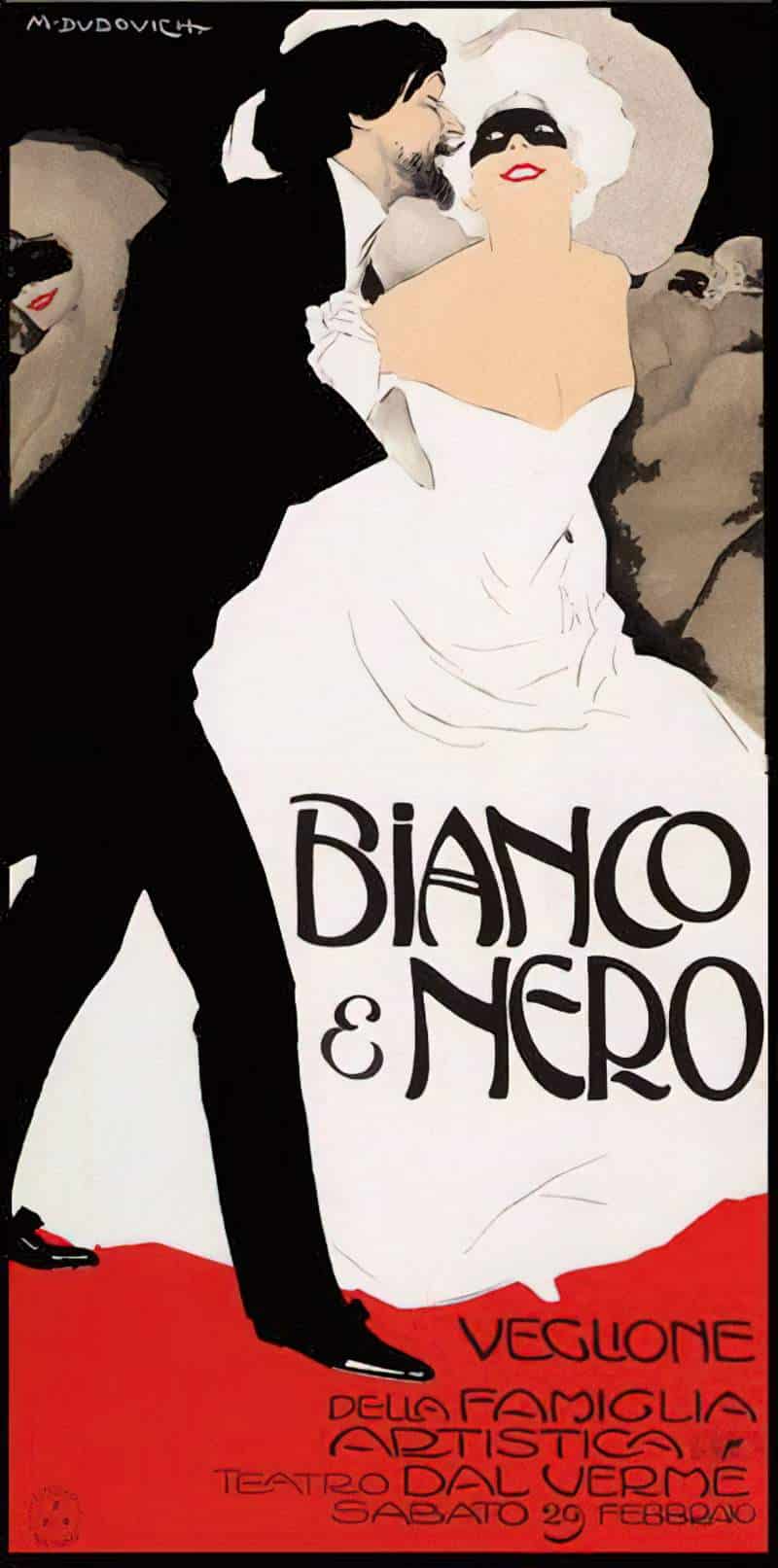 QUIRKY MOTIVATIONS FOR THE INTRUDERS
Crooks must be quirky and whimsical, not scary. DiCamillo's Leroy has a penchant for butterscotch. This gives him a weakness which can be exploited. It also gives him something in common with the childlike character Mercy, whose weakness is butter on toast.
Give the burglar a catch phrase.
This catch phrase will connect to their view of themselves, and to their deep desires. The best catch phrase will also be short, pithy, repeated and memorable.
Kate diCamillo's burglar Leroy yells 'Yippie-yi-yay!', which connects to his desire to be a cowboy.
The Ahlburgs' Burglar Bill says, "I'll have that!" (It's interesting that Burglar Bill is a picture book take on Buffalo Bill, a legendary American outlaw. Burglar Bill is like Leroy — they both have legendary ideas about themselves, living on the outskirts of society.)
Denis Manton's wolf burglar says, "I like it, I want it and I'll take it!"
Even in this Usborne pseudo-scientific book, home intruders are comical.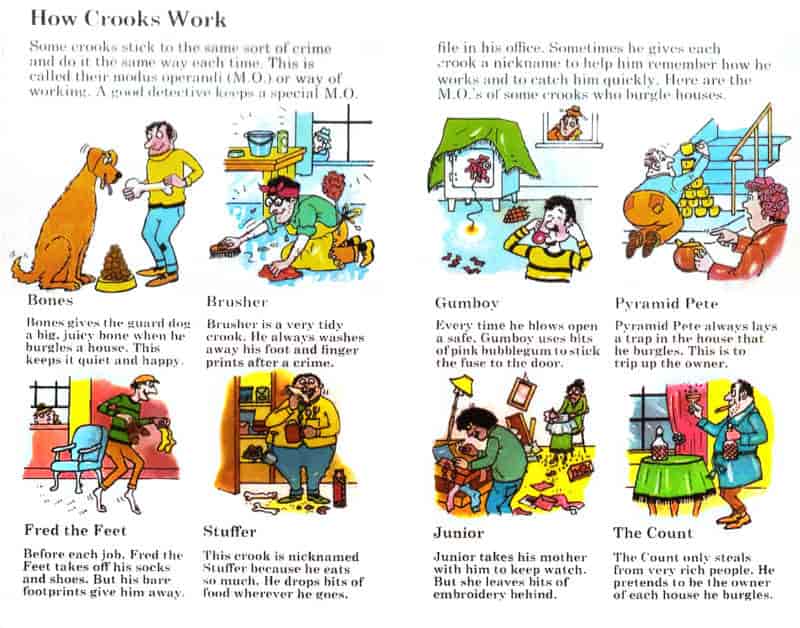 EXAGGERATED BODY LANGUAGE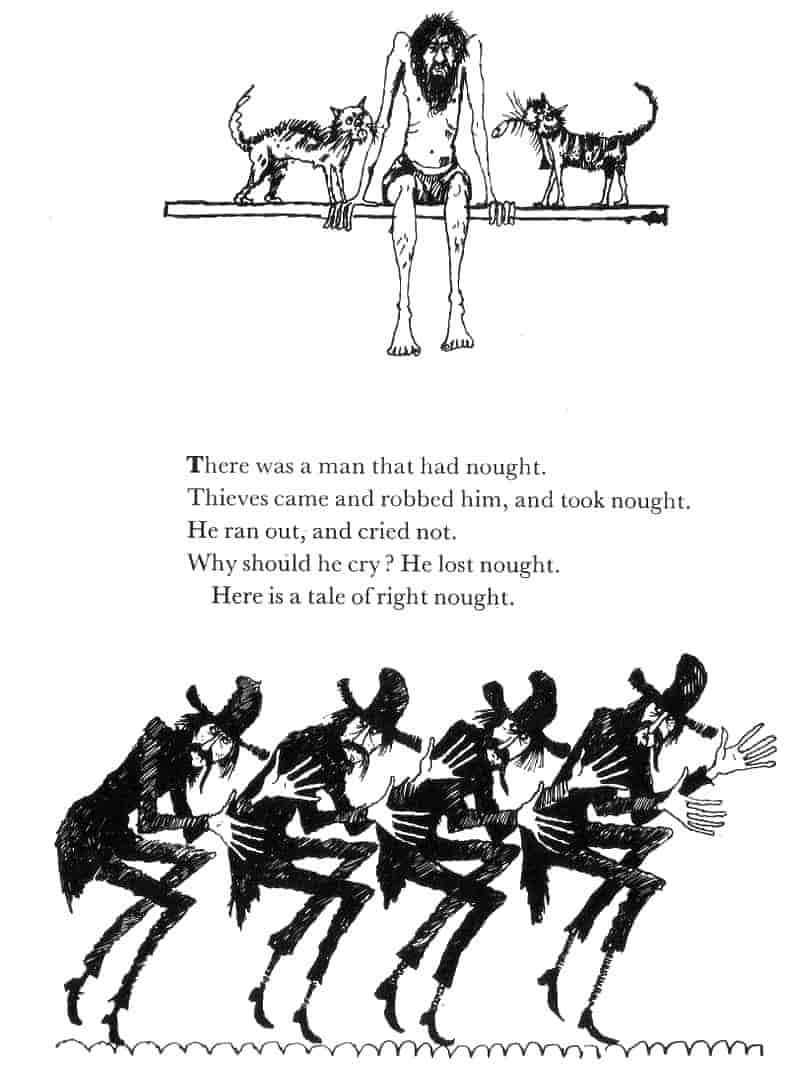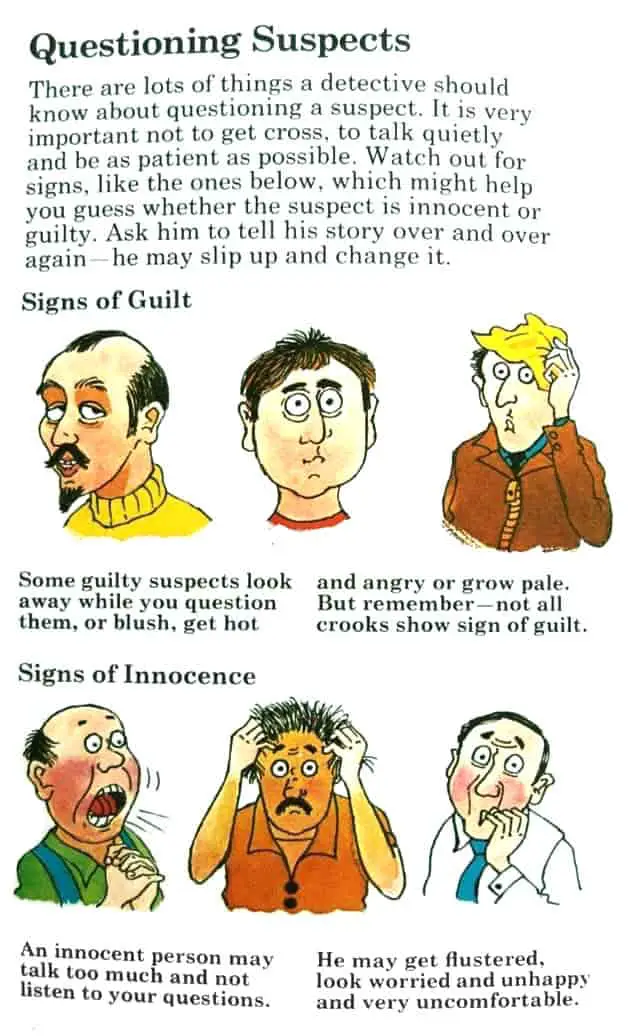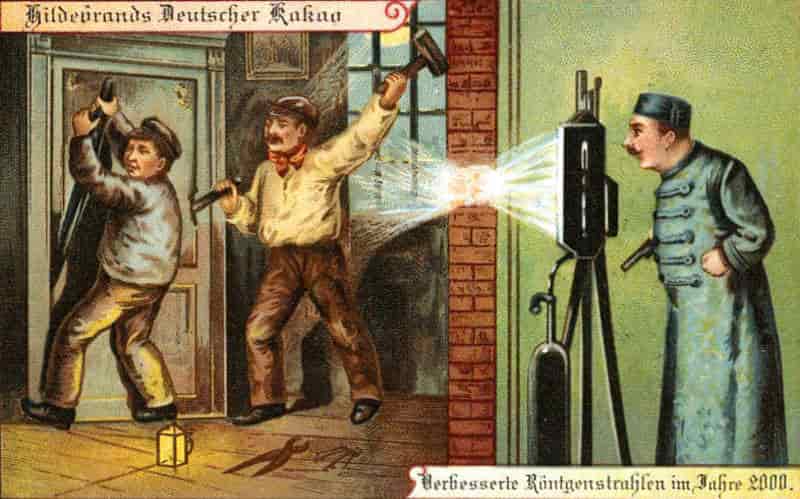 A COSY PLAN TO CATCH THE HOME INTRUDER
It's not enough to have the police swoop in at the end, though this often happens after the heroes have already done the work.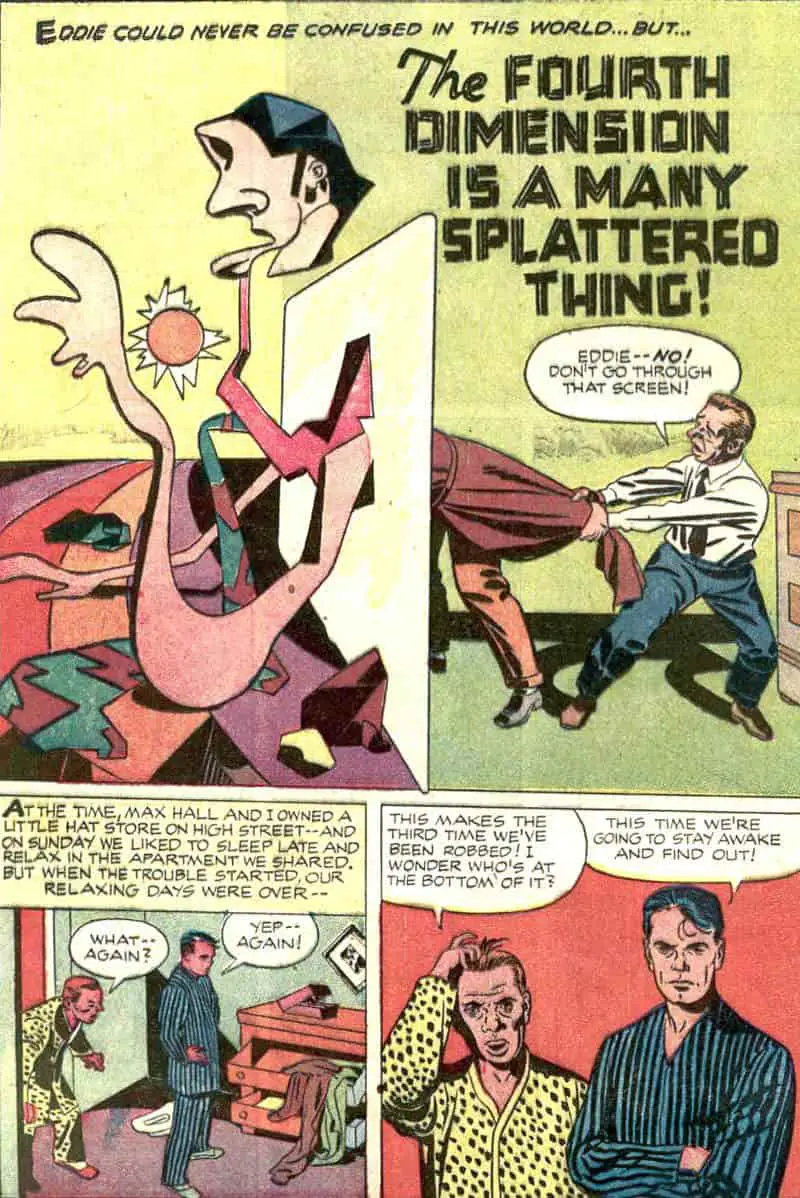 WEAPONS WHICH CAN'T DO MUCH DAMAGE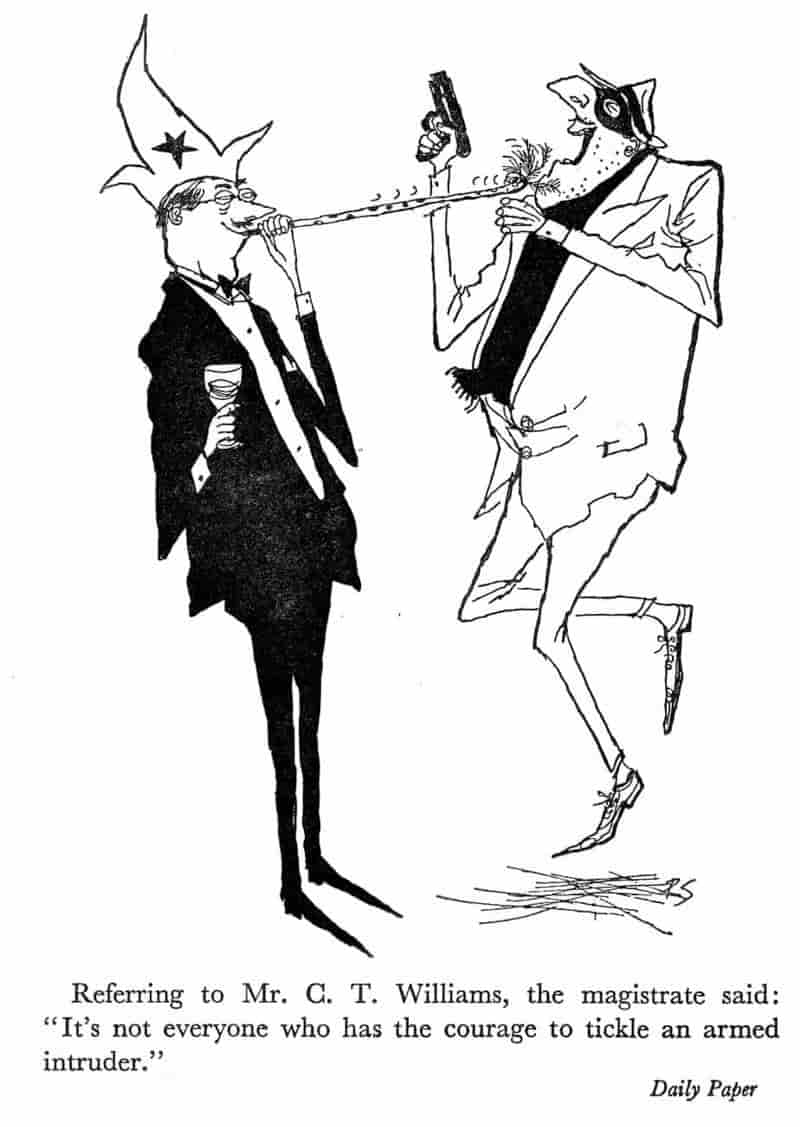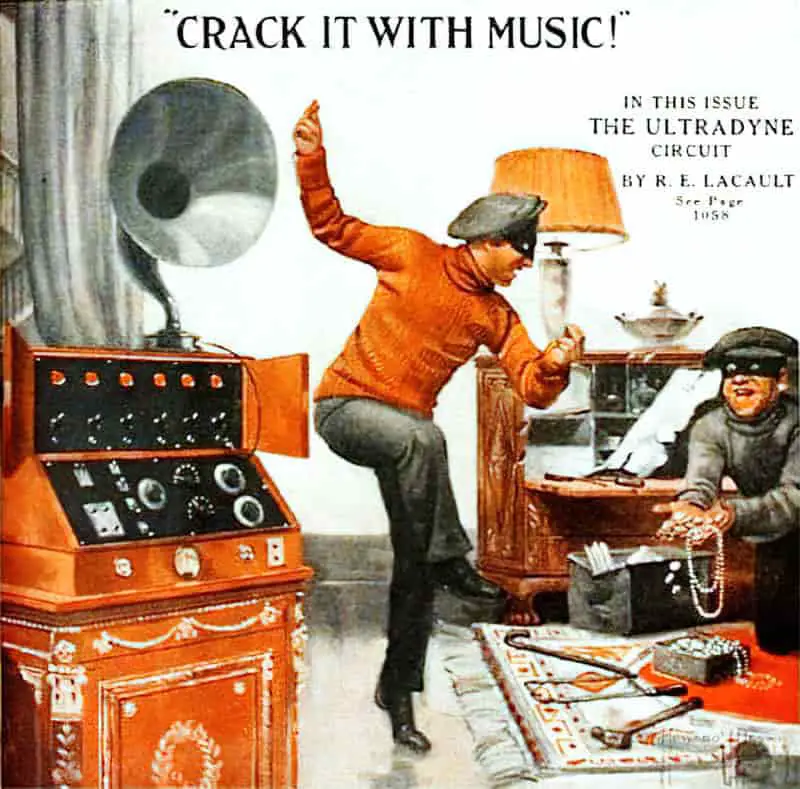 A SURPRISE ENDING
This is the hardest part!
Perhaps your burglar is held up before leaving the scene of the crime. This works ironically because we expect burglars to get in then get out, lest they be caught. But cosy storybook burglars are easily waylaid. Kate DiCamillo's Leroy gets sidetracked riding a pig. This is also what gets him caught.
RELATED
Snudge: A thief who hides himself under a bed, in order to rob the house. (From a dictionary of slang published 1703)
Header illustration: Brother X -or- The Gobblers of Turkey Neck Published in Happy Days, A Paper For Young And Old, October 20, 1900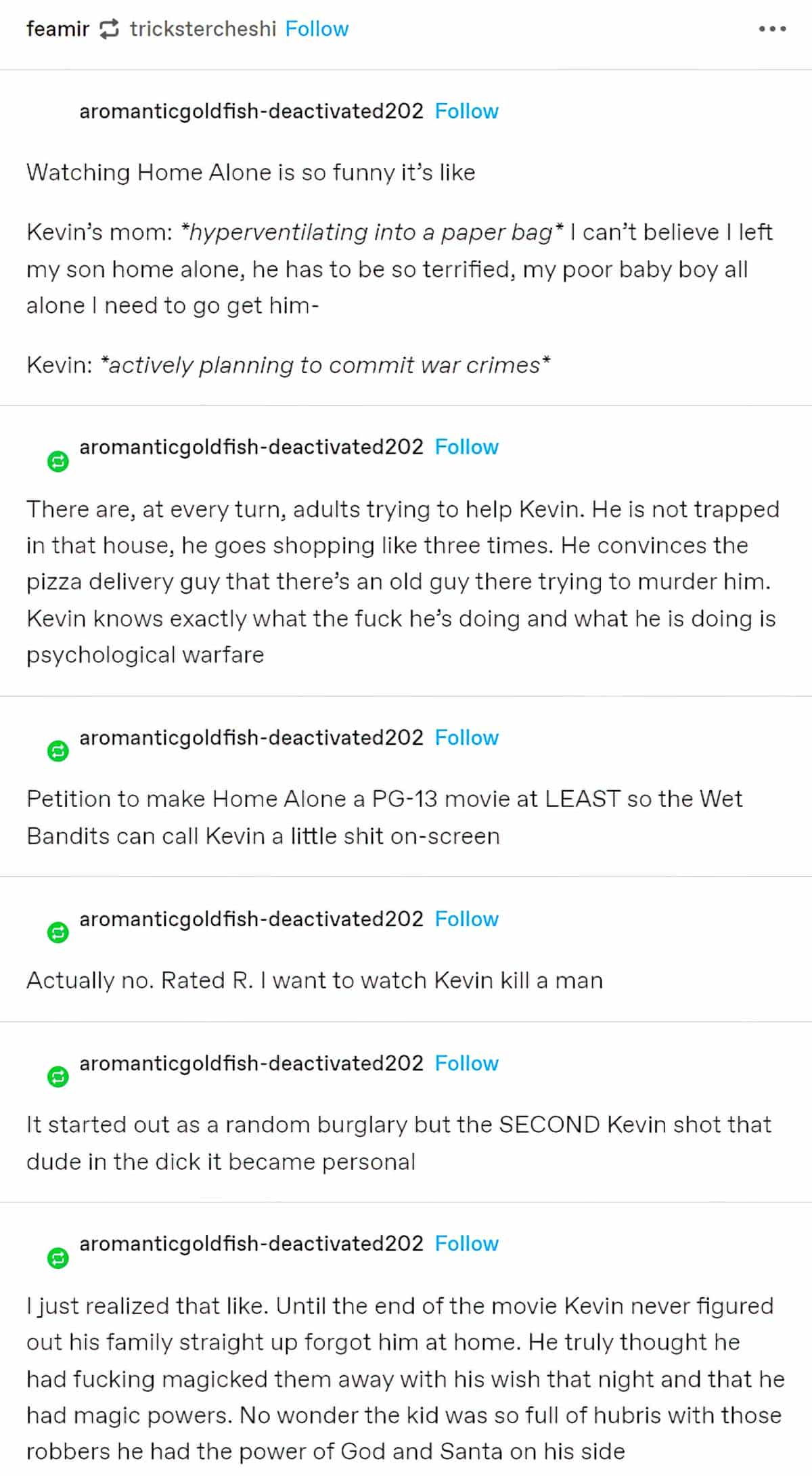 THEFTS from Baughman's Type and Motif Index of the Folktales of England and North America by Ernest Warren Baughman 1966.