My kidis not a wide reader but will read the same illustrated series over and over again, and also anything tiny. She loves Sylvanian Families, bugs and tiny books. In an effort to get her reading more widely I asked for recommendations from people who know kids' books.
Here's what they suggested:
THE BEATRIX POTTER BOX SET
It's easy to forget about this one. Because they're out of copyright, these books are relatively cheap, per book, if you buy them all at once. I found the cheapest place to get them here in Australia is at Big W (for $50). I've also seen them at Costco.
Definitely avoid buying the big anthology of the Beatrix Potter stories. Beatrix would be horrified to know they'd ever been printed like that. Those little books were only meant to be read as little books.
Each book is about 166.9 x 231.9 x 28.2mm.
ANNIKIN EDITIONS
Annick Press published an imprint of tiny books featuring authors such as Robert Munsch. In fact, it was one of these which got my daughter hooked on tiny books. I bought it online thinking it was a regular sized picture book, mainly because it was the cost of a regular sized picture book. I was disappointed to see how tiny it was when it turned up, but perked up when my daughter loved the tiny size of it. The Paper Bag Princess is the most famous book in this series. (We already have the regular size.)
If you're in America you'll be able to buy these second hand for a buck each, but in Australia we'd be paying an extra ten dollars per book to get it sent over.
204 x 204mm, with stiff but paperback covers
THE NUTSHELL LIBRARY: MAURICE SENDAK
Four Maurice Sendak books in tiny version, in their own little box. Aww. (And 'aww' isn't normally a word I'd use with Sendak's dark work.)
It includes Alligators All Around, Chicken Soup With Rice, One Was Johnny and Pierre.
71.12 x 101.6 x 43.18mm | 249.47g
FANCY NANCY PETITE LIBRARY
HarperChildren's have realised that there are girls (especially?) who love small books, so they've published a few of their girly series as tiny versions, including Fancy Nancy and also Pinkalicious.
Fancy Nancy is 76.2 x 109.22 x 38.1mm in its box.
POCKET GENIUS BOOKS FROM DK
Dogs, bugs, horses, Ancient Rome… If you're after tiny non-fiction, this is your series.
Each book in the series is 97 x 127 x 10mm.
ELSIE PIDDICK SKIPS IN HER SLEEP BY ELEANOR FARJON
Though not published specifically as part of a tiny edition of anything, the 1997 edition of this book is in itself unusually small, though not quite as small as 'nutshell editions' of things.
123 x 180 x 10mm
GUESS HOW MUCH I LOVE YOU: LITTLE LIBRARY
"The adorable hares from the classic Guess How Much I Love You are back in a gorgeous miniature slipcase gift collection containing four short stories.Big and Little Nutbrown Hare, from the multi-million-selling picture book Guess How Much I Love You, return in these four seasonal picture books: Spring, Summer, Autumn and Winter. Each captivating story is seasonally themed and beautifully illustrated, and the four books are collected in a covetable miniature slipcase"
92 x 94 x 52mm
LITTLE CHICK: THREE STORIES
These are board books, so obviously designed for the book-chewing toddler market, but the stories work for an older audience.
91.44 x 96.52 x 38.1mm
LITTLE FUR FAMILY
These small board books have fur on the front, great for sensory seekers. They're by Margaret Wise Brown.
There was a little fur family
warm as toast
smaller than most
in little fur coats
and they lived in a warm wooden tree.
Published 1946, the layout is similar to Beatrix Potter.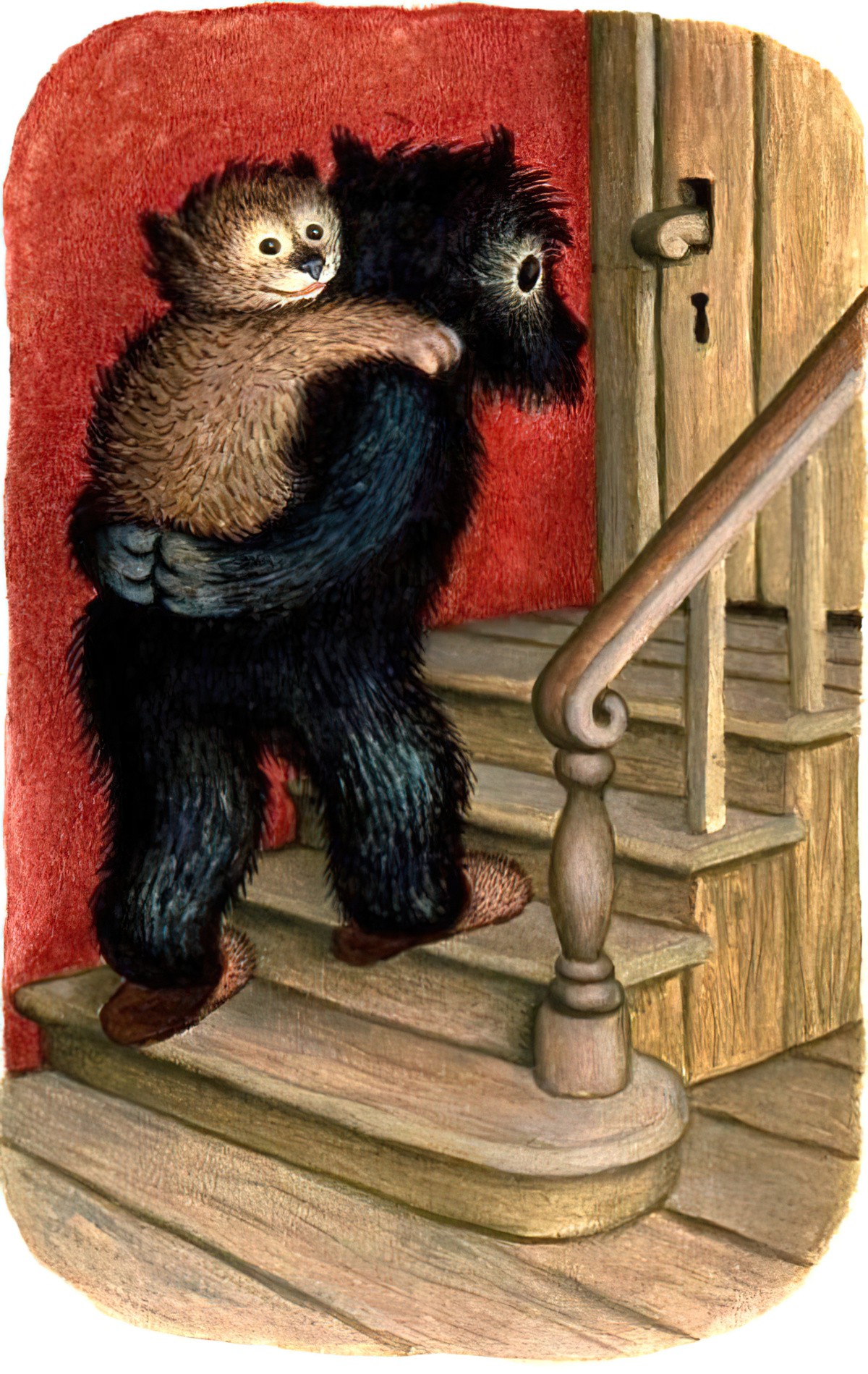 BRAMBLY HEDGE BOX SET
The set of A Year In Brambly Hedge are reasonably small, which makes sense because the main characters are mice.
154 x 178 x 52mm
Small editions of books tend to come out before Christmas, because they're considered 'stocking stuffers'.
Though they are hard to find if you're looking for them, I've also noticed a disproportionate number of tiny books in secondhand stores. I have a theory about why this is: They're a pain to keep on a shelf. Mainly because you can't shelve them. You need a little box for them. I think parents get sick of them lying around and send them to the thrift store. Also, if little books are considered stocking stuffers, it's easy come, easy go.
Anyhow, keep your eye out in thrift stores if you have a little lover of tiny books! One day you may stumble upon a collector's item. Four Frogs In A Box by Mercer Meyer is out of print and goes for about $50 second hand.
Which makes me think small, limited editions of books may be especially valuable. It's far cheaper for publishers to produce regular sized books, and they don't put them out that often.
I haven't added the Mr Men books here because I think they are terrible. But I am sure their cute size contributed to their wide appeal.
Sorry Little Miss Inventor, but you're Misterland's token feminist: After all, the first human girls were only invented in the 1980s.
TINY GOLDEN LIBRARY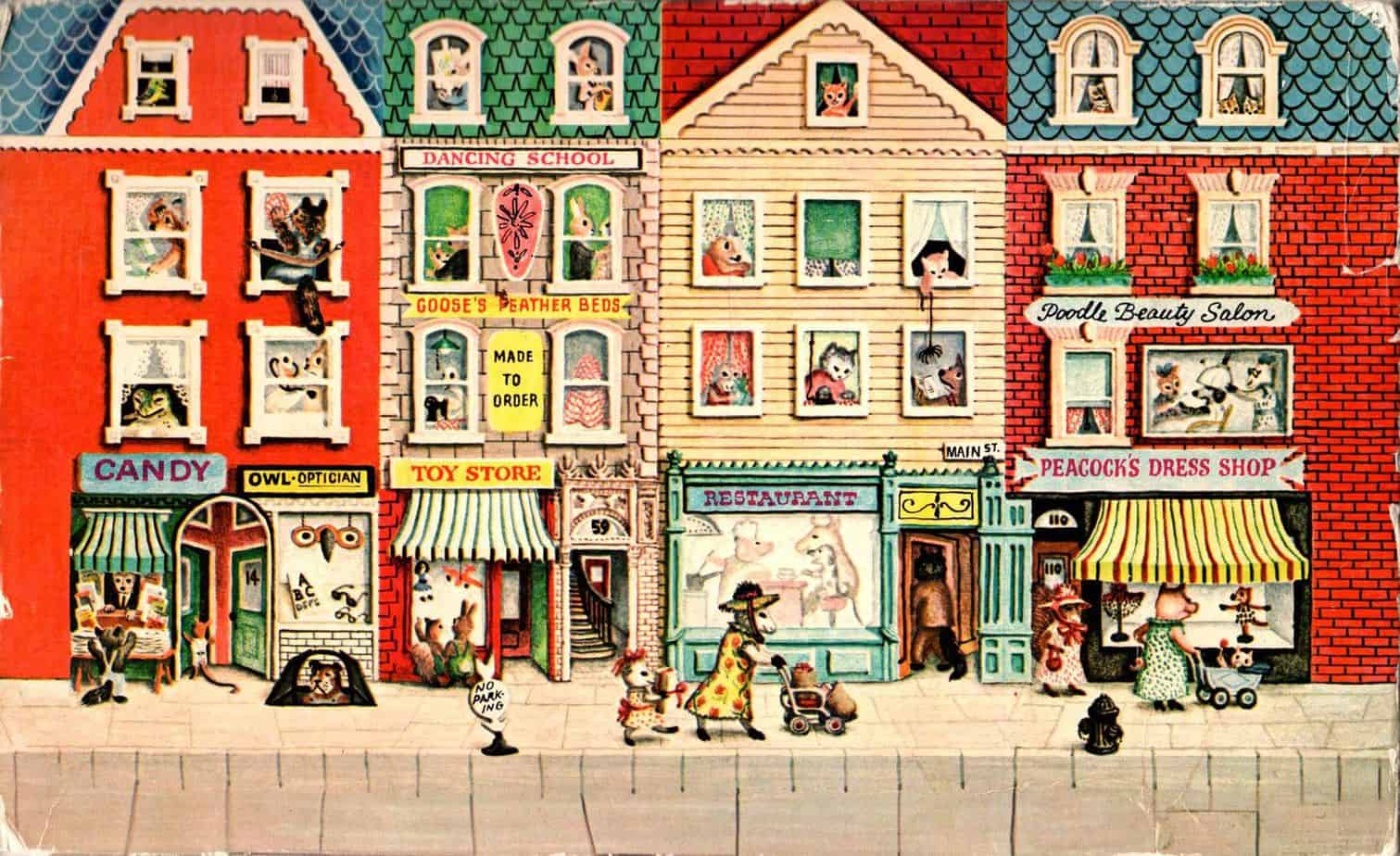 Golden Press' The Tiny Golden Library: 12 small books featured wild animals and 12 small books featured urban animals.