Breakfast has changed much over time, at least in the West, which in turn has influenced other cultures. These changes have of course been reflected in children's literature.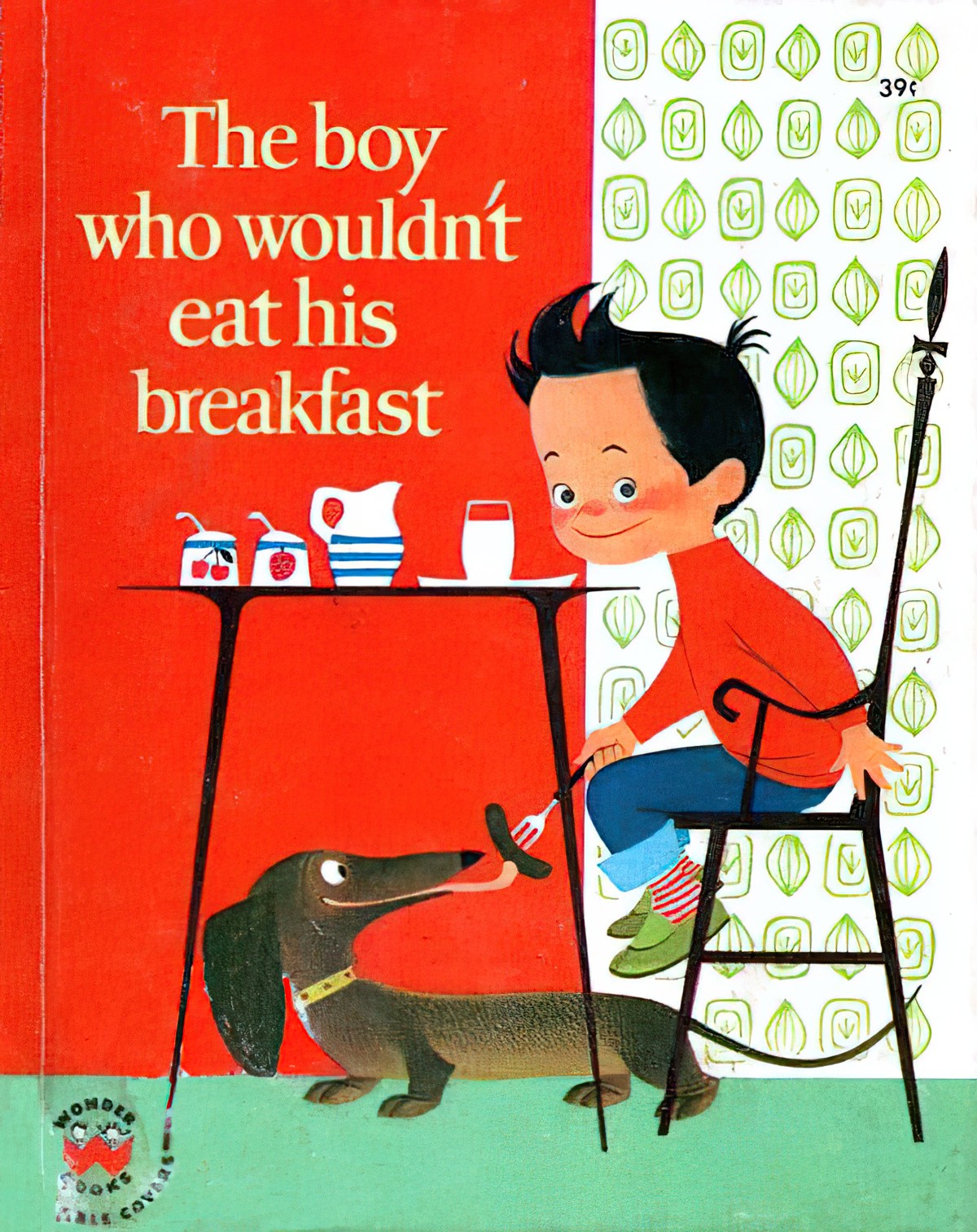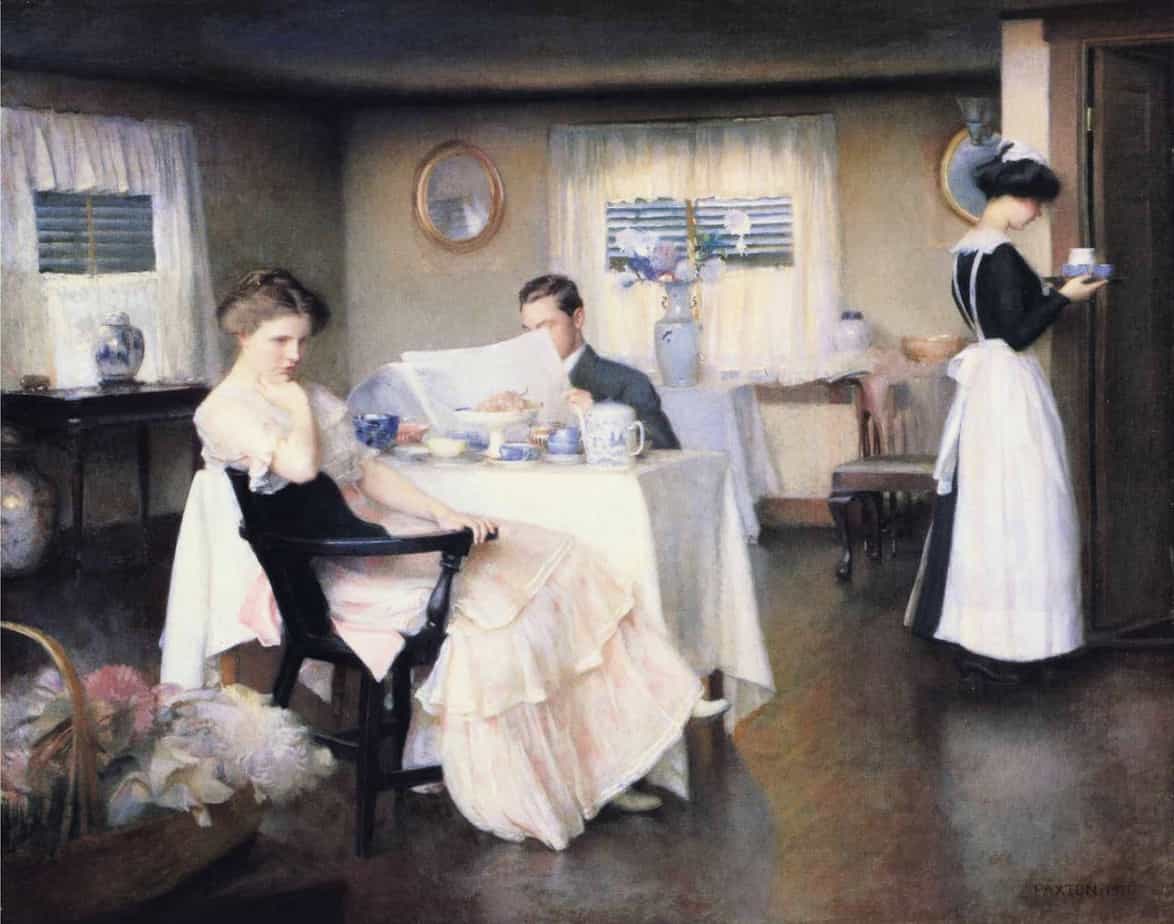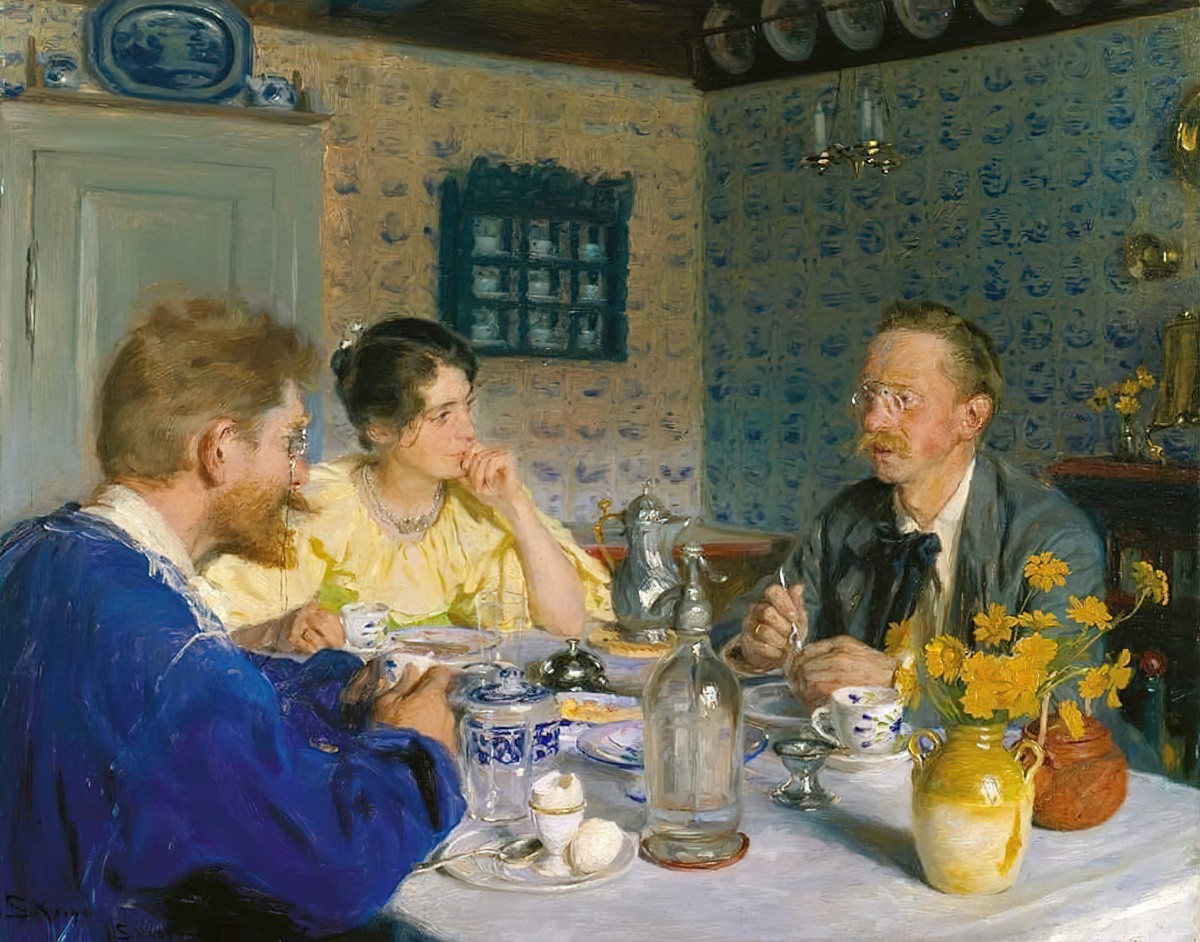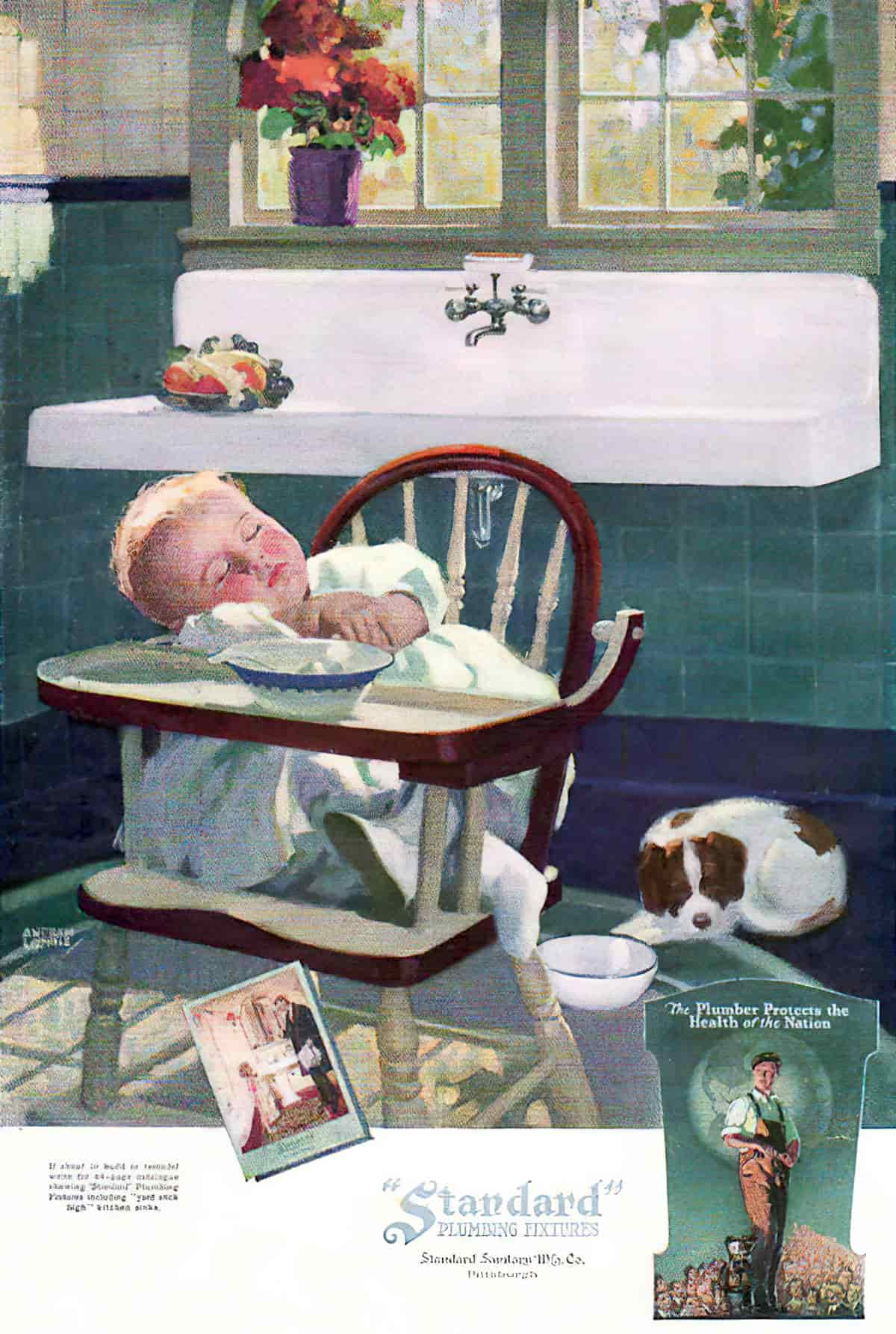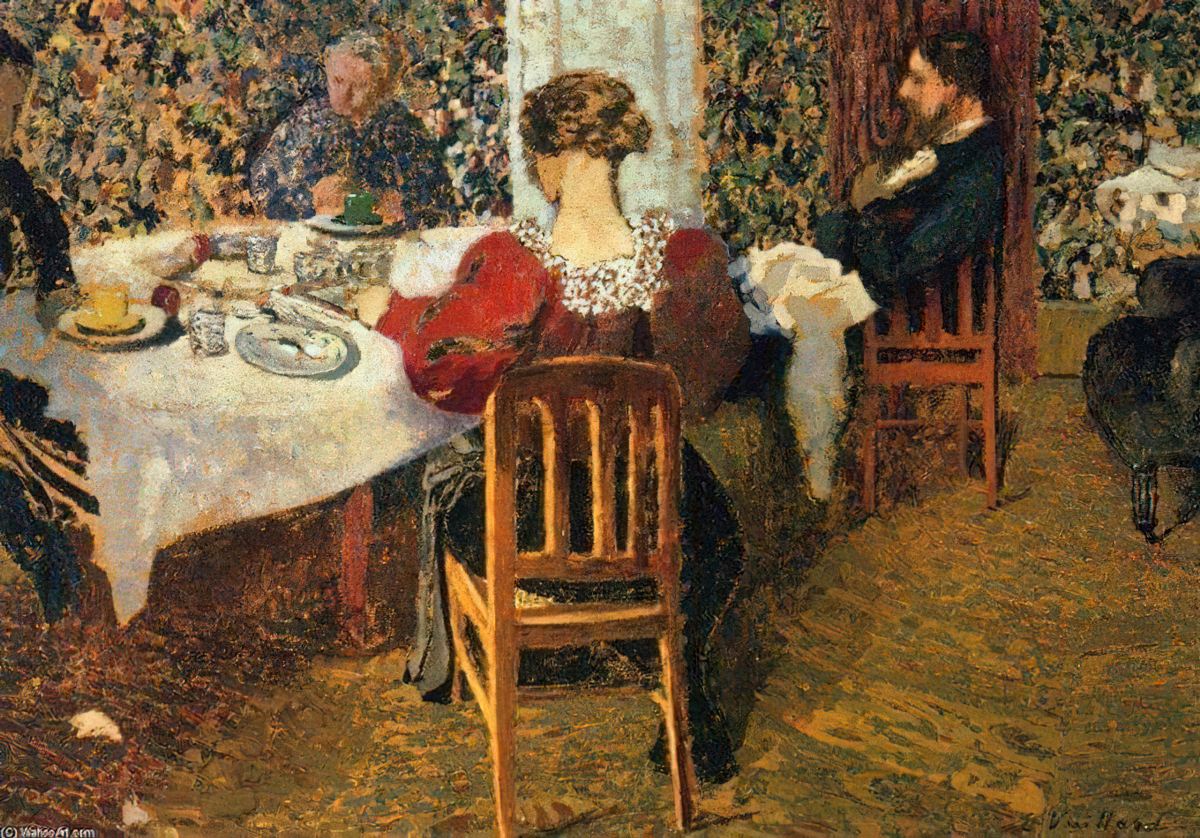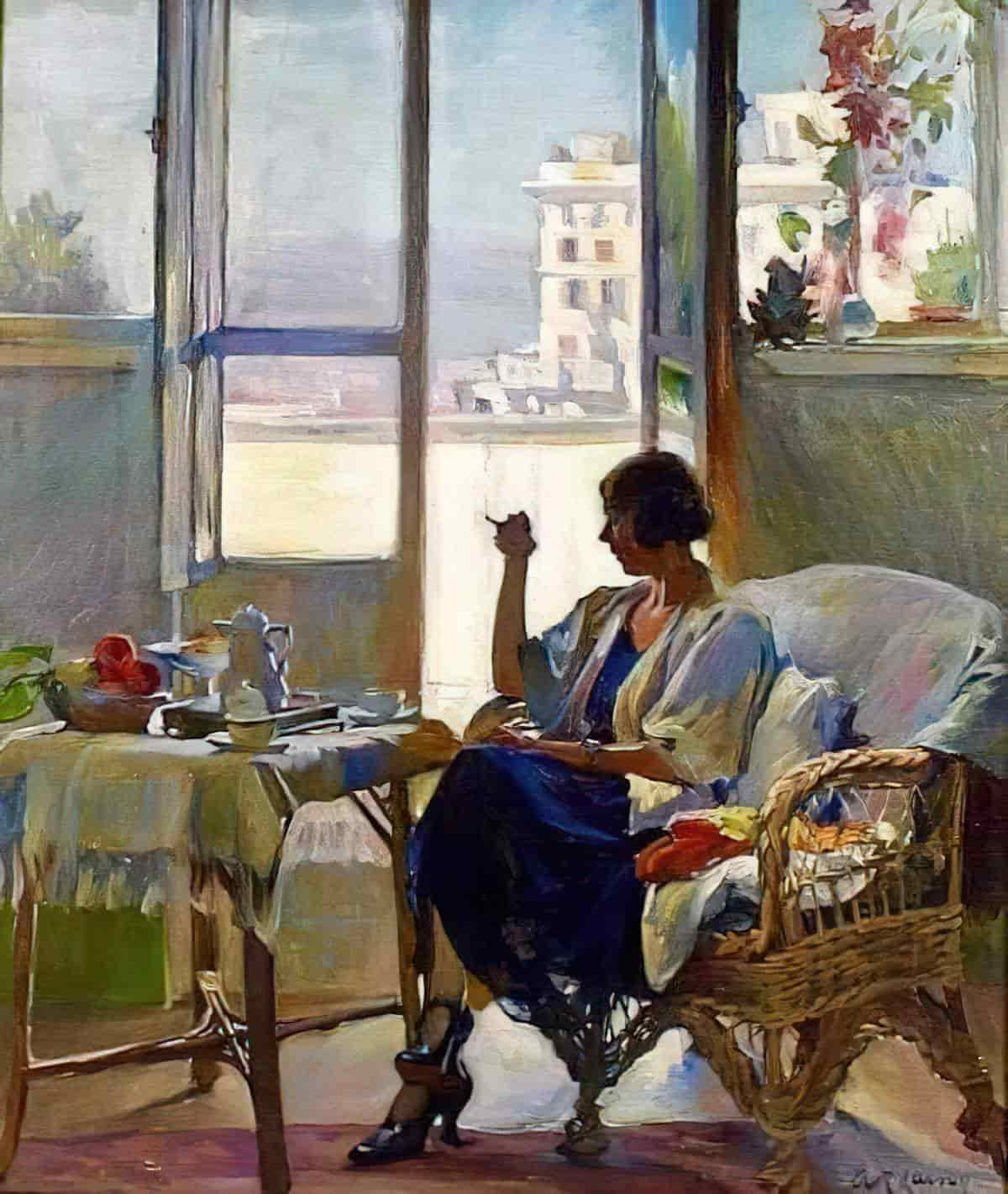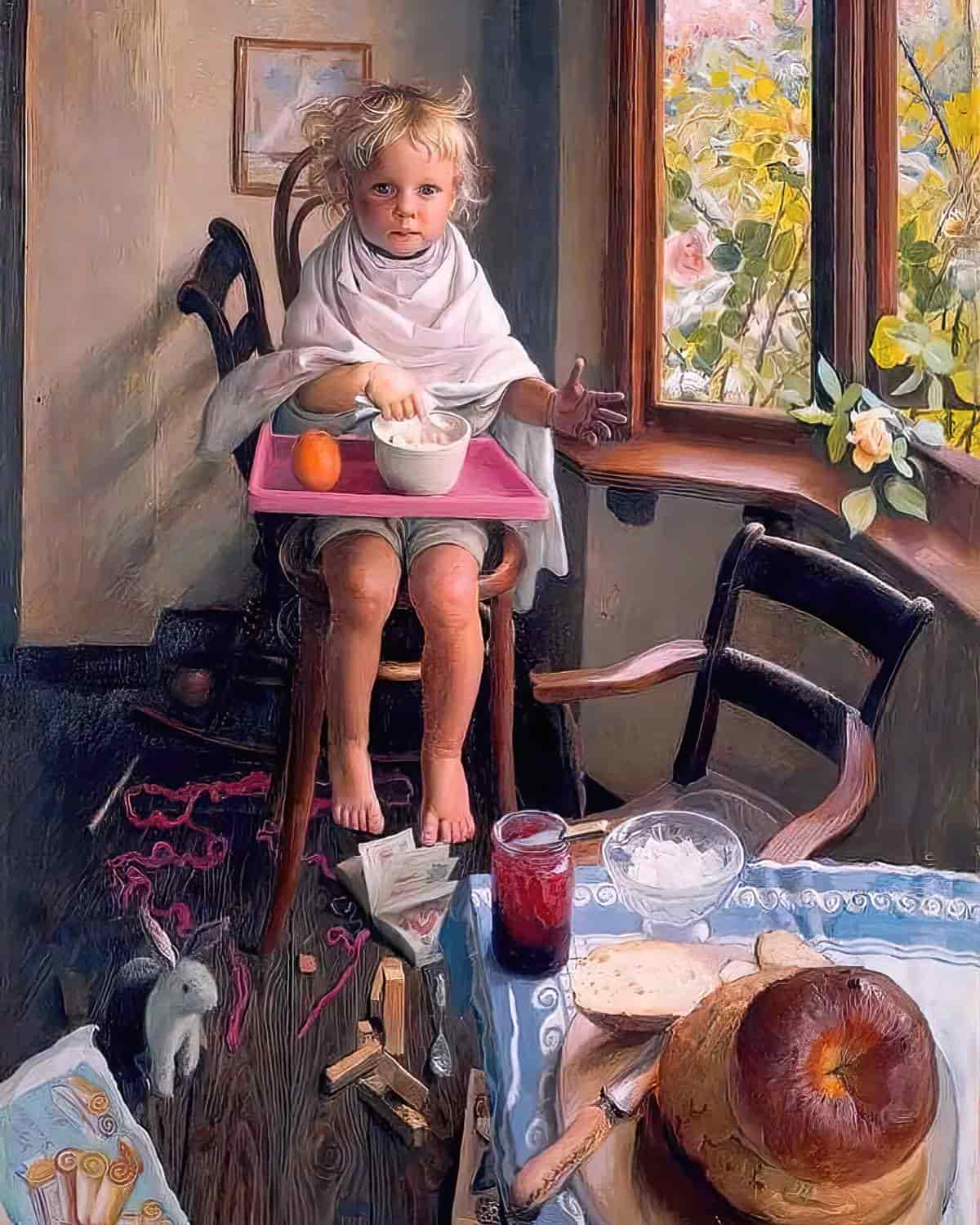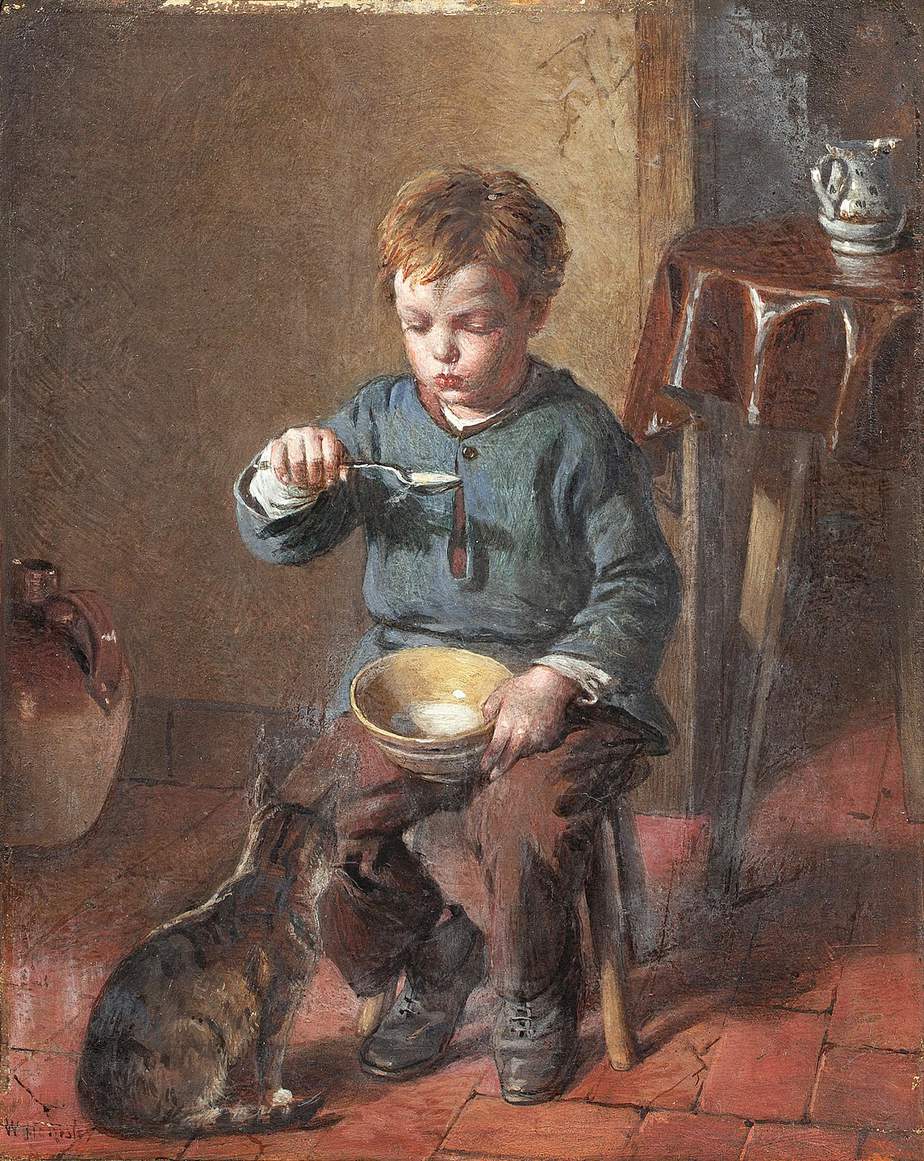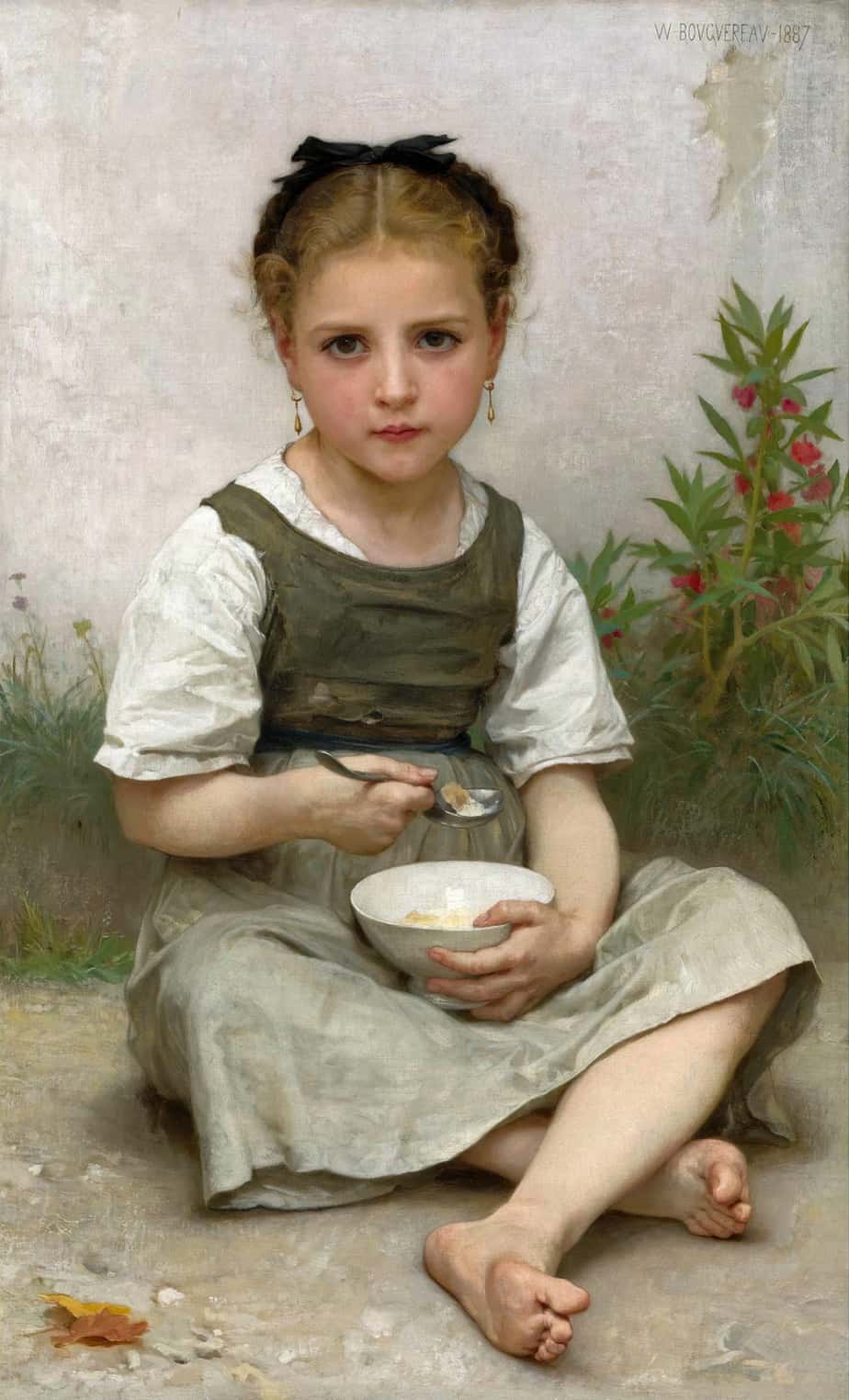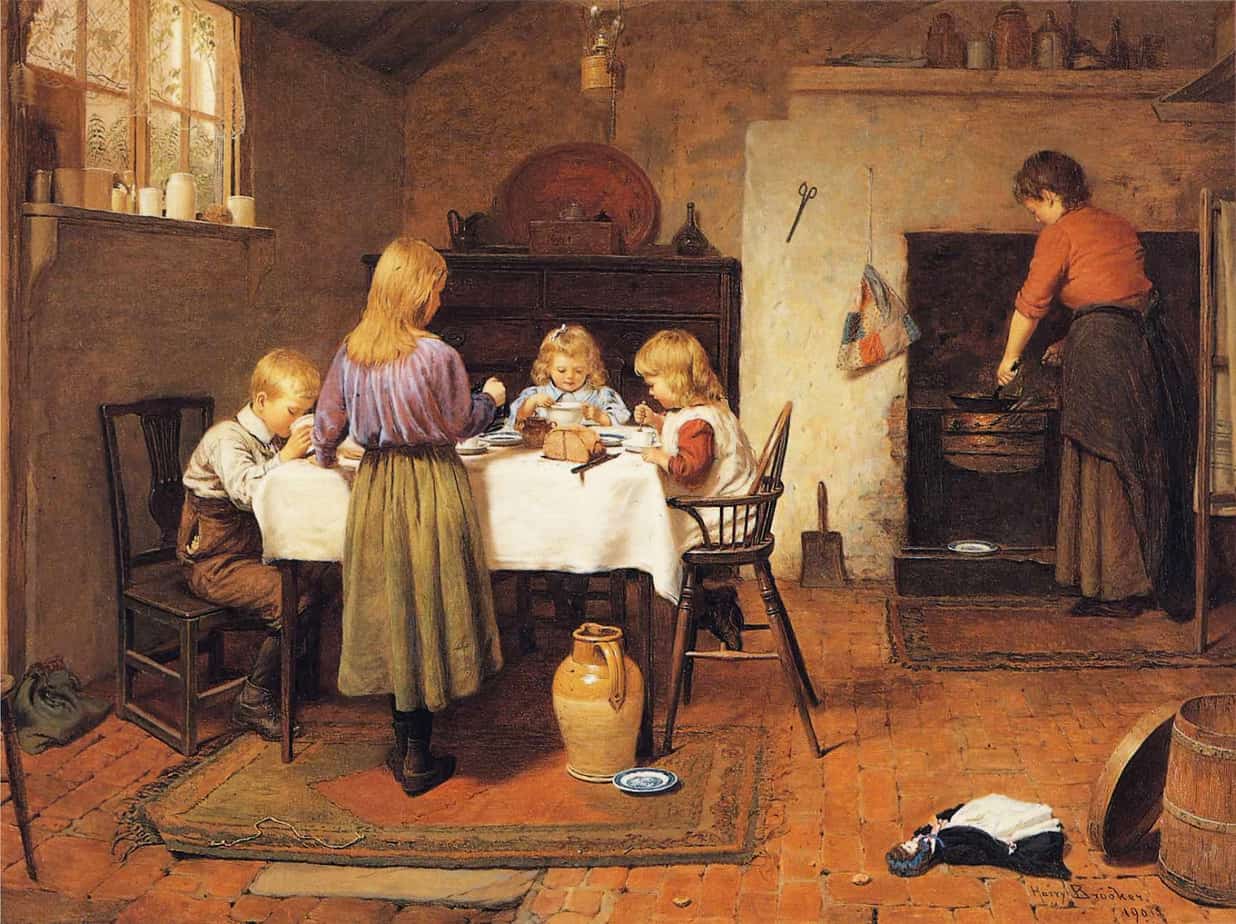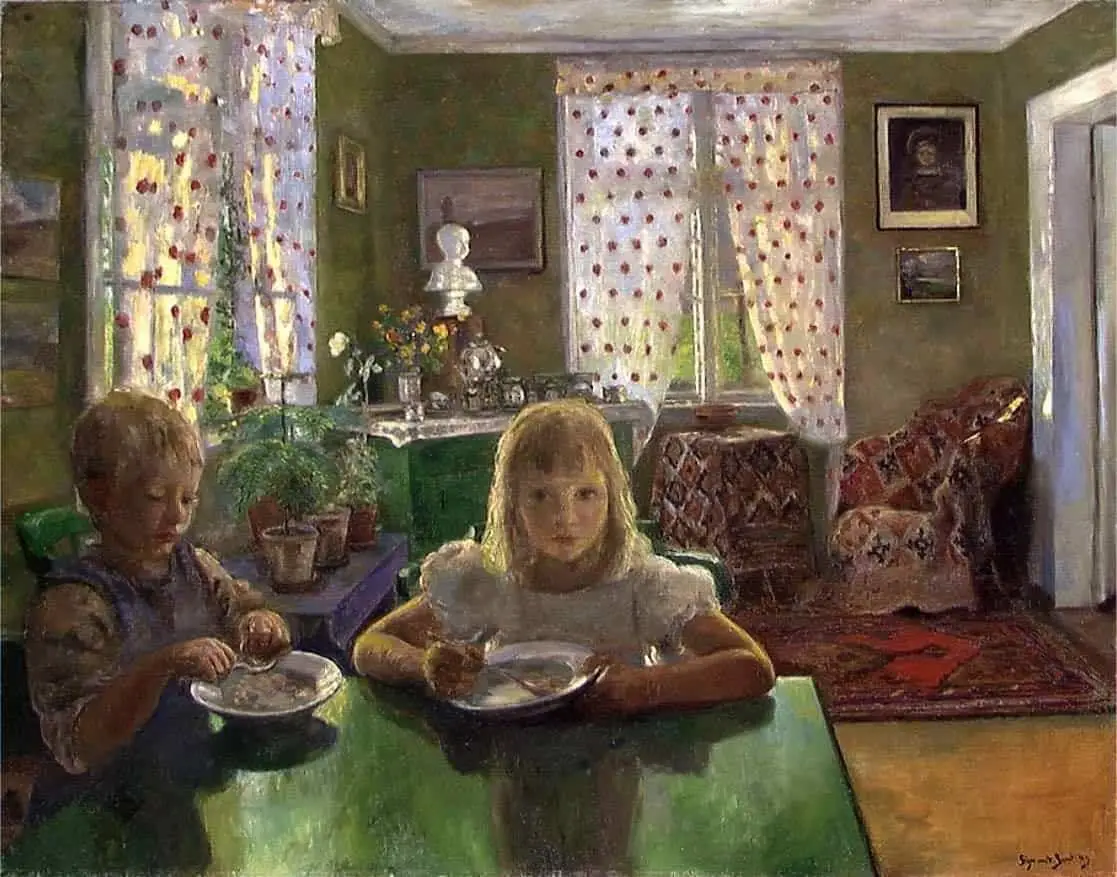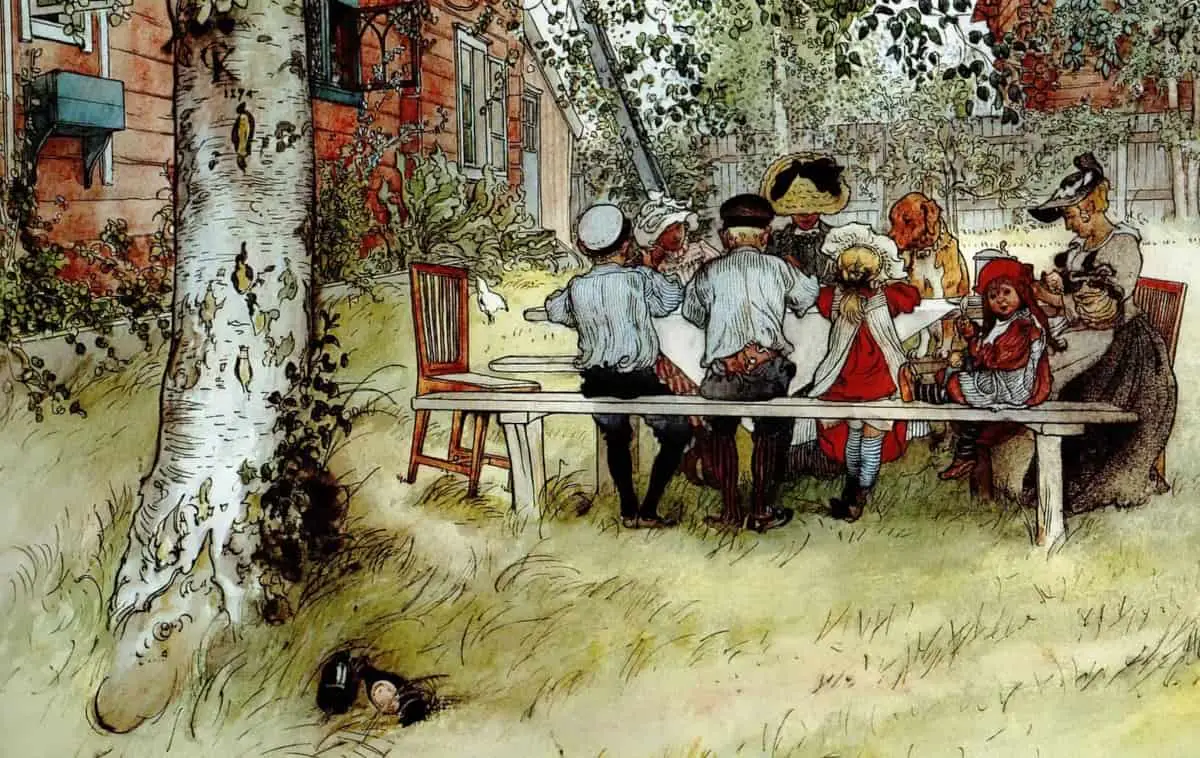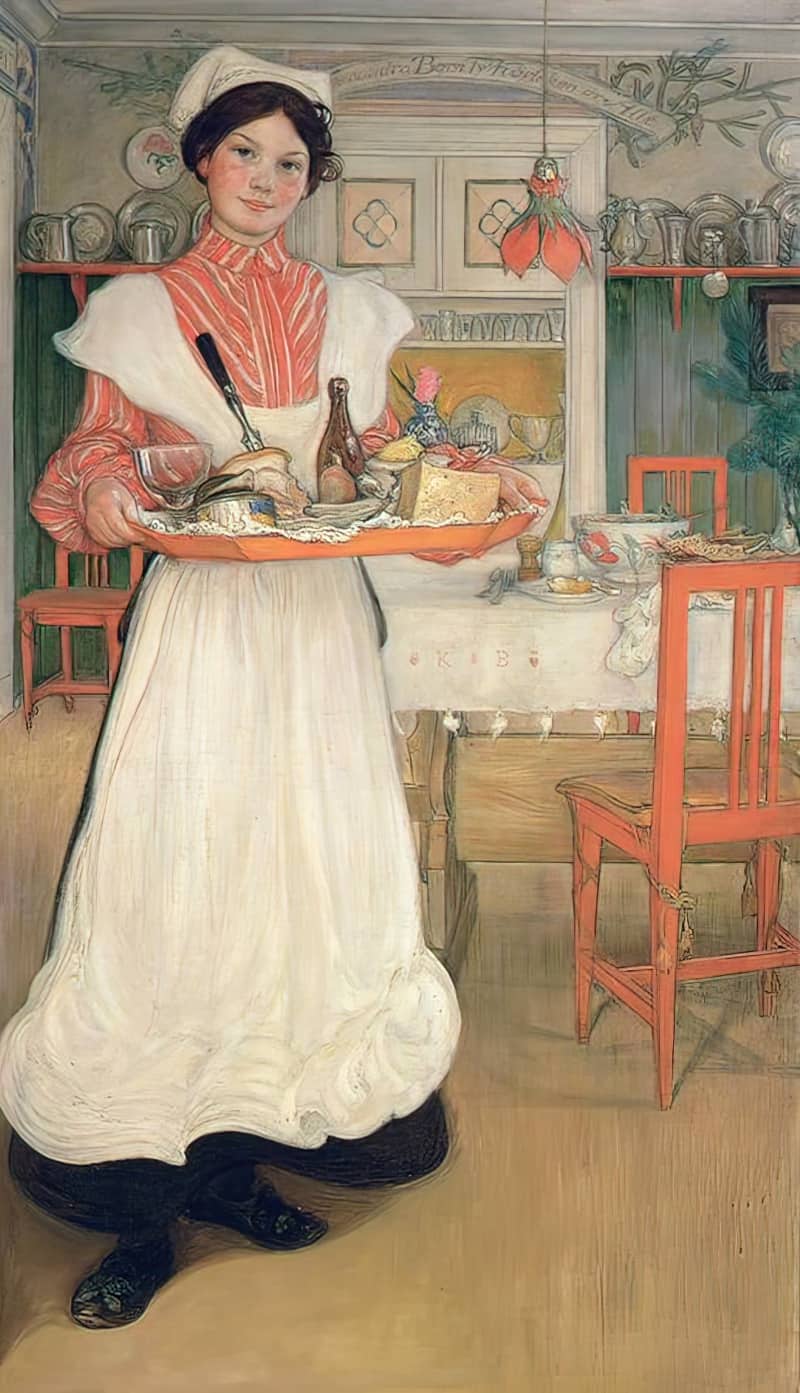 1848 England
"As for me, I was hungry, and contented myself with silently demolishing the tea, ham, and toast…" wrote Anne Bronte in The Tenant Of Wildfell Hall, first published in 1848. But the times were already changing. The health of Britons was already being affected by the industrialisation of food. Bronte writes several pages later of the vicar, in uncomplimentary terms:
He had a laudable care for his own bodily health — kept very early hours, regularly took a walk before breakfast, was vastly particular about warm and dry clothing, had never been known to preach a sermon without previously swallowing a raw egg — albeit he was gifted with good lungs and a powerful voice, — and was, generally, extremely particular about what he ate and drank, though by no means abstemious, and having a mode of dietary peculiar to himself, — being a great despiser of tea and such slops, and a patron of malt liquors, bacon and eggs, ham, hung beef, and other strong meats, which agreed well enough with his digestive organs, and therefore were maintained by him to be good and wholesome for everybody, and confidently recommended to the most delicate convalescents or dyspeptics, who, if they failed to derive the promised benefit from his prescriptions, were told it was because they had not persevered, and if they complained of inconvenient results therefrom, were assured it was all fancy.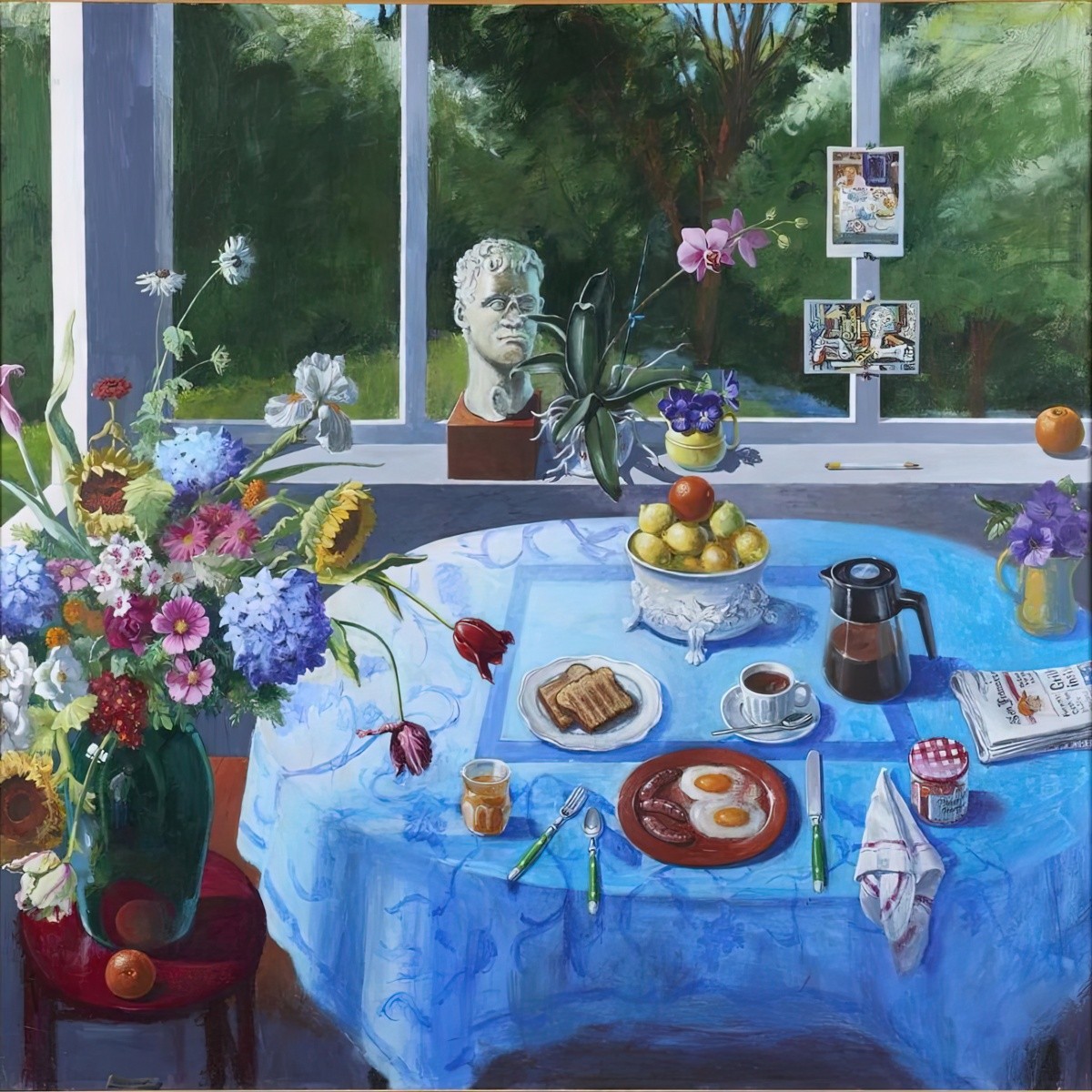 The Edwardian Era In England (1901–1910)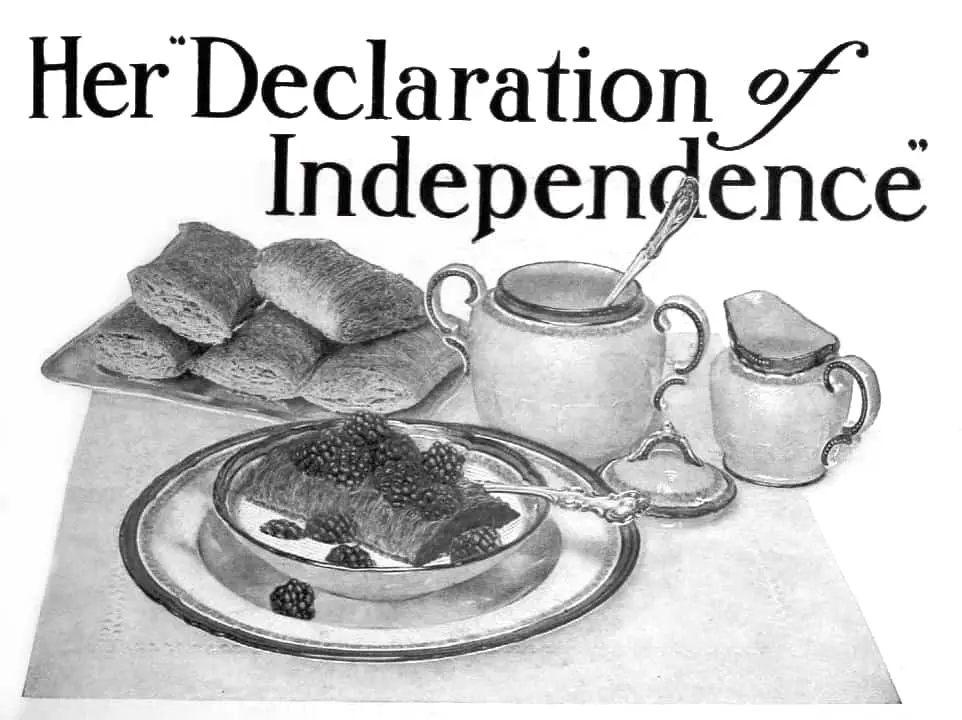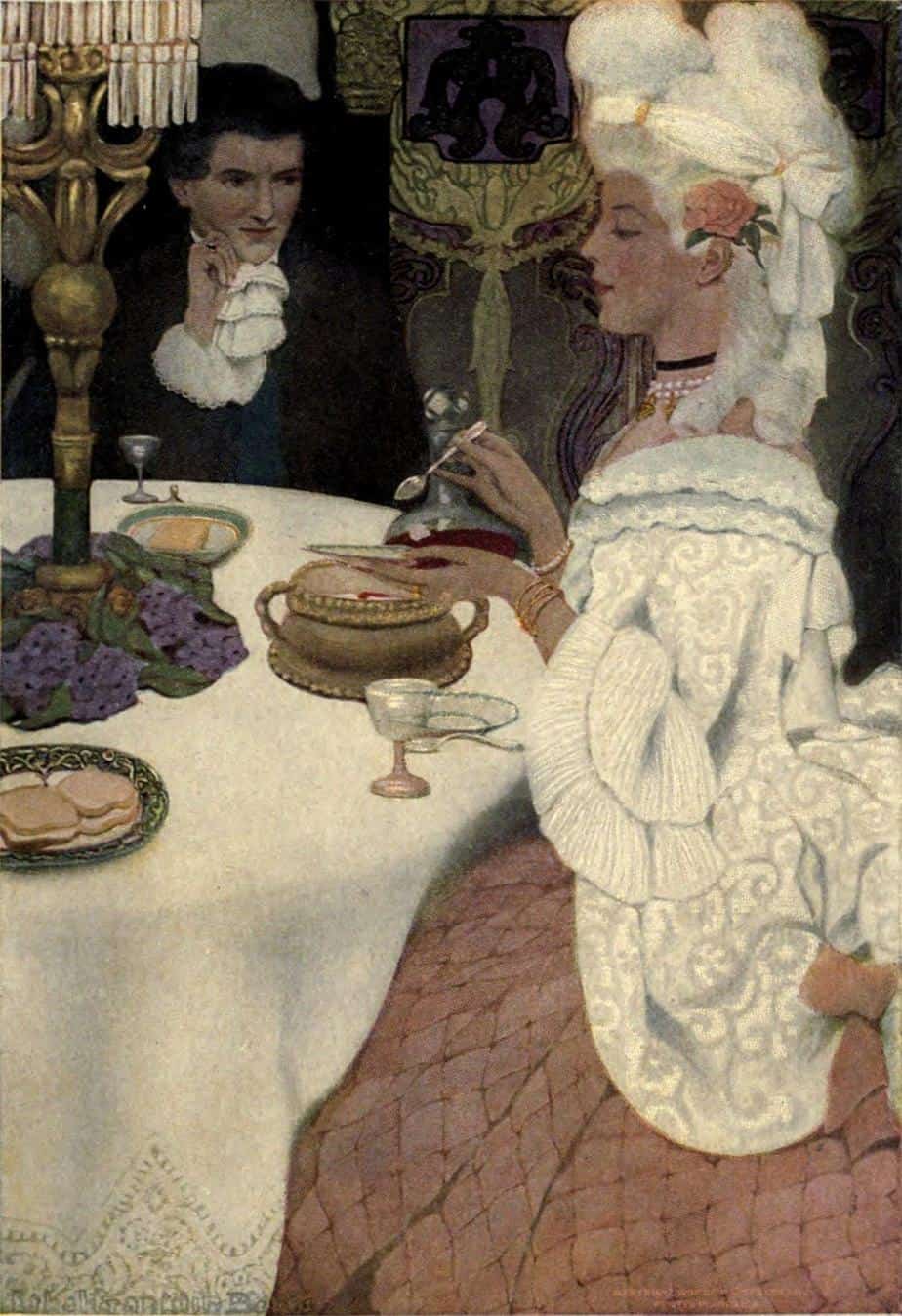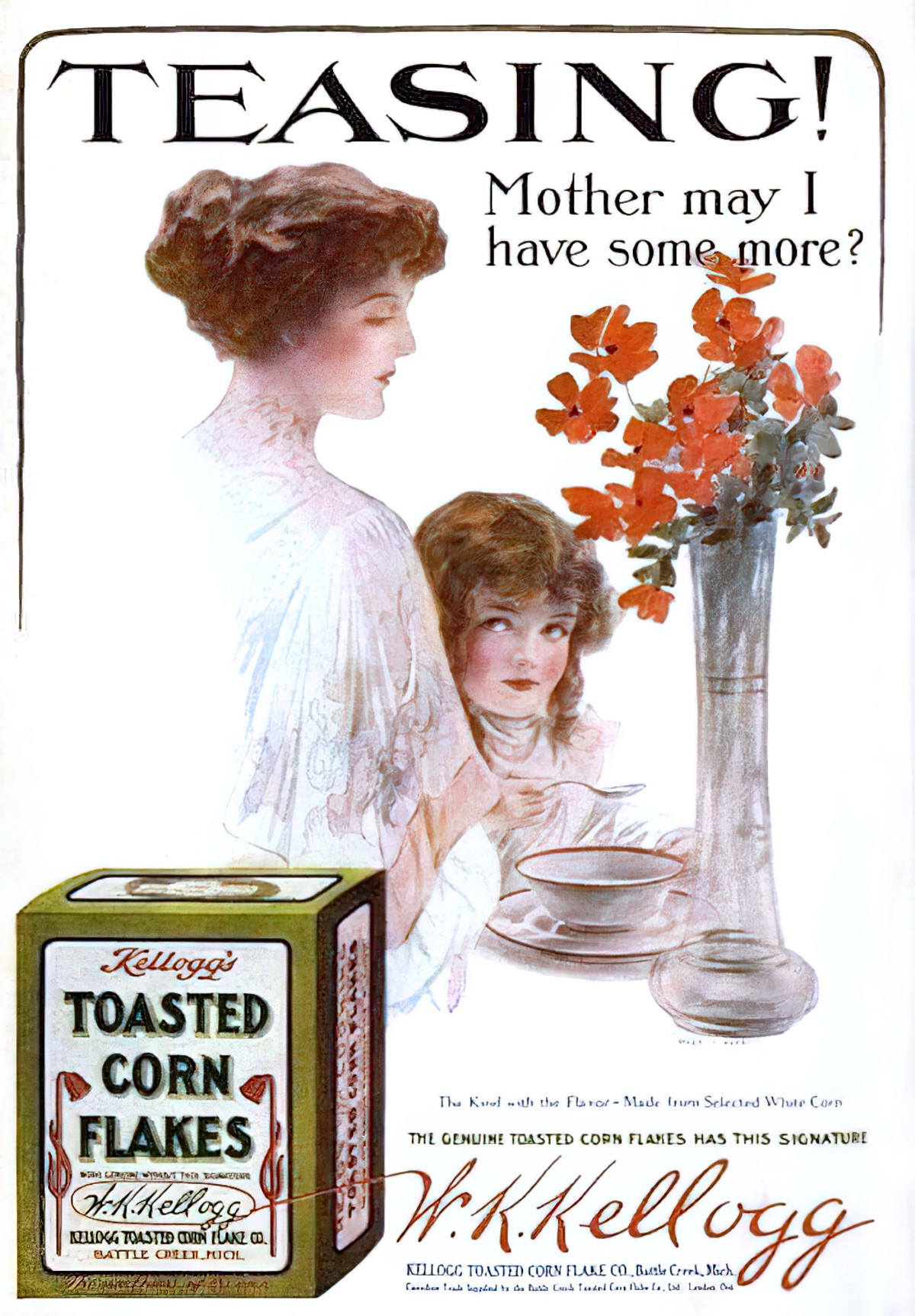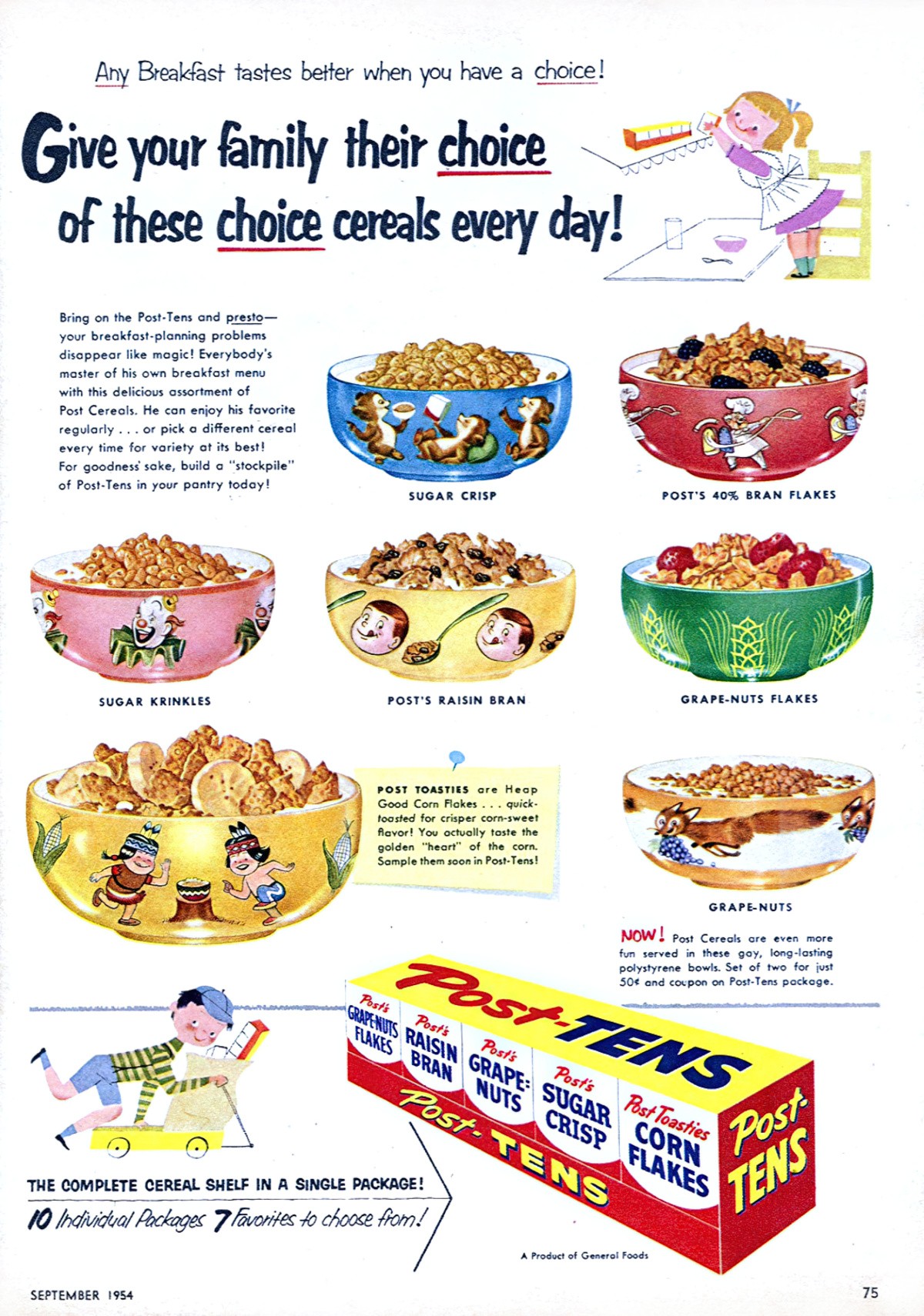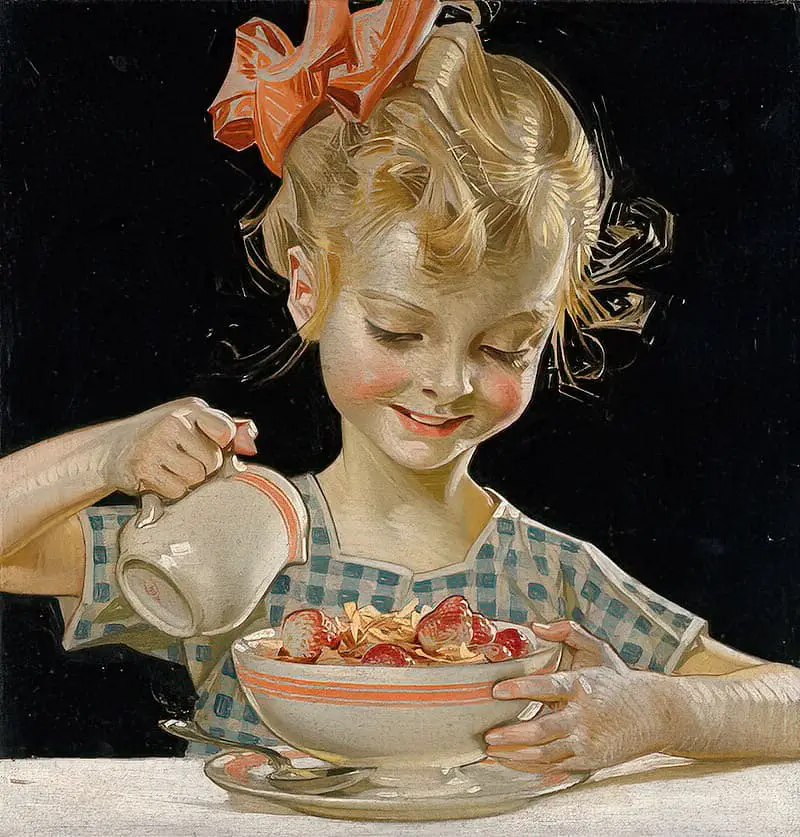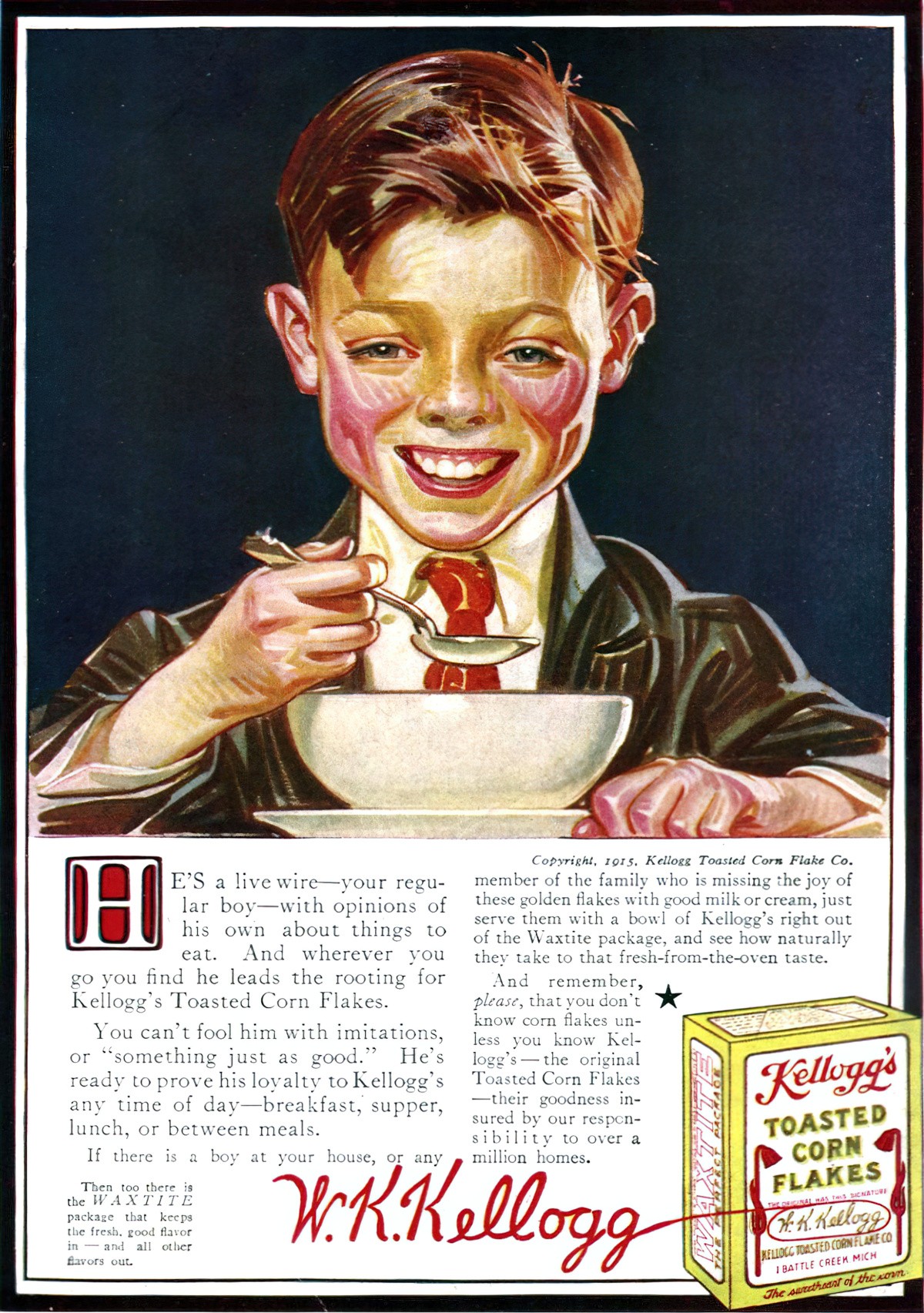 At nine in the morning, servants would be required to do as following:
9 a.m.: The family breakfast is served. While the servants have had porridge or, if they are lucky, bacon and eggs, their employers will be greeted with an array of silver covered dishes with bacon, eggs, kippers, kedgeree, devilled kidneys, freshly baked rolls and fruit.

from Life Below Stairs: True Lives of Edwardian Servants by Alison Maloney
The servants themselves had a less lavish breakfast, but they did often get bacon and eggs if they worked at an opulent house. If they stayed in their working class homes they would've been stuck with porridge.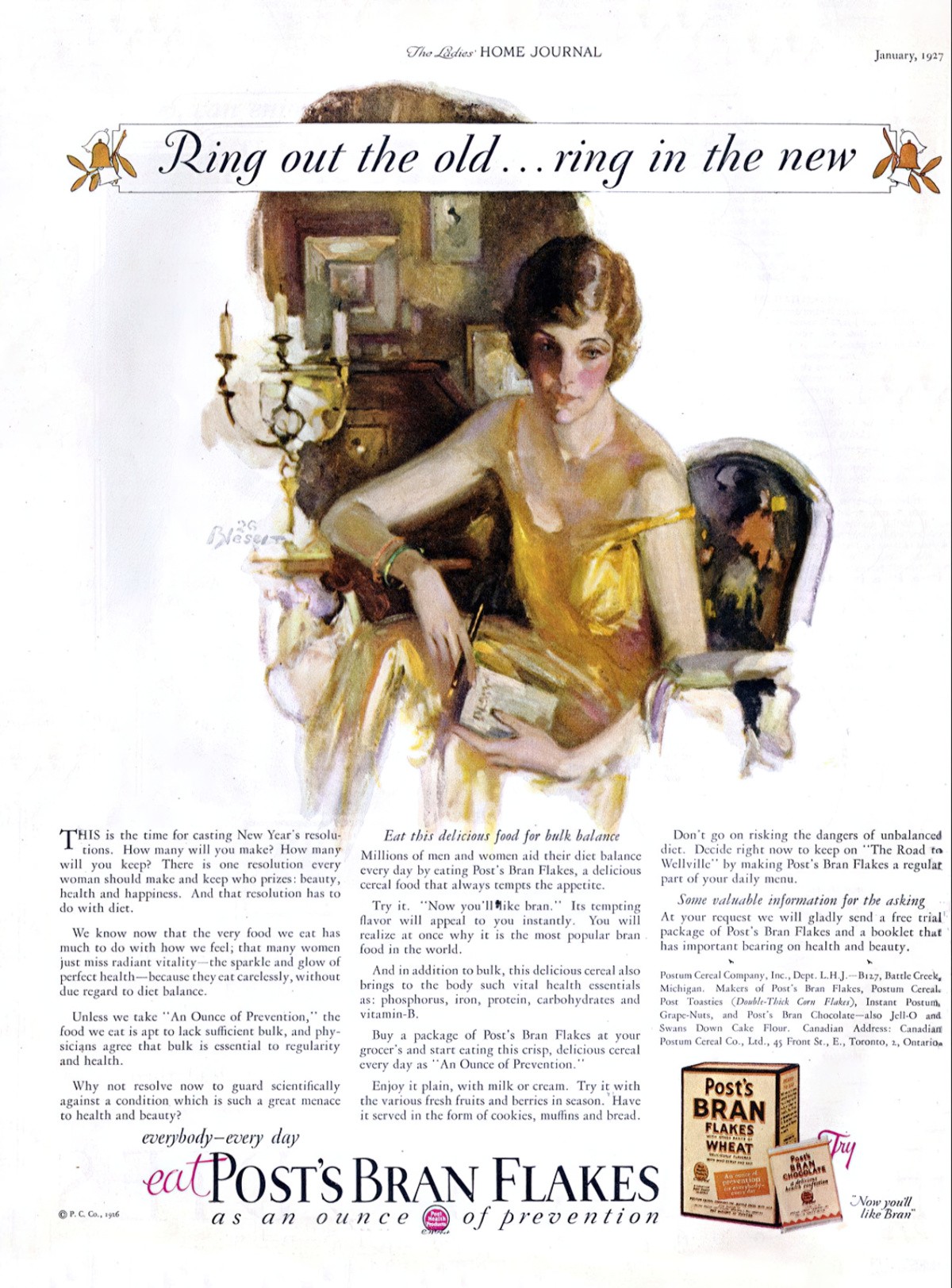 1929 Rural America
In A Long Way From Chicago, two children visit their hillbilly grandmother each summer. There, they eat pancakes and corn syrup, fried ham and potatoes and onions for breakfast — as much as they like. Then the depression sets in. 
1943 Rural America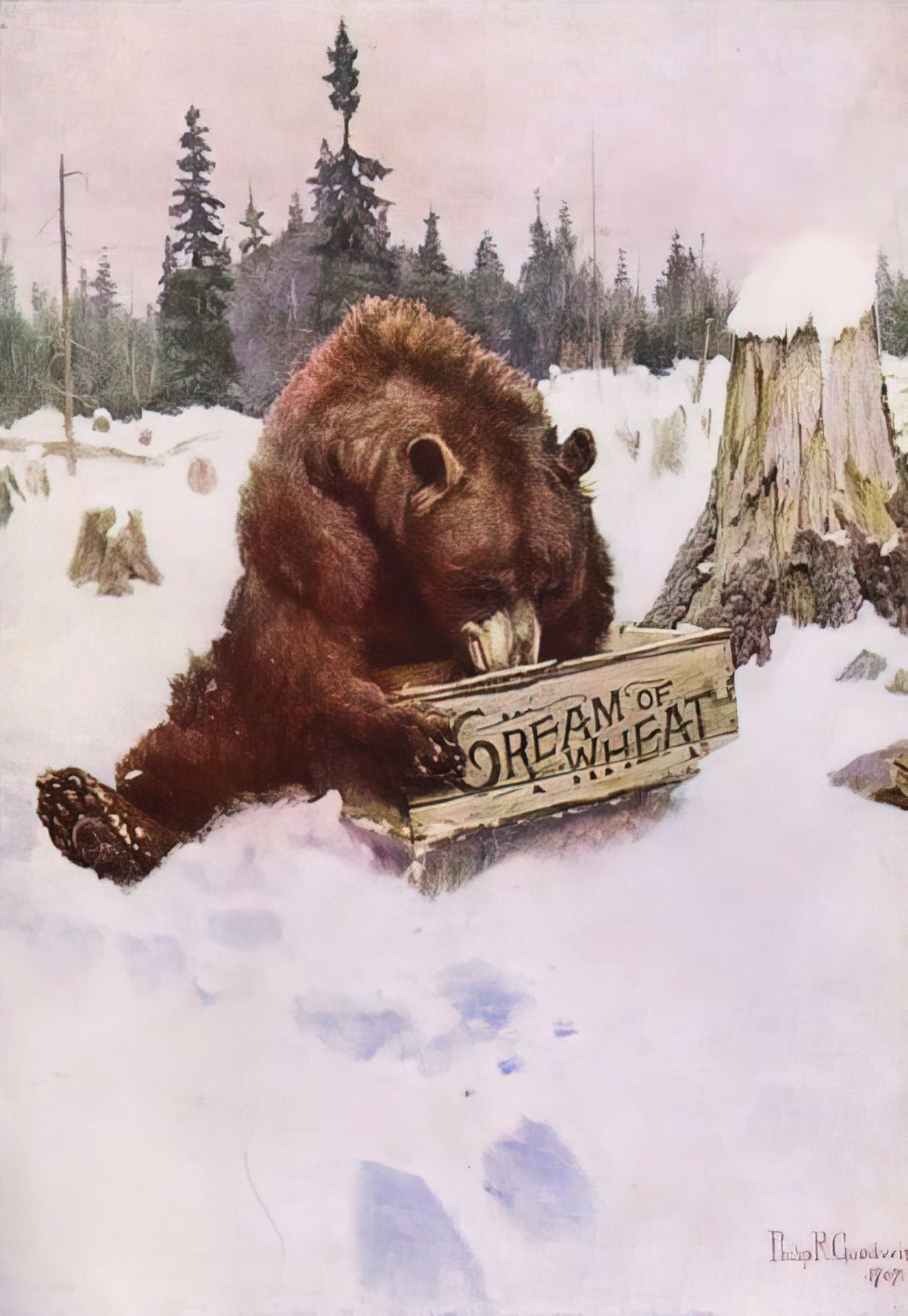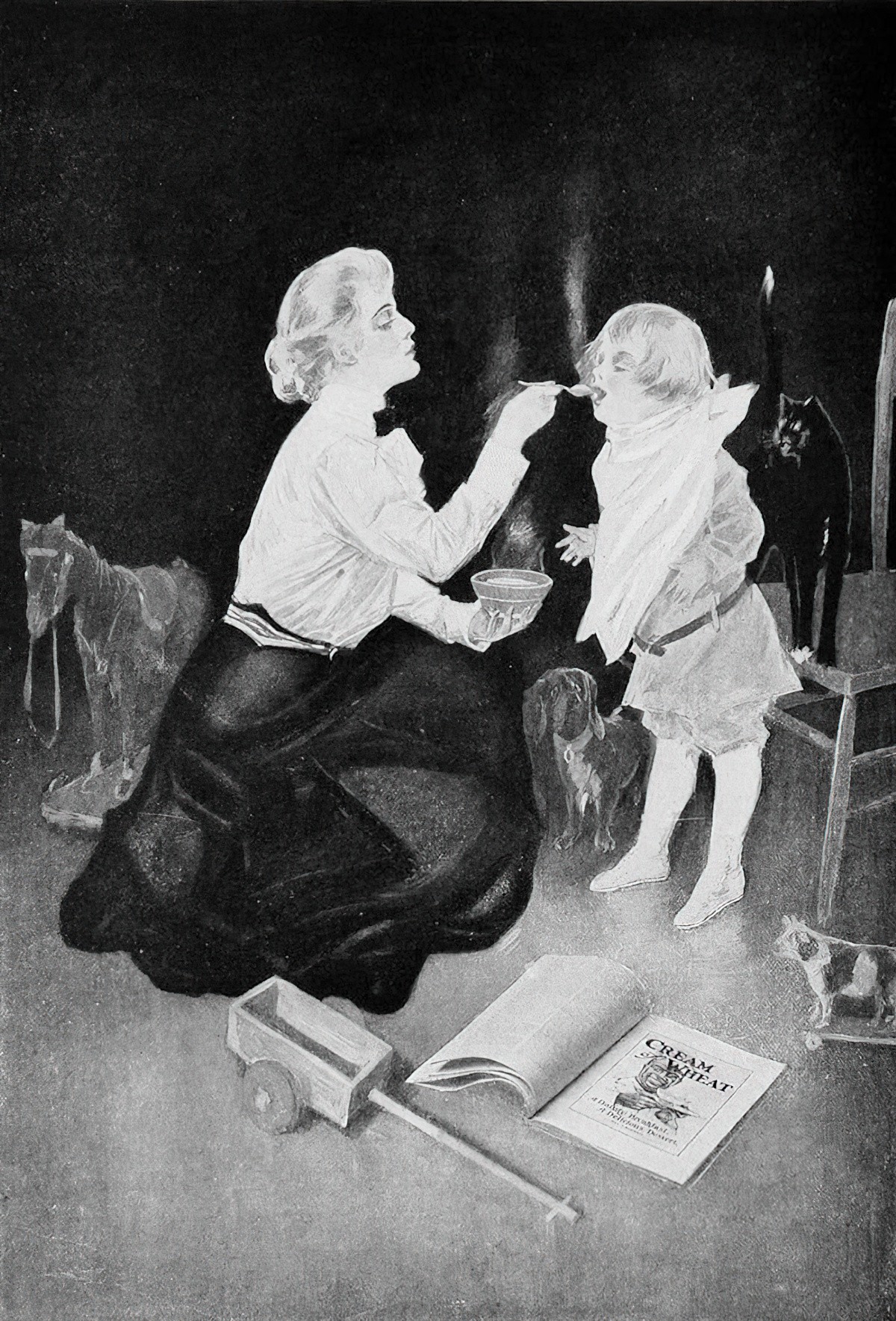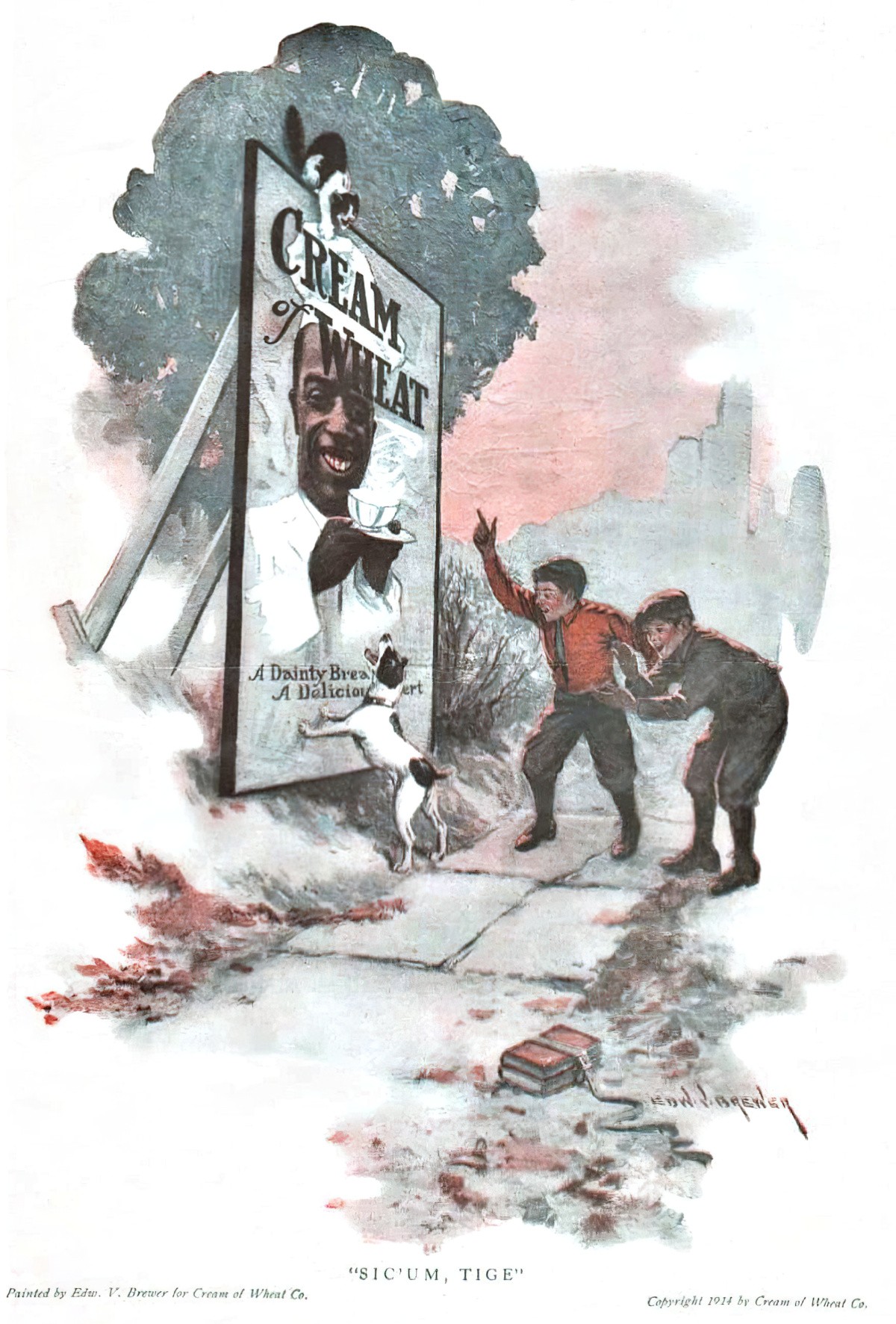 Wolf Hollow by Lauren Wolk is set during WW2 and is heavily based on stories told to her by her own mother. A breakfast scene shows the exact era in which mothers quit cooking breakfasts for their brood:
"Well, look who's up," my mother said as she came in the door, a basket of eggs in her hand. She tied on an apron and said, "Scrambled or fried?"

"I already had cereal."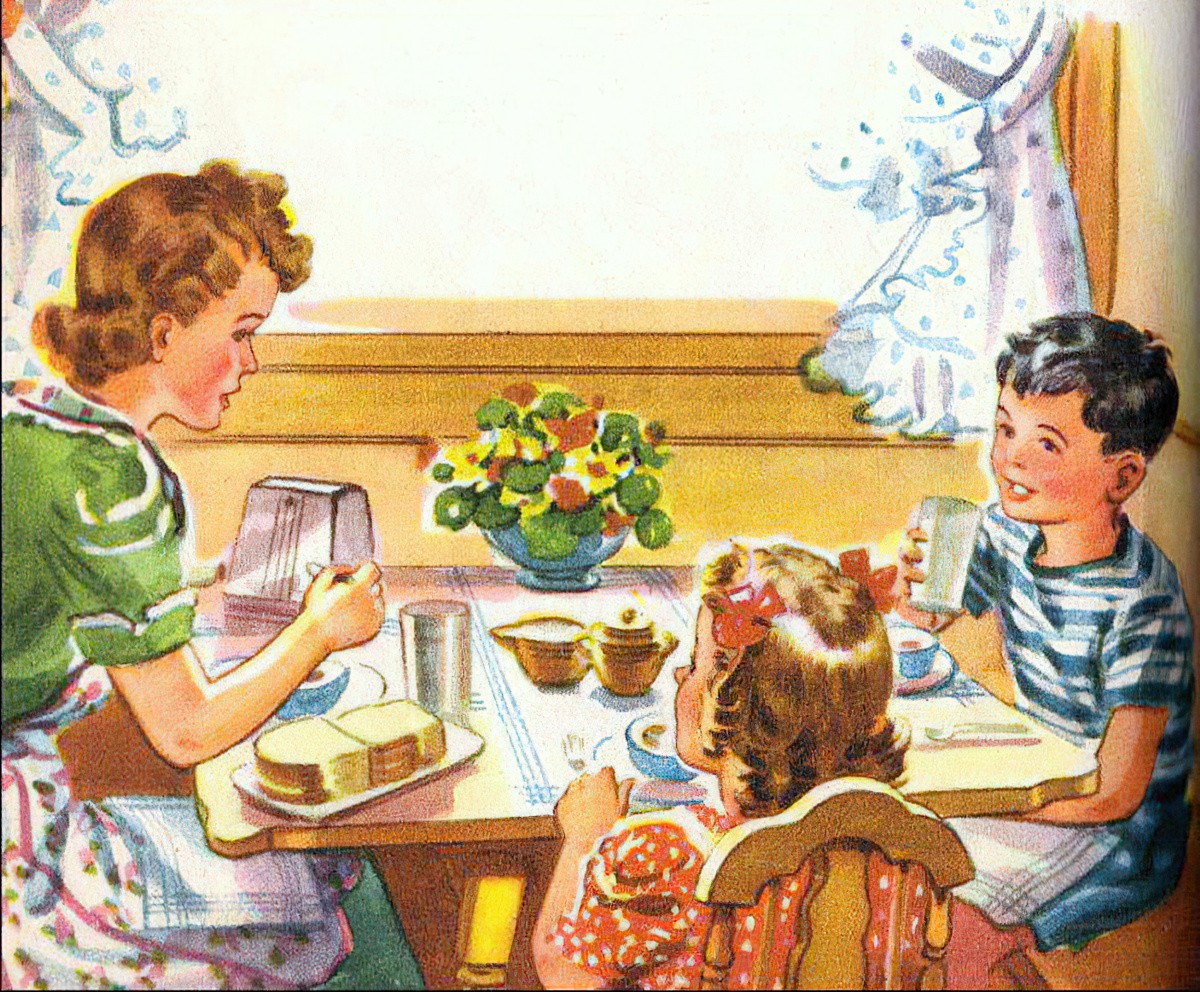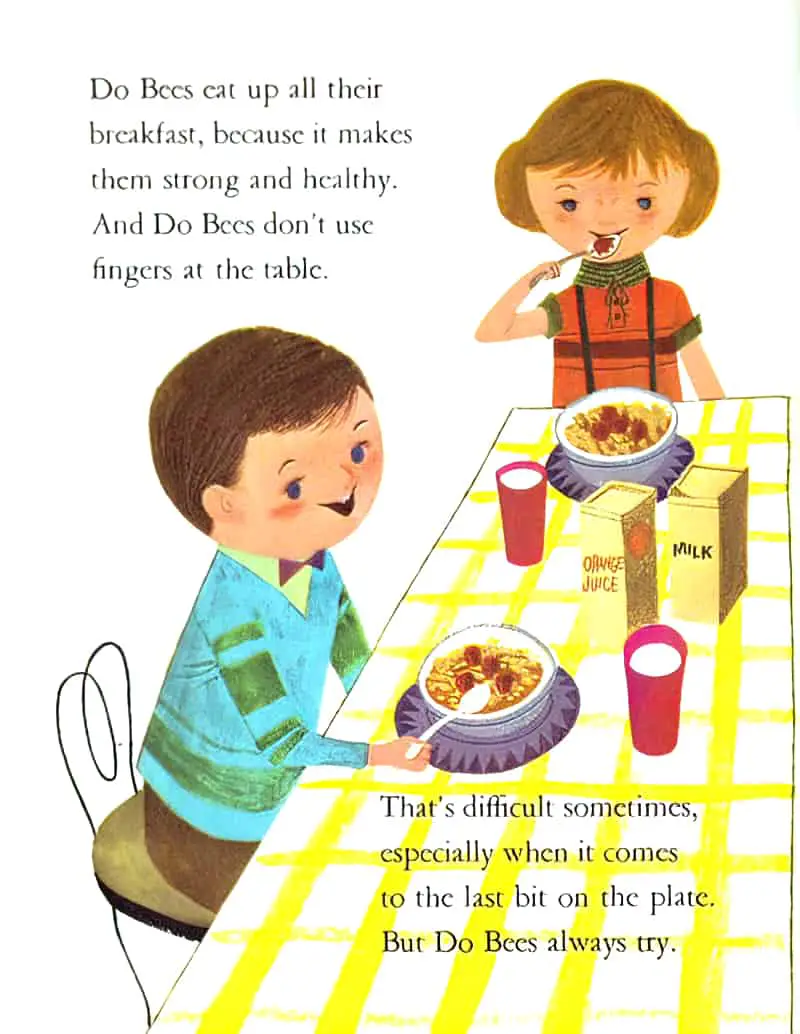 1975 (Australia vs America)
Exchange Student is about a 14-year-old Sydney girl who spends a year in Ohio, USA. This observation marks the exact era American breakfast traditions started to be adopted here in Australia:
"My brother will never believe the things they have on this menu," she said. "He'd go wild over all these pancakes and syrup and the blueberry waffles and things. He's always complaining about being sick of having eggs and bacon for breakfast."

Exchange Student by Estelle Grey
1981 England
From See You Thursday by Jean Ure:
For breakfast there were sausages and tomatoes. Mrs Fenton announced the fact with a brisk: 'Here we are, then…sausages at twelve o'clock, tomatoes at six.' Marianne wondered what on earth she was talking about, until slowly it dawned on her that she was describing for Mr Shonfeld's benefit the postiion of things on the plate. … They never had sausages; not for breakfast. Sausages were supper. She couldn't eat them at quarter to eight in the morning.
So what did Marianne prefer for breakfast, if not sausages and tomatoes?
To spare Mr Shonfeld's feelings, she forced herself to eat it. Her mother would only say: 'What's the matter with those sausages?' if she didn't, and then she would have to say that she didn't feel like sausages and then Mr Shonfeld might start thinking about bacon and eggs and wondering if it were his fault.
It's not cereal and toast that Marianne is missing, rather another kind of meat. Later, taking Mr Shonfeld shopping at the supermarket, she recommends eggs, because eggs are nutritious.
***
Season six of Mad Men is especially interesting because it's set in that period of American history in which the ad men were charged with the job of persuading the public that margarine is healthier than butter, and that extruded cereals should be taken at breakfast, straight from the supermarket shelves, rather than meat from the local butchery.
Those ad men did a wonderful job on us. Now, even though every bit of good science is telling us to go back to eating the pre-industrial way, our idea of a 'healthy' breakfast is so embedded in our culture that it's almost impossible to think in any other way. It all changed in the 80s.
1988 America
Take this Whitbread award winning passage from 1988:
Every morning, after walking the dog, I wait for the post. Our postman, despite his vigorous life, does not look healthy. His skin is showing signs of trouble within; a tinge has spread over his cheeks, a sort of threadwork of veinous blood vessels, suggesting cardiovascular irregularities. The surface of his skin is being irrigated by diverted blood; that is my diagnosis. I would guess that the beneficial effects of walking miles every day are nullified by his daily breakfast of sausages, egg and bacon. I have seen him with his fellow postmen gathered for these huge breakfasts at Lil's Cafe, near the Electric Cinema. There's hardly a person left in the developed world who doesn't not know that this sort of diet is fatal, yet Cockneys must have it. All Cockneys are unhealthy as a result.

Leading The Cheers by Justin Cartwright
It's no accident that literary breakfasts parallel exactly the food trends of our society. Equally interesting: breakfasts of toast, margarine and cereal also mark the beginning of the diabetes epidemic. Since fat helps to regulate blood sugar, this is no coincidence.
MORE ON BREAKFASTS
Have we always eaten these three meals a day? from BBC News Magazine
Do we really need all three? Some people think not.
Breakfast Is A Liar, Might Not Be Most Important Meal Of The Day from Jezebel. The Paleo eating community has been saying this all along, by the way. If you're a paleo person you eat breakfast when you're hungry, even if it turns into lunch. You also eat vegetables for breakfast. This might seem totally weird until you realise that even the government issue food plate does include a large portion of vegetables, and nowhere does it say you get a free pass for breakfast time.
 Children's Breakfasts Around The World from The New York Times
I Broke Breakfast, about how Americans eat an unvaried breakfast, from The Atlantic
There is a secret, wholesome indulgence to eating in bed which perhaps explains why it has not received the uniformily good press of other things which go on in bed… 

from The Eating in Bed Cook Book by Barbara Ninde Byfield, children's writer and illustrator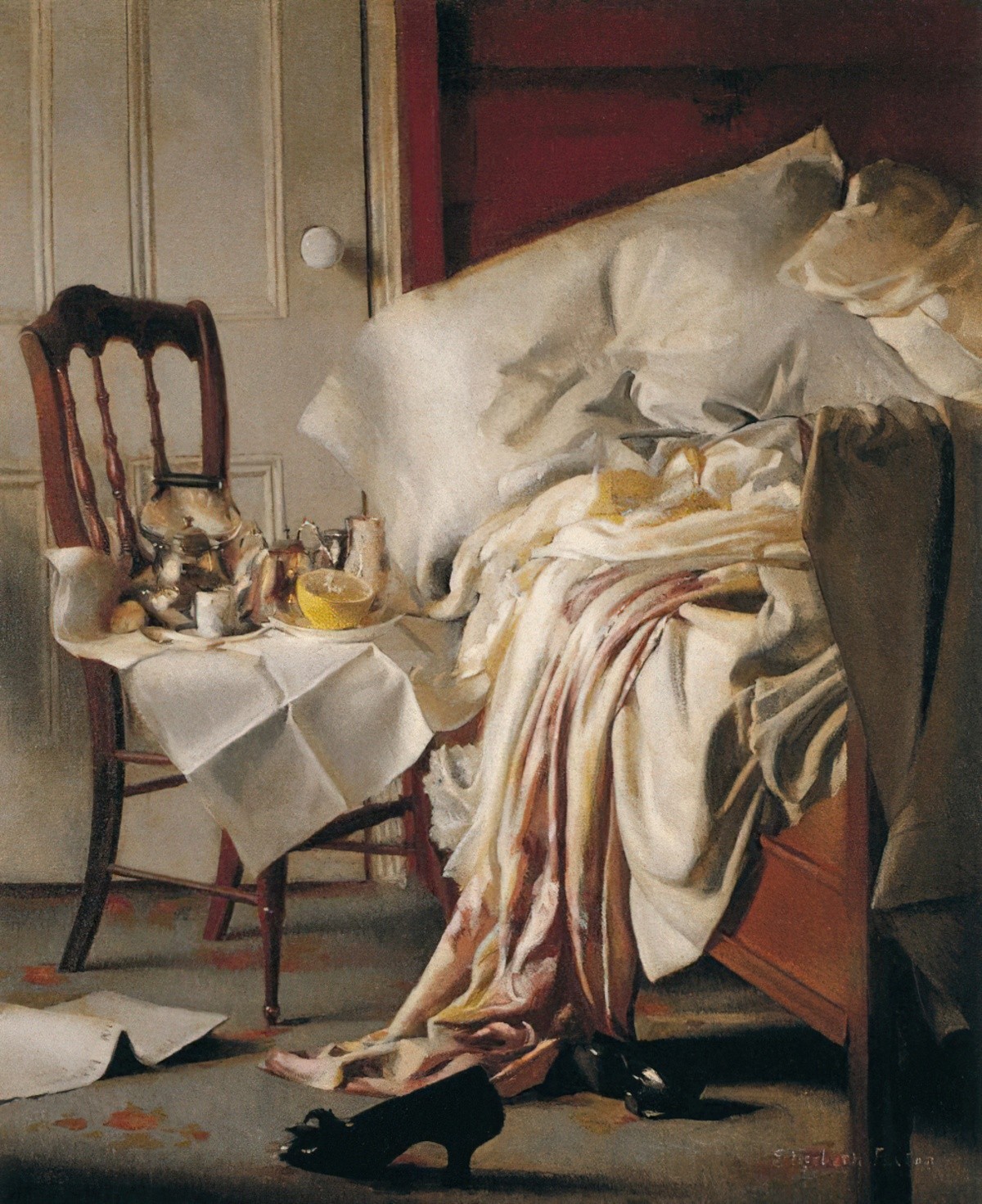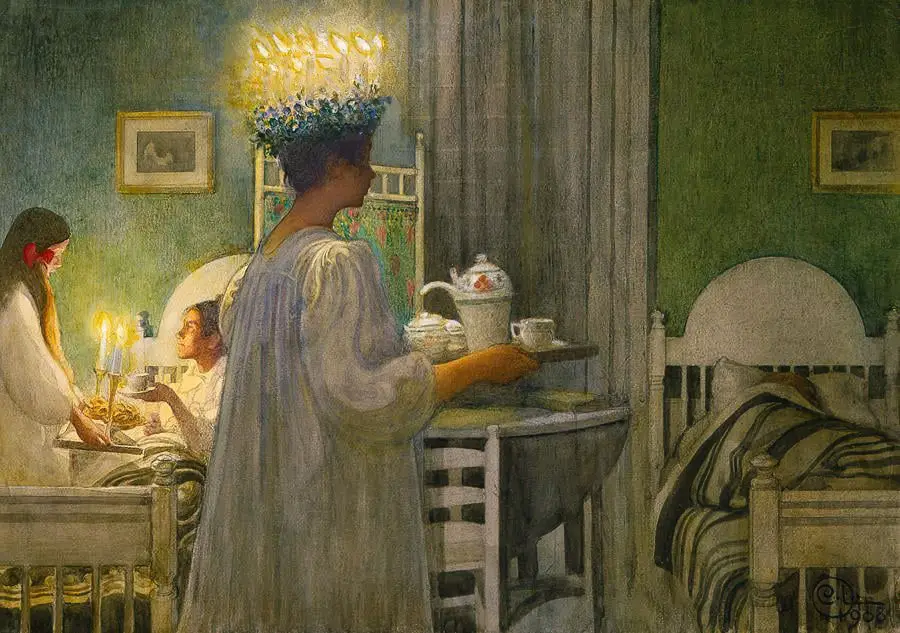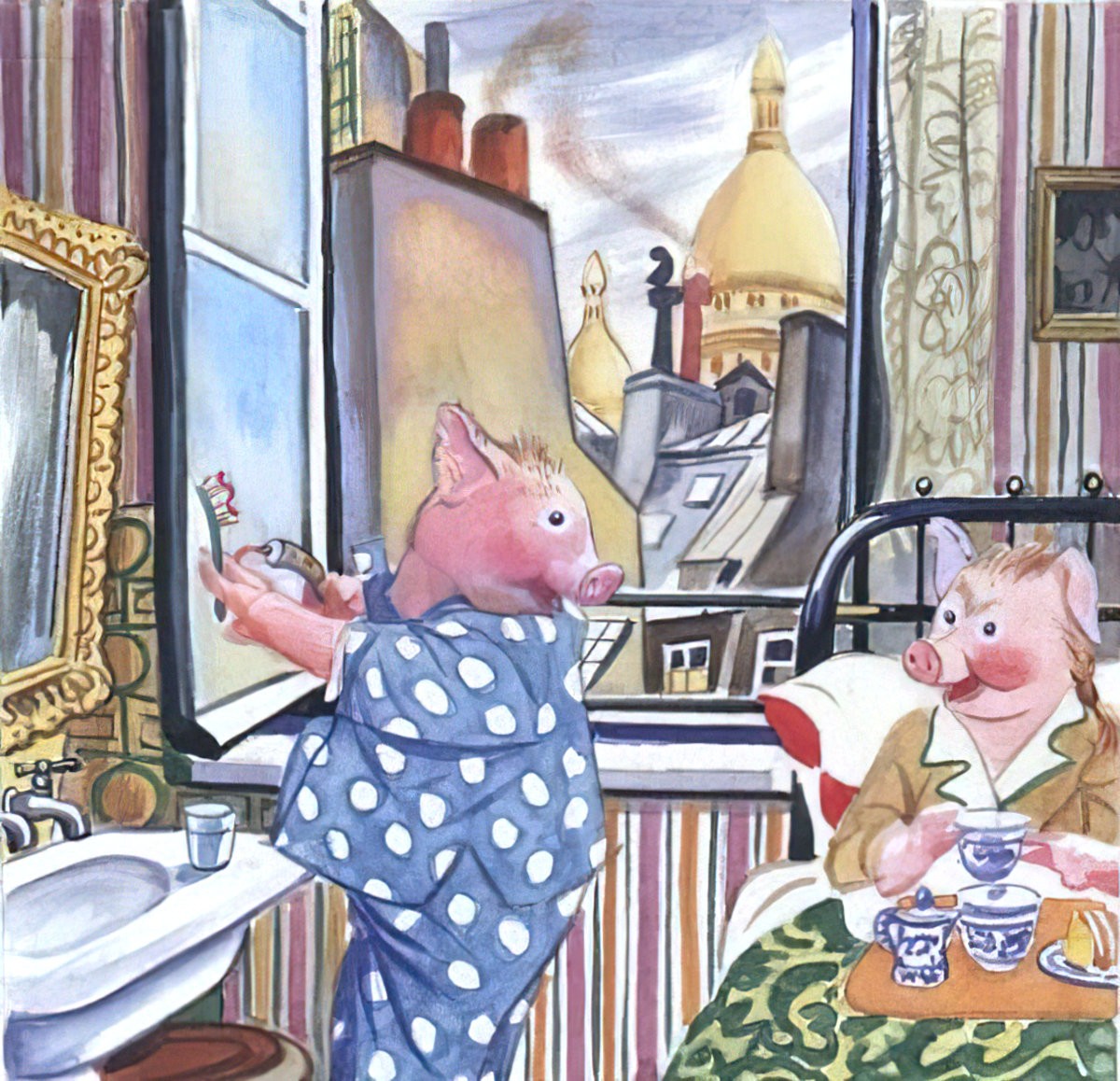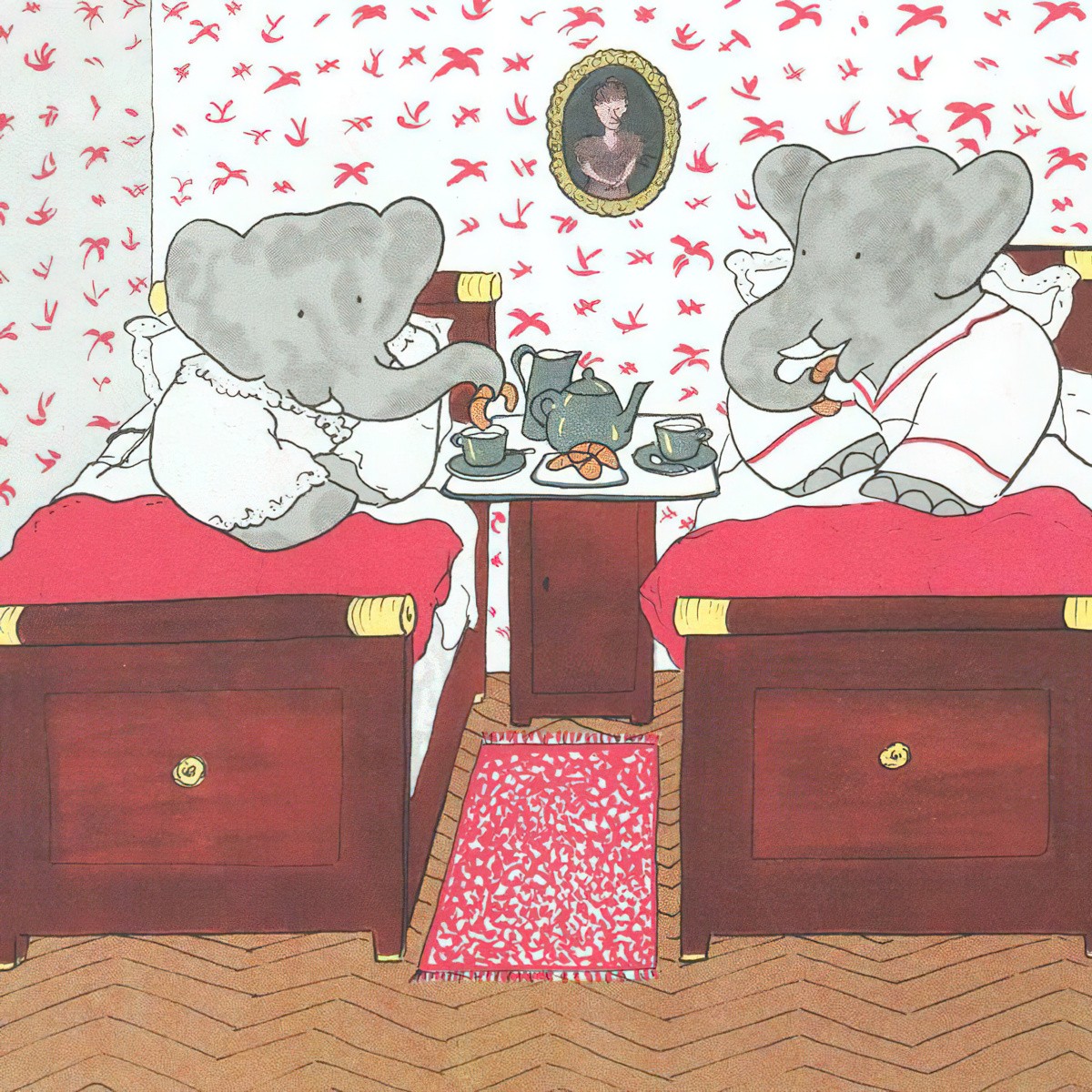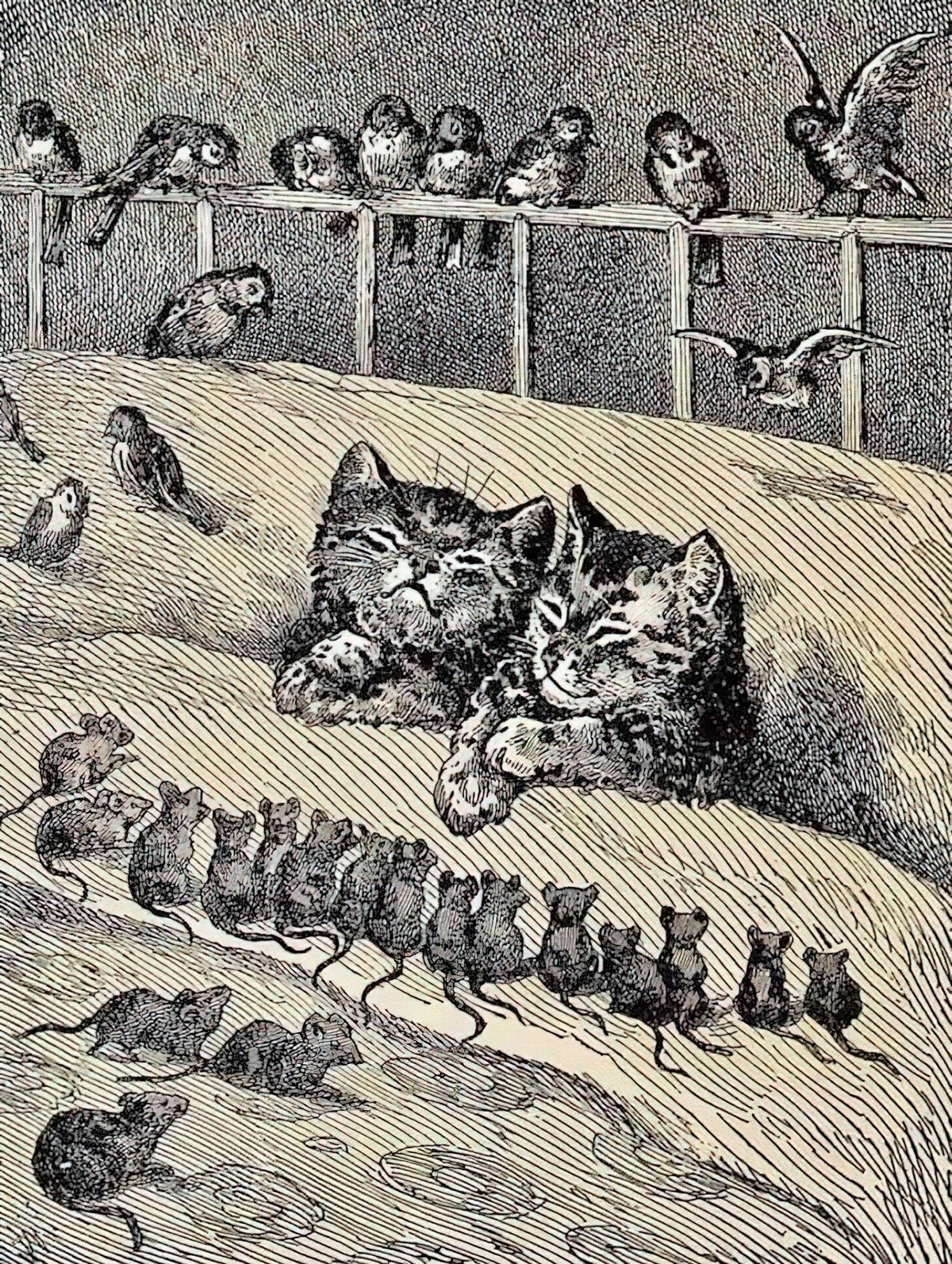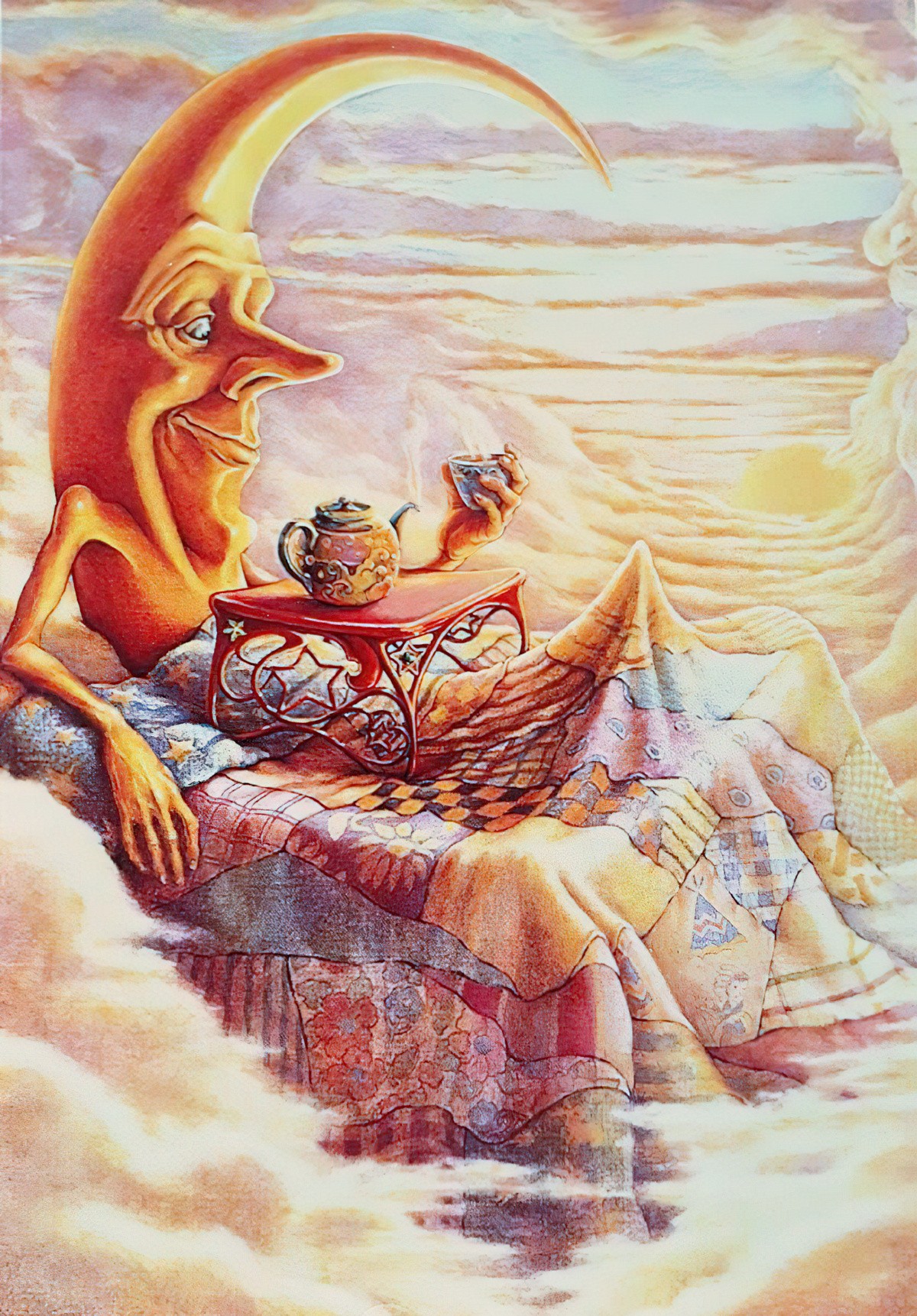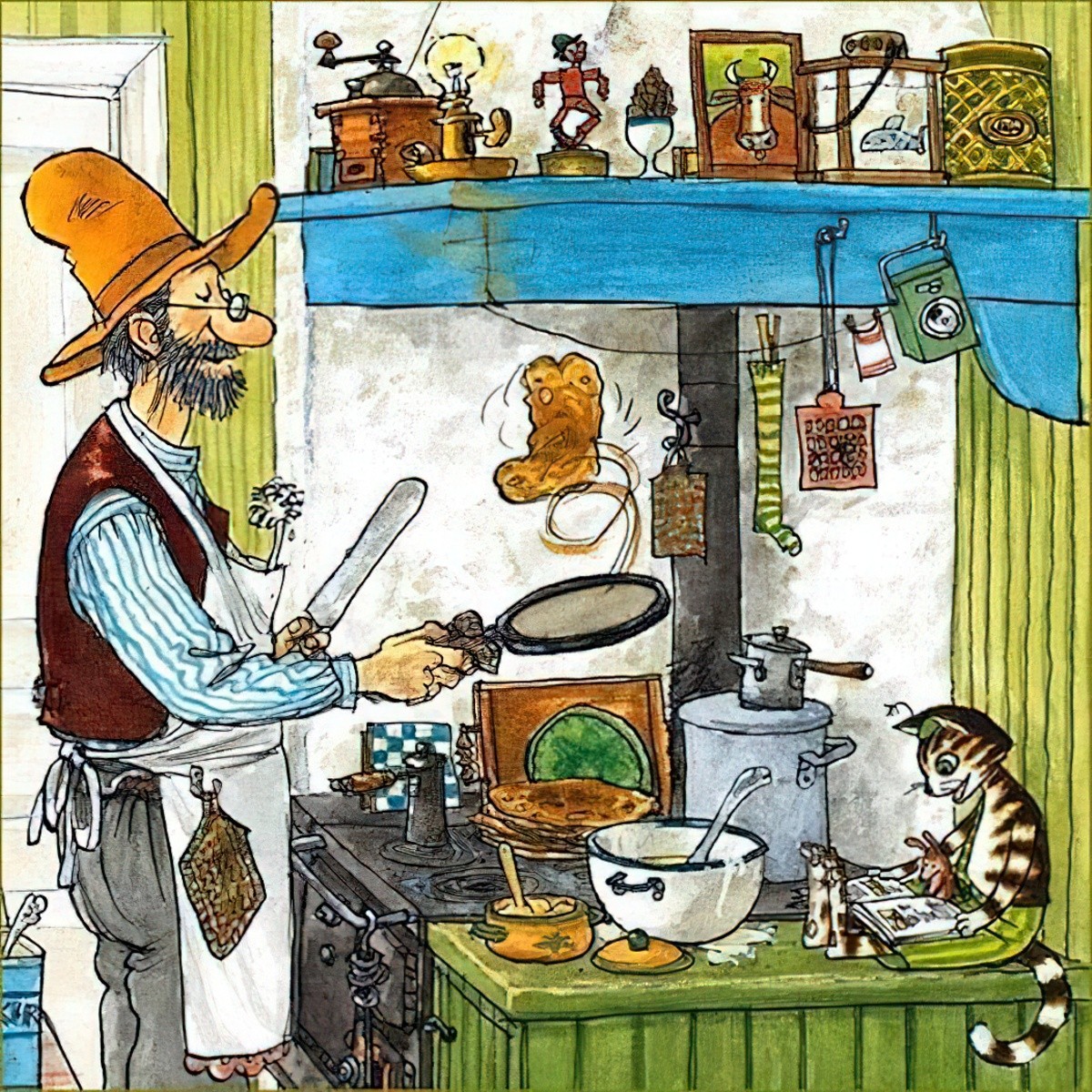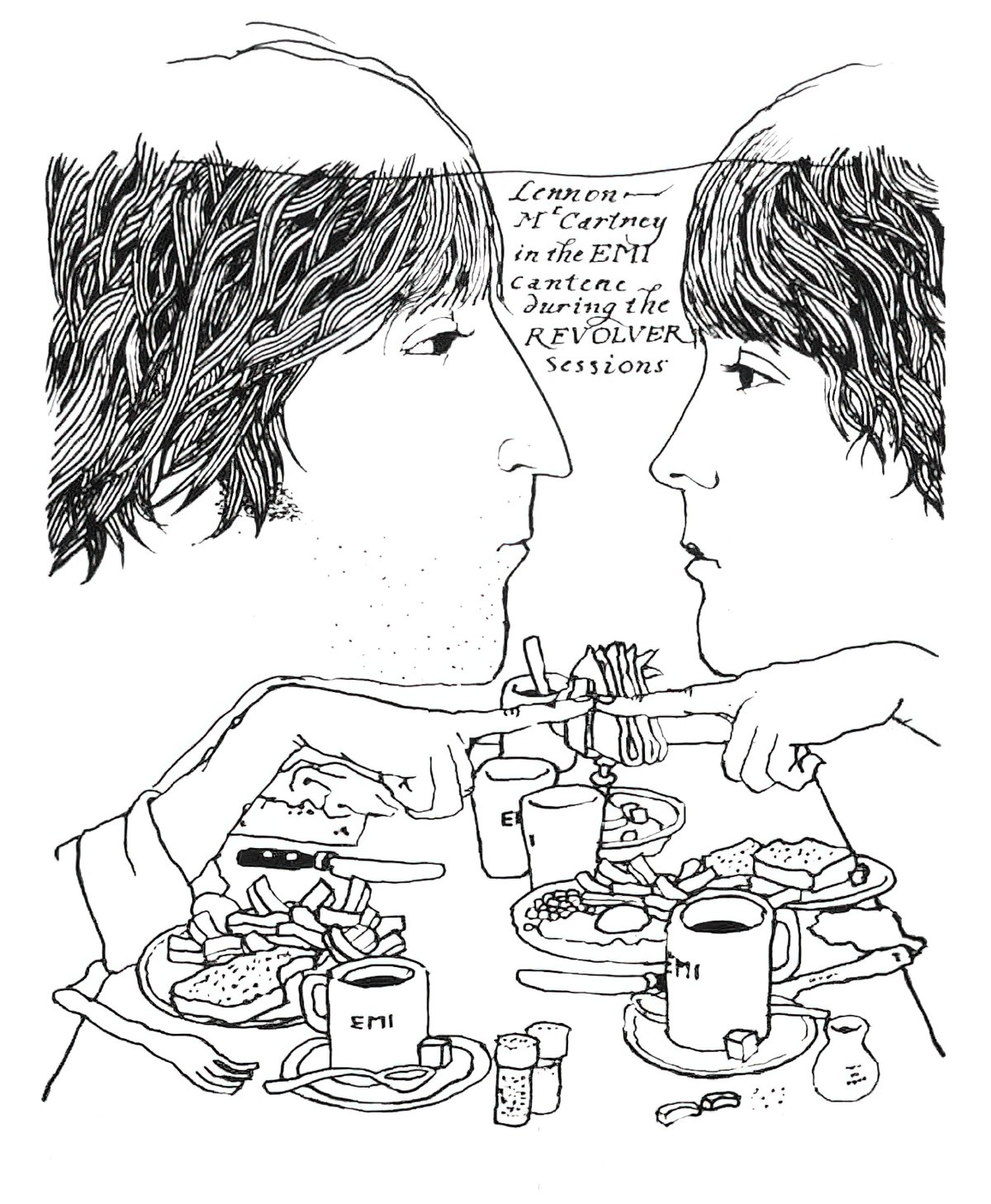 Header image is a Pure-Pak advertisement from 1960.