In Rudie Nudie sister and brother have a bath together. Their mother towel dries them. Instead of getting dressed immediately, they take a few minutes to prance and leap and enjoy the way their textured environment feels against their skin. The story ends with their parents putting pyjamas on them and tucking them into bed. Everyone is exuberant from start to finish.
WONDERFULNESS OF RUDIE NUDIE
The words  have wonderful mouthfeel, and remind me of the prose of Dr Seuss at  his best. This is a kind of chant, which I can see being memorised and played out in real life by children who emerge from the bath.
There's an argument to be made that there is not enough nudity in children's book, or in media in general. Left to their own devices, children are interested in the body in its natural form.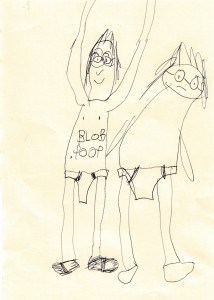 There may well be a time when we look back on this period of history the same way we modern people tend to look back on the Victorian era: There's something very strange about how we conflate nudity with sex. And surely this is the reason we don't see more naked children in picturebooks for young children. Children in real life are naked a lot more often than they are naked in the books they read. The conflation of sexuality and nakedness is especially the case for naked little girls.
As Perry Nodelman writes:
There are few [especially] female nudes in picture books, simply because there are relatively few pictures of unclothed girls in picture books — it seems that we so associate feminine nakedness with sexual availability that artists tend to forbid its appearance in the theoretically sexless atmosphere of children's books. Nevertheless, the rare female nudes in picture books tend to sit in bathtubs or hold towels around themselves or hide behind trees; they almost always take on the traditional gestures of nudity, and they almost always smile out at viewers. For instance, Carl Larson's "Bedtime scene," reproduced in Wiliam Feaver's When We Were Young, shows a young girl in nothing but black stockings, facing the viewer; she stands and looks at us without modesty but clearly not without consciousness of her full frontal nudity. Her gesture implies that she knows she is being looked at and clearly assumes that her viewers have the right to look at her, and her pout makes it clear that she enjoys being looked at.

Even rarer than female nudes in picture books are naked females. The only two I have encountered are both infants, and thus, presumably, representations of a safely asexual innocence, and both were drawn by Maurice Sendak. When Sendak depicts the Princess of MacDonald's The Light Princess as a naked baby with exposed genitalia, her facial gesture is unlike those we associate with nudity; she is neither smiling nor pouting nor in repose with her eyes close; she looks a little drunk. Of all the naked goblin babies depicted in Outside Over There, only one reveals her genitalia and only once, and that happens when she is too busy dancing to Ida's wonderhorn to look very enticingly available. The other naked babies in Outside Over There do often take the poses of nudes, but their doing so establishes an ironic tension both with the fact that they are dangerous goblins and the fact that they are "just babies".

There are more naked boys than girls in picture books, probably because we unconsciously accept that boys can have their clothes off without implying their availability for our pleasure. In fact, pictures of naked boys almost all show them clearly doing something—moving, active, not posing. One of Caldecott's illustrations for "The Farmer's Boy" shows a naked boy cavorting on his nurse's knee while a nude girl with the pouty mouth of many pinups sits quietly in the tub, her voluptuous back awaiting our inspection. When male frontal nudity occurs—more often than does female frontal nudity—the boys in question are too involved in intense activity to be passive pinups. The action lines at the elbows and knees of Carlos Friere's depiction of the unabashedly naked Simon in Daniel Wood's No Clothes make it clear that is is in motion even though he directly faces viewers.

Perry Nodelman, Words About Pictures
The wonderful but rare thing about Rudie Nudie is that we see two naked children (one boy and one girl) and neither of them is aware of the 'gaze' of the imaginary camera. They are completely unselfconscious in their nakedness. Not only that, but they take great delight in the sense of touch, rubbing their bare feet across the coir doormat, running through leaves, feeling the wind rush past as they run. This is a period of early child which is all too soon gone, but Rudie Nudie is a celebration of that carefree time.
NOTES ON THE ILLUSTRATION OF RUDIE NUDIE
The best picture book illustrators are able to show characters in motion. Too often (as described by Nodelman, above), characters are too static. It is indeed easier to draw a character who is poised for the viewer. Much more difficult to convey a sense of movement. Emma Quay notes this on her blog, and realised between creating the first drafts and the final that even the mother needed more movement:
When I look at this page from my sketch book, I can see the history of the development of my ideas for the bath illustration. I tried a few positions for the little boy, and at first Mum was a bit too static, sitting on the right hand side of the bath. I decide to move her to the left and have her leaning in to splash the children. The various diagonal lines help add more movement to the picture.

Emma Quay
Illustrators and writers have had difficulty getting naked children published in books, and there are no signs that the self-publishing era is making it any easier. (Apple, for instance, has its own restrictions on nudity in products available on its app and iBooks stores.) Even when naked bodies are published, there is the hurdle of getting past the gatekeepers of children's literature: teachers, librarians, parents. Maurice Sendak's In The Night Kitchen ranks high on the list of banned books.
So how does Emma Quay avoid the 'icky' feeling that some adults harbour about children cavorting naked in books?
1. This is an Australian publication. I'm going to hazard a guess that Australians are generally a little more open when it comes to showing vast areas of skin. It's probably to do with the subtropical/tropical climate of the top part of this continent. A hypothetical question: Would this book have emerged out of England, or America? If it had, it probably would have taken a slightly different form. I can't imagine English children finding delight in rushing outside naked for all but a few weeks of the British summer. On the other hand, there are parts of Australia where you wouldn't let your children run around outside without shoes on. In the end, anything is possible in a picture book.
2. There is no depiction of genitalia. The children are drawn side-on and in motion, and their raised legs hide any genitalia. Their bottoms are in full view, but…
3. These are highly stylised drawings of children.  It wouldn't do to make these drawings too realistic, to the point where a viewer could recognise the child model upon which the illustrations are based. these children are everyone and no one.
4. The illustration style never lets the reader forget that these are just drawings. Apart from the highly stylised line-drawings, the colour of the children extends beyond the line, reminiscent of cut-outs glued on. So the reader thinks of collage. The graphic design of the book is quite like a scrapbooking project, with blocks of pastel colour forming the background. The 'cut-out children' therefore seem like embellishments, like part of a decoration. Their nakedness therefore is very much secondary.
Interestingly, the hue chosen for the colour of the skin is what we typically think of when we think 'flesh colour'. This is the colour of the 'flesh' labelled crayon of my 1980s box of Crayolas. In other words, it's nobody's colour in particular, though undoubtedly reminiscent of 'white'.
I really like that there is a father who gets involved in bath time here. Although the story could have been completed without a father in sight, I get the sense that some fathers (more often from an earlier era) feel uncomfortable getting involved in the nitty-gritty personal care of their (or especially other people's) children.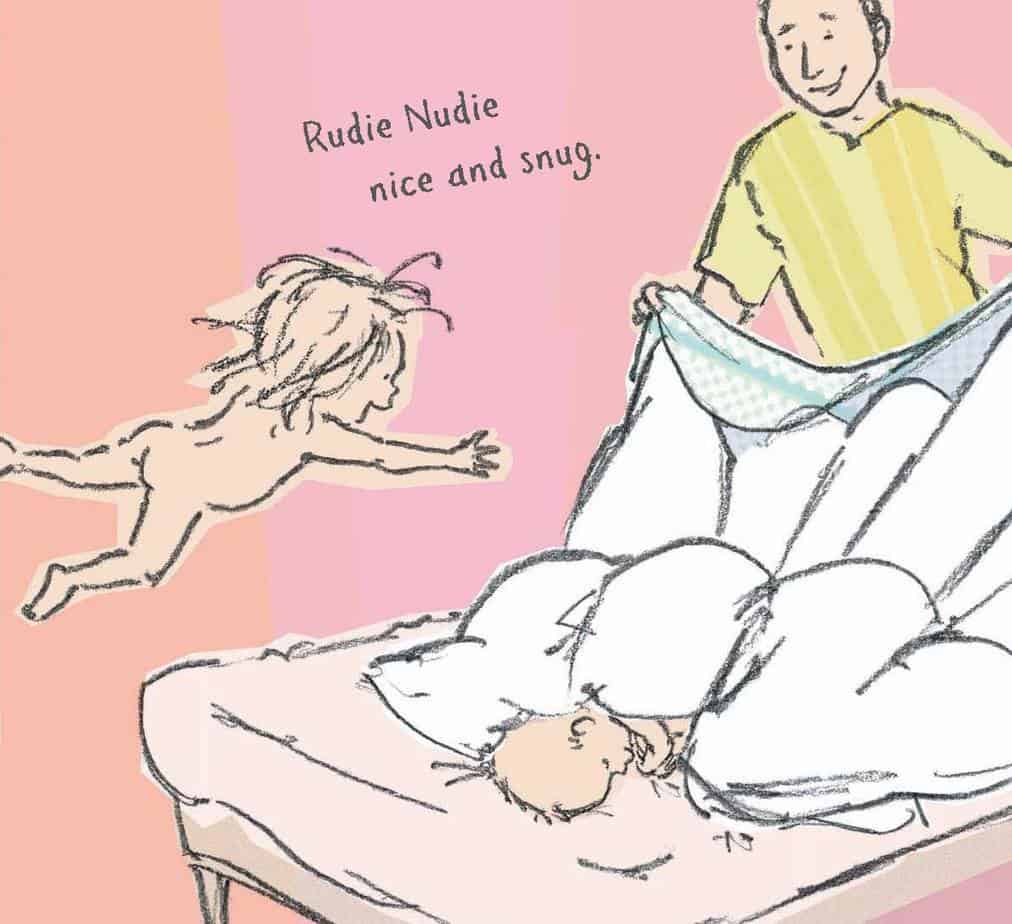 STORY SPECS OF RUDIE NUDIE
Published 2011 in Australia by HarperCollins
Children's Book Council Of Australia short-listed book
Australian book industry award winner
COMPARE RUDIE NUDIE WITH
Books mentioned by Nodelman, and which work as counterpoints to Rudie Nudie: