Dogs (and wolves and foxes) are popular choices for protagonists in this sort of story, I suppose because dogs are inclined to get themselves into trouble. (Our own border collie is no exception.) But here we have a wide selection of animal spanning the categories of birds, insects and lesser-known mammals.
This kind of story is generally a type of Home-Away-Home plot, but with an animal protagonist. See also: Why So Many Animals In Picture Books?
ALEXANDER'S OUTING BY PAMELA ALLEN
A mother duck takes her ducklings through a walk through Sydney (past various famous landmarks). One little duckling won't behave himself and falls down a hole. A variety of methods are used to try and get him out:
Poking down an umbrella
Offering a sandwich
Letting down a policeman's whistle on a string
Finally the policeman fills the hole up with water so Alexander can float to the top. The mother duck is very pleased, and the ducks and the people skip around the Archibald fountain. They prance off home in time for tea.
WOLF'S SUNDAY DINNER BY TANIA COX AND GREG HOLFELD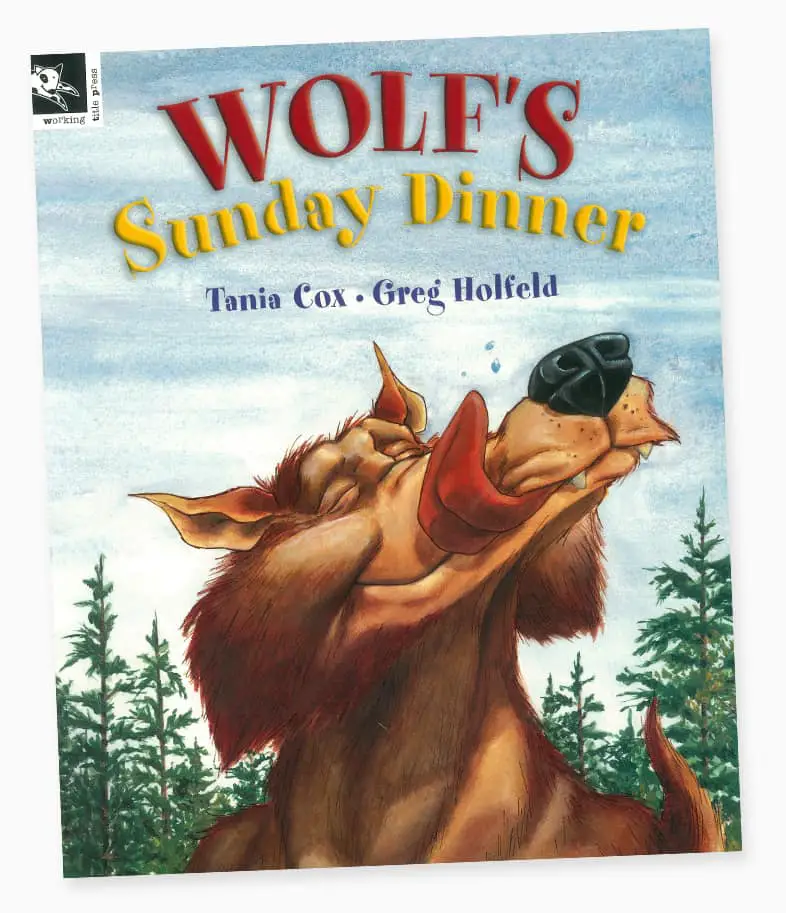 This is a cute book. A wolf decides to cook a duck for his Sunday dinner but only finds a scrawny one. He decides to fatten it up, but the duckling is a fussy eater. He won't eat anything the wolf brings for him. Eventually the duckling admits he likes frogs, so the wolf goes to much trouble catching a bag full of frogs. When he takes the frogs back, it turns out the duck only likes playing with frogs, not eating them. The wolf is very hungry so decides to eat the duck as is. But when he opens his enormous mouth, it turns into a yawn and he falls asleep. The duck wanders off and finds his mother, who tells him it's time for dinner. That's good, because the scrawny duck is very hungry.
KASHTANKA BY ANTON CHEKOV ILLUSTRATED BY GENNADY SPIRIN
I knew Chekhov wrote short stories and I knew he wrote plays, but did you know he also wrote this children's book?
A dog (Kashtanka) gets lost in the streets, and is eventually taken home by a man who gives him plenty of food to eat. Unlike many stories of this kind, Kashtanka's new plight has its pluses and minuses – he doesn't like the new place because it doesn't have the same smells, but the man doesn't get angry and stamp around like his former owner. It turns out the new man is a clown/circus performer, who works with a few other animals including a gooe. One night the goose dies, and it's now Kashtanka's turn to take over the performance. He has been in training (and renamed 'Auntie', for some reason). But in the crowd are Kashtanka's former owners – a boy and father – poor cabinet makers who stand up and shout that the dog belongs to them. Kashtanka goes home with the cabinetmaker and after they'd been walking along for a long time it felt as though his world had not been interrupted for a second, and his life with the circus performer had all been a hazy dream.
THE VERY SMALL BY JOYCE DUNBAR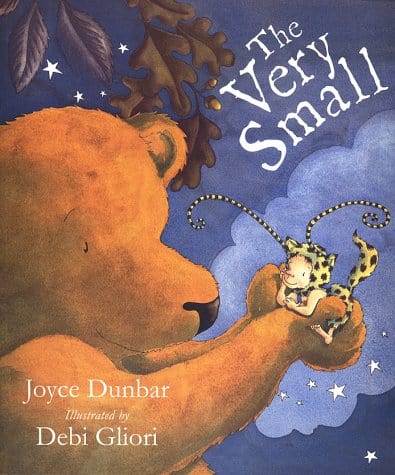 The title feels unfinished, doesn't it?
In this story a bear takes the child's role, and finds a creature who reminds me of something out of Cuddlepot and Snugglepie. The bear entertains The Small Thing for a day before 'sneezing' it back to the woods. The creature's own mummy and daddy happened to be waiting there for it. Since both the bear and the small thing are tucked up in bed after an exciting day, this is also a Going To Bed Book. It's also a Child's Imagination Takes Over book – a mixture of many. Perhaps for this reason I didn't find it particularly satisfying as an adult reader.
ZOE'S WEB BY THOMAS WEST
A spider is blown away from her family and doesn't know how to build a web to catch flies. She looks around her world and sees all sorts of things which look a bit like webs (hammocks, powerlines etc.) but none of them catch flies. Just as she's about to starve to death, she finds her family of spiders and is reunited. She learns how to build her own web by looking at what they have done, and all is well in spider world.
I like that this book encourages children to make connections  and use their imagination to see the everyday world in a new way. I had never before thought that a hammock can look like a spider's web, but I'm sure I will now.
MR JACK: A LITTLE DOG IN A BIG HURRY BY CHRISTINE MORTON-SHAW AND THOMAS M. MULLER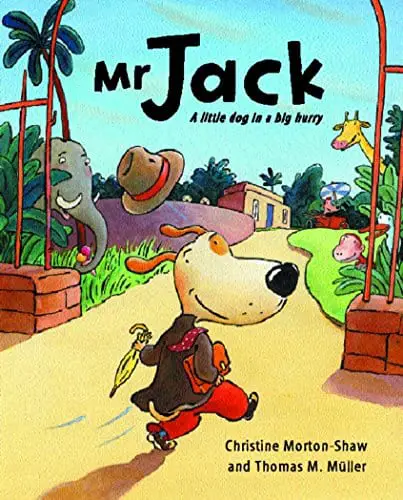 The milieu of this book feels like the 1950s, which was a fascinating decade for literature (Mad Men and Revolutionary Road are two of my favourite things ever) but unfortunately this decade left a lot to be desired re equal rights for women. Of course, when you read stories set in this decade, you're going to have important men at work whose secretaries run around after them attending to their every need, and that's what happens in this book.
An important male dog forgets his glasses at work, and his faithful high-heeled mouse secretary chases him all over town in order to give them back.
Thus, a child learns that this is how the world works. Part of me feels I'm being precious about gender represenation in children's books, but once you start noticing such things you can't suddenly choose to be blind to it. Insofar as children's books both reflect the world as it is and influence children's view of it, this story may well be a problem if left completely unchallenged.
A VERY PROPER FOX BY JAN FEARNLEY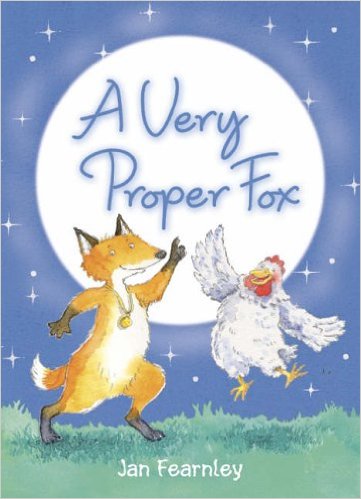 I enjoyed this book very much. It's about a fox who doesn't know he's supposed to eat chickens, so an evil rabbit tries to persuade him that he needs to go hunting for them so they can both enjoy a chicken dinner. This almost works, except the fox is OCD tidy, and when he gets to the chicken's house he feels a compulsion to clean. He ends up befriending the chicken and they live together happily ever after.
The language is mock melodramatic, and the pictures comical. This would satisfy both adults and children.
ONE WINTER'S NIGHT BY CLAIRE FREEDMAN ILLUSTRATED BY SIMON MENDEZ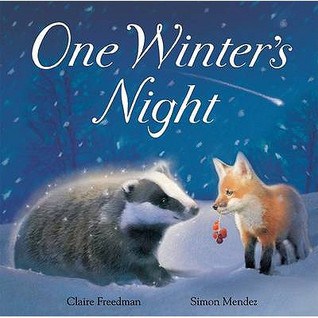 This book reminds me of an Aesop's fable, except I don't think Aesop's fables featured badgers. So I'd say it's just sort of inspired by one.
It's about animals looking after each other on a particularly cold and dreary snowy night. Fox, Rabbit and Mouse end up saving Badger, who looks like he's in the initial throes of hypothermia. They take him in, warm him up and Badger goes off on his own way in the morning. He's left nothing but a note. It's quite cute they way they all snuggle up together in the warren, and it makes me almost wish it were snowing outside. (I'll take it all back if it actually does.)
A BIT LOST BY CHRIS HAUGHTON
I love the limited colour palette of this picture book, which is made up of purples and olives and dark blues. The story itself follows a familiar plot – a baby owl falls out of the nest and hunts for its mother until the mother is found. The language in this one is very cute, however, and I really do feel for the poor little owl. Even the ending is a familiar one – the circular story format is utilised, so that the final image we see is the baby owl about to fall out of the nest again. I still really liked this treatment of such a familiar story – the baby owl talks just as a three year old talks – which reinforces for me language really is important in picture books – even more important than an original story. (For toddlers, there's no such thing as 'done before'.)
Kate de Goldi discusses this book in this podcast.
RHINO, WHAT RHINO? BY CARYL HART AND SARAH HORNE
A rhino escapes from the zoo, but creates such a mess in his wake that other animals get into trouble. All is well in the end, and the rhino never gets put back into the zoo, which is perhaps a political comment about zoos.
I love the illustrations in this book, which remind me of those in The Lorax.
BIG SQUEAK, LITTLE SQUEAK BY ROBERT KRAUS ILLUSTRATED BY KEVIN O'MALLEY
The illustrations, by Kevin O'Malley are beautiful, with an invitingly warm palette. The story is about two mice who go to buy cheese. The cheese shop is owned by a cat. The cat, of course, wants to eat them. They end up saving all the other mice who are in the basement, where the cat has been saving them for a feast.
Obviously, for anyone who knows anything about the nature of cats, this wouldn't happen in the wild. Cats tend to play with mice until they're dead. Cats don't have the ability to make long-term plans, saving food until a big feast.
But then, cats don't own cheese shops either! When it comes to animal natures and children's books, authors are free to rewrite the universe for the sake of the non-negotiable happy ending.
THIS IS THE BEAR AND THE PICNIC LUNCH BY SARAH HAYES ILLUSTRATED BY HELEN CRAIG
The language in this book is perfect for a toddler who is still coming to terms with their native tongue. My three year old loves this story, partly, I'm sure, because we also have a black nosed lunch-stealing dog living in this house, and several teddy bears who — apparently — feel actual emotions, acutely, even though mum is numb to jabs in the ribs and objects flying towards head.
PIP IN THE GRAND HOTEL BY JOHANNES HUCKE ILLUSTRATED BY DANIEL MULLER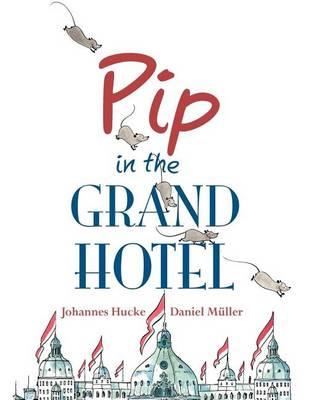 This is a physically large book, with busy illustrations inviting the reader to absorb detail. For this reason I would prefer a tighter drawing style, rather than the sketchy style which does not lead my eye to settle on any particular thing. Perhaps this is the intention for a story which is fast paced.
Indeed, the wording itself makes me want to turn the pages faster and faster because sentences are stopped mid-stream with elliptical dots, requiring readers to turn the page before we know what's about to happen on the following two page spread.
While this writing technique works, if used sparsely, I had wearied of it by the end of the book. It made me feel quite rushed. This suits the story — sure — in which a mouse runs around a hotel, chased by a gaggle of kids and harried staff, but there's a difference between making your characters tired and your readers tired!
It goes without saying that the mouse doesn't get squished or anything nasty like that. I'm reminded of Roald Dahl's The Witches, and of his genius, because unlike picture books (for slightly younger readers), Dahl manages to turn his main character into a mouse AND have a happy ending.
THE MOST OBEDIENT DOG IN THE WORLD BY ANITA JERAM
The dog in this story is adorable – when the boy tells him to sit he sits, and doesn't move, even though a rain storm soaks him to the skin. Nothing really happens to the dog, and it's not clear where the boy went to all that time, but because the dog did as he was told he was taken to the beach (presumably by way of an apology!)
TINY'S BIG ADVENTURE BY MARTIN WADDELL ILLUSTRATED BY JOHN LAWRENCE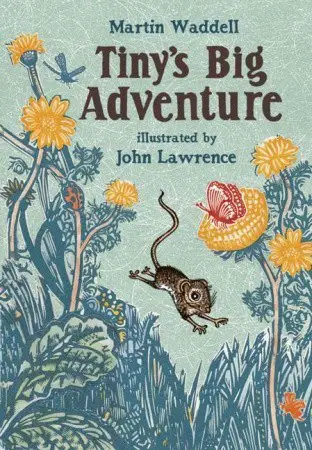 This story is illustrated with lino cuts, or at least in lino cut style. That and the colour scheme make it reminiscent of children's literature published in the 1970s, so I was surprised to see that this book was produced in 2004. The retro thing is very well done indeed. Even the font feels straight out of 1972.
This story would suit a child of delicate nature. But for my four-year-old, who watches Jurassic Park, Princess Mononoke and Spirited Away without ill-effect, two mice temporarily losing sight of each other is a complete anti-climax.