'Man Bites Dog' describes inversion humour. I've also seen 'hat on a dog' describing the same category of joke, in which the audience laughs because the usual way of things is back to front.
MAN BITES DOG IN JOURNALISM
Journalists also use 'Man Bites Dog' to describe stories that are popular because they intrigue via (often humorous) inversion. This is partly why news stories about 'the first female rugby coach' or '8-year-old codes his own traffic app' are newsworthy in the first place; these stories are only news because a certain element is unexpected.
For some reason we commonly think of dogs when describing this category of joke. In Harald Skogsberg's illustration below, a hare chases a dog through the woods. This is comical because for one reason only: in the real world, hounds chase hares instead. The Man Bites Dog gag is a single-layer joke.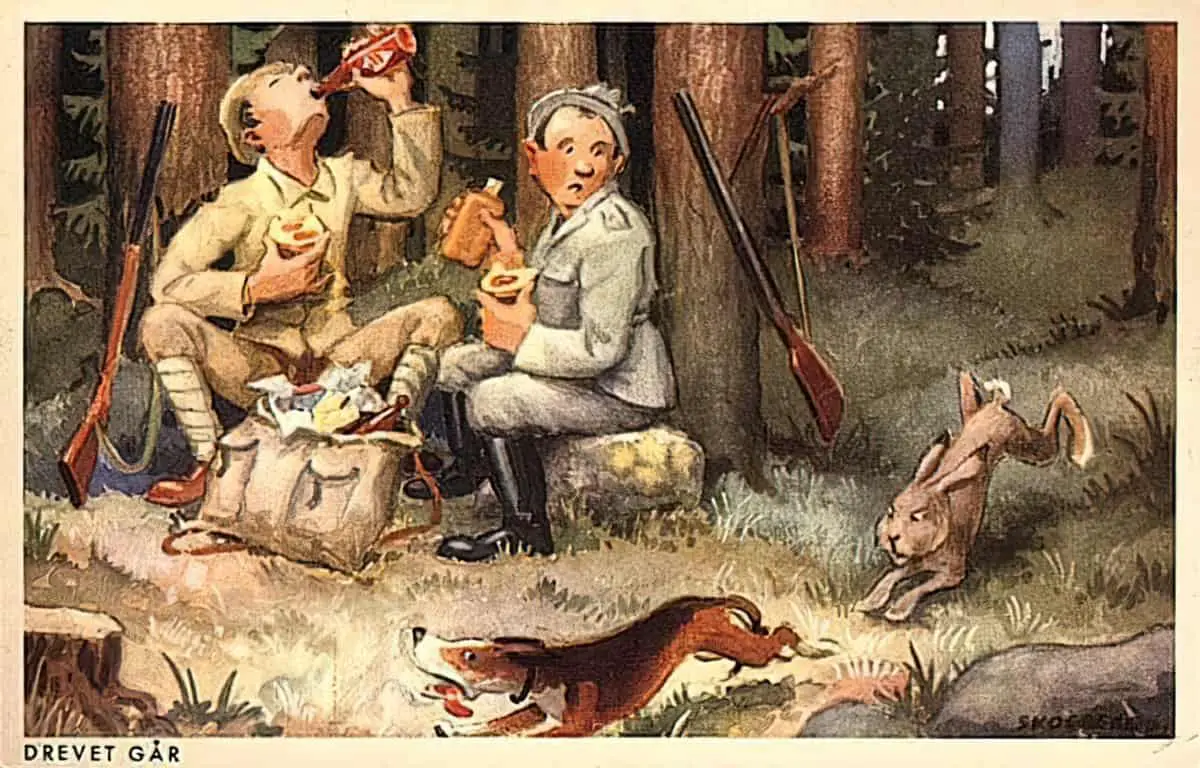 In 2002 there was a news story in which a man literally bit a dog. Because the 'Man Bites Dog' trope already existed, this was now a double-layer joke.
MAN BITES DOG HUMOUR IN STORIES FOR CHILDREN
Although the hound and hare illustration above includes an audience of adults, children's picture books are full of man bites dog gags, because preschoolers are yet to understand multi-layered humour such as satire, but will laugh their heads off if they see Dad put on Mum's hat, for example. In this post I take a close look at the sorts of jokes enjoyed by child audiences at what ages, based on a taxonomy proposed by the co-founder of The Onion.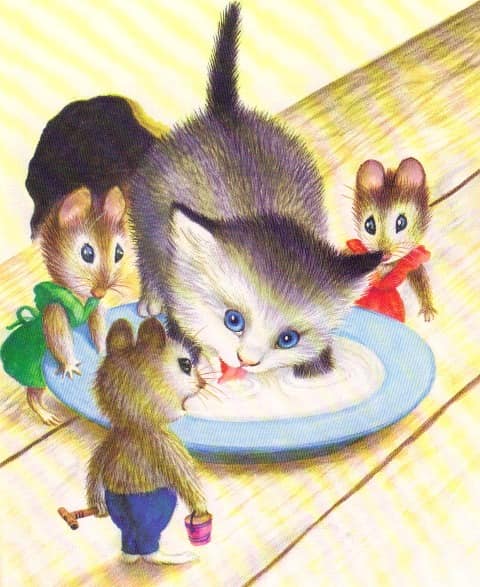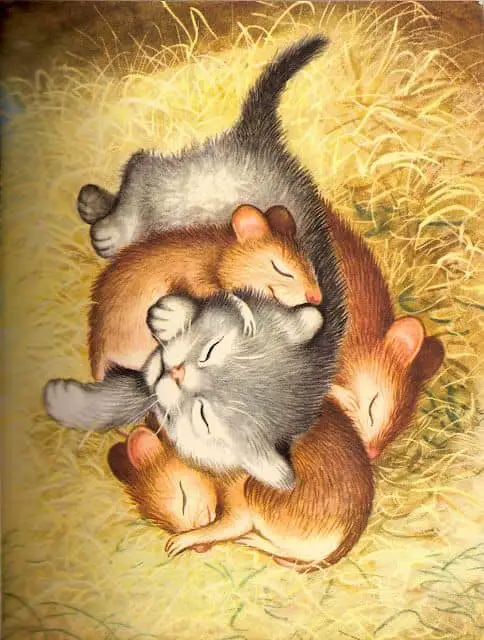 In order for Man Bites Dog gags to work, the audience needs an internalised schema of 'expected normality', and the comedian needs to make use of established norms in order to invert it. By making use of the established norm, the comedian further cements the established norm.
The illustration below is also by Harald Skogsberg, who lived through the 20th century. While a modern audience may not see the humour, it is partly humorous in its intent. A wife scolds a man, who is dressed as a housewife, and is clearly doing the wife expected of a housewife.
There is no better way to cement ideologies than by use of humour. The ideology reinforced within the illustration below: Housework is for wives, not husbands. The image aims to elicit a laugh, but also does the social work of reinforcing the idea that if husbands do their share of housework, they will appear ridiculous to onlookers and lose their status.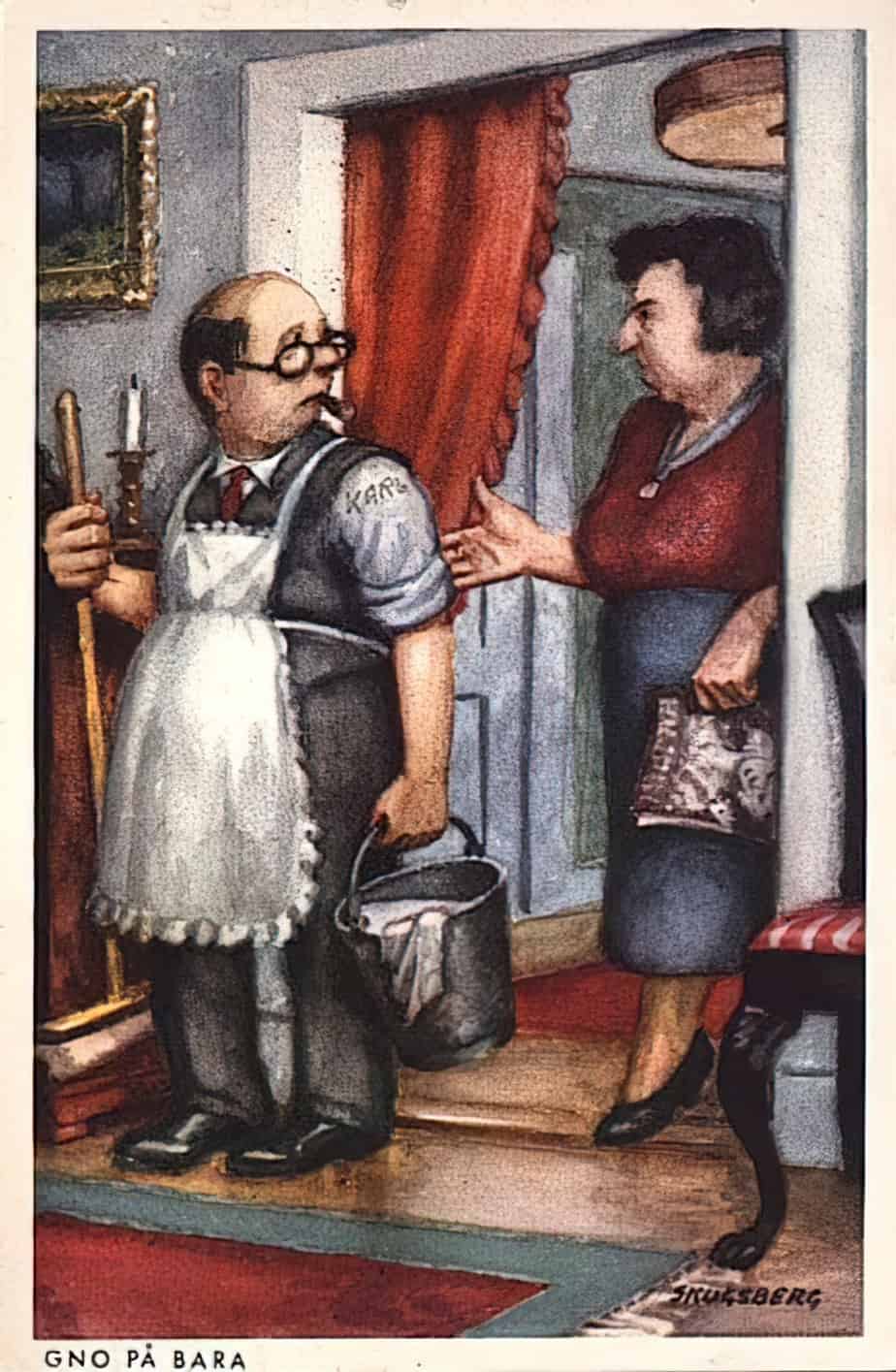 This is why Man Bites Dog gags can be so problematic. You might think that contemporary bestselling children's books are free of the sort of mid-20th century humour depicted in the house husband image above. Unfortunately it hasn't disappeared.
One of the most quietly problematic examples of gender inversion can be seen in The Day The Crayons Quiet by Drew Daywalt and Oliver Jeffers. If it seems subtle, that's only because we're not looking back on our current era with the benefit of enlightened hindsight. Likewise, there are many, many children's stories in which a man dresses as a woman, reinforcing the gender binary and all the rules around what proper masculinity and femininity should look like. (tl;dr If boys want to wear dresses, they will look ridiculous.)
The huge numbers of people buying The Day The Crayons Quit indicate that most adults are simply not seeing any problems with that book. I'm sure most mid-20th century audiences enjoying the humorous illustrations of Harald Skogsberg weren't fully cognisant of his ideologies, either.
To tell 20th century audiences that Skogsberg was problematically sexist would've been like explaining water to a fish.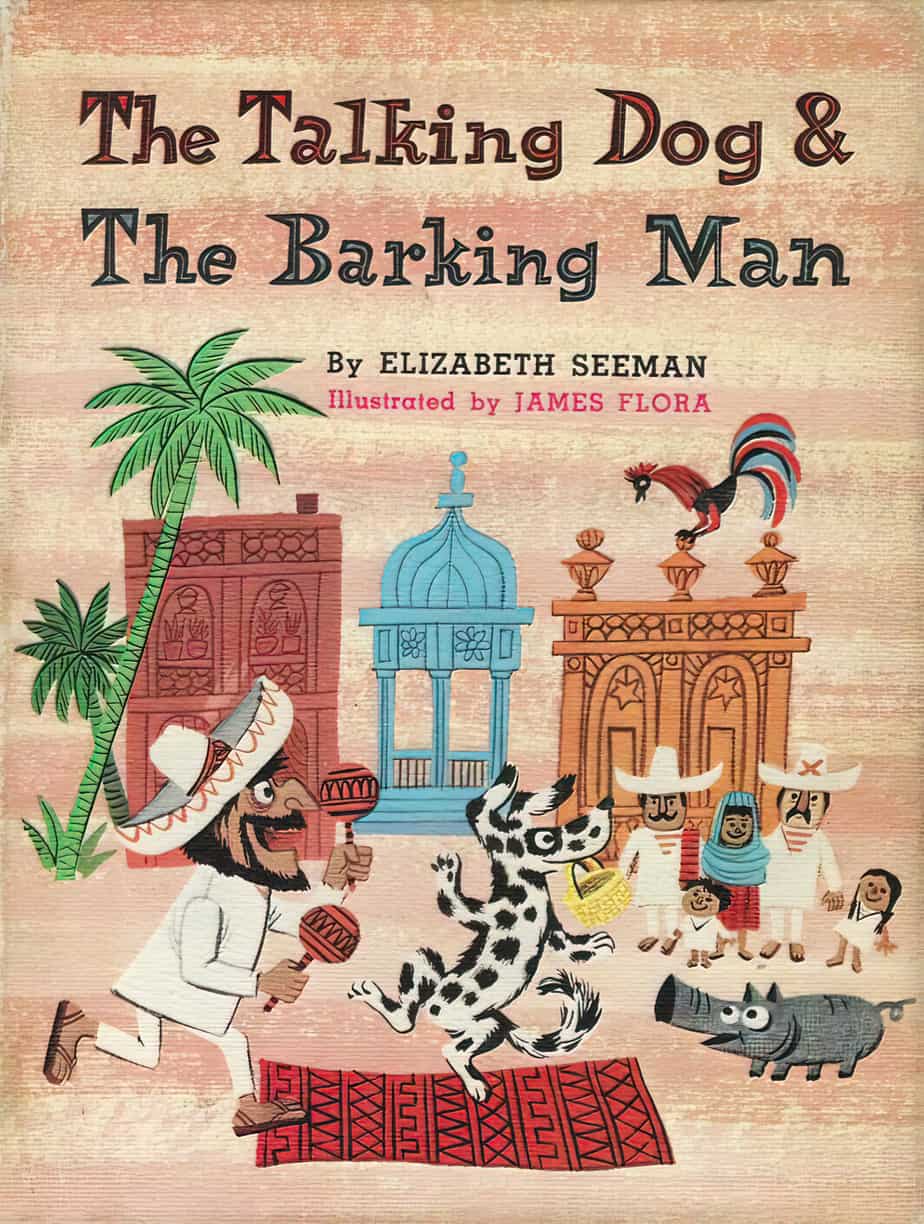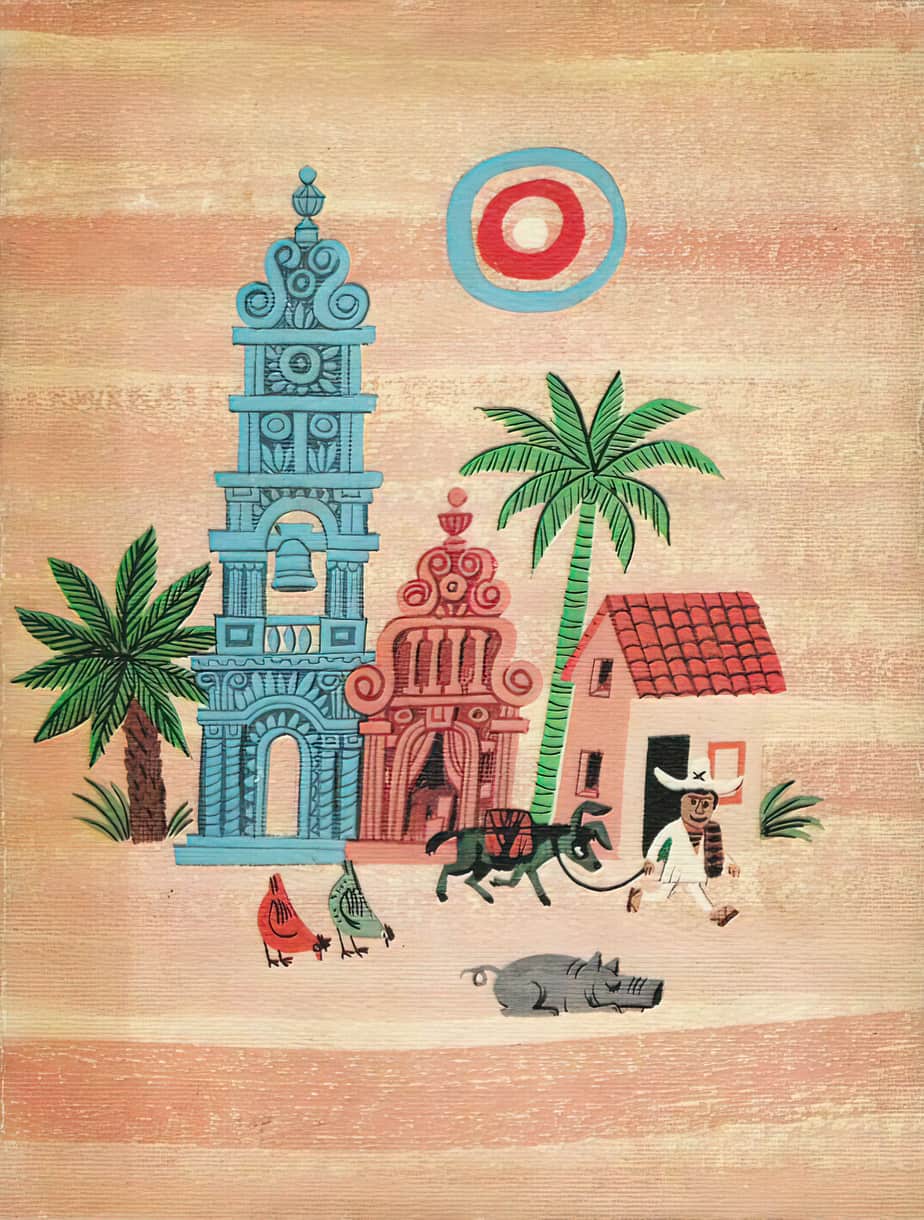 FURTHER READING