The emphasis in the First Golden Age [of children's literature] was very much on being healthy in mind and body – if a child became sick, he or she usually got well as part of their story. Today's reader has no such encouragement. There is an alarming trend in what has been termed "sick-lit" which seems to wallow in the idea of a child self-harming, being ill, dying, or even committing suicide. I trace this back to a novel which was not written for children at all, Alice Sebold's The Lovely Bones, but it has spread into best-selling books like Ways to Live Forever, Before I Say Goodbye, John Green's The Fault in Our Stars and many more.

Amanda Craig
Alice Sebold's The Lovely Bones wasn't just influential on the subgenre of YA known derisively as 'sick-lit', but which continues to prove super popular with the 2017 release of John Green's Turtles All The Way Down. It has now been a full sociological decade (15 years) since The Lovely Bones was published. As Sophie Masson writes in an article in the latest edition of The Looking Glass:
In the last fifteen years, fiction set in or about the afterlife has become a popular and critically acclaimed sub-genre within contemporary speculative fiction for young adults especially, but not only, in English language publishing. These narratives, where the main characters die at the beginning of the story and find themselves in an alien world, the world beyond death, have developed into a fertile ground for imaginative and intellectual challenge and discovery, as a means both to depict the ultimate culture shock and a challenging exploration of otherness and alienation.
I highly recommend a read Sophie Masson's article as it's free to access. The following are my own takeaway points.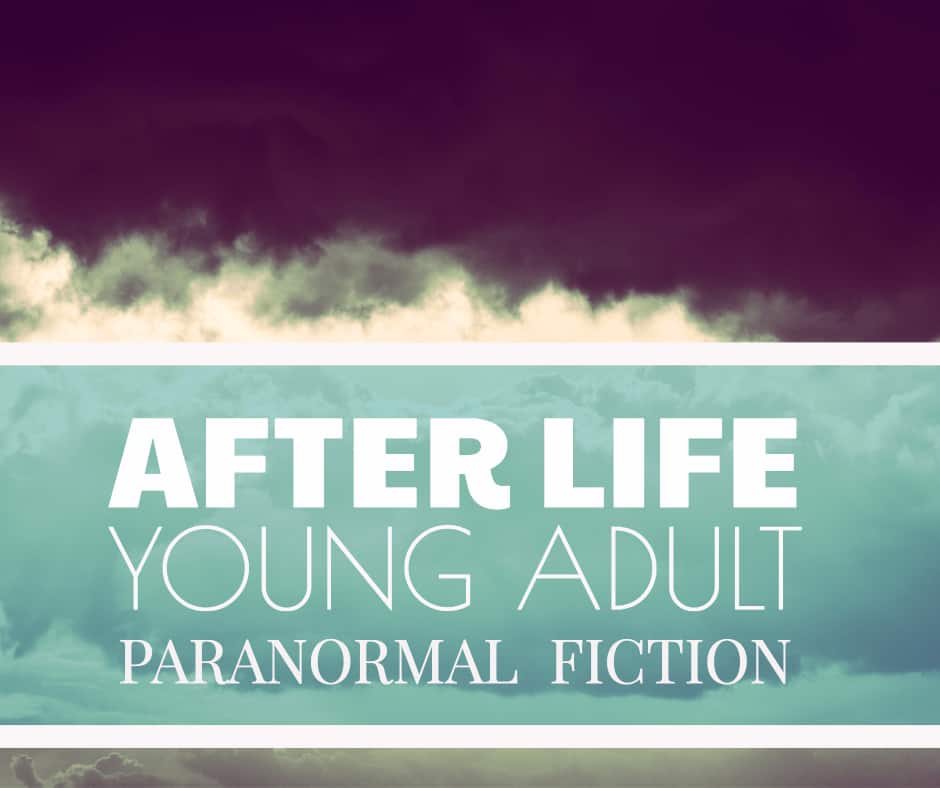 A BRIEF HISTORY OF AFTERLIFE FICTION
Its roots come from:
Mythology
Religion
Classic literature
The Victorian Ghost Story
Writers and thinkers have always been exploring the afterlife. Afterlife stories can be divided into their own subcategories. For example, there's a related subgenre of Grim Reaper plots. An example of the grim reaper plot is On a Pale Horse by Piers Anthony. On a Pale Horse is a fantasy novel from 1983. A feckless young man is about to shoot himself when the Grim Reaper appears. He kills the Grim Reaper instead, and then has to take the Grim Reaper's place. However, this seems quite different from the modern afterlife story kickstarted by Alice Sebold.
Here's something to bear in mind about YA readers: these days (in Australia, at least) more young people believe in an afterlife than believe in god. Readers will happily accept it.
FEATURES OF AFTERLIFE FICTION
Modern YA afterlife stories are a subgenre of paranormal YA fiction, which can include vampires, fairies, trolls and so on
The afterlife story is kind of like a portal story
They are usually but not always set in a fantasy setting
This afterlife world is a 'liminal' space, not the final end point. They are not the absolute territories of Heaven/Hell, but more closely resemble Purgatory/Limbo
The idea of Purgatory in these novels isn't linked to religion — it's there for the narrative
There's still much mundane detail about the real world — what characters are eating, how much money they have. However there tends to be little mention of class.
The afterlife world might be a ghostly copy of the real place on Earth. The landscapes and townscapes of the afterworlds are more solid than the portals but are prone to unexpected changes and reversals which makes it hard for characters to carry out their quests
Characters in the afterlife tend to be unable to taste food
The genre blend is most commonly fantasy adventure
Rich narrative and prose styles
Strong plots
Interesting characters
High sales as well as critical acclaim
Absence of moral judgement
The main characters of modern afterlife YA have either died violently or after illness, which links this genre to the wider sick-lit movement.
There may well be monsters to defeat. These may be supernatural beings. These monsters and beings are often transformed by their encounters with the newly dead young characters.
There is probably a romantic subplot.
There's fancy terminology to describe narration which takes place outside the world of the story: extradiegetic. (It helps to know that 'diegetic' refers to something that occurs within a setting: 'Inside-universe'.) Extradiegetic basically means 'out-of-universe'. By making a character dead, that character is outside the main world of the story. There are other ways authors can create extradiegetic characters. For instance, they can create an elderly person looking back on an earlier part of their life. However, if you're doing this, you're probably not writing YA.
An extradiegetic character is closer to the audience than they are to the other characters within the story, because an audience (in narratology terms) is also extradiegetic. The audience exists outside the world of the story. (We are 'extradiegetic narratees', to be exact.) Therefore, a story with a dead narrator can achieve emotional closeness with the reader. This sounds counterintuitive at first — you'd think a dead person would be hard to relate to!
THE ADVANTAGE OF A DEAD NARRATOR
There's a very good reason: The thing that marks YA out from adult fiction is its immediacy of voice. The narrator hasn't aged much before their story is told. But when the narrator is full on dead, that character is afforded omniscience and wisdom which would otherwise feel unnatural, while maintaining the immediacy.
Many stories for young people are about displacement and feeling like you're 'the other'. That's because you're trying to find your place at this age. By being dead, the main character is very much The Other.
If there's a romantic subplot, it's the job of the author to keep two lovers apart for the duration of the adventure. Making one of them dead is a really efficient way to keep two characters apart. Or, they may both be dead but of vastly different Earthly ages. Or, the afterlife might be kinder to one than the other.
OTHER EXAMPLES OF AFTERLIFE FICTION
The authors of these works are themselves from diverse backgrounds.
The Posthumous Memoirs of Bras Cubas (1881) — the narrator of Brazilian author Machado de Assis' novel dedicates his memoir to "the worm who first gnawed on the cold flesh of my corpse."
How The Dead Live by Will Self
My Name Is Red by Orhan Pamuk — published the same year as The Lovely Bones and begins, "I am nothing but a corpse now, a body at the bottom of a well."
Saving Fish From Drowning by Amy Tan
His Dark Materials by Philip Pullman (sort of)
Everlost by Neal Shusterman and sequels
A Certain Slant of Light by Laura Whitcomb
More than This by Patrick Ness
Afterworld by Lynnette Lounsbury
Ferryman by Claire mcFall
The Ghost Bride by Yangsze Choo
The Afterlife by Gary Soto
When We Wake by Karen Healey
Me and Death: An Afterlife Adventure by Richard Scrimger
Memor: le monde d'apres by Kinga Wyrzykowska
The Ghost Squad by Sophie Masson
If I Stay by Gayle Forman — First person narrator Mia dies in a car crash then follows her friends and family as a kind of ghost, watching their reaction and writing about her life before she died.
I Stop Somewhere by T.E. Carter was pitched as Asking For It meets The Lovely Bones. The narrative viewpoint comes from The Lovely Bones — the main character is basically wandering around telling what happened before she died.
An earlier outlier and not really connected to anything that has come since: The Brothers Lionheart by Astrid Lindgren. In this story:
This is a story about brotherly love in a Narnia-like world.
Two brothers die at the beginning.
They find themselves in the afterlife world of Nangiyala, a place of campfires and sagas.
The brothers have no trouble fitting into the new world.
They are happy to be there.
There's no mention of the grieving mother left behind.
It's possible to die again in this afterlife world.
THE AFTERLIFE IN WIDER POP CULTURE
Futility by Morgan Robertson (1898) — a fictional account of the Titanic disaster which was written 14 years before the Titanic sank. Futility tells the story of the world's biggest ocean liner and how, on its maiden voyage, on a freezing April night, it strikes an iceberg and sinks, carrying its cargo of fabulously wealthy passengers to the bottom of the Atlantic. It was penned by a struggling sci-fi writer named Morgan Robertson. The name of his fictional doomed passenger ship? The Titan. 
Sunset Boulevard, classic film (American) — the man lying face down in a pool turns out to be none other than William Holden, whose voiceover narrates his story and who is indeed dead.
Lost, the mystery boxed TV series (American)
The Returned, a French series called Les Revants (and all the other franchises based on this storyline)
Resurrection (American)
The Glitch (Australian)
PROBLEMS WITH AFTERLIFE FICTION
It's not hard to find people who dislike dead narrators. But why?
It can feel like the author cheated — 'a little too easy, a little too glib'.
In Peter Selgin's words, it requires suspension of all four laws of thermodynamics. Some readers are fans of mimesis, so this won't suit them.
THE AFTERLIFE IN ADULT FICTION
Specialists in young adult literature have noticed over the decades that literary trends start with YA and work their way 'up' into adult fiction. As they expected, The Lovely Bones influenced adult fiction which is coming through now, a decade later. Take Lincoln in the Bardo for instance, an experimental novel by George Saunders. The 'bardo' refers to an intermediate space between life and rebirth. Though this book wins a Man Booker Prize and is hailed as 'experimental', it also owes a lot to less critically celebrated trends which started a decade ago in YA.
In Saunders's conception, the "ghosts" that inhabit the bardo are "disfigured by desires they failed to act upon while alive" and are threatened by permanent entrapment in the liminal space.[20]They are unaware that they have died, referring to the space as their "hospital-yard" and to their coffins as "sick-boxes".

Wikipedia
RELATED TO AFTERLIFE FICTION
Might we count The Book Thief by Marcus Zuzak as afterlife fiction?
This book takes the dead narrator concept a step farther, with the Grim Reaper himself narrating, though some would argue that his "Death" is nothing but Omniscience wearing a hooded cloak and carrying a scythe.

Peter Selgin
FURTHER READING