When a children's story gets a remake we see more clearly how storytelling has changed. Inspector Gadget makes for a case study.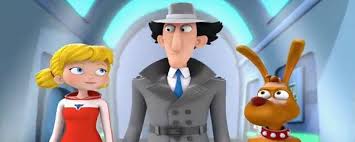 Interestingly, Esquire calls this 'the digital era', under the idea that the use of computers has an integral impact on narrative. The medium is the message, and all that.
1. FASTER PACE
Steven DeNure, president and COO of DHX Media, was thrilled to acquire the rights to Gadget in 2012. But he worried the old Gadget wouldn't appeal to its target audience of young children.

For starters, the pacing was painfully slow. Kids today are used to fast-moving commercials, quick cuts, and a thing called the Internet.
2. FEMALE CHARACTERS ARE STILL DEALING WITH A WORLD IN WHICH THEY'RE SO OFTEN RELEGATED TO SECONDARY ROLES UNDER BUMBLING MALE PROTAGONISTS
Gadget remains as clueless as ever, and Penny remains just as brainy.
This is related to what has been called The Hermione Trope. We see it in movies such as Monster House, too, and ParaNorman, in which the bossy brainy girl saves the day, but completely behind the scenes. 35 years later, girls are still swots, boys are still adventurous etc. Boys see that they don't need to be such swots to get on in the world — they'll be the stars of the story because of their gender.
3. CHILD CHARACTERS ARE MORE FREQUENTLY SEXUALISED
"What we wanted to do was make Penny a little older," says Chalopin, who estimates she was between 10 and 12 before and is now in her mid-teens. She also has a new love interest: Dr. Claw's spiky-haired nephew, Talon. "He's more of a kid of today," Chalopin says.
4. 'GOOD LOOKS' ARE EVER MORE IMPORTANT, FOR BOTH BOY AND GIRL CHARACTERS
[Talon] makes a great counterpart to Penny with his good looks and his charm.
5. MOBILE PHONES AND OTHER TECHNOLOGIES
"Penny had a smartphone way before it existed," Chalopin says, so that wouldn't impress children today. To get around the problem, he created "holographic protection" for Brain and a computer that appears out of thin air when Penny needs it.
6. CHILDREN'S CONTENT CAN'T JUST BE FOR CHILDREN
Financing remains an uphill big struggle. Much of what's selected today, at least for content streaming services like Netflix, must not only reach a broad group of viewers but transcend countries and age groups as well. As Erik Barmack, Netflix's vice president of global independent content, says, "The things we look for in general is if the shows transcend countries, have a new story to be told, or a new way of reimagining characters." Gadget, he says, ticks off all three criteria.
This explains the increasingly sexualised teen characters over a pre-adolescent girl character.
– How Inspector Gadget Was Remade For A New Generation from Esquire