"The Headless Bust" is the sequel to "The Haunted Tea-Cosy", which I tried to decipher the other day (with limited success). This one is actually a little easier to understand and we are basically given a pass for not understanding it anyway:
'Who were these people? Why did they
Appear to us along the way?'
'But then again, why should we care?'
It's quelque chose d'un grand mystère.' (something of a bit mystery)
Gorey taps into the absurd to save us from it.

Jane Langton
WHY LANCELOT BROWN?
The book is dedicated to Lancelot Brown, a landscape designer who lived in the 1700s. He was paid royal figures for his landscaping work (while the actual gardeners were paid very little, I expect).
This is him. He does have a mischievous, interesting face. I can see why Gorey may have been taken by him. Because otherwise, honestly, why?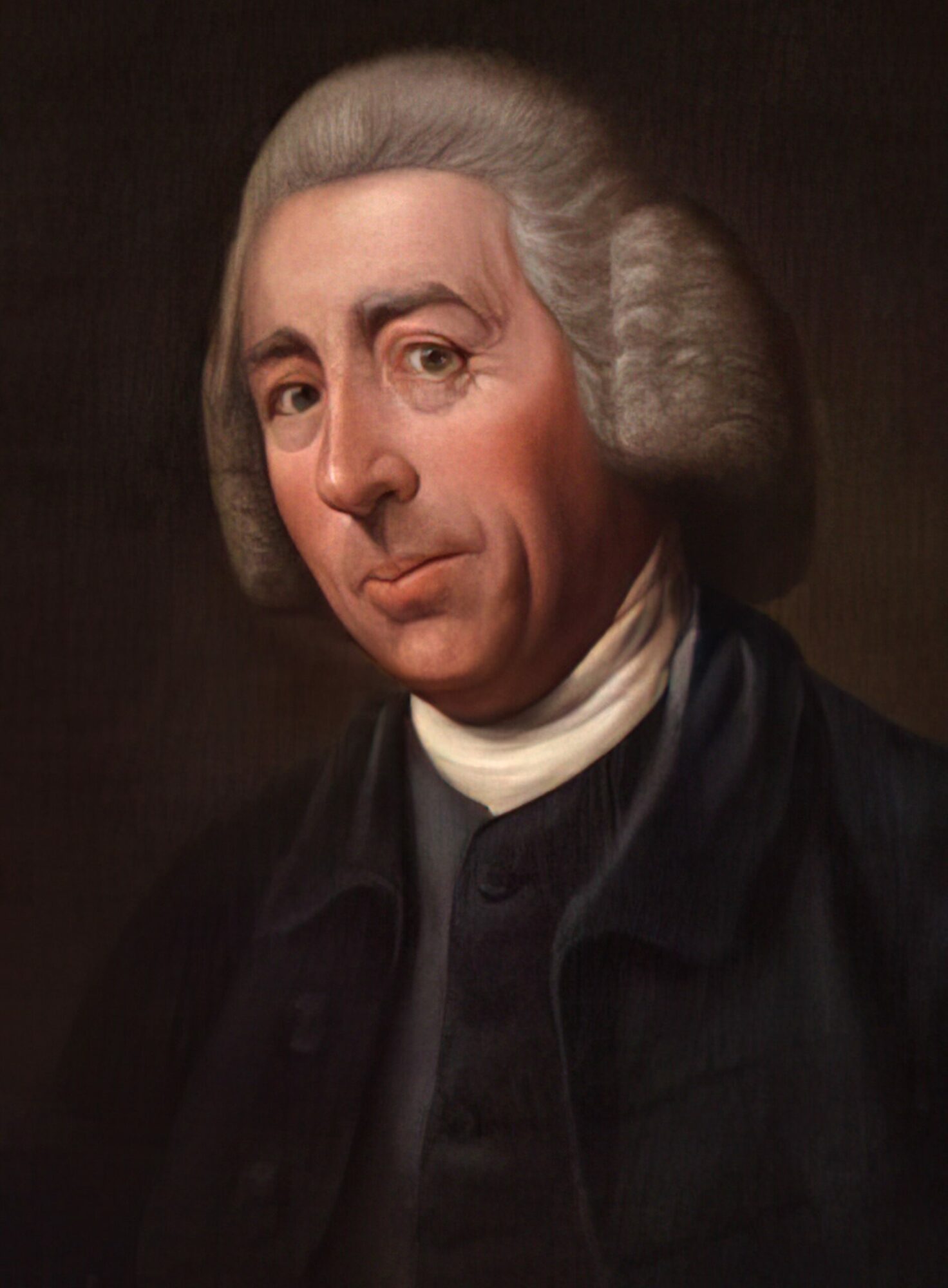 This makes me want to write a picture book and dedicate it to some random historical figure for absurdist reasons. This feels like a joke on literary analysts, who like to decipher reasons behind everything that appears in a book. Well, I'm not falling for that.
STORY STRUCTURE OF THE HEADLESS BUST
Once again, the story opens and closes with fruit cake. The standout feature of the fruit cake is that it is rock solid. The main character is a scrooge (we know from the previous story) and has been hoarding it for ten years.
The story opens like this:
'Twas hours and hours after dawn
Ere (before) the last guest was fin'lly gone.
ça va, hélas (alas), from bad to worse;
Adieu to prose, allô to verse.
This opening doesn't mention the fruit cake but I assume that is what Edmund Gravel holds in his hand. The Bahhumbug 'calls attention to' some 'fact' — the fact that the story has now switched from prose to verse? And this is apparently the cause of Gravel's 'unraveling', in which he goes with the insect creature into a parallel universe and meets all kinds of different people.
From here on in, each page is a bit like a limerick — different rhyme scheme, but a series of short, humorous character sketches in rhyme. My interpretation is that Gravel has just hosted a party which went on far too long and now he's dreaming of people, perhaps remembering awkward interactions  he's had with them, being a natural hermit.
He is dozing off when a fly turns up, to complement his imaginary Bahhumbug, then a cloud (perhaps a shroud) and whisks them away to some 'provincial town' (showing that Edward prides himself on being urban and sophisticated). I'm reminded of The Wizard of Oz, but anything including a fly and dream sequences is going to remind us of Kafka. The French words make it at once sound a little erudite (beau monde, meaning fashionable society, and so on) while also distancing English speakers from the text — this is exotic stuff.
So that's the fantasy portal by which Gravel lands on foreign turf: a shroud which might be just a woolly cloud.
REAL VERSUS TRUE
'Initial, dash cannot conceal
The fact that everything is real,
But whether it is also true
Is left entirely up to you.'
What's the difference between 'real' and 'true'? This is the sort of question philosophers get caught up in. The question requires a definition of 'truth', most often described as that which is both empirical and logical. People on Quora have attempted to define a difference; but it comes down mostly to context.
I think Gorey is asking this question to make us think the story is deep. He knew darn well this is not a philosophical piece so much as a humorous one. Surely?
Then again, let's go to the subtitle of this story: A Melancholy Meditation on the False Millennium.
It's easy to forget now — I was a young adult — everyone was talking about the new millennium back in 1999. It was a period of great reflection, and also trepidation. Which millennium did Gorey believe to be 'False'? Was it the one just ending or the one just beginning? Sadly, he didn't stick around for much of it. He died in April 2000.
Perhaps the ticking over of an entire 1000 years was a solemn reminder of the fact that we can never go back. Once a millennium is over, it's almost as if it never existed. It remains true, but it is no longer real. Only the here and now can ever be really 'real'. Everything exists in memory or in imagination.
Turns out I fell for it after all.
At midpoint, the main pair find themselves wandering around in the fog, not knowing what's happening or what they're doing there, which makes them our viewpoint characters since we have no idea, either.
Then they are standing on a miniature island, barely big enough for the two of them. The background is negative space. Except for the legs of the fly, hovering above, almost completely out of range of the 'camera'. Or maybe it's not the fly at all? It almost looks like the sun's rays.
But after this emotional journey to the inner soul, the trio meet a few more characters.
What does QRV stand for? I Googled it. In amateur radio it means 'Are you ready?' This could make sense. Gorey could be asking, 'Are you ready for the new millennium?' But honestly, that's a stretch. What on earth does it mean?
My favourite character sketch is the following:
In Wiggly Blog a certain X—,
Who looked to be of  neither sex,
Was charged with gross indecency
Which everyone could plainly see.
The picture is of a person wearing a kerchief on their head, knotted at the side to perhaps form pigtails (feminine), or perhaps it's just a kerchief.
I like this page because I have wondered how Edward Gorey might have identified had he been born 80 years later than he was. As it is, he goes on record as saying he identified with neither gender himself; these days kids are exposed to a much broader range of categories and a gender spectrum rather than a gender binary. I suspect this figure is Edward himself.
Which leads me to think every single one of these characters functions as a facet of Gorey himself.
The following morning, Gravel and the Bahhumbug are back at Gravel's house (it seems the Bahhumbug is living there with him now) and they're faced with the task of cleaning up after last night's party.
They discuss their adventure and conclude it's not something one can explain. A complete cheese dream. The final page suggests this party was an End of Year Party and now they realise they're in a new century, and there's nothing they can do about it. They've been thrown there whether they like it or not, as if into a scary, absurdist dream.
Is the fruit cake meant to represent something? That gets sent off to 'Havens for the Indigent' where they use it to scrub floors and keep doors open. Perhaps, if anything, it stands for bad feelings in general. Gravel and his Bahhumbug have let go of something and will start afresh.
ILLUSTRATIONS IN THE HEADLESS BUST
Here's an example:
Reversing at a tango tea
In Snogg's Casino-not-on-Sea
L— tripped and cried, 'I am afraid
They tampered with the marmalade.'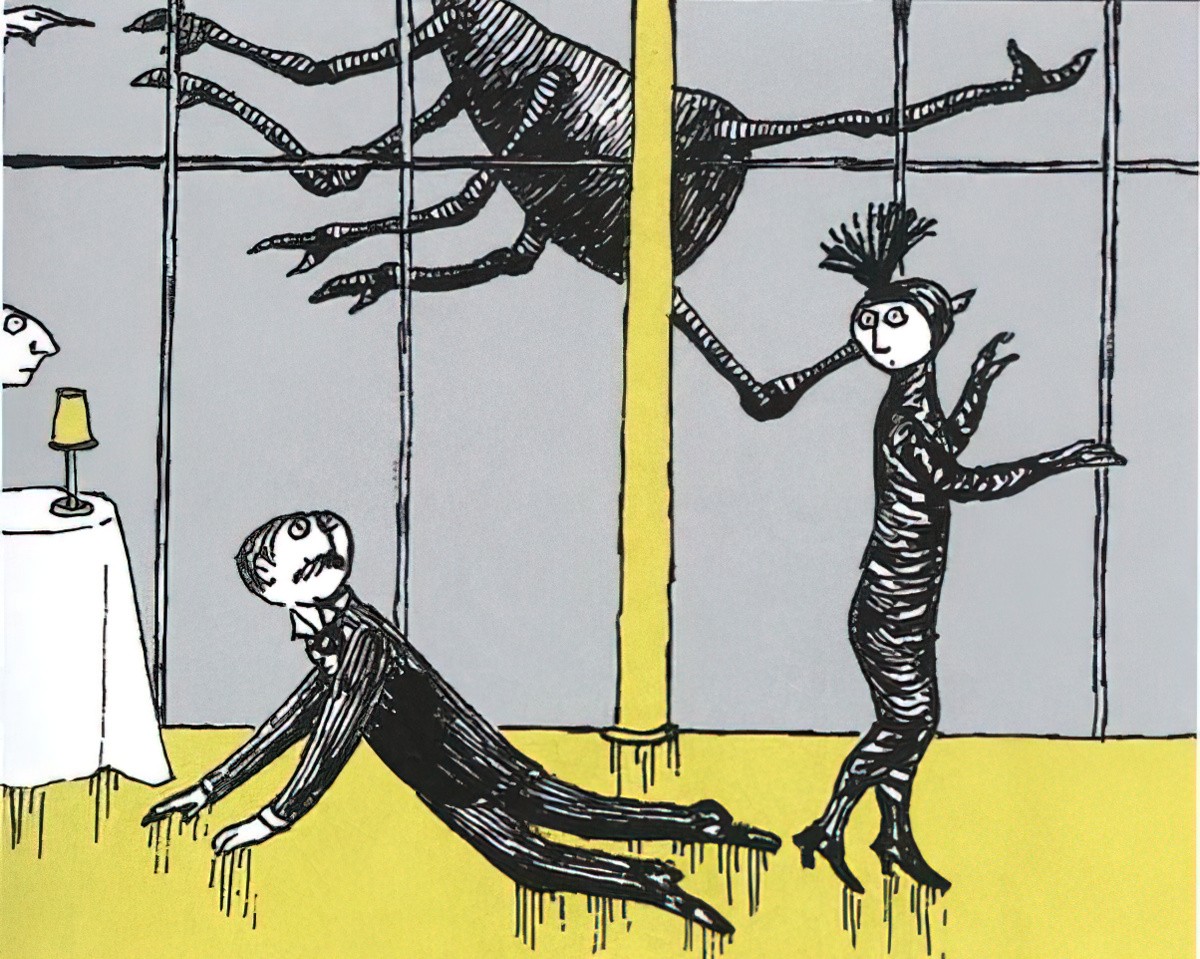 In each illustration of each character sketch, Gravel, the fly and the Bahhumbug appear alongside the new person (with the exception of Miss M, who has disappeared after requesting from them a pineapple ice cream.
COSTUMES
When is this story set? The first story seemed to be set in the time of A Christmas Carol but then again, Gorey did funny things with time even in that book (exemplified by the ten-year-old fruit cake).
The bewildered men appear in long fur coats and top hats, or plus-fours and golfing shoes, the clueless women in hobble skirts and turbans with aigrettes, or flapper ensembles with fluttering veils.

Jane Langton
An aigrette is a headdress consisting of a white egret's feather or other decoration such as a spray of gems. I never knew what they were called, thanks, Edward. When I see these I think of the 1920s, but fashion of the 1920s was a new take on fashion from around 1900. So I don't think these characters are flappers.