A continuous narrative is a type of visual story that illustrates multiple scenes of a narrative within a single frame.
Multiple actions and scenes are portrayed in a single visual field without any dividers. The sequence of events within the narrative is defined through the reuse of the main character or characters.
Continuous narrative emphasises the change in movement and state of the repeating characters as indicators of scene or phase changes in the narrative.
There are 7 main categories of narrative art. Narrative art is art which tells a story.
Monoscenic — represents a single scene with no repetition of characters and only one action taking place
Sequential — very much like a continuous narrative with one major difference. The artist makes use of frames. Each frame is a particular scene during a particular moment.
Continuous — Continuous narrative art gives clues, provided by the layout itself, about a sequence. Sequential narrative but without the frames.
Synoptic — offers the synopsis of a bigger story. You must know a story before you can understand synoptic narrative.
Simultaneous — has very little visually discernible organisation unless the viewer is acquainted with the story it tells. There's an emphasis on repeatable patterns.
Panoptic — depicts multiple scenes and actions without the repetition of characters. Think of the word 'panorama'. 'All-seeing' (pan + optic)
Progressive — a single scene in which characters do not repeat. However, multiple actions are taking place in order to convey a passing of time in the narrative. A progressive narrative is not to be interpreted as a group of simultaneous events but rather a sequence that is dependent on its position on the page. Actions displayed by characters in the narratives compact present and future action into a single image.
Continuous narrative art is pretty much exactly the same as sequential narrative art except minus the frames that help the viewer to know where one phase ends and the next begins.
Here is a fine art example. At first glance this looks like six men enjoying themselves at a swimming hole. Upon closer inspection, they're either the same dude or they're very similar looking brothers.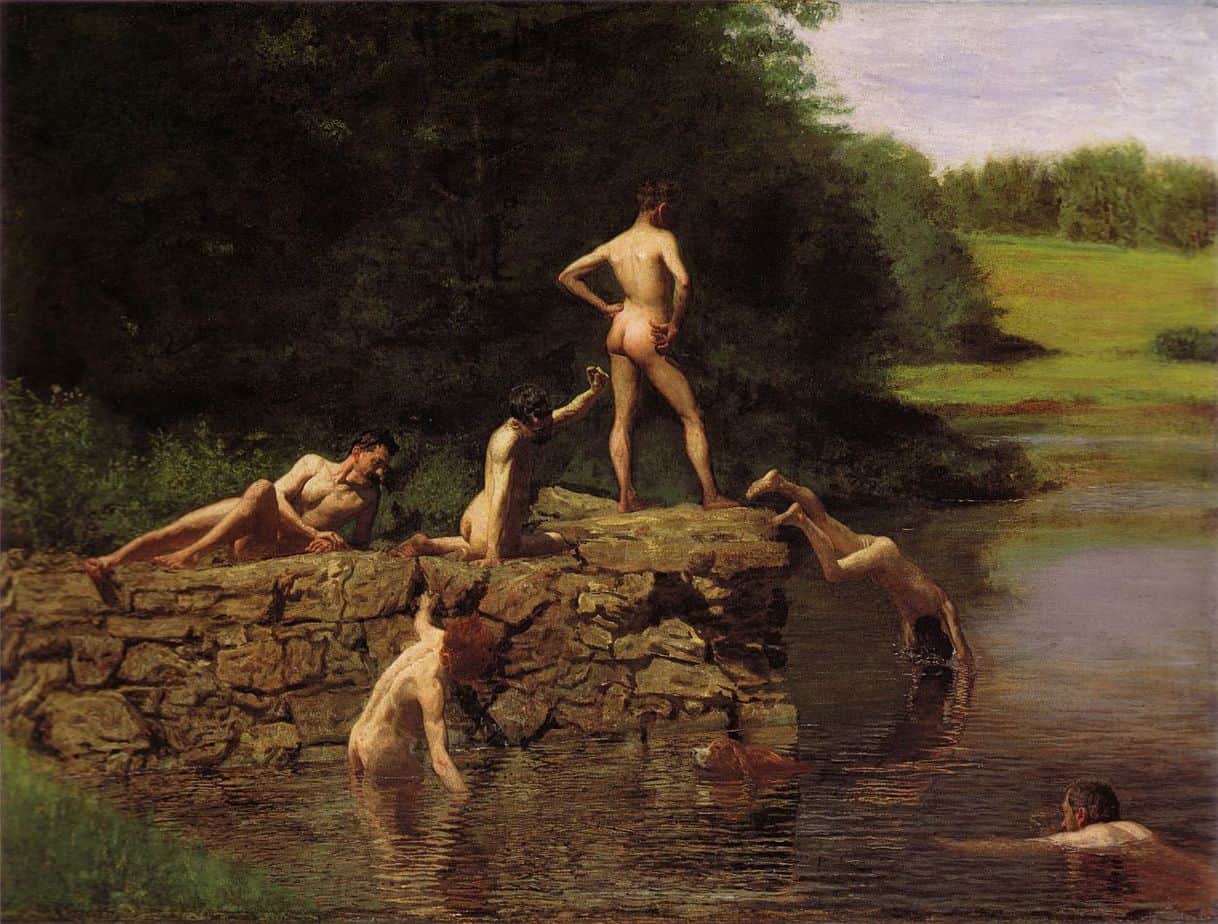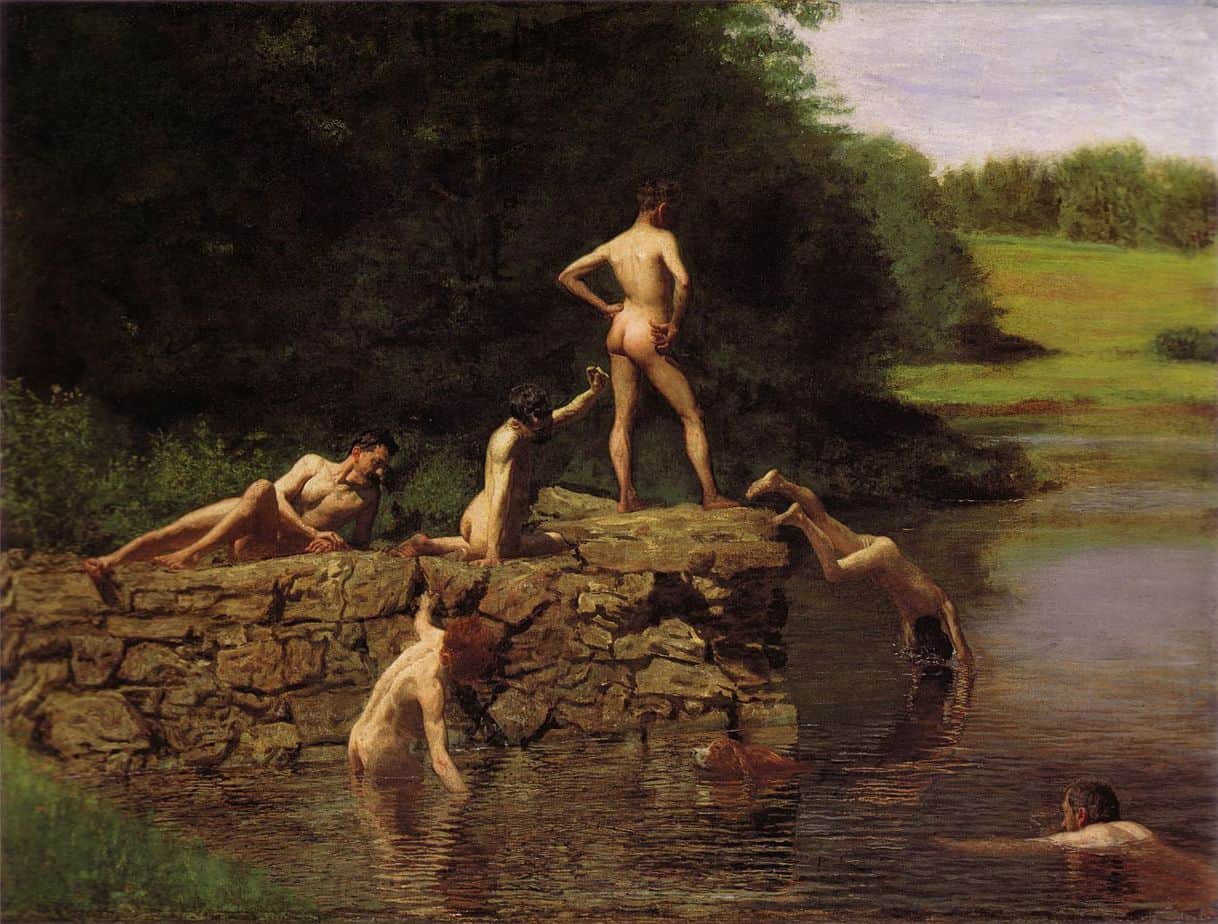 Since we're talking about picture books, continuous narrative art often takes the form of simultaneous succession. Widely used in medieval art (in 'hagiographies', depicting the life of a saint), this term implies a sequence of events. Think of those cave paintings showing a stick figure with a spear, hunting down an animal. The moments are disjunctive in time but imply a sequence. For example, a series of pictures in a picturebook might show a child getting ready for bed: pulling off her jumper, taking off her shoes, brushing her teeth, retrieving teddy bear, getting under the covers. This technique of showing the passing of time works better for slightly older children, because younger children may interpret a series of pictures of this girl getting ready for bed as five different girls.
Take the two pictures below. The adult reader understands the first picture of catwalk models as monoscenic. Four different cats walking down the pier/runway. A child will also understand this. Next show a very young child the continuous Eloise drawings, in which each girl is the very same kid called Eloise. A child has to learn this.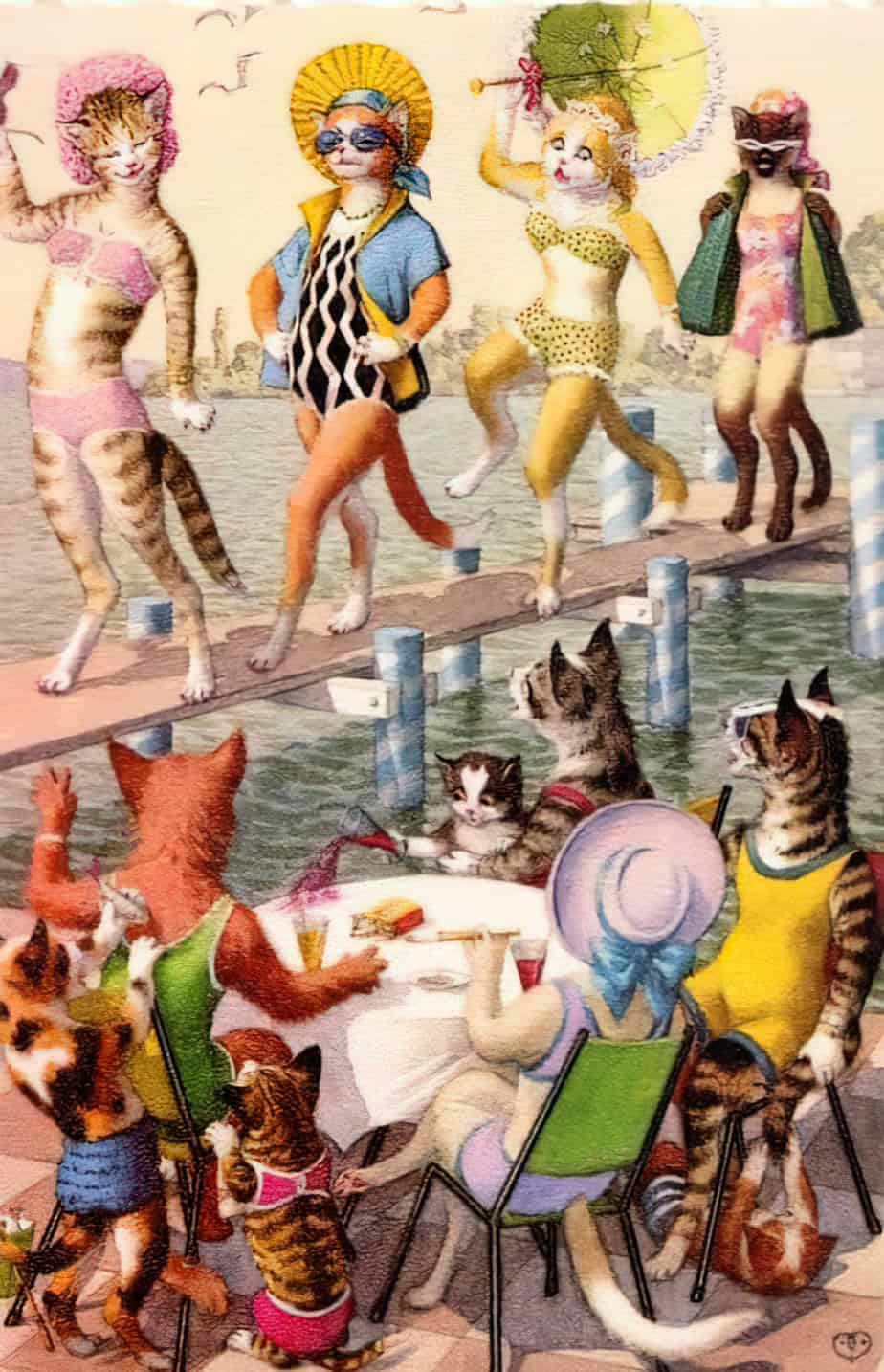 The books of Sven Nordqvist make much use of simultaneous succession.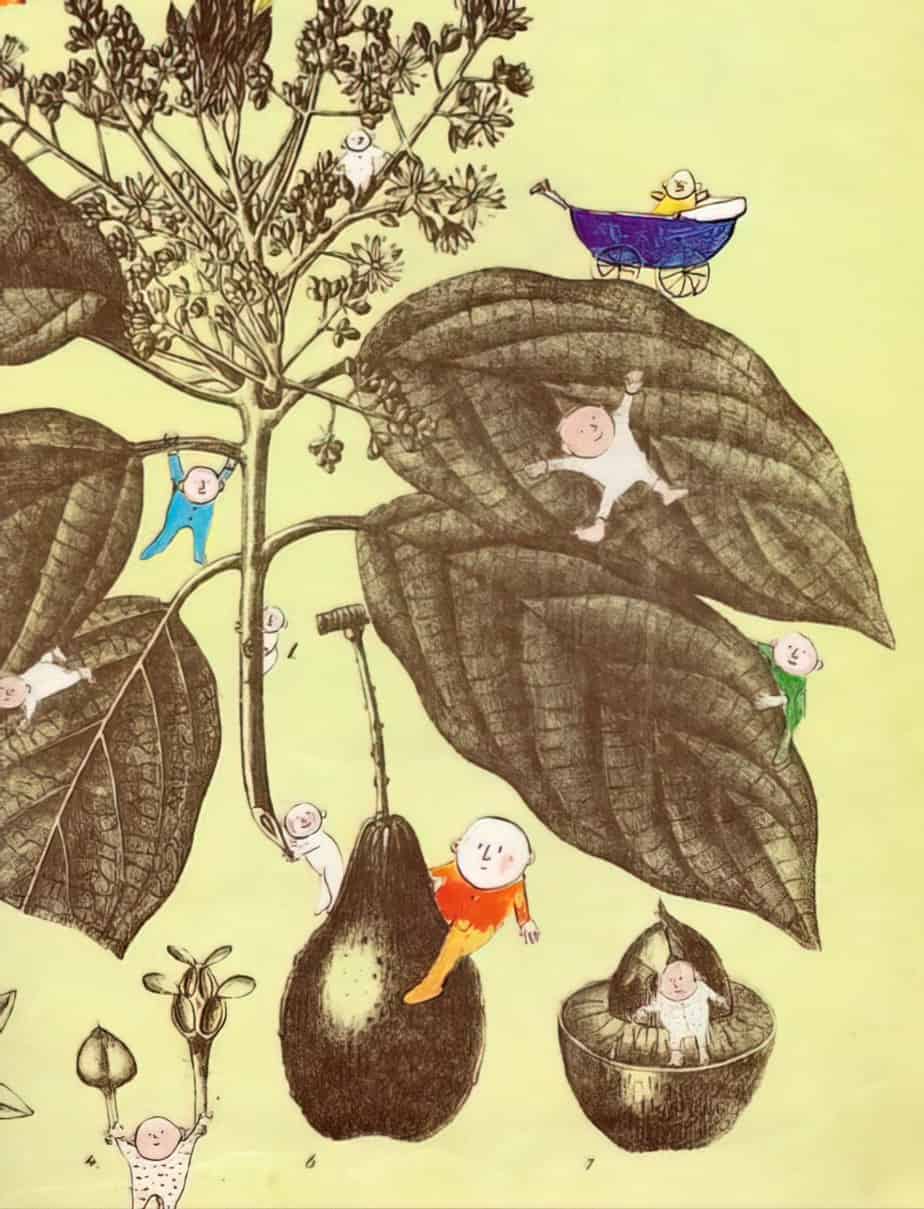 Marla Frazee makes a lot of use of continuous narrative. For example Mrs. Biddlebox (There's an image of the thumbnail sketches for this book on Frazee's webpage.)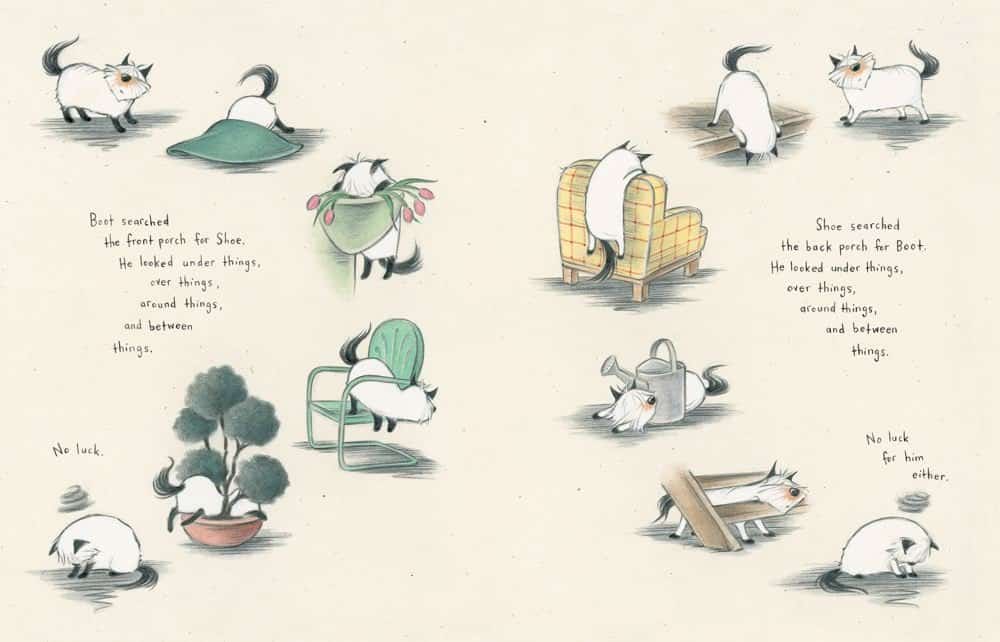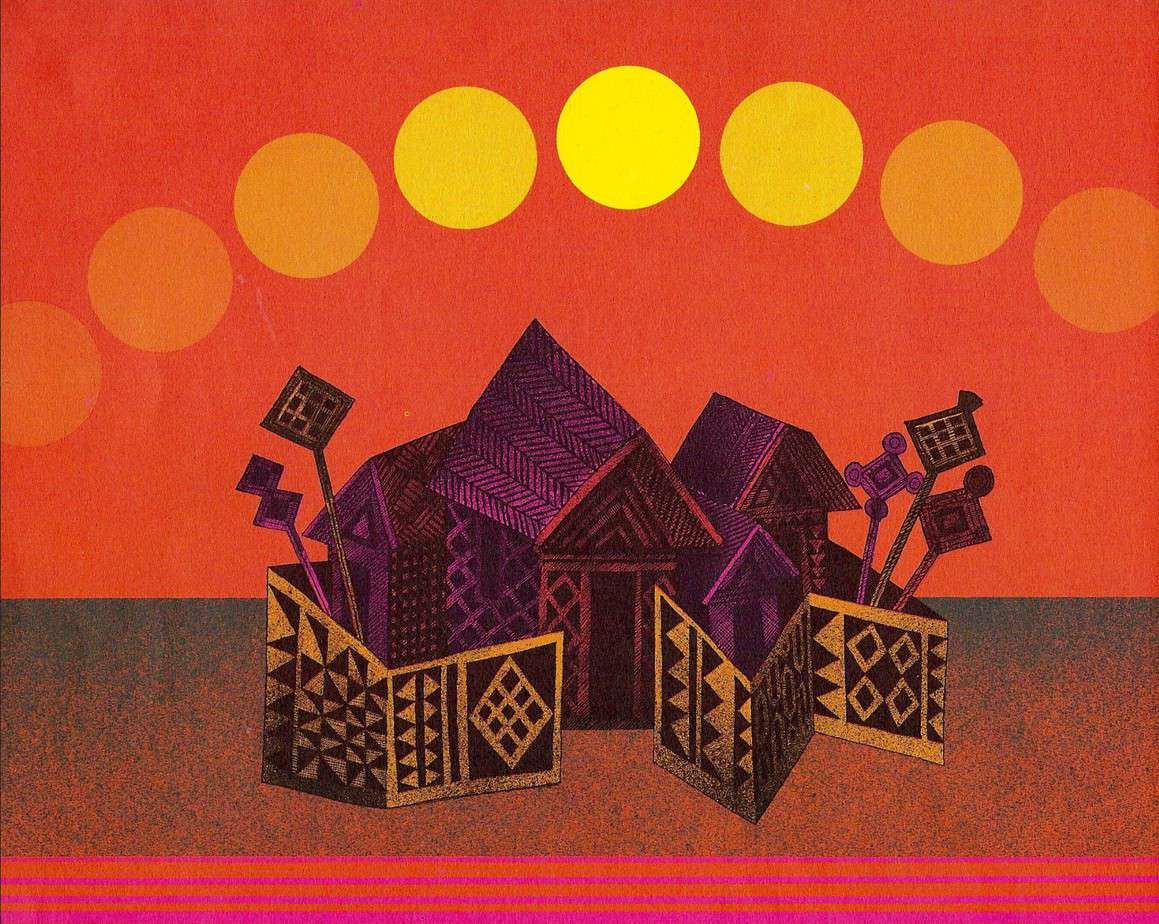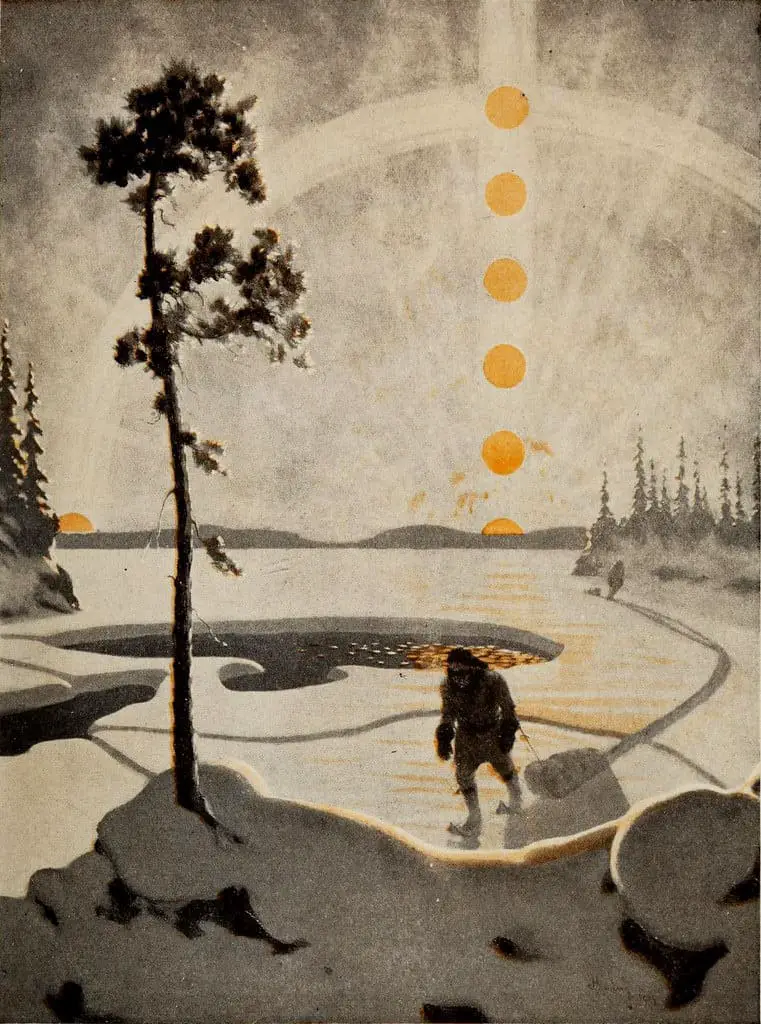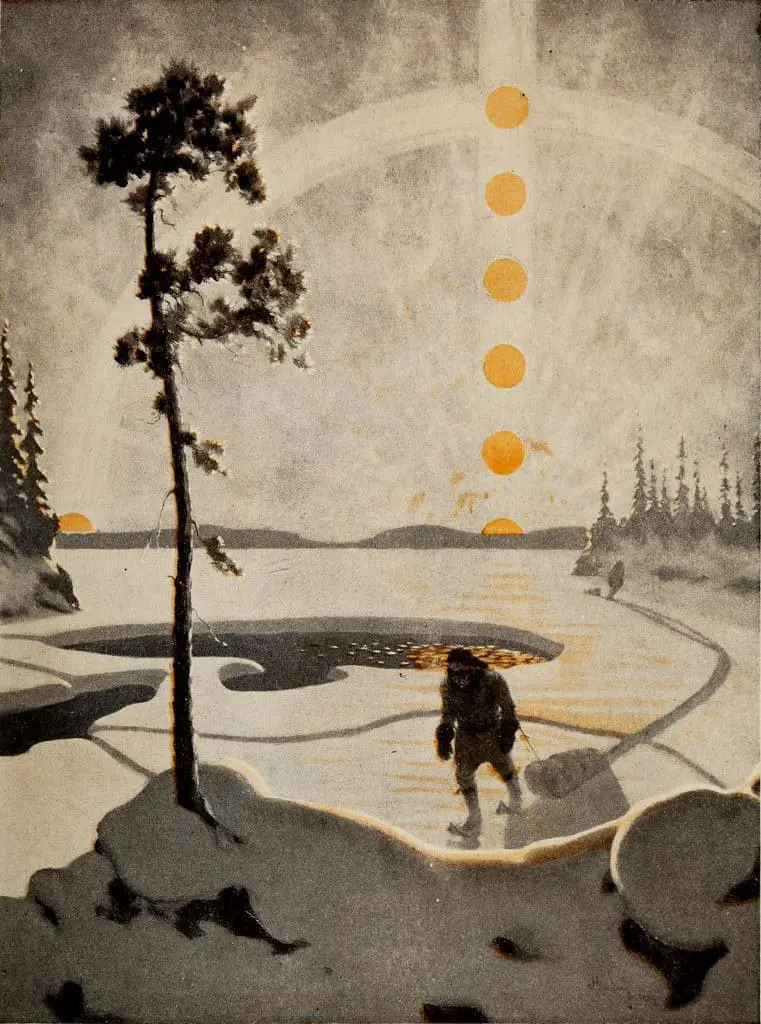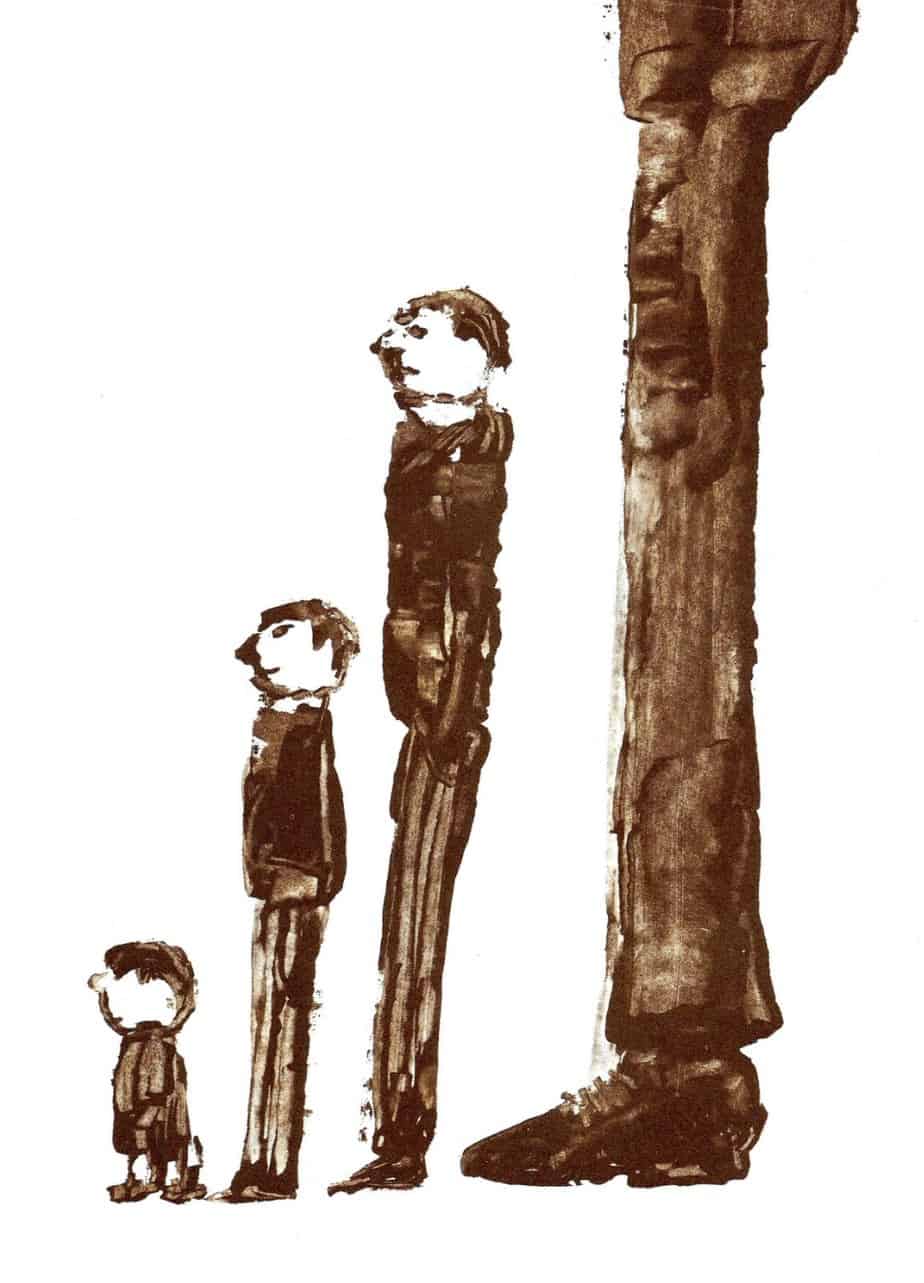 Ian Falconer uses continuous narrative in his Olivia the pig stories. Here, Olivia the pig waits impatiently for her mother to sew her a different colored soccer shirt in Olivia and the Missing Toy. Not seen here is the bit where she walks off, bored.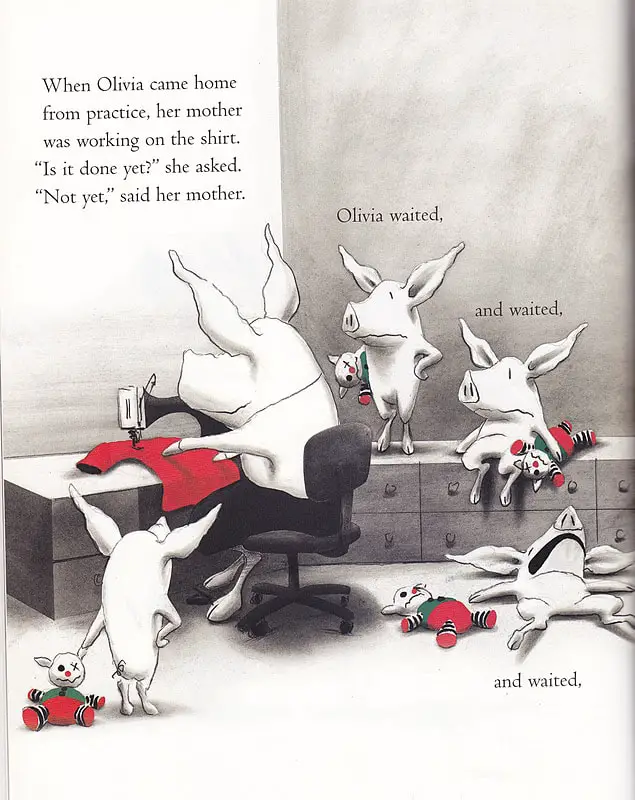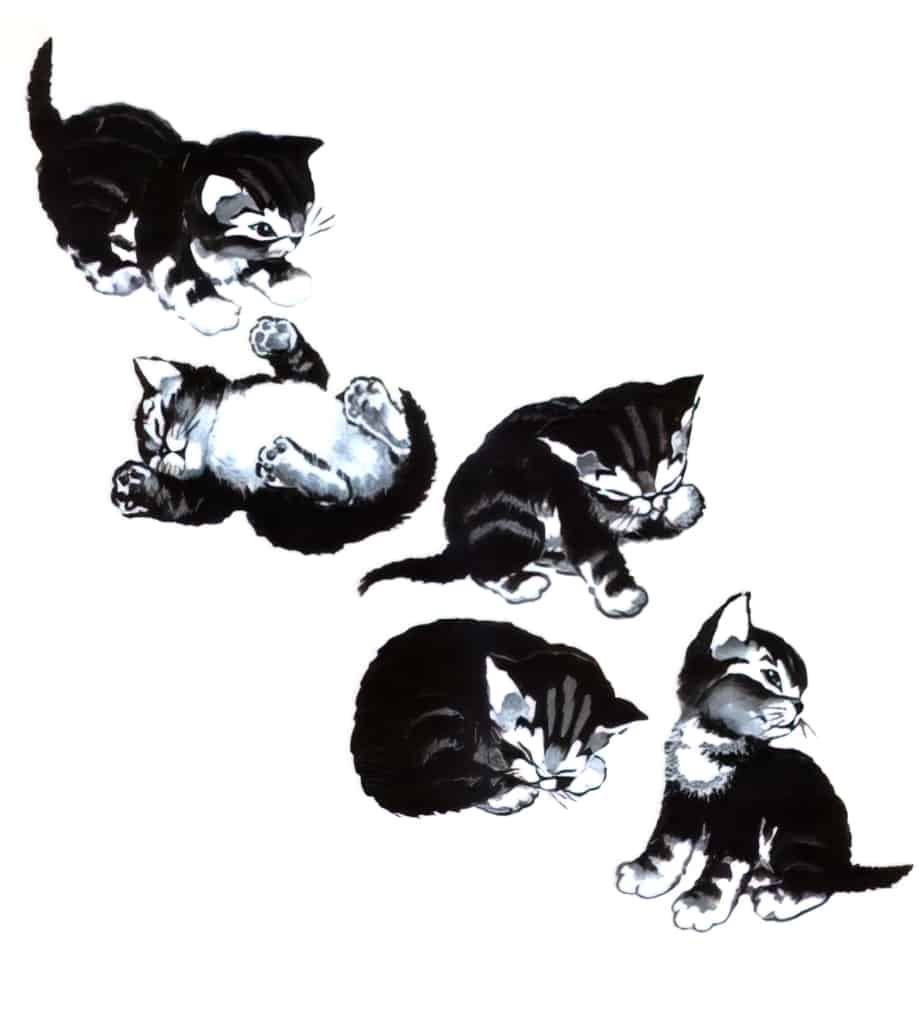 The double spread below is from Olivia and the Fairy Princesses. Continuous narrative is especially effective in stories about a hyperactive little person (or animal-person stand-in) because the multiple images convey a sense of movement.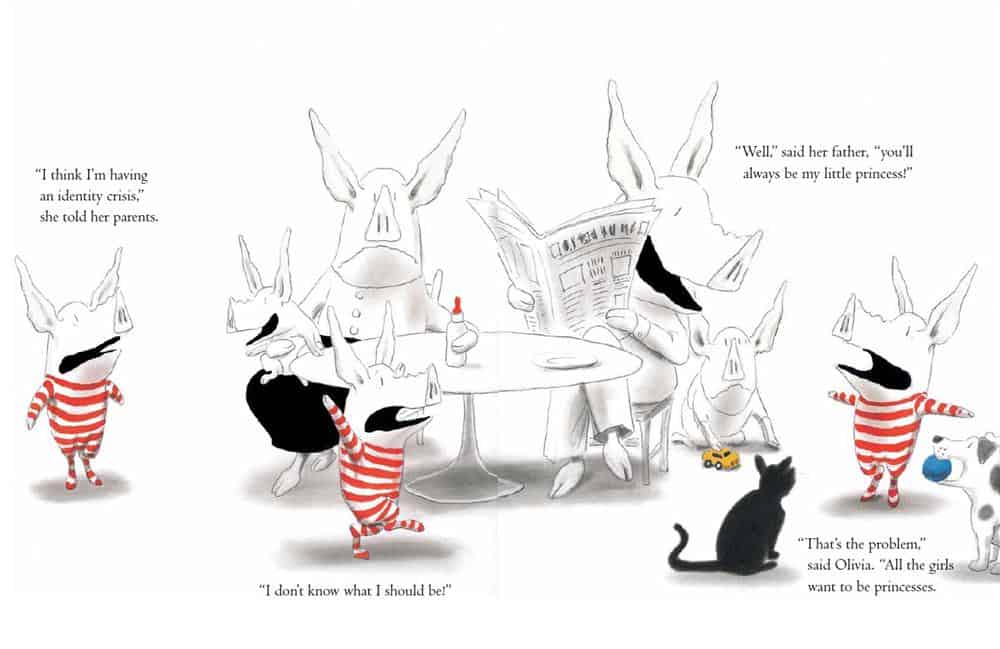 The cat drinking milk in Wanda Gag's Millions of Cats is an example of continuous narrative because the fall of the hill forms a clear temporal guide.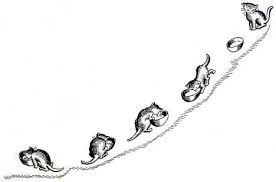 The road in Virginia Lee Burton's Katy and the Big Snow provides a temporal guide. So this is an example of continuous narrative art.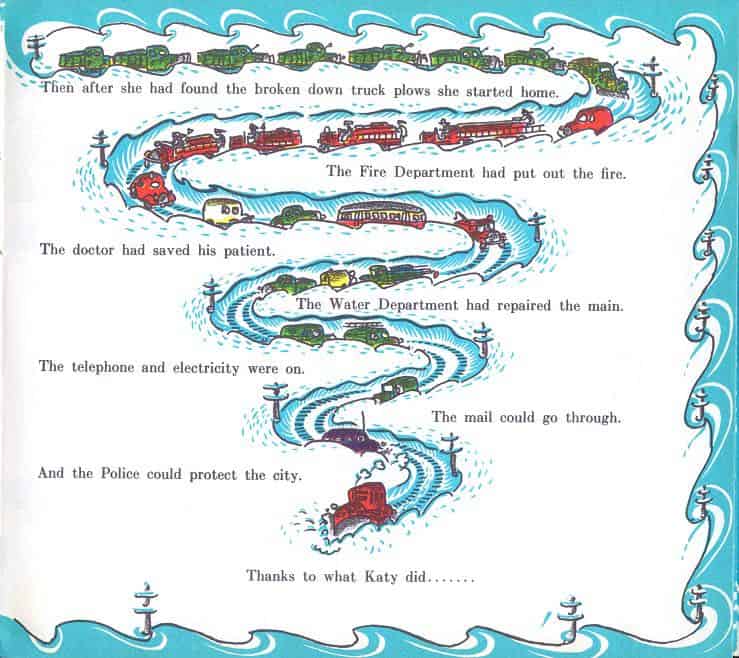 Virginia Lee Burton had an especial interest in continuous narrative art, which came in handy when doing the working drawings for Life Story: The Story of Life On Earth From Its Beginning Up To Now, A Play In 5 Acts: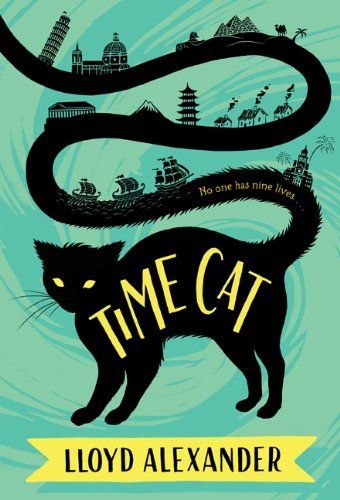 Gareth's definitely no ordinary cat. For one thing, he can talk. For another, he's got the power to travel through time. And the instant he tells this to Jason, the two of them are in ancient Egypt, on the first of nine amazing adventures that Jason will never forget.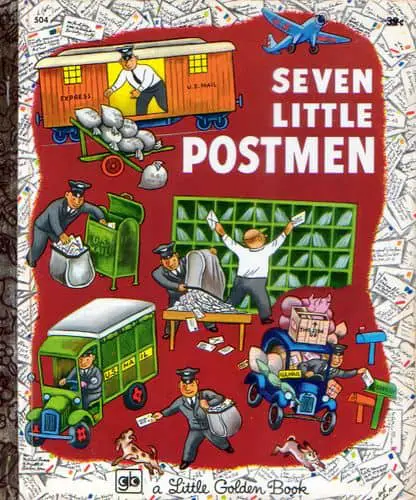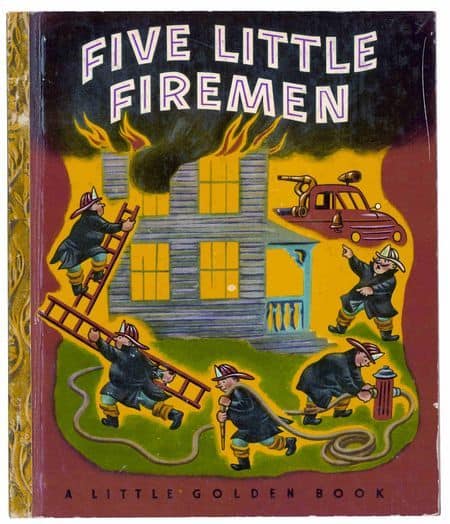 The following scene is from Diary of a Wombat by Jackie French, illustrated by Bruce Whatley.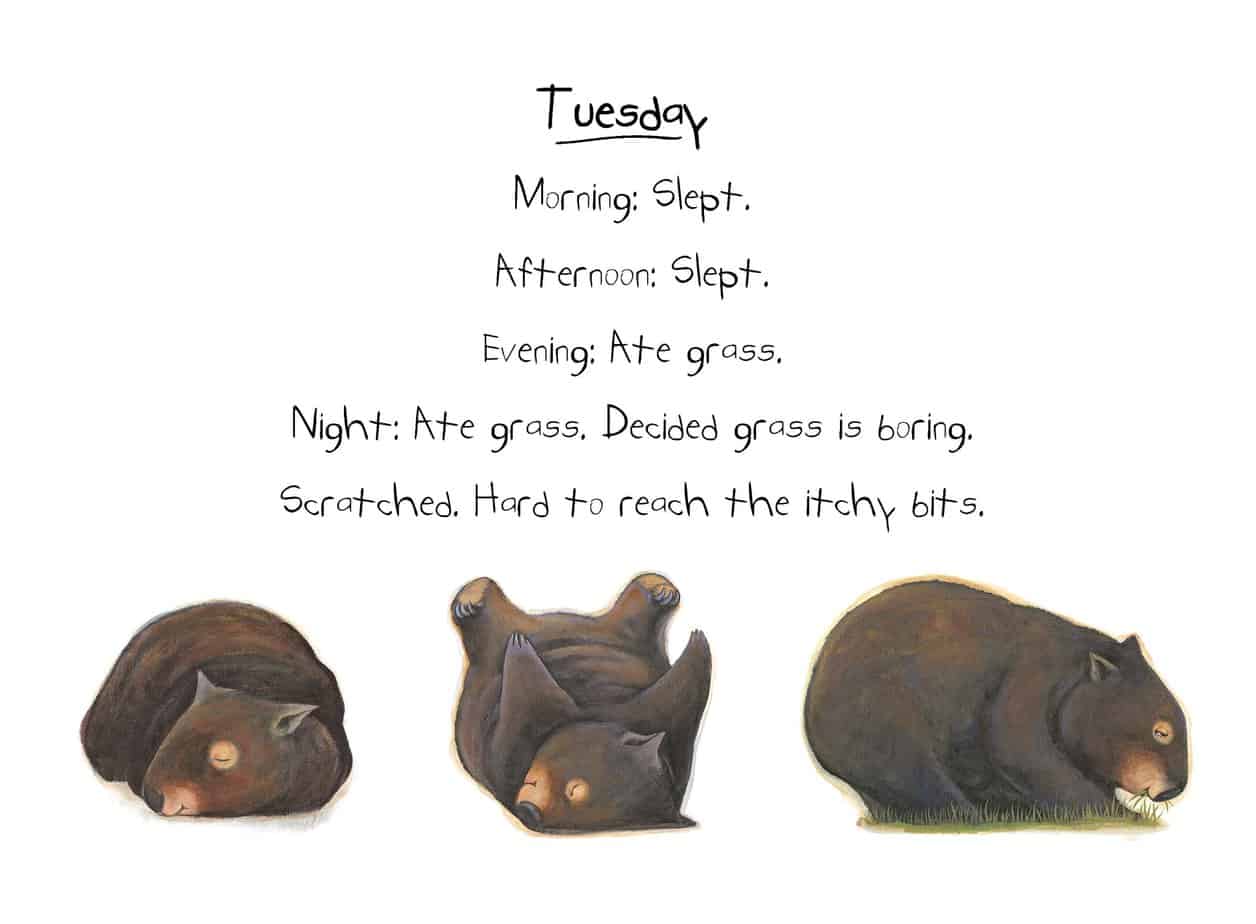 Continuous narrative is not just used in 'art'. Here's an image from the Stihl home page, presumably to convey the idea that if you buy the Stihl tools you can do all of these tasks in a fraction of the usual time. But does it count as continuous art? Do we get a sense of sequence. If we know the basic order in which garden tasks are completed, then yes. (First mow, then whipper snip, then blow.) Otherwise no.