The Adventures of Beekle is a picture book by Dan Santat and winner of the 2015 Caldecott Medal. Santat's picture books make excellent close-reading examples for discussion about colour as it relates to emotion.
The New York Times compares Beekle to Where The Wild Things Are by Maurice Sendak. I see many similarities between Beekle and Australia's own The Lost Thing by Shaun Tan. In fact, consider The Lost Thing the flipped version — not from the perspective of the imaginary creature but from the perspective of the real child.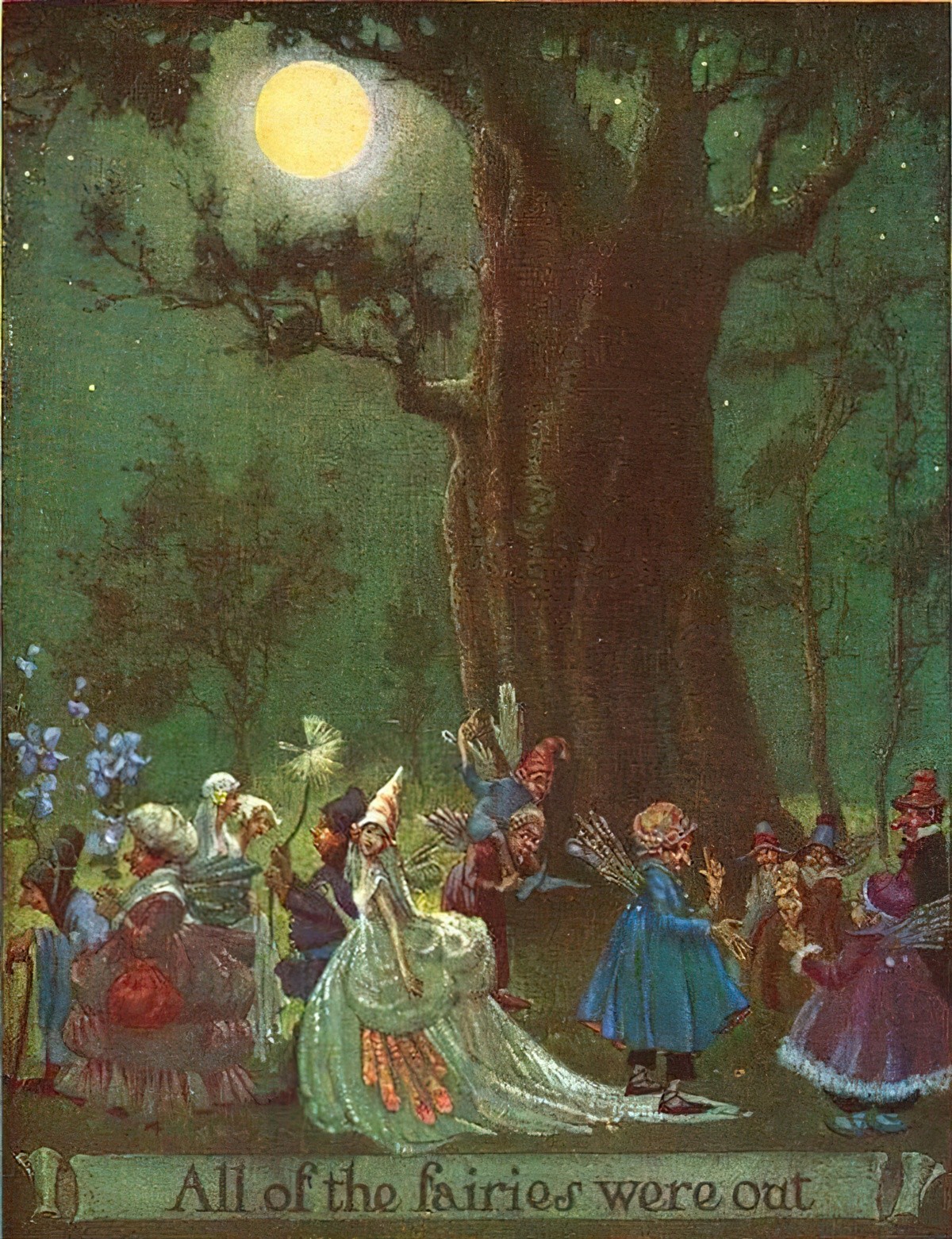 STORY STRUCTURE OF THE ADVENTURES OF BEEKLE
WHO IS THE MAIN CHARACTER?
An imaginary friend in the shape of a white blob. He is feeling lonely and without purpose in life. When the story opens he has no name, which is significant. Without a name, he has no identity, purpose or respect.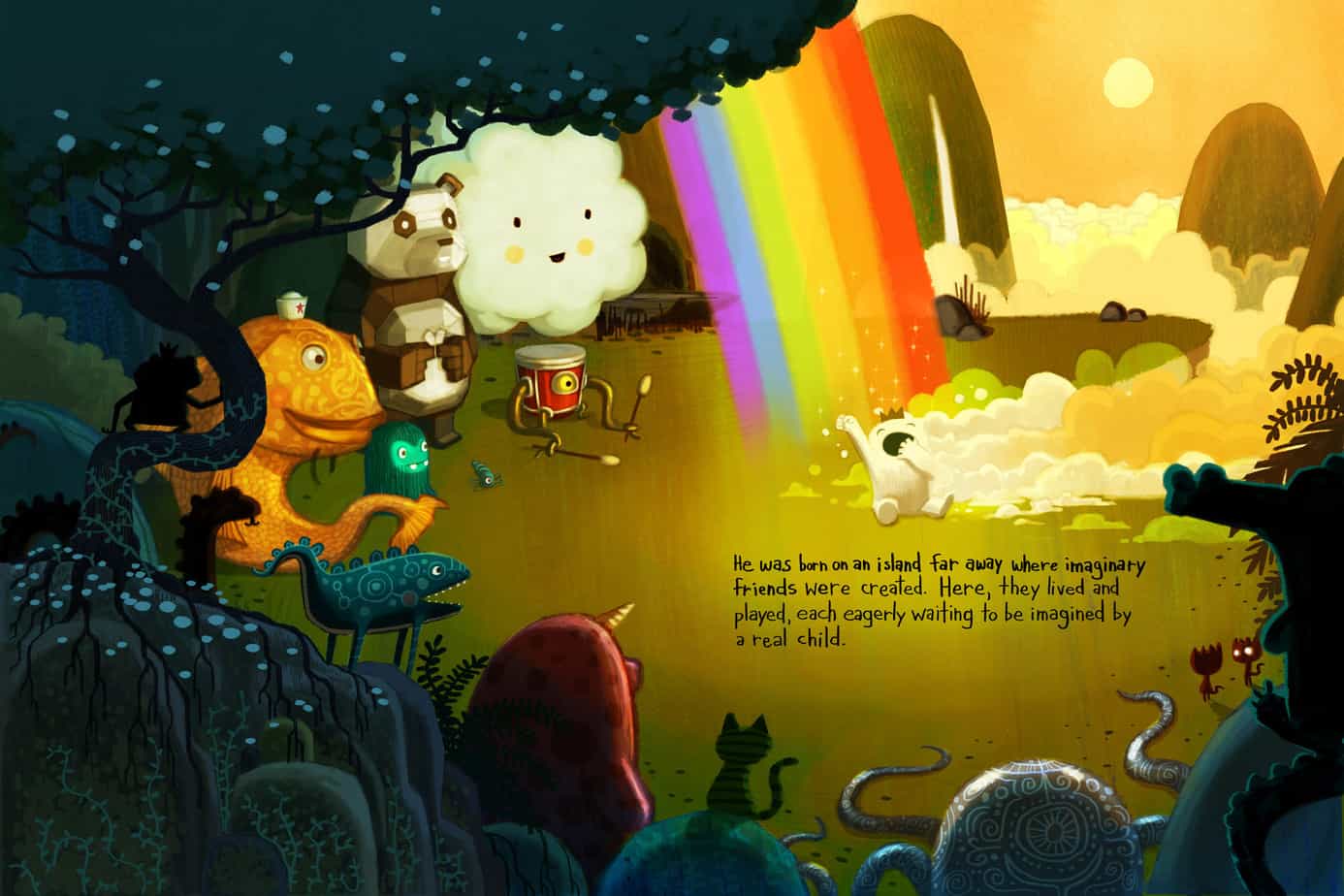 Importantly, the creatures begin on an island — longtime symbol of isolation. It's actually a kind of utopia. Just look at that rainbow, will you? What else could these creatures wish for?
WHAT DO THEY WANT?
Well, they want what we all want. Connection and purpose. 
Beekle wants his own real child. Without his own child to acknowledge his existence, he is a nobody.
OPPONENT/MONSTER/BADDIE/ENEMY/FRENEMY
Because this is a mythic journey (see below) Beekle will face 'many scary things' on his travels to the real world. These are conveyed in the pictures, but the illustrations show the reader that Beekle needn't be afraid. For example, the whale beneath his boat is massive and therefore scary, but is in fact helping Beekle on his journey. The baby whale swimming alongside her suggests she is being protective of Beekle rather than a threat.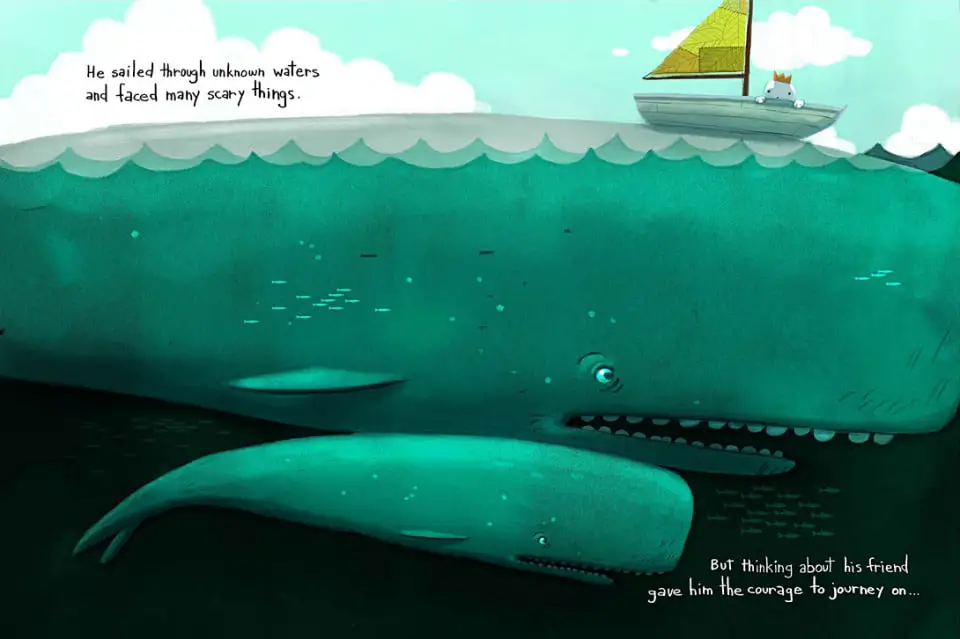 This image appeals to readers who like to believe there are invisible forces propelling us forward, helping us reach our goals, even if we cannot see them.
WHAT'S THE PLAN?
At first Beekle has no active plan. Rather, he waits around, 'hoping for his turn to be picked by a child and given a special name'.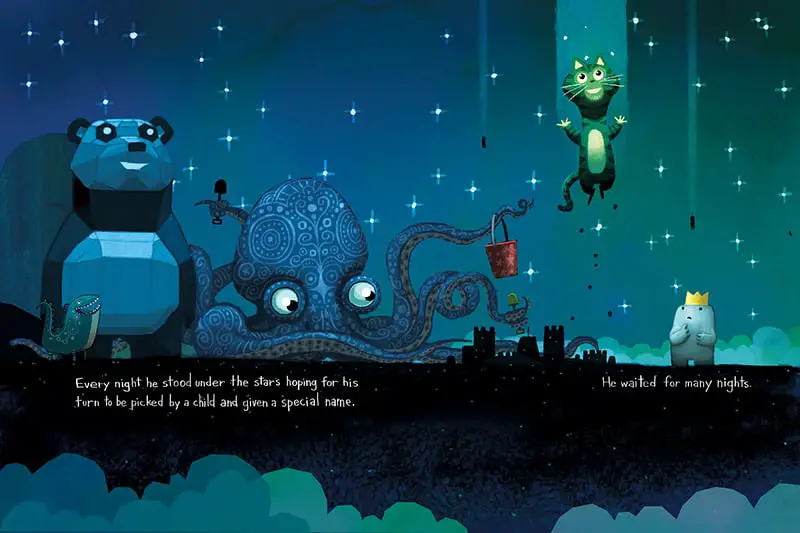 But this plan, such as it is, doesn't work. On a double spread with a lot of white space (actually the buttery yellow of sand) Beekle stands by his sandcastle, utterly alone.
But his turn never came.
He realises this isn't going to work so he sets out on a classic mythic journey. This structure seriously never gets old. When a reviewer at Huffington Post wrote 'Beekle has an air of inevitability about it', this is because Santat is making use of a story structure at least 3000 years old. 
The colour palette changes once Beekle reaches the 'real world', from rich colours to muted browns and greys.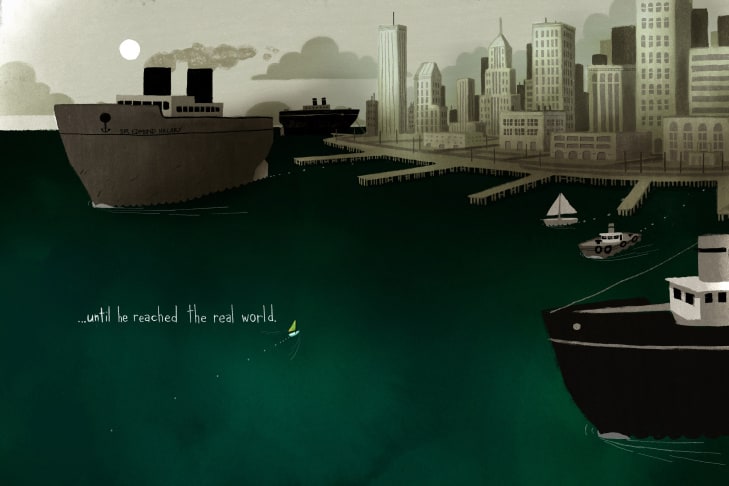 But the more Beekle searches, the more joy he finds. Santat gradually brings those rich rainbow colours back onto the page. This could be a story about anyone moving to a new place.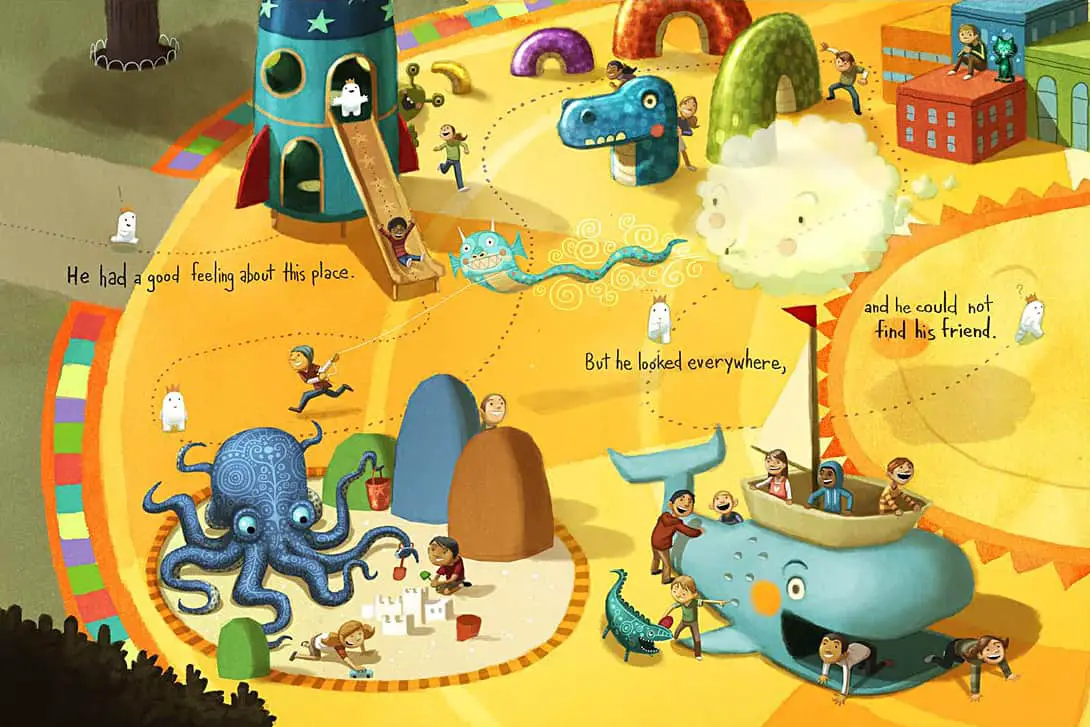 After checking the playground and failing to find his friend, he climbs a tree and looks out. This is making use of The Symbolism of Altitude. In stories, characters go to high places when they are looking for perspective on their problem.
Usually, when a character goes somewhere high, they will solve a problem or have an epiphany of some kind.
The epiphany is that this girl, who appears at the bottom of the tree, is perfect for him.
Dan Santat does this really cool mirror flip type thing, depicted only via the illustration, in which Beekle hands Alice a piece of paper. The piece of paper is a drawing of himself handing Alice a picture — a naive rendering of the professional illustration by Santat. Look carefully now at the previous two spreads and you'll notice that piece of paper. It has blown on the wind and lodged itself on a spike of the tree. The illustration has been drawn by Alice. Yet it's Beekle who hands the paper to Alice, so who really imagined who up?
This is the 'genius' part of the book, and I suspect this is what makes Beekle a Caldecott winner.
BIG BIG STRUGGLE
Beekle's big struggle has been internal (psychological). By the time he meets Alice, it's clear from the beginning that they are going to be together. The sentence 'At first, they weren't sure what to do', and the comic strip that follows is the Big Battle of this story — the awkwardness of meeting a new friend, and of knowing how to act. Their expressions and body language indicate they are holding back from each other, unwilling to throw themselves immediately into fast friendship.
WHAT DOES THE CHARACTER LEARN?
When Beekle reaches the real world, at first everything is scary and inexplicable. We don't quite know what's going on. This causes unease and anxiety. But after a while, after exploring our new world, we begin to feel comfortable. But this doesn't just happen on its own: Beekle has searched for the good in his new environs. We have to do that, too, no matter where we go.
HOW WILL LIFE BE DIFFERENT FROM NOW ON?
Beekle and his girl will be together now, and both of them look happy about that.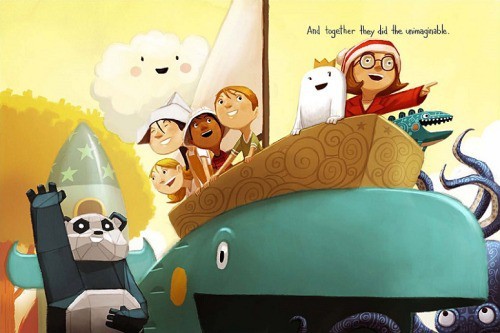 FURTHER READING
Using Beekle to teach philosophy in the classroom (metaphysics)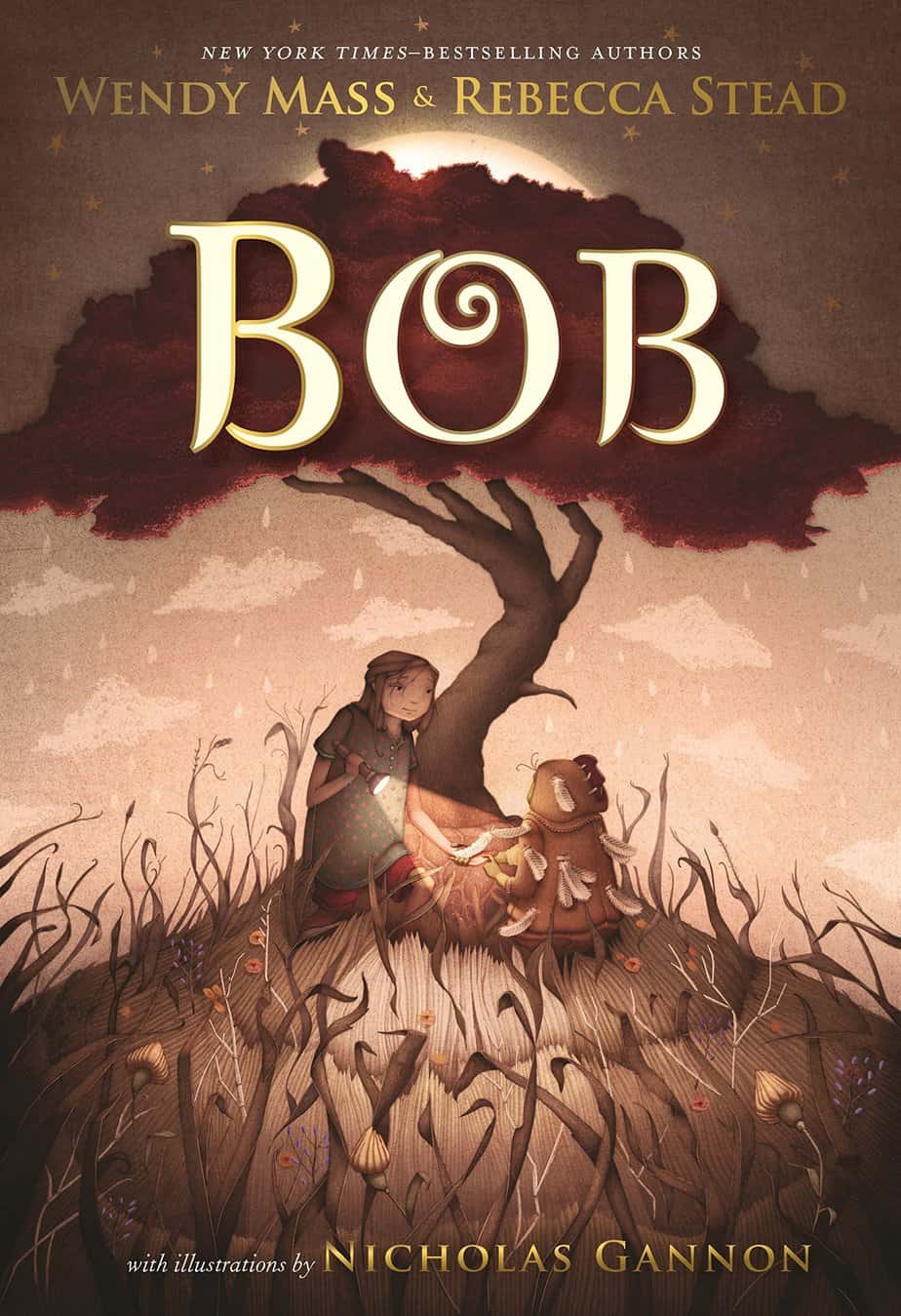 A classic middle-grade tale of magic and friendship, about a girl who helps an old friend find home, by two New York Times–bestselling authors Wendy Mass and Rebecca Stead.
It's been five years since Livy and her family have visited Livy's grandmother in Australia. Now that she's back, Livy has the feeling she's forgotten something really, really important about Gran's house.
It turns out she's right.
Bob, a short, greenish creature dressed in a chicken suit (who may or may not be imaginary), didn't forget Livy, or her promise. He's been waiting five years for her to come back, hiding in a closet like she told him to. He can't remember who—or what—he is, where he came from, or if he even has a family. But five years ago Livy promised she would help him find his way back home. Now it's time to keep that promise.
Clue by clue, Livy and Bob will unravel the mystery of where Bob comes from, and discover the kind of magic that lasts forever.