Can men write woman and femme-presenting characters? Men can, do and may. William Trevor did it well. Apart from an excess of crying, Larry McMurtry also did it well. Ian McEwan is also right up there.
Content note: This is a gender binarist topic. Non-binary genders exist and continue to be invisibilised the vast majority of the time. This particular topic reflects the bimodal nature of gender and the fact that the vast majority of published books were created by writers who fit neatly into the gender binary, or who haven't reflected much on their own gender identity. When I say 'woman', I mean anyone who is coded femme to others, as this is a particular experience of navigating the world.
MEN WRITING GIRLS IN CHILDREN'S LITERATURE
In children's literature, women write boy characters more than men choose to write girl characters. (You're probably thinking of the exceptions right now, not of the overall corpus, but the count has been done.)
Children's literature specialist Maria Nikolajeva urges us to look a little deeper at the men writing girl characters:
Some [girl character stories written by male authors] are plot oriented and mainly describe the external flow of events. This is the case of The Wizard of Oz, in which a male writer has chosen a female protagonist, but does not enter her inner world. By contrast, The Outsiders, The Planet of Junior Brown, The Giver, and Bridge to Terabithia depict the deepest and most secret corners of the different-gender protagonists' minds. The Outsiders also uses a male narrative voice. Does this mean that "feminine writing" tends to be character oriented and introspective even when a male protagonist is portrayed? In fact, there are very few successful introspective portraits of female protagonists created by male writers.

Aesthetic Approaches to Children's Literature: An Introduction by Maria Nikolajeva
Science fiction author Ursula Le Guin had something to say about writers and their gendering of main characters:
MCPHERSON: I know you're always hearing comments and questions about the fact that you write from men's point of view in nearly all your books […]

URSULA LE GUIN: […] the women I write about tend to be more varied, more complicated; the men are more conventional. […] we write — in part — from all that we've read. There's no tradition for us [women] to follow. Most of the books about women were written by men.

The Last Interview
HOW LIFE WORKS DIFFERENTLY FOR WOMEN
If you're not a femme person and you're writing femme-coded characters in realistic fiction, here are just a few ways in which navigating the world as a femme presenting person will impact your characters' lives.
THERE ARE MEN IN THE WORLD WHO TALK INCESSANTLY ABOUT THEMSELVES AT WOMEN
On the plane coming home from a writer's conference last year, I sat next to a well-known male novelist who spent the entire flight talking to me about his feelings. He talked before takeoff. He talked through the drink service, during which I fumbled with the tiny plastic wrapper on my ginger cookie for far too long. He talked with increasing intensity and volume. He talked until I got up and excused myself to go to the bathroom.

Cameron Dezen Hammon
Not all men do this; all women experience the men who do.
But why do some men do this?
Men Have No Friends and Women Bear the Burden: Toxic masculinity—and the persistent idea that feelings are a "female thing"—has left a generation of straight men stranded on emotionally-stunted island, unable to forge intimate relationships with other men. It's women who are paying the price from Harpers Bazaar.
WOMEN SPEAK MORE FREELY AMONG OTHER WOMEN
There's a hoary old chestnut that won't die: This idea that women talk more than men. Research does not bear this out. In public spaces, including in classrooms, males speak more than females. When women and girls speak half of the time, the perception is that they 'dominate'. This is borne out in the research.
In fiction, real world rules don't apply. Fictionally, imaginatively, it feels great when women share half of the airtime. If writing realistic fiction, however, this is how it really pans out, and women do tend to know it. In meetings with men, it's difficult to get a word in edgewise. It is disturbingly common for men to glaze over until a woman stops speaking and fail to acknowledge her.
Not all men do this; all women have experienced it.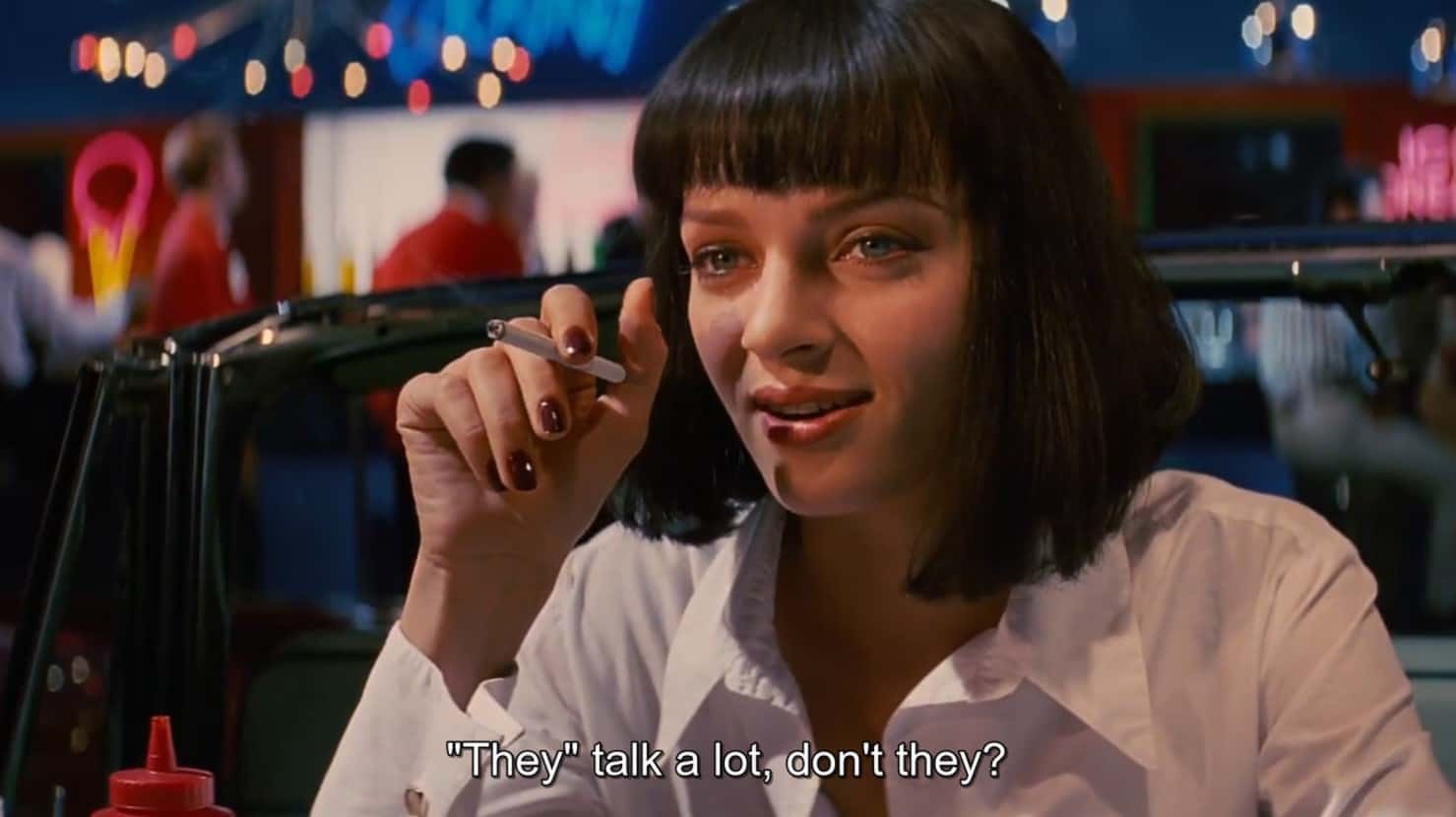 THERE ARE MEN IN THIS WORLD WHO DEMAND WOMEN'S ATTENTION
Regardless of what she is wearing, any femme person will get honked at, told to smile, and either complimented or insulted, sometimes both in quick succession. Many men would be utterly surprised to experience the absolute lack of finesse with which some men try to pick up.
Not all men talk to women like this. But from adolescence onward, all women experience the men who do.
Some of these men hope to attract women's attention by doling out advice. The women who receive this advice from multiple men find that, added up, the advice from each man will certainly contradict the advice from another man. E.g. for every man who tells a woman she wears too much makeup, there's another telling her she doesn't wear enough. Any woman with a public profile endures this constant advice. It's common wisdom that Twitter changes to a different place once you hit 10k followers, for instance.
THERE ARE MEN IN THIS WORLD WHO TREAT WOMAN PEERS LIKE ASSISTANTS AND SECRETARIES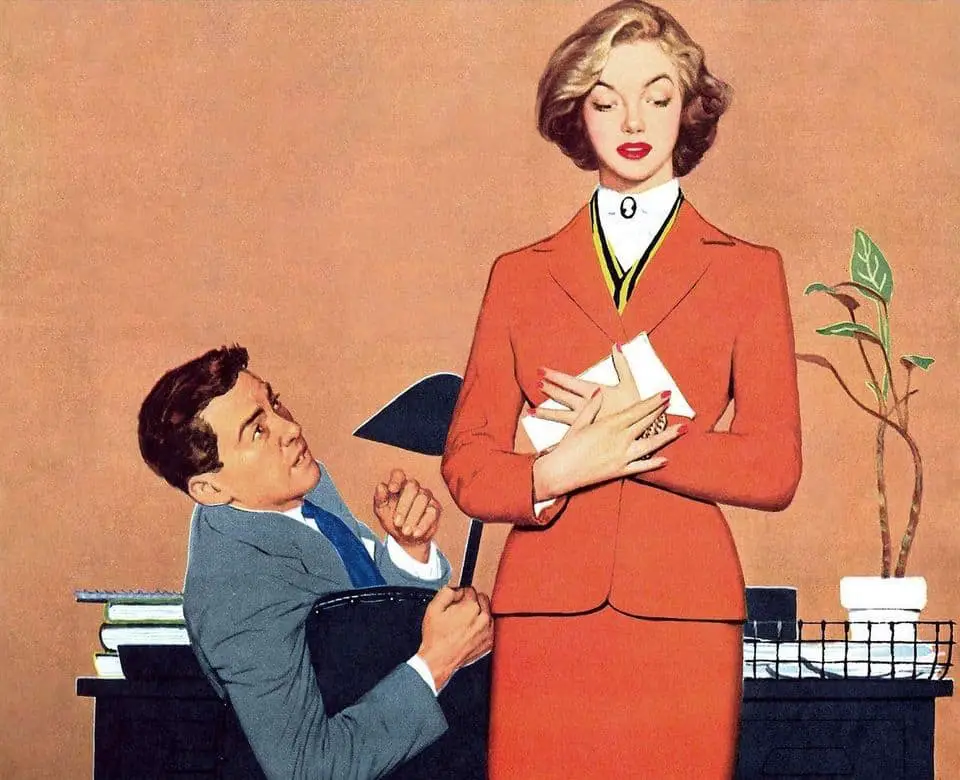 THERE ARE MEN IN THIS WORLD WHO TREAT WOMEN LIKE THEIR THERAPISTS
It is disturbingly common to encounter a man who, completely without prompting, will complain at length to you about his 'ex'. Women who work in the service industries, even the professional ones, regularly hear far more than is wanted.
When talking to other men, they stick to more generic small-talk subjects such as weather and sport.
Not all men do this; all women encounter those who do. This one doesn't stop as you age. I thought it might, but it does not.
WOMEN DO NOT THINK RANDOMLY ABOUT THEIR OWN BODY PARTS
Women have a very good understanding of how femme body parts are received. G.R.R. Martin appeals to many with his descriptions of jiggling breasts, but perhaps you are not G.R.R. Martin and would like to wholly avoid women cringing at you.
"When she went to the stables, she wore faded sandsilk pants and woven grass sandals. Her small breasts moved freely beneath a painted Dothraki vest …"

George R.R. Martin
There is a place for sexual objectification. That place is not seeping into the psycho narration of a character with breasts. But if people are thinking about their own breasts, it's quite likely about how much they hurt. Breast tenderness, a feeling of heaviness and pain is very common.
Another time someone might think about their own breasts is when they notice someone ogling them, or when wearing low-cut clothing. In this case, it's necessary to be mindful of exposure when bending down.
WOMEN'S CLOTHING IS IMPRACTICAL AND, VERY OFTEN, UNCOMFORTABLE
More than clothing for men, women's clothing is 'form fitting'. It reveals more of the body. Women talk a lot about this, so it's probably not news, but pockets in women's clothing is often just a decorative slit. You can't hold anything safely in the pockets of women's form fitting jeans.
TOILET CULTURE IS DIFFERENT
I once wrote a story which included a scene in a women's bathroom. The event was a ball, and the young women were crowding around the mirror. A male critique partner said he didn't believe this scene. Yet that's exactly what both my high school balls were like. Each time I went into the toilet area, it was full. All the young women had spent a lot of time/money on hair, make-up and dresses to the point where we looked like different people. A periodic check in the mirror felt necessary, and a pleasurable way of indulging in the fantasy of luxury.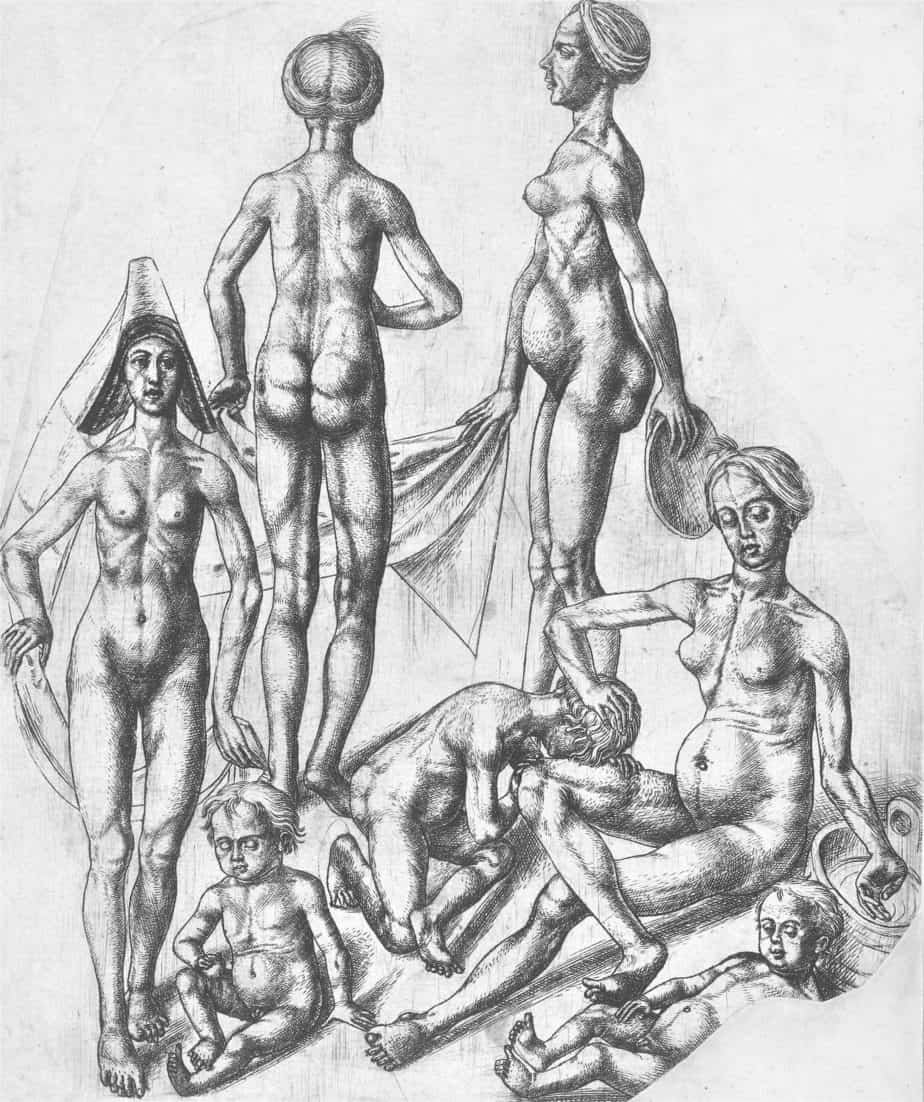 Women's toilets are almost always further away than the men's toilets, and sometimes women really have to hunt for them. It sometimes feels dangerous to enter these out-of-the-way toilets.
Fewer men seem to have a self-consciousness or dislike of communal facilities which prevents them from pooing in a public toilet. In an office, you frequently get men going en masse for a crap around mid-morning. Women, in general, would rather do that at home, for fear of stinking out the entire bathroom. It is very rare in a women's toilet to overhear any signs of pooing. I have it on good authority that this is very much not the case in men's toilets.
It is partly difficult to make loud stinks in women's toilets because women will happily stand around and chat with friends near the sinks. It's a vicious cycle. They stand there and chat because no one is pooing, which means it's a relatively pleasant venue for chit-chat. Meanwhile, if a woman really does need to poo, she's overhearing every single word exchanged half a metre outside the door.
GIRLS DON'T HAVE BUDDIES WHO SUPPORT THEIR JOCKEYING FOR POSITION
This is especially evident in the junior high school classroom. A high-status boy who makes a game out of interrupting the lesson will have a gaggle of like-minded friends who egg him on. But if a femme character tries exactly the same antics, she's unlikely to have a gaggle of girl friends who support her in her jostling for position at the top of that particular social hierarchy. The boys will shut her down, and the girls will also shut her down. Girls cannot achieve high status in ways that boys can, and very often do.
This difference extends into the workplace, in which women must walk a tightrope between being too 'dominant' and too meek/weak.
WOMEN AND GIRLS ARE FREE FROM THE SHACKLES OF 'MAN RULES'
The phrase 'Real Man' should be put to bed forever. It suggests there's a bar to entry. Men must avoid certain things just to justify entry into manhood. In contrast, women don't think too much about whether they are womanly enough. Sure, it might come up and cause grief in the context of, say, enduring singledom (when marriage is wanted) or via experiences of infertility (when children are wanted) but it doesn't come up when women go out to an eatery and choose what looks tasty.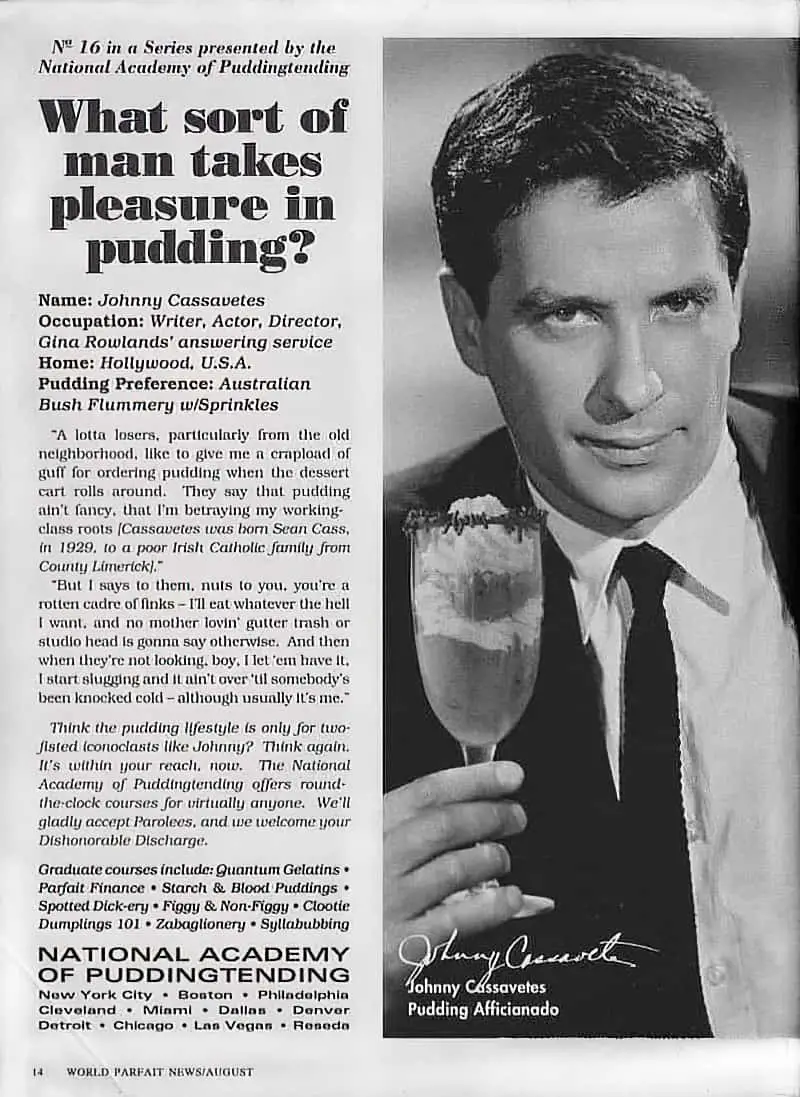 Women don't endure criticism for choosing a steak, either (a symbolically masculine food) because to be male is to go up in the culturally ascribed gender hierarchy rather than down. So when writing women, you can give her any mixture of preferences and interests and she'll read as perfectly realistic, even if it feels like an admixture to you, after a lifetime of thinking about symbolic gender (subconsciously or otherwise).
MUST WRITERS BE MINDFUL OF A 'GENDERLECT'?
Returning now to Maria Nikolajeva's Aesthetic Approaches to Children's Literature: An Introduction,
we cannot establish that masculine and feminine writing is significantly distinct.

Aesthetic Approaches to Children's Literature
Let's consider the concept of the 'genderlect'. When writing dialogue and pragmatics, do we need to be careful to gender everything and everyone? Beware: Whatever gender stereotypes you have, you will bring to the page when writing:
Concerning style and language, we may make use of the idea of genderlect (a relatively new concept suggested by feminist criticism and coined in analogy with dialect), denoting the differentiated idiom of men and women. A genderlect reflects our abstract ideas of how men and women talk. Some rather loose criteria are, for instance, that men are reasonable, while women are imaginative; that masculine language is ordered and structured, while feminine language is impulsive and fragmentary; or that women use more figurative speech. So far there have been no consistent studies of genderlects in children's fiction and very little in general fiction, so it is too early to come up with any statements. But surely the thought is worth pursuing.

Aesthetic Approaches to Children's Literature
When it comes to gender differences, the difference between any two individuals will be more marked than the general differences between men and women. So even if you're a man writing a woman and you basically write her as yourself, the woman version of yourself theoretically (and believably) does exist.
What's different: Society's reaction to the exact same behaviours coming out of your feminised self.
Header illustration: 'My Home' Magazine, September 1944
FURTHER READING
Be very careful when comparing women to birds and cats as it has been done to death (yes, including by woman writers) but it is not exactly helpful.