How to make Russian Fudge — a step-by-step guide for cooks with no sweet thermometer and no Edmonds Cookbook (which is only of limited help anyway).
Googling has so far not helped me out on this one, so while Mum was staying at our place this week I had an extended lesson in how to make it set every time, and now I feel obliged to put this up on the internet, because I can't find anybody else who has adequately described what a 'soft ball' is, nor explain all the secrets to getting it right, though this description is a very good start. It really is all in the beating. Some of us noobs need a little more help, so for my own future reference as much as anything, I have taken some (relevant!) progress pictures. I've since made five successful batches without help, so I think I've got it now.
FROM THE EDMONDS COOKERY BOOK
3 cups sugar
1/2 cup milk
1/2 cup condensed milk
125g butter
1/8 tsp salt
1 tbsp golden syrup
Put sugar and milk into a saucepan. Heat gently, stirring constantly until sugar dissolves. Add condensed milk, butter, salt and golden syrup. Stir until butter has melted. Bring to the boil and continue boiling to the soft ball stage, stirring occasionally to prevent burning. Remove from heat. Cool slightly. Beat until thick. Pour into a buttered tin. Mark into squares. Cut when cold. Vanilla essence or chopped buts may be added to fudge before beating if desired.
EXTRA NOTES ON HOW TO MAKE RUSSIAN FUDGE
This is from a New Zealand cookbook (though I'm to assume it comes originally from Russia?) so be sure to use Australian/NZ/British sized measuring cups, which are larger than American. I don't know if this works if you use American sizes — I guess it's all relative, but what I had been doing is using the Pyrex jug to measure the liquids (American) and a local measurements for the dry ingredients. Don't do that.
It takes a longish time to dissolve the sugar and milk properly over a gentle heat. When bubbles start to rise, that generally means it's dissolved enough. This part can be made faster by using castor sugar, in which case it dissolves pretty much instantly, and you can start adding the rest of the ingredients.
BOILING IT UP
The colour in this photo isn't true to life (too yellow) but this is basically what the mixture will look like once you've got it to the 'soft ball' stage.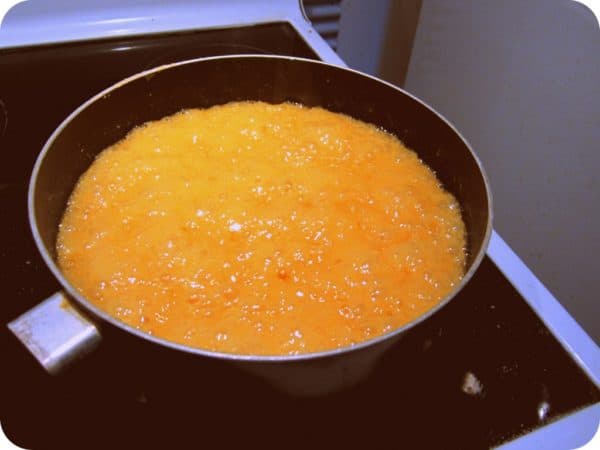 WHAT ON DOG'S GREEN EARTH IS A 'SOFT BALL'?
To check whether the mixture is at the 'soft ball' stage, drop a bit of it into a glass of cold water.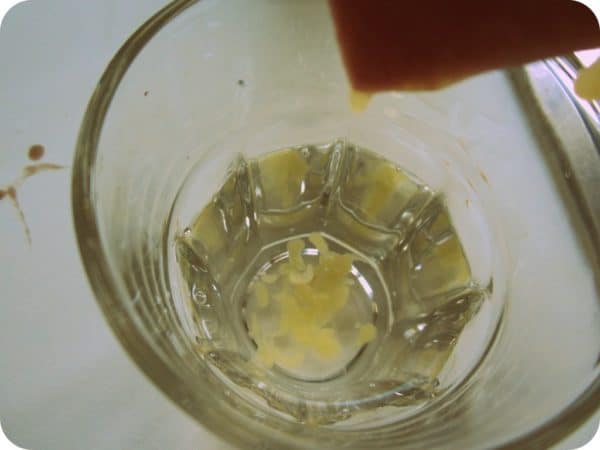 This is what a 'soft ball' looks like when dribbled off a spatula into a glass of cold water. Next, tip out the water and scoop out the fudge mixture. It should look like this once you've rolled it between your fingers: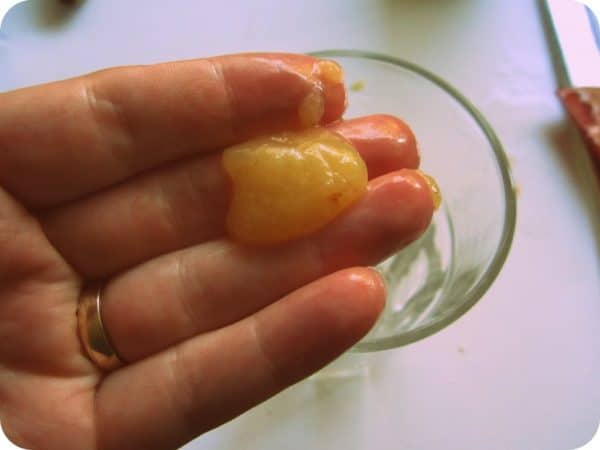 It's hard to describe the feel of a soft ball in pictures, but you should be able to hold it briefly between your fingers like this: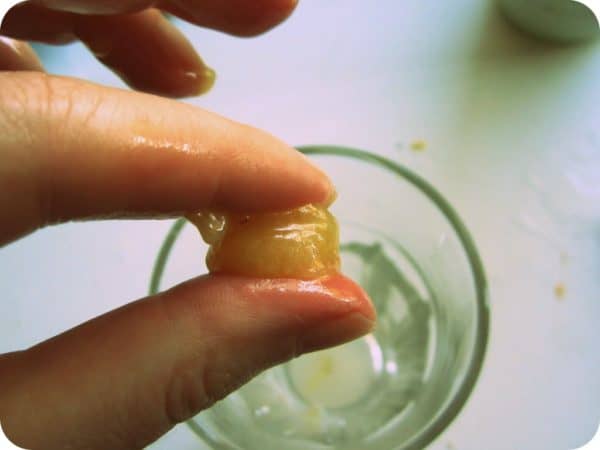 A MOTHER OF A BEATING
The secret to good fudge lies partly in the length of time beating, but then again, at other times I have made this fudge successfully without much beating at all.
A stick mixer won't do the job.
Then again, if you're a pioneer, you'll get by with a wooden spoon and a sweaty brow. As for me, I have to use an electric hand beater, and it usually takes longer than I think it should, on a medium speed.
This is what it looks like before any beating, and just cooled enough for it to stop bubbling. I've transferred the mixture into a plastic bowl so I don't damage the non-stick saucepan with the beaters.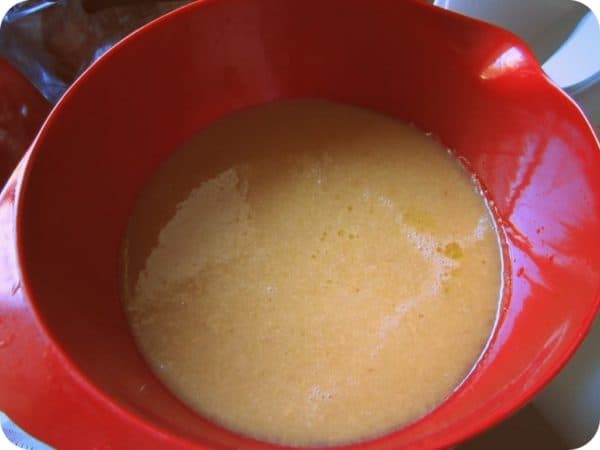 It takes about as long to whip fudge as to whip cream. Something I've never measured. The process is similar. Soon you'll start to see it ripple a little bit.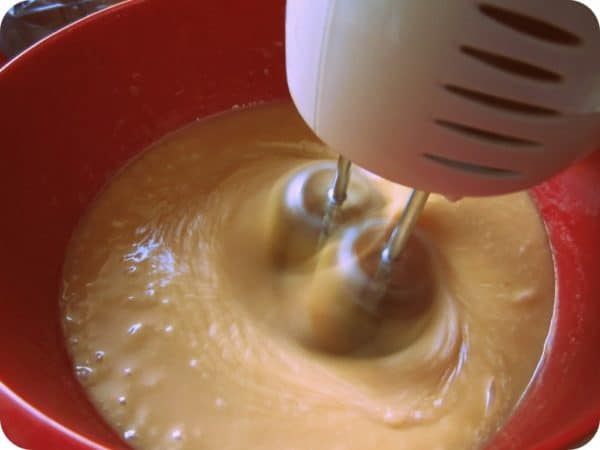 Continue to beat. A few minutes later, the ripples will be more pronounced and the texture will have changed to something lighter in colour and heavier: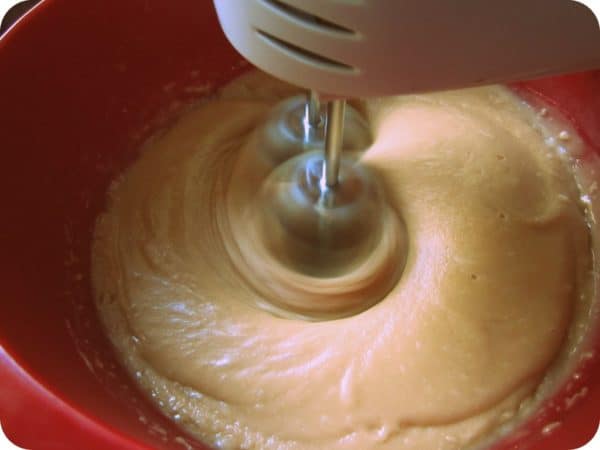 What you really want to see is the Russian fudge starting to set around the edges: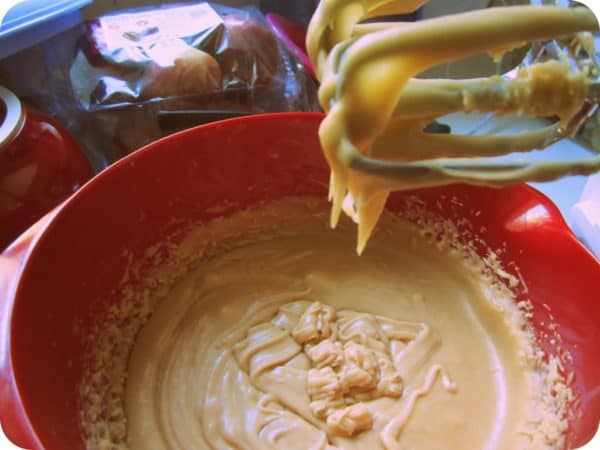 As you can see from the electric beaters, the Russian fudge has set into stalactites.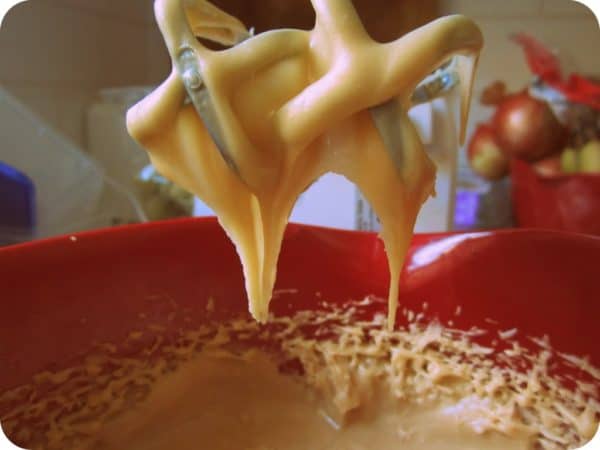 You know you've beaten enough when the mixture really starts to feel heavy on the beaters. (A good reason to use the medium setting on the beater — it's easier to feel the texture changing.)
Here is the mixture poured into the pan ready for setting. As you can see, the mixture keeps its shape. The folds and peaks remain, unless I smooth them down with a wooden spoon. Be sure to grease the pan really well so that you can tip the whole thing out as a block later ready for cutting into squares, maybe on a chopping board.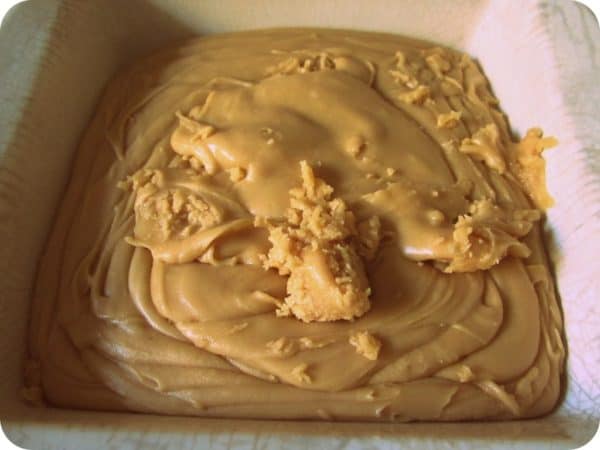 Mark it into lots of small squares with a knife once it's cooled a bit. Then put it in the fridge. When it comes time to cut it, use a hot, wet knife to avoid making so many tiny crumbs.
Post Script
I cut up the fudge and put it into Glad bags, ready for the freezer. I've never frozen fudge before, but apparently it's fine, as long as you seal the container properly. My husband came into the kitchen and said, 'What are you doing?'
'Freezing fudge,' I replied.
After a short pause he said, 'You can say it, you know.'
'What?'
'You're packing fudge.'
 
And in case you think I planned on eating all of these batches of fudge myself, I gave a large portion to my husband, with strict instructions to share it around at work. According to his Indian workmates, this fudge is almost exactly the same as barfi. I've seen better phonetic correspondences. (Here's Breaking Barfi, a Breaking Bad parody. Hell, why not.)
There can't have been much work on at the office either, because it was agreed that Russian fudge is actually Scottish.
Enjoy!