The girl title trend in publishing is interesting because it is popular despite some pushback against using the word 'girl' to refer to grown-ass women.
Author Emily St John Mandel wrote this week about why so much of the bestselling fiction this year has 'girl' in the title.
It's an evolution on all those titles from a few years ago which emphasise a woman's relationship to a man. The [X's] Daughter/Wife and so on.
Book titles are like book covers — not decided by authors but by marketing departments.
This 'girl' trend probably started with the phenomenal success of The Girl With The Dragon Tattoo, and marketing departments are hoping to replicate that success.
There may be something about 'girl' that promises a character arc (with the 'girl' becoming a 'woman', regardless of the fact she's already a woman in years at the beginning of the story.)
I am slightly disturbed by the stat that when men write books with girl in the title the girl is significantly more likely to be dead by the end of the story than when the book is written by a woman. This leads to the question: Are male authors more likely to kill characters of any gender than female authors, or do best-selling male authors take a particular pleasure in killing off girls?
Those are my takeaway points but the entire article is well worth a read.
Basically, books with girl in the title tell the reader that this is a 'psychological thriller about middle class white women with jobs'.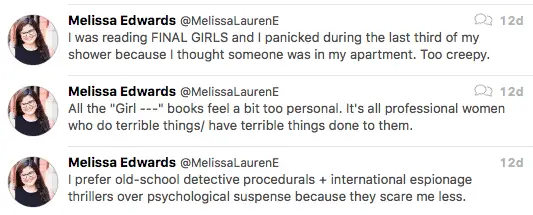 The Girl Title In Kids' Books
This book impresses me about as much as the UN's decision to appoint Wonder Woman as its gender equality ambassador, even as the UN itself haemorrhages women in leadership roles.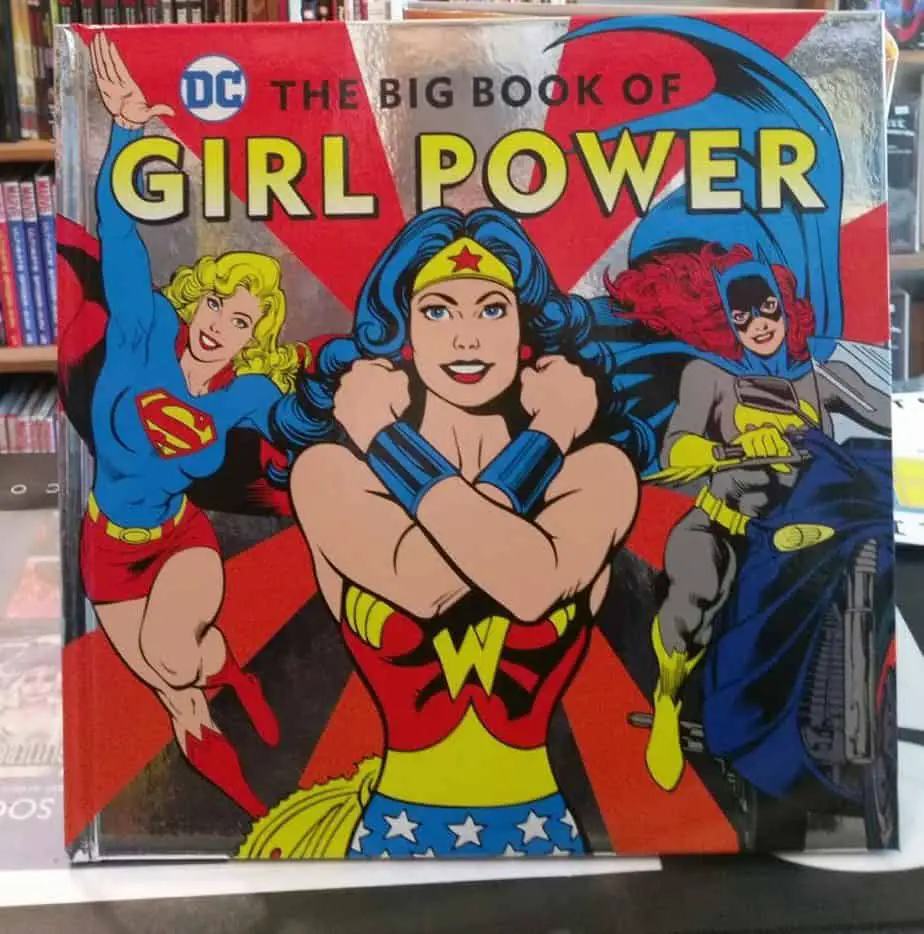 Contrast with the 'boy version' of the book, reinforcing for everyone that when girls have power it's 'girl power', but boy power is the unmarked version.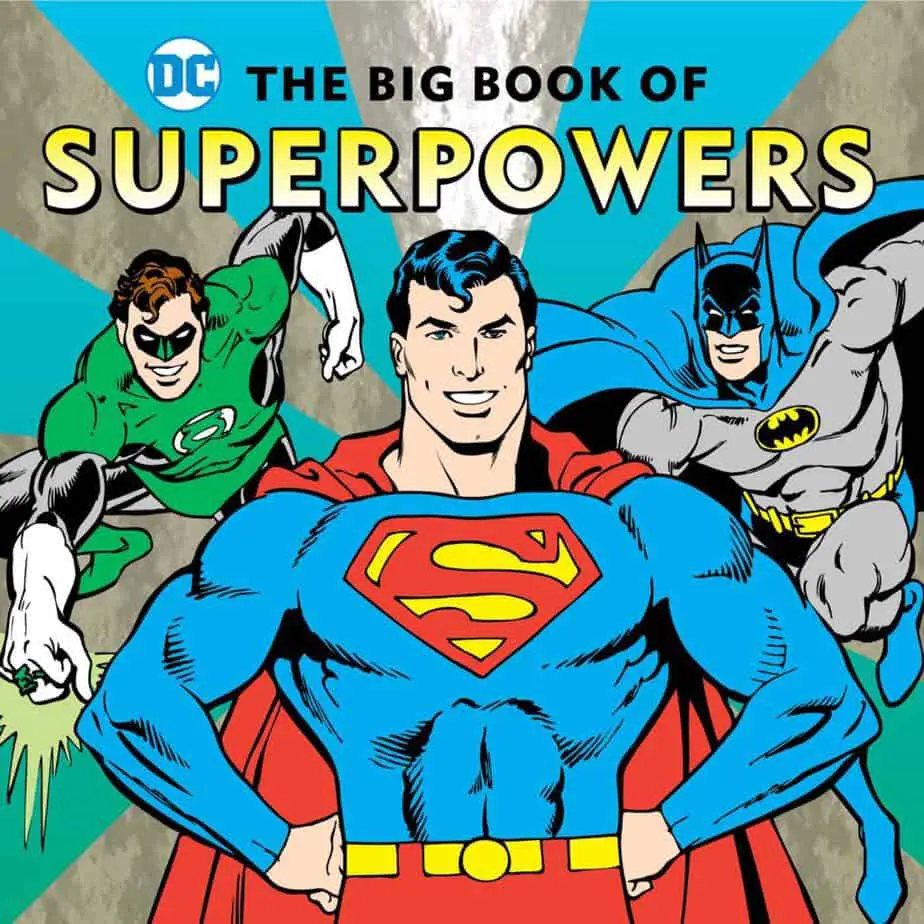 It may be 2016, but be very suspicious about books for young readers which emphasise gender on the cover.
YA titles are a slightly different matter.
Girl Titles In YA
The basic criticism of all those adult novels with girl in the title is about the infantalisation of women. This isn't an argument when it comes to YA characters who are, indeed, minors.
While Mandel's article looks only at books marketed at an adult audience, I wondered if those bestselling adult thrillers were influencing marketing decisions in the YA department.
On the Barnes and Noble list of bestselling YA 2016 (so far) we have a standout collection of titles about kings and queens, with a not-insignificant number of covers which are quite obviously hoping to attract Stieg Larsson crossover audiences. When a YA book has 'girl' in the title in 2016, it'll probably be a gritty crime thriller.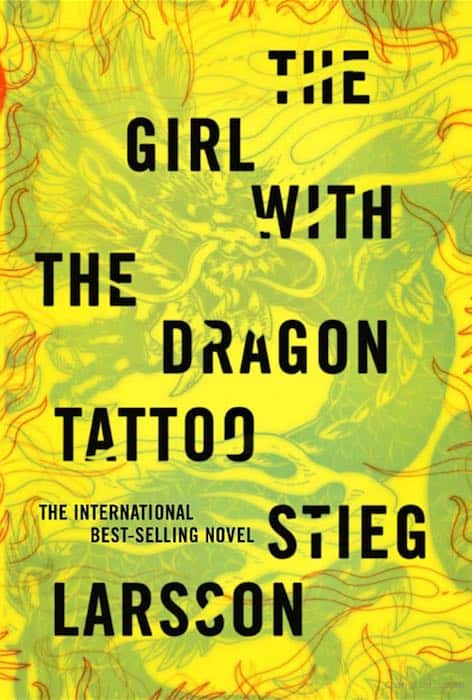 Harriet Vanger, a scion of one of Sweden's wealthiest families disappeared over forty years ago. All these years later, her aged uncle continues to seek the truth. He hires Mikael Blomkvist, a crusading journalist recently trapped by a libel conviction, to investigate. He is aided by the pierced and tattooed punk prodigy Lisbeth Salander. Together they tap into a vein of unfathomable iniquity and astonishing corruption.
An international publishing sensation, Stieg Larsson's The Girl with the Dragon Tattoo combines murder mystery, family saga, love story, and financial intrigue into one satisfyingly complex and entertainingly atmospheric novel.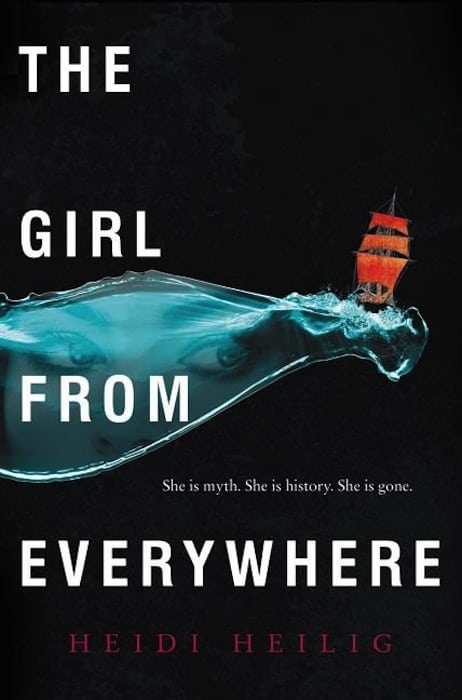 Nix has spent her entire life aboard her father's ship, sailing across the centuries, across the world, across myth and imagination.
As long as her father has a map for it, he can sail to any time, any place, real or imagined: nineteenth-century China, the land from One Thousand and One Nights, a mythic version of Africa. Along the way they have found crewmates and friends, and even a disarming thief who could come to mean much more to Nix.
But the end to it all looms closer every day.
Her father is obsessed with obtaining the one map, 1868 Honolulu, that could take him back to his lost love, Nix's mother. Even though getting it—and going there—could erase Nix's very existence.
For the first time, Nix is entering unknown waters.
She could find herself, find her family, find her own fantastical ability, her own epic love.
Or she could disappear.
The word 'gone' in the Heidi Heilig cover will also appeal to the Gone Girl audience. (About fifty percent of YA readers are adult women.)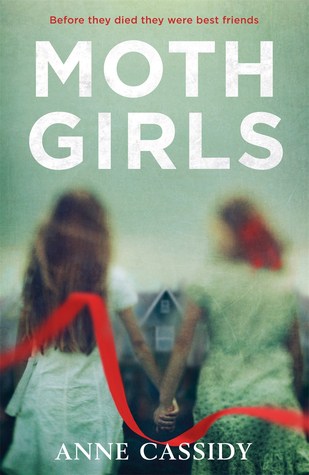 Helplessly drawn like moths to the light, two girls go missing in an evocative and gripping tale . . .
They called them the Moth Girls because they were attracted to the house. They were drawn to it. Or at least that is what is written in the newspapers that Mandy reads on the anniversary of when her two best friends went missing. Five years have passed since Petra and Tina were determined to explore the dilapidated house on Princess Street. But what started off as a dare ended with the two girls vanishing. As Mandy's memories of the disappearance of her two friends are ignited once again, disturbing details will resurface in her mind.
This book doesn't have 'girl' in the title but the cover design is very reminiscent of 'Gone Girl'. Same font, perhaps?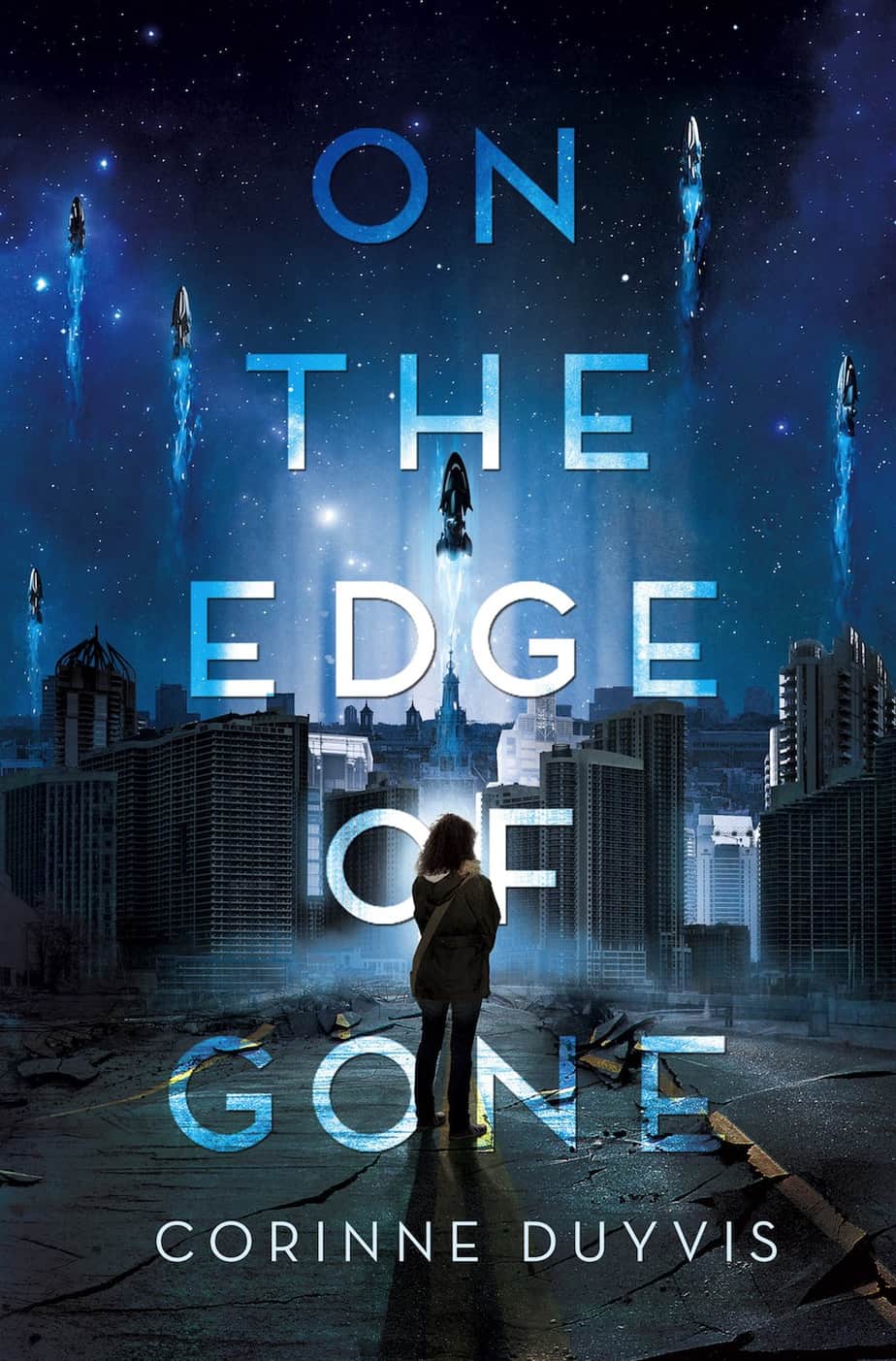 Moth Girls is a YA thriller. The book tells the story of Mandy, and her friends Petra and Tina. Petra and Tina had gone into an old local house years before and never been seen again. Mandy is only around because she refused to go in with them.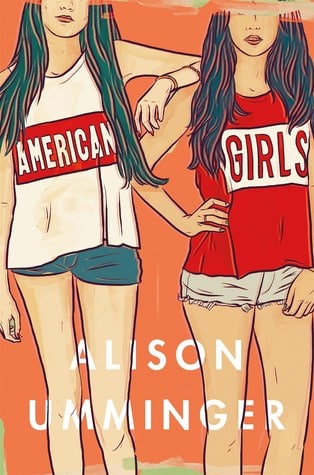 She was looking for a place to land.
Anna is a fifteen-year-old girl slouching toward adulthood, and she's had it with her life at home. So Anna "borrows" her stepmom's credit card and runs away to Los Angeles, where her half-sister takes her in. But LA isn't quite the glamorous escape Anna had imagined.
As Anna spends her days on TV and movie sets, she engrosses herself in a project researching the murderous Manson girls—and although the violence in her own life isn't the kind that leaves physical scars, she begins to notice the parallels between herself and the lost girls of LA, and of America, past and present.
In Anna's singular voice, we glimpse not only a picture of life on the B-list in LA, but also a clear-eyed reflection on being young, vulnerable, lost, and female in America—in short, on the B-list of life. Alison Umminger writes about girls, sex, violence, and which people society deems worthy of caring about, which ones it doesn't, in a way not often seen in YA fiction.
In case the American Girl series with the expensive dolls springs immediately to mind, this new publication is a YA crime thriller focusing on a 15-year-old who runs away to Los Angeles to live with her D-list actress sister. The sisters are based on the Manson sisters, who the author researched heavily.
This book is marketed across the pond as My Favourite Manson Girl. So, same book, different English speaking cultures, both with girl in the title.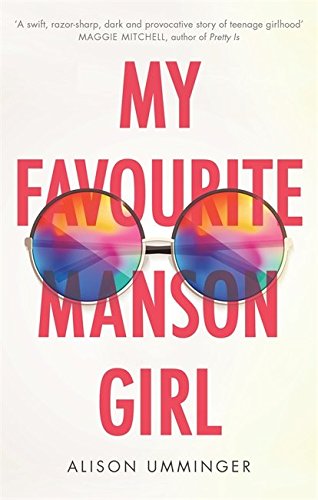 Anna has had a miserable year. Everything feels wrong with her life. And rather than stay and face the mess, she steals a credit card and books herself a seat on the first flight out of town to Los Angeles, to crash with her sister. But soon after she lands, cold reality soon dawns on her: Hollywood isn't the escape she needs. She is trapped in a town full of lost souls and wannabes, with no friends, no cash and no return ticket.
When she's offered a job researching the murderous Manson girls for a dubious film, she reluctantly accepts – she needs the money. But soon enough, among the fake smiles and glitter-fuelled parties, things turn from strange, to dark, to dangerous . . .
This is not going to be the summer Anna had in mind.
If I Was Your Girl breaks the mould. This isn't a crime/thriller but a realistic coming-of-age novel about a trans girl by a trans woman.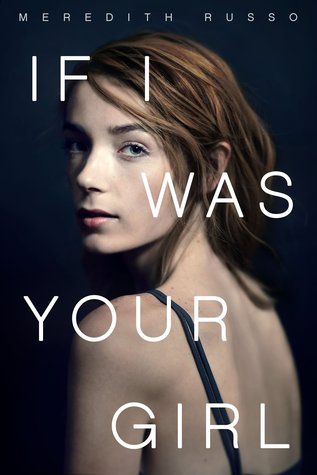 Amanda Hardy is the new girl in school. Like anyone else, all she wants is to make friends and fit in. But Amanda is keeping a secret, and she's determined not to get too close to anyone.
But when she meets sweet, easygoing Grant, Amanda can't help but start to let him into her life. As they spend more time together, she realizes just how much she is losing by guarding her heart. She finds herself yearning to share with Grant everything about herself, including her past. But Amanda's terrified that once she tells him the truth, he won't be able to see past it.
Because the secret that Amanda's been keeping? It's that at her old school, she used to be Andrew. Will the truth cost Amanda her new life, and her new love?
Meredith Russo's If I Was Your Girl is a universal story about feeling different and a love story that everyone will root for.
This Goodreads question gave me a chuckle:

What will 2017 look like for YA?
I predict more books about transgender characters because there is a need there, and those books are highly likely to indicate gender in the title or title graphic somehow.
Mandel is hoping adult titles will evolve to include woman in place of girl, and offers an example of that starting to happen. But we'll have to wait and see, I guess.