In her book Second Sight, editor Cheryl Klein says this:
We base our first impressions of people off what we see and what they say — so your descriptions of your character's appearance can be important to establishing him in the reader's mind. I say "can" because too much emphasis on appearance can cut both ways. There's a terrible cliche in fiction where the main character will stop and look in a mirror and catalogue his or her features somewhere in the first chapter in order to establish the person visually in the reader's mind. But that never really works for me — partly because it's such a cliche that it annoys me and marks the writer as less interesting than s/he could be, and partly because that description defines the character in the reader's mind as someone who likely looks different than the reader, which perhaps weakens the reader's identification with the character. (None of Sarah Dessen's book covers feature the faces of her protagonists, at her request, because she wants readers to be able to imagine themselves into the lives of her characters.)

Cheryl Klein, Second Sight
(The updated edition of Second Sight has a new title.)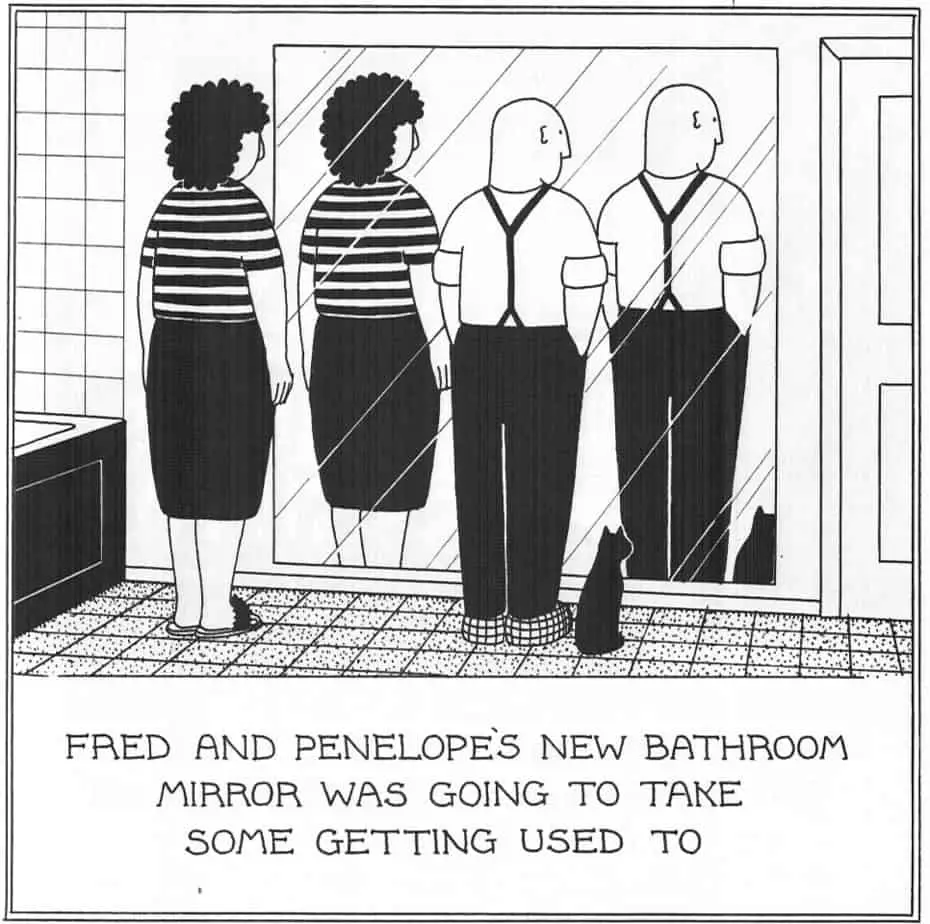 It might be cliche to introduce a character by having them look into a mirror, but this doesn't stop Dawn French, proving that writers who want to get published can actually break the so-called rules of writing. (I'm sure it helps if you happen to be a celebrity, but heigh-ho.)
The 1980s American TV show Quantum Leap featured a 'character looks into a mirror' scene in every show. This was the reveal, where the main character Sam Beckett realised whose body he was now inhabiting. The Analyzing Quantum Leap blog points out that these 'mirror images' were sometimes messed up in the early episodes, before the camera crew realised how mirror images work.
DAWN FRENCH
Basically, storytellers can do anything so long as there is good reason, and there is indeed good reason for introducing two characters by way of a mirror in According To Yes (2015):
The two main characters are polar opposites
French chooses to use the ritual of putting on makeup to emphasise the difference between the two women, and putting on makeup by its nature requires a mirror.
One of the characters is not actually the type to gaze at herself into a vanity mirror, so French has her observe herself in the unavoidable reflection of an elevator mirror. This mixes things up a bit.
In a new round mirror is a reflection of an old oval face. Everything is in its place here, especially on this fading face, because subtle expensive surgery has helped it be so. Glenn Wilder-Bingham has applied her make up this same way for sixty years. She could probably do it without the mirror, she could certainly do it without the actual make up, because the brushes, the pads, the puffs and the pencils have enough residue on them for a week's worth of daily applications. It is nearly done, except for the very last part of the process, which is the concealer. She clicks the end of the expensive concealer pen and draws bold lines of creamy light-diffusing liquid under her eyes, around the base of her nose, over her frown wrinkles, and along the sagging lines of her jaw. The stripes are bold and her reflection shows her a reverse negative of her face. It's light where it was dark, it's seemingly tight where it was loose. She blends the concealer with her finger and after adroitly powdering it all down, only a trained eye would notice her renovations. Not bad for an Upper East Side dame.

Dawn French describing Glenn Wilder-Bingham
Even the grammatical constructions in this book contain mirror images — 'new' and 'old', 'light' and 'dark', 'tight' and 'loose' contrasting with each other in the same sentence.
Notice how adeptly French tells us that Glenn really plasters the make up on — without telling us directly. A woman who uses a lot of make up is thought to be deceptive, not in touch with who she really is, lying that she is beautiful when she is actually not underneath. Fairytales make use of this particular anti-feminist trope about women, and so do modern storytellers, all the time.
In real life, women who wear make up are seen as more trustworthy than those who don't.
Unless the make up is 'obvious'.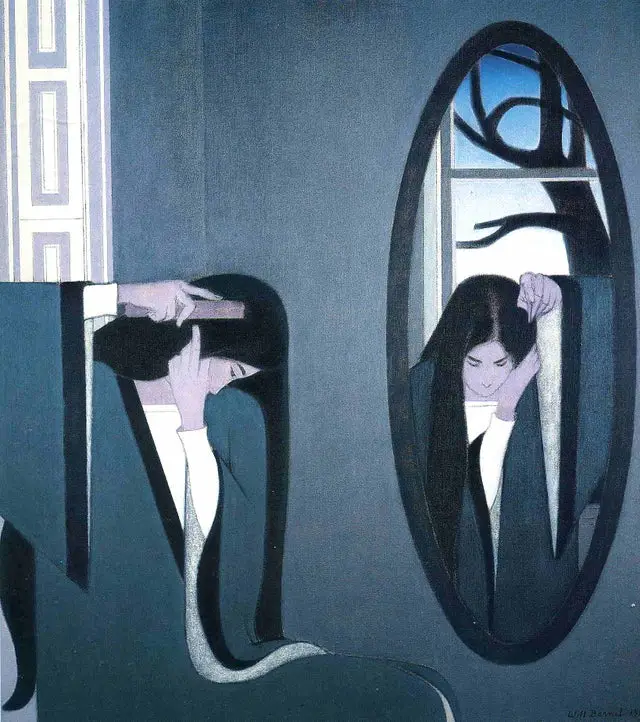 Someone else looking at her reflection, in the panelled mirror of the elevator, is Rosie Kitto, but she sees something entirely different. She sees a drowned poodle of a woman. This wasn't the look she had planned for an important interview. Until five minutes ago, she was dry and fairly presentable. She doesn't ordinarily wear make up much, but she has put a little bit on today and she has wrestled with a round brush and blow-dried her naughty hair so that it looks nearly tidy. This is the Upper East Side. People here care about this stuff, so she wants to appeal, to be what her Cornish mum always called "andsom". Typically, Rosie wears bright and bold clashing colours with great panache. She always has, and now that she's thirty-eight she has found a vintagey way to wear them. She often wears a bright scarf in a big askew bow on her head and vibrant flowery blouses, with rolled up jeans that might reveal orange socks in her winkle-picker shoes, like a cheerful 40's landgirl. She finds this style suits her curvey figure and makes her happy, because it gives her the chance to rootle about in vintage clothes shops, oh joy, her favourite pastime. The pleasure a hidden-at-the-back-of-the-rail treasure can bring, and the thrill of the bargaining to boot. But Rosie is not a fool. She knows instinctively she will have to introduce any new employer to this eccentricity in stages, slowly. So for today, she has really tried to tone it down, smart navy pleated-front slacks, a yellow blouse and a light blue linen jacket. The red brogues are a bit of a risk, but she wants to be at least a tad honest about who she is, to anchor herself as someone in her own authenticity.

Dawn French, According To Yes, describing Rosie Kitto
French is using another technique which must be a cousin to paralepsis — she is describing what Rosie is not wearing, what she normally does not wear, how she does not want to come across. By emphasising the negative space Rosie is positioned in the reader's mind as Glenn's mirror image.
By not normally wearing make up, Rosie is a WYSIWYG kind of gal, no artifice, immensely likeable. French also makes use of the trope that fat people are jolly. The bright colours of clothing and her enjoyment of second-hand shopping bolster the reader's view of this character.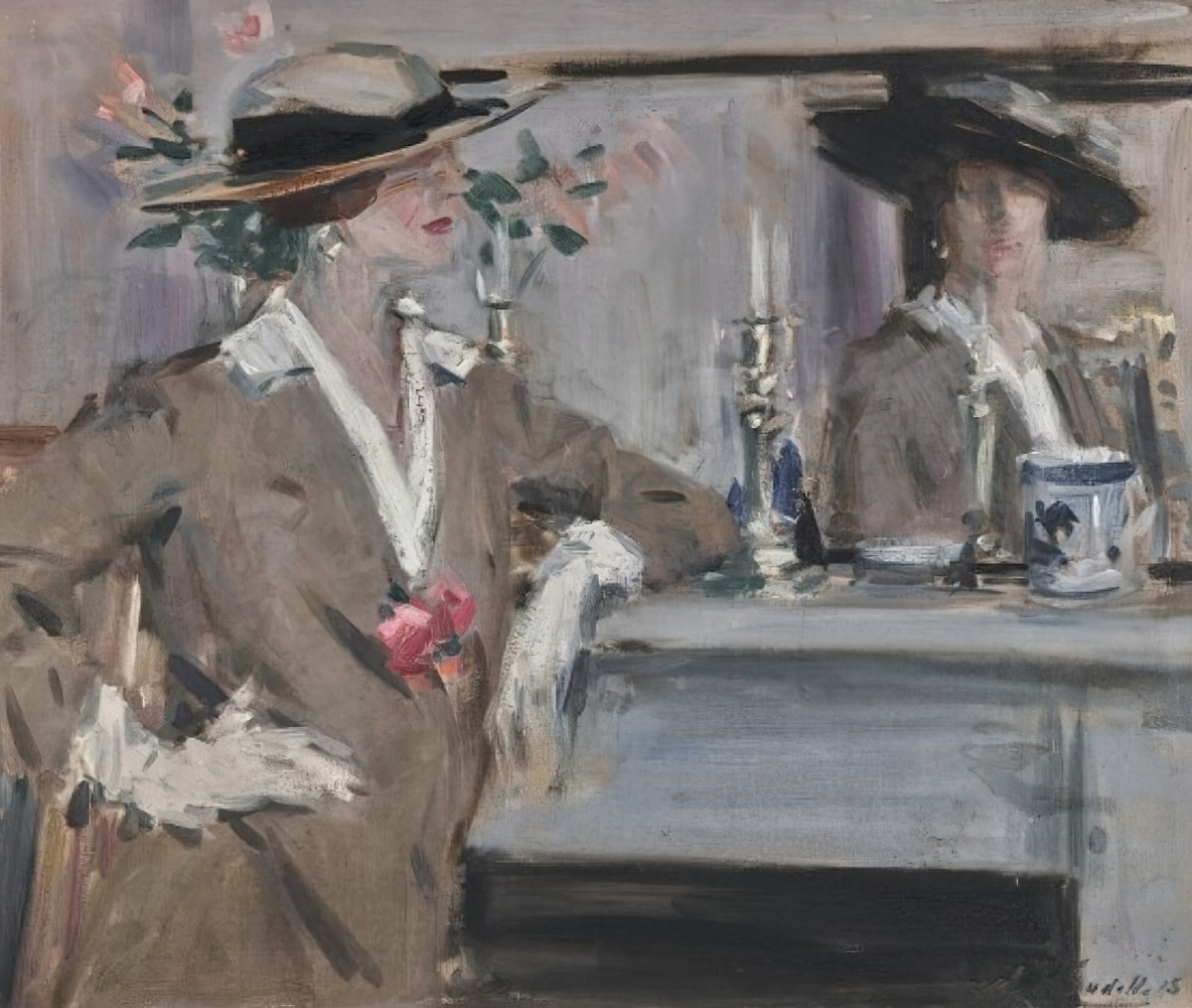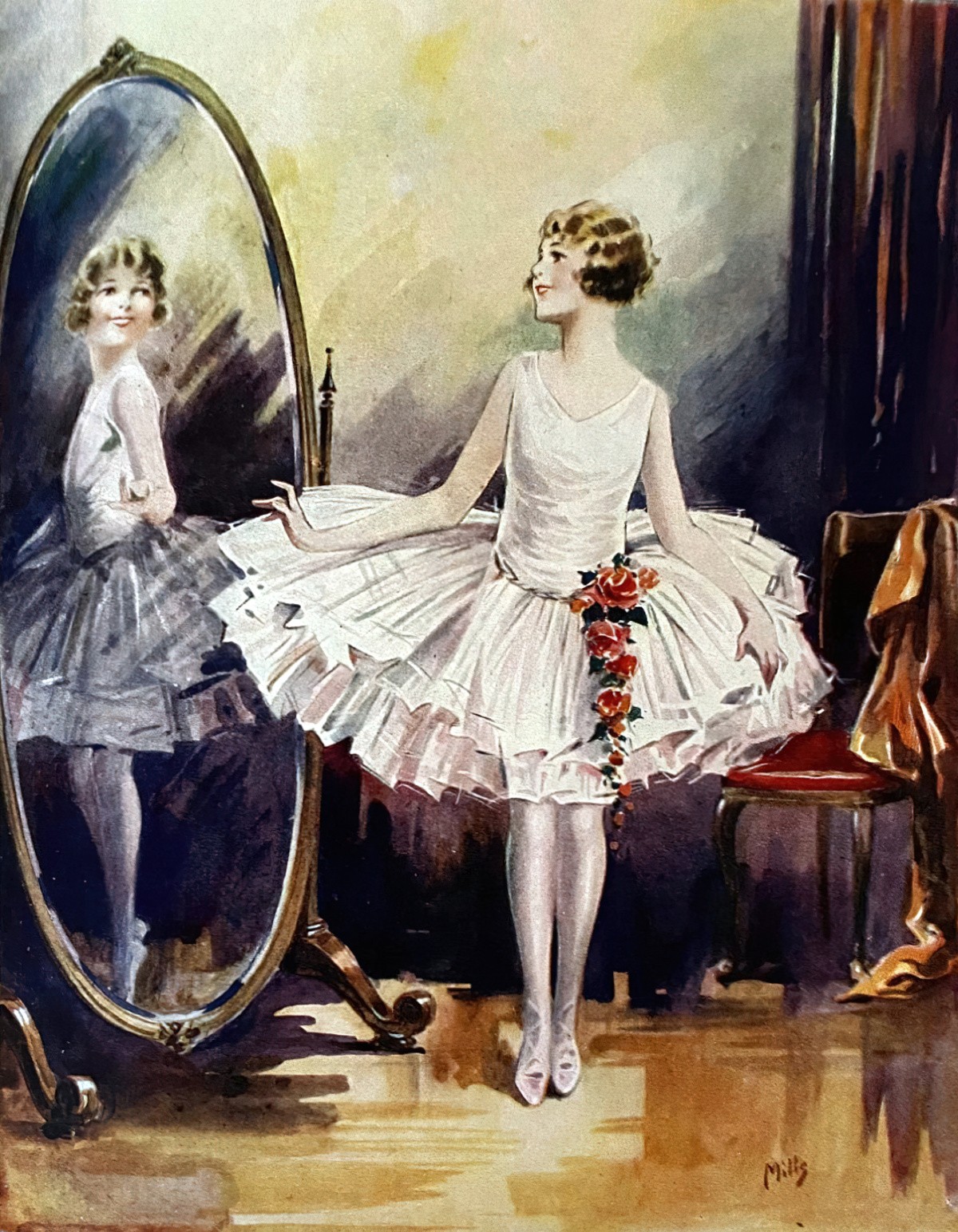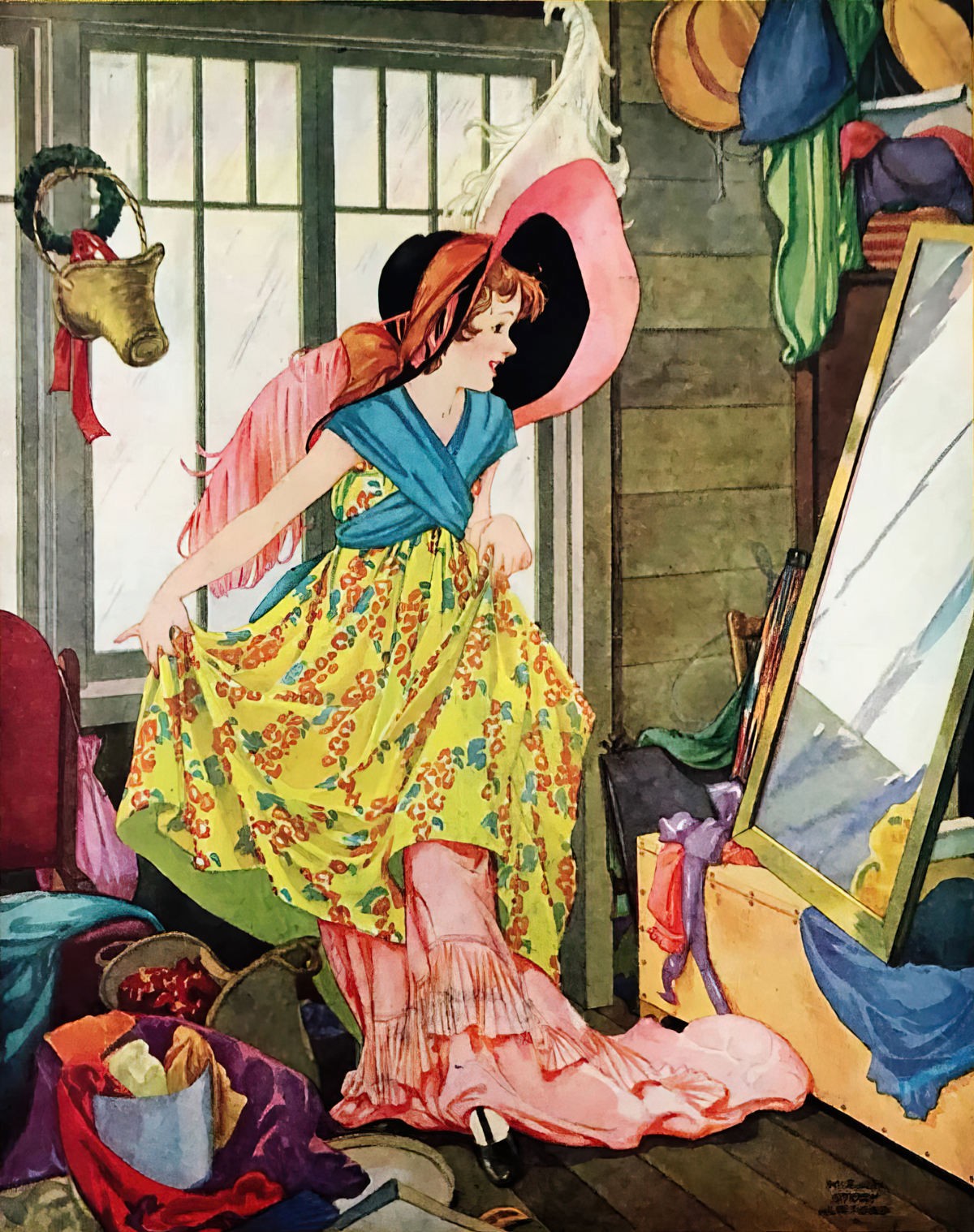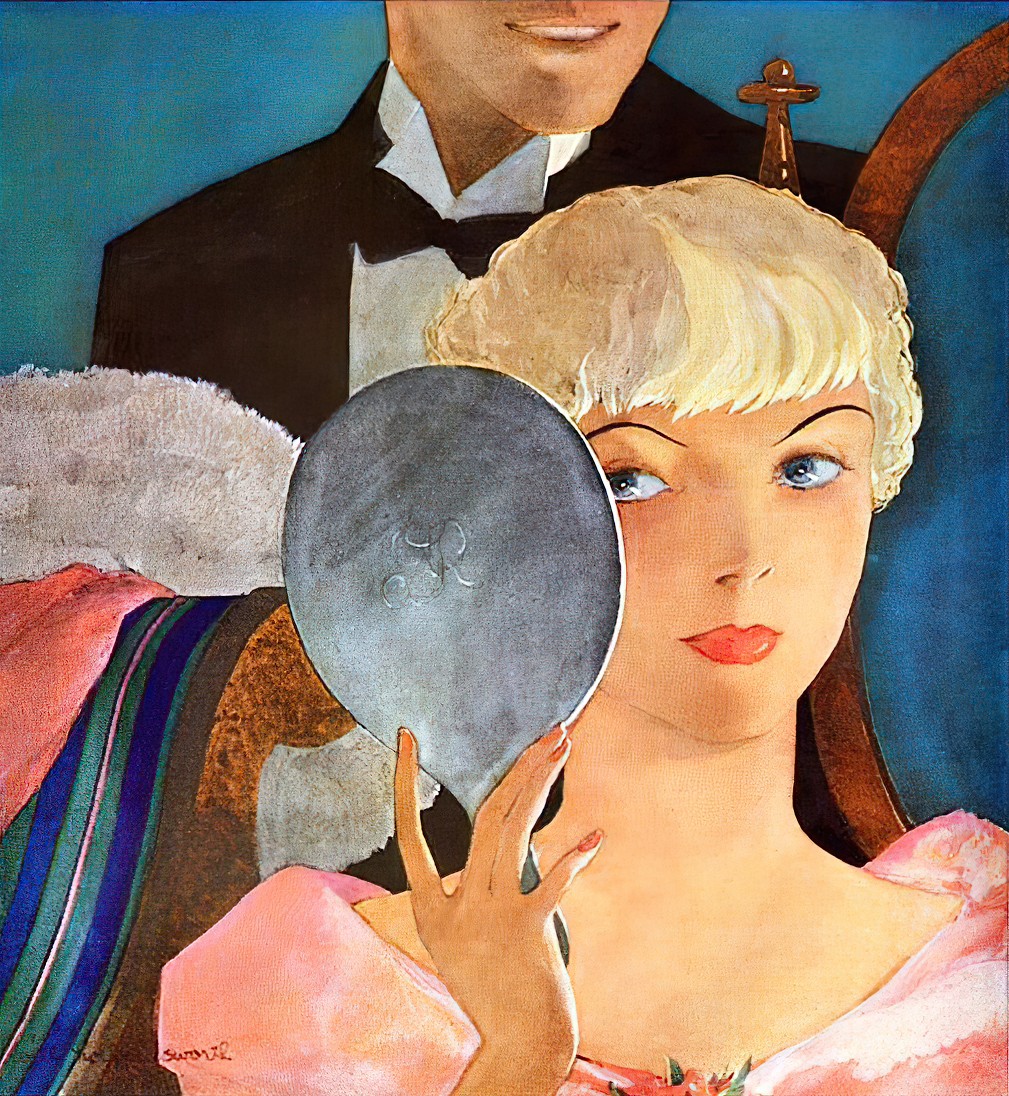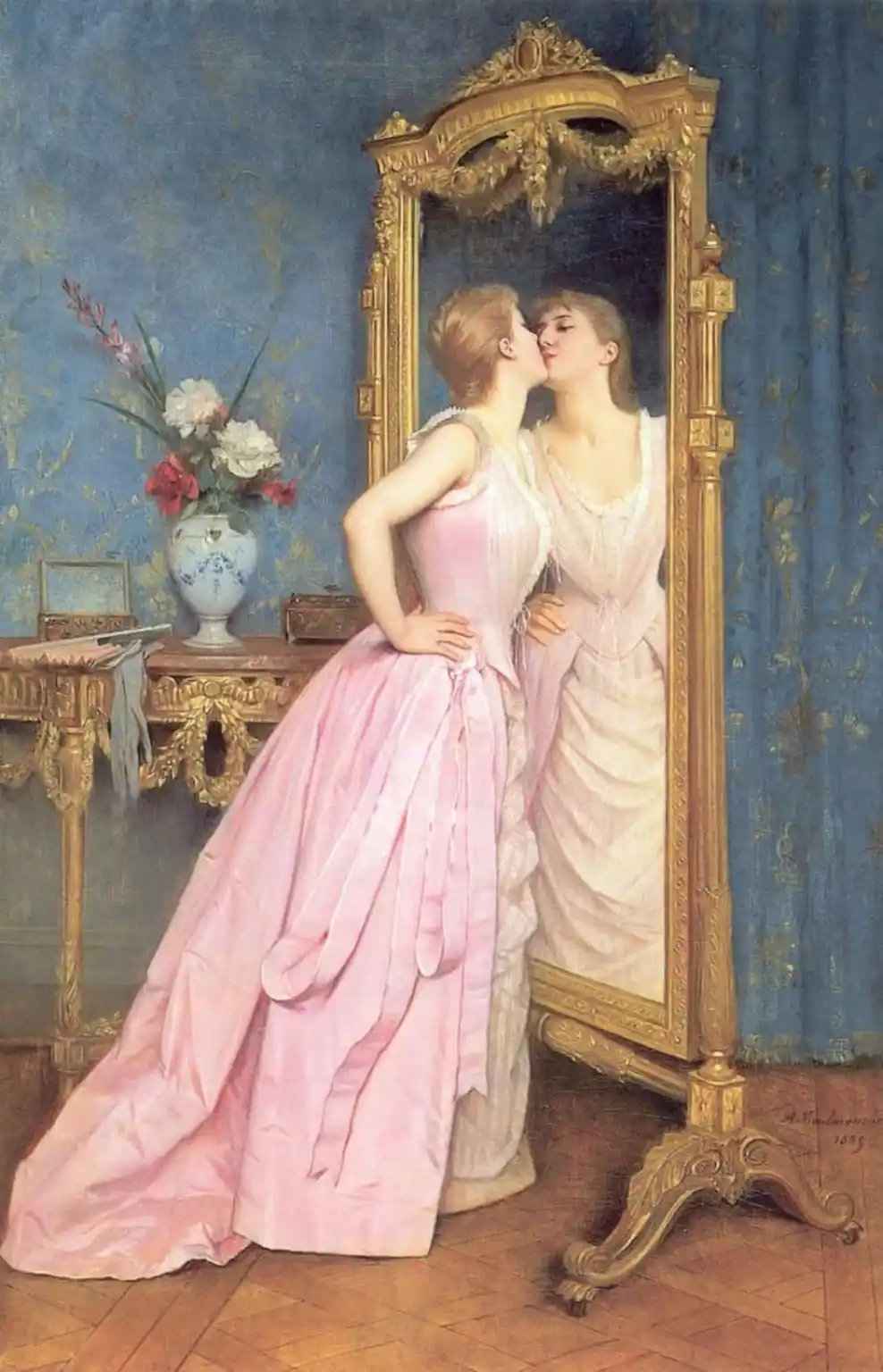 WILLIAM TREVOR
Undressing, she caught glimpses of herself in the mirror over the unused fireplace. Her wide blue eyes glanced back at her out of features that had lost nothing of the innocence which had always been reflected in them. Hollows beneath the eyes were what she dreaded, dark as graves they could be; thankfully, she didn't have them. She turned her body so that it was in profile, one side and then the other. She was all right, she said to herself, she knew she was. All right to look at if nothing else.

"Taking Mr Ravenswood" by William Trevor describing a character called Rosanne
SALLY ROONEY
She sits at her dressing table looking at her face in the mirror. Her face lacks definition around the cheeks and jaw. It's a face like a piece of technology, and her two eyes are cursors blinking. Or it's reminiscent of the moon reflected in something, wobbly and oblique. It expresses everything all at once, which is the same as expressing nothing. To wear make-up for this occasion would be, she concludes, embarrassing. Without breaking eye contact with herself, she dips her finger in an open pot of clear lip balm and applies it.

Normal People, Sally Rooney
Header illustration: John Dickson Batten illustration of the Wicked Queen and the Magic Mirror