Is there anything more satisfying than a fictional literary map? Apparently not, for some people. Cf. A defence of maps at the start of books.
This is a light-hearted conversation that took place at Radio New Zealand after the afternoon magazine-show host said he didn't like maps at the start of books. Jesse Mulligan's argument against them reminds me very much of the widespread distaste for prologues. Yet here we are — the world is full of books with maps and also full of books with prologues.
The discussion between Jesse and Rob Kelly kicked off after a throwaway comment but the conversation that took place was pretty interesting: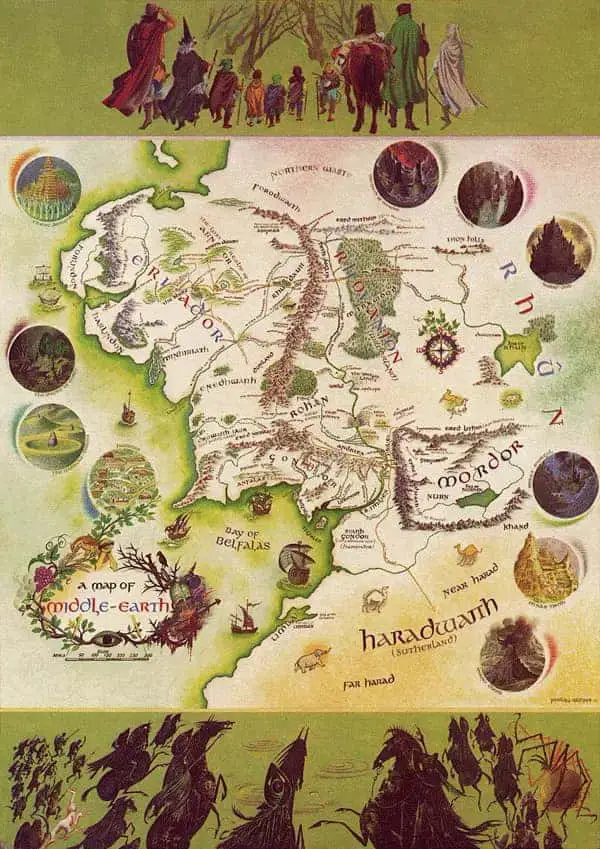 The Lord of the Rings maps are well-known. They're found at the start of the books as well as at the start of the films. Tolkien's maps were hugely influential for high fantasy books that came after. The conventions used by Tolkien became established by Tolkien, and now we take certain conventions for granted:
Obviously hand-drawn
The tiny triangles for mountains (not very common before that)
Rivers are lyrical (thick and thin versions of squiggly lines)
Maps tell a story in their own right. The Lord of the Rings (as well as The Hobbit) are road trips, so the map functions partly to show establish in readers' minds a spatial vision of the physical geography. Kelly finds the Tolkien maps a bit boring, and because they're an early version of a new genre, they don't hold a candle to newer fantasy maps which were inspired by them.
There's an argument (from word-loving purists) that if books need maps, the words aren't doing a good enough job. (This reminds me of the heated argument against emoticons that was raging around 2010.)
The Wheel of Time is a series of high fantasy novels written by American author James Oliver Rigney Jr., under his pen name of Robert Jordan. The Wheel of Time books are well-known for the massive maps. There are also smaller maps at the start of each chapter (of the city etc.). Jordan is writing about many cities over many years. Kelly recalls reading these books the first time and wondering why the book designers have gone to the trouble of drawing maps yet failed to mark on them the places the characters are travelling through/to on their journeys. He concludes that Jordan was creating 'a vague indicator and then allowing [readers] to fill in the rest of it'. Kelly thinks these books work fine without the maps, but this was the style of the time.
The Earthsea books by Ursula Le Guin are set across a number of archipelagos. This is also another example of a really vague map. The map centres on one of the islands, which establishes that particular island as 'the main character'.
THE PHANTOM TOLLBOOTH
The Phantom Tollbooth by Norton Juster is a classic children's book (pitched at young adult), first published 1961. It's similar in concept to the Narnia books. Around this time many books were being published with maps, and Juster's map is a spoof of literary maps:
Mountains of ignorance
Sea of Knowledge
The Doldrums (where the car runs out of wind and can't travel any further)
A tiny annotation on the left "More sea" (He hasn't bothered naming it, taking the mick out of Tolkien style maps, saying 'none of this matters')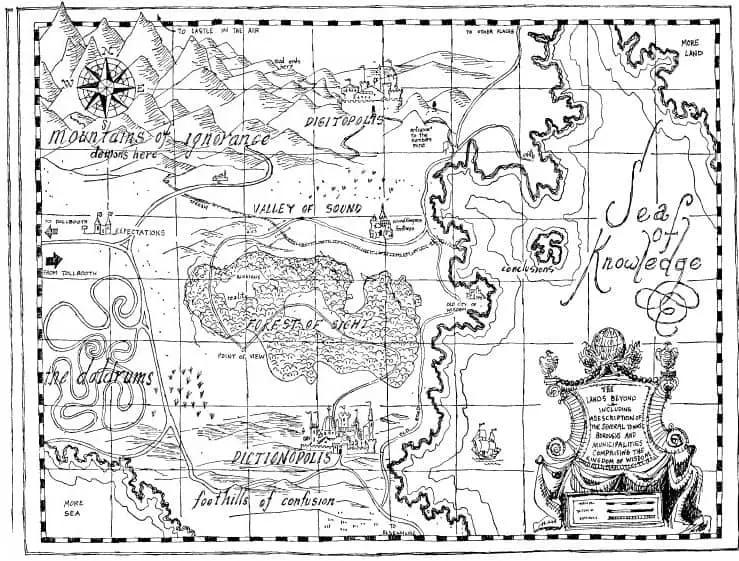 THE COMPLETE CHRONICLES OF NARNIA BY C.S. LEWIS
Map by Pauline Baynes, 1972. Pauline Baynes was born in 1922 and died in 2008. She was a British child who grew up in India. Read more about the life of this illustrator here.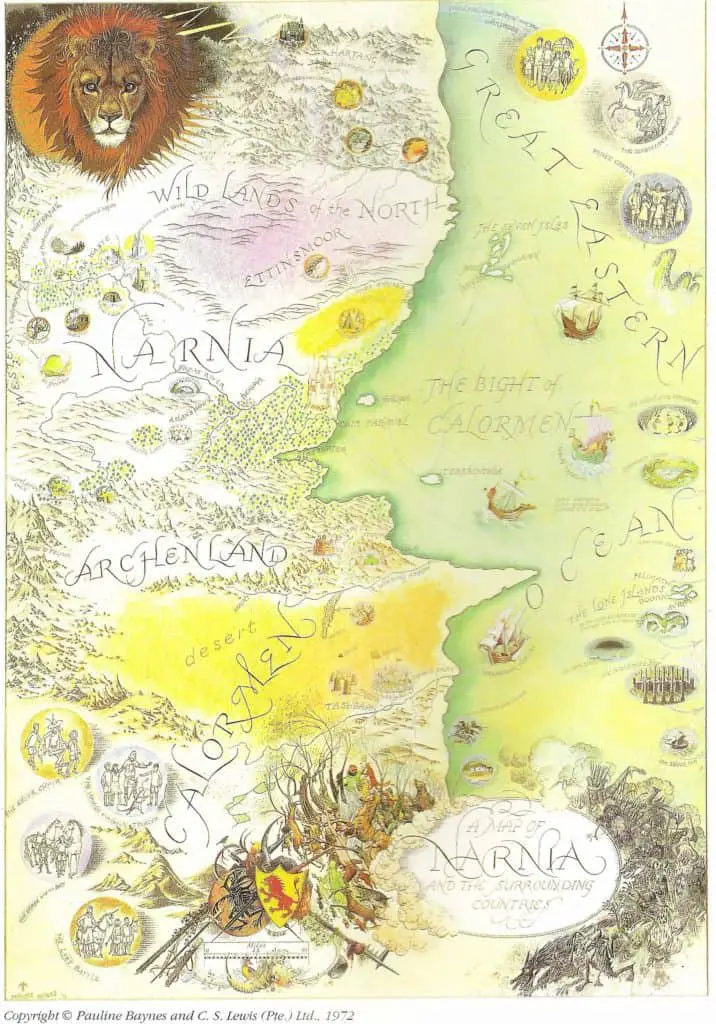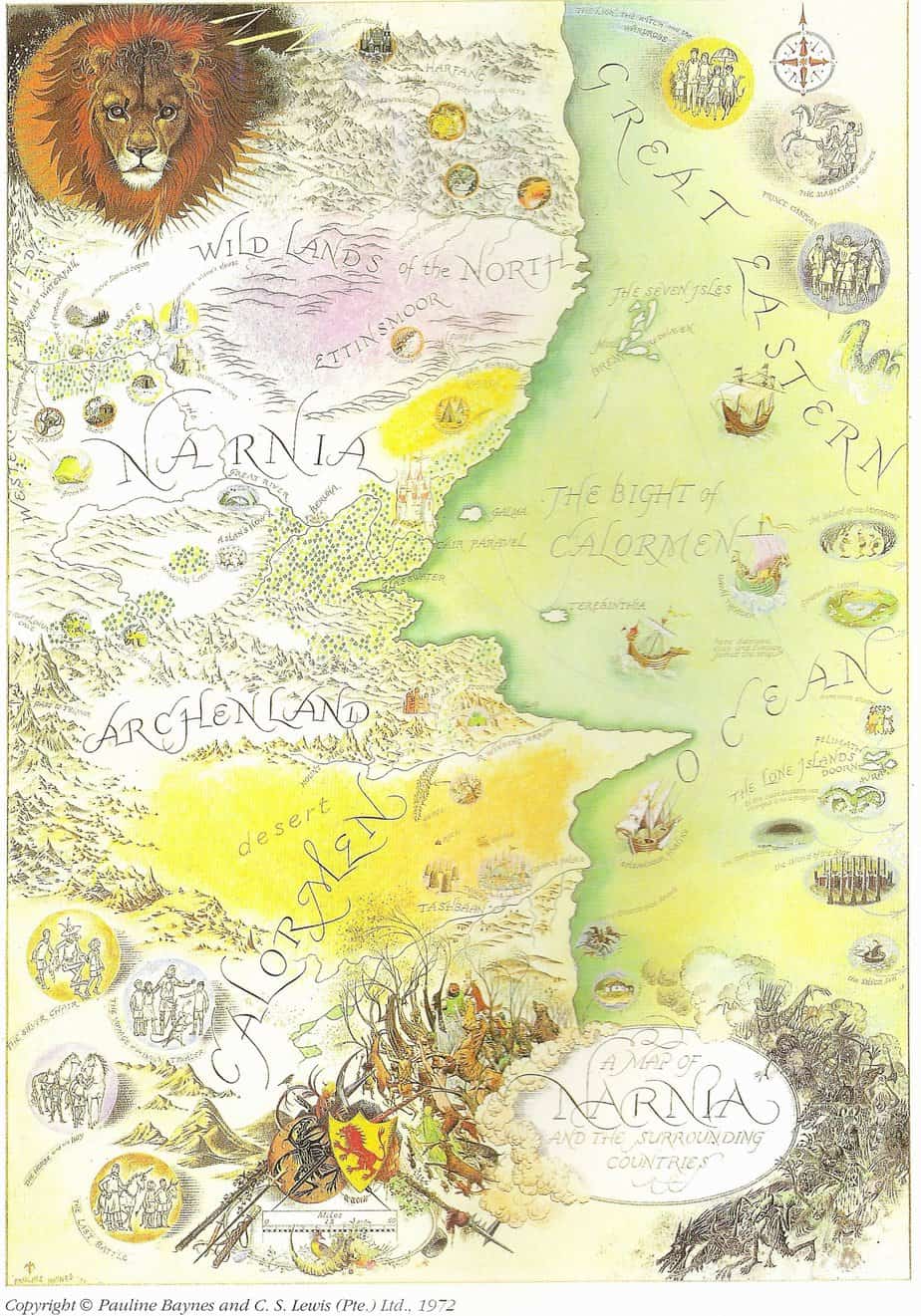 HARRY POTTER
The official Harry Potter arena map was done by illustrator Tomislav Tomić, though superfans of Harry Potter do point out some problems with it in terms of scale. Tomić is Croatian.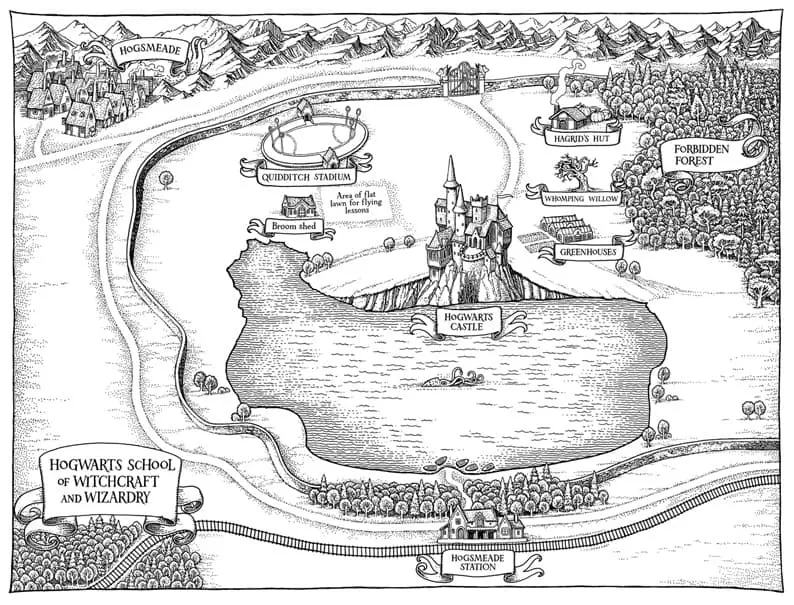 Another illustrator represented by the same agency is Johnny Duddle, who has illustrated the maps for Terry Pratchett. Here is the map from Nation: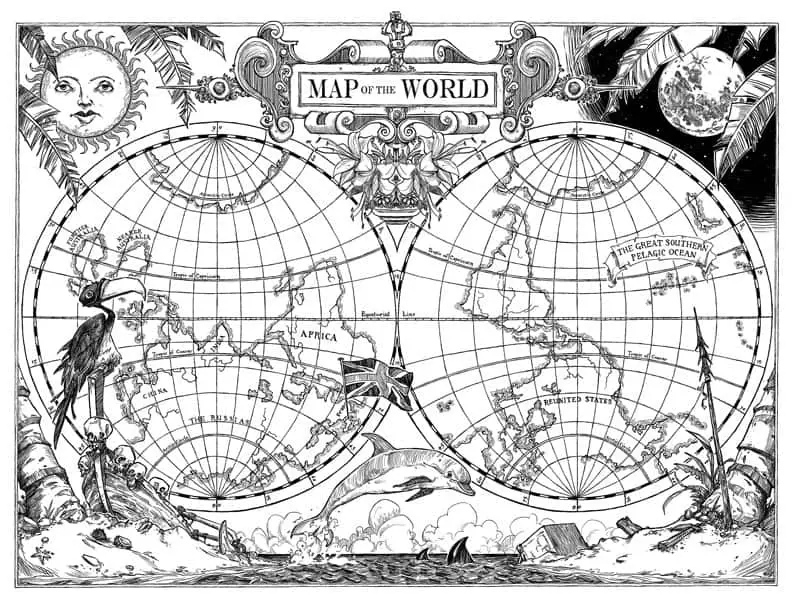 WOLVES OF THE BEYOND BY KATHRYN LASKY (2010)
This map and also the book design were done by Lillie Howard. Book designers don't always have an Internet presence and Howard seems to be a case in point, though I can see she has also designed other books by Kathryn Lasky, for example Hannah and other books for Scholastic, Distant Waves: A Novel of the Titanic by Suzanne Weyn.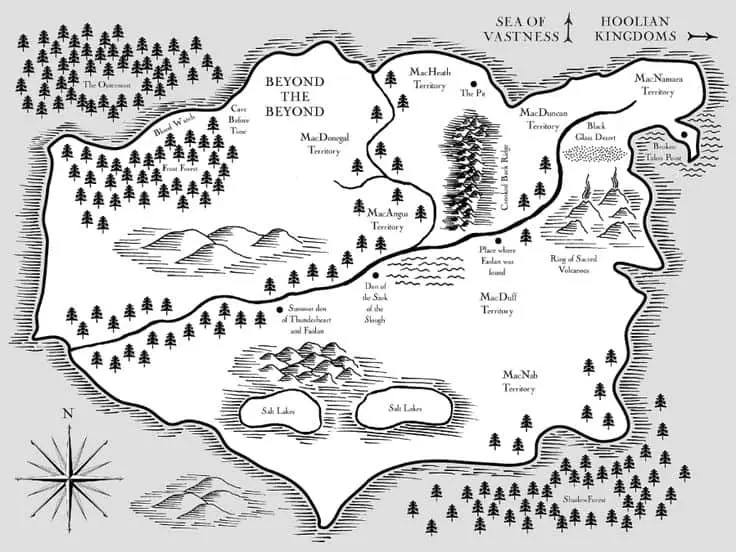 MILLY MOLLY MANDY BY JOYCE LANCASTER BRINKLEY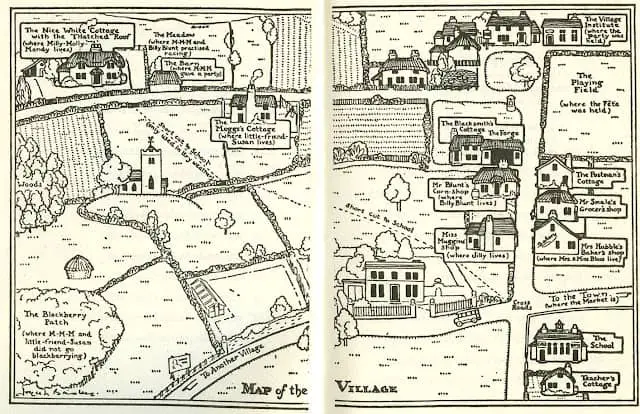 Some maps just cry out to be coloured in, don't they? If you google this one you'll see numerous examples of Milly Molly Mandy maps which have been coloured in by the books' loving owners — some expertly, some scribbled all over — the work of a much younger fan.
I'm not sure who scribbled in my mother's original edition. It could have been me for all I know…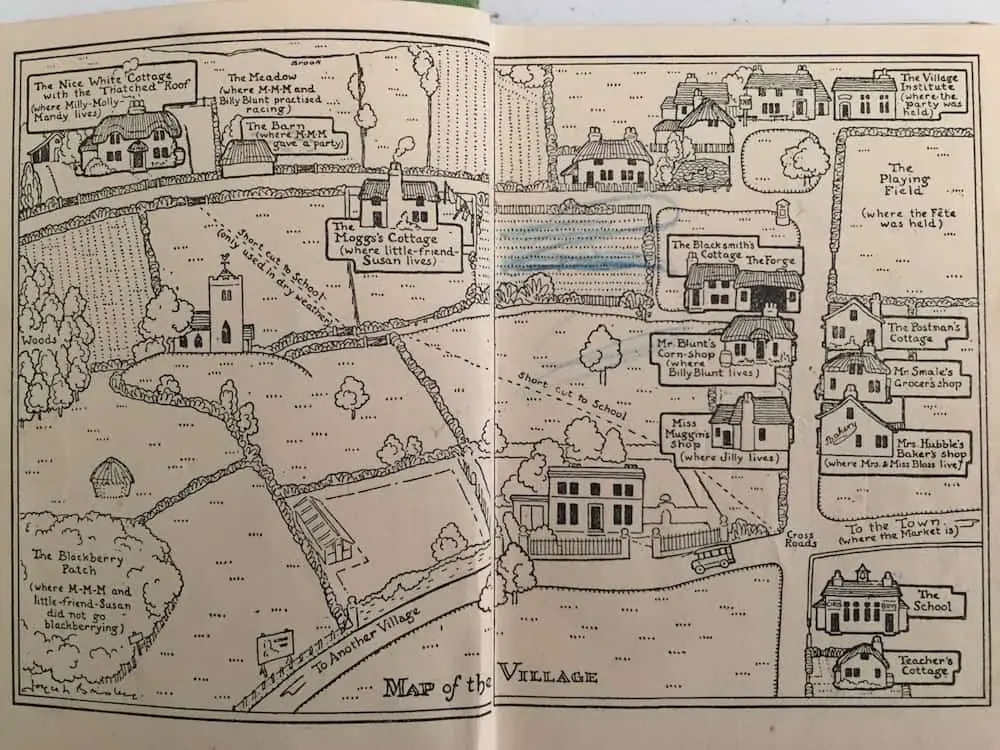 UNDER THE MOUNTAIN BY MAURICE GEE (1979)
The problem with some of my paperback maps is that no one at the publishing company considered the gutter. We therefore have some of the map sinking into the binding, where it will never be read… This is very sad.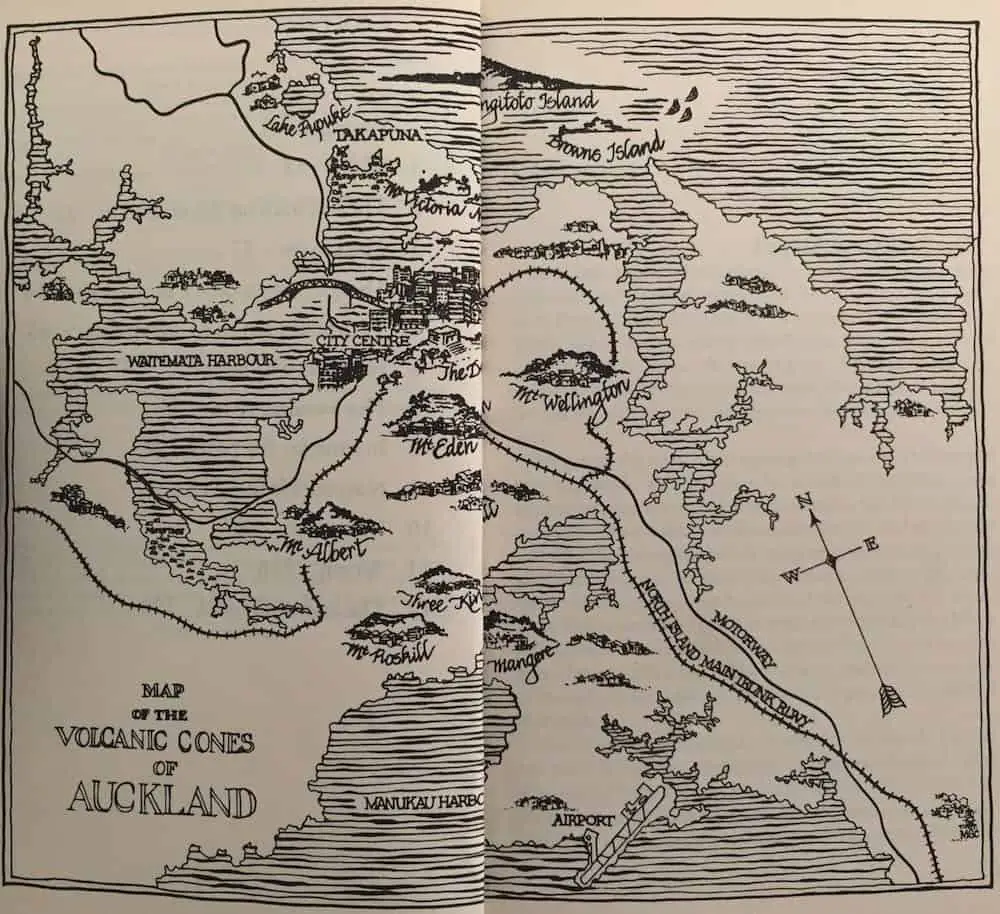 LILY QUENCH AND THE DRAGON OF ASHBY BY  NATALIE JANE PRIOR (1999)
The illustrations are done by Janine Dawson. Here we have not only a geographical map but a family tree, illustrated in original fashion with a dragon sleeping curled around a big tree.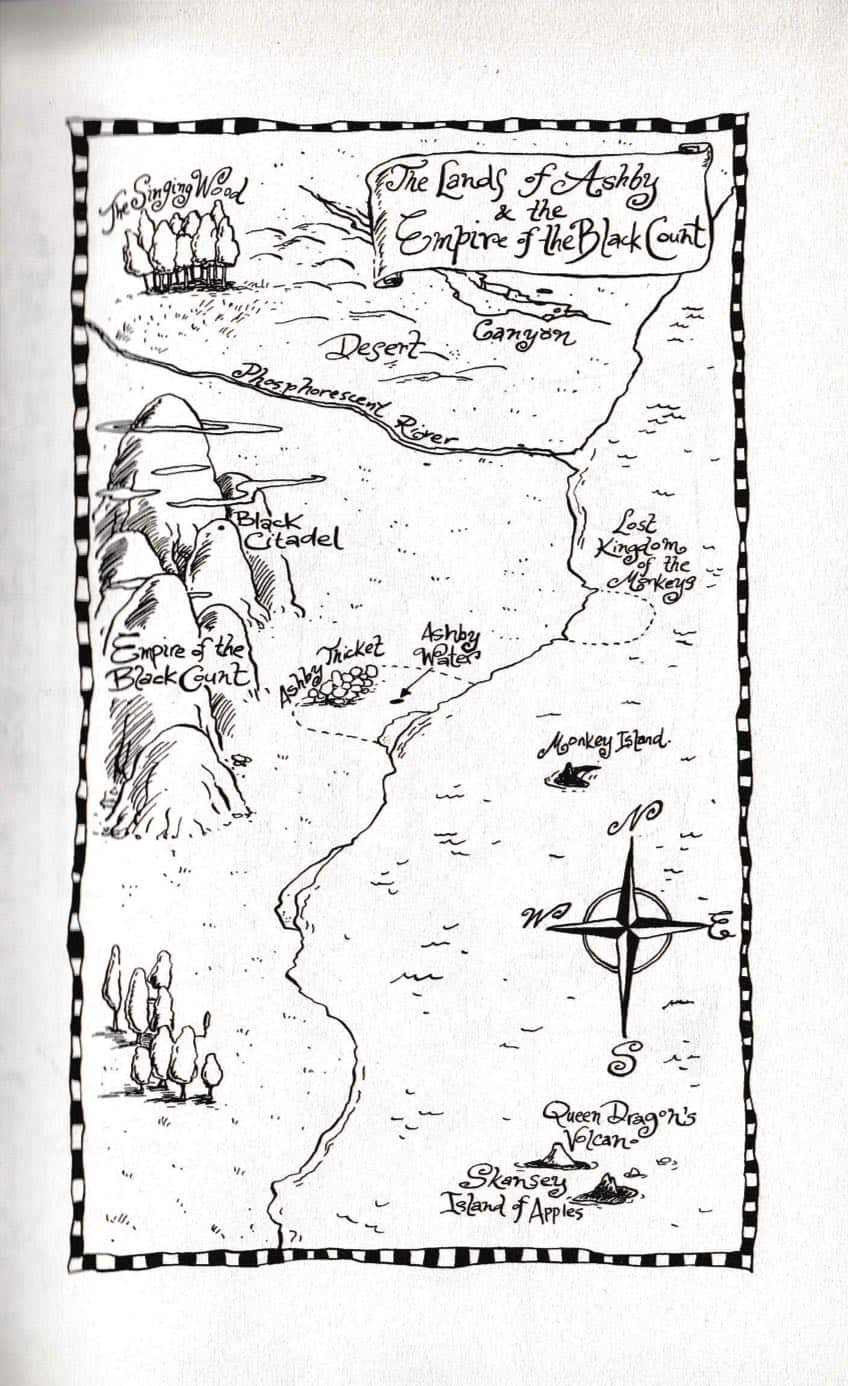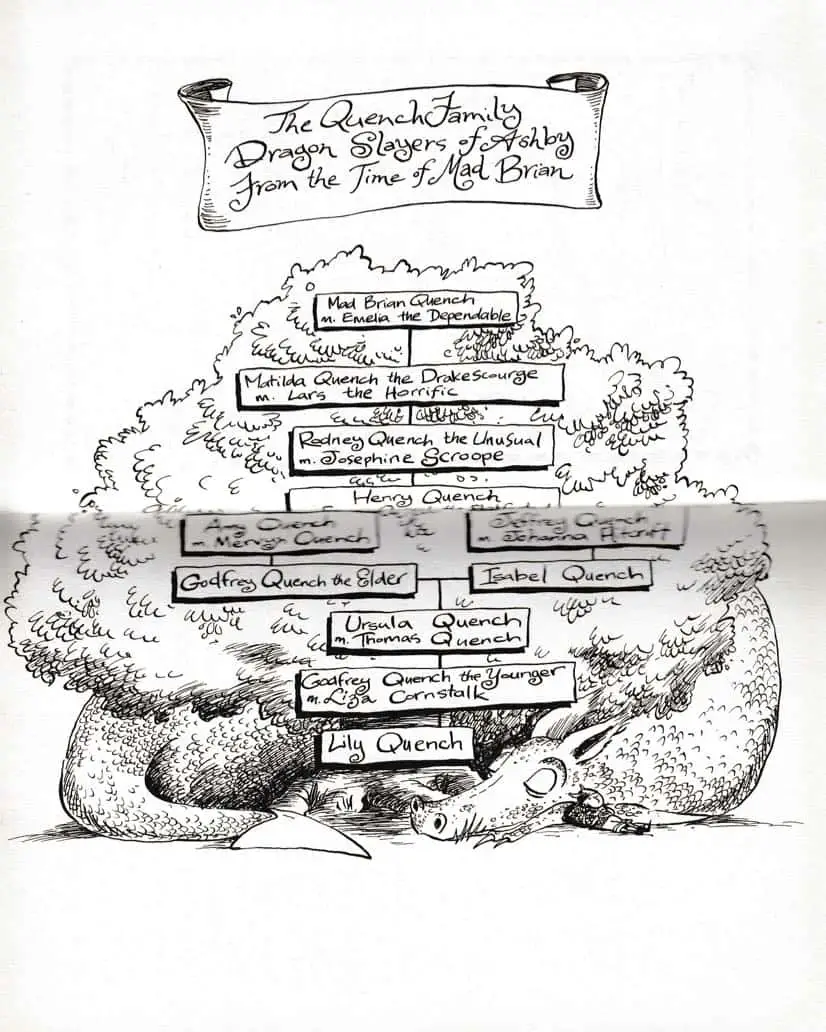 THE SNOW PONY BY ALISON LESTER (2001)
I think from the colophon this map was designed by Ruth Gruener.
This is an Australian book, but despite being young countries, Australian and New Zealand books (usually fantasies) often make use of this olde worlde style of map, reminiscent of the Lord of the Rings. This one has no white space, suggesting a busy landscape. The font seems to be genuinely hand-drawn, which makes it feel a little more modern.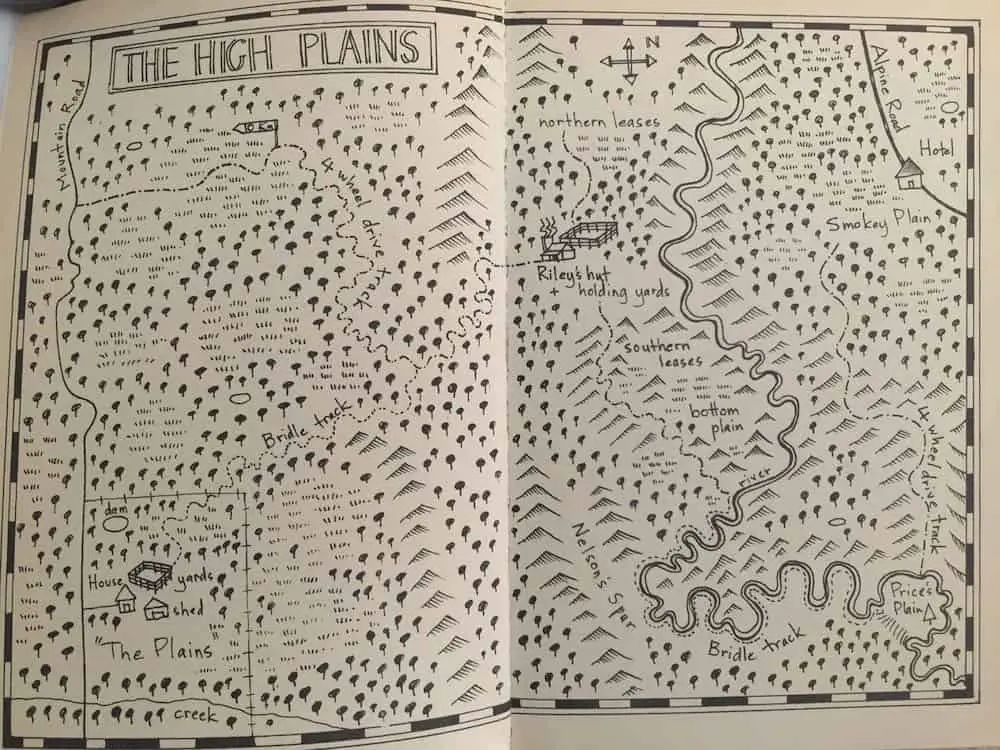 TANGLEWOOD BY MARGARET WILD AND VIVIENNE GOODMAN
In this picturebook we have a sort of map.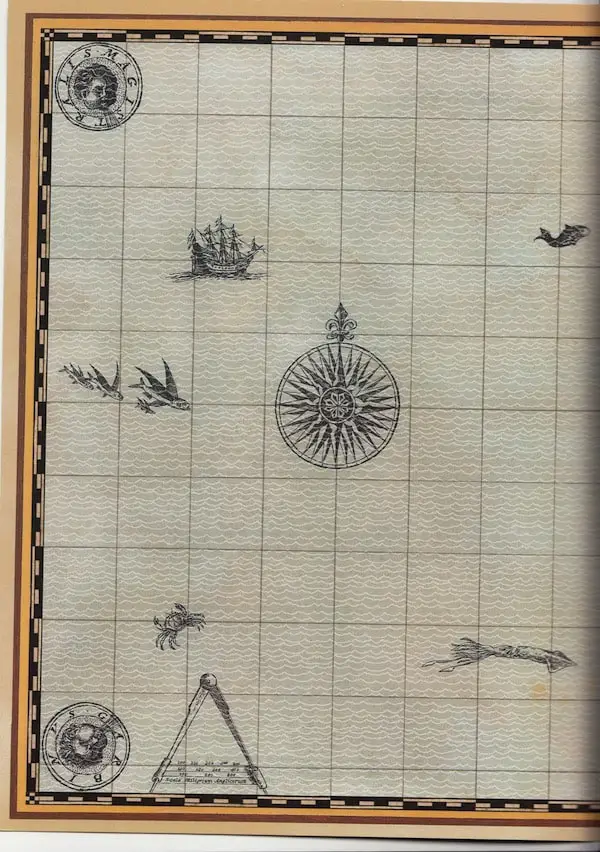 THE SNOW DRAGON BY VIVIAN FRENCH AND CHRIS FISHER
Here's another picturebook map, this time in full colour. The story is a modern story but written as if an ancient myth.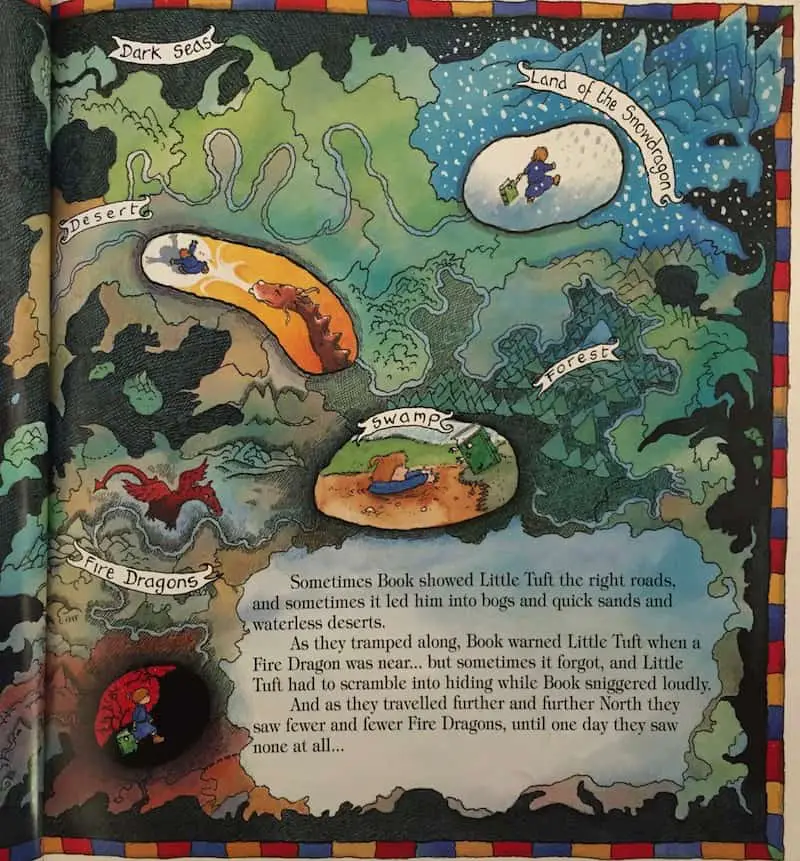 WICKED BY GREGORY MAGUIRE
See also: The Symbolism Of Cardinal Direction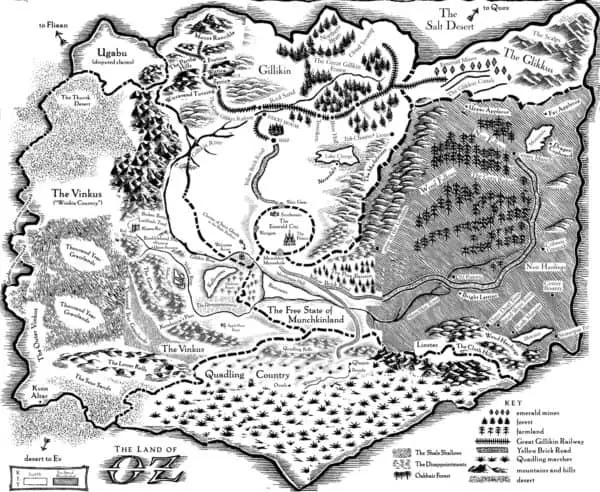 A CONCH SHELL FOR MOLLY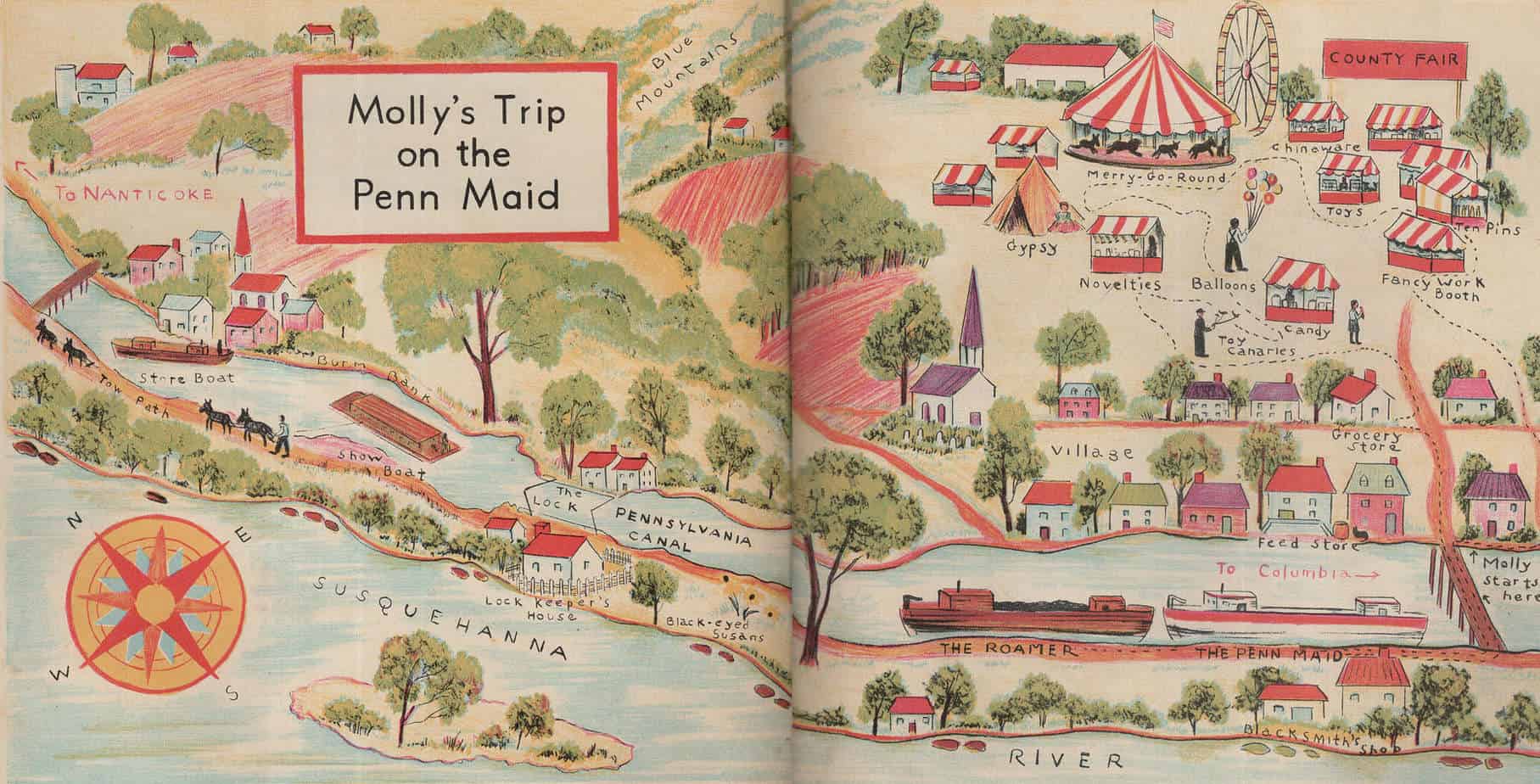 The Children's Book of Trees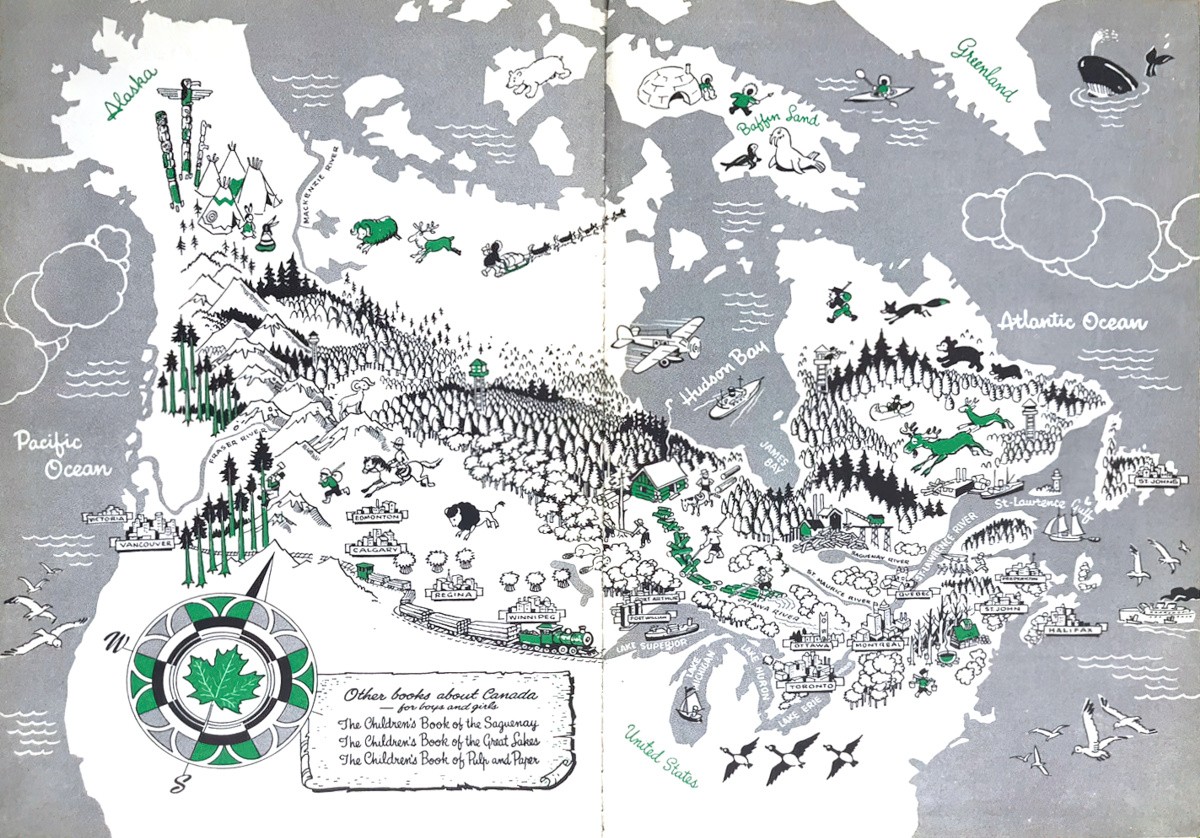 RELATED
Sometimes these maps are designed by the illustrators. Other maps are done by unsung heroes called book designers, whose names are left off the front cover and publicity material. Making a map of a fantastic world is also a favourite thing to do in fan fic circles, and some fan fiction maps are truly amazing. Some maps are even done by the authors, even if the authors aren't otherwise illustrators. Sometimes the sketch of an author's map goes public after a book takes off, as in the case of J.K. Rowling's map of Hogwarts.
For any problems it may or may not have, here's J.K. Rowling's rough sketch which she must have used to orientate herself while writing.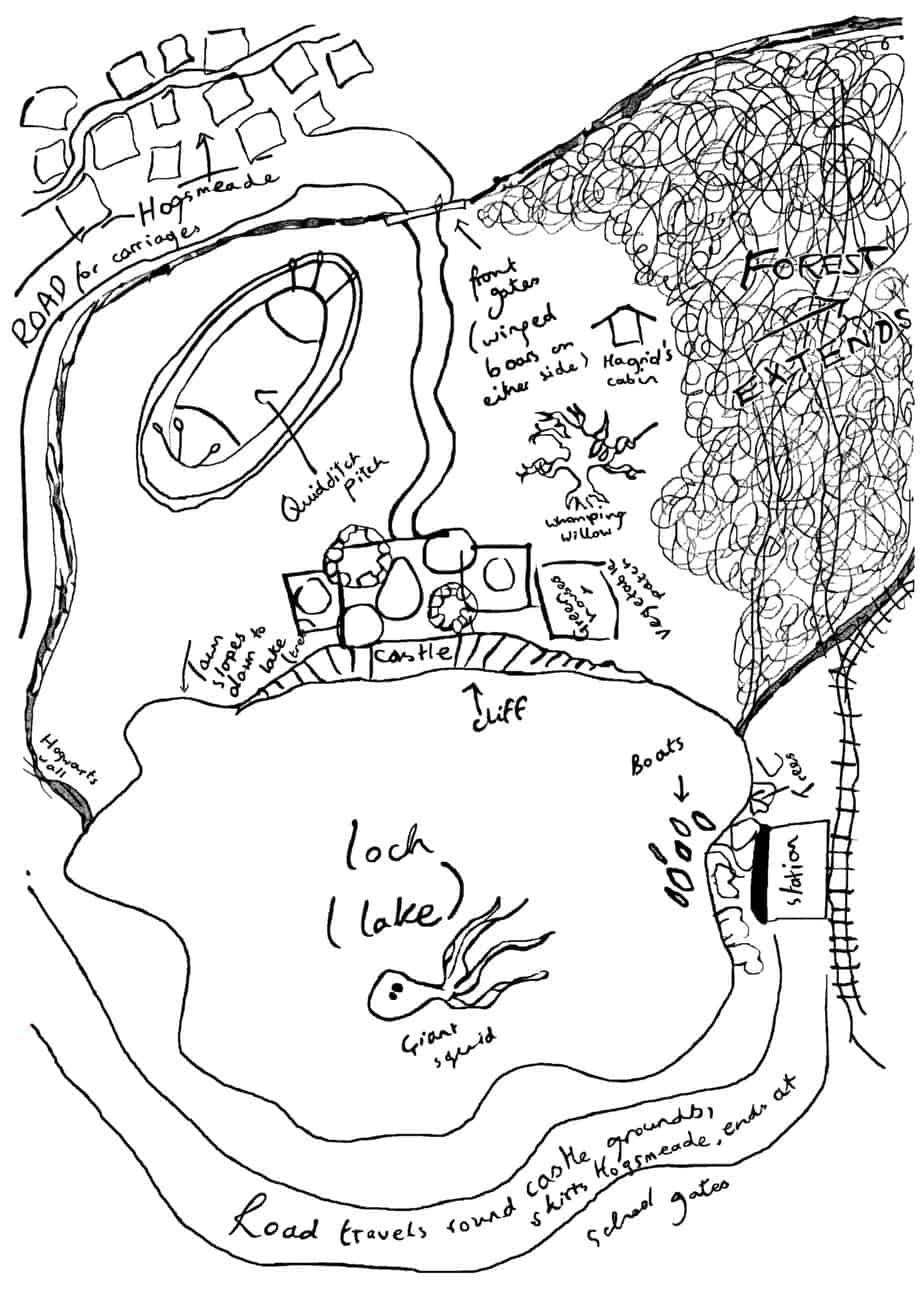 Some of them are from an oblique bird's eye angle, others are decorated emulations of ye olde worlde maps. Some seem to be to scale while others are designed to give readers the general idea. Since a lot of these maps appear in novels for which there is no budget for coloured illustration, black and white maps need to look great.
For much more on this topic see The Art of Illustrated Maps by John Roman.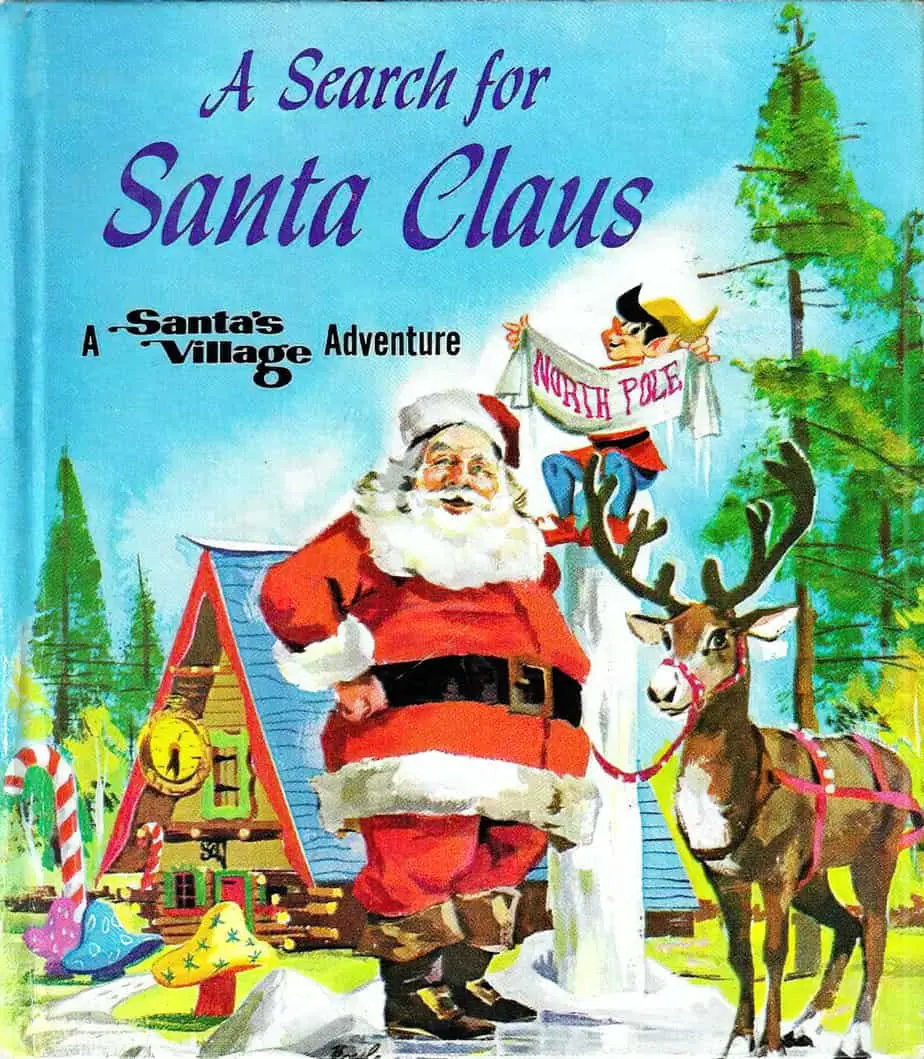 USEFUL MAPS AND USELESS MAPS
One thing I've noticed is that a lot of these fantasy and science fiction books tend to feature maps that are… well, utterly pointless. Take Patrick Rothfuss' The Name of the Wind for example. Crack it open and you find a detailed outline of "The Four Corners of Civilization" on the very first pages. But as I read the book, I found I very rarely had to consult the map to better understand what was happening in the book.

The map itself isn't necessarily bad, but it doesn't serve any kind of purpose. Contrast that with the map of Middle-earth in The Fellowship of the Ring, which is incredibly helpful in clarifying not only locations but character motivations. When Frodo and the Fellowship decide it's too dangerous to cross the Misty Mountains, they opt for the even more treacherous mines of Moria, which you can see on the map is their only option since the aforementioned mountains stretch all the way across the main continent.

Book Riot
FURTHER READING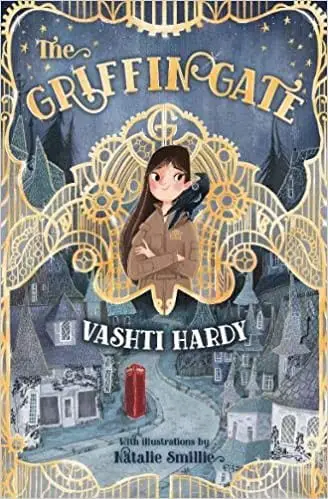 For years Grace's family have been wardens of the Griffin map, using its teleport technology to help people and fight crime across the land of Moreland. At thirteen, Grace is too young become a warden, but she longs to go on missions herself. After all, if her brother Bren can do it, why can't she?
So when Grace finds herself alone with the map when a distress call comes in, she jumps at the chance to prove she's up to the task. But the map transports Grace to a remote village where nothing is quite as it seems. Has she landed right in the middle of a treacherous scheme?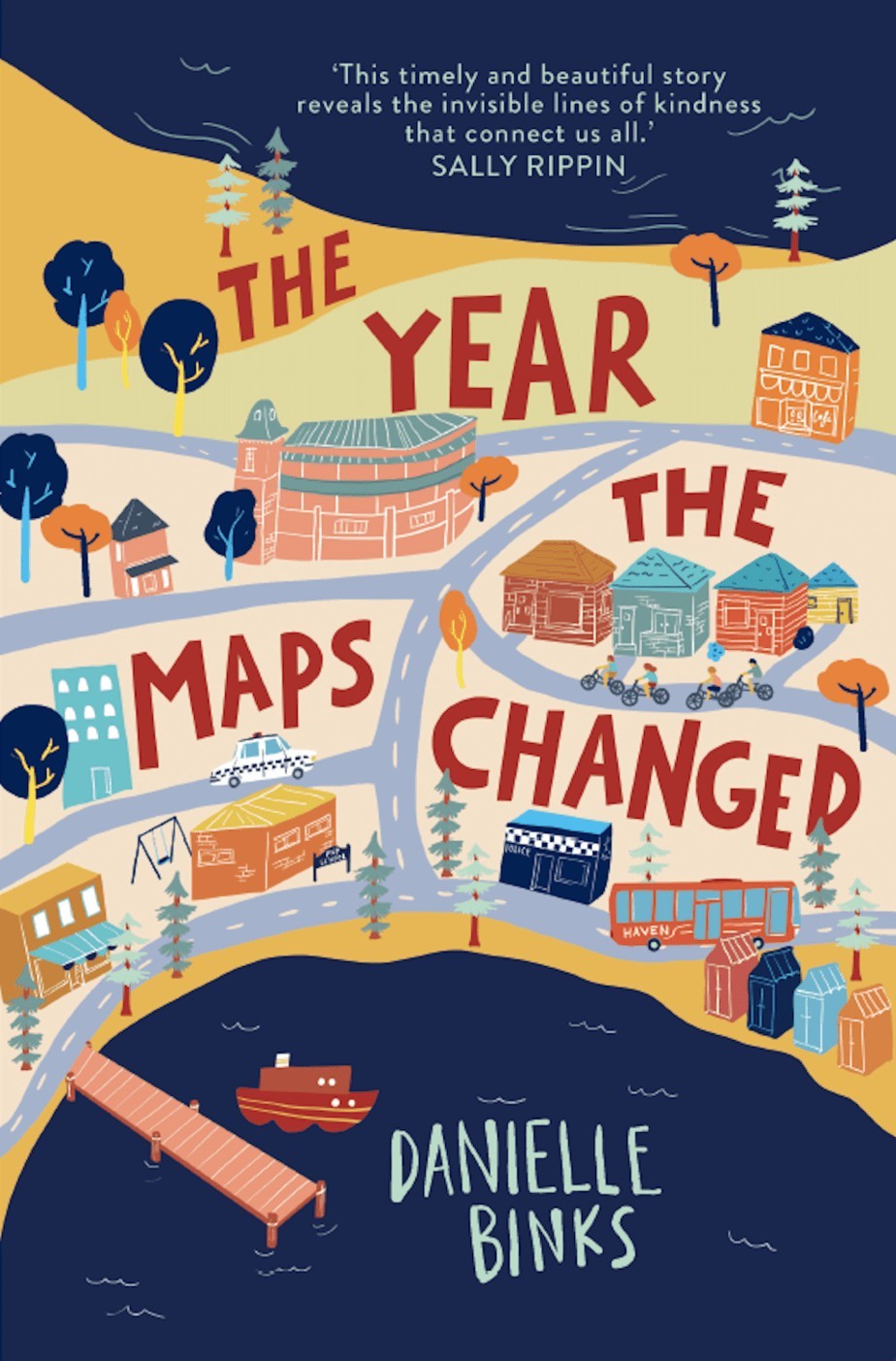 Fred's family is a mess. Fred's mother died when she was six and she's been raised by her Pop and adoptive father, Luca, ever since. But now Pop is at the Rye Rehabilitation Centre recovering from a fall; Luca's girlfriend, Anika, has moved in; and Fred's just found out that Anika and Luca are having a baby of their own. More and more it feels like a land-grab for family and Fred is the one being left off the map.
But even as the world feels like it's spinning out of control, a crisis from the other side of it comes crashing in. When 400 Kosovar-Albanian refugees arrive in the middle of the night to be housed at one of Australia's 'safe havens' on an isolated headland not far from Sorrento, their fate becomes intertwined with the lives of Fred and her family, as she navigates one extraordinary year that will change them all.
A middle-grade coming-of-age story about the bonds of family and the power of compassion for fans of The Bone Sparrow, Wolf Hollow and The Thing About Jellyfish.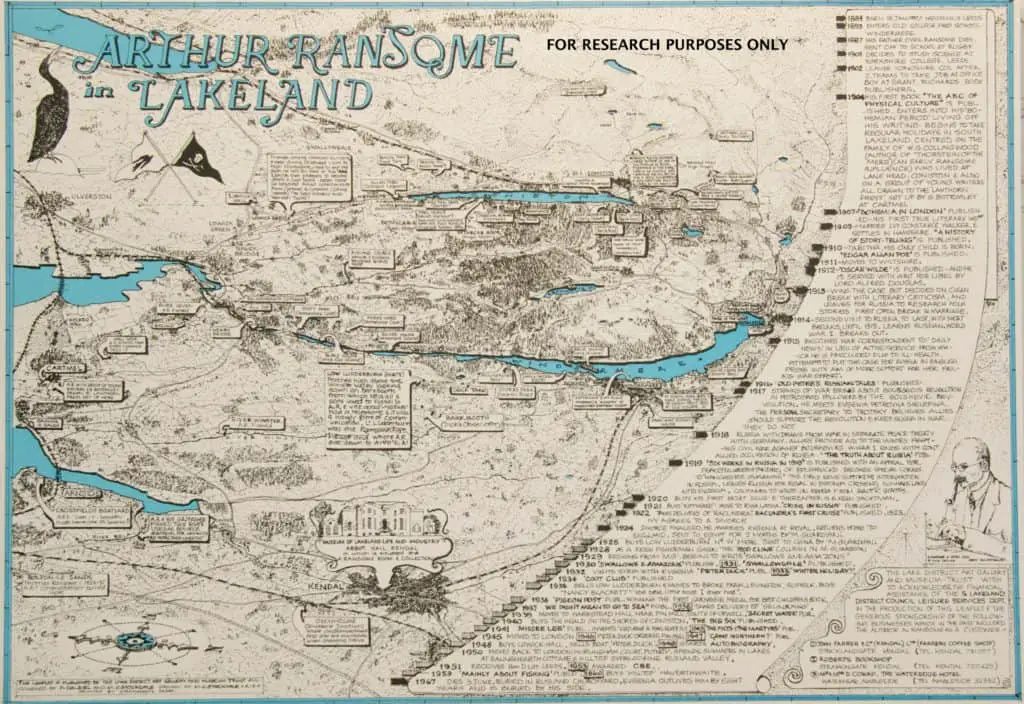 Atlases: A collection of the British Library , Koninklijke Bibliotheek
9 fantastic maps of literary fiction that look like fantasy book maps
Header image: The Carnaval A Book Of Poems by Sef Roman Semenovich and Leonid Roshidaev 1994.