Here's the kind of introvert/extravert stuff you find in your feed and dismiss as oversimplified "research" clickbait:
If you like sci-fi movies, hate pool parties and watch "The Walking Dead" then chances are you're an introvert, according to new research.

New York Post
I'm not the world's biggest fan of personality dualities. That aside, these broad narrative tastes do line up nicely with the intro/extraversion of my own friends and family. So let's roll with this as a thought experiment. While I can't work out how the researchers defined introverts vs extraverts in the first place:
Extroverts identified excitement as their driving emotion
Introverts can be found watching a thriller like "The Walking Dead" or a crime drama like "NCIS," "Criminal Minds," and "Law & Order: SVU."
Extroverts prefer reality-based entertainment. They can be found watching the latest episode of "Keeping up with the Kardashians," "The Bachelor/Bachelorette," "The Voice," and "America's Got Talent."
When it comes to writing, do introverted and extraverted writers face different issues? I don't mean 'sitting in a room alone for months' versus 'marketing the hell out of a published book', which is a painful disconnect covered elsewhere. I mean, at the story level, might introverts and extraverts be more prone to certain pitfalls?
INTROVERTED WRITER PROBLEMS
Bubbly Best Friends Stealing The Spotlight
I've seen literary agents post things like this: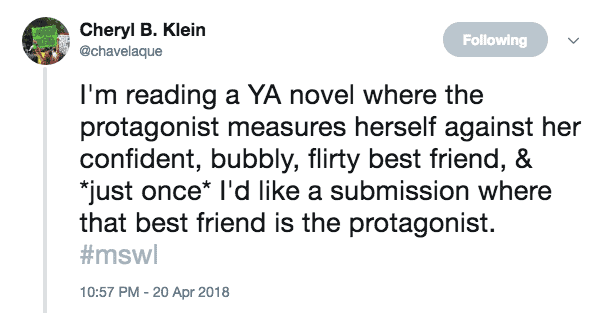 Cheryl Klein continues her thread:
We have all these loudmouth, confident girls in MG — Clementine, Dory, Fantasmagory, Cleo Edison Oliver. Where do they go in YA? Am I just missing them? I asked a writer about this once — I said, "I love this best friend; write a novel about her!" — and she said there wasn't enough 'there' for a novel, int he kind of novels this writer wrote. But I thought (and still think) that's unfair to the loudmouths. Even loudmouths have things they don't say; everyone can change with the right kind of pressure. And that's all you need to build a novel. Or even better: the loudmouth will say the thing that she shouldn't say, again and again, and that makes a GREAT novel.
This hit home because I am currently workshopping a YA novel about a teenage girl who has a bubbly best friend. Part of her character arc is that she becomes  individuated and self-driven, but my critique group has encouraged me to make my 'main character' less of a 'viewpoint character' from the beginning. I honestly didn't mean for the best friend to be more interesting, because I get rid of her partway through the story. When I think back to high school, I was definitely the introverted half of an intro/extraverted pair of BFFs. I, myself, am a viewpoint character.
There's another issue here, of course: How do you even define a main character? This isn't as easy to answer as you might think. If I'm ever having trouble working ithis out I ask 'Which character changes the most?' but even then, that can be too simple:
If the best friend is the offering commentary on the bubbly best friend, doesn't that still make the best friend THE main character, kind of like what Fitzgerald did with narration in The Great Gatsby, or by Joseph Conrad before him?
The character who changes the most might change via the telling of the story itself. In fact, that's the raison d'être of a storyteller narrator — they come to some sort of realisation because they're telling this particular story.
Viewpoint characters tend to have more reflective personalities, and are therefore more open to development than an interesting but boneheaded character who keeps on keeping on. So defining 'main character' cannot be about 'scope of change', but — to borrow a Yahoo word — 'range of 'interestingness'.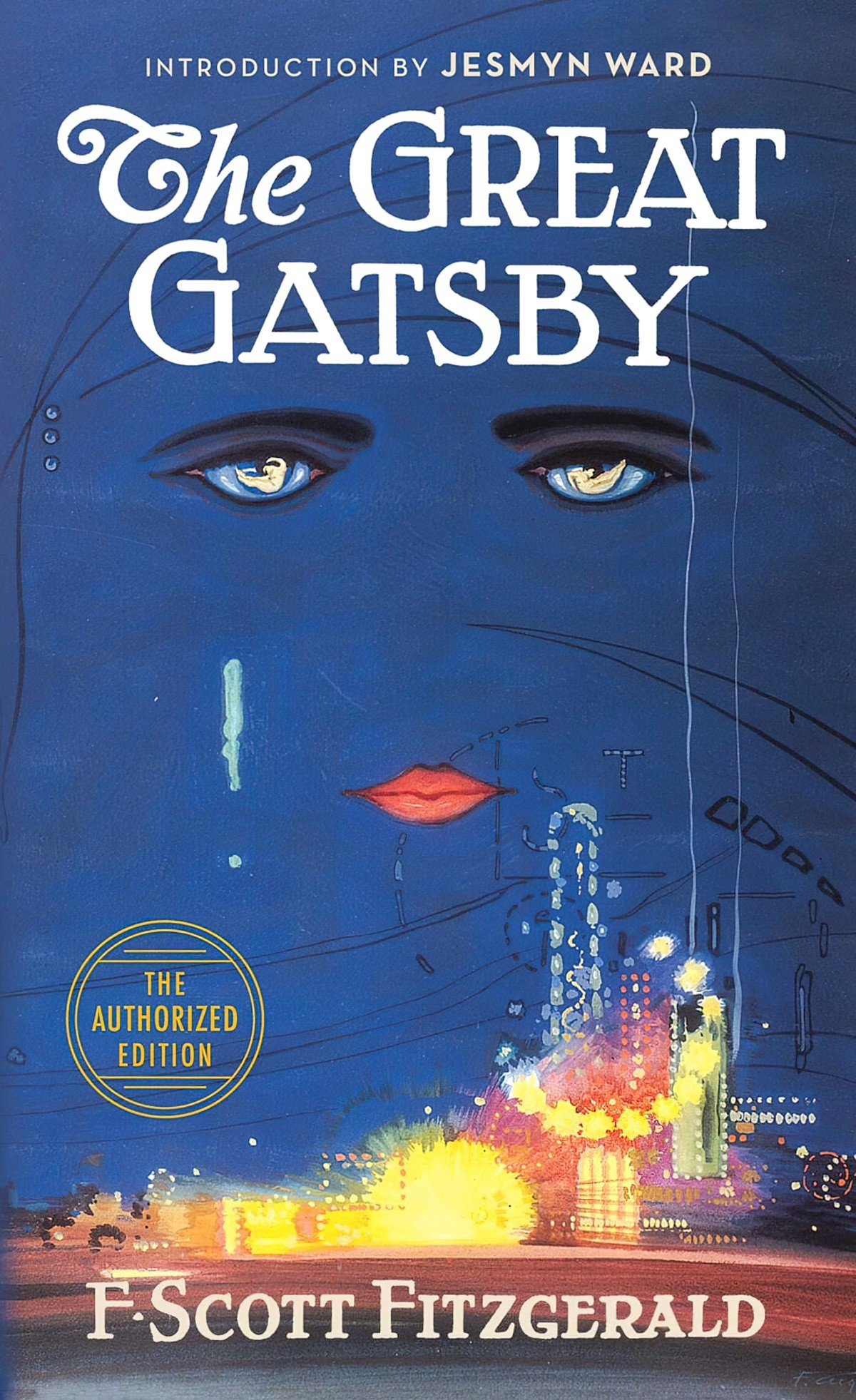 In short, introverts might identify more keenly with the quieter, viewpoint people in real life, but these sorts of people don't make for the most interesting fictional characters. Exception being: If the quiet character is plunged into a super interesting world or situation.
But if we're writing a story using a viewpoint character as introverted best friend (a not-so-secret proxy for ourselves), then we need to know we're doing this. If the most interesting character in your story doesn't have a fully realised character arc, that could be a problem for readers.
Comfortable But Passive Scenes
Another issue which may or may not be related to introversion (I suspect it's also related to age, gender and writing experience): Boring sitting-down-drinking-tea scenes. I wrote about that last week in my analysis of The Cat Returns. Some tea-drinking scenes are almost culturally compulsory, as in anime out of Japan, but The Cat Returns writers get around this by combining a static tea-drinking scene with slapstick action and witty dialogue.
These passive scenes often crop up as a Chapter Two. Most of us have done it, I'm sure:
Chapter One is an action scene with witty dialogue and an interesting situation. We use every tool in our belt to hook the readers in.
But then we need to introduce the family. So we show the character at home.
Maybe the character sits down to watch TV or makes a cup of coffee or goes out the back for a smoke with a cop colleague.
I'm not sure if introverts are more likely to write these passive and safe Chapter Twos, but I do think introverts are more comfortable in these scenarios in real life. So it's probably tempting for us to take an emotional break — as writers — by rescuing our main characters and letting them enjoy a cuppa in peace before moving onto the next uncomfortable situation. But that's not what will keep readers turning the page. Not even introverted readers, many of whom apparently like The Walking Dead! (One action scene after another, judging from the season I endured.)
Tea Drinking Scenes are sometimes necessary when writing realism, and I'm not advocating for getting rid of them at all. An example of a Tea Drinking Scene fraught with tension and quiet conflict can be seen in "The Bear Came Over The Mountain" by Alice Munro. Even the objects in the kitchen are described in dramatic terms.
Films are all about dialogue. It's not inherently interesting to watch character sit around and talk, so filmmakers have an arsenal of tricks up their sleeve. Some of them are described in this video.
EXTRAVERTED WRITER PROBLEMS
Too Much Excitement
I can't identify with extraversion problems myself, but here's one for consideration: If extraverted writers are indeed drawn to excitement, it may be the more extraverted writers who propel their readers into sturm und drang before setting up the main character's psychology (shortcoming/need/desire).
It may be extraverted writers who forget to juxtapose action and dialogue heavy scenes against the quieter ones, allowing the reader to take a breather and to offer a change in tone.
What do you think?
Header artwork is "A Little Tea and Gossip" by Robert Payton Reid, 1887.